Tortuguero, Costa Rica is one of the leading ecotourism destinations in the country. With its long canals, lush rain forest and vast beaches, Tortuguero appropriately earns the nickname of the "Amazon of Costa Rica."
If you're planning to visit Tortuguero, Costa Rica, here is all you need to know about the town, Tortuguero National Park and surrounding area.
Location
Tortuguero, Costa Rica is in the Northern Caribbean coast of Costa Rica in the Limon province. The Tortuguero National Park is right next to Tortuguero village.
How to Get to Tortuguero, Costa Rica
Since the village is on a sandbar with no connecting roads, the only way to get to Tortuguero are by boat or plane. The closest boat launch point is La Pavona. Here's a brief overview on getting to Tortuguero and you can read our in-depth guide on how to get to Tortuguero here.
Flying to Tortuguero
Sansa Airlines flies to Tortuguero. From San Jose, it is a 25 minute flight and costs around $100-120 USD one way with 2 daily flights from San Jose. Then from the Tortuguero airport, you can take a boat to your hotel if necessary.
How to Take the Bus to Tortuguero
From San Jose, you must first take a bus to Cariari. There is a bus every day from 6:30, 9, 10:30, 1PM, 3 PM, 4:30 PM, 6 PM, 7 PM and 8:30 PM. This takes 2 hours and costs 2,100 colones, leaving from San Jose Terminal del Caribe, Calle Central Ave 15.
Second, from the Cariari bus station, you must take another bus to La Pavona where the boat launch is. The bus runs at 5 AM, 9 AM, 1130 AM and 3 PM on Fridays, Saturdays and Sundays. Monday through Thursday, it runs 5 AM, 1130 AM and 3 PM. The bus station is Terminal de Buses Coopetraca, 500 meters north where the Cariari bus drops you off.
Third, once you are at La Pavona dock, you have to purchase your boat ticket at the restaurant.
Shuttle
Shared and private shuttles are great options to get to Tortuguero. A private shuttle is around $220 USD from San Jose to La Pavona dock for 1-6 people. Want to book a private shuttle? Contact us for quotes and availability!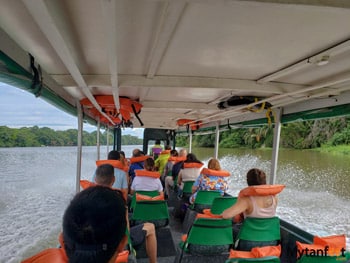 For shared shuttles, you can check with Caribe Fun Tours as they offer options from San Jose and La Fortuna. These cost around $60-79 USD per person.
Tortuguero Boat
At La Pavona, you need to buy a boat ticket. A boat ticket costs around 3000 CRC (~$5 USD) per person each way and you buy the tickets inside the restaurant. The boat ride is around 1 to 1.5 hours depending on the tide. Go to the bathroom before and put on lots of sunscreen for the boat ride!
Boat Schedule
The public Tortuguero boat schedule from La Pavona to Tortuguero is 6 AM. 7:30 AM, 9 AM, 11 AM, 1 PM, 3 PM and 4:30 PM. The public Tortuguero to La Pavona boat schedule is 5 AM, 7 AM, 9 AM, 11 AM, 1 PM and 3 PM. This is for the public boat taxi from the boat launch in the village.
Make sure your luggage is packed securely and you can bring a backpack with you on the boat. If you are taking the public boat, tell the captain where you are going so they can drop you off at your hotel or town.
There are no boats from La Pavona dock after 3 PM.
Renting a Car
If you rented a car, you can leave your car in their parking lot at La Pavona for ~5000 CRC (~$10 USD) a day. It is not a completely gated parking lot nor are there security guards or cameras, so do not leave any valuables in the car. The parking lot is right behind the main restaurant.
For those who want to rent a car after your Tortuguero trip, most car rental companies can deliver the car to La Pavona dock for a fee but the most common process is to get your car in Guapiles on the way back to San Jose. Our partner, Adobe Rent a Car has an meeting point in Guapiles to make this process very easy. Click here to get your Costa Rica car rental discount!
Tortuguero Tour Packages
Another option is to book a Tortuguero package with a tour company. The tour company will take care of everything from hotels, transportation and food and also includes some activities. Many people choose this option so they don't need to deal with planning.
If you are interested, we have a small Tortuguero packages discount with Pachira from San Jose. If you don't want to deal with planning, the tour package is by far the easiest way to visit Tortuguero.
You can also find Tortuguero trips from Puerto Viejo.
Tortuguero Village
Tortuguero village has a year round population of around 2000 people. Tourism is the backbone of the small town with locals working at hotels and restaurants, renting small cabins or as naturalist guides. Before tourism, fishing was the main industry due to the rich ocean and river waters.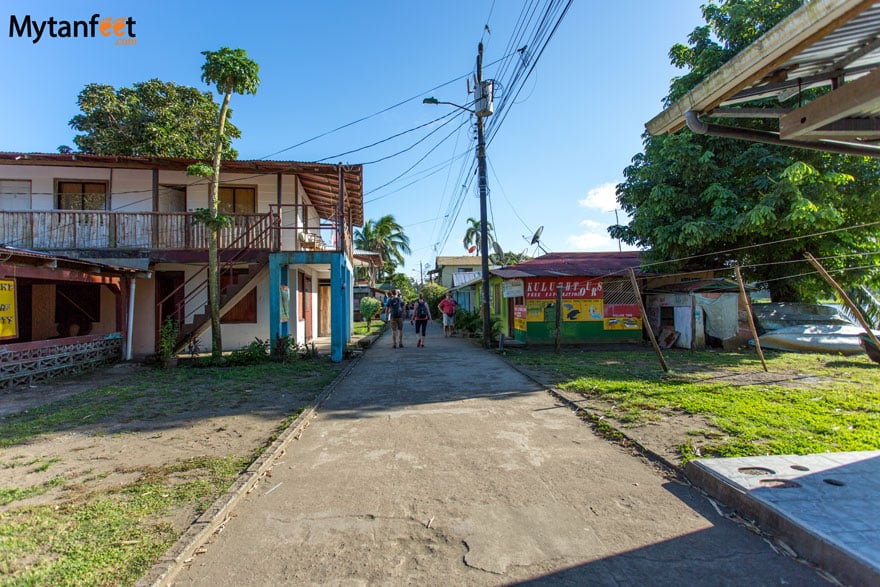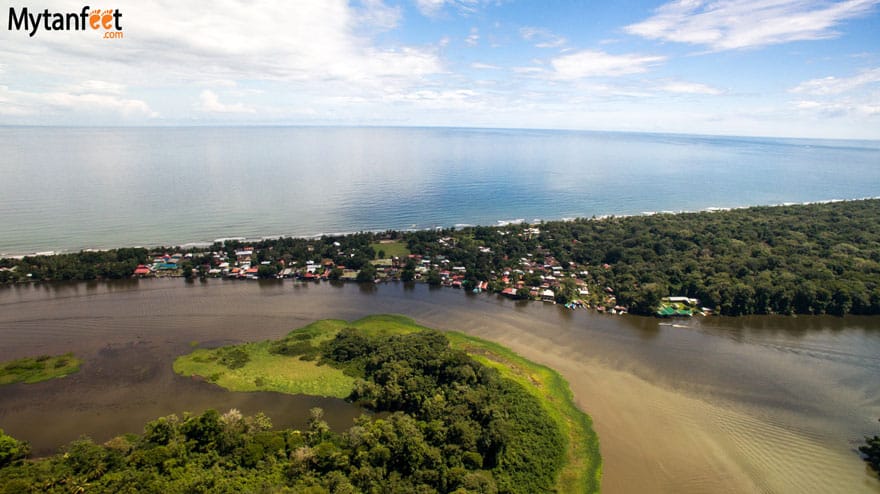 The village is very small. The main strip is around 400 meters (.2 miles) long and runs from the main boat dock launch to the entrance to the national park. There are some restaurants, souvenir shops, hostels, a park, a church and small hotels.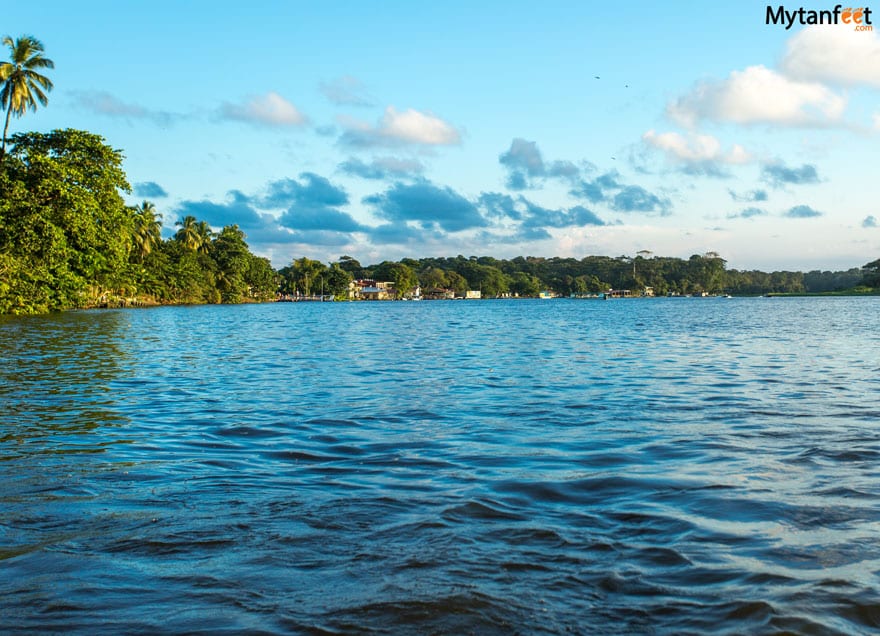 Tortuguero Beach
Tortuguero village is surrounded by the river on one side and beach on the other. Although Playa Tortuguero is not a very photogenic beach, it is what put Tortuguero on the map as one of the leading eco-destinations in Costa Rica.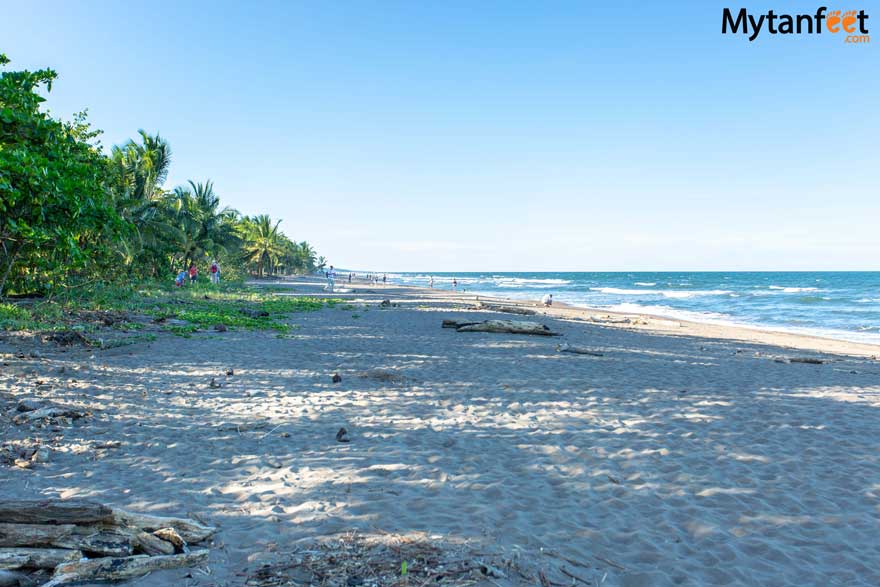 This is because Tortuguero, or the "place of the turtles" became famous in the 1950's when an American sea turtle researcher discovered that it was the single most important nesting site for green turtles in the Western Hemisphere. Since then, eco-tourists from all over the world travel to Tortuguero to see turtles in Costa Rica and visit Tortuguero National Park.
About Tortuguero National Park
Tortuguero National Park is the 3rd most visited national park in Costa Rica. It has a huge amount of biodiversity thanks to the various habitats ranging from mangroves, swamps, rain forest and lagoons. The park encompasses 77,032 acres (31173 hectares) and forms another corridor with a protected area in Nicaragua.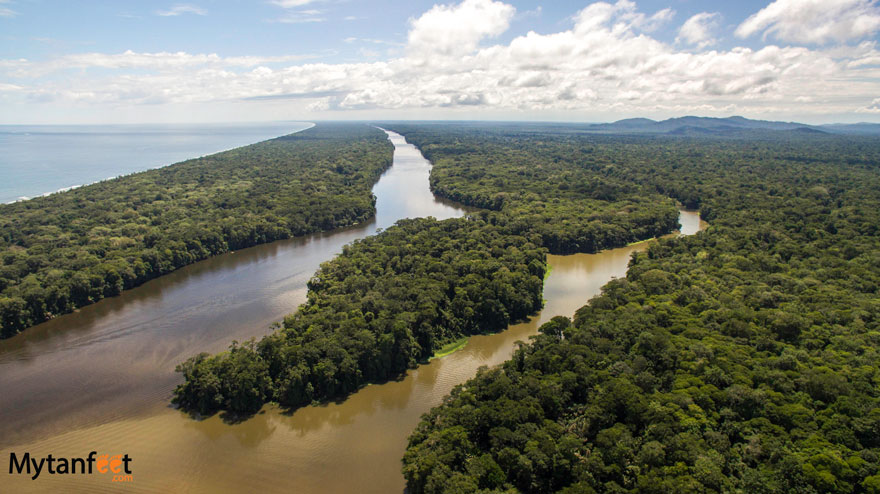 Visitors can hike or take a boat ride in Tortuguero National Park. There are 3 trails in the national park ranging from 700 to 3500 meters (.4 mile to 2 miles). It is highly recommended to rent rain boots if you are hiking in the park and to go with a guide.
Hours and Fee
The Tortuguero National Park entrance fee is $15 USD for foreigners + tax and is open 6 AM to 6 PM everyday. Purchase tickets online here. Required for Sector Cuatro Esquinas, Cerro Tortuguero and Jalova
Tortuguero Hotels and Resorts
Although there are not that many hotels, there are ones for every budget. Backpackers and budget travelers will want to stay in the village for the hostels and cheap hotels. Some places are Tortuguero Hostel Backpackers, Casa Marbella, Cabinas Beyetty and Cabinas Tortuguero.
If you're looking for something nicer outside the village, there are a few resort-like hotels in Tortuguero. We highly recommend these if you're not on a strict budget because you get a more natural experience and the rooms and services are nicer.
We stayed at Evergreen Lodge near the entrance of the national park which was very nice with a huge swimming pool, a couple restaurants and free Wi-Fi. As the lodge borders the natinal park, there were so much wildlife!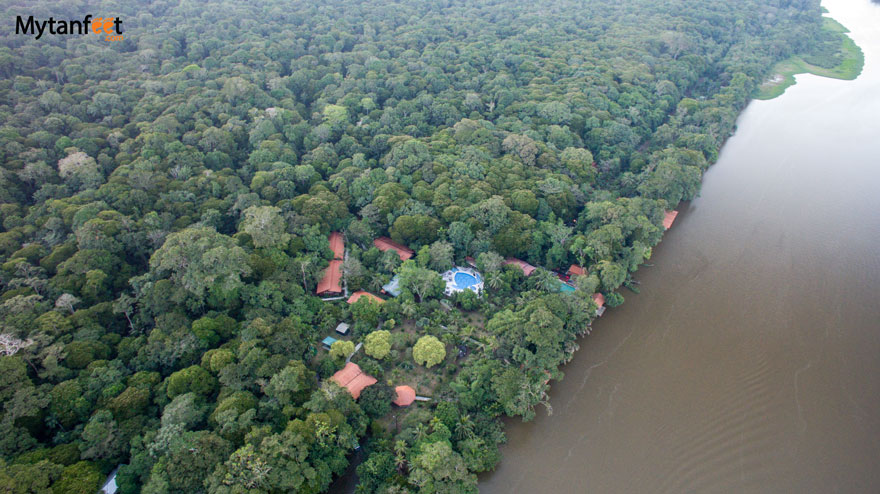 Pachira Lodge and Aninga Lodge are two others with a similar set up (we have small discounts for Pachira/Aninga/Evergreen tour packages.) Mawamba Lodge is another upscale lodge with their own entrance to the beach.
If you're looking for an upscale hotel with AC, check Manatus Hotel. Baula Lodge is another one that's on the river but a bit more basic.
Tortuguero Tours and Things to Do
Wildlife watching is one of the best things to do in Tortuguero National Park. Most people book a wildlife safari boat ride. The best time is early morning when the park opens.
There are some other things to do Tortuguero.
Night Walk
Go for a night walk in Tortuguero to see night creatures like frogs, snakes, insects and more. $20 USD per person.
Hike the National Park
You can hike the 3 trails in the national park or hike up Tortuguero Hill (Cerro Tortuguero) for an amazing view of the canals and beach. It is recommended to go with a guide to Tortuguero Hill but you can hike the national park on you own.
Kayak
There are parts of the national park where motorized boats cannot go, only kayaks. This was one of our favorite things to do in Tortuguero National Park because it was absolutely quiet with just us and the animals.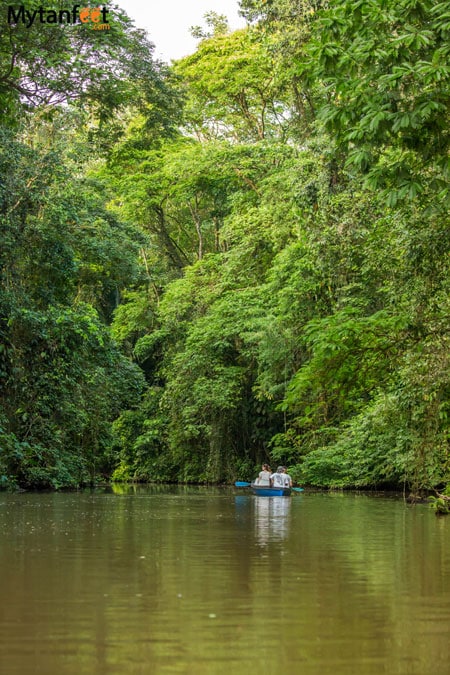 You can find canoe rentals and tours and kayak tours in town.
Ziplining
There is a small canopy tour called Aerial Trails Tortuguero and compared to other ziplines in Costa Rica, it's pretty cheap at around $35 USD per person. You can book it through your hotel or in town at any of the info centers.
Turtle Tours
If you're visiting in turtle season (May to October), you can take a nighttime turtle tour to see nesting mothers. If not, you can go to the research center to watch a video and learn more about the conservation efforts for the turtles. (I'll talk more about the tours in a minute).
Tortuguero Weather
Since Tortuguero is on the Caribbean coast, the climate is very hot and humid. Temperatures stay around high 80s F (32 C) for most of the year with a very high humidity level. Additionally, it is one of the wettest places in Costa Rica!
The Caribbean also does not adhere to the dry/rainy seasons like the rest of Costa Rica. Even though the driest months are September, October and February, it can rain at any time of the year. December and January are rainy months.
We visited in November and it was very sunny in the mornings and rained in the late afternoon and night. When we visited end of September, we had beautiful sunny days and clear skies.
Tortuguero Animals
The wildlife in Tortuguero is astounding and you can see wildlife that aren't seen in many other places in Costa Rica. Although turtles take the spotlight in Tortuguero, there are plenty of other animals to see!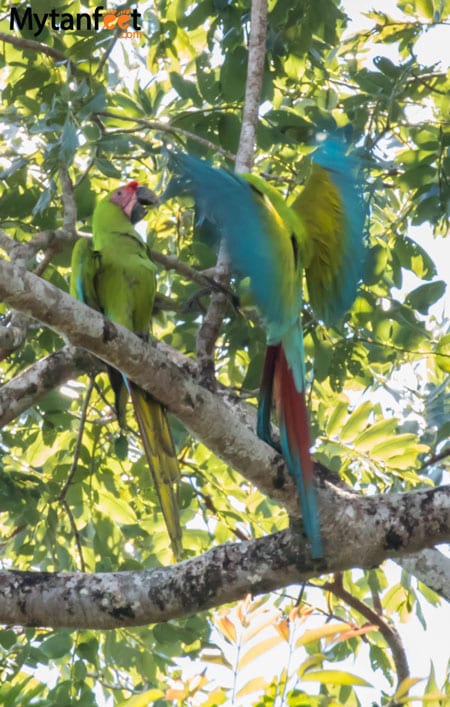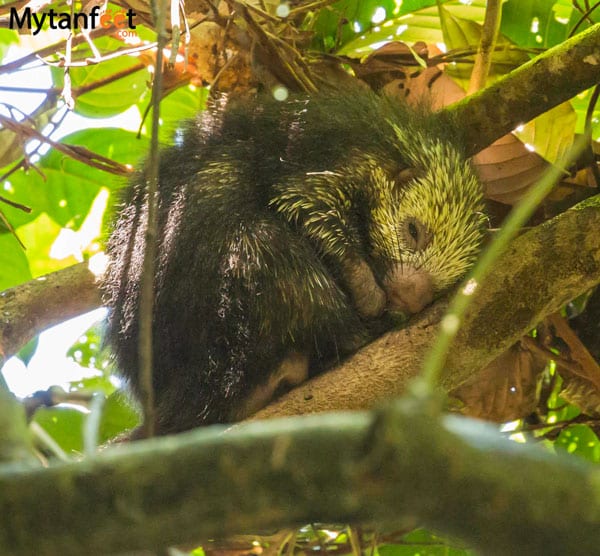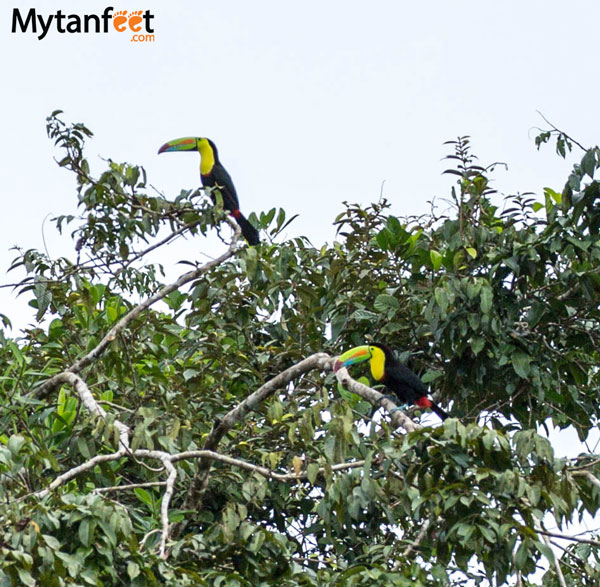 We also saw crocodiles, caimans, river birds, monkeys, sloths and lots of iguanas. Manatees are also found in Tortuguero, though rare to see.
Tortuguero Turtle Season
Four different species of turtles nest on Playa Tortuguero. Leatherback turtles nest March – May and Green turtles nest July – October. The best time to visit Tortuguero to see turtles is July – October with September and October being the best months. If you visit in November, nesting season is over but you may see baby turtles hatching.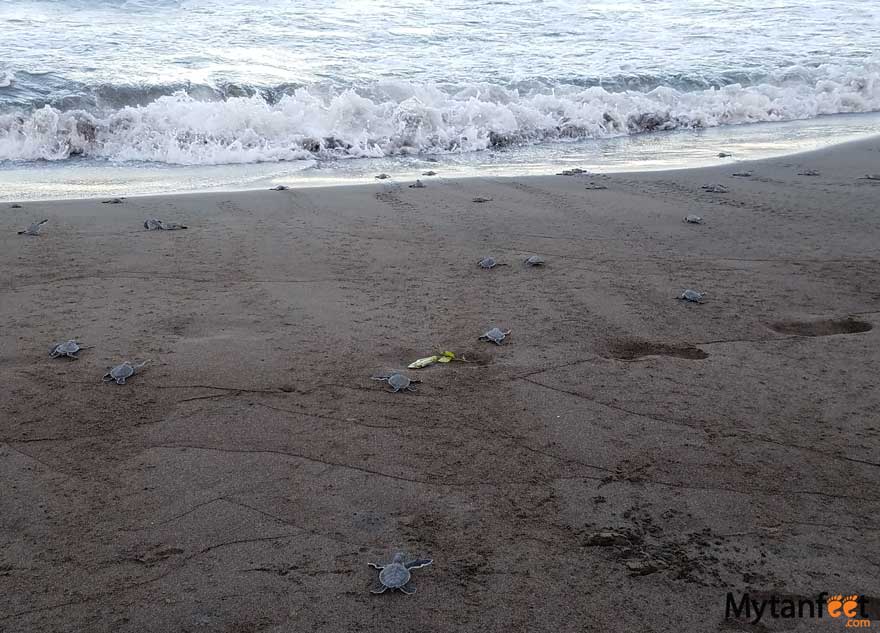 When we visited mid-November, we saw two nests of baby turtles hatching. When we visited in September, we saw four Green turtles nesting on a night time turtle tour.
Tortuguero Turtle Tours
Turtle tours are offered only at night in Tortuguero and you must go with a guide. Unaccompanied visitors are not allowed. Turtle tours start around 7 PM and lasts a couple of hours. Guides will take visitors to the designated sector where turtles have been nesting for observation and share information about the turtles, hopefully seeing it all in action. Cameras are not allowed and guests have to wear dark clothing.
I went with Pachira Lodge and we boated over to the airport. From there, we walked to the beach and saw four Green turtles nesting. We got to see them crawling up the beach, digging a hole, laying eggs, covering the nest and going back to the ocean. It was absolutely incredible!
Turtle tours are $20-35 USD per person.
Tips for Visiting Tortuguero
Pack appropriately for humid weather. Since it is normal for it to rain in that area, bring appropriate waterproof equipment, especially if you have cameras. Check our packing list for rainy season. A rain jacket, waterproof backpack and fast drying clothes are a must.
Make sure to bring plenty of mosquito repellent and sunscreen. This area has a lot of mosquitoes!
Be aware that some locals are super pushy with which tour guide/company you go with. Don't feel pressured and don't be shy to ask different companies.
Bring Costa Rican colones. Tortuguero now has one ATM in the village near the boat docks but bring plenty of colones. It is also better to use Costa Rican currency than US dollars.
There are just a handful of restaurants in Tortuguero. We recommend Restaurante Mi Niño and Soda Oasis, two places for Costa Rican food.
Best Time to Visit Tortuguero, Costa Rica
The best time to visit Tortuguero is July – October for the turtle nestings. For the best weather, September and October are the best times to visit Tortuguero. The busiest times of the year in Tortuguero is December, July and August.
You really don't need more than a few nights to get an incredible experience in Tortuguero. Since this area is very small and remote, most people stay 1-2 nights.
Even if you are not going during turtle season, you can still visit Tortuguero. Wildlife is present all year round and the canals are amazing! You can see a plethora of native animals in the national park, on the boat ride, even from your front door. Tortuguero offers an unforgettable experience in the Caribbean jungles for nature and wildlife lovers.
Video
Here is a short video we made about our trip to Tortuguero, Costa Rica.
Read our other national park guides here!
Corcovado National Park: National park in Osa Peninsula, one of the most biodiverse places on earth. Excellent hiking and wildlife.
Irazu Volcano National Park: Highest volcano in Costa Rica. Small national park to see the craters and crater lake, in Cartago about a 1.5 hour drive from San Jose.
Carara National Park: National park near Tarcoles and Jaco, great for hiking and birdwatching.
Rincon de la Vieja National Park: National park in Guanacaste with a volcano, rivers and waterfalls. Great for hiking and adventure.
Cahuita National Park: National park in Cahuita, near Puerto Viejo on the Caribbean coast. Has big coral reefs, beautiful beaches and hiking trails.
There are affiliate links in this post.