What is there to do in Costa Rica? Well, a lot of amazing things! To help you narrow down all the incredible activities in Costa Rica, here is our list of best things to do in Costa Rica. And if you want to do any of these activities, get our exclusive Costa Rica tours discounts!
Map
Click here to go to our interactive map to see tours, activities and places.
What to Do in Costa Rica
Below is our list of 50 best things to do in Costa Rica. For more Costa Rica fun, subscribe to our Youtube channel!
1. Ziplining
Ziplining is a MUST DO in Costa Rica. Costa Rica is world famous for its long cables and spectacular views. Don't miss a chance to fly over the rainforest!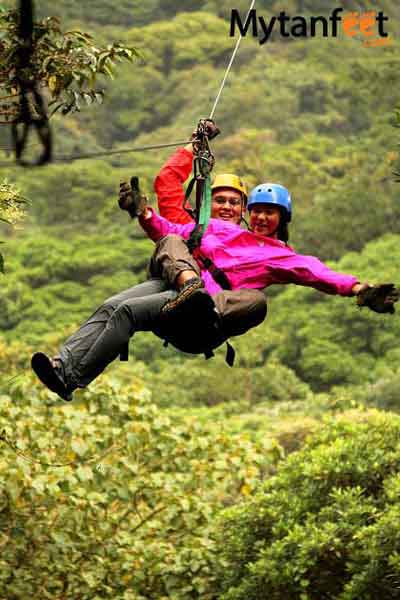 The best places to go ziplining in Costa Rica are Monteverde, La Fortuna and Guanacaste. However, there are many ziplines throughout the country.
Recommended Ziplines
Some recommended beginner and family friendly ziplines in Costa Rica are Athica and EcoGlide in La Fortuna, Black Stallion in Tamarindo, Los Sueños Zipline in Herradura, Hacienda Baru in Dominical, El Santuario in Manuel Antonio, San Luis Canopy, Tortuguero Canopy Tour and Wingnuts in Samara.
The best extreme ziplining in Costa Rica is at 100% Aventura in Monteverde, Sky Adventures Monteverde and Arenal, Selvatura Park in Monteverde, Arenal Mundo Aventura in La Fortuna and Diamante Eco Adventure Park in Guanacaste. Diamante actually has the longest ocean view zipline cable in Costa Rica! (Get 10% off in the link above for any Diamante adventure).
Ziplining tours cost from $35 to $80 USD per person.
Tip: In Costa Rica, we call ziplining tours "Canopy tours" so if you see the word "canopy", that is the same as ziplining.
2. Sunset Sailing Cruise
If you're planning a beach vacation, you must book a sailing cruise! This is one of the most relaxing and romantic things to do in Costa Rica.
Sunset cruises are one of the best family and couple activities because you sail underneath a beautiful sky and watch the sun go down. Eat, snorkel, swim, relax and enjoy the fresh ocean air.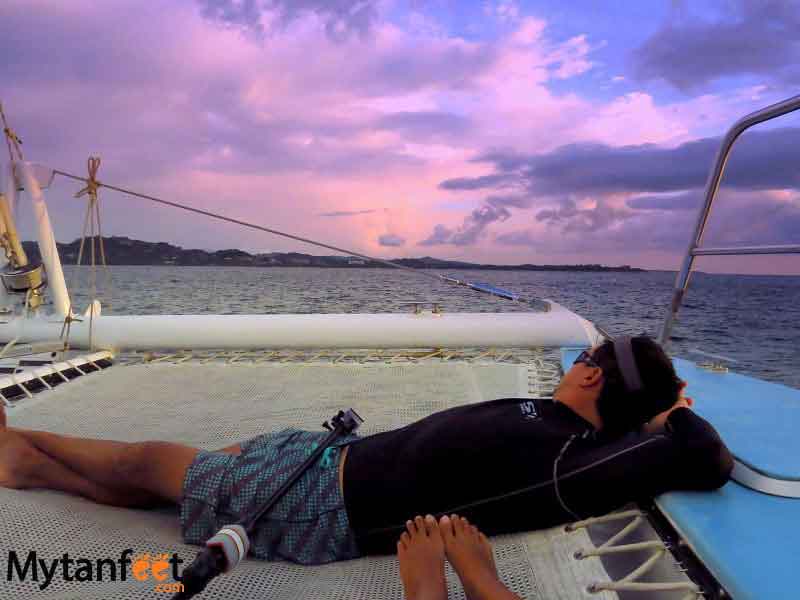 Similarly, you can opt for a morning cruise which offers better snorkeling. This is an excellent half day trip in Costa Rica to see the stunning tropical coastlines.
Recommended Catamaran Sailing Tours
Recommended companies are Antares, Marlin del Rey and Dream Chaser in Tamarindo, Kuna Vela, Marlin del Rey and Sea Bird in Playas del Coco, Panache and Lazy Lizard in Potrero, Serendipity in Flamingo and Samara Sea Tours in Samara. In Manuel Antonio, there is Ocean King and Planet Dolphin. We also did a sunset sail with Kayak Jaco out of Herradura (near Jaco).
Sunset sailing cruises run from around $70-95 USD per person and usually include snorkel equipment, fruit, water, drinks and snacks or lunch.
3. Snorkeling and Scuba Diving
Thanks to having both Pacific and Caribbean seas, Costa Rica has good snorkeling and scuba diving. Therefore, if you love the ocean, snorkeling or scuba diving is definitely a must do in Costa Rica!
We recommend to take a snorkeling tour because snorkeling off the beaches aren't that good in Costa Rica. The sunset sailing cruises mentioned above offers opportunities to snorkel.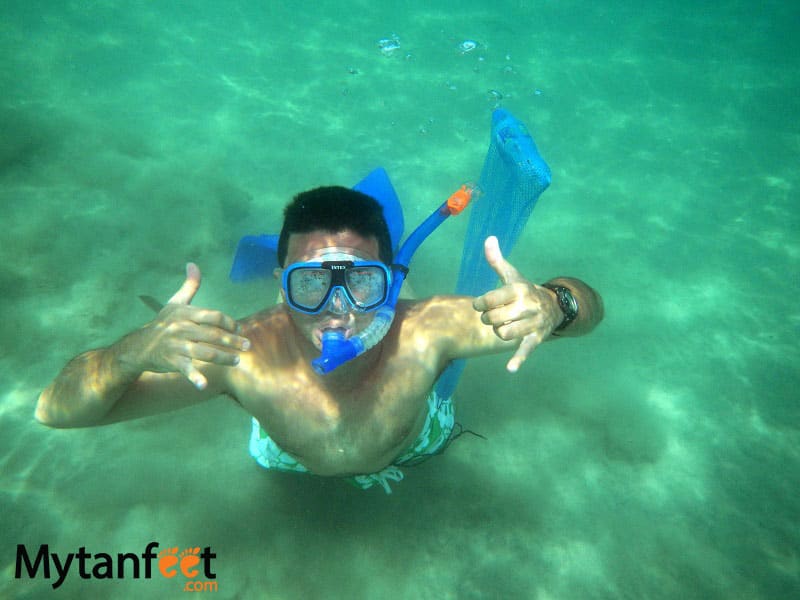 *Don't forget to check our Costa Rica COVID-19 post for latest information and our tips on Costa Rica COVID-19 Travel**
Scuba Diving
For scuba diving, the best dive sites are Bat Islands, Las Catalina Islands, Cocos Island, Gulf of Papagayo, Tortuga Islands ship wrecks, Cahuita National Park, and Caño Island.
A PADI certified 2 tank dive costs roughly $115 USD and the best towns to stay at for scuba diving are Drake Bay, Flamingo, Playas del Coco, Uvita, Playa Ocotal, Manuel Antonio, Cahuita and Tamarindo. Additionally, some scuba dive shops will offer "discovery dives" for those who don't have their certification.
4. Private Boating Tour in Gulf of Papagayo
The Gulf of Papagayo up in the north Pacific coast of Costa Rica is in our opinion, one of the most beautiful places in Costa Rica. Made made up of many small bays, the Papagayo Gulf has a myriad of boat access only white sand beaches and amazing snorkeling spots. So the best way to experience the Gulf of Papagayo to the fullest is a private boat tour.
It's one of our favorite things to do in Costa Rica and always on the itinerary whenever we have friends or family visiting!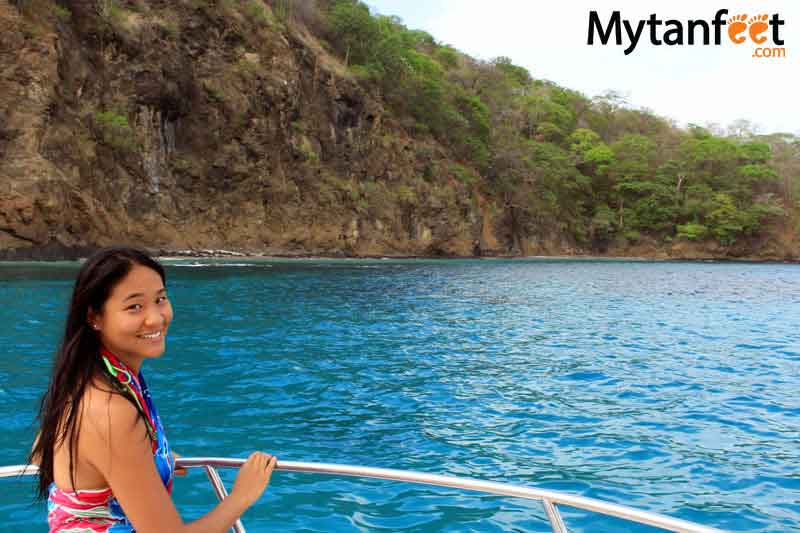 One of our friends has a boating company in Playas del Coco and we love going boating with him since he knows the best snorkel spots and hidden beaches.
5. ATV Tour
Add some adrenaline to your vacation on an ATV tour! Drive through forests and jungle to reach beautiful viewpoints. It's even more fun in the rainy season when you can get a bit muddy!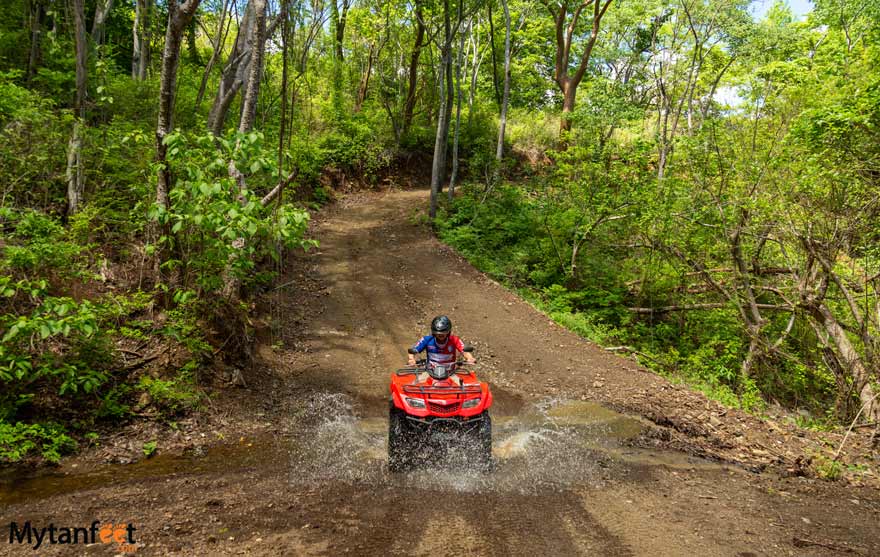 You can find fun ATV tours in many places like La Fortuna, Tamarindo, Monteverde, Flamingo, Samara, Herradura, Jaco, Santa Teresa and Manuel Antonio.
The minimum age to ride an ATV solo is 16 and for those under 16, they have to go with an adult.
6. Surfing
People from all over the world come to Costa Rica just to surf as it has some of the best waves in Latin America.
Some of the best surf spots in Costa Rica are Pavones, Jaco, Santa Teresa, Playa Hermosa (Jaco), Playa Cocles, Dominical, Playa Matapalo (Osa Peninsula), Playa Guiones, Playa Avellanas, Playa Tamarindo and Playa Grande. However, this is just a small sampling of the great surfing beaches here.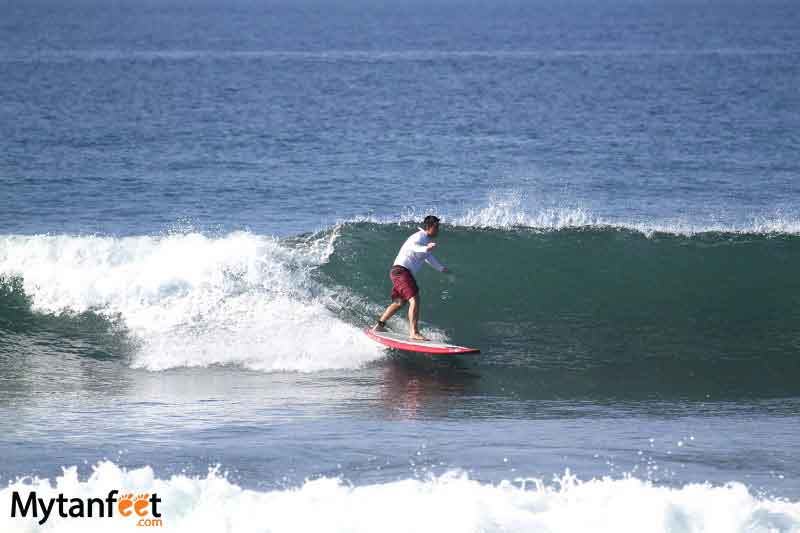 Likewise, if you really want to learn to surf, sign up for a surf camp! For lessons, a 2 hour group surf lesson costs around $55 USD per person. You can also rent a board for around $20 USD a day.
7. Canyoning
Canyoning (rappelling down waterfalls) is an incredible adventure activity in Costa Rica. It's one of my personal favorite things to do in Costa Rica since it's a heart pumping adventure in the middle of a beautiful rainforest. So exhilarating!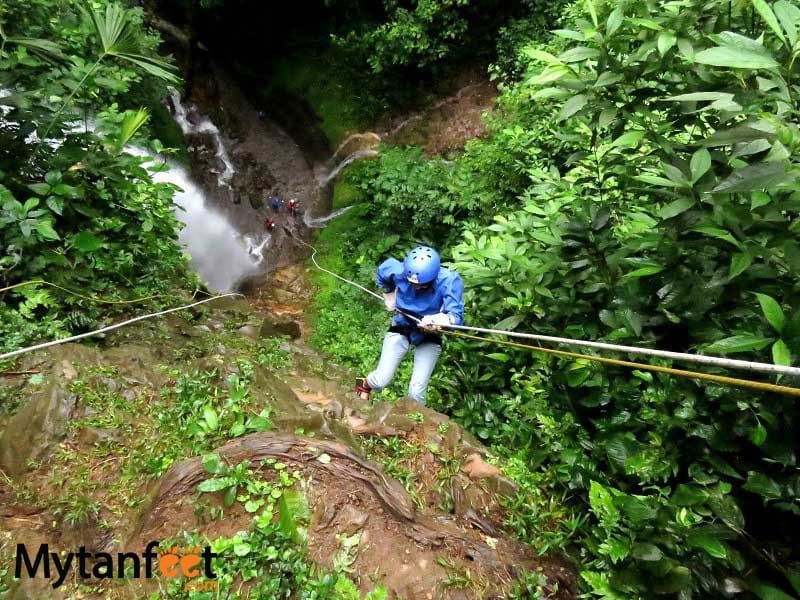 One of our favorite canoyning tours in Costa Rica is Pure Trek in La Fortuna. The first waterfall they take you to is nearly 200 feet tall!
Want to go canyoning? Get 7% off the Arenal canyoning tour here!
Additionally, other great places for canyoning is the Gravity Falls with Desafio in La Fortuna, Explonatura in Turrialba, The Park near Jaco and Finca Modelo in Monteverde.
8. Try a Copo or a Churchill
A copo is a sweet Costa Rican beach treat that you must try. It's shaved ice with kola syrup, powdered milk and condensed milk. Some versions called the churchill are more intense with ice cream and fruit added on top! You can find copos in nearly all beach towns and cities.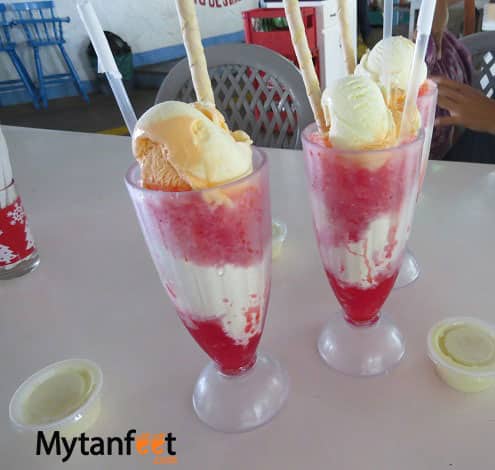 Puntarenas is famous for churchills so the best place to get one is there. You can't get a more local dessert than that and it's a yummy way to beat the heat!
9. Partake in the Fiestas Civicas (Local Parties)
Costa Ricans sure do love to party and you can join the fun in the fiestas civicas, or the local parties. In these parties, they have rides, games, food and bull riding. For those who want to experience local culture, this is one of the best things to do in Costa Rica.
These fiestas are held all year long throughout the country and you will see signs for them in town. The most common months are December, July, February and March. If you're in the Brasilito/Tamarindo area, the fiestas are usually mid March.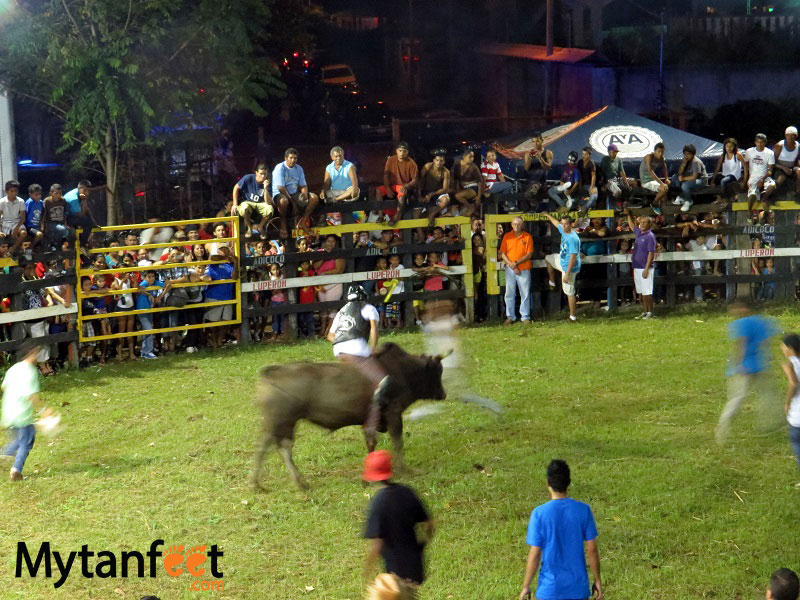 The most popular festivities are the Palmares Fiestas, Zapote Fiestas and Puntarenas Carnaval. The Fiestas Civicas has rides, games, live music, dancing, food and the most Costa Rican tradition: bull riding.
Costa Rica does not partake in bull fights. Instead, they ride bulls and then once the rider is bucked off, they let the bull run around the ring and chase people for entertainment. Once the bull is bored chasing people, they do not kill it. They put him back in the corral and bring in the next rider.
So if you feel daring, for just $10-15 USD per person, you can hop into the stadium with other daring locals and get chased around by a bull!
Bull riding is such a Costa Rican tradition that they televise the riding nationwide during the Zapote Christmas parties!
10. Cruise Through the Gulf of Nicoya to Tortuga Island
The Gulf of Nicoya is home to several beautiful islands and you can take a day trip to Isla Tortuga, which has a stunning white sand beach. Cruise 1.5 hours through the Gulf of Nicoya for spectacular views. Then you'll relax on the island for 5 hours and cruise back at sunset.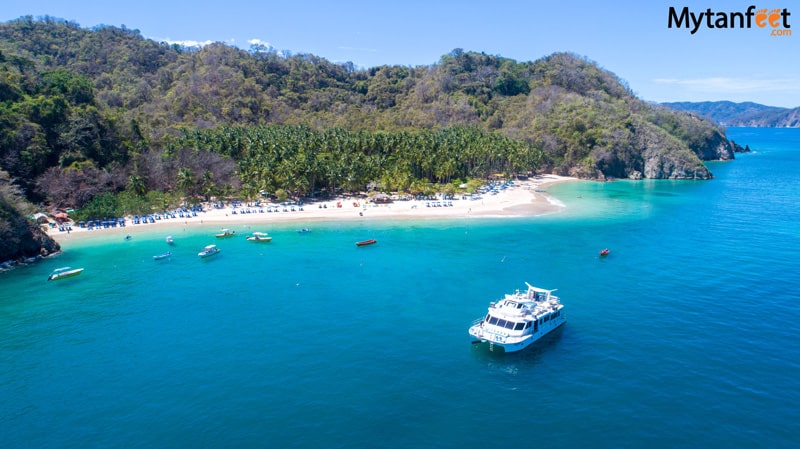 This is an excellent day excursion from San Jose, Puntarenas and Jaco. You can go snorkeling, kayaking, jet skiing, swimming and hiking on the island. Also, if you want to do this tour, we have a $10 USD discount. Check our post on the Tortuga Island day tour here to get it!
11. Take a Cooking Class
Delight your taste buds and learn about Costa Rican food and traditional cooking methods on a Costa Rica cooking class. We did a La Fortuna cooking class and farm tour that was incredibly interesting and enlightening as we learned all about the "farm to table" concept.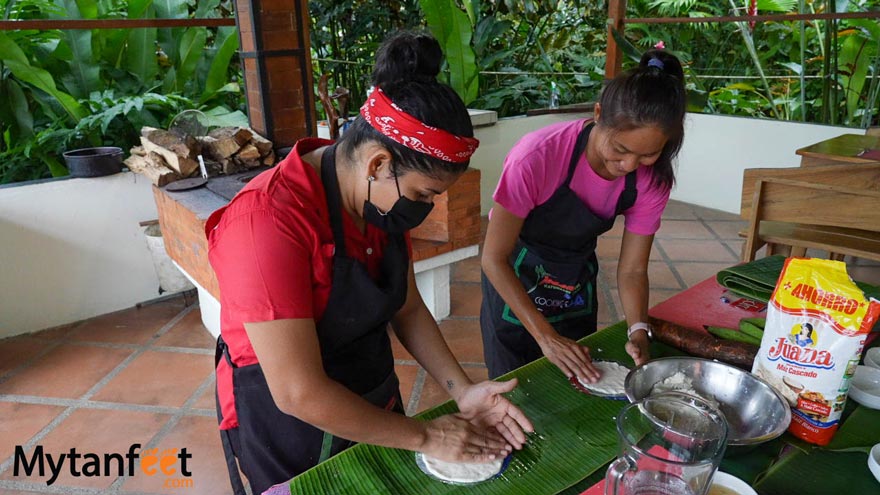 If you love food and are interested in learning about Costa Rican food culture, then you have to take a cooking class!
12. Walk Through the Zarcero Topiary Gardens
And speaking of Zarcero, you must stop here to see thei intricate and well manicured topiary gardens. The gardens have been around for some time and are the prize jewel of the town.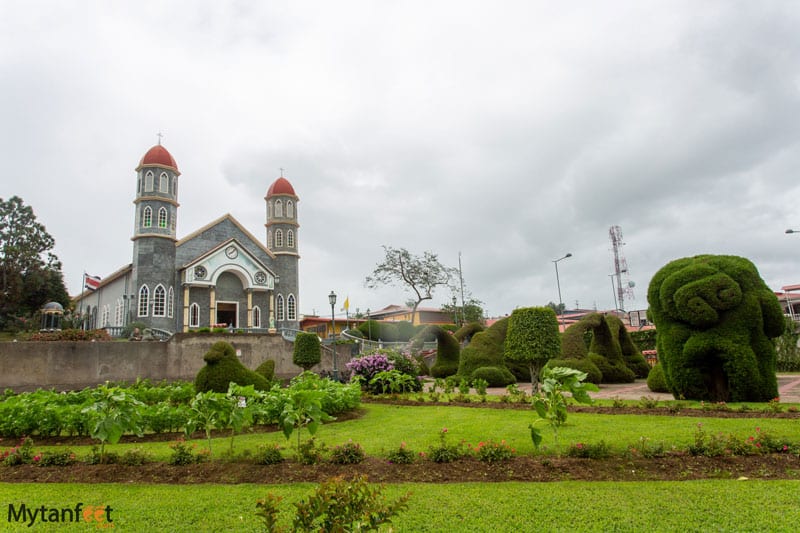 Zarcero also has a beautiful church and is a cute little town to stop by for a day. Walk through the gardens, visit the church and get a local treat of cheese, tortillas and hot chocolate at one of the local snack stands. It's such a cute little town for a less touristy destination to experience local culture.
13. Rincon de la Vieja Combination Adventure Tour
For the best value for your money, we love Guachipelin Adventure Park's 1 day combo tour in Curubande at the foot of the Rincon de la Vieja volcano.
It's a full day of ziplining, horseback riding, lunch, river tubing, hot springs and mud baths. It's an awesome day tour that allows you to experience the best of the volcano and dry tropical forest.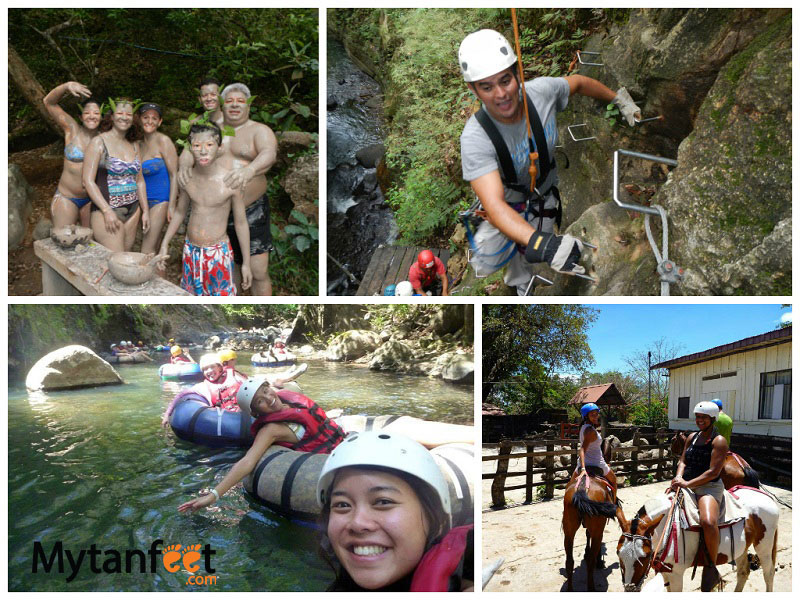 The parks are about a 1.5 hour drive from Gulf of Papagayo and Tamarindo/Conchal area and definitely worth a day trip.
14. Stand Up Paddle Board
Stand up paddle boarding is very popular in Costa Rica. You can rent a board and go on your own or take a class.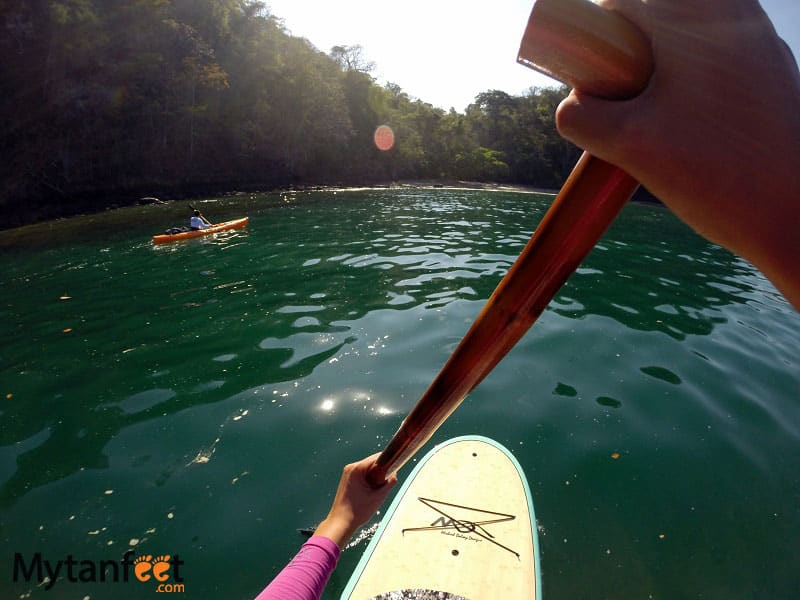 It's a good workout for your whole body and a fun way to enjoy the ocean. Some of the best spots are at Playa Mantas, Playa Panama, Playa Herradura and Playa Platanares for their calm waters. You can sign up for classes or rent boards.
I did a 2 hour SUP tour with Kayak Jaco from Playa Agujas. We stand up paddle boarded to Playa Mantas and the beautiful white sand beach Playa Blanca.
You can also SUP on rivers and lakes! You can do a SUP tour on Rio Baru by Dominical with Pineapple Tours Kayak & Super or SUP on Lake Arenal.
15. Llanos de Cortes Waterfall
This is one of the best waterfalls in Guanacaste, the stunning Catarata Llanos de Cortes. It's one of our favorite things to do in Liberia, Costa Rica since it's only 20 minutes from the city and the best way to cool off on a hot day.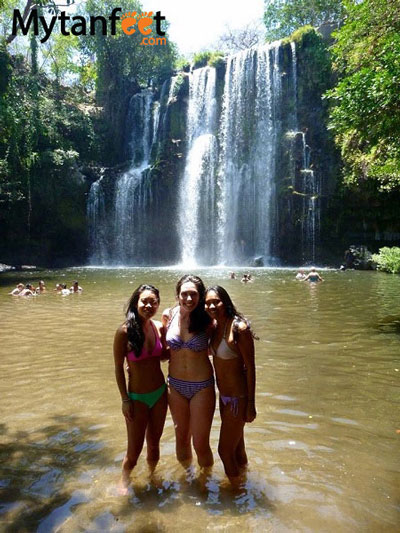 The Llanos de Cortes waterfall is one of the best cheap things to do in Costa Rica as the entrance fee is less than $10 USD.
Here is our guide to visiting Catarata Llanos de Cortes.
16. Del Toro Waterfall
Catarata del Toro is a stunning 270 foot (83 meters) waterfall in an extinct volcano crater hidden in the Central Valley. The Del Toro waterfall is one of the tallest waterfalls in Costa Rica and is a must see!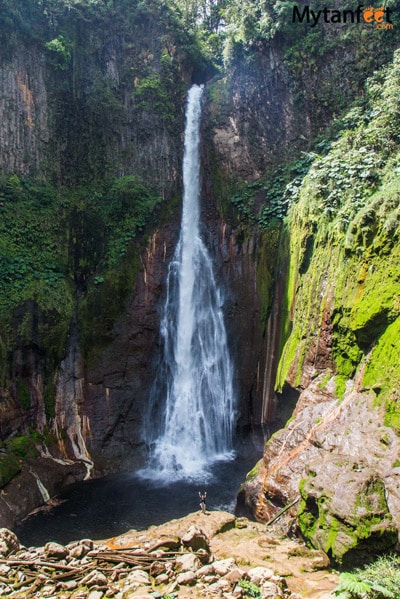 This waterfall is in the small rural town of Bajos del Toro, about 2 hours from San Jose. You can stop by on your drive from San Jose to La Fortuna but we highly recommend to stay a couple nights in Bajos del Toro if you love hiking and waterfalls. The town is a non-touristic destination with tons of excellent waterfall hikes.
For more information, check out our post on Catarata del Toro.
17. See Turtles at Ostional Wildlife Refuge
Some of Costa Rica's beches are home to sea turtles who come to lay their eggs on shore. There are also two beaches in the country that experience mass turtle nestings, called arribada in Spanish.
For animal lovers, this is one of the best things to do in Costa Rica.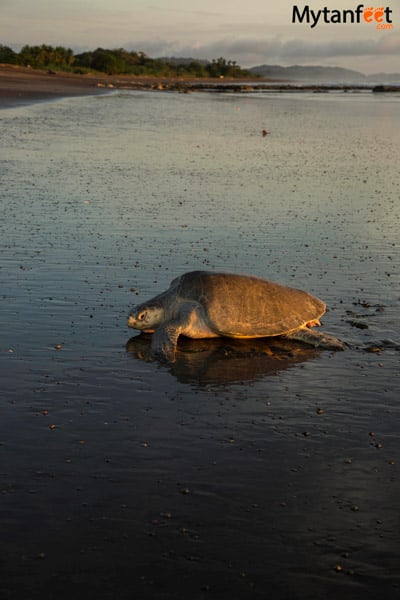 The best time to go to Ostional Wildlife Refuge is May – December and is one of the best things to do in Costa Rica in November as that is when the biggest arribadas occur. You must make reservations to visit the refuge and you must hire a guide to take you.
Other excellent places to see turtles are Tortuguero, Osa Peninsula, Tambor Bay, Hermosa Wildlife Refuge and Montezuma. Learn more about where and when to see turtles in Costa Rica here.
18. Visit the Jaguar Rescue Center in Puerto Viejo
If you want to learn more about the wildlife of Costa Rica, the Jaguar Rescue Center is one of the best places to do so. It is a rescue center in Puerto Viejo de Talamanca that takes in injured animals, rehabilitates them and releases them back to the wild.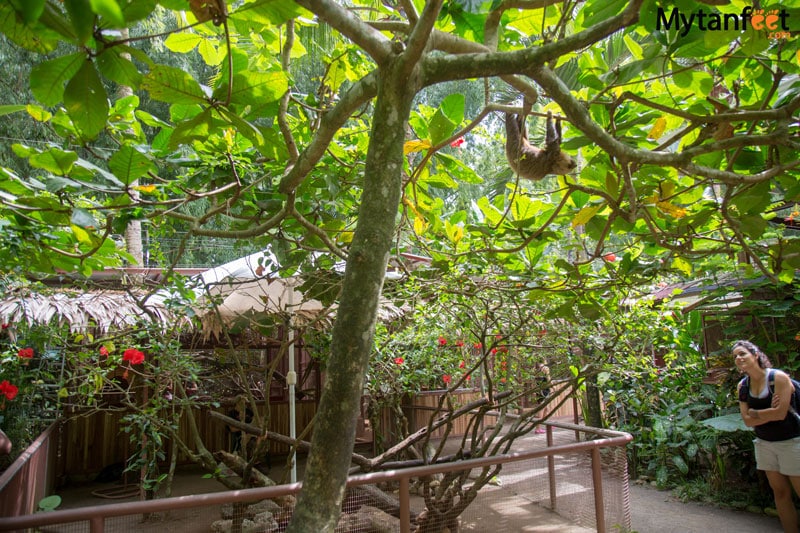 They offer guided tours of the center so you can learn about how they are working to help animals such as monkeys, anteaters, sloths and various birds. It's very interesting and the center does great work when it comes to conservation and educating the public on how to interact with wildlife.
Other excellent rescue centers and animal sanctuaries to visit are Toucan Rescue Ranch, Centro de Rescate Las Pumas, Alturas Wildlife Sanctuary, Proyecto Asis, and Kids Saving the Rainforest. You can take guided tours to learn more about their programs and animals.
19. Fishing
Costa Rica is one of the best countries for fishing with healthy waters and knowledgeable locals. Sport fishing in Costa Rica is purely catch and release and you can catch fish like marlin, rooster fish and sail fish.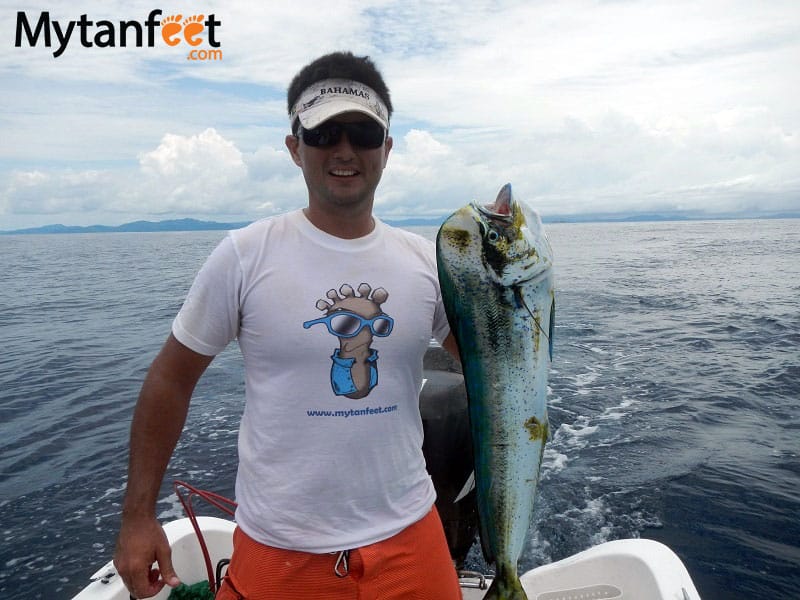 If you go in shore fishing and catch tuna snapper or mahi mahi, you can keep it. Many restaurants will cook the fish for you too which is nice!
Best places to go fishing in Costa Rica are Playa Flamingo, Tamarindo, Playas del Coco, Quepos, Paquera, Playa Herradura, Mal Pais, Puntarenas and Drake Bay.
20. Take a San Jose City Tour or Walk Through Downtown
Although San Jose isn't exactly the nicest city, it isn't quite as terrible as people make it out to be. As the capital city of Costa Rica, it's the best way to get a glimpse of the typical city life as over 1 million Costa Ricans live and work in San Jose.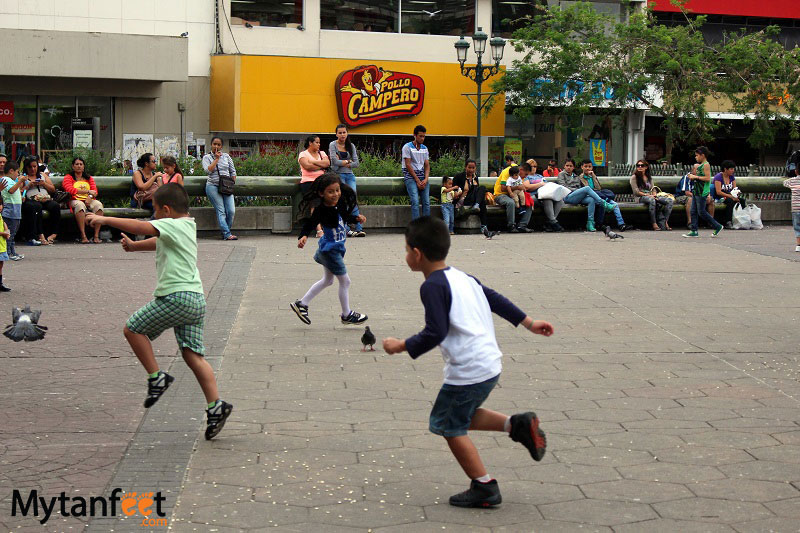 Usually 1 or 2 days in San Jose is enough time to see the city and get a taste of what it's like. And if you're interested in learning more about San Jose, take a San Jose city tour.
If you don't want to take a tour, we recommend to walk through downtown on Central Avenue (Avenida Central). That is the busiest street in San Jose.
For a full day of Costa Rican culture, we highly recommend a dinner show which is the next thing to do in Costa Rica on our list.
21. San Jose Dinner Show
A dinner show is an excellent way to end a day full of Costa Rican culture. There are a couple of great ones in Sa nJose: Mirador Tiquicia and Ram Luna.
We have visited Mirador Tiquicia which has a dinner show on Fridays and Ram Luna Restaurant which offers a buffet and dinner show on Wednesdays and Thursdays. Additionally, they both have a spectacular view of San Jose!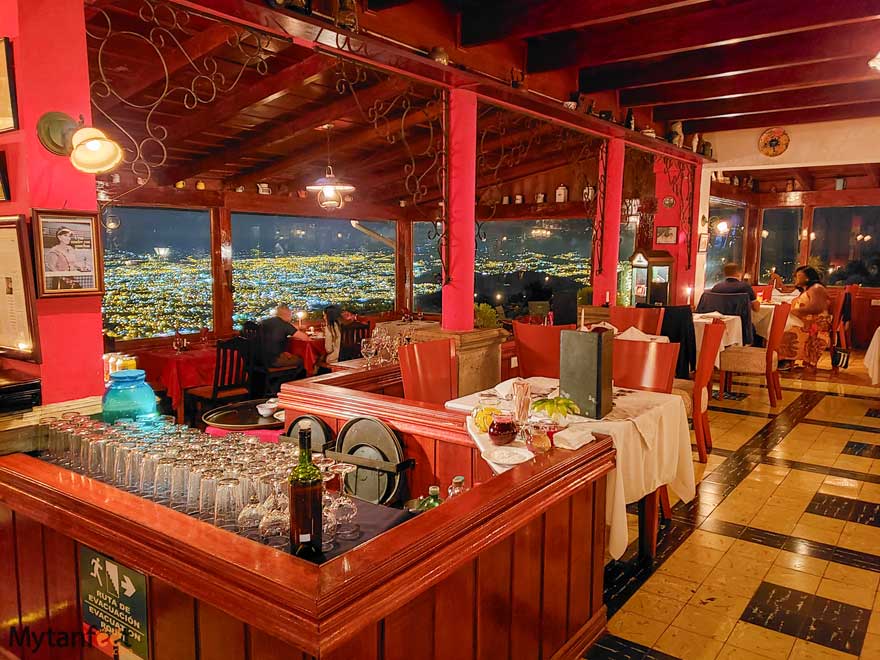 For a full day of Costa Rican culture, we recommend to do a San Jose city tour and then the Ram Luna or Mirador Tiquicia dinner show.
22. Kayak in Tortuguero National Park
Tortuguero National Park, or the "Amazon of Costa Rica" is a place like no other in the country, famous for turtle nestings and rainforest canals. Additionally, the national park is boat access only so it's quite an adventure to get there!
Once in Tortuguero, you can take boat rides through the national park to see wildlife but our favorite way is to go by kayak.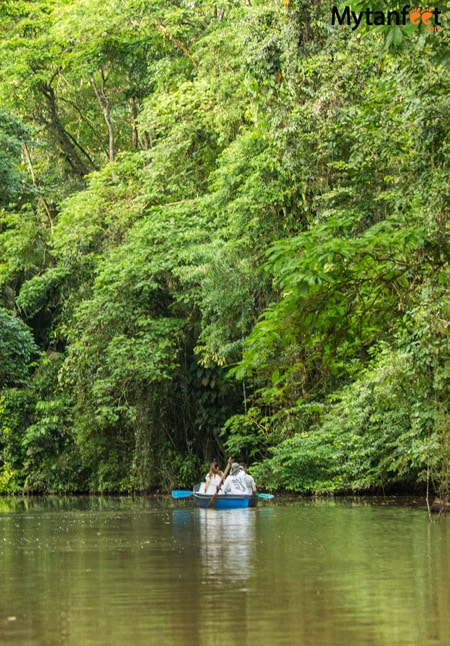 Kayaking allows you to go to areas that motored boats can't go and you don't disturb the wildlife as much so you can get very close. See toucans, monkeys, and all sorts of wildlife up close as you glide quietly on the water, surrounded by lush jungle with no one around. This is one of our favorite things to do in Costa Rica because we saw so many animals super close!
Want to visit the national park? Check our Tortugero National Park guide. It is on the Caribbean side so the best time of the year to visit is September and October as it is drier and it's the peak time for turtle nestings.
23. See a Volcano
Costa Rica has a handful of volcanoes why is why visiting a volcano is a MUST DO thing in Costa Rica! The best ones to see are Arenal, Turrialba, Irazu and Poas Volcano.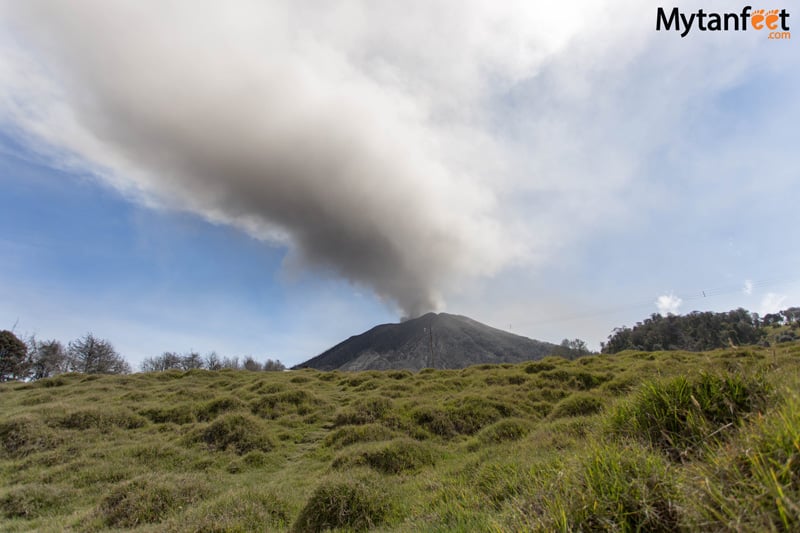 Turrialba Volcano National Park is now open and you can see the active volcano from close up.
Or go all the way up to the crater of Irazu Volcano or Poas Volcano National Park to see their crater lakes.
24. Hike Arenal Volcano National Park
And speaking of volcanoes, another must see in Costa Rica is Arenal Volcano National Park.
Arenal Volcano National Park is the best place for those who want to see a "cone" shaped volcano. The volcano erupted back in 1968 but nowadays, visitors can hike through the remaining lava beds for beautiful views of the volcano and Lake Arenal.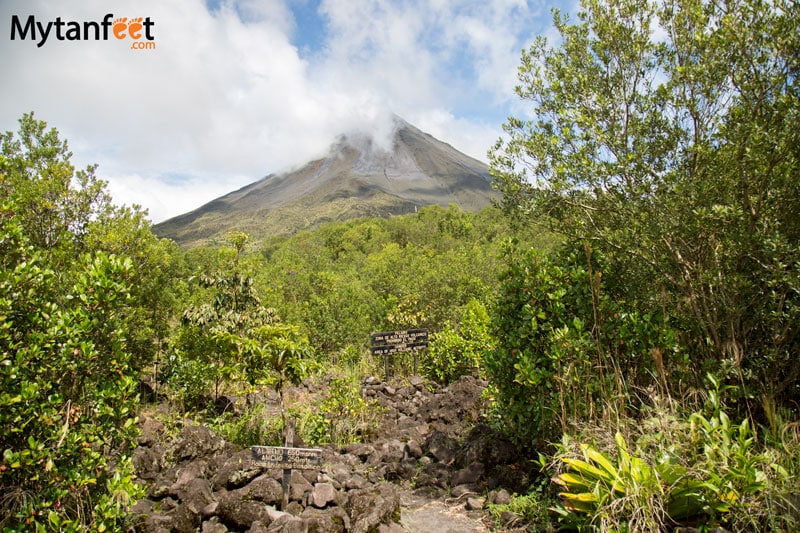 This is a great national park for first timers since it's easy to get to and the trails aren't too tough or long. If you walk the Coladas trail, you will reach a viewpoint to see Lake Arenal and the volcano. Visiting Arenal Volcano is a must when in La Fortuna!
25. Ride a Tram Through the Rainforest
There are a few trams in Costa Rica that take you through the forest up to stunning views. For those who aren't big hikers or can't do a lot of strenuous movements, the tram is the best way to experience the tropical jungle.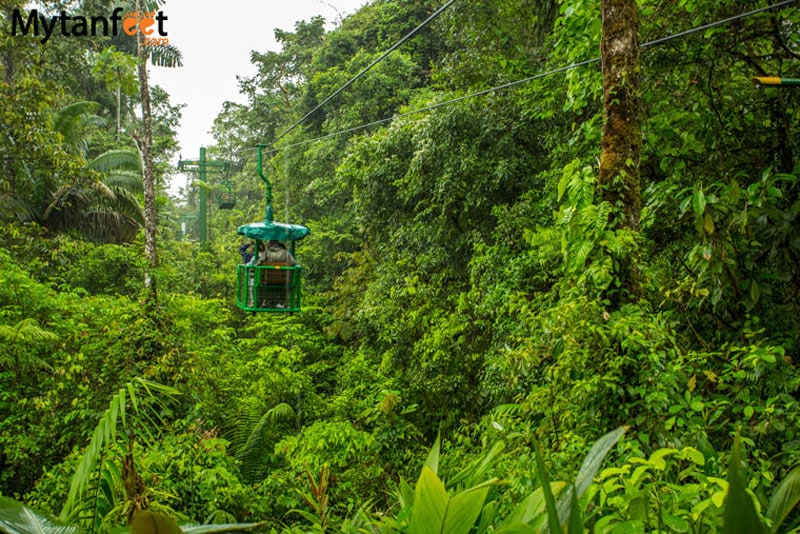 Along the way, it's possible to see various birds, monkeys and other wildlife and it's great to go with a guide who can point out the different plants and flowers you see. And always, at the top is a great view!
Sky Tram at Arenal and Monteverde are excellent ones and Rainforest Adventures Park on both the Caribbean and Jaco sites have a tram. Veragua, a research center and adventure park on the Caribbean coast has an aerial tram too.
26. White Water Rafting Pacuare River
For a full day of fun and adventure, white water rafting at the Rio Pacuare packs all that and more. Raft through class 3 and 4 (and 4+) rapids in the canyons of Costa Rica, bathe in the cool fresh waters and experience a trip of a lifetime.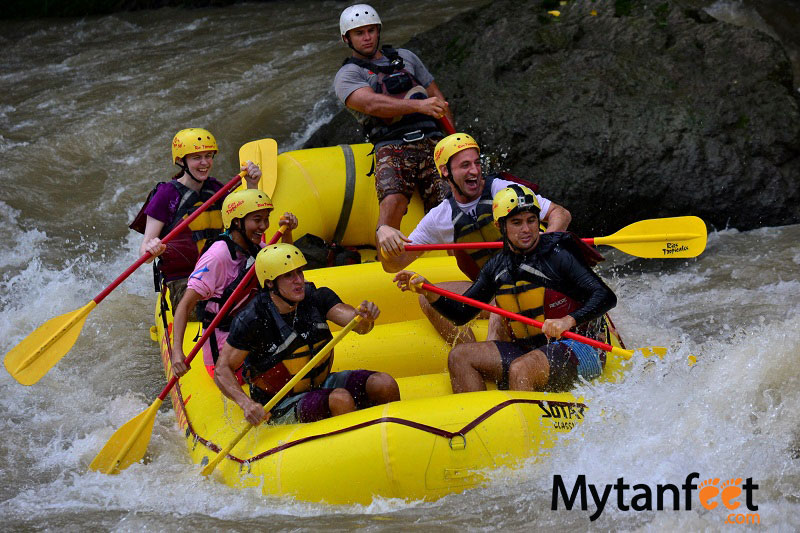 This is my favorite tour I've ever done in Costa Rica and there are also multi-day white water rafting trips for the more adventurous ones. You can even go white water as a way to get around Costa Rica as many companies pick up in San Jose and drop off in La Fortuna or Puerto Viejo! This is definitely one of the top adventure activities in Costa Rica.
PS. If you want to do the tour, we have a Rio Pacuare white water rafting discount!
27. Go on a Waterfall Tour
Costa Rica has spectacular waterfalls all throughout the country thanks to the many volcanoes, rivers and valleys. Many are easily accessible without a guide but some others require a tour.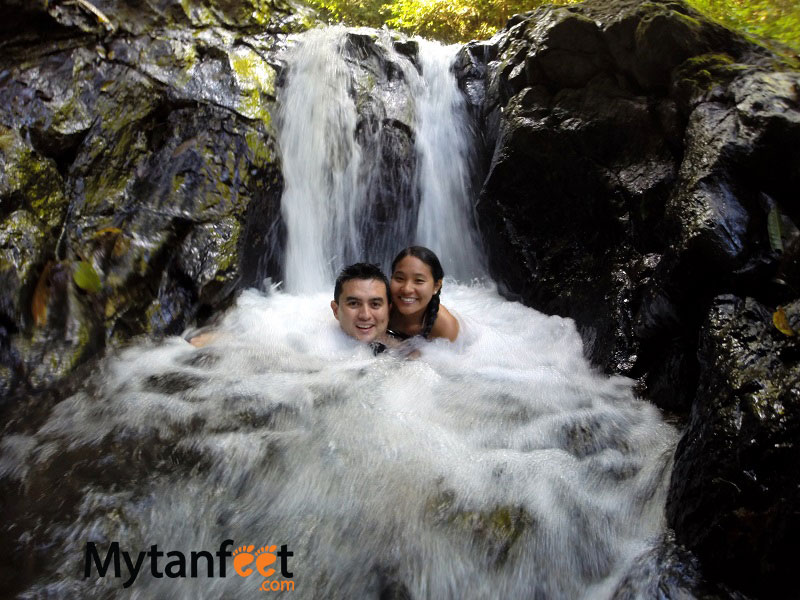 There are several companies that operate waterfall tours in the Central Pacific. We went with Costa Rica Waterfalls Tours for the one in Jaco and they also operate another more "extreme" waterfall tour.
In Manuel Antonio, Paddle 9 operates waterfall tours and in Uvita, Rancho Di'Andrew runs waterfalls tours.
28. Take a Guided Walk at Manuel Antonio National Park
If you are visiting Manuel Antonio National Park, we highly recommend a guided walk. Manuel Antonio National Park is one of the best places in Costa Rica to see wildlife thanks to its year long lush rainforest. Having a guide is the best way to see animals and learn about the local flora and fauna.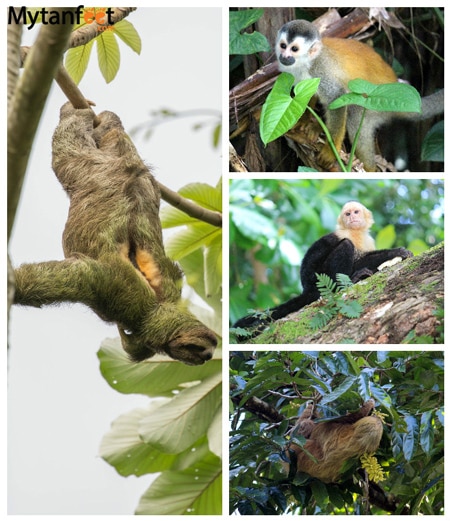 It's definitely worth taking the national park tour as they also include transportation and park tickets. (Get 7% off your Manuel Antonio National Park guided tour here).
29. See Rio Celeste Waterfall and River
One of Costa Rica's most magical places is Rio Celeste, a sky blue river in Tenorio Volcano National Park. This bright blue river is stunning and it's even more beautiful in person. It's hard to believe the water is that blue but it really is!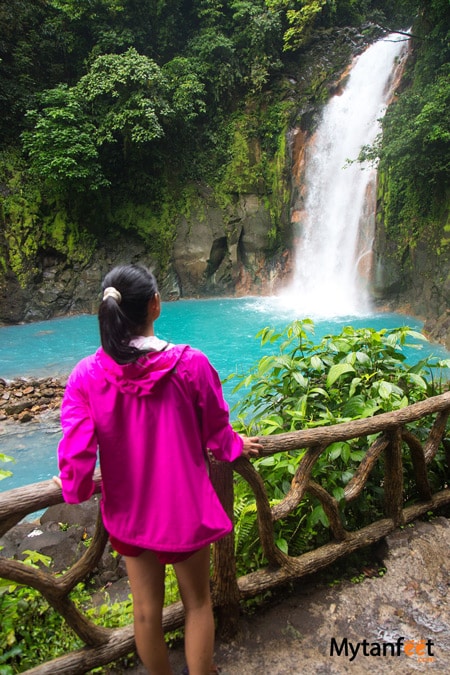 You can hike through Tenorio Volcano National Park to see the waterfall and the union of the two rivers which creates the blue color. You'll be in awe of this spectacular natural landmark when you see for yourself just how blue the water is!
Read our guide to visiting Rio Celeste for more information on how to best experience one of the top sights in Costa Rica. We also highly recommend to stay a night or two in Bijagua, the town that is the gateway to Rio Celeste. It's a beautiful, small rural town that is excellent for birdwatching, nature and wildlife. Also don't forget to visit the Rio Celeste Free Pool to swim in the sky blue river!
Rio Celeste is one of the MUST SEE places in Costa Rica!
30. Wildlife Watching Safari
One of the best things to do in Costa Rica for families is a wildlife watching safari. In Costa Rica, they offer it by motorized boat or raft.
From La Fortuna, we did an incredible safari float by raft in the Caño Negro Wildlife Refuge, which is one of the best places in Costa Rica to see wildlife. Floating down the river in a raft allowed us to get up close to animals without disturbing them.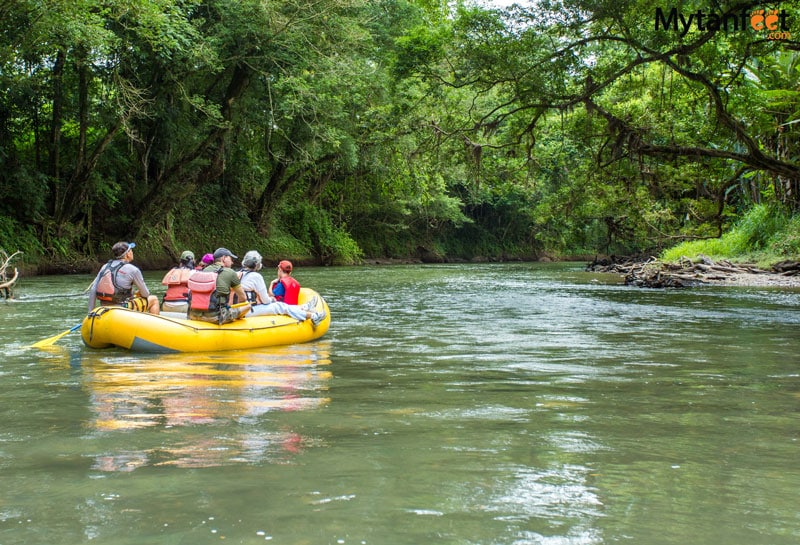 There are two safari floats from La Fortuna: Penas Blancas, the most common one and the Rio Frio tour which is operated exclusively by Jacamar Naturalist Tours. Both are wonderful! If you're short on time, Penas Blancas is the best choice. For a more intimate and personal experience, Rio Frio is quite special.
In Guanacaste, there is a safari float down the Corobici river which offers the same experience.
You can also do river boat rides like in Palo Verde National Park, Damas Island in Manuel Antonio or at Hacienda El Viejo in Guanacaste in a motorized boat.
31. Learn about Costa Rican Coffee
Costa Rica grows some of the best coffee in the world and if you're a coffee lover, you'll want to take a tour of a coffee plantation to find out why it's so darn good.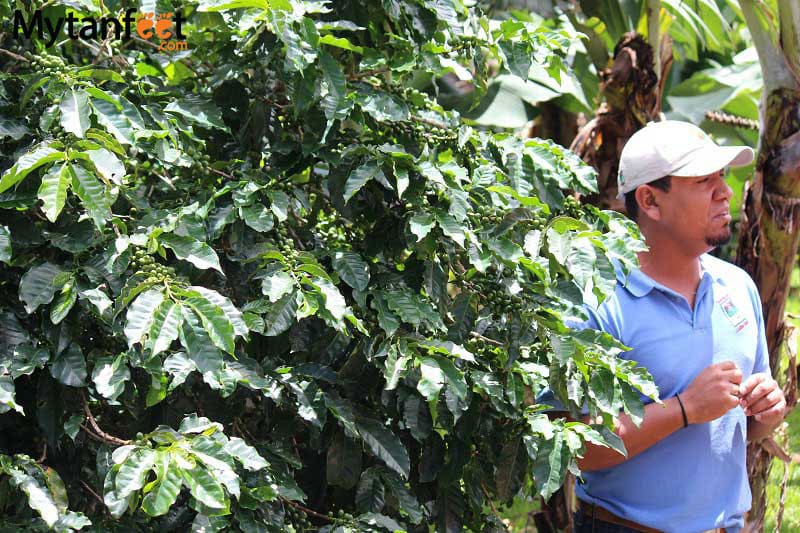 It's an incredibly educational and enlightening experience as you learn how a cherry gets from the plant into your cup. Plus you get to sample delicious coffee at the end!
Our favorite coffee tour is Doka Coffee Estate but there are many others. Golden Bean in Turrialba, Britt in Heredia, Coopedota in San Gerardo de Dota, Espiritu Santo in Naranjo, El Cafetal in Monteverde and Finca Rosa Blanca in Heredia are all excellent.
You can even visit Hacienda Alsacia, Starbucks's coffee plantation! Since coffee grows best in higher altitudes, the best places for coffee tours are San Jose, Alajuela, Heredia, Grecia, Heredia, Turrialba and Monteverde.
The best time to take a Costa Rica coffee tour is October – March as that is the production and harvest season. Coffee tours are a must do in Costa Rica!
32. Take a Chocolate Tour
In addition to coffee tours, a chocolate tour is an excellent cultural experience.
For the past several years, Costa Rica has seen a resurgence in their chocolate production. Cacao grows very well in the tropical climate and you can take tours to see how they grow and process cacao to make chocolate.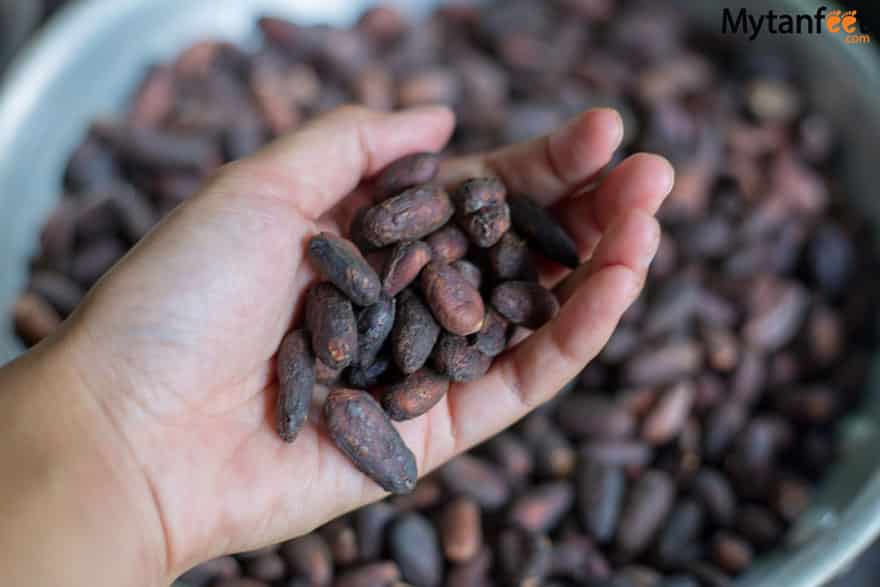 The best places to take a chocolate tour is Puerto Viejo and La Fortuna. We did a chocolate tour with the BriBri indigenous community outside Puerto Viejo which was fascinating since cacao plays an important part in the BriBri culture. The Puerto Viejo chocolate tour is another excellent one.
We also did one with Rainforest Chocolate Tour in La Fortuna and Costa Rica Best Chocolate in Sarapiqui which was really fun and informative.
33. See the Crocodiles at the Crocodile Bridge
The Crocodile Bridge is famous for one reason which you can guess: their crocodiles. As you walk across the bridge and look down, you can see up to 10 or 15 giant crocodiles laying around just a little below you.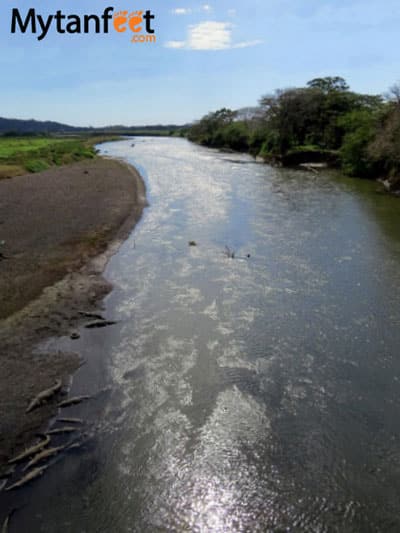 The bridge is in the town of Tarcoles, a little bit before Jaco and it's worth stopping to see the giant crocodiles.
However, please be very careful walking on this bridge. There is now a small pedestrian path but please do not act like a stupid tourist and climb over the bridge. Do not dangle off of it, climb over it or jump off. Those crocodiles are right under the bridge for a reason!
34. Walk to the Whale's Tail at Marino Ballena National Park
Inside Marino Ballena National Park is a section where two beaches come together. In low tide, it looks like a whale's tail! And this part of the national park is appropriately named "Whale's Tail" because Uvita is one of the best places in Costa Rica to see humpback whales!
If you go in high tide, the water covers the whole thing and you can't see it.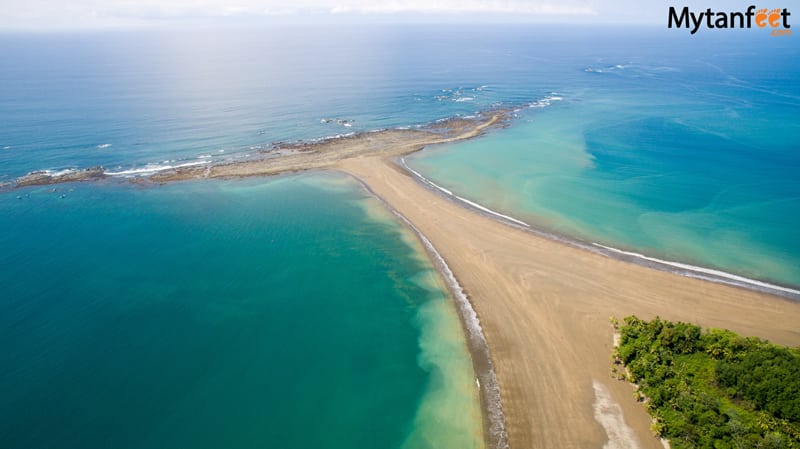 Another nice thing about this national park is that it's not very popular but it is very big. You will feel like you have the entire beach to yourself and the sunsets there are spectacular.
35. Try Gallo Pinto and Salsa Lizano at a Local Restaurant
Food is for us, the ultimate way to know a country's culture. So when you are in Costa Rica, make sure to go to a soda, which is what the locals call a traditional restaurant. They're usually a small, open air family run restaurant serving only Costa Rican food.
As for what food to eat, the most traditional breakfast is gallo pinto, which is rice and beans. This is usually paired with eggs, plantains, a tortilla and cheese. You will also see a brown sauce on the table called "Salsa Lizano." It's Costa Rica's classic sauce and I recommend to put some on your pinto. Delicious!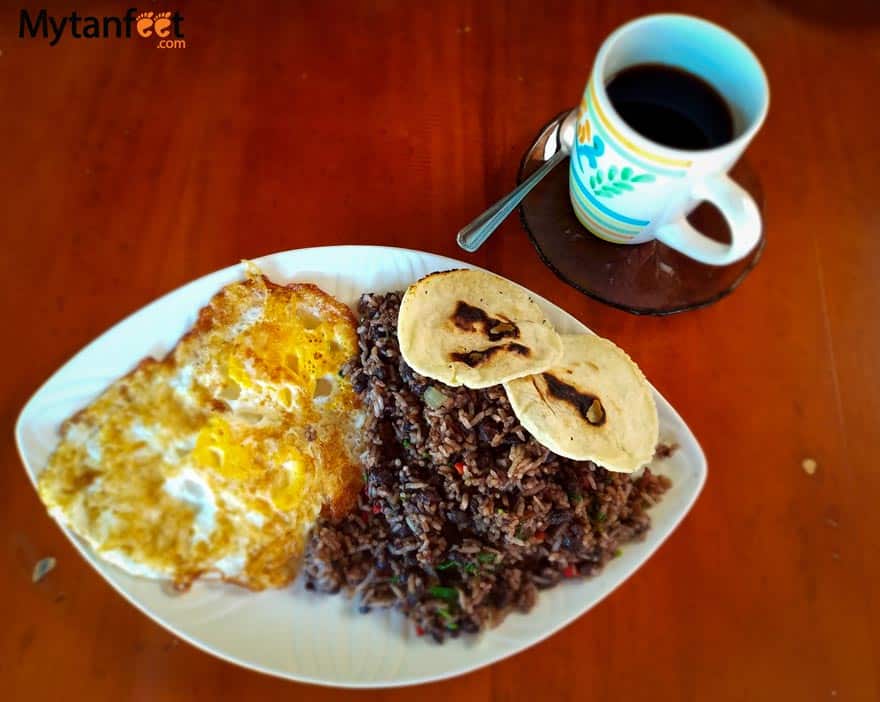 Then if you go for lunch, you can order a casado which is a plate of rice, beans, salad, meat and usually plantains or a picadillo or some sort. You can have that for lunch or dinner. Find out what other Costa Rican dishes you should try in this link!
36. Go to a Local Bar and Get an Imperial and Chifrijo
And continuing on the topic of food, if you like to drink, then you must visit a local bar. Not the tourist bars, the bar in the small village outside the touristic destinations!
There you can have the ultimate Costa Rican bar experience, surrounded by local farmers enjoying a beer after a hard day's work and singing old Spanish ballads on karaoke night. At local bars, you can try a chifrijo which is a mix of rice, beans, pico de gallo and chicharrones (fried pork) with chips.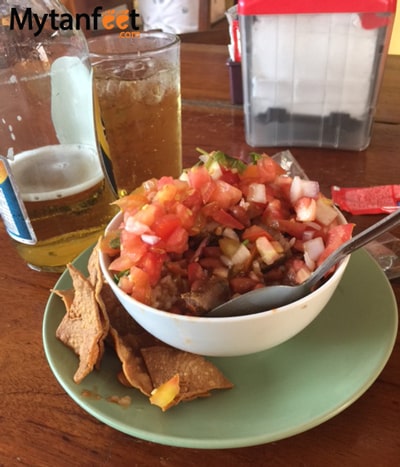 You can find it on the menu at most Costa Rican bars and sodas but it may be under another name. If you don't see it, just ask. A chifrijo and Imperial beer is just about as Costa Rican as you can get at a bar.
37. Eat Rice and Beans
If you go to the Caribbean side of Costa Rica, particularly Puerto Viejo, you'll be surprised to see that the culture, food and people are completely different thanks to the Afro-American influence on the Caribbean coast.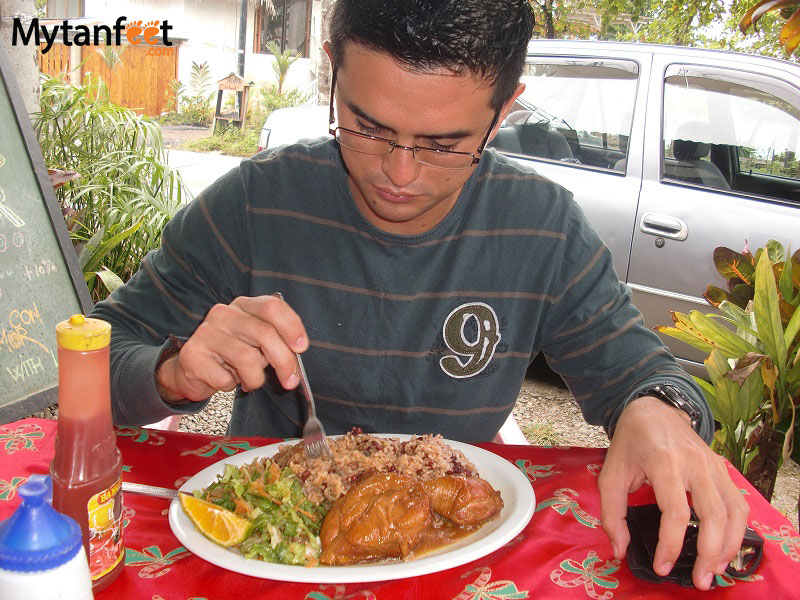 Instead of gallo pinto, they eat rice and beans which has coconut milk in it. Their culture is highly influenced by the nearby Caribbean islands so you'll find plenty of jerk chicken and other yummy dishes.
Our favorite place to get rice and beans in Puerto Viejo is Soda Lidia's Place. Get the chicken and add some hot sauce, it's heavenly!
38. Beach Hopping
The coasts of Costa Rica are full of gorgeous beaches and you can find beaches of all characteristics: white sand, dark sand, turquoise waters, clear waters, etc.
So when you're at the coast, you must visit different beaches!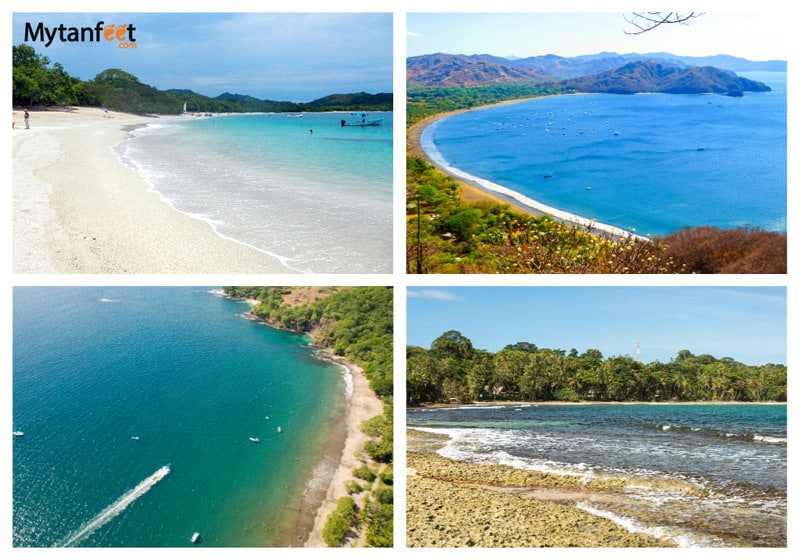 The best part is that no beach is ever so full that you can't find a spot to lay down and if you explore a bit, you may even have a beach all to yourself. And all beaches are public by law so it's one of the best cheap activities to do in Costa Rica.
Find out what the best beaches in Costa Rica are!
39. Enjoy the Hot Springs in Arenal
La Fortuna has some of the best hot springs in the country with the Tabacon river supplying natural hot water to the springs. Some hotels have their own private hot springs or you can go to free access part of the river where the locals go.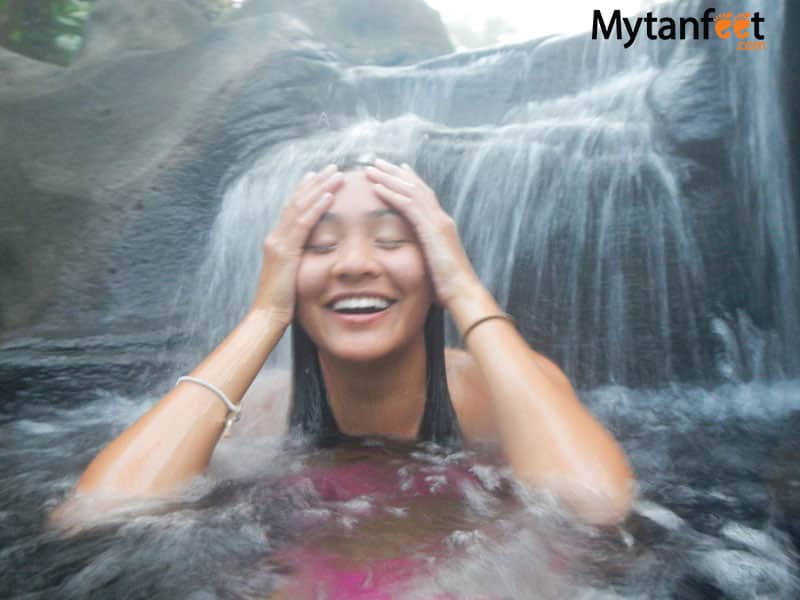 Tabacon, Baldi, Ecotermales and the Springs are some of the most popular hot springs in Arenal.
If you're visiting La Fortuna, going to the hot springs is a must! You can read more about the best hot springs in Arenal in this post.
40. Go Whale Watching
Costa Rica has the longest humpback whale watching season in the world so your chances are pretty good to see these magnificent creatures. If you love whales, this is a must do activity in Costa Rica.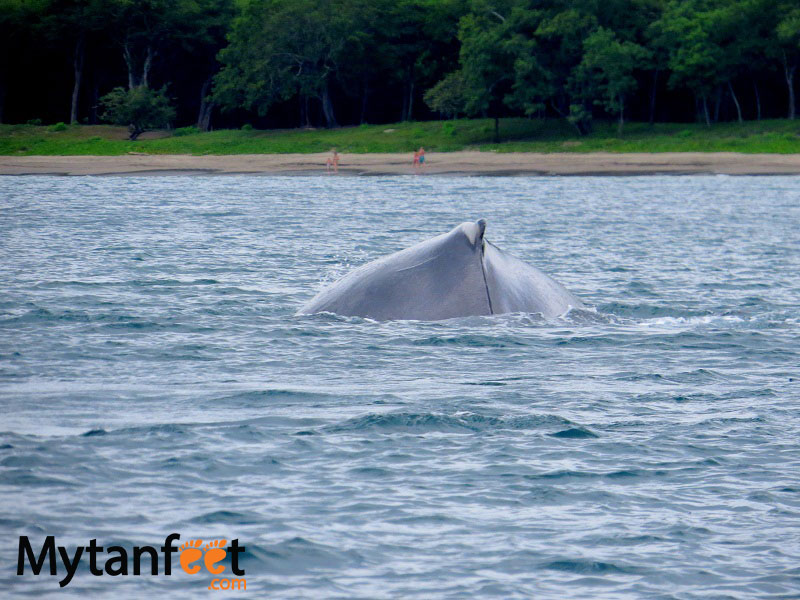 The best places for whale watching is down in Uvita, Drake Bay, Golfo Dulce and Gulf of Papagayo. The best months are August and September but in you have a chance to see them from July – November and January – April since both northern and southern humpback whales pass through.
We have seen humpback and pilot whales in the Gulf of Papagayo, Las Catalinas and Uvita. It was amazing!
41. Try a Cold Coconut Water (Pipa Fria)
You'll see signs for cold coconut (pipa fria) at every beach town and you definitely want one. It's cold coconut water and is oh so delicious on a hot day!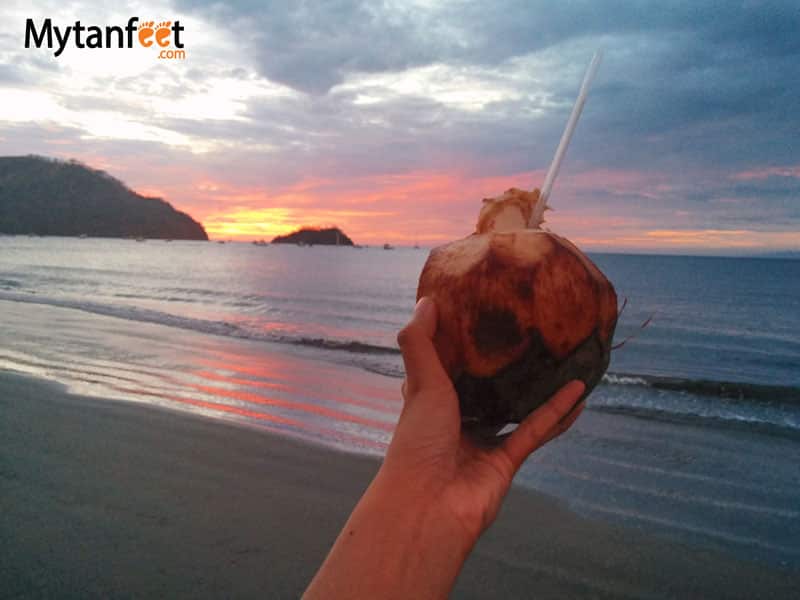 I love watching the vendors hack off the top with a huge machete. They are coconut experts!
You can find vendors at nearly every beach and it costs around 500 colones a pipa fria. You can even upgrade your coconut and get a coco loco with rum!
42. Go Bird Watching
With over 800 species of birds living in Costa Rica, any bird lover will be in paradise. Snap photos of hummingbirds, toucans, macaws, parrots and other gorgeous tropical birds all throughout the country.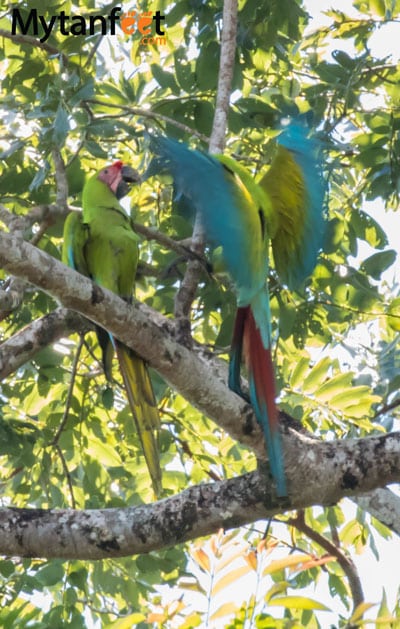 Wildlife and bird lovers have to put a bird watching tour on their "things to do in Costa Rica' list. And if you're a birder who wants to see the Resplendant Quetzal, January – April are best times in Monteverde, particularly the Curi Cancha Reserve. We saw several Resplendant Quetzals there in March. For a more "off the beaten path" birding destination, check out San Gerardo de Dota, San Ramon or San Vito.
For the hardcore birders, stay at one of the eco lodges built specifically for birding such as Trogon Lodge, Maquenque Lodge, Villa Lapas or Selva Verde Lodge.

43. Hang Out in the Town Square
To experience a bit of local life, head to the town square and park. Here is where you'll see locals hanging out and relaxing in the evenings. La Fortuna is one of our favorite town squares to get an ice cream and people watch. It's so picturesque with the church and volcano in the backdrop!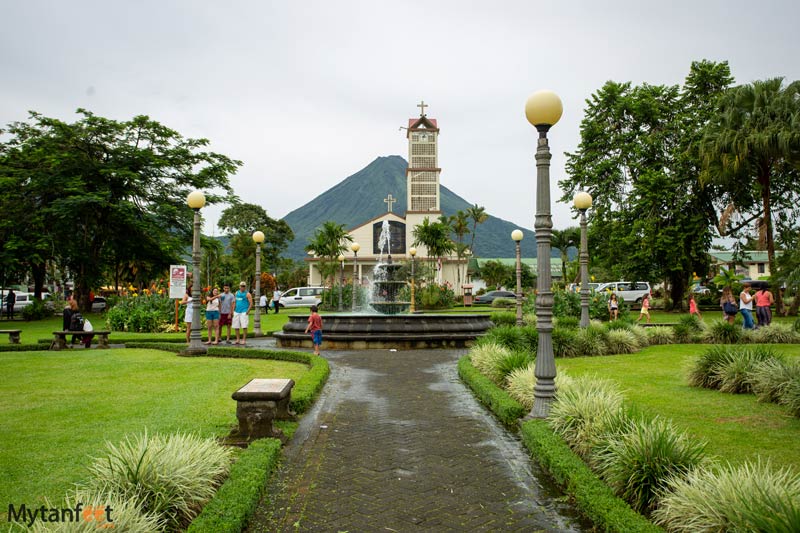 Other places we like to people watch is at Plaza de la Democracia in San Jose, the boulevard and park in Playas del Coco, topiary gardens in Zarcero, the park in front of the red church in Grecia and in front of Amy's Restaurant in Monteverde.
44. Go on a Night Walk
The jungle changes drastically when the sun goes down and the best way to experience it is to go for a guided night walk. Guides will point out creatures that are only seen in the dark such as insects, spiders, frogs, snakes and more.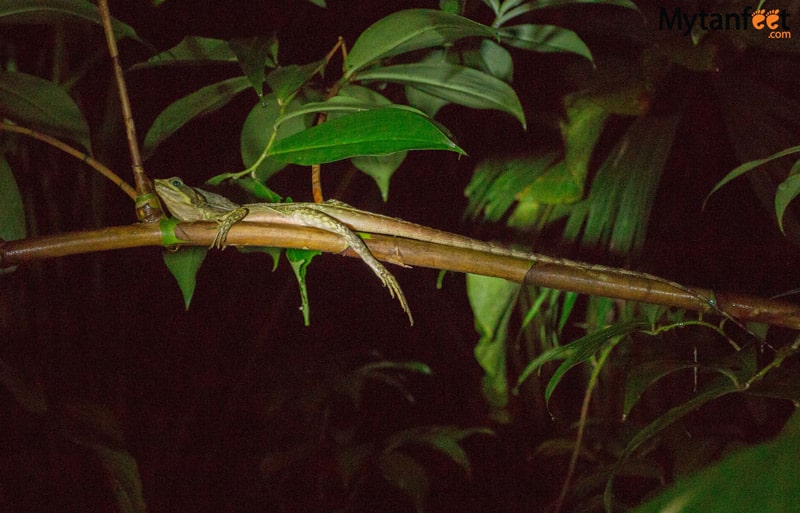 We've done several night walks in Costa Rica. In Arenal, we did a night walk with Jacamar (get 7% off this tour). In Osa Peninsula we did a night walk at Leona station with La Leona Eco-Lodge, in Braulio Carrillo we did a night walk with Rainforest Adventures and in Monteverde we did one at Finca Santa Maria. For night walks in Manuel Antonio, our partner offers jungle night walks (get 7% off in the link) or you can check out the Si Como No reserve.
45. Watch a Futbol Game at the National Stadium in La Sabana
Futbol is a huge passion of all Costa Ricans and there are games held in the stadium year round. Cheer for the local teams and experience one of the country's favorite past times.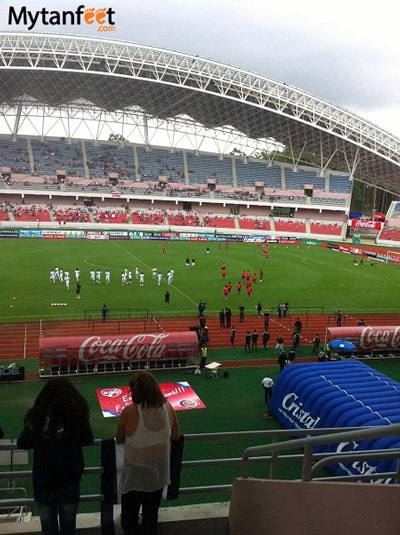 La Sabana in San Jose is their biggest stadium but they also have stadiums in Heredia, Puntarenas, Alajuela, Limon and Cartago.
We watched the Panama vs Costa Rica game in La Sabana (qualifiers for World Cup) and it was really fun to see all the Ticos cheering and going crazy!
46. Try Costa Rican Local and Craft Beer
Costa Rica has a few locals beers to try, Pilsen and Imperial are the most popular. Head to the bar to have a beer and you'll also get a great glimpse into Tico life since beer is heavily ingrained in their culture. All bars in Costa Rica offer some sort of happy hour, some places even have happy hour all day!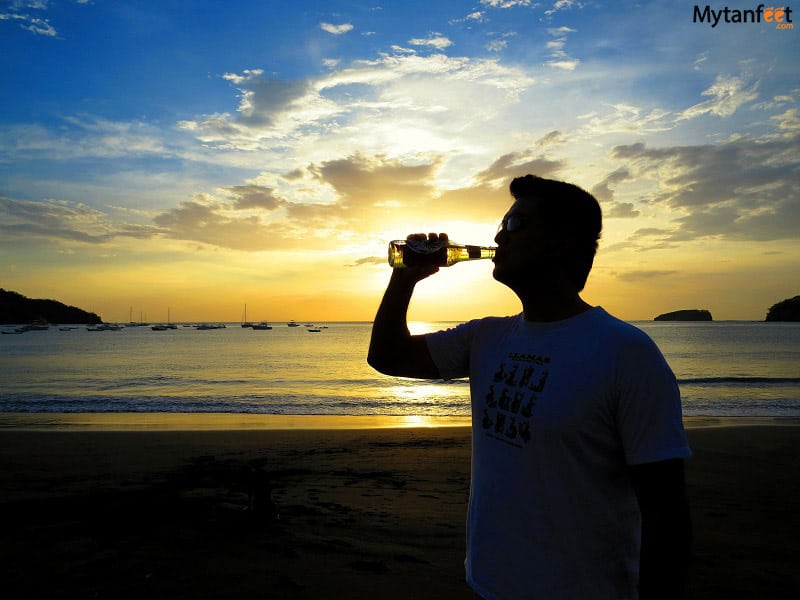 Costa Rican craft beer is growing immensely in Costa Rica. Now, many bars and restaurants serve craft beer! In San Jose, you can even take a beer tour with Costa Rica's Craft Brewing Co to learn more about it. Micro-breweries are popping up all throughout the country which is great for beer lovers.
47. Nauayca Waterfalls
I've already mentioned a few waterfalls in this post but I can't forget the majestic Nauyaca waterfalls! These two stunning waterfalls lie deep in the rainforest up in the mountains of Dominical and it's an incredible place to visit!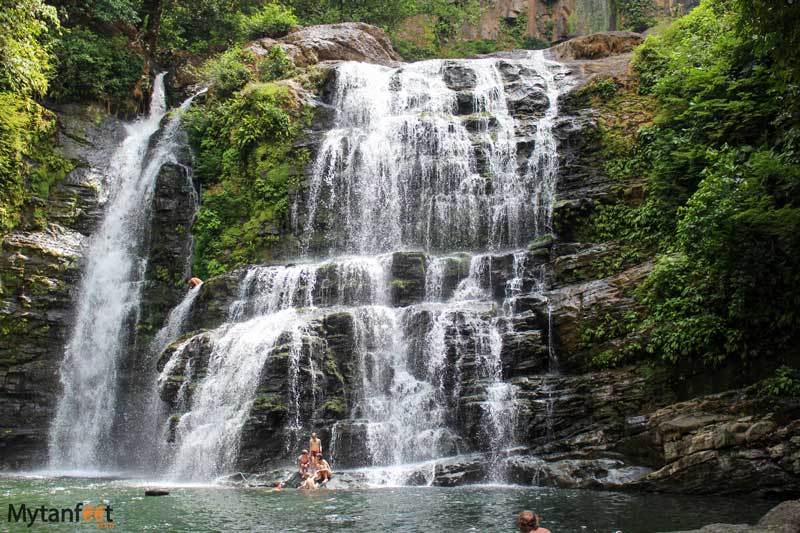 The waterfalls are on a private property owned by a local family. You can hike (4 kilometers or 2.5 miles) one way, take the local horseback riding tour or ride their 4×4 truck. Definitely a must if you're in Manuel Antonio, Dominical, Uvita or Ojochal.
48. Hike Corcovado National Park
As one of the most biologically diverse places on earth, Corcovado National Park is an absolute must for hikers and wildlife lovers. It's such a unique place in Costa Rica! You'll feel like it's a different world with the sheer amount of wildlife around. Corcovado National Park is in the Osa Peninsula, which holds around 6% of the world's biodiversity.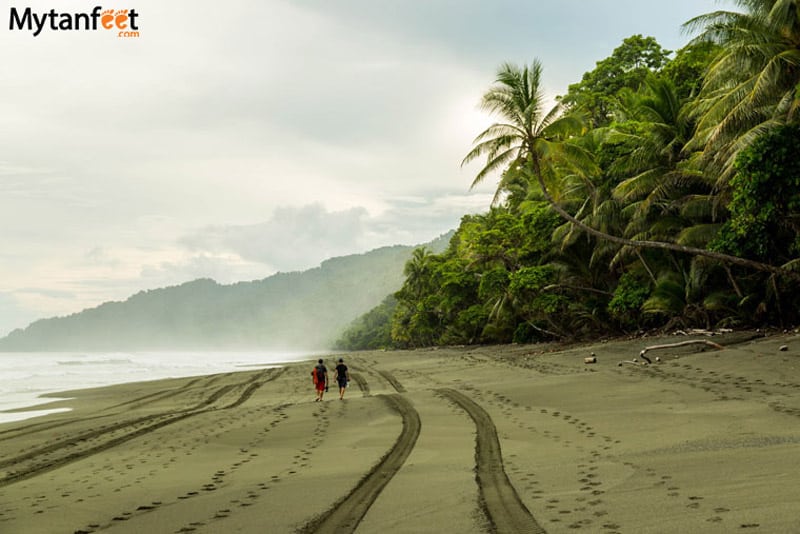 You can do a one day hiking trip to the ranger stations such as La Leona, San Pedrillo and Sirena but the ultimate way to experience the national park is to do an overnight hiking trip. The most popular one is from La Leona to Sirena where it's possible to see tapirs, pumas, anteaters and more.
You now have to go with a guide if you want to do the overnight 14 kilometer (8.5 mile)hike. Likewise, you need to purchase tickets and make reservations. If you want to visit Osa Peninsula where Corcovado National Park is, check our Osa Peninsula guide for more tips on how to visit the national park.
49. Walk the Hanging Bridges in the Monteverde Cloud Forests
Walking the hanging bridges in Monteverde gives you a great view of the cloud forest. You can see lush green forest all around you and even some wildlife if you have a good eye. It's an unforgettable experience and let's be real. The bridges are one of the most instagrammable places in Costa Rica!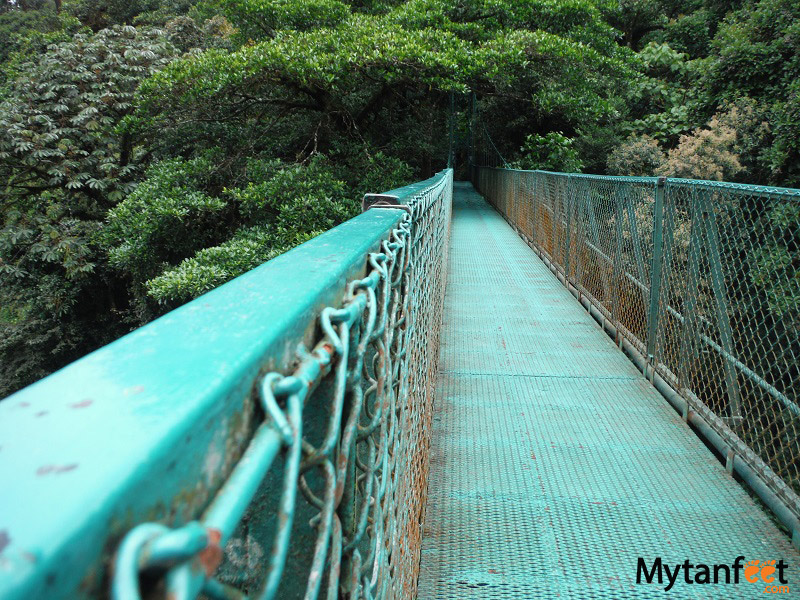 All these bridges are very stable and is one of the best ways to take in the forests. Many of the adventure parks have their own hanging bridges like Selvatura and Sky Trek. Additionally, there is one hanging bridge inside the Monteverde Cloud Forest Biological Reserve.
There are hanging bridges parks in other places in Costa Rica such as Mistico Hanging Bridges in La Fortuna, Rainmaker by Parrita and Heliconias Lodge in Bijagua.
50. Enjoy the Pura Vida Life!
Pura vida is the slogan of Costa Rica and directly translated to English it means pure life. Costa Ricans use this as a way to say anything good. Life's good, pura vida. That guy's my friend, he's very pura vida.
They also say it as hi, goodbye, thank you and you're welcome. So above all, the most important thing to do in Costa Rica is to enjoy the pura vida life.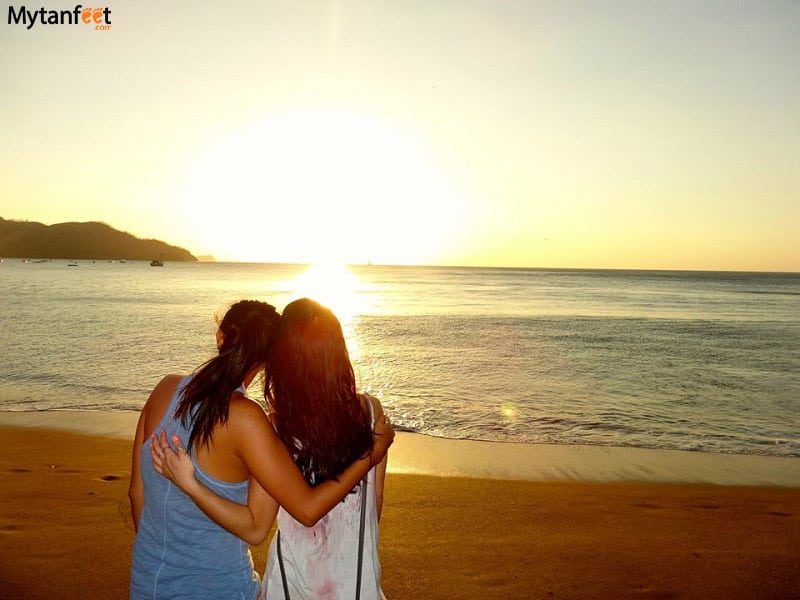 Costa Rica is a country full of love and peace and their people know how to live and enjoy. They'll teach you how to be grateful for what you have and you'll take all those things with you when you go back to your home country. Hopefully your trip here will give you a new perspective on life and to appreciate what is given to you.
Need some Costa Rica travel planning tips? Check these articles out!
Best destinations in Costa Rica for 1st timers
10 mistakes to avoid traveling in Costa Rica
15 things to know before you visit Costa Rica
2 week Costa Rica itinerary for first timers
This post "50 things to do in Costa Rica" has affiliate links.