Playas del Coco in Costa Rica is a popular beach town for both locals and tourists thanks to its close proximity to the Guanacaste International Airport and plethora of stunning beaches. It's a very family friendly destination offering plenty to do and see for a Costa Rican beach vacation.
In this guide you'll read about Playas del Coco, where to stay, where to eat, what to do and more to help plan your visit.
Playas del Coco Beach and Town
The dark sand beach of Playas del Coco lies within the Gulf of Papagayo and stretches 3 kilometers (1.8 miles) from point to point.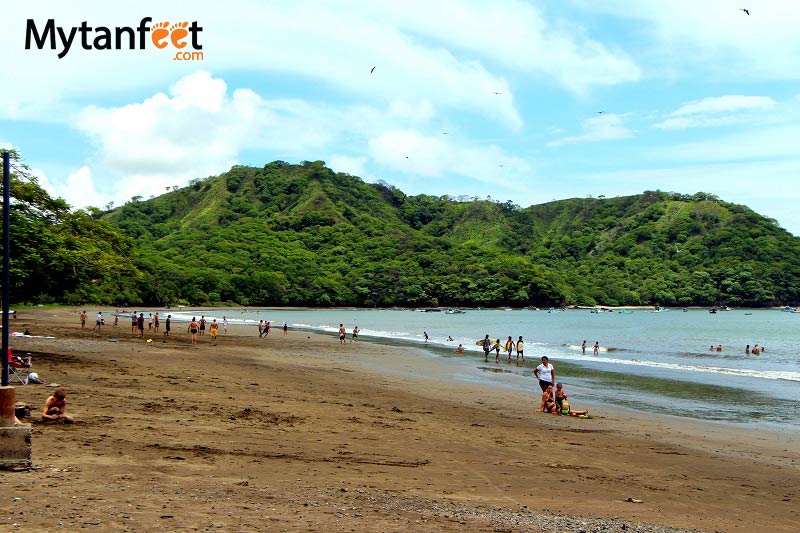 Coco beach isn't a surfing beach, but it is an excellent fishing spot. Swimming and bathing are perfectly suitable with nearly year round gentle waves, but the water is not very clear. On some days when there is a swell, waves are perfect for skim boarding. On those days, you'll see lots of local kids skim boarding and having fun.
Sunsets at Coco beach are amazing and when we lived there, we would walk out to watch them almost every day.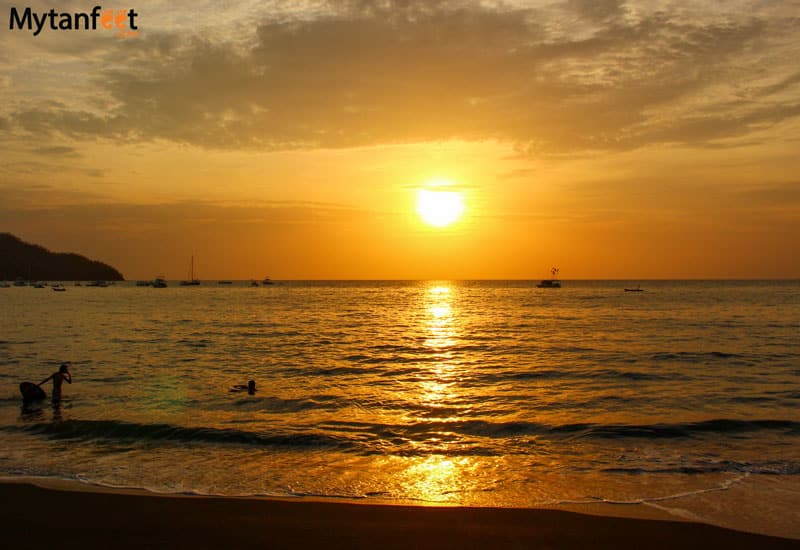 Three islands can be seen from shore where many divers go to swim with sharks, octopus, turtles and stingrays. Many hills and cliffs surround the horseshoe shaped beach and it is a beautiful view to see with green mountains and hills and striking blue water.
The Town
Coco town is very small with one main boulevard (Route 151) going all the way to the public park and beach. There are many bars, restaurants and shops in downtown. The small neighborhoods are right outside the center of town.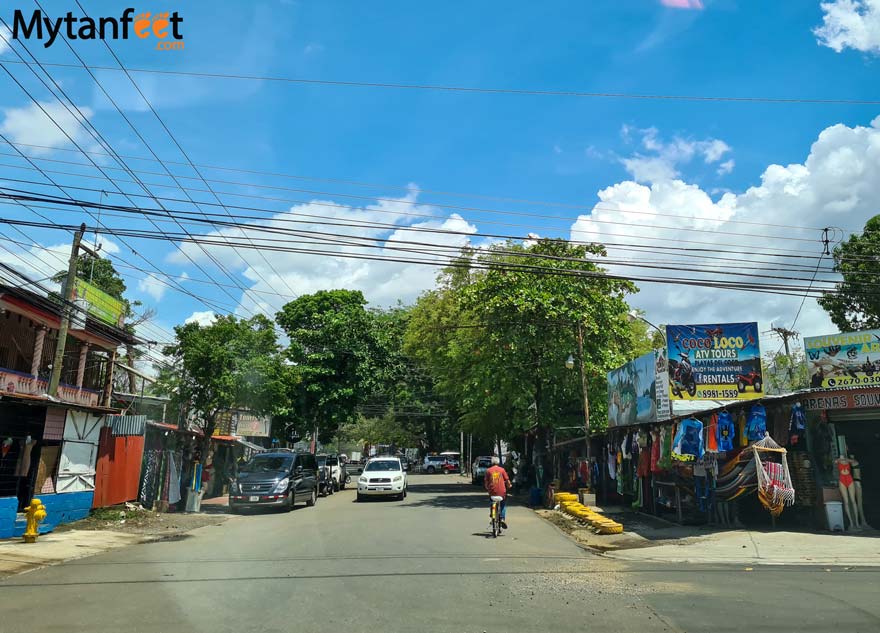 See what the town looks like in the video below!
Location
Playas del Coco is located on the North Pacific side of Costa Rica in the Guanacaste province.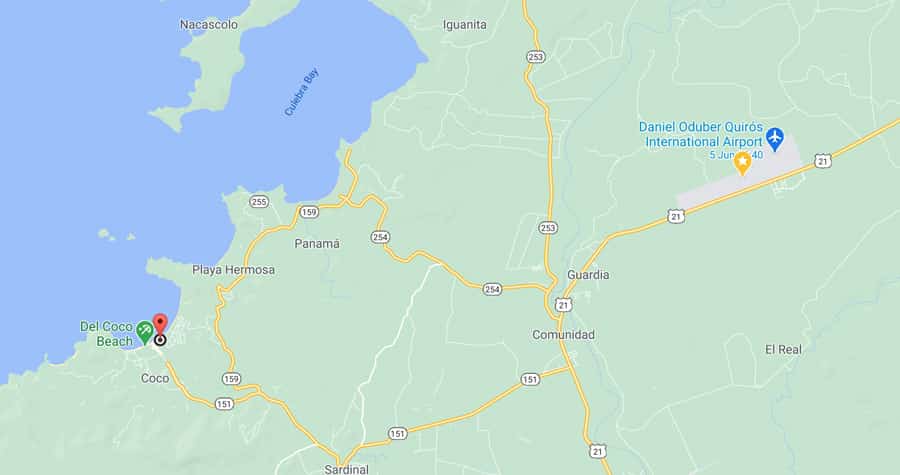 Playas del Coco is 243 kilometers (151 miles) and a 4.5 hour drive from San Jose. Playas del Coco is 27 kilometers (17 miles) and a 30 minute drive from Guanacaste Liberia International Airport.
How to get to Playas del Coco
The closest airport to Playas del Coco is the Daniel Oduber Quiros International Airport or Guanacaste (Liberia) International Airport (LIR is the airport code).
By bus: The Pulmitan de Liberia (public bus) runs from Liberia to Coco from 5 AM to 7 PM every hour costing ~550 colones one way (~$1 USD). You will need to walk onto the Highway 21 to flag down this bus as it doesn't normally pass by the airport.
By shuttle: You can book a private shuttle which costs around $65-75 USD for 1-8 people. Driver will pick you up directly at the airport.
By taxis: Make sure to take the official taxis from the taxi stand.
By car: Many people rent a car and pick it up once they land at Liberia Airport. The drive to Coco from the airport is very straight forward and only about 25 minutes. If you're planning on renting a car, take advantage of our Costa Rica car rental discount.
Uber: In the Liberia area, there is like maybe one or two. I have also heard that the police are keeping an eye out for Uber (as it's *technically* not legal) so don't count on Uber at all.
From San Jose
If you're coming from San Jose, it's about a 5 hour drive to Coco beach. The cheapest transportation method is to take the bus, which costs around $8 USD per person and takes around 6 hours. Read our complete guide to taking the bus from San Jose to Coco.
You can also take a local flight to Liberia airport and then shuttle/bus/taxi/drive to Playas del Coco. Shared shuttles from San Jose to Coco are available as well.
A private shuttle from San Jose to Coco costs around $260 USD. In case you'd like to book a private shuttle, please contact us for a quote.
Playas del Coco Weather
Playas del Coco experiences the typical tropical season weather: dry and rainy. However, it does have a longer dry season (December – April) than the rest of Costa Rica due to its location and surrounding mountains.
Temperatures consistently stays around low to mid 90s F (33 C) during dry season. If you visit during this time of year, it looks like a yellow desert because it becomes very dry and arid. March and April are the hottest months and we have seen our thermometer at 38 C (100.4 F) for weeks on end in March.
As for rainy season, which is May – November, day time and night time temperatures cool down around 5-10 degrees F.
Playas del Coco doesn't start raining constantly until around August. October is the peak rainy month. During rainy season, a typical day is cloudy and dry in the morning with off and on showers in late afternoon and nights. As soon as this area gets a few hard rains, the mountains turn very green.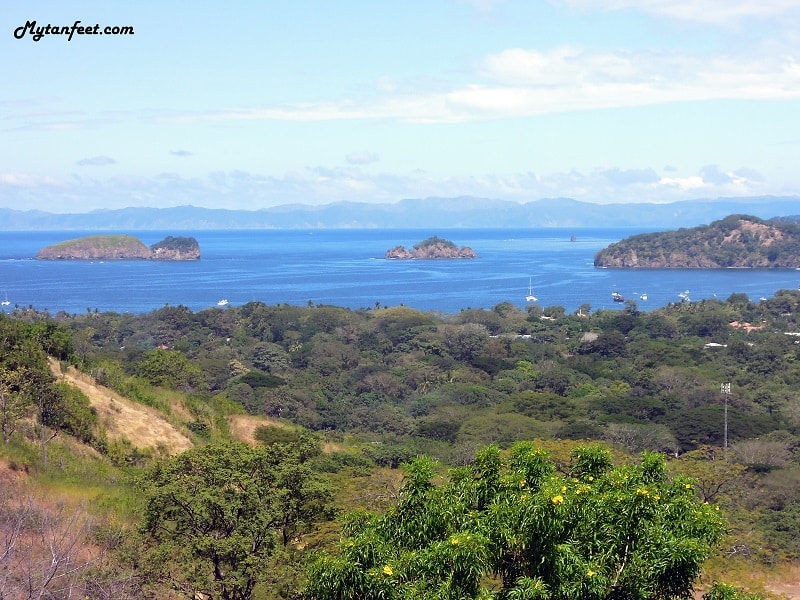 May is considered a transition month so it may be super cloudy but not rain much at all. June may rain a bit more in the afternoons and nights but still with cloudy mornings. In July, it dries up for a few weeks and feels like summer so July has great weather.
By end of August or so, there will be more afternoon and night rains. It is not typical for Coco to rain all day, it is usually off and on showers in the late afternoons and nights.
Rain in Playas del Coco
Here's a short clip of rain in Playas del Coco during May. This is a very good representation of a typical rain in the rainy season. It rained very hard like this for about 20 minutes. When it stopped raining, the clouds cleared up and it became very sunny and humid. On and off rains are characteristic of tropical weather.
Something else to know about Playas del Coco is that due to the dryness, shorter rainy season and surrounding resorts, Coco constantly experiences water shortages and droughts.
Playas del Coco Restaurants
You can find a small mix of local and international restaurants in Coco. Here are our favorite places.
Los Pelones Pollo Frito – fried chicken (cheap food option)
Soda La Teresita – local food, beachfront, reasonable prices.
Villa Italia – Italian, decent prices, excellent pasta.
La Caveja – Italian, pizza is pretty good. On the way to Playa Ocotal.
Cafe de Playa– International, beachfront, more expensive.
Claudio y Gloria – International, seafood, fine dining, beachfront . More expensive.
Le Coq – Lebanese, wraps, hummus, falafel. One of our favorites. In downtown across from Coconutz. Very reasonable prices.
Chorotacos – fresh burritos, bowls, tacos and wraps. Reasonable prices. At the entrance of the Las Palmas neighborhood.
Johann Bistro – coffee, sandwiches, Costa Rican food, sushi, a bit of everything. Reasonable prices and close to the beach near the park.
Heladeria Italiana 0039 – Amazing gelato. Cash only. In downtown near Coco Beach Hotel
The Lookout: Restaurant on a hill with a beautiful view and delicious seafood (recommend the poke bowls). Make a reservation if visiting on weekends or high season.
Java Coffee: Chill place for coffee and food. Nice breakfast spot.
Zi Lounge, El Ancla, Bambu Beach Bar and Coconutz are bars with excellent happy hour and typical bar food. Coconutz has great craft beer.
Playas del Coco Hotels
Coco doesn't have a ton of hotels but there are some nice reasonably priced options. Vacation rentals are more common.
All Inclusive Resorts
If you're looking for a resort or all inclusive, there is the all-inclusive Hotel Riu Guanacaste which is about a 30 minute drive from Playas del Coco.
There are a few more resorts on the Papagayo coast, all about a 20-30 minute drive from Playas del Coco such as Four Seasons, Secrets (all inclusive), Planet Hollywood (all inclusive), Occidental Papagayo (all inclusive) and Andaz.
Vacation Rentals
If you're looking for other options besides hotels, Airbnb has quite a few listings for a really great price. Vacation rentals are very popular in Playas del Coco. Most are owned by foreigners who rent them out when they are not in Costa Rica.
There are a couple popular neighborhoods for these vacation rentals such as Las Palmas (not gated, 2 minute walk to the beach, standard prices, typical 1-2 bedrooms apartment in a 10-12 unit community) and Pacifico/Breeze Private Residence (luxury, 2-3 floors, gated, 20 minute walk to the beach).
Here is a review of one of the more local Airbnbs in Coco.
Things to do in Coco Beach
There are a ton of fun things to do in Playas del Coco. Thanks to its excellent location on the coast, there is a plethora of ocean and land activities to enjoy for day trips.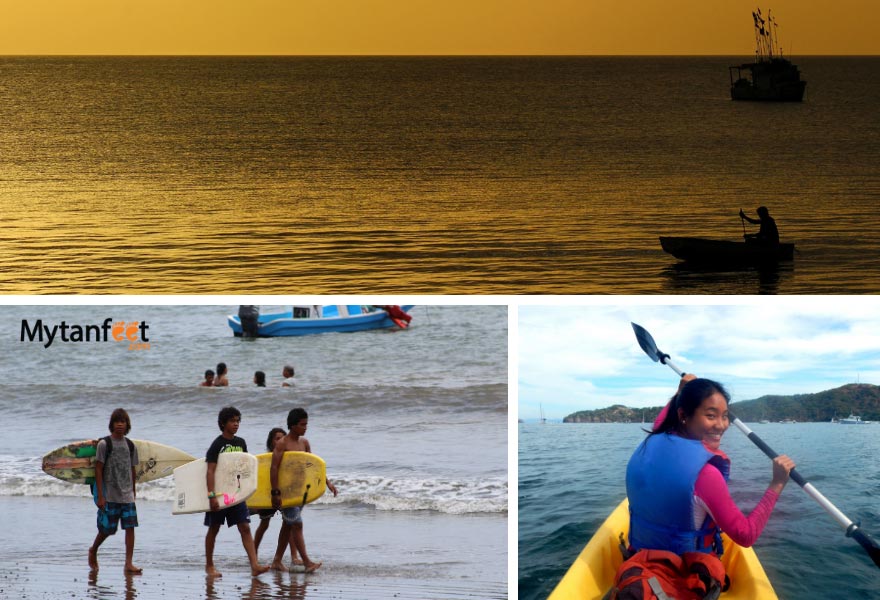 Scuba diving
Playas del Coco is one of the best spots in Costa Rica for scuba diving since you're close to several excellent islands like Monkey Head, Bat Islands and Catalinas Islands. There are many scuba diving shops in town such as Rich Coast Diving, Deep Blue Diving and Summer Salt.
Surfing
Although you can't surf at Coco beach, you can take a 50 minute boat ride to Witch's Rock in Santa Rosa National Park, one of Costa Rica's premiere surf spots. This is for intermediate and expert surfers. If you are a beginner or first timer, it is best to go to Tamarindo beach for lessons.
Fishing
Since Coco is a fishing village, the fishing is one of the best in Costa Rica. You can go in shore or off shore fishing to catch red snapper, mahi mahi, sailfish and more.
Other Activities
Other activities to do in Playas del Coco are kayaking, sunset sailing, watching the sunset on the beach, happy hour and hanging out at the local park. There are also snorkeling tours and sunset sailing tours like Kuna Vela and Marlin del Rey.
Our favorite activity – beach hopping and snorkeling in Gulf of Papagayo
Our favorite activity? Boating around the Gulf of Papagayo. This is the best way to experience all the wonders of this part of Costa Rica such as hidden white sand beaches, caves, amazing snorkel spots and marine wildlife.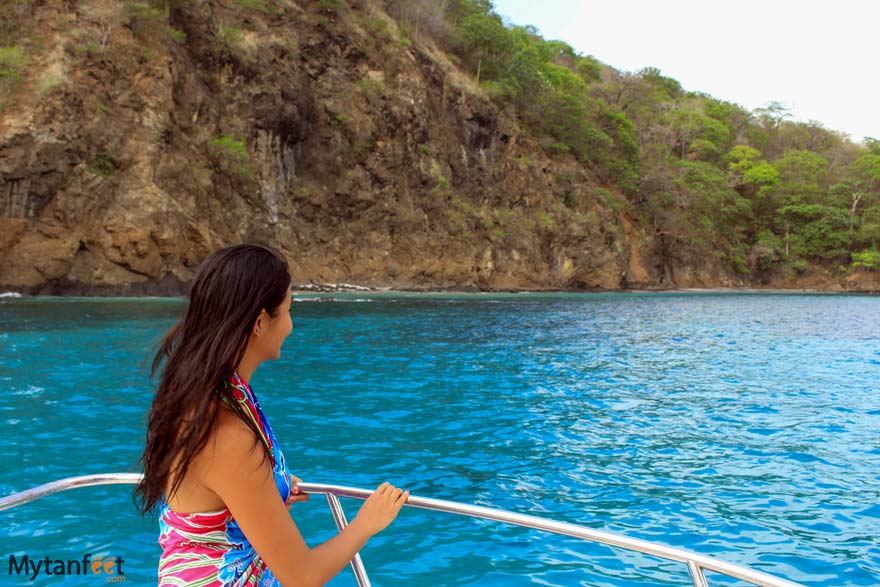 We always go with our local friend who owns a boating company and takes us on private tours. Best way to see all the beautiful beaches and coastlines, see marine life and go snorkeling!
Day Trips
When tourists come to Coco, they usually enjoy the beach/town for a day and the rest of the time, go on tours.
Coco's location makes it an excellent home base to explore national parks like Rincon de la Vieja, learning about Costa Rican culture and seeing wildlife at Hacienda El Viejo (get 7% off), ziplining at Diamante Eco adventure Park (Mytanfeet reader's get 10% OFF) or hiking the blue Rio Celeste river.
Find out what the best day trips from Coco are here.
Sample Itineraries
As we lived in Coco for 4 years, we've had many friends and family visit us. Here are some ideas of itineraries.
4 days (car not necessary)
Day 1: land at Liberia Airport, rest, watch sunset on beach, have dinner at Zi Lounge.
Day 2: Full day beach hop, snorkel and fishing in Gulf of Papagayo. Do a 10 AM to 6 PM tour to see the sunset from the boat.
Day 3: Rest, sleep in, do some shopping, walk around town. Food recommendations: El Coq, Best Burgers, Soda Teresita or Papagayo Seafood.
Day 4: 1 day adventure tour at Hacienda Guachipelin for ziplining, horseback riding, hot springs, mud baths and white water tubing. Or Diamante Eco Adventure Park for ziplining, animal sanctuary and cultural experience.
1 week: using Coco as a homebase and renting a car. Lots of adventure!
Day 1: Land at airport, rest, etc.
Day 2: Full day beach hop, snorkel and fishing. Rest, shower, get dinner at one of the bars in town.
Day 3: Rio Celeste hike. This is a full day activity with around 4.5 hours driving total.
Day 4: Diamante ziplining. Go in the morning for best weather. Relax and rest the rest of the afternoon.
Day 5: Visit Tamarindo beach town. 1 hour and 15 minute drive one way. Take a surf lesson.
Day 6: Rest, shop. You can drive around to explore some more beaches if you like. Check out Playa Hermosa, Ocotal or Panama. If you want to explore, head down south to Playa Conchal (1 hour one way) to see a unique white shell beach.
Day 7: Fly out
Coco Beach Nightlife
Even though Coco may look like a small quiet town during the day, it all changes at night. The biggest bars are El Ancla, Bambu, Coconutz and Zi Lounge. Coconutz is a sports bar with multiple TV's everywhere and they always have some big game on. Zi Lounge has live music on the weekends and is a more chill atmosphere.
All the bars are open with counter seating along the perimeter so you can have a drink, eat, and people watch to your heart's content. Coconutz is a sports bar that always plays all sorts of games and matches and they have great craft beer (Angry Goatz).
During weekends and holidays, music blasts from all the bars and there's always a party going on. Sometimes they'll have live music and you can dance the night away. If you're in Coco during Christmas and New Years, you'll get to experience one of the biggest parties in Costa Rica!
Additionally, there is a small park called Parque Amor de Temporada with a nice boardwalk where one can sit and watch the sunset, listen to live music or people watch. You can also enjoy a nice fresh coconut water (pipa fria) or a shaved ice treat (copo).
Health
Playas del Coco has a public clinic run by the government called Ebais . There is also a private clinic in town called Coco Medical Center.
Shopping
There are several souvenir stores in Playas del Coco. The souvenir shops line the main street of Coco and near the entrance of the beach and boast a huge stock of handmade wood-carved sculptures, jewelry, handbags, clothes, hammocks, and a plethora of trinkets.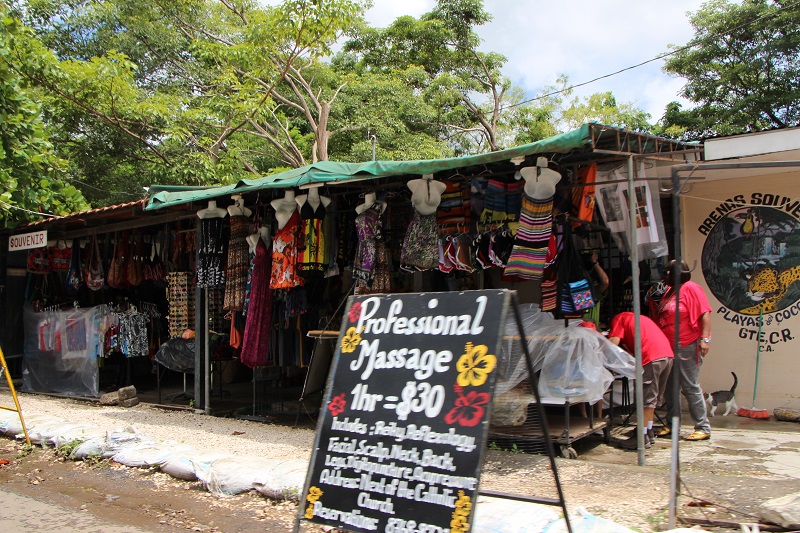 You can find traditional coffee makers and clothing, Pura Vida signs and all sorts of animal statues. Though the souvenir shops have lots of items, I prefer Sussy Souvenirs which is near the park at the main entrance of the beach. The Pacifico Village Shops also has some cute stores with nicer trinkets, jewelry and gifts.
Living in Playas del Coco
Playas del Coco is a popular place for Canadian, American and European expatriates, immigrants and retirees as it offers a relaxed and easy living style with highly agreeable weather year round. This is what many people are looking for when searching for their new home in Costa Rica and they find it in Coco.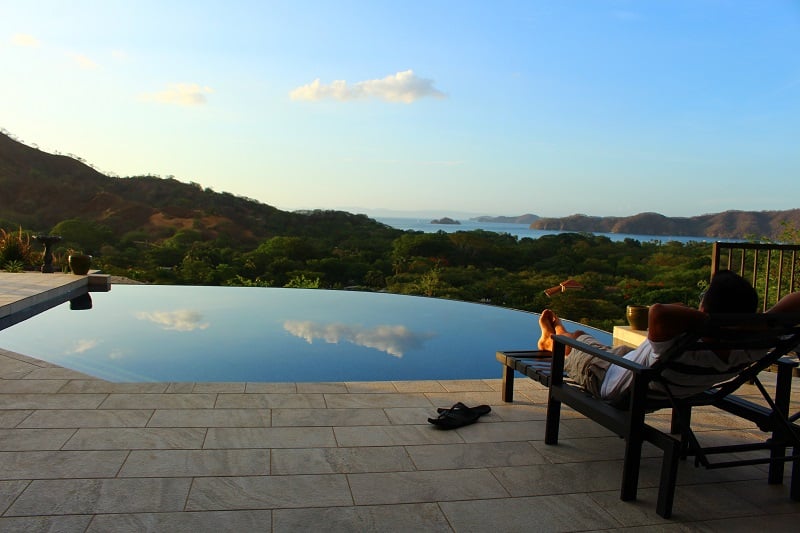 These are just some reasons why so many people move to Playas del Coco as a retiree as it is perfect for someone looking for a relaxed and slower pace of life. It's an attractive place to get away from the cold or for someone who needs to leave their stresses of life behind.
We lived there for 4 years and have many family and friends who are still there. Although we don't live there anymore, we enjoyed our time in Coco and love visiting!
Read more beach town guides below!
Samara, Costa Rica: Family friendly beach town in South Guanacaste with surfing and a chill atmosphere
Flamingo, Costa Rica: Small upscale beach community in North Guanacaste with a white sand beach and marina
Jaco, Costa Rica: The most developed beach town and the surfing mecca of Costa Rica in the Central Pacific
Puerto Viejo de Talamanca, Costa Rica: Small party beach town on the South Caribbean coast
There are affiliate link in this post.