Playas del Coco in Costa Rica is one of the more popular beach towns in the country for both locals and tourists. It's well-known for being a family friendly town and favorite party spot for the holidays.
Coco used to be a small fishing town but in the past decade, it has grown immensely to become the beloved little beach town it is today. Additionally, Playas del Coco is a popular place for expatriates and retirees of USA, Canada, Italy and England as it offers a relaxed and easy living style with highly agreeable weather year round.
In this guide you'll read about the beach, where to stay, where to eat, what to do and more.
This post was updated Sept 2019.
Click the section to skip to it.
Location
Playas del Coco is located on the North Pacific side of Costa Rica in the Guanacaste region. Guanacaste is the northwestern province of the country bordering Nicaragua.
Map of Playas del Coco

Playas del Coco is 243 kilometers (151 miles) and a 4.5 hour drive from San Jose. Playas del Coco is 27 kilometers (17 miles) and a 30 minute drive from Liberia International Airport.
How to get to Playas del Coco
The closest airport to Playas del Coco is the Daniel Oduber Quiros International Airport in Liberia. You can get to Coco from the airport a variety of ways.
By bus: The Pulmitan de Liberia (public bus) runs from Liberia to Coco from 5 AM to 7 PM every hour which costs 550 colones one way (~$1 USD).
By shuttle: You can book a private shuttle which costs $50 USD for 1-4 people. It's the most convenient and comfortable way.
By taxis: There are many taxis outside the airport that costs around $50-60 USD, just make sure to take the official red ones, not the orange or pirate taxis. There is an official taxi stand right outside the airport where you can get one. I know people who have been charged $65 USD for this short drive which is way too much!
By car: Many people rent a car and pick it up once they land at Liberia Airport. The drive to Coco from the airport is very easy and straight forward and it's only about 25 minutes. If you're planning on renting a car, take advantage of our Costa Rica car rental discount.
Uber: Uber is in Guanacaste and in the Liberia area but there aren't that many. I have also heard that the police are keeping an eye out for Uber (as it's *technically* not legal) so don't count on Uber as your only method of transportation at Liberia Airport. At San Airport, there are tons of Ubers and Didis.
If you're coming from San Jose, it's about a 4 hour drive. The cheapest transportation method is to take the bus, which costs around $8 USD and takes around 6 hours. Read our complete guide to taking the bus from San Jose to Coco.
You can also take a local flight to Liberia airport and then shuttle/bus/taxi/drive to Playas del Coco.

Playas del Coco Beach
Coco beach lies within the Gulf of Papagayo and stretches 3 kilometers (1.8 miles) from point to point. The sands have a dark grey-brown color and the water is not quite as blue one normally sees in other beaches in Guanacaste, it seems more blue-grey than blue-green.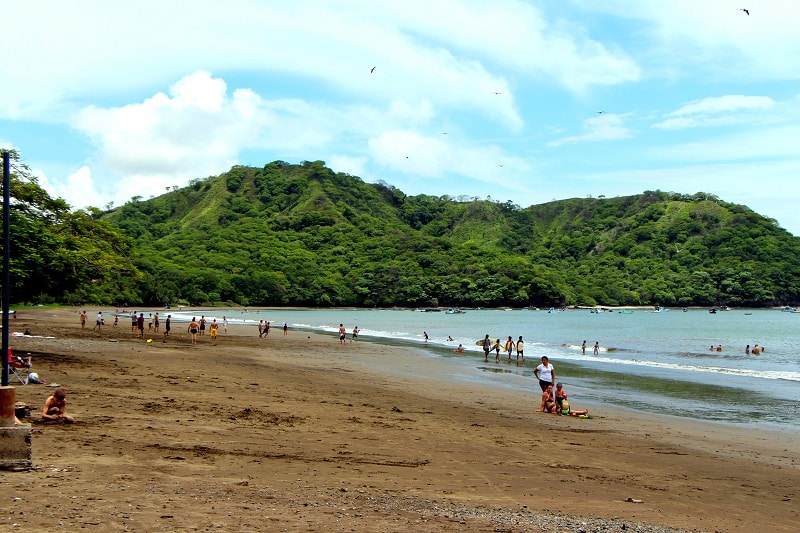 Three islands can be seen from shore where many divers go to swim with sharks, octopus, turtles and stingrays. Many hills and cliffs surround the horseshoe shaped beach and it is a beautiful view to see with green mountains and hills and striking blue water.
See what the town looks like!

Playas del Coco Weather
In Costa Rica, there are no seasons like fall or winter. Being so close to the equator, the country is classified as tropical and experiences rainy and dry season with sun year round.
Read more about weather in Costa Rica.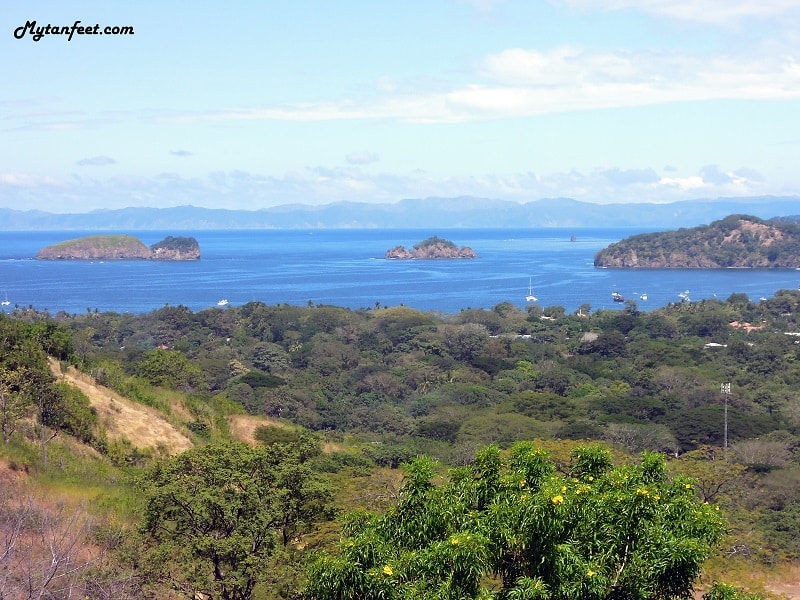 In Playas del Coco during dry season, the sun is quite strong and intense. It consistently stays at 90 – 100 F (32-38 C) and above for weeks. Coco is known for being one of the driest and hottest places in all of Costa Rica with a longer dry season. If you visit during January – April, it looks like a yellow desert!
It generally doesn't start raining constantly until around August with October as the peak rainy month. March and April are the hottest months. After the first few hard rains, Coco starts turning green.
Due to the dryness and shorter rainy season, Coco constantly experiences water shortages and droughts.
Rain in Playas del Coco (May)

Local People
The people from Playas del Coco are very friendly. They are very proud to be Gunacastecos and they call themselves "coqueños" (from Coco). The locals love to hangout at the beach to skateboard, swim, and play basketball or futbol.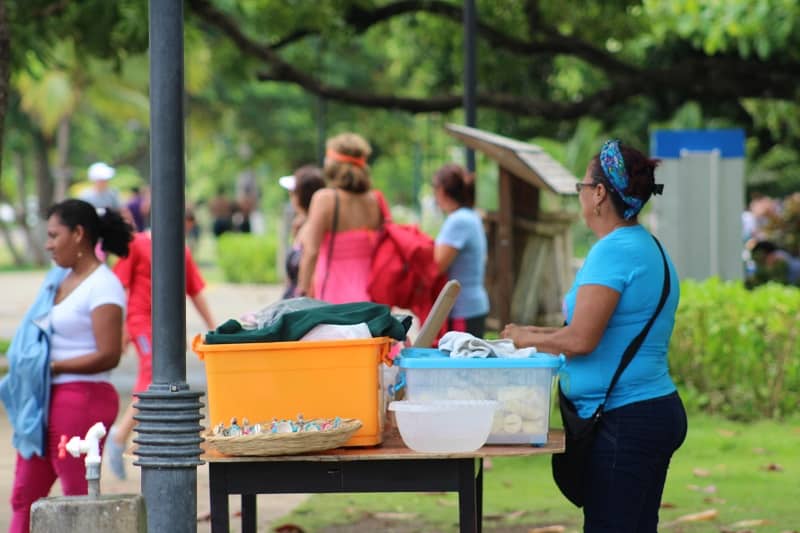 Normally on the weekends you can see families enjoying the sun, having lunch on the beach, or walking with their kids. Most of the locals work in the tourism or fishing industry.

Playas del Coco Restaurants
You can find a small mix of local and international restaurants in Coco. Here are our favorite places.
Los Pelones – local Costa Rican food
Soda La Teresita – local food
Villa Italia – Italian
La Caveja – Italian
Cafe de Playa– International
Hotel Coco Palms Restaurant – International
Claudio y Gloria – International, seafood
Che Sirloin – meat, barbecue
Le Coq – Lebanese, wraps, hummus, falafel
Chorotacos – burritos, tacos, etc.

Johann Bisto – coffee, sandwiches, etc.
Hard Rock Cafe
Citron – gourmet, fine dining
Toucanoos – a little of everything
Heladeria Italiana 0039 – gelato
The Garden Bar – Fun place for live music and drinks
Zi Lounge, Bambu Bar and Coconutz are two bars that have excellent happy hour and food. Coconutz has great craft beer.
Playas del Coco Hotels
In Coco, there are no big resorts or luxury hotel chains. All the hotels consist of small locally owned businesses. There are few cheap budget options.
If you're looking for a resort or all inclusive, there is Villa Buena Onda which is adult boutique hotel only up in the hills. There is also a Hotel Riu which is about a 30 minute drive from Playas del Coco.
Our recommended hotels for Playas del Coco
Toro Blanco, a nice hotel that's a one minute walk to the park/beach and next to town. Mid range, comes with an equipped kitchenette, swim up bar and nice pool with pretty lights.
Another nice, clean and mid range option is Hotel Colono. This hotel opened early 2017 and is right in downtown, has more modern furnishings. Hotel Puerta del Sol is another mid range option close to the beach, newly remodeled.
Room with a view: Hotel Chantel. Located up in the hills, this boutique hotel has great ocean views and a rooftop restaurant. Prices run on the higher end, starting at $90. Apartments range from $100-200
Budget close to the beach: Laura's House Bed and breakfast. Small B&B, two minute walk to the beach and five to town.
Hostel: Hotel M&M Beach House. They are right on the beach and has a great hostel atmosphere but rooms don't have AC. Prices aren't cheap either, doubles are about $60. They have a sister hotel, Hotel M&M Garden about a 15 minute walk away that has a pool and AC.
The next best option are the cabinas next to Toro Blanco. You can get a bed for as low as $10 a night in rainy season.
If you're looking for other options besides hotels, Airbnb (get $20 credit here) has quite a few listings for a really great price. Here is a review of one of the Airbnbs we stayed at in Coco.

Things to do in Coco Beach
There are a ton of fun things to do in Playas del Coco.
Scuba diving
Playas del Coco is one of the best spots in Costa Rica for scuba diving since you're close to several excellent islands like Monkey Head, Bat Islands and Catalinas. There are many scuba diving shops in town such as Rich Coast Diving, Deep Blue Diving and Summer Salt.
Fishing
Since Coco is a fishing village, the fishing here is among the best. You can go in shore or off shore fishing to catch marlins, mahi mahi, sailfish and more.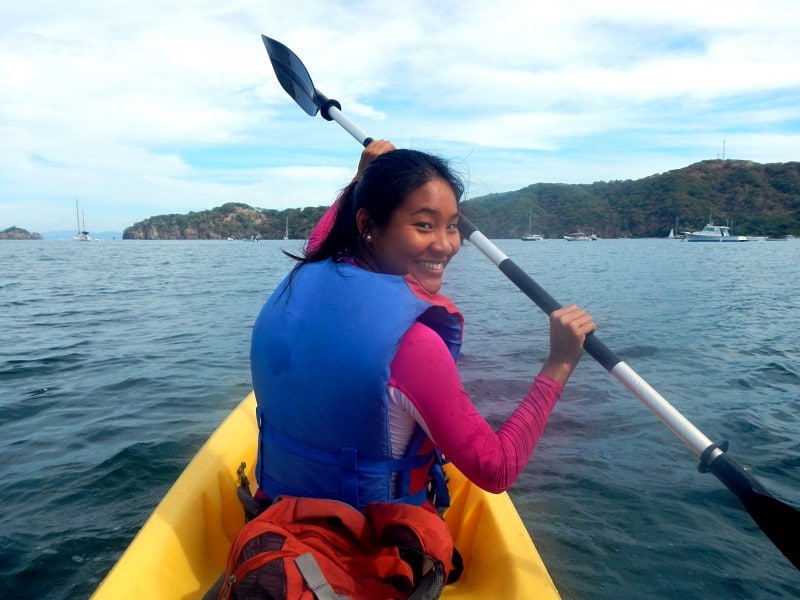 Other Activities
Other activities to do in Playas del Coco are kayaking, sailing and SUP (stand up paddle boarding). You can rent kayaks, take a SUP lesson and go on a morning or sunset sailing trip. There are also booze cruises and sunset sailing tours like Kuna Vela and Marlin del Rey.
Day Trips
When tourists come to Coco, they usually enjoy the beach/town for a day and the rest of the time, go on tours. Coco's location makes it an excellent home base to explore national parks like Rincon de la Vieja, go beach hopping, learning about Costa Rican culture and seeing wildlife at Hacienda El Viejo (get 7% off), ziplining at Diamante Eco adventure Park (Mytanfeet reader's get 10% OFF) or take a day trip to Nicaragua (get $10 off).
Find out what the best day trips from Coco are here.
Our favorite activity – beach hopping and snorkeling in Gulf of Papagayo
Our favorite activity? Boating around the Gulf of Papagayo. This is the best way to experience all the wonders of this part of Costa Rica such as hidden white sand beaches, caves, amazing snorkel spots and marine wildlife. We always go with our Tico friend who owns a boating company and takes us on private tours. Read more about boating in Coco here.
Coco Beach Nightlife
Even though Coco may look like a small quiet town during the day, it all changes at night. The three biggest bars are El Ancla, Coconutz and Zi Lounge. Coconutz is a sports bar with multiple TV's everywhere and they always have some big game on. Zi Lounge has live music on the weekends and is a more chill atmosphere.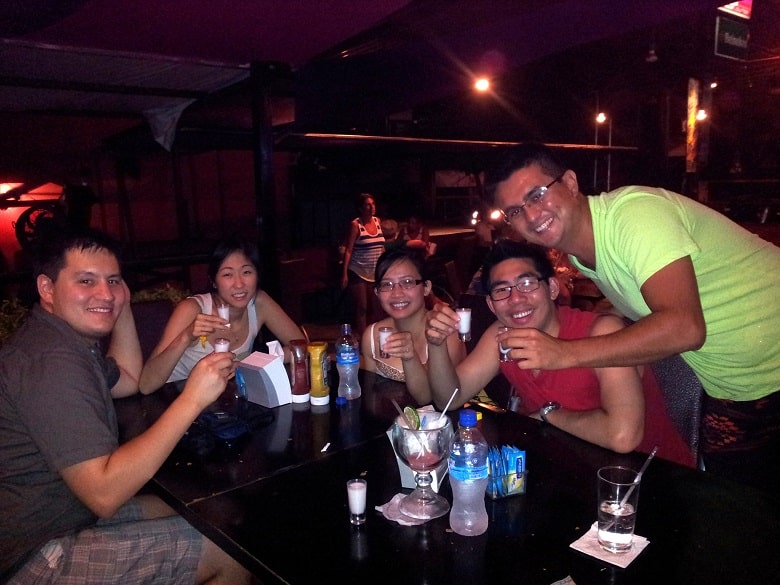 All the bars are open with counter seating along the perimeter so you can have a drink, eat, and people watch to your heart's content. Coconutz is a sports bar that always plays all sorts of games and matches and they have great craft beer (Angry Goatz).
During weekends and holidays, music blasts from all the bars and there's always a party going on. Sometimes they'll have live music and you can dance the night away. If you're in Coco during New Years, you'll get to experience one of the biggest parties in Costa Rica!
The nightlife in Coco is limited to the main street as it is where the majority of the restaurants and bars are. There is a small park and boardwalk by the beach where one can sit and watch the stars, listen to live music or the crashing waves and enjoy a drink.
Health

Playas del Coco has a public clinic run by the government called Ebais that anyone can go to. There is also a private clinic in town called Coco Medical Center.
Shopping
Shopping in Playas del Coco consists mostly of small businesses but there are plenty of souvenir shops if you're looking for gifts to bring back home. Souvenir shops line the main street of Coco and near the entrance of the beach and boast a huge stock of handmade wood-carved sculptures, jewelry, handbags, clothes, hammocks, and a plethora of trinkets.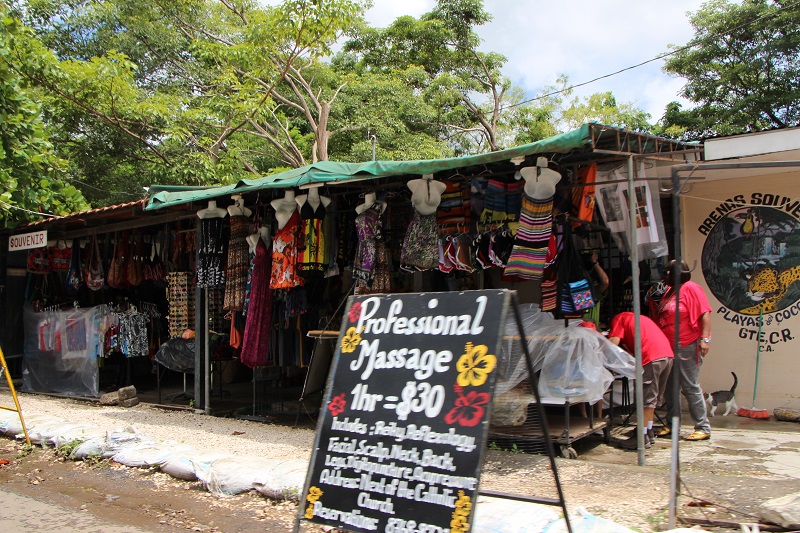 You can find traditional coffee makers and clothing, Pura Vida signs and all sorts of animal statues. Though the souvenir shops have lots of items, I prefer Sussy Souvenirs which is near the park at the main entrance of the beach. There is also a nice store in the Hard Rock Cafe plaza across from Auto Mercado. It's next to the Citron restaurant and they sell cute jewelry, home furnishings and things like that.
Living in Playas del Coco
Costa Rica is known for its laid back living style and that is certainly proven in Playas del Coco. Living at the beach, one has to have an easy going attitude about life and leave the stress behind. This is what many people are looking for when searching for their new home in Costa Rica and they find it in Coco.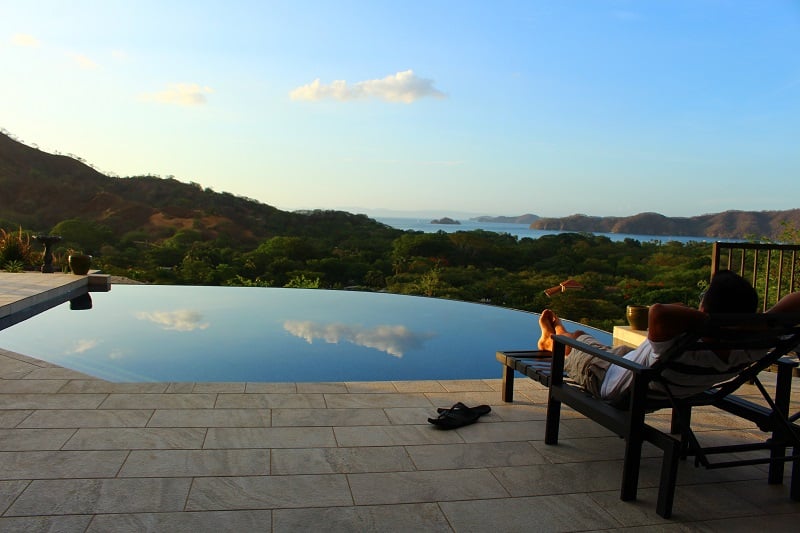 However, life is not necessarily easy in Coco, jobs are limited and cost of living is high compared to the rest of the country. Prices are very similar, if not more, to the states.
Are you considering moving to Playas del Coco? Read more about if it's the right town for you here.
Many foreigners come to Coco with the intention of opening a business such as a bar or hotel, but they find that business is very difficult in a small tourist town and many places close soon after they open. But there is a reason why so many people move down here post-retirement, as it is perfect for someone looking for a relaxed and slower pace of life. It's an attractive place to get away from the cold or for someone who needs to leave their stresses of life behind.
We lived there for 3 years and have many family and friends who are still there. Although we will not live in Coco again, we enjoyed our time there and like taking our friends to visit.
More Articles about Coco

How to travel in Coco for $50 a day
Fruit and vegetable stands in Coco
What you should know about Coco before you go