Have you ever wondered what it's like to fly over mountains? Don't wonder! Experience it! You can zipline over forest covered mountains at Diamante Eco Adventure Park in Costa Rica! This park offers a full day of excitement, adrenaline and fun on the Guanacaste coast.
This post has affiliate links.
Diamante Eco Adventure Park Activities
Diamante Eco Adventure Park is well known as one of the top things to do in Costa Rica, attracting visitors who want adventure, culture and nature all in one day. They provide a safe and fun experience for all travelers, particularly families.
Diamante Eco Adventure Park is one of the best places to visit from Playas del Coco, Playa Hermosa GTE, Playa Panama, Ocotal, Flamingo, Brasilito, Playa Grande and Tamarindo. Diamante is also one of the best day tours from Four Seasons, Planet Hollywood, Andaz Papagayo, Secrets Papagayo, Occidental Papagayo and the other resorts in the Papagayo Peninsula. Click here to get our 10% Diamante discount!
Diamante Eco Adventure Park offers the following activities:
Canopy tour (ziplining)
Animal sanctuary
Butterfly observatory
Botanical garden
ATV trails
Horseback riding trails
Beach
Jungle Course
Cultural house with coffee, sugar cane and cacao presentations (chocolate) and farm
For those looking to get the best of the park, the Adventure Pass is what you want. It includes the Diamante zip line, animal sanctuary, casita, jungle course, botanical garden, buffet lunch and ocean activities.
Below you can read our Diamante Eco Adventure Park review or watch our video!
Video
Our video of Diamante Eco Adventure Park
Diamante Zip Line
This is how the Adventure Pass works. We first did the canopy tour that has five cables. The first is the "bunny slope" cable and then, we got into a truck to go up the mountain to the Diamante superman zip line. After that, we zipped back to the mountain and ended at the animal sanctuary.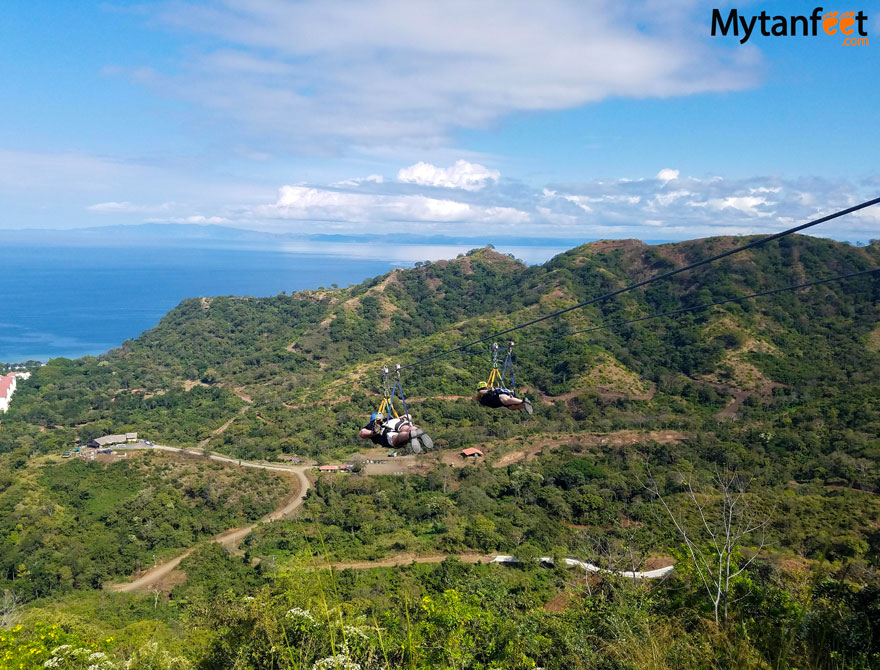 From the last cable, we walked across a hanging bridge over the crocodile lake to enter the animal sanctuary.
Diamante Animal Sanctuary
The Diamante Park animal sanctuary is the largest in the country and you can see animals such as sloths, caimans, crocodiles, iguanas, toucans, jagauars and monkeys. They received all the animals from the MINAE in partnership with the La Paz waterfall gardens.
Some animals were born in captivity, some were rescued and unfortunately can't be released back to the wild, some are on loan from South America (the marmoset monkeys).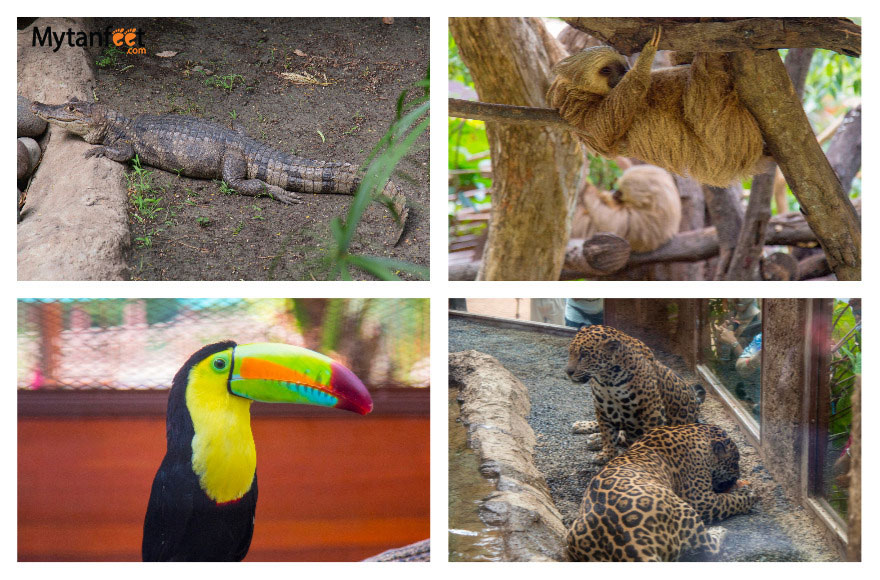 Of all the animals they have, the main attraction is Lucy the sloth. They have daily feedings so you can see the sloths in (slow) action. You can also see 4 different types of toucans, jaguars and 3 different monkeys found in Costa Rica.
Butterfly Garden
Walking into the butterfly garden felt just like you were walking through the rain forest. Blue morphos, owl butterflies and all sorts of butterflies fly around you as you walk through the observatory. You can see them feeding on the fruit and flitting about, their vibrant colors flashing in the light.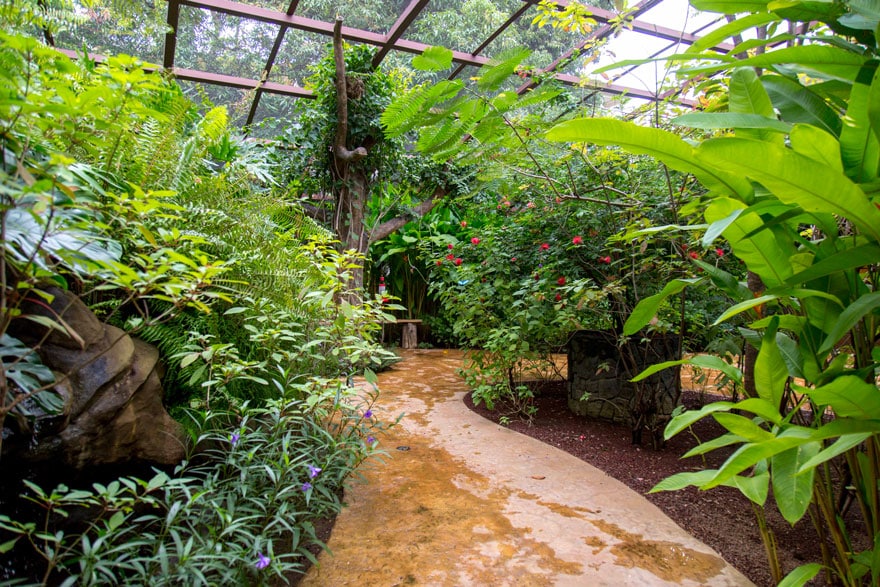 They also have a section where they show the stages of metamorphosis from a caterpillar to a butterfly. If you're lucky, you may be able to get a glimpse of a freshly born butterfly!
Next to the butterfly observatory is their reptile section. You can see various frogs and toads and we even got to see them feeding a toad (gross but cool). Outside is the snake exhibit where you can see the various snakes that live in the country.
Water Activities
The adventure pass also includes the use of their ocean toys by their beach. They have hammocks, SUP boards and paddles, kayaks and snorkel equipment so when you feel like you're ready to take a nap on the beach or for some fun in the water, head down to the beach!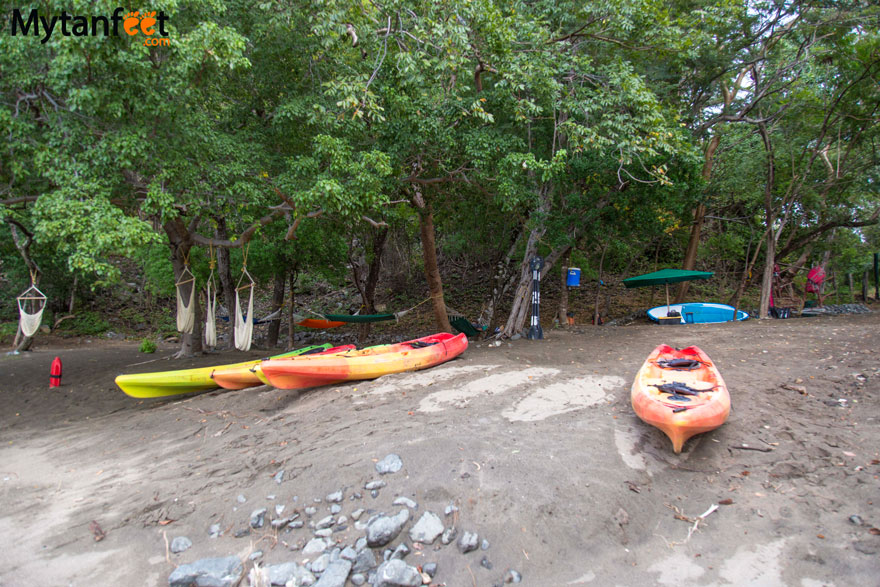 Their staff will help you with the kayaks and SUP boards and take you out to paddle around and snorkel.
Botanical Garden
We walked through the botanical garden to go back up to the main office. They have planted many native and non-native trees, fruit trees and plants like cas, mango, papaya and coffee.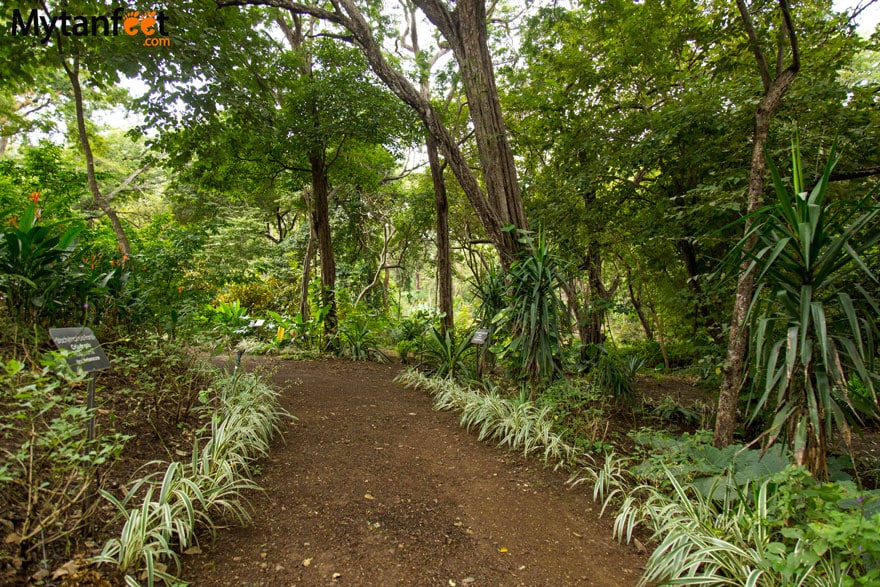 The garden is beautiful and offers a very nice nature walk back up to the welcome center.
Casita (Local House) Cultural Experience
For the cultural tour, Diamante has a casita, or local house where visitors can experience a traditional farming home. Visitors take a guided tour of the house including a short coffee, sugar cane and cacao (chocolate) tour.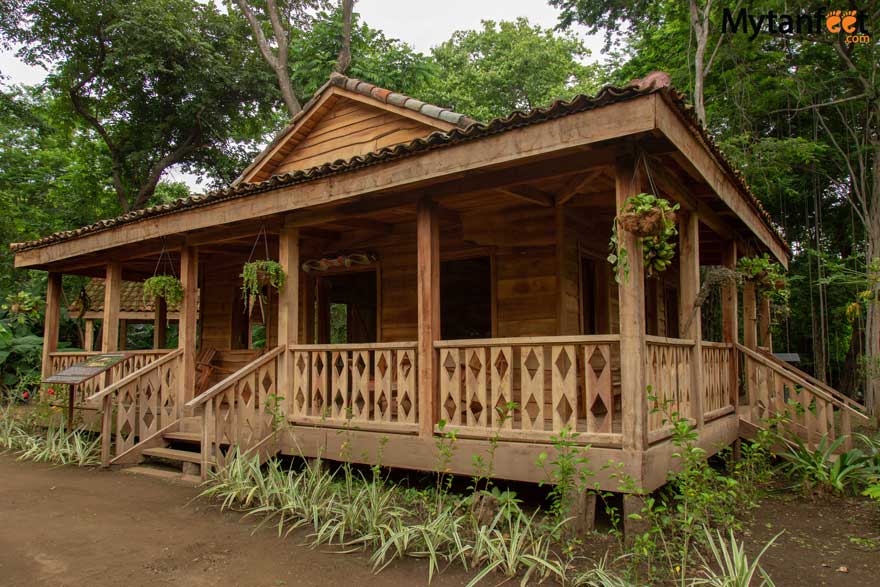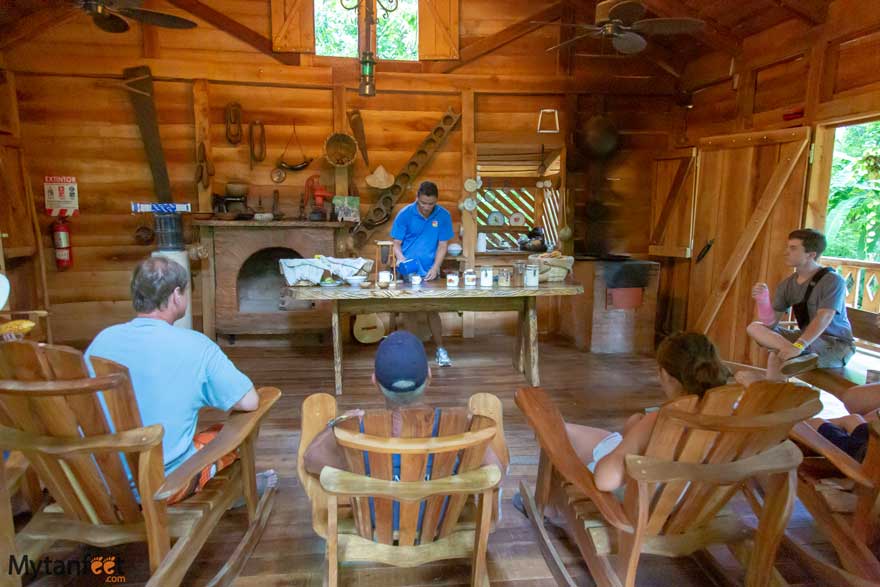 This is included in the Adventure Pass and in the Discovery Pass.
They have recently added a farm so visitors, particularly kids and families can learn about traditional Costa Rican farm life.
Jungle Course
This jungle obstacle course is a ton of fun for kids! And grownups too. In case your child doesn't reach the height and weight requirements for the zipline, you can bring them down to the jungle course so they can have a ton of fun on the swings, monkeys bars and rock wall.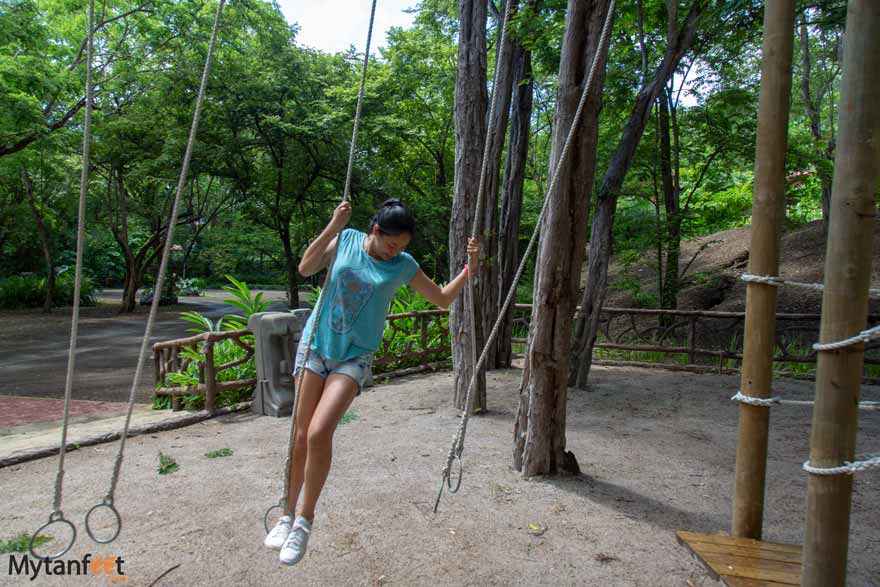 ATV
Diamante has a super fun ATV tour that goes up and around the mountains. You get nice views of the forest and the beach and the trail is very well marked and maintained. We went in June after a few rains and it was a ton of fun going through the puddles and seeing the forestry so green!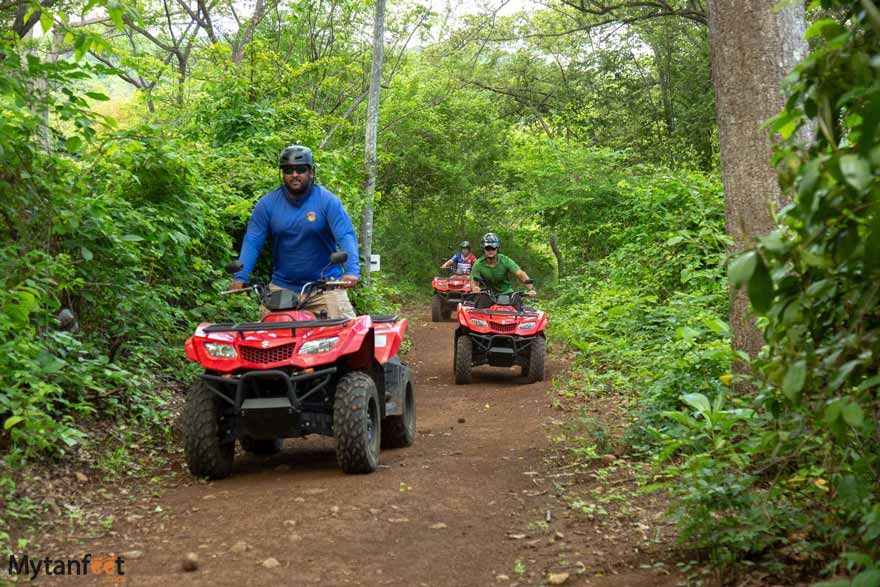 Horseback Riding
The Diamante horseback riding is also very nice and goes through the same trails at the ATV. The horses are well cared for and very calm, perfect for those with no riding experience.
Diamante Park Map
Here is a map of the park. They designed the park so everything fits smoothly. Zipline into the animal sanctuary, walk down to the beach and go back to the welcome center via the botanical garden.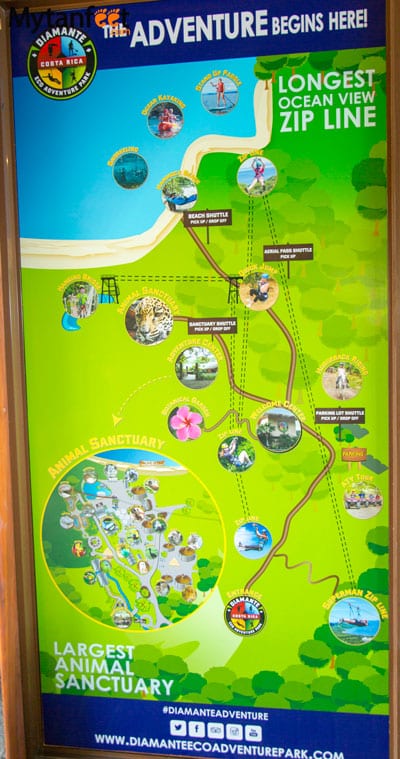 There also have shuttles that take you from the main office to the animal sanctuary, beach and parking lot in case it's raining or you don't want to walk. There is plenty of staff everywhere that can call a shuttle for you.
Diamante Park Costa Rica Location
Diamante Eco Adventure Park is about a 40 minute drive from Guanacaste Airport (LIR). Coming from Liberia, you do not need a 4wd to get there.
If you are coming from Flamingo via Route 911, you can get there via a sedan in dry season when the river is low. If the river is too high, you can pay a fee to cross through the Congo Trail property to avoid driving through the river.
Save on Your Diamante Adventure!
We are so excited to share that we have a 10% discount for Diamante Eco Adventure Park! All Mytanfeet readers can save 10% on ANY activity or pass offered from the park. This is definitely one of the best things to do in Guanacaste!
Get our other Costa Rica discounts here!