Up in the Pacific Northwest corner of Costa Rica is one of the most beautiful and popular places in the country: the Gulf of Papagayo. Tourists love to vacation in the Gulf because of the mesmerizing coastlines, incredible beaches and excellent water sports.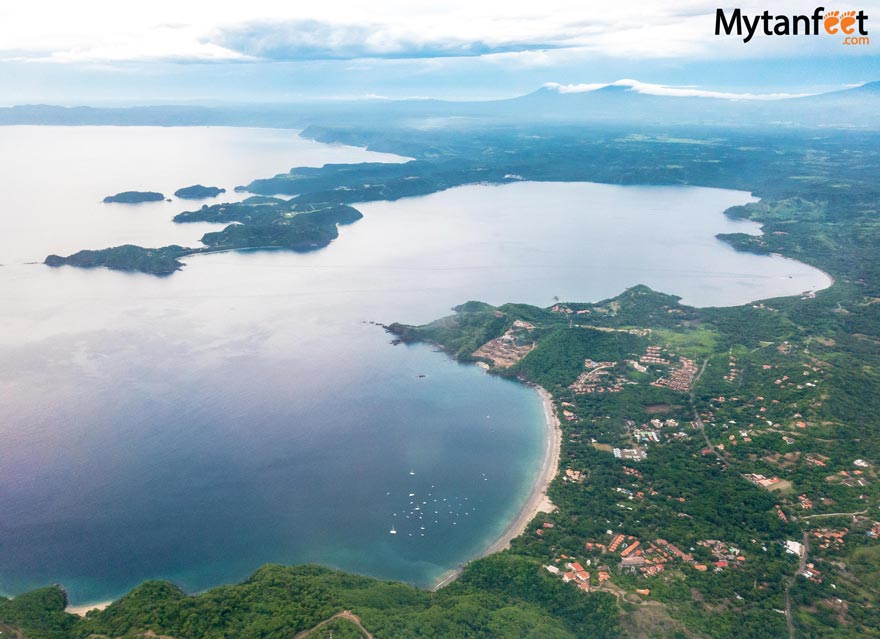 So for anyone looking for the ultimate beach vacation, the Gulf of Papagayo offers exactly that and more!
Map
Gulf of Papagayo map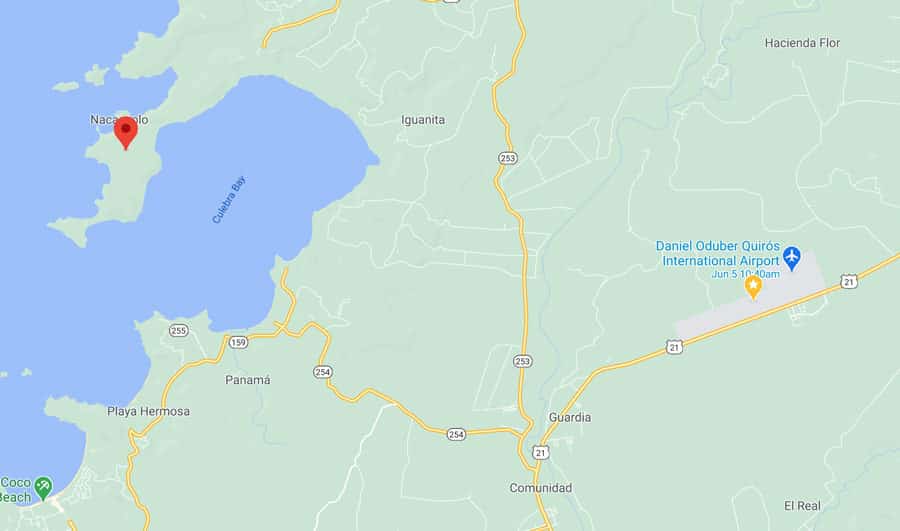 The Gulf of Papagayo is in the Guanacaste province.
Best airport to fly into
The best airport to fly into to visit the Gulf of Papagayo is Liberia International Airport. Liberia Airport is about a 25 minute drive to the closest beach town of Playas del Coco in the Gulf of Papagayo.
From San Jose International Airport, it is about a 4.5 hour drive and about 250 kilometers (155 miles) to the Gulf of Papagayo.
Where to Stay
The Gulf of Papagayo is one of the most developed areas in Costa Rica, with luxury all-inclusive resorts spread out throughout the Papagayo Peninsula. Visitors can choose to stay at one of the resorts (we'll talk about the best hotels later) or at one of the small beach towns.
Popular beaches and beach towns to stay in the Gulf of Papagayo are Playas del Coco (main beach town), Playa Ocotal, Playa Hermosa and Playa Panama. They are all about a 25-30 minute from the airport and are excellent places to choose for a homebase in Guanacaste.
Best time for wildlife
The Gulf of Papagayo is teeming with wildlife and the rich waters are an ideal environment for all sorts of marine life. The best times to see wildlife out in the Gulf is July – November as that is humpback whale, dolphin and turtle season.
For less crowds/cheapest
Since this area is very popular, it gets a bit crowded and is very expensive during high season (December through April). If you don't mind a bit of rain or you're on a budget, then the best months to visit the Gulf of Papagayo is the shoulder season and rainy months of May, June, September and October.
There are way less people and hotels lower their rates considerably as it is low season in this area. You also get to see the mountains all lush and green!
Who should visit?
Anyone looking for beach, convenience and luxury. It is also an excellent destination for families, couples, honeymooners and senior citizens since it is close to the airport and has all the services.
Because of these reasons, the Gulf of Papagayo is very popular among Americans and Canadians. One downside is that it is on the more expensive side, which can turn away the solo travelers or backpackers. So if you are on a budget, you will need to stay in the small beach towns/beaches like Coco or Ocotal.
Gulf of Papagayo Weather
The Gulf of Papagayo has some of the best weather in Costa Rica. Average temperatures in dry season are around 90-100 Fahrenheit in dry season. The hottest months of the year, March and April can stay around 100 degrees for weeks on end!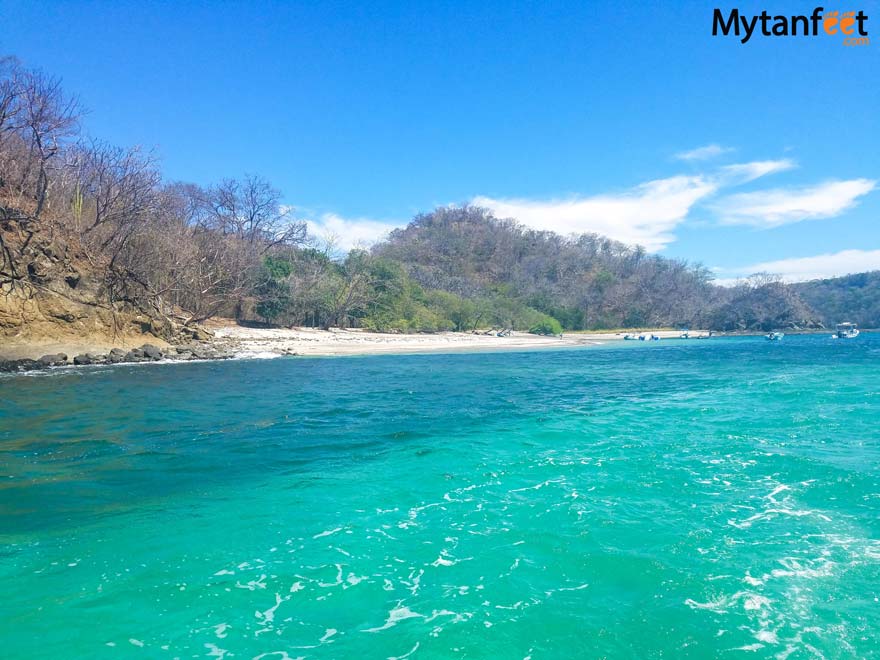 This area also tends to have a longer dry season than the rest of the country. It doesn't really start raining until about mid May, but even so, it is the once in a while random rain, not a constant rain. Then in July, Costa Rica gets a "little summer" where it dries up for a period of time like summer.
The rainiest months are September and October, but even still, you can get dry mornings and blue skies. It tends to start raining in the late afternoon at night. And don't worry – it's warm rain! In rainy season it still stays hot and humid, around 85 degrees during the day.
Gulf of Papagayo Hotels and Resorts
If you're looking for the best all inclusive resorts in Costa Rica or a luxury hotel, the Gulf of Papagayo is where you should look first. Just in the peninsula alone, you can find a handful of ensconced beach front resorts. Although it may seem like all these resorts are a bit overkill, they are all very spread out so it is not like Cancun where it is just resort after resort. You don't feel like it at all, in fact it feels even more intimate!
Planet Hollywood
This brand new all-inclusive is right next to the Papagayo marina, with splendid ocean views, spacious suites, kids club, spa and VIP Star class exclusives. Vacation like a rockstar! Check rates for Planet Hollywood here.
Secrets
This adult only all inclusive resort is on its own beach, has 24 hour dining, an unlimited Luxury exclusive section and spacious suites. You can check rates for Secrets here.
Riu Guanacaste
Riu Guanacaste is a little bit outside the Gulf of Papagayo, on Playa Matapalo, a beautiful dark sand beach. This is a good all inclusive for families or big friends groups as the property is huge. For those looking for more privacy and exclusive services, check out the Riu Palace. You can check rates for Riu Guanacaste here
Andaz Papagayo
You haven't stayed in luxury until you've been to the Andaz Papagayo! This world class resort has a golf course, spa, private plunge pool in the suites and stunning ocean views all around. It is right next to the Papagayo marina on its on beach. You can check rates for Andaz Papagayo here.
Four Seasons
If you want to vacation like a celebrity, book a villa at the Four Seasons. The Four Seasons is on Playa Blanca and is an excellent resort for families or couples (and as you can guess, very popular with American celebrities). You can book a room or if you have money to spare, a private villa.
Occidental Papagayo
This adult only all inclusive is located on Playa Buena/Bonita, between Hermosa and Panama beach. It's not on the prettiest beach but the resort is clean, food is good and it is not too far from Coco so you can easily explore outside the resort if you like. Check rates for Occidental Papagayo here.
Villas Sol
Villas Sol is a timeshare and all-inclusive resort on Playa Hermosa. It's popular with locals so it can get pretty rowdy during holidays. But it's a good option for someone looking for a reasonably priced all-inclusive. Check rates for Villas Sol here.
El Mangroove
The Mangroove hotel is on Playa Panama, a nice quiet beach. It's ideal for couples or families, but I personally recommend it more for couples. They have two excellent restaurants, cozy suites and a beautiful pool. Check Mangroove rates here.
Beaches
There is a reason why the Guanacaste province is nicknamed the "golden coast" of Costa Rica. It has some of the most breathtaking beaches in the country and the Gulf of Papagayo is home to many of them!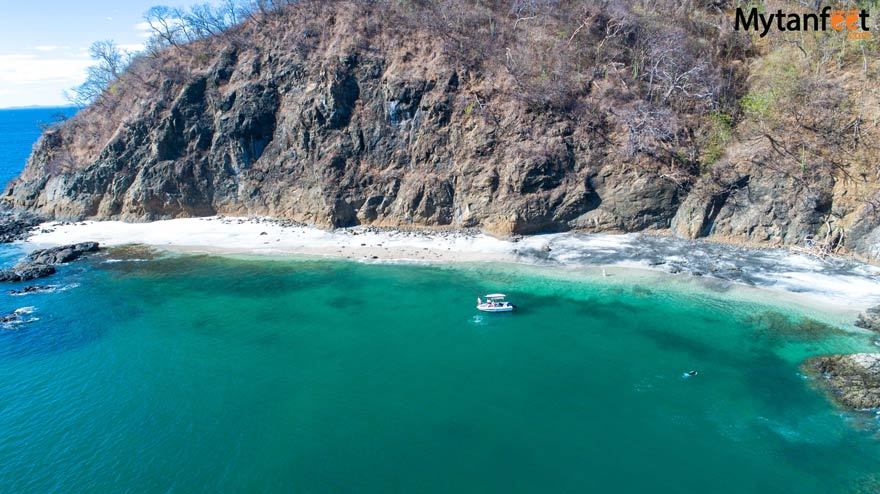 Since the Gulf is made up of little bays and inlets, you can find a plethora of white sand beaches with crystal clear waters. And the best part is that many of them are boat access only, so you may very well have a beach all to yourself!
Our favorite beaches in the Gulf of Papagayo are Playa Huevo, Playa Blanca, Playa Junquillal, Playa Nacascolo, Playa Buena, Playa Penca and Jicaro. All of them are white sand with great snorkeling. You can read about some more of our favorite hidden beaches in Guanacaste here!
Things to Do
With year round warm waters, calm waves and great weather, there is no doubt that the beach is the highlight of the Gulf of Papagayo. Even though we highly recommend simply relaxing at the beach, soaking up the sun and enjoying the magnificent ocean views, you can also go on plenty of fun adventures in the Gulf.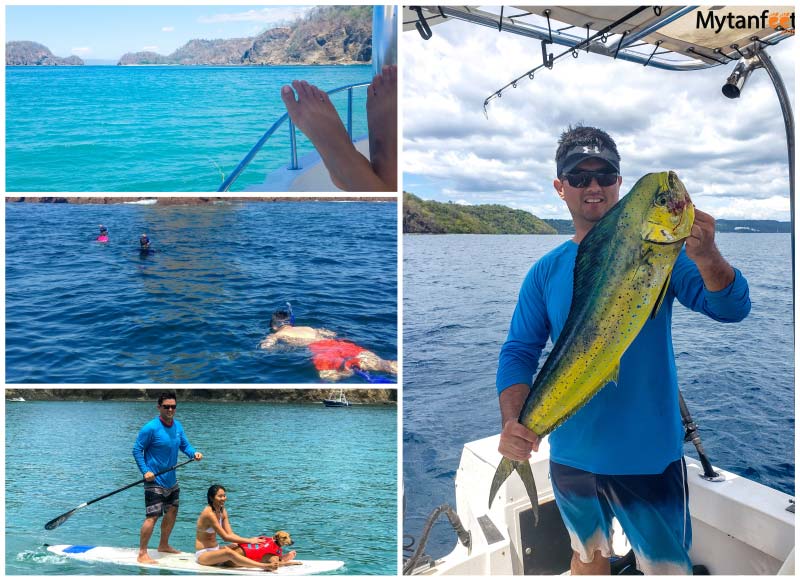 Fishing
Fishing in Costa Rica is exceptional. With such healthy waters, you can catch fish such as mahi mahi, tuna, roosterfish, wahoo, grouper and much more. In the Gulf, you can catch mahi mahi, tuna, snapper, wahoo and grouper on an inshore fishing trip. You can also go out further in the Gulf to try your hand at marlins, rooster or sailfish.
Beach hopping
You can't experience the beaches in the Gulf without going on a beach hopping tour! This is our favorite thing to do in Guanacaste and undoubtedly, one of the best things to do in Costa Rica. As many of the white sand beaches are boat access only and snorkel spots are off shore, you need to go on a beach hopping tour to experience it all. You can read about boating in Playas del Coco for more information and to book a tour.
Surfing Witch's Rock and Ollie's Point
Although there aren't good consistent surfing beaches in the Gulf, Witch's Rock and Ollie's Point are not too far away. These two places are considered as some of the best places to surf in Costa Rica! You have to get there via boat so you can do a snorkeling and surfing trip all in one day. If you go July – September, you may even have a chance to get up close with whales.
Scuba Diving
The Gulf has several islands with excellent scuba diving such as Monkey Head Island and Bat Islands. Coco and Ocotal are the best launch points for scuba diving trips. There are several dive shops there such as Rich Coast, Summer Salt, Rocket Frog and Deep Blue.
Sunset Sailing
Sunsets are one of a kind in the Gulf. You can go on a sunset sailing trip with catamaran companies like Marlin del Rey, Sea Bird or Kuna Vela to watch the sun set and sky turn a myriad of stunning colors.
Snorkeling
Gulf of Papagayo has some of the best snorkeling in Costa Rica thanks to the many rocky reefs and bays. You can see colorful tropical fish, manta and eagle rays, coral, sea urchins, puffer fish, turtles and trumpet fish. The main beaches like Coco, Hermosa and Panama don't have good snorkeling so you will need to go on a boating tour for good snorkeling. Ocotal has okay snorkeling.
Read more destination guides below!
Puerto Viejo, Costa Rica: Main tourism hub and town in the South Caribbean. Beautiful white sand beaches, lots of wildlife.
Jaco, Costa Rica: Most developed beach town only 1.5 hours from San Jose. Great surfing beach. Lots of good restaurants.
Santa Teresa, Costa Rica: Surf town in the Nicoya Peninsula. Remote, touristy but very beautiful beaches.
Samara, Costa Rica: Family friendly beach town in South Guanacaste. Nice surfing beach for beginners.
This post has affiliate links.