If you're staying in Jaco and are looking for a more low key, local beach to visit, head to Playa Agujas. Playa Agujas is the launch point for many water sports thanks to a semi protected bay and smaller waves. This is one of our favorite beaches in the Central Pacific since it's really chill and has great longboard waves.
Plan your visit to Playa Agujas in our guide.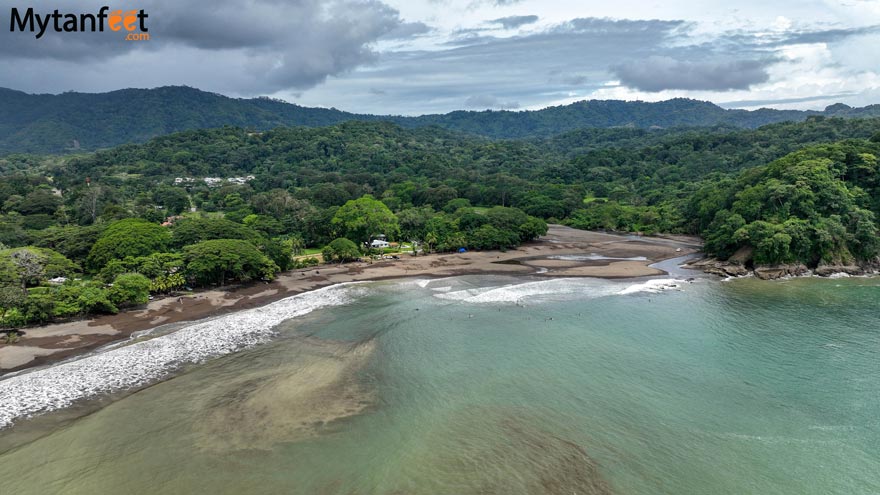 How to Get to Playa Agujas
Playa Agujas is a 20 minute drive from Jaco and 1.5 hour drive from San Jose International Airport. There is no public bus that goes directly to the beach, the best way to get there is to drive.
On Google Maps and Waze, you can find it under Playa Agujas and it'll lead you to the main entrance of the beach.
4×4 Required?
Not absolutely required. Once you turn off of Route 34, the road does become unpaved but it is straight, without any hills. There are some potholes but you can make it in a sedan slowly. In the rainiest months, it might get very muddy in some spots so keep that in mind if visiting in September/October, the rainiest months. If so, it would be best in a higher clearance car to avoid any problems.
Parking and Services
There is a parking lot at the beach for about 20 cars or so. If you continue down the road parallel to the beach, you can park along there as well. However, please make sure to roll up your windows and lock your doors, as well as avoid leaving valuables in the car as there aren't any parking guards or security.
There is a very small community at Playa Agujas offering SUP board rentals, tours, surf lessons, etc. Along the beach, there is a small market and a few vacation rentals and that's about it. No public bathrooms or showers.
The Beach
Playa Agujas has the typical characteristics of a Central Pacific beach with rocky shores, dark water and lush mountain backdrop.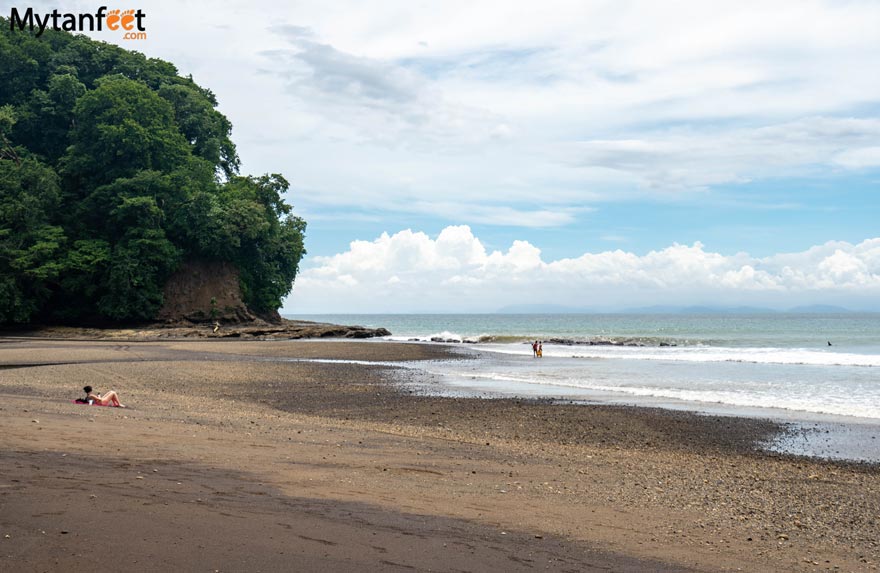 There is an estuary at the south side of the beach where the Agujas River empties into the ocean. Here at this side of the beach is where the surfing waves are.
Playa Agujas is not a big beach and you can easily walk it form end to end in about 10-15 minutes one way.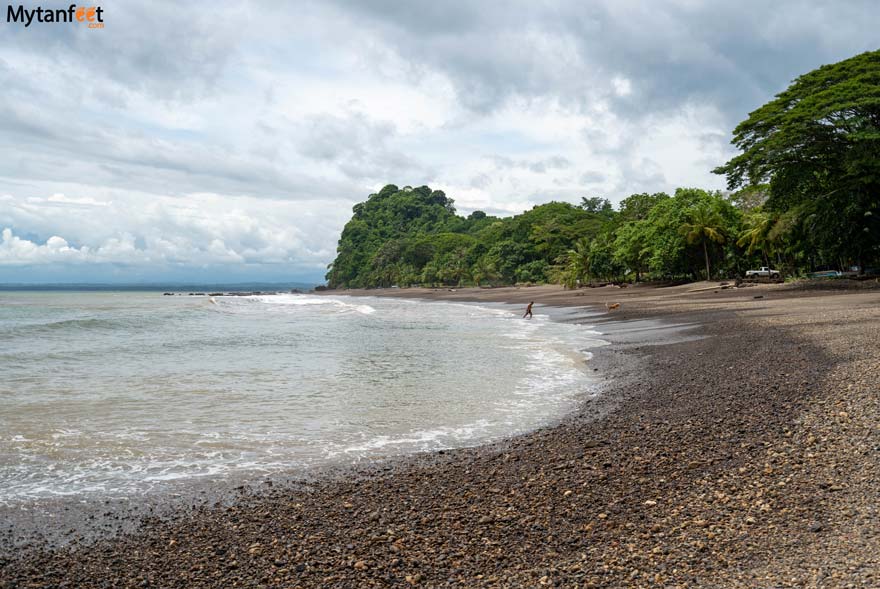 This beach is best for water sports such as surfing and stand up paddle boarding. We did a stand up paddle boarding tour with Kayak Jaco, departing from Playa Agujas. We paddled all the way to Playa Mantas and Playa Blanca to do some snorkeling. Then when there is a swell and Jaco and Playa Hermosa is too big and strong, Playa Agujas has fun surfing waves, good for longboarding, lessons and beginners.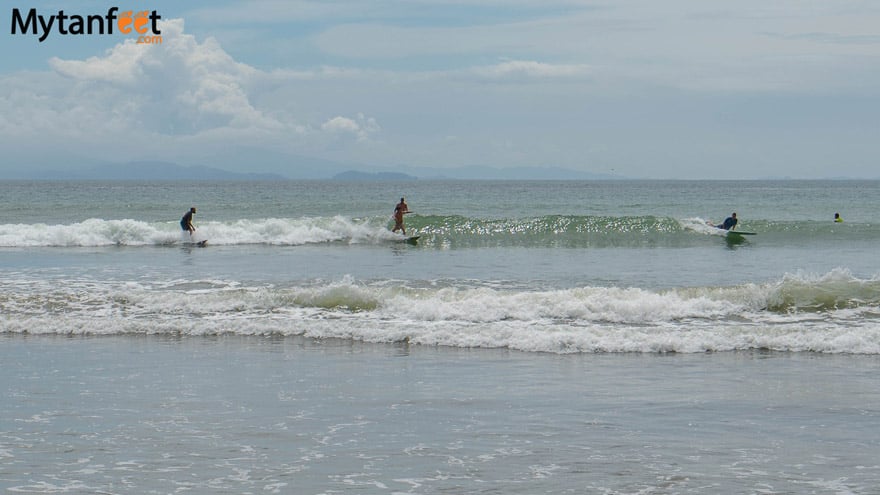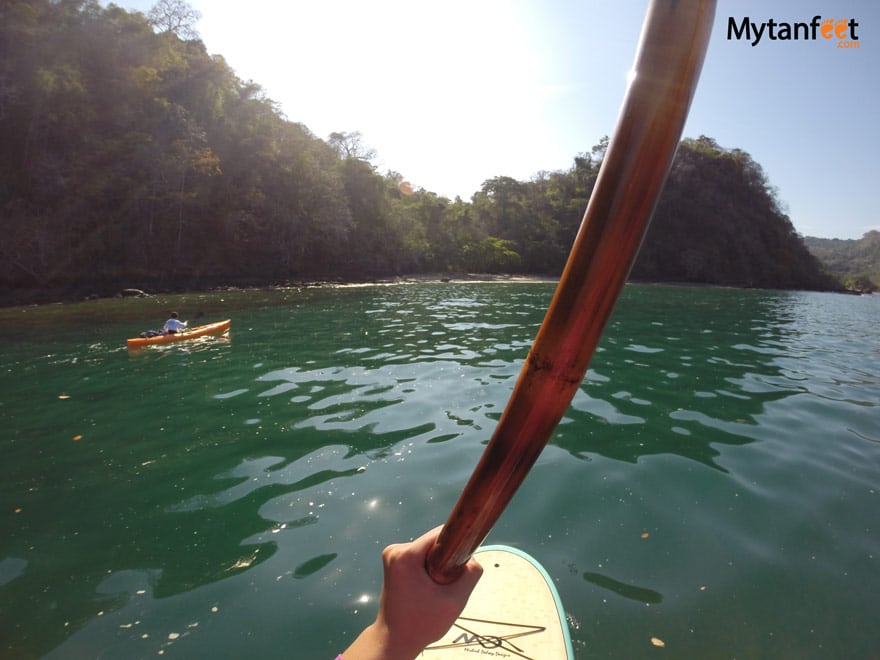 What To Know About Visiting Playa Agujas
It gets very crowded on weekends and holidays. A lot of Costa Ricans from the city like this beach. Go early if you plan to visit during those times because the parking lot will fill up quickly.
Not highly recommended for kids, especially in high tide as the tide goes all the way up to the top. The shore is very rocky so they can easily hurt themselves on the rocks. If you go with kids, go at low tide and do not let them swim in the water. They can dip their toes with shoes and supervision. If you swim, we recommend to go with water shoes.
Not the best for bathing or laying out since there are lots of rocks, palm trees and logs on the sand.
Bring your food and drink as there isn't much there to buy.
Playa Agujas is a great beach to visit for a half day or day to get away from busy Jaco. If you're a beginner surfer or like stand up paddle boarding, we highly recommend this beach!
If you're continuing down the South Pacific coast, then another beach you must visit is Playa Dominicalito. It is also a small beach that has really fun, chill surfing waves.
Check Out Other Similar Beaches Below!
Playa Bejuco: Long dark sand beach north of Jaco.
Playa Hermosa (Uvita): Local beach near Uvita
Playa Linda: A beach near Dominical, many surf lessons come here for its gentler waves and long shores