Monteverde's popularity for extreme ziplining means that it's one of the must-do's in Costa Rica. There are several canopy tours in Monteverde and one of the most popular adventure parks is Selvatura Park. Selvatura is one of two parks that actually has the zipline through the cloud forest!
This park has several activities you can do all in one day so it's an excellent activity to experience the best of Monteverde.
Selvatura Park in Monteverde
We went to the Selvatura Park to enjoy a full day of ziplining, hanging bridges, lunch, butterfly and hummingbird garden and the insect, snake and frog exhibition.
Location
Selvatura Park map
Selvatura Park is 6.7 kilometers from Santa Elena town.
Hours and Prices
Selvatura Park has several different packages and activities. The full day package cost $121 per adult. They have other packages just for the ziplining or just for the hanging bridges and gardens.
Selvatura Park is open everyday from 7 AM to 4 PM.
Ziplining
The ziplining was obviously the highlight of the day and it was like no zipline I've ever done before. You can't go upside down or do any tricks on these ziplines. I was disappointed at first but I soon realized why.
You are so high up in the trees that it would be much safer to zip line normal and you don't want to miss the view. There are 15 cables and 18 platforms that give you one of the most spectacular views of the cloud forest.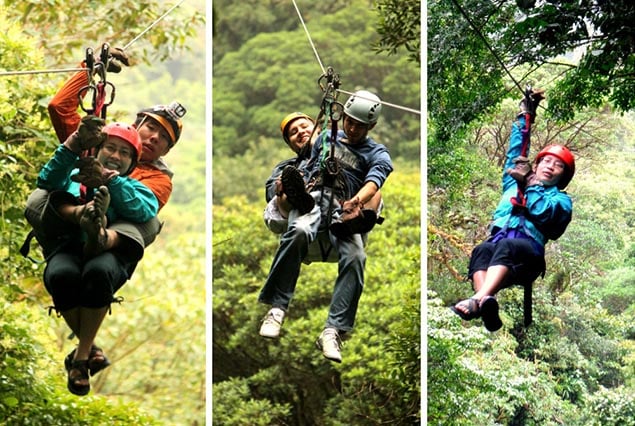 Selvatura Park has one of the longest ziplines in Costa Rica and it is the only one that is located within the Monteverde Cloud Forest. You fly through the forest and each cable goes higher and longer.
They use Deltex wired carbon fiber technology which makes the cables quieter, more resistant and environmentally friendly. Selvatura is the only place in Monteverde to use this material!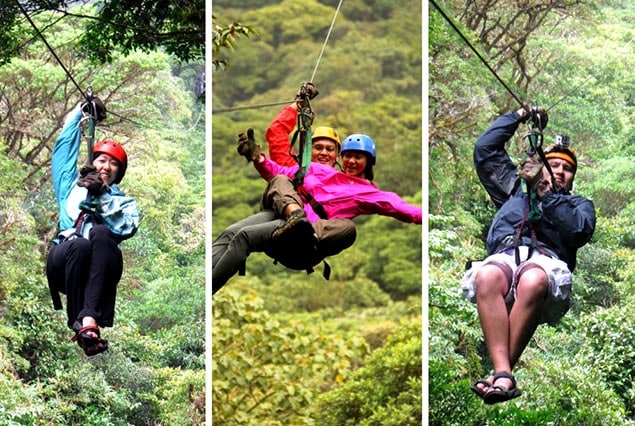 Right before you do the last cable, they redirect you to a platform where you can tarzan swing (optional). I had watched a video of this on Youtube from 2010 but they changed it to make it safer. It was still exhilarating and not as scary as it looked in the video.
The last zip line is 1000 meters! (1 kilometer or .6 of a mile). That is LONG! And this one took you right above the forest. It's so long that they make you go in pairs or else there isn't enough weight and you would most likely get stuck in the middle.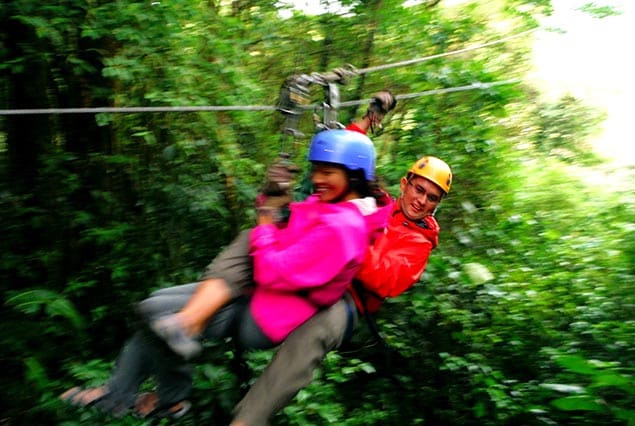 This view was absolutely breathtaking, you could see all around you for miles and miles.
Superman
They have now put in a new optional superman zipline. It costs $10 extra to do it but you get to fly through the cloud forest superman style! It's a crazy sensation, you really do feel like you're flying!
Hanging Bridges
After the zip line, we walked to the hanging bridges. There are 8 of them total that go around the park and you can watch people ziplining. It's a good walk, around 3 kilometers with lots of animal viewing opportunities.
The bridges range from an altitude of 36 feet to 180 feet and they are very strong. It can hold up to 80 people on one bridge, spanning 5 feet wide.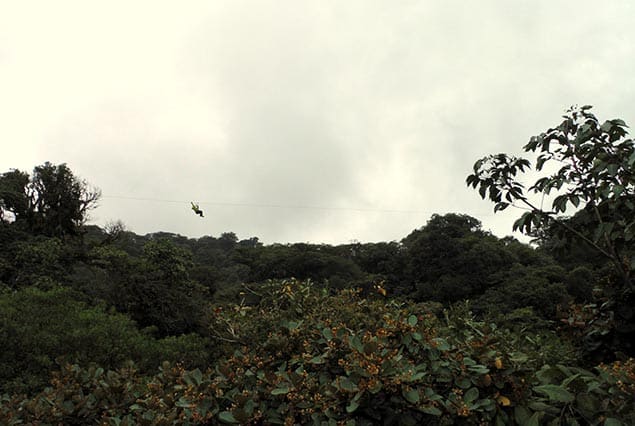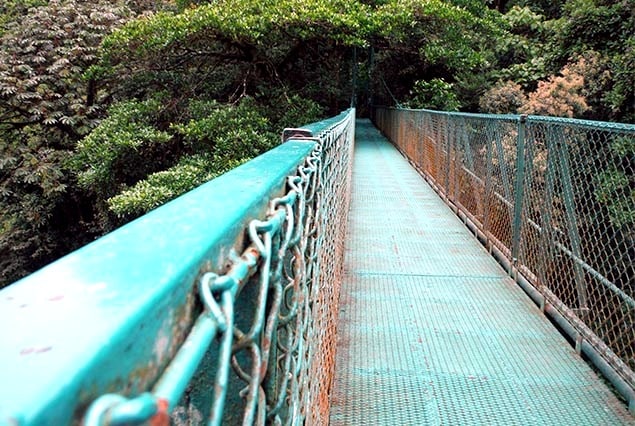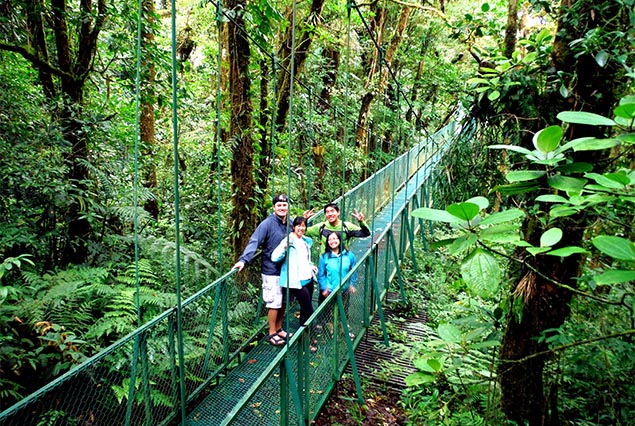 Hummingbird Garden
There is a little garden where you can go and visit hummingbirds. There are 4 feeders and tons of these little beautiful birds humming around. I think there are at least 6 or 7 different species of hummingbirds present and there was one big purple one that was my favorite, but way too fast for me to get a picture.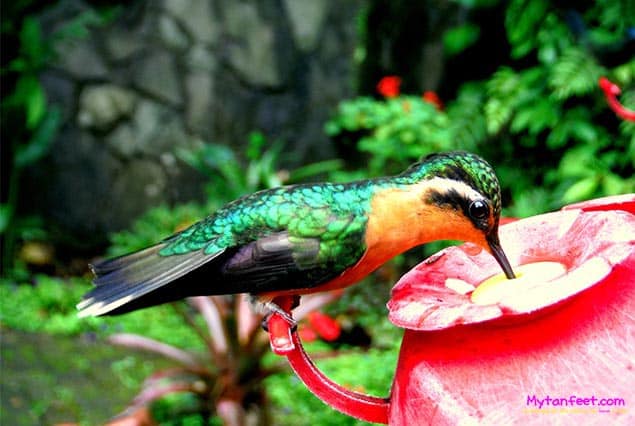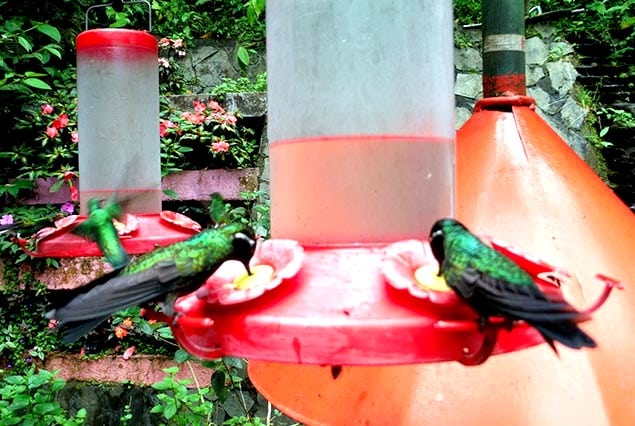 Lunch
Lunch was included in our ticket price at the park's restaurant. They offer you an appetizer of soup or salad and a main entree, a casado with sirloin steak, fish, or rice with chicken.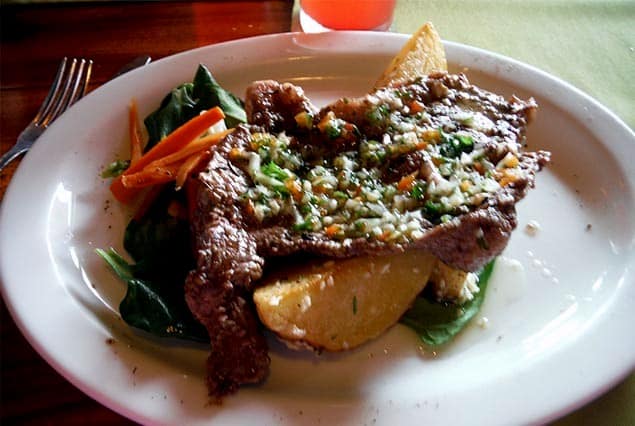 Butterfly Garden and Reptile Exhibition
For animal lovers, this is the place to be if you're in Monteverde. Selvatura Park has a huge butterfly garden with over 50 different species. This tour comes with a guide and he showed us caterpillars, different cocoons for different butterflies and gave us general information about the main species in Costa Rica.
Next they took us to the snakes, frogs and insect exhibition. This part also included a guided tour in both Spanish and English.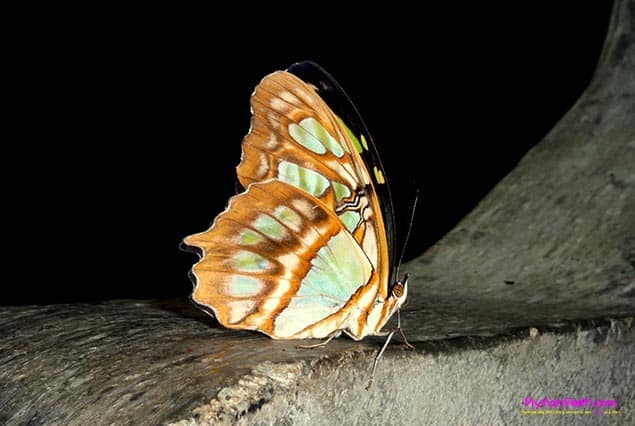 Insect Collection
The insect collection is pretty amazing – it's the world's third largest private collection. There are no live animals, just the collection by Dr. Richard Whitten a world renowned etymologist. Instead of freaking me out, I was completely in awe seeing all the different sizes and species of insects.
There are huge scorpions, spiders, butterflies the size of your head and cockroaches the size of your hand. I knew Costa Rica has big bugs but these are on a whole different level!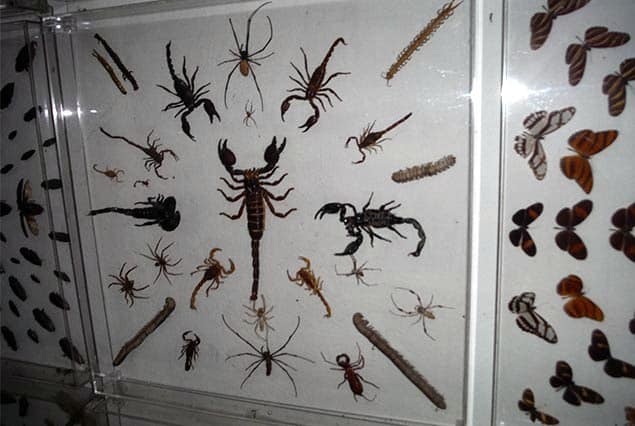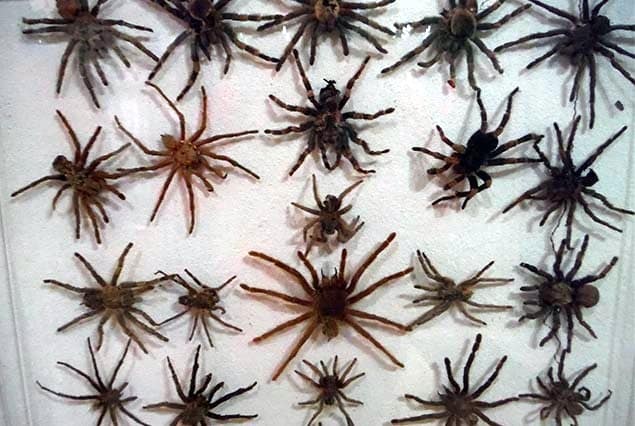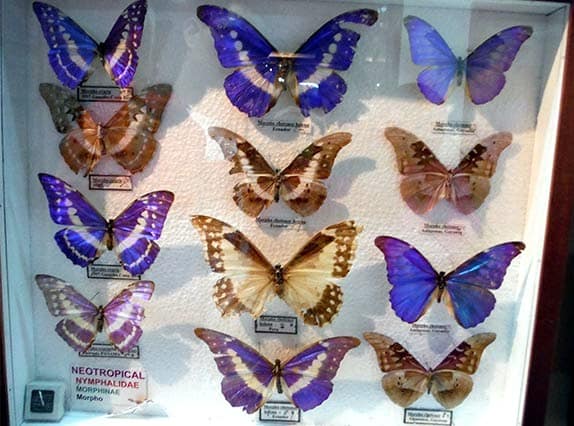 Overall
Selvatura Park in Monteverde has one of the best ziplines in the area and also showcases the wildlife and nature in Costa Rica extremely well. For the 2 short days we spent in Monteverde, we got a great value for our money.
My brother and our friends had an amazing time and I would go back in a heartbeat. What better way to enjoy the beauty of the Costa Rican cloud forest than soaring over the top of it?
Our video of ziplining at Selvatura Park
Tips for Visiting Selvatura Park in Monteverde
Wear closed toe shoes or closed toed hiking sandals like KEENs. No flip flops!
It is colder and windier since you are very high in elevation at Selvatura Park so bring a jacket. Make sure to bring a rain jacket in rainy season since it's likely it'll rain or sprinkling. They have sweaters, jackets and ponchos for sale in their gift shop in case you didn't bring one.
There are lockers to put your backpacks while you zipline.
Tarzan swing is optional and has a weight limit. The Selvatura Park zipline weight limit is 220 pounds.
You can go on your own if you have your own car, you don't have to book with a tour company. I do recommend reserving your spots in advance since this park is extremely popular.
Want to read more about Monteverde? Check these posts out!