If you have only one full day in Monteverde and want to do and see as much as possible, then Selvatura Park is the best park we recommend you to visit. This adventure eco-park has a variety of activities to enjoy, perfect for a day in the cloud forest. And since Selvatura Park sits at nearly 1600 meters (5250 feet) in elevation, you really get the cloud forest experience!
Below you can read all about our visit to Selvatura Park in Monteverde. You can first watch our video below to see what it's like.
If you're interested in visiting Selvatura Park, please click here to fill out the form to reserve your pass! .
Selvatura Park Video
Location of Selvatura Park
Selvatura Park is 6.7 kilometers (4.16 miles) from Santa Elena town in Monteverde and 150 kilometers (93 miles) from San Jose.
How to Get There
You can use Google Maps, GPS or Waze to get to Santa Elena.
If you do not have a rental car, Selvatura Park offers transportation for an extra charge per person. There are no public buses to the park.
If you rented a car, you can drive to the park yourself. We do recommend a 4wd or high car to get to Selvatura Park because the road is unpaved with potholes and steep at some parts. This is the same road you will take to get to Bosque Nuboso Santa Elena. You can read more about Monteverde road conditions including the road to Selvatura Park.
From Santa Elena, Selvatura Park is about a 15-20 minute drive. From San Jose, it is about a 3.5-4 hour drive.
Hours
Selvatura Park is open everyday from 7 AM to 4 PM.
Activities and Passes
Selvatura Park has hanging bridges, ziplining, butterfly garden, reptile and amphibian exhibit and a new natural ecological center with sloths. You can choose to do whichever activities you want or book the day pass which includes all activities.
You can book passes when you arrive at the park but during the busy months from December – April, we highly recommend booking beforehand so you can guarantee a spot. The park does get very crowded, especially holidays (Christmas, New Years, Easter), February, March, April and July.
Below I'll go over all their activities so you can read more about them.
Selvatura Park Zipline
Their canopy tour consists of 13 cables, 15 platforms, 1 tarzan swing and 1 cable that is 1 km long that you can upgrade to Superman. The Selvatura Park ziplining tour is hands down, one of the best in Costa Rica because of the stunning views, friendly staff and safety (they use Deltex wired carbon fiber technology which makes the cables quieter, more resistant and environmentally friendly). As Selvatura Park sits quite high in elevation in the cloud forest, you truly feel like you are flying over the forest!
On our last trip in February 2020, our group was rather large of about 40 people. We were joined by many families, with kids as young as 4 so the park is very family friendly. All the little kids went with a guide but on the short cables, they went by themselves. Ziplining in Monteverde is definitely one of the best things to do in Costa Rica!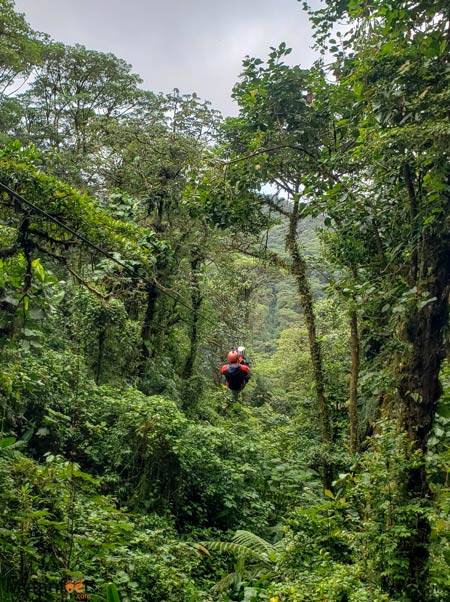 There are three cables where you go in pairs and you have to go in pairs because the cables are so long, they need extra weight to make sure you get across! It was a ton of fun for Yeison and I to zipline together.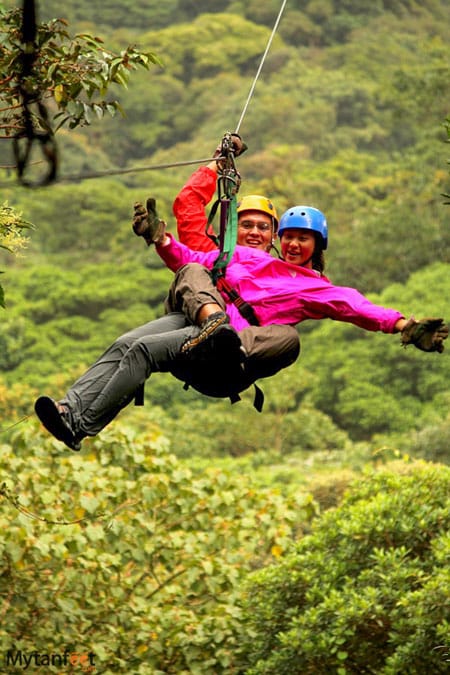 Before the last cable, you have the option to go on the tarzan swing. Although we didn't go, all the kids went and it was so funny to watch them scream and swing high into the cloud forest.
The last cable is 1 kilometer and this is the one where you can upgrade to do it Superman style or you can go normal in pairs. Yeison and I decided to do it normal style and go as a pair and WOW! You're literally soaring over the cloud forest, feeling like a bird. The views take your breath away as you zip over the canopy. All you see around you is cloud forest for miles and miles. It was such a great experience to zipline with Yeison over the cloud forest together!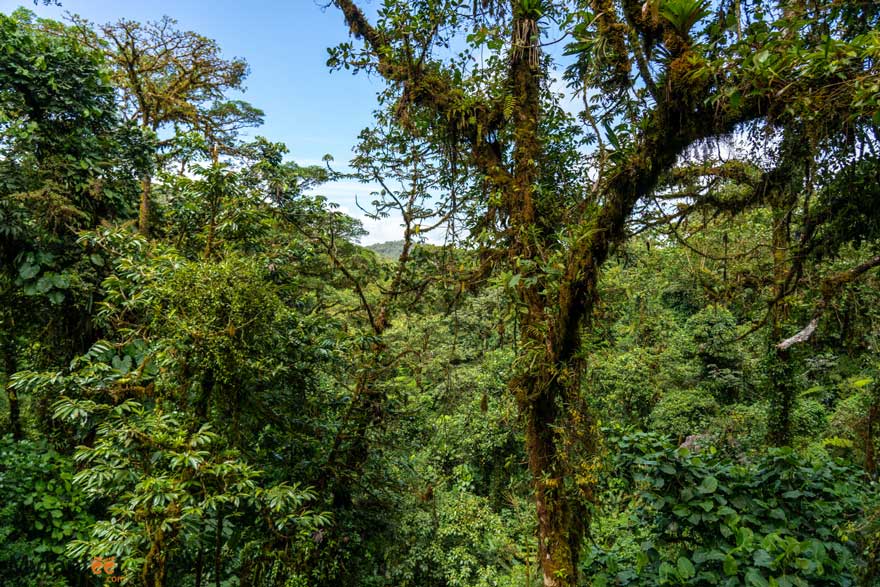 If you want to do the last cable superman style, it is an extra $12 + tax USD per person to upgrade. For adventure seekers looking for the ultimate thrill, definitely pay the extra fee because you WILL feel like superman and is worth every dollar for that experience!
Hanging Bridges (Guided or Non Guided)
After the zip line, we walked the hanging bridges on our own. If you have ever wanted to experience suspension bridges and walk so close to the tops of the forest canopy, this is the best way to do it. The bridges allow you to get so high up for views only birds get!
The trail is very nice as it well maintained and easy to walk. It is not dirt as they put down these concrete or brick paths (not sure how to describe it but you can see it in the photo below). This great is great because even if it rains, your shoes don't get super muddy since it has these paths.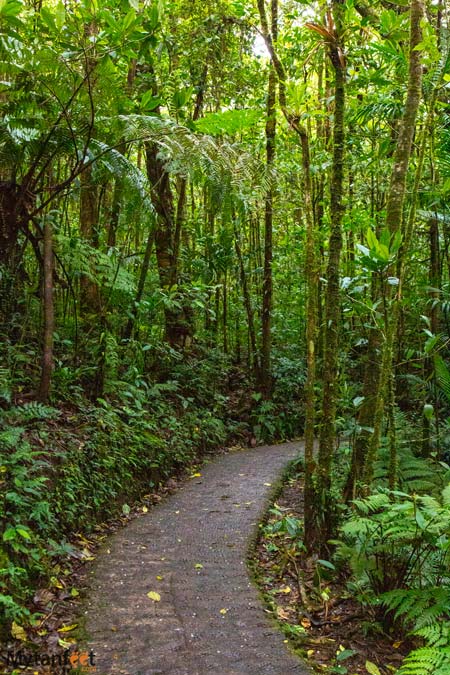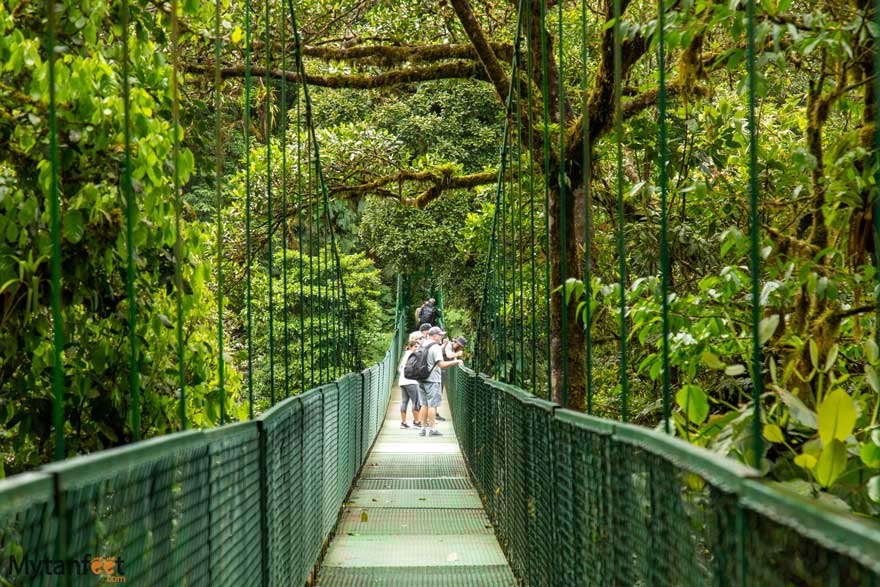 The bridges range from 170 to 560 feet and takes around 1.5 hours non guided. If you want to do a guided tour, they offer guided nature walks that takes around 3 hours. On a guided tour, you have more options to see wildlife and you'll learn more about the cloud forest.
Although it is difficult to see animals in the cloud forest because the forest is just so dense and the forest is so big, there are options to see monkeys, sloths, hummingbirds and even the Resplendant Quetzal during breeding season (March – July).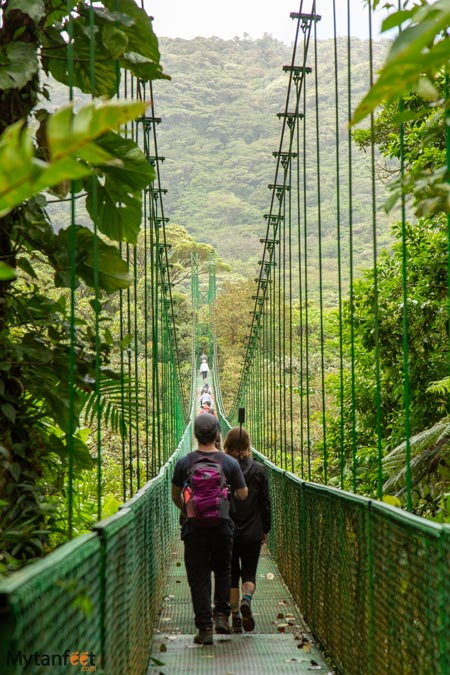 If there are any two activities that you should do at Selvatura Park, in our opinion it's the zipline and hanging bridges. It's the perfect combination of adventure and nature!
Lunch
They have a restaurant where you can have lunch (not included in any passes anymore, you have to pay for it separately). They offer traditional Costa Rican lunch, coffee, juice and dessert. You can go to their restaurant and pay for lunch when you get there.
Butterfly Garden and Reptile Exhibition
Selvatura Park has a huge butterfly garden with over 30 different species. This tour comes with a guide and he showed us caterpillars, different cocoons for different butterflies and gave us general information about the main species in Costa Rica.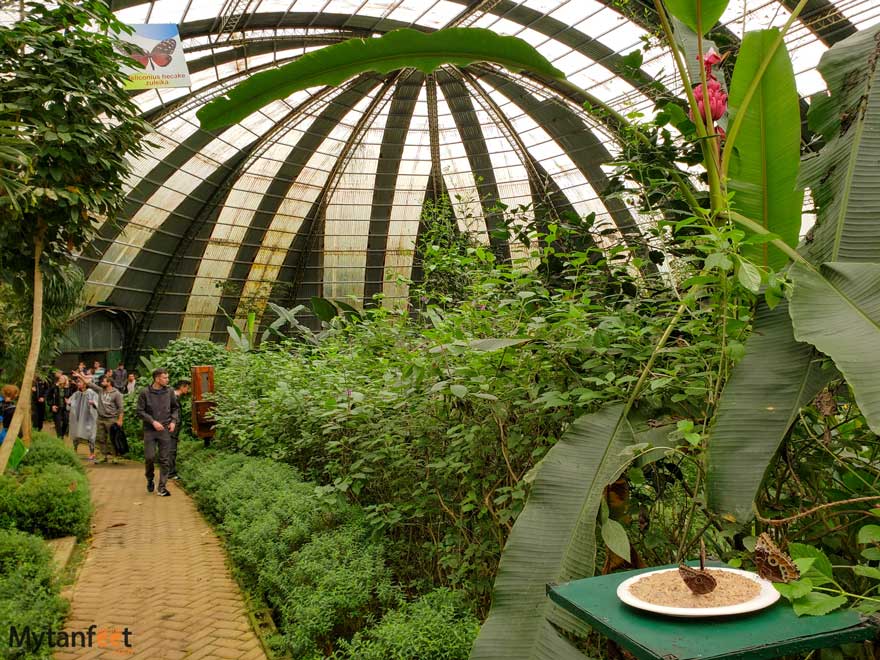 Next they took us to the reptile and amphibian exhibition. This part also included a guided tour in both Spanish and English.
Sloth Sanctuary
This is a new exhibit, their sloth sanctuary. Currently they have 14 two-fingered sloths that were transferred over from another center on the Caribbean side. These are sloths that were rescued (from injuries, abandonment, etc.) and now live permanently in the centers.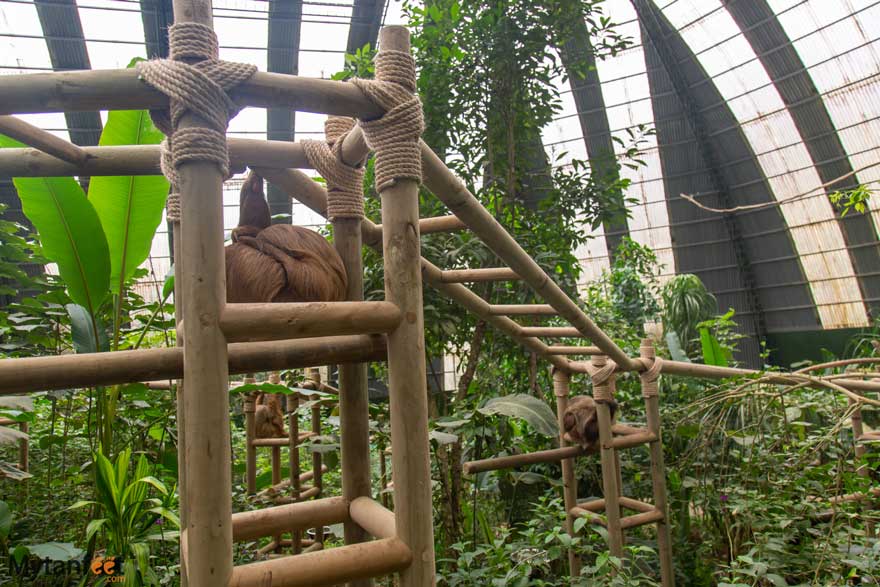 This is also a guided tour for visitors to learn more about sloths in Costa Rica.
Overall
Selvatura Park in Monteverde has one of the best ziplines in the area and also showcases the wildlife and nature in Costa Rica extremely well. If you only have 1 full day in Monteverde, this is a great way to spend it!
What to Know About Selvatura Park in Monteverde
Wear closed toe shoes. No flip flops or sandals with only 1 strap if you're ziplining.
It is colder and windier since you are very high in elevation at Selvatura Park so bring a jacket. A sweater and rainjacket is highly recommended. They have a gift shop with ponchos and sweaters in case you forget.
They have a free parking lot.