If you love mountain landscapes, hiking and undiscovered natural attractions, then Bajos del Toro has to be on your Costa Rica itinerary. This tiny town is home to a plethora of breathtaking waterfalls, rivers, blue pools and hikes.
If this sounds like a place you have to visit, read our guide to learn more.
Click to skip to the section.
Map
Bajos del Toro map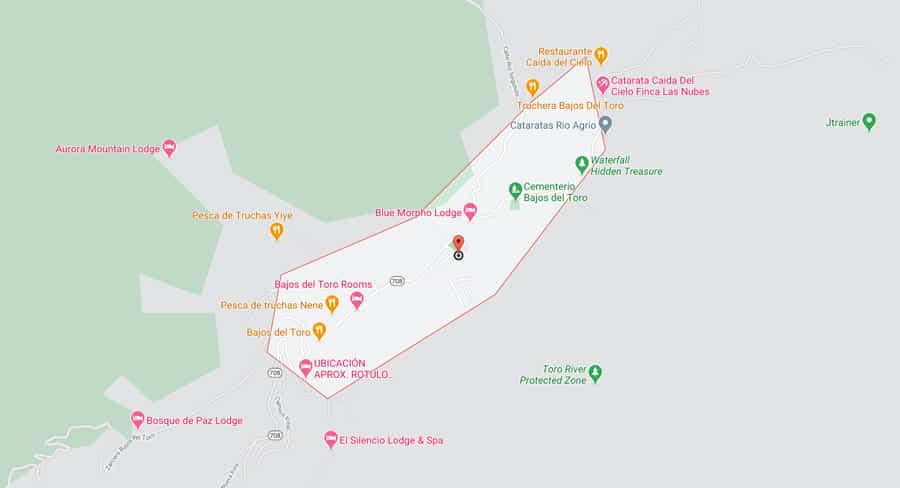 Bajos del Toro is 65 kilometers (40 miles) from San Jose, about a 2 hour drive. It is about 1000 meters in elevation in the Alajuela province.

How to Get There
Having a car is the best way to get to Bajos del Toro since this tiny town doesn't have public transportation or taxis and everything is very spread out.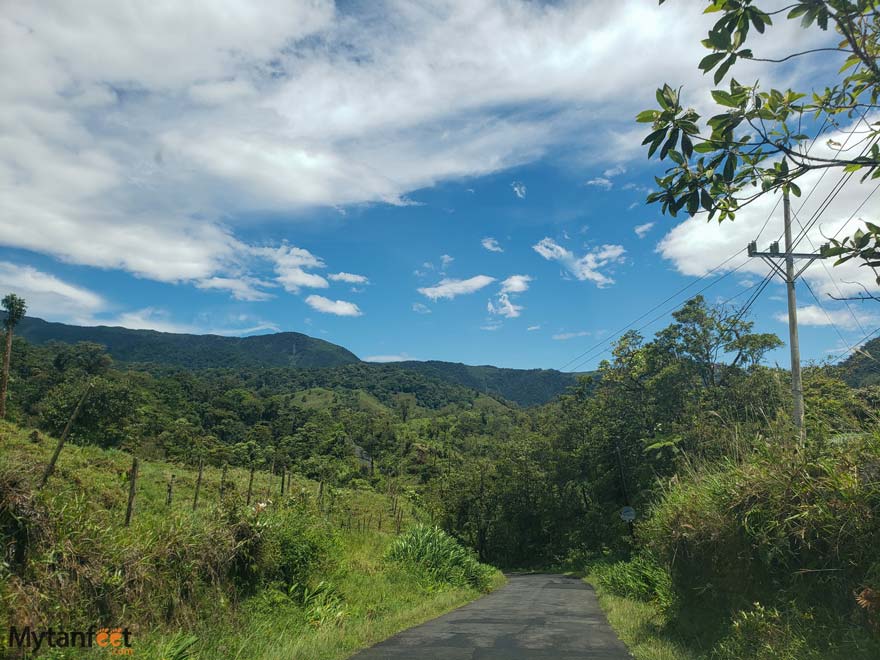 Driving and is 4×4 required?
From San Jose to Bajos del Toro, the best driving route is through Zarcero. This way is on all paved road but it does get quite steep and hilly past Zarcero. The roads are all paved so you can get there in a normal car but a high car or 4wd is recommended for the most comfort, especially in rainy season.
Bus
Unfortunately there is no bus to Bajos del Toro. You will need to bus to Zarcero and then from Zarcero, take a taxi to Bajos del Toro. This taxi ride takes about 40 minutes and costs about 15,000 colones (around $26 USD) one way. From the bus station in Zarcero, you should be able to find official taxis (red). If there are only unofficial taxis available, make sure to negotiate the price beforehand.
To leave Bajos del Toro, it is the same (taxi to Zarcero, take bus from Zarcero to your next destination).
Shuttle
The only option for shuttles to Bajos del Toro is via a private shuttle, no shared shuttles available. From San Jose, it costs around $180-200 USD one way for a private shuttle for 1-6 people.

The Town
This town is one of the smallest towns I've ever visited in Costa Rica and its location makes it one of the best escapes in the country. You'll see just a couple of really small markets (like convenience stores), only one proper hotel, no residential neighborhoods or business centers.
Bajos del Toro has been and is still is for many years a farming area and all the local families own great tracts of land. You will see cows, chicken farms and crop fields everywhere.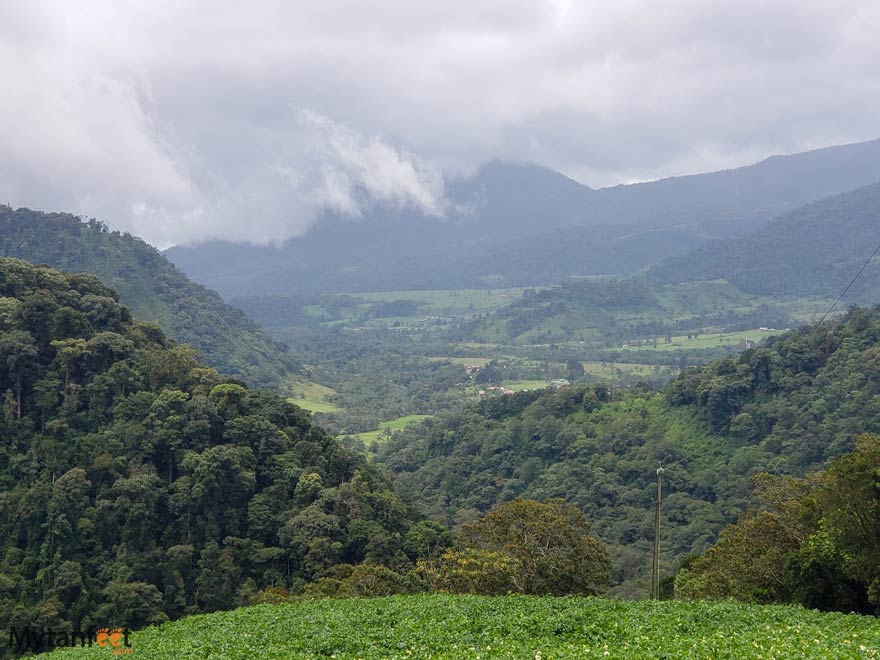 Since many of the families own land with a natural attraction such as a river, swimming holes or waterfall, the locals are slowly opening up to tourism. They mostly receive Costa Ricans from San Jose who are looking to escape the city and explore nature.
There isn't really any tourism infrastructure set up and locals don't speak much English, another reason why it's an excellent "off the beaten path" destination for tourists looking to experience a more natural, authentic Costa Rican town.

What to Know About Visiting Bajos del Toro
English is not really spoken here so brush up on your Spanish. Check our Spanish guide to learn basic words and phrases. Will, the owner of Catarata del Toro Adventures speaks English and the staff at El Silencio Lodge does. At the other waterfalls we visited, the families didn't speak English.
Pay with Costa Rican colones, not USD.
Kolbi is the only one that works in Bajos del Toro. I had Movistar and had no service once we left Zarcero. A prepaid Kolbi sim card will be super helpful.
No bank or gas station. Must go to Zarcero.
If staying for a couple nights at a rental or local house, stock up on supplies in Zarcero. There are only small convenience stores in Bajos del Toro.
Signage is pretty good for attractions. There are big signs for the waterfalls like Catarata Del Toro, Tesoro Escondido, Blue Falls, etc.
The waterfalls get busy on the weekends December – April. Lots of city Costa Ricans go to Bajos del Toro during those times. It is especially busy during holidays.
Weather
Due to the elevation and location, Bajos del Toro is known as a rainy town. It does experience the typical tropical seasons of dry and rainy but it can rain in this area even in January so make sure you come prepared.
The best months to visit are February – April (usually the driest). We visited end of June and unfortunately visited right when it started getting very rainy in the area. It poured at night, was super cloudy and drizzling in the mornings and started raining again in the afternoons. We managed to get a few hours of no rain during the day for our 3 days there.

Where to Stay in Bajos del Toro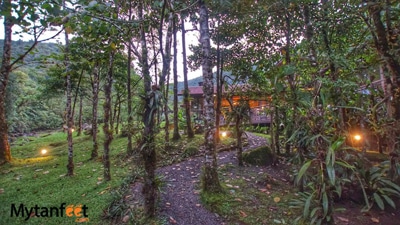 Being such a small rural town, it is not surprising that accommodations are few and far between. There is one amazing luxury eco-lodge called El Silencio Resort and Spa that offers 4 and 5 star accommodations but it is not for those on a budget or looking for something that luxurious.
So when it comes to hotels, there are just a couple of places that offer rooms. Don't expect anything super fancy or full hotel services but more basic, simple but comfortable lodging options.
Catarata del Toro Adventures has a few simple rooms at their center, you must reserve them beforehand.
Bajos del Toro Rooms has just that – rooms. They're actually nice, clean and offer a partial kitchen with microwave, dishwasher and coffee maker.
You can also find homes to rent on Airbnb. We saw a large house right in town called Villa Nelly that looked nice for big groups or families.

Things to do
The best thing to do in Bajos del Toro is to hike. This area has some of the best spectacular waterfall hikes in Costa Rica! There isn't too much else to do so if you're a hiker and outdoor lover, then Bajos del Toro is the perfect destination for you.
Thanks to the surrounding volcanoes, Bajos del Toro is home to blue colored waterfalls and rivers!
Catarata del Toro
The most famous waterfall in Bajos del Toro is Catarata del Toro. This spectacular waterfall will take your breath away as it drops 270 feet into an extinct volcano crater surrounded by lush forest.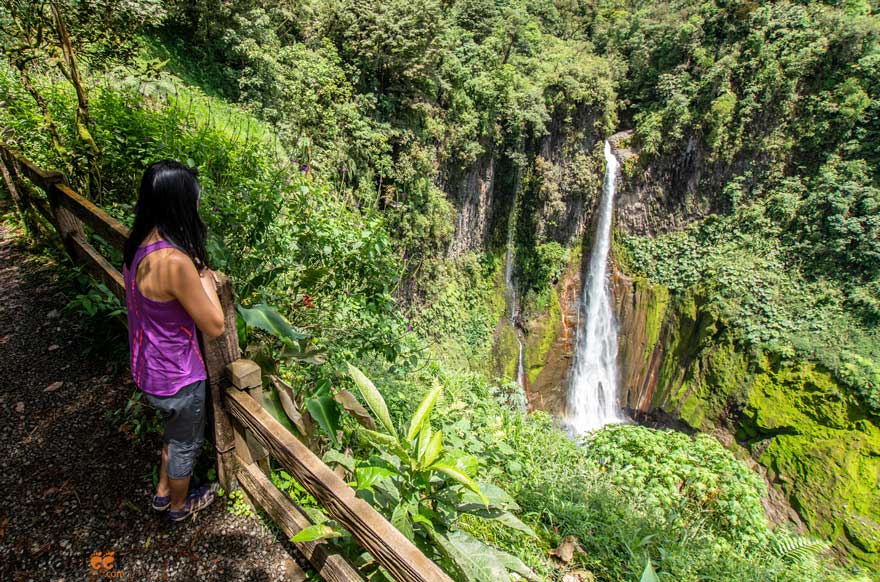 You can walk all the way down to the bottom to feel the sheer power of the waterfall or see it from above. It requires walking down some steep steps and the waterfall center also has short trails and a hummingbird garden.
Blue Falls
The Blue Falls of Costa Rica are two other incredible waterfalls that are also part of the Catarata del Toro Adventures. These require more walking but it's worth every step! These two waterfalls have a sky blue color and you can swim in one of the them.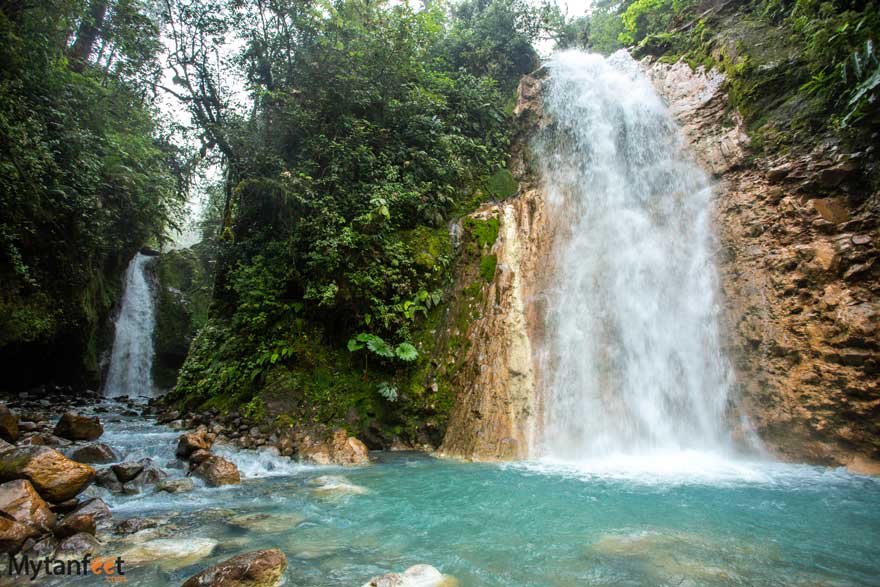 We went on a cloudy day but on a sunny day, the color of this water is even more sky blue!
Catarata Rio Agrio
This Catarata Rio Agrio hike is excellent for families or those who don't want to walk very long. It is only a 20 minute walk one way and you feel like you're walking through Jurassic Park! The waterfall is nothing super tall or have a crazy color but the short hike is beautiful.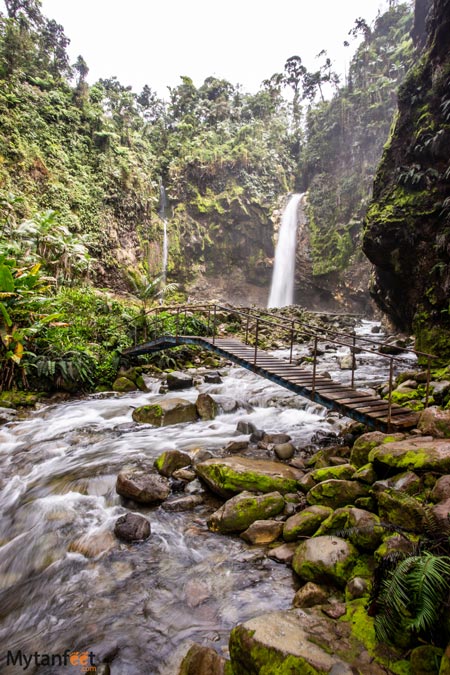 Catarata Rio Agrio is the best short and easy waterfall hike in Bajos del Toro. The family who owns this property also has Blue Pools which you can visit on the same day as Rio Agrio waterfall.
Other Waterfalls
These are just three of the many amazing waterfall hikes in Bajos del Toro. Other great waterfalls are Catarata Tesoro Escondido, Cascada Poza Azul and Catarata Caida del Cielo (Finca Las Nubes).

Sample Itineraries
You don't need to spend many days in Bajos del Toro, most people spend a night or two. Here are some sample itineraries.
For an easy luxury vacation. Land in San Jose – Peace Lodge – El Silencio Lodge – Nayara/Tabacon/Kioro in La Fortuna.
Transportation: Drive/book a private shuttle.
Pass by without staying overnight. Land in San Jose – stop by Catarata del Toro on your way to La Fortuna – La Fortuna.
Transportation: This can be done by driving or hiring a private shuttle.
For those who prefer like nature and wildlife. Land in San Jose – stay a few nights in Grecia/Sarchi/Zarcero – Bajos del Toro for a few nights – Sarapiqui a night or two – Tortuguero a few nights – San Jose.
Transportation: Driving. Booking private shuttles will get really expensive and you will want to the flexibility of having a car for these places.
For Tortuguero, you need to fly or take the boat.
Honeymoon idea for nature lovers looking for a more intimate trip: San Jose – Chayote Lodge (Naranjo) – El Silencio – Arenal or Nuevo Arenal (Lucky Bug/La Mansion Inn/Lost Iguana)
Driving is the best way.