Outdoor adventure is one of the main reasons why people visit Costa Rica. With an abundance of natural attractions, it's easy to prepare an action packed itinerary. Not to mention that Costa Rica is a fairly small country so you can be soaring over the cloud forest one day and scuba diving with sharks the next.
Here are the top ten best adventure activities in Costa Rica. They all offer an unforgettable experience and leaves you wanting more and more!
Ziplining
Ziplining is the top must-do activity in Costa Rica because it's known as the birthplace of the first zipline. You can find canopy tours all throughout the country but the best one is in Monteverde and Arenal because of the cloud/rain forest views. There is no feeling quite like gliding over the jungle for one whole kilometer!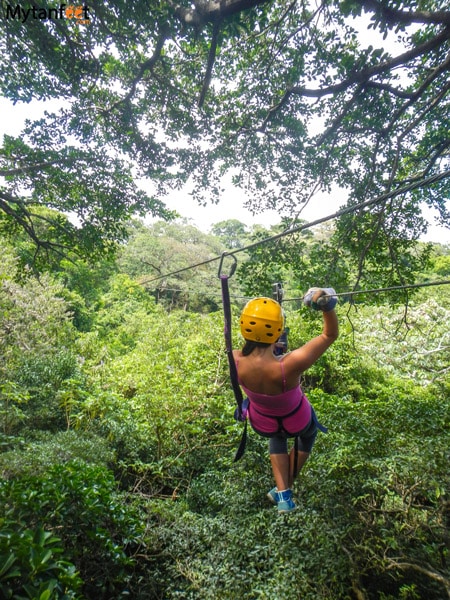 On some ziplines you can go in pairs, superman, upside down and other fun tricks. We've even ziplined in the dark! Every canopy tour is different and it's always a day to remember. If you're not quite sure about strapping yourself to a cable and zipping through the trees, read why every visitor has to go ziplining in Costa Rica first.
Some of the most extreme ziplines in Costa Rica are Diamante Eco Adventure Park (get 10% off the zipline) in Guanacaste, 100% Aventura in Monteverde and Sky Trek in Arenal.
Canyoning (Rappel down waterfalls)
This is an activity that requires a bit of courage. The most popular place to do it is La Fortuna/Arenal where you jump down waterfalls up to 200 feet tall in the middle of the unspoiled Costa Rican forest.
It's more exciting than ziplining in the sense that it requires a bit of strength and the guides like to enthusiastically swing you under the waterfalls.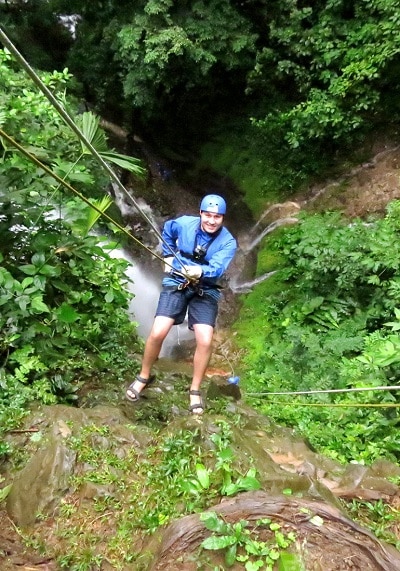 One of my friends said that canyoning "changed her life" and after doing it, I understand what she meant. The best thing about the adventure activities in Costa Rica is that they break down barriers and make you feel free, almost invincible!
Some other places that offer canyoning tours are Monteverde, Jaco and Turrialba. However, Arenal is the most popular as it has the tallest waterfalls!
Read about our experience canyoning in Arenal. We also have a partnership with Jacamar Naturalist Tours to give 10% off the Pure Trek canyoning in Arenal!
Click here to get 10% off your tour in Arenal
White Water Rafting
If you love outdoor adventure, then you must go white water rafting. White water rafting is an excellent way to experience the beauty of Costa Rica as you paddle down roaring rivers surrounded by luscious flora and fauna.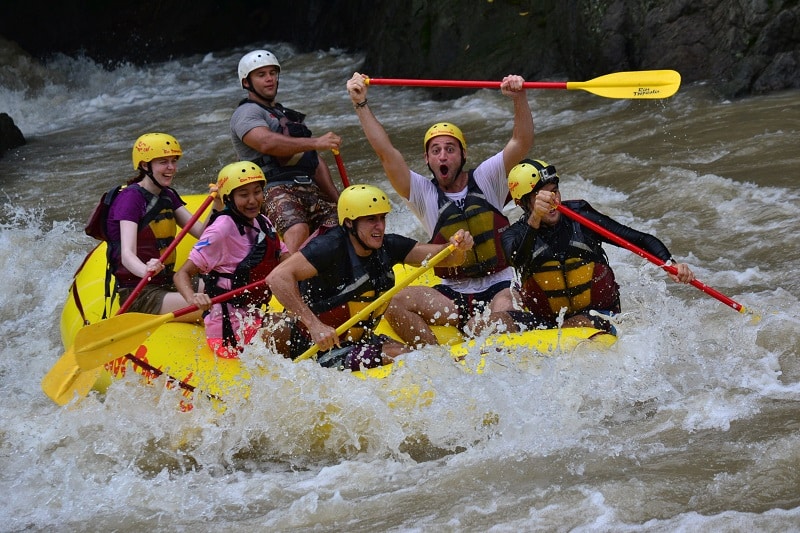 There are many rivers for rafting Class I to Class V rapids so depending on how much you want to paddle that day, you can opt for a leisurely or action packed rafting day. Prepare to twist, turn and get wet but most of all, have one of the most exciting days of your trip!
Some popular rivers are Pacuare, considered one of the best for white water rafting in the world, Balsa, Sarapiqui and Savegre. You can contact us if you'd like to do the Sarapiqui rafting or check out our review of Hacienda Poza Azul for a unique experience in Sarapiqui.
We have a partnership with Rios Tropicales to give $10 discounts to our readers!
Book Your Pacuare Rafting Tour and get $10 OFF
Boating
For those visiting the coast, boating is a must do. There are many fabulous spots on the Pacific and Caribbean side to beach hop, snorkel or just sit back for the ride. You can also see marine wildlife such as humpback whales, dolphins and fish.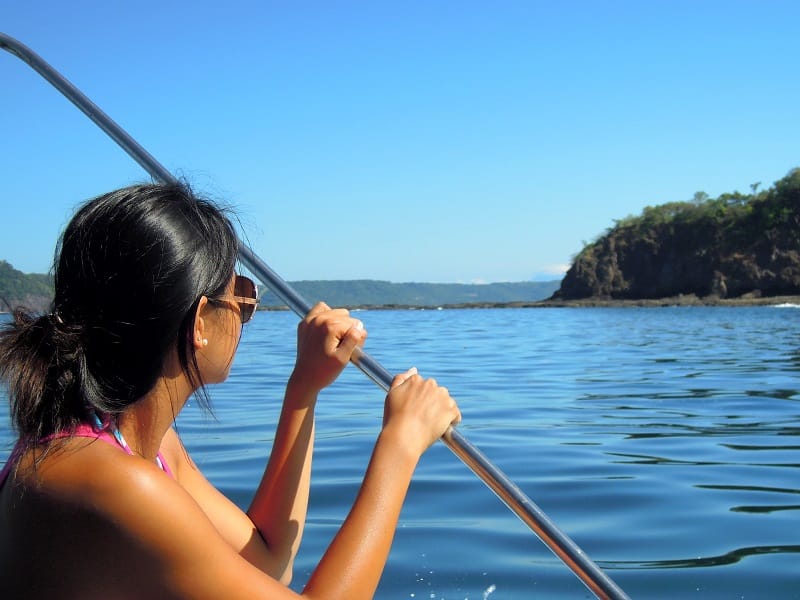 It's one of the things we always do with friends and family. We always have a fun day boating and visiting the many hidden beaches in Guanacaste.
If you are visiting the Gulf of Papagayo, we highly recommend a private boat tour for the best experience. Our friend operates boat tours in Playas del Coco for snorkeling, beach hopping, fishing and surfing.
Exploring Waterfalls
There are hundreds of waterfalls in Costa Rica and visiting one is always a highlight of any trip.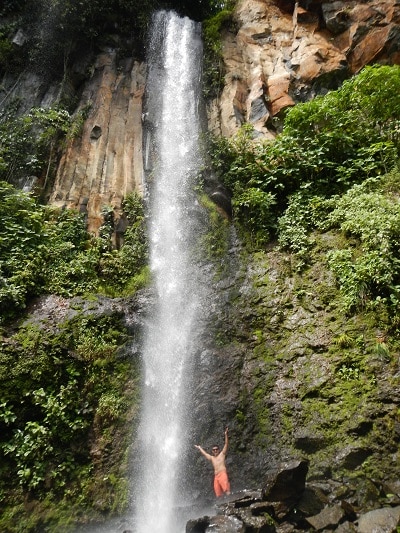 One of the best waterfalls to do so is the Nauyaca waterfalls in the South Pacific. It's a 4 km hike through the jungle but so worth it! Catarata Llanos de Cortes is another one of our favorites in Guanacaste.
Most of the waterfalls you can visit on your own if you rented a car. If not, you can take a waterfall tour. This is only in the Jaco, Manuel Antonio and Uvita area with tour companies like Paddle 9, Jaco waterfall tours or Rancho Di'Andrew.  These tours are awesome since they take you to waterfalls you normally can't visit on your own since they're either on private property or require a 4×4.
Find out what our favorite waterfalls in Costa Rica are!
Surfing
World class surfing can be found all over in Costa Rica. Warm waters, friendly locals and empty beaches make it a more enjoyable environment for beginners. People from all over the world come to Costa Rica with one goal in mind: to catch as many waves as possible.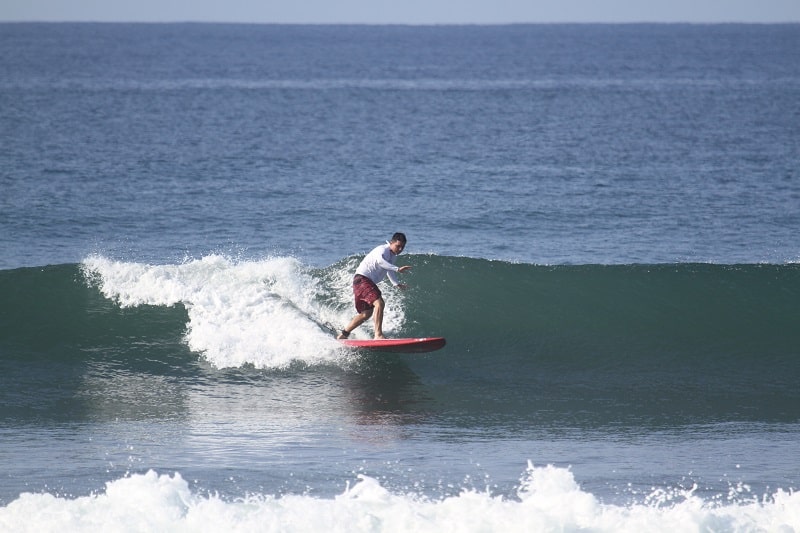 Some of the best beaches are Jaco, Hermosa, Tamarindo, Guiones, Avellanas, Santa Teresa, Pavones and Grande. However, there are many beaches with great waves that aren't as popular.
Some are Playa Esterillos Oeste, Playa Espadilla Norte, Cabo Matapalo, Negra, Langosta, Marbella, Ostional and Cocles.
Hiking
In general, hiking in Costa Rica is fairly laid back. Most hikes in Costa Rica don't lead to breathtaking panoramic views though but rather to waterfalls, up a hill or past rivers. Some of the more "epic" hikes that go up volcanoes are Barva or Chirripo.
In general, most hikes go through the rainforest, along the beach or jungle.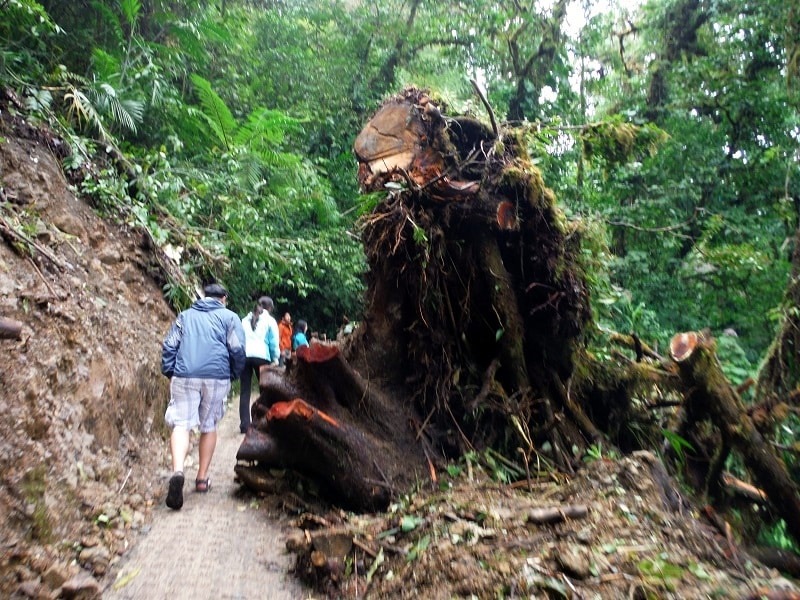 We have done several hikes in Costa Rica and especially loved hiking the Monteverde Cloud Forest Reserves, Manuel Antonio National Park and Rincon de la Vieja National Park. All super easy hikes on fairly flat terrain.

You can read about other great hikes in Costa Rica.
Snorkeling or Scuba Diving

No visit to the beaches of Costa Rica is complete without snorkeling. You'll see lots of colorful tropical fish and coral reef. If you're lucky, you can see turtles and manta rays.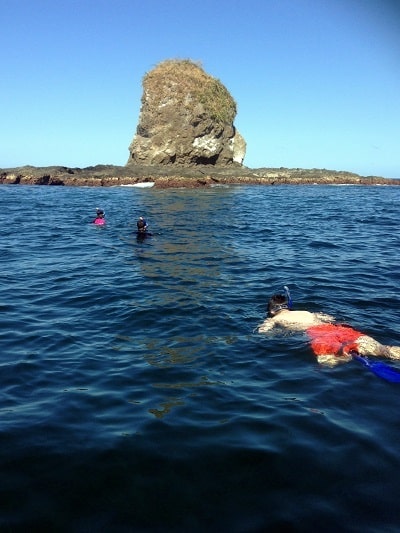 Although snorkeling in Costa Rica isn't world class, you still have the opportunity to see lots of little fish. The best spots for snorkeling are Cano Island, Gulf of Papagayo and Cahuita National Park.
But if you have your scuba diving certification, Costa Rica has excellent diving and you can swim with hammerhead sharks, turtles and big manta rays.
Great spots for scuba diving are Cocos Island, Cano Island, Bat Islands and Catalinas.
Wildlife Watching
The wildlife in Costa Rica is incredibly abundant as the country carries 5% of the biodiversity in the world. Many people want to see some animals and they never leave disappointed. It's common to hear monkeys howling, see macaws fly by and spot an iguana crossing the road.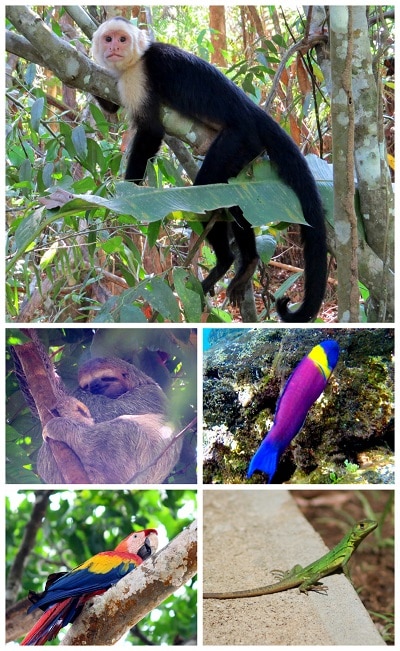 In Corcovado National Park, you can see tapirs, pumas, monkeys and much more. It's one of the most biologically diverse places on earth! We highly recommend taking a tour and hiring a guide to see wildlife as they have trained eyes and know how to spot them.
Tips for Enjoying Adventure Activities in Costa Rica
Bring the appropriate clothing, especially in rainy season. Check out our rainy season packing list for more tips.
You can wear hiking sandals (open or closed toe) for activities like ziplining, certain hikes like Monteverde and white water rafting. Closed toed shoes are highly recommended for hikes such as Cerro Chato, Chirripo and Corcovado National Park. Read more about best shoes for Costa Rica here.
If you're visiting in rainy season, you can still do all these adventures but if it is raining very hard or lightning/thundering, tour companies may not operate the tours. Make sure to check with the company.
Some activities have an age or height/weight limit. Make sure to check
Most of the adventure activities in Costa Rica require a guide or booking with a tour company. Corcovado requires a guide however.
If you're looking for more ideas of what to do, here is our list of
50 things to do in Costa Rica
!