Carara National Park is a popular national park for bird watchers. It is right in between the change of dry to tropical rainforest, so it's an excellent place to see nature. Furthermore, this national park is home to the largest population of nesting Scarlet Macaws.
This post will help you plan your visit to Carara National Park.
Carara National Park Information
Established in 1998 as a national park, Carara National Park is a favorite destination for bird watchers due to its immense amount of nature. Carara National Park lies directly in the transition zone between the tropical dry rain forest and tropical rain forest so this mesh of two habitats means flora and fauna from both live in one area, making it an extremely biologically rich zone. Due to the humidity and abundance of trees, there are a lot of insects in this area and in turn, many birds since there is so much food.
This national park is 20 square miles (~52 sq km) and it protects the river basin of the Rio Tarcoles.
Location and Directions
The park is 9 miles (~15 km) north of Jaco and 46 miles (~74 km) from San Jose. The main national park entrances are right off of the highway a little bit after the Rio Tarcoles bridge.
How to get from Jaco to Carara National Park
The best way will to rent a car and drive from Jaco. If you don't have a rental car, you will need to book a tour since there isn't a direct bus to either entrance of the national park.
You can also find Ubers and taxis in Jaco and take one to the park. Make sure to coordinate with the driver when to pick you up since there aren't taxi drivers waiting at the national park.
Parking
There is a large parking lot at Carara National Park, no fee. A 4wd/4×4 is not required for Carara National Park.
Hours and fee
Carara National Park entrance hours are 8 AM – 4 PM during rainy season (May to November) and 7 AM – 4 PM during dry season (December to April). Laguna Meandrica is closed September and October.
The Carara National Park entrance fee is $10 + tax USD for adult foreigners. Children 5-12 are $5 USD plus tax and children under 2 are free. IMPORTANT. You must purchase park tickets on the SINAC website before your visit.
The Hiking Trails
There are two sections of this park: Laguna Meandrica and Sendero Universal Access/Quebrada Bonita/Los Araceas and they each have their own separate access. Quebrada Bonita/Sendero Universal Access is the main station. Both have trails of 1-2 kilometers and are all on flat, easy to walk on paths.
Laguna Meandrica
There is a small parking lot at Laguna Meandrica and you need to purchase your entrance ticket first at the main ranger station before entering, there is a guard who will ask for it and there is no ticket office at this station.
The Laguna Meandrica trail is closed September and October due to flooding from the rains and you have to watch out for crocodiles. This trail takes about an hour to complete.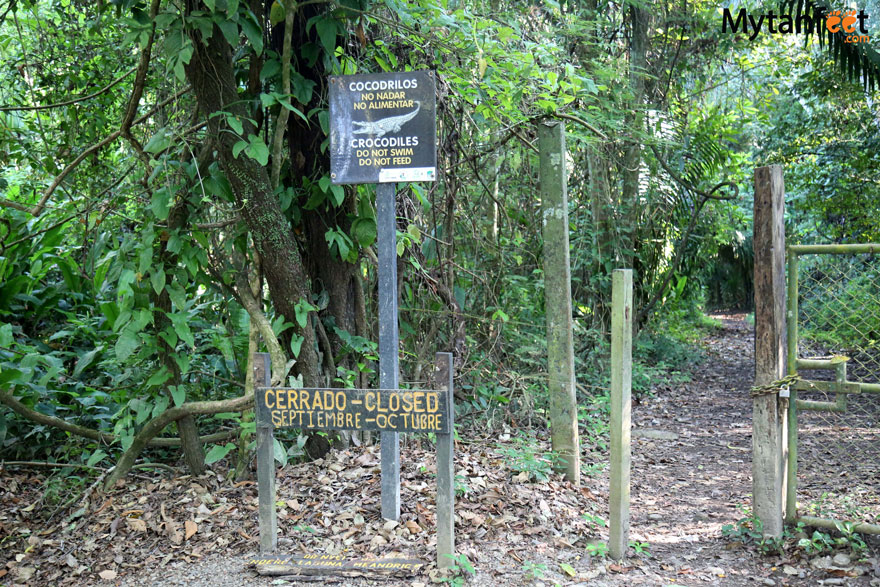 This is a nice leisurely trail where we saw many birds and heard the macaws. It's separate from the main ranger station, about 2 kilometers north and there is a parking lot with a guard. Look out for this sign when driving there.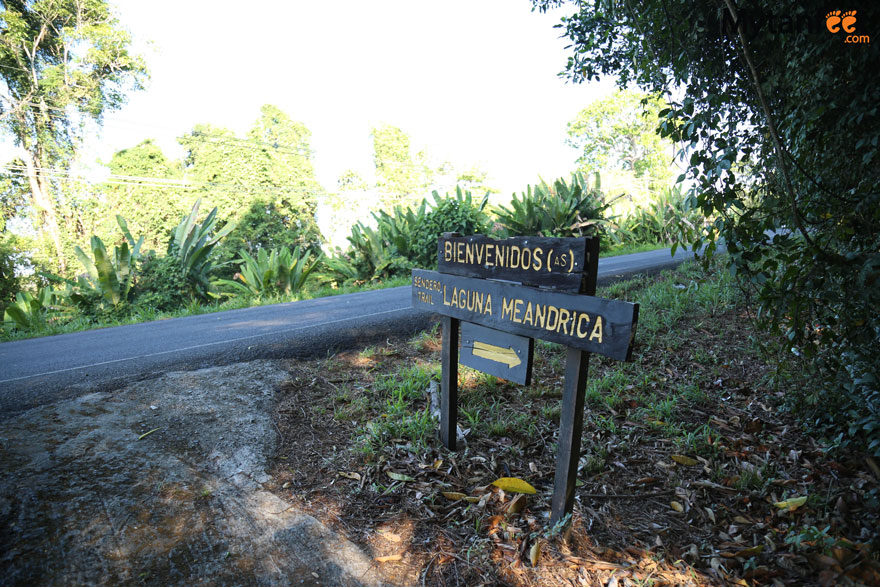 One of the rangers gave us a tip for the trails: go to Laguna Meandrica first since it has less canopy cover than the main trails. That way you aren't walking during the peak hours of sunlight and it won't be so hot.
We didn't see too much at this trail unfortunately. We heard a lot of Scarlet Macaws and saw a few hummingbirds.
Main ranger station trails
The main station has three different trails: the universal (handicap friendly) trail, Sendero Quebrada Bonita (1.3 km) and Sendero Los Araceas (1.1 km).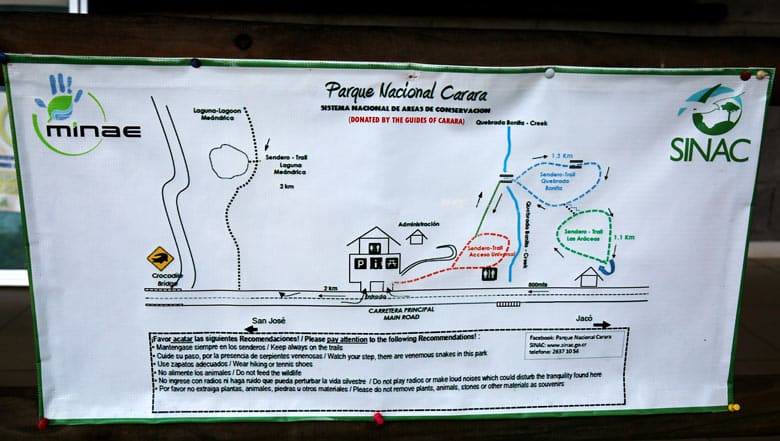 The trails at the ranger station take up to 2 hours to complete if you're going slow and taking photos.
Universal trail
One very nice thing about this national park is that they have a universal trail which is designed for people with disabilities. It is very flat so it's wheelchair accessible.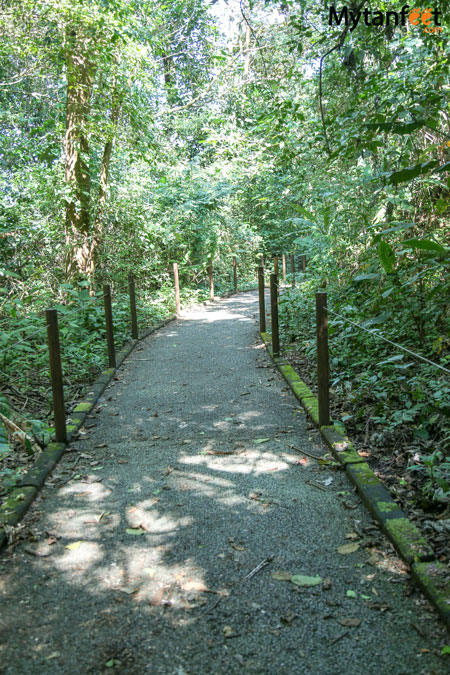 They also have animal statues and signs in Braille for blind people on the universal trails. They put statues of the various animals you can see in the park which I thought was really nice.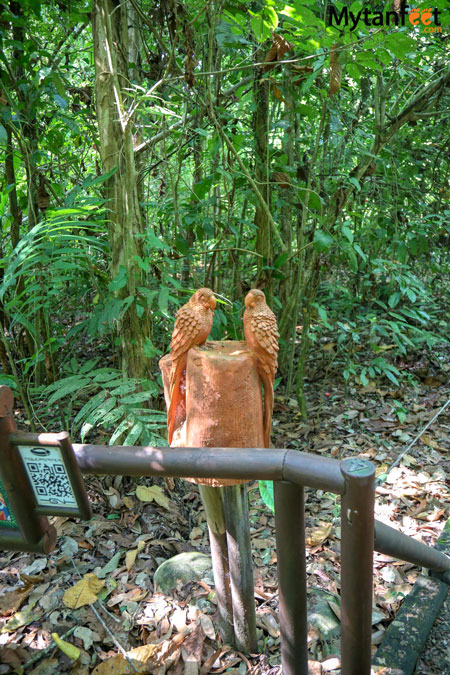 Signage is excellent in the park and they even have bathrooms and rest areas every so often. It's wonderful how handicap friendly this park is because not there aren't that many in Costa Rica. The only other park with a well maintained universal trail like this is Manuel Antonio National Park and they just opened it in March 2018.
Quebrada Bonita and Las Araceas trail
The Quebrada Bonita trail is 1.3 kilometers and the Las Araceas is 1.1 kilometers, so it's not a very long walk. They all connect together so you can easily loop around to all of them.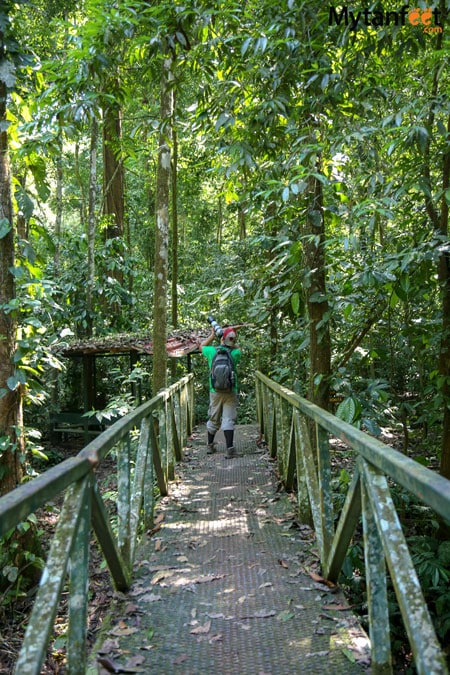 These trails were quite pleasant to hike. It has well made platforms and bridges and we saw people raking leaves to clear the paths. They also have small rest areas on the universal access loop with restrooms and water. One of the trails had a huge ficus tree!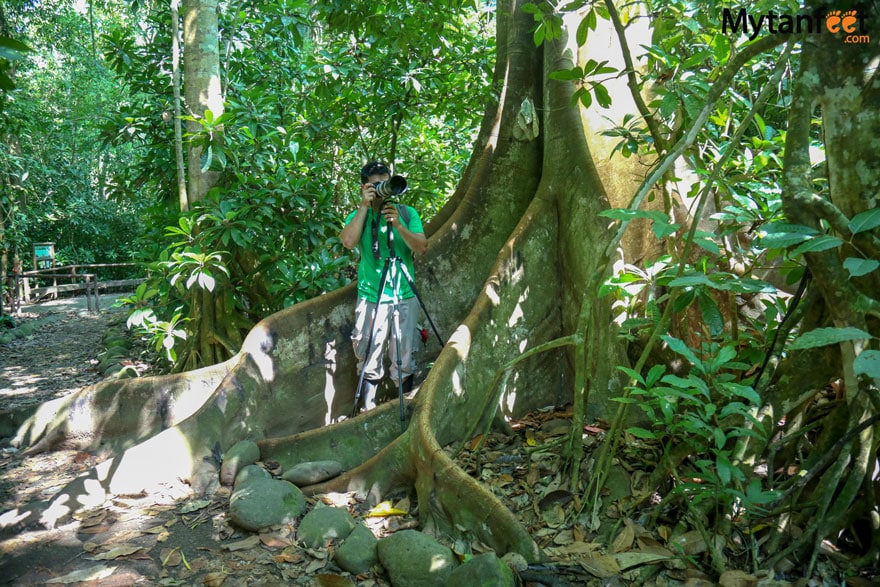 Since you're under the forest canopy the whole time, it's not too hot. We enjoyed walking through the dry and tropical rain forest and hearing all the birds around us.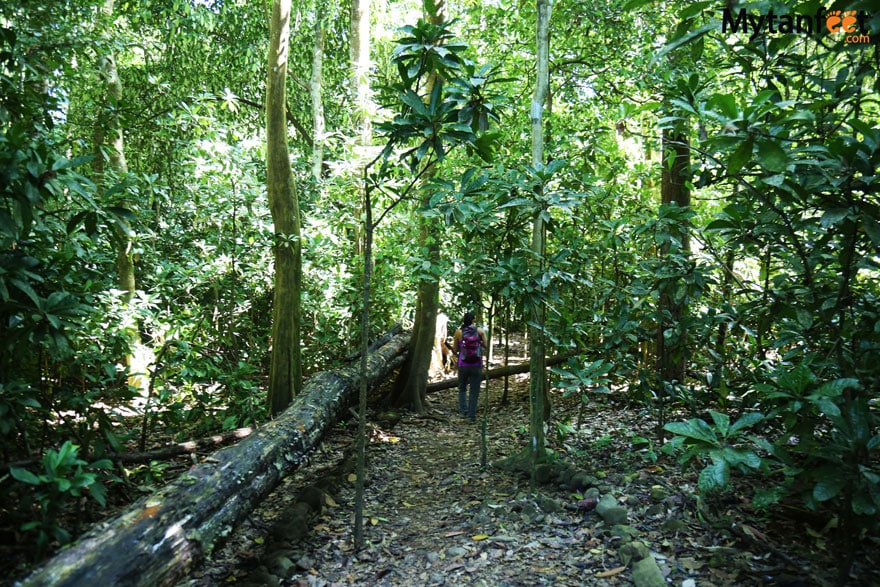 It took us a total of about 3 hours for both stations since we walked through Laguna Meandrica fairly quickly.
Carara National Park Animals
Though many mammals call Carara National Park home, they are hard to see due to the dense canopy cover. The prize animal to see in Carara is definitely the birds, specifically the Scarlet Macaw.
We tried bird watching on our own but we only saw a few. No macaws but a couple toucans and trogons which was still nice. We have had a bit of practice looking for toucans (you can hear them before you see him) so we were able to see them on our own.
But if you really want to see wildlife or birds, I highly recommend hiring a guide. Even colorful birds can be difficult to spot to the untrained eye, we pointed out the toucans to a family that walked right underneath them. Even though there is the largest colony of Scarlet Macaws in this area, we didn't see any.
Here are photos of the animals we saw.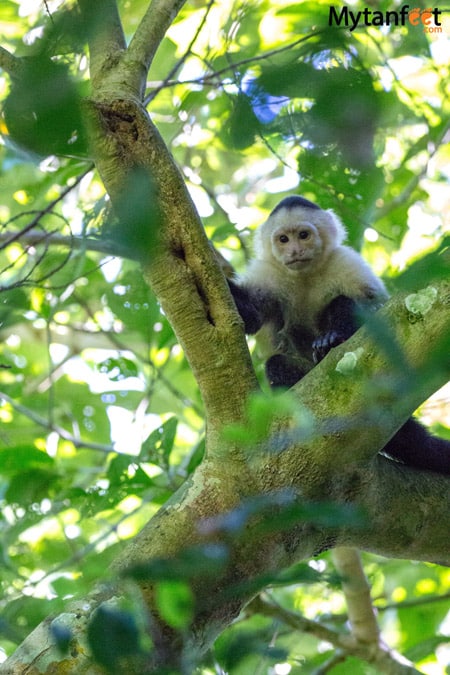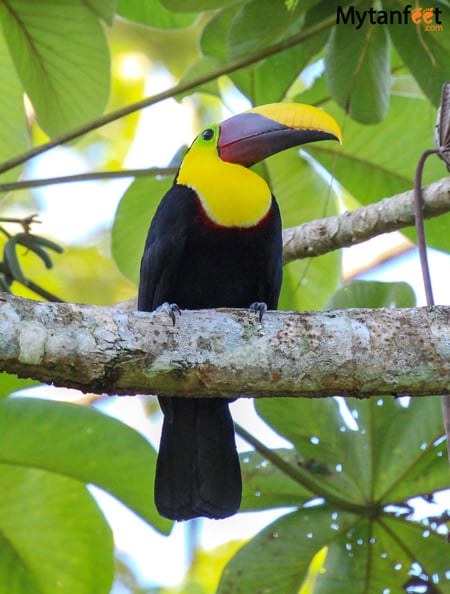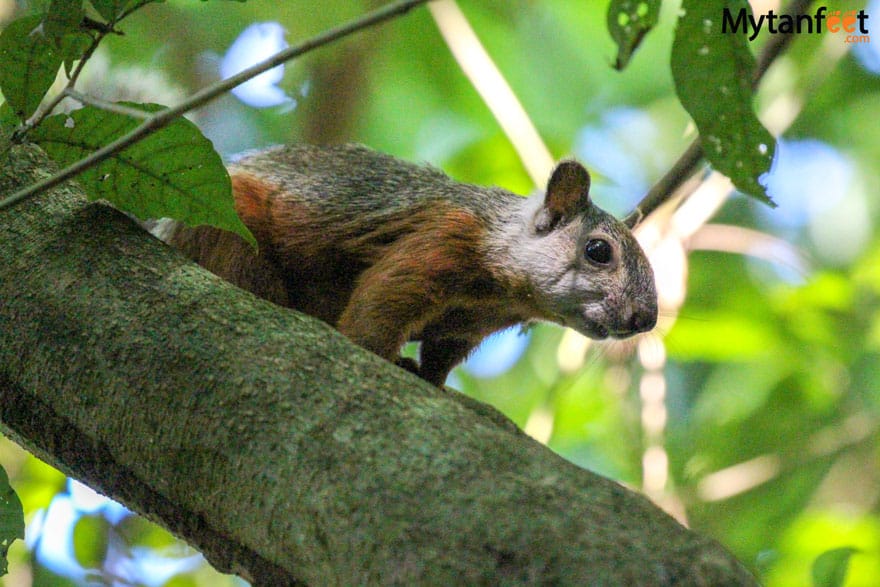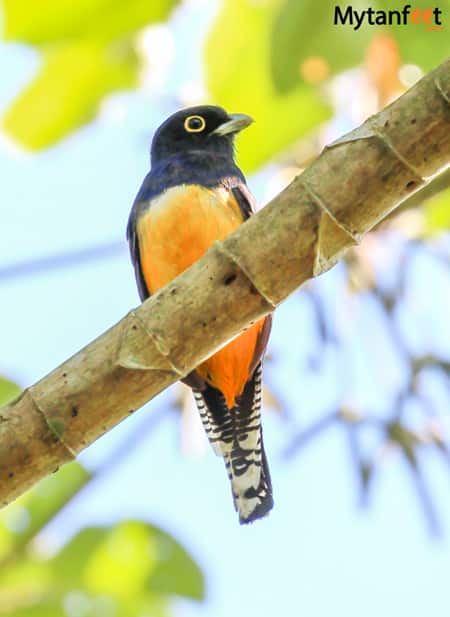 Carara National Park Guided Walks and Tours
If you have a car, you can hire a guide at the entrance of the park. However, if you are visiting during high tourism season (December through April), go early or else all the guides may be booked. During low season such as August – November, the guides will be sitting by the park sign and you can hire them. One of these freelance guides charge around $60 USD for 2 people for around 2.5 hours. For more people, they may charge around $10 USD per person more.
If you don't have a car, you can book a full tour with a tour company that includes transportation and a bilingual guide. You can contact us if you're interested. If you are staying in Manuel Antonio, you can also do a guided tour from there. Click here to get our Manuel Antonio discount!
Tips for Visiting Carara National Park
Wear long pants, shirt/tank top and hiking shoes, closed toed hiking sandals will work fine too. Since it is both dry and wet rain forest, the bugs there were pretty intense so bring mosquito repellent. Sunscreen and a hat is also a must. Don't forget plenty of water – it's not a tough hike but it is super humid!
Don't leave any belongings in your car. This is a popular national park that's right off the highway and it's easy for thieves to see which car is easy to get in and out of. There is a "parking guard" at the Laguna entrance which you can give him a tip.
Read about other national parks here!
Costa Rica Vacation Checklist