One of the best things about visiting Puerto Viejo de Talamanca is that despite being a small town, there is a plethora of fun things to do in Puerto Viejo and nearby. Many of the activities are less than a 30 minute drive away which is a huge bonus since some tours in Costa Rica have very long travel times.
With a lush rain forest, stunning beaches and tons of wildlife, Puerto Viejo is one of the best places to go for relaxation, nature and a hint of adventure. Here are our recommended things to do in Puerto Viejo, Costa Rica. (At the end of the post, you will find a map, sample itineraries and our travel tips.)
There are Amazon affiliate links in this post.
Beach hop
One of the reasons why visitors are drawn to the Puerto Viejo area is the beaches. The Caribbean South has some of the most beautiful beaches in Costa Rica, many with sparkling white sand, bright turquoise waters and swaying palm trees.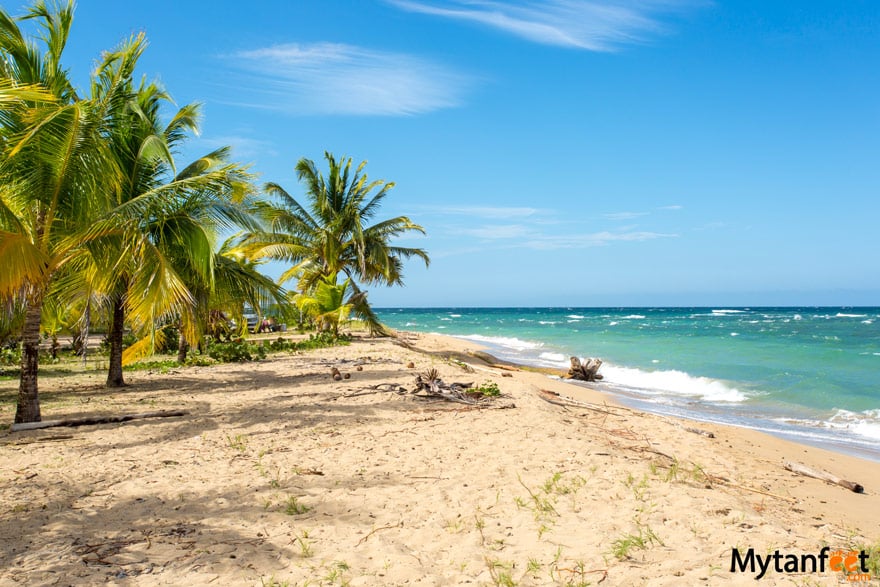 Within 30 kilometers (18 miles) of Puerto Viejo, you have white sand beaches like Playa Cocles, Playa Chiquita, Playa Blanca and Playa Vargas inside Cahuita National Park. You also have a black sand beach, Playa Negra.
The list just keeps going on with other beautiful beaches such as Playa Punta Uva and Playa Arrecife. For beach bums, this is one of the best places in Costa Rica for a beach vacation. You can spend every day at a different beach and this is one of the cheap things to do in Puerto Viejo.
Chocolate tour
Chocolate grows well on the Caribbean coast and is an important crop in this area of Costa Rica. Add some culture to your vacation and take a tour to learn how they grow cacao trees, process the cocoa bean and make chocolate.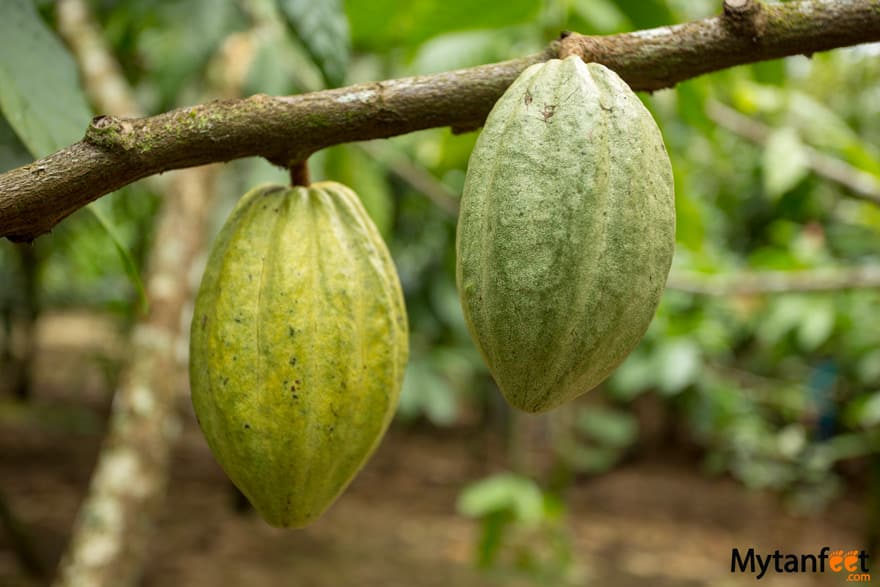 A popular tour in Puerto Viejo is the Caribeans chocolate tour. Walk through their own cacao farm to see how they sustainably grow, process and make chocolate and of course, sample some of it! The farm is owned by an American who directly supports many local families in the area by helping the cacao industry flourish in the Puerto Viejo area.
Visit an Indigenous Community
The Caribbean side of Costa Rica is home to the BriBri, the largest indigenous group in Costa Rica. They live more in the mountain areas and still retain their culture, lifestyle and traditions. This is a fascinating tour that gives you a peek into the life of the indigenous people of Costa Rica.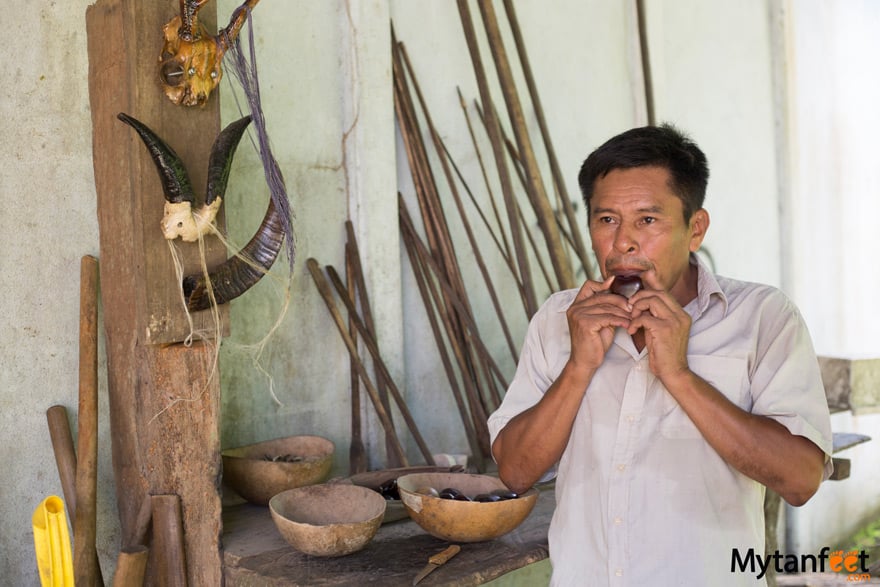 The BriBri tour also includes a small chocolate tour since they have a very deep connection to cacao (only women can make chocolate since they believe the tree used to be a women and the god Sibu turned her into a tree, thus chocolate being called the drink of gods). They also show how they make things like a bow and arrow and other items out of the trees and plants.
This is one of our favorite cultural tours in Costa Rica since you get to learn about the traditions of a community that spans centuries. The indigenous communities in Costa Rica are in need of more help from tourism so by visiting them, you can help their community's economy.
It is recommended to book a tour through a tour company since you will need transportation and a bilingual guide (the BriBri have their own language and only a few members of the family speak Spanish). They also sell various chocolate items and other handmade trinkets which make for excellent souvenirs.
This is one of the best things to do in Puerto Viejo if you're interested in culture.
Surfing lessons
When there's a swell on the Caribbean side, surfing is awesome in Puerto Viejo. The surfing beaches are Playa Cocles (most popular for lessons), Playa Grande Manzanillo and Playa Negra.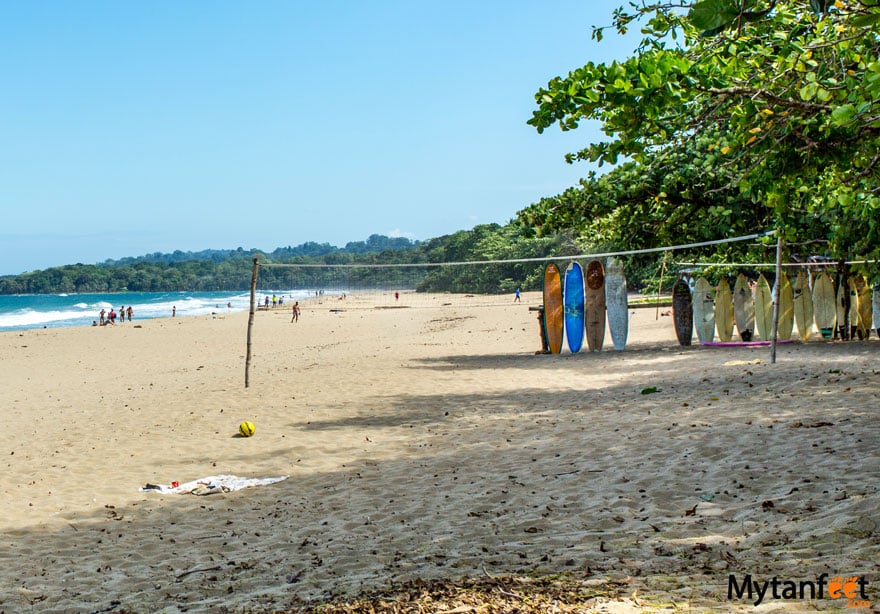 January through March are the best months for surfing since swells can get fairly big. You'll see surfboards lined up on Cocles beach all year long though and many locals offering surf lessons. Lessons are around $60 USD for 2 people for 2 hours and Totem Surf School is a popular one to take classes.
Cahuita National Park
Cahuita National Park protects beach, rain forest and coral reef and is one of only parks in Costa Rica that is free (by donation only). It has an easy walking trail that runs parallel to the shore so visitors can have a beach day or hike the national park to see wildlife. It now has a nice universal trail.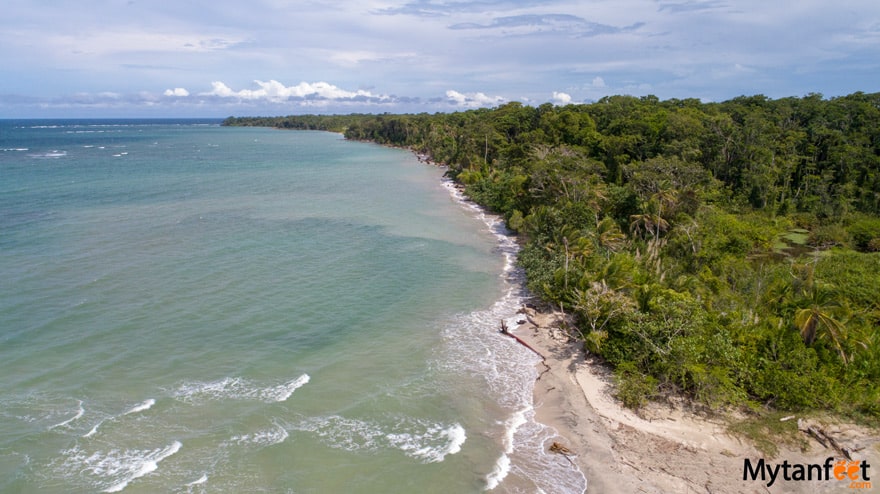 Cahuita National Park is an easy bus ride or drive away from Puerto Viejo and I highly recommend dedicating an entire day to it. In the national park alone, you can see two types of monkeys, sloths, snakes, all sorts of birds and many more animals! A guided hike is a good idea to see more wildlife but you can perfectly do one on your own.
Visiting Cahuita National Park is an absolute must do in Puerto Viejo!
Gandoca-Manzanillo Wildlife Refuge
Gandoca-Mananillo Wildlife Refuge protects an important mangrove swamp and the many flora and fauna that live in it. Turtles, caimans, crocodiles, toucans, parrots and many other animals live in the refuge so it is an excellent place to see wildlife.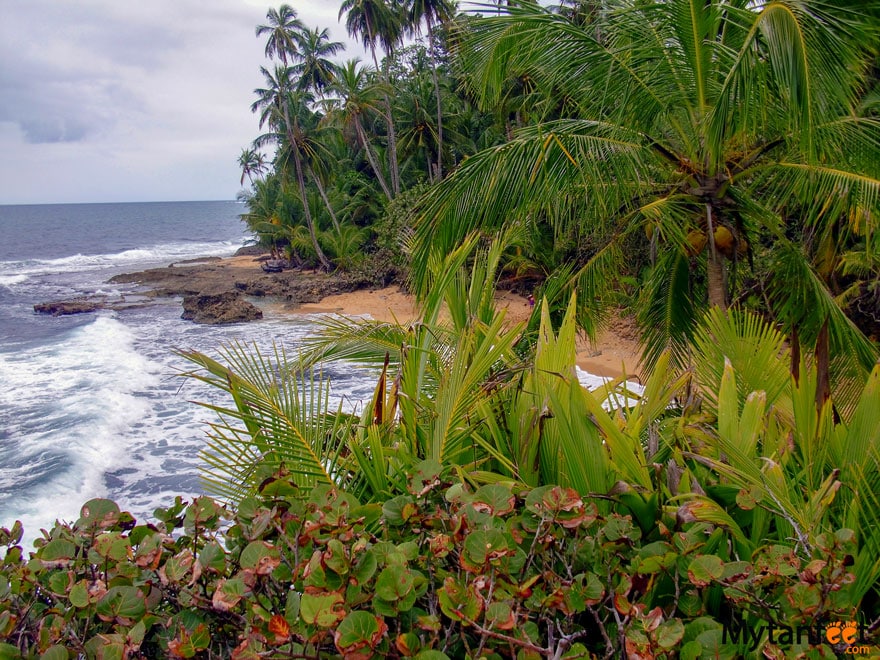 You can do a guided hike through the refuge to see animals or do a self guided hike to enjoy the beautiful views. Definitely worth a visit!
Rio Pacuare White Water Rafting
The Pacuare river is one of the best rivers in the world for white water rafting and you can do it from Puerto Viejo. Paddle through Class 3 and 4 (and sometimes 4+) rapids in a stunning river surrounded by lush jungles and canyons. You can also do this rafting trip as a transfer as the rafting company can pick you up in Puerto Viejo and drop you off in San Jose or La Fortuna. Why sit on a bus or shuttle when you can spend your day rafting instead?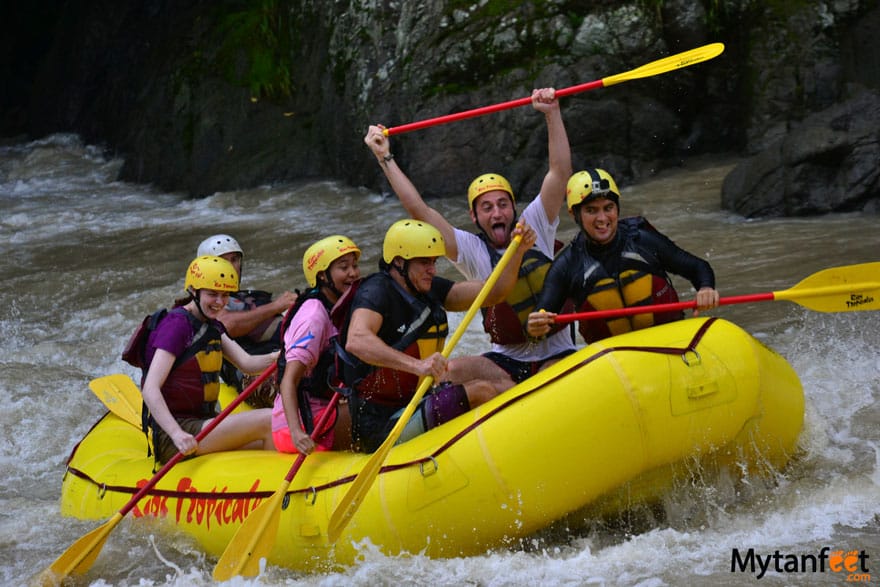 This is one of our favorite adventure activities in Costa Rica and it's a ton of fun. There aren't a ton of adventure activities (ziplining, canyoning, etc.) in this area so this is one of the best things to do in Puerto Viejo for adventure. We have a $5 USD discount on the Rio Pacuare white water rafting tour from Puerto Viejo.
Bike
Bikes are the main mode of transportation in Puerto Viejo and you will see both locals and foreigners alike riding their banana bikes on the main road. You can easily get from one beach to another by bike and experience Puerto Viejo like a local.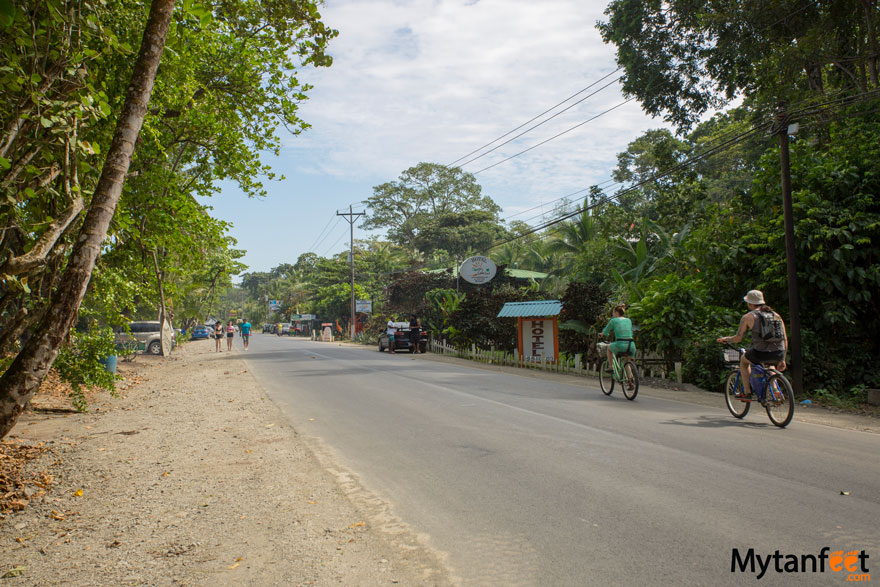 You can find bike rentals in pretty much all hotels/hostels. A beach bike rental costs around $6 USD for 24 hours.
Birdwatching
Due to the lush and humid jungle, the Caribbean has amazing bird watching and this is a place that bird watchers have to visit. In the Cahuita National Park and Gandoca-Manzanillo Wildlife Refuge, there are over 300 birds to be seen!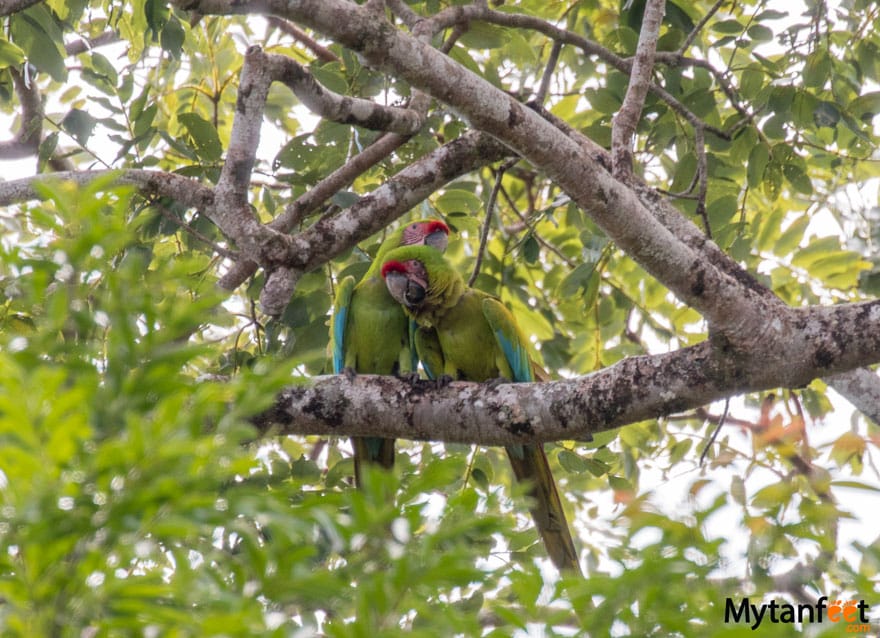 You can see beautiful tropical birds like Great Green Macaws, Keel-billed and Black Mandibled Toucans, kingfishers, hummingbirds and many more. You will hear a symphony of birds every morning!
If you are interested in birds and conservation, check out the Macaw Recovery Network. They dedicate their work to restoring the Great Green Macaws which were greatly reduced due to hunting and poaching. The Great Green Macaws are only seen on the Caribbean side of Costa Rica so you can't miss out on spotting these gorgeous birds.
Overnight Tortuguero

Tortuguero is one of the most wildlife intense places in Costa Rica. As it's on the North Pacific coast, we highly recommend a visit if you are staying for at least a week in Puerto Viejo. You can take an overnight trip to Tortuguero National Park or there are day trips available.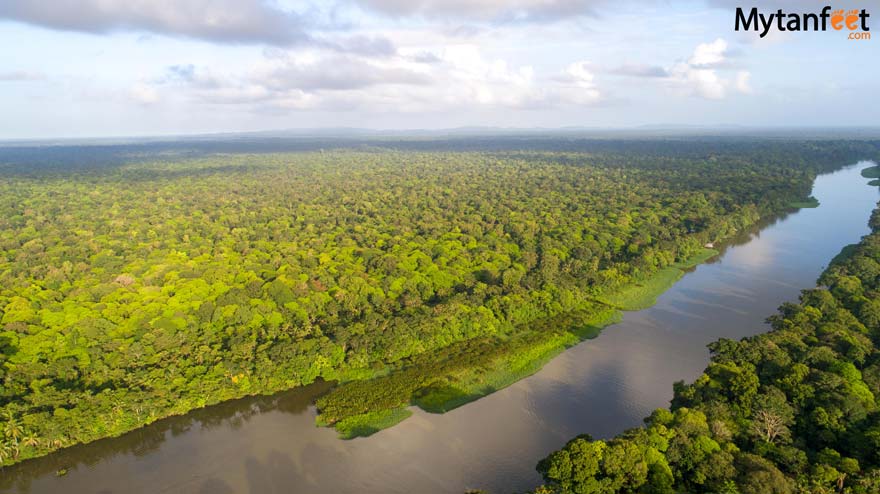 Overnight tours are usually 1 night, two days for $140 USD per person. It is best to book with a tour company as they'll provide everything for you: transportation (the trickeist thing to figure out), food, guide, activities).
Snorkeling
Although snorkeling isn't doable all year long, this is an amazing area to snorkel when the weather conditions are right. Cahuita National Park is home to some of the biggest coral reefs in Costa Rica! There are also excellent scuba diving spots. Since the Caribbean weather can be a bit finicky, you will need to research conditions first.
September and October are the summer months in the Caribbean and on a sunny, clear day with no wind, you can see tropical fish, turtles, coral and lots of other marine animals!
Jaguar Rescue Center
This is one of the most popular things to do in Puerto Viejo, a guided visit to the Jaguar Rescue Center. This famous animal rehab/sanctuary takes in injured wildlife, treats them and releases them back into the wild.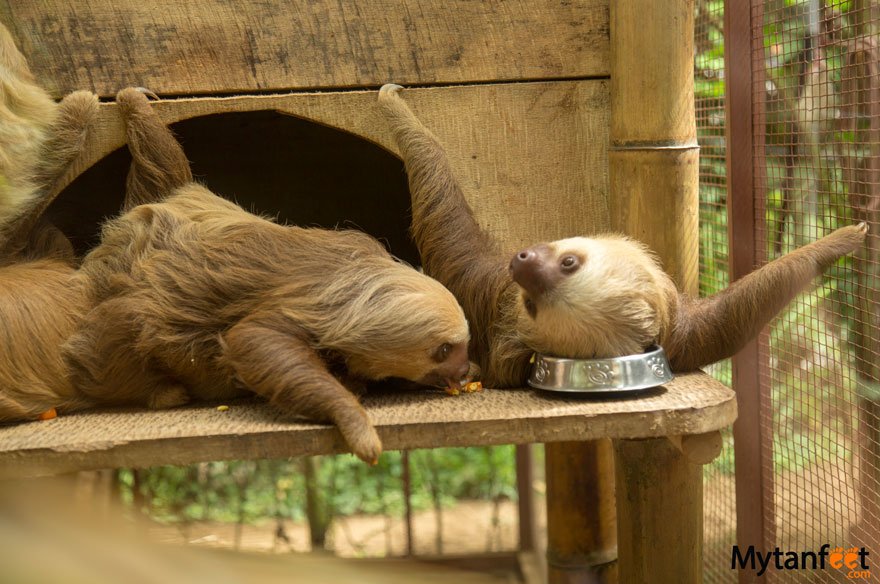 Visit the center to see the animals they're treating, learn about their back story and hear the success stories. If you want to see a sloth up close, this is the best place for it. Sloths are very common in the Puerto Viejo and sadly, many get hit by cars, attacked by dogs and electrocuted so the center takes them in and restores them back to health.
This is one of the best things to do for families in Puerto Viejo since kids can get a close up experience with the animals and learn about conservation and nature. We highly recommend a private tour.
Kayak Punta Uva River
We love kayaking. We love the feeling of gliding over the water using nothing but your own strength to move you through the water. It allows you to quietly slip through trees unnoticed so you can get closer to the wildlife.
There is a river in Punta Uva that is wonderful for kayaking and you can see river turtles, kingfishers, herons, ducks, monkeys and many more animals all from the seat of your kayak. Not too many people kayak so you can find yourself all alone on the river with just you, the water, the trees and the animals.
How Many Days Should You Stay in Puerto Viejo?
Due to Puerto Viejo's location, we personally recommend at least 3 nights. It's a long and not fun drive from San Jose and it's not close to other major touristic destinations either. But you can spend more days if you want. We have known people to spend their entire 10 day or 1 week vacation in Puerto Viejo because they loved the Caribbean's vibe and beaches and really just wanted to relax and chill.
Sample Itineraries
Here are some Puerto Viejo itinerary ideas to help you decide what to do in Puerto Viejo. If you rent a car, you can do all of these on your own. If you didn't rent a car, you can book tours with your hotel or take the public bus that goes up and down Cahuita – Manzanillo several times a day.
Day 1: Relax
As your first full day in Puerto Viejo, just relax, explore town, drive around, get settled. Spend a day at Cocles beach, sunbathe, swim, tan. You can also take a surf lesson if interested. For dinner, get a typical meal at Soda Lidias (rice and beans with patacones and jerk chicken).
Day 2: Cahuita National Park
Spend the day at Cahuita National Park. You can hire a guide at the entrance to take you on a guided hike to see wildlife and explore the beaches. If conditions are suitable, you can see if you can book a snorkeling tour in Cahuita. After the park, head back to hotel to shower, nap and freshen up. For dinner, head to Koki beach lounge for a nice night out.
Day 3: Jaguar Rescue Center, Chocolate Tour, Punta Uva
Take a guided tour of the Jaguar Rescue Center in the morning to learn about animals and do the chocolate tour in the afternoon. Have lunch at Bread and Chocolate. After the chocolate tour, head back to the hotel to rest a bit and then relax the rest of the day at Punta Uva.
For dinner, head to Selvin's in Punta Uva for upscale local food.
If you have more days in Puerto Viejo, here are some ideas.
Day 4: Sleep in, shop, beach
Take today to chill, sleep in, lounge by the pool, relax. If you want to do something, you can kayak Punta Uva river in the afternoon or rent a bike and ride to Playa Chiquita.
For lunch, grab a burger from Tasty Waves and then for dinner, try some vegetarian (or non veg) food at Madre Tierra.
Day 5: Tortuguero or Pacuare rafting
If you don't plan on visiting Tortuguero specifically and are there during the months of May – November, we highly recommend to do a day trip or overnight to Tortuguero. That is the turtle nesting season so it's a spectacular time to visit Tortuguero and shouldn't be missed!
If you're more into adventure, then book the Pacuare rafting trip on day 5 instead! Don't forget that you can also use this rafting trip as an interconnection to go back to San Jose or La Fortuna.
Things to do in Puerto Viejo Map
Below is a map of the things to do in Puerto Viejo so you can see where they are.
Some other fun things to do in Puerto Viejo are horseback riding and deep sea fishing. And of course, party! Puerto Viejo is a huge party town and you will find some of the craziest nightlife there. Dance the night away, sip colorful cocktails and down coconut rum shots into the wee hours of the morning.
Tour Companies
If you'd like to book any guided tours like Cahuita snorkeling or Punta Uva kayaking, you can contact us for tour company recommendations.
Getting to Puerto Viejo
You should fly into SJO (San Jose International Airport). You can drive, take the public bus, or book a shared/private shuttle to Puerto Viejo from San Jose.
Driving: It is roughly a 5 hour drive from San Jose to Puerto Viejo. This is a super long drive that we do not recommend at night but it all on a well paved road (mostly highway).
Shuttle: There are shared and private shuttles available. Shared are around $59 USD per person, private depends on number of passengers but can be around $220 USD total for 1-4 people.
Some people will take the bus/shuttle from San Jose to Puerto Viejo and then rent a car for the time they are in Puerto Viejo. (Our partner Adobe Rent a Car has an office in Puerto Viejo and offer free car deliveries and pick ups. Get our Costa Rica car rental discount and freebies here).

For majority of attractions, a 4×4 is not required. You can rent a sedan.
Puerto Viejo Travel Tips
The weather in Puerto Viejo is opposite of the rest of Costa Rica. Summer months are September and October (rainiest months for the rest of the country) and wettest months are June and November. It is very humid and can rain all year long.
We recommend bringing a swimsuit (or two), sunglasses, sunscreen, mosquito repellent, closed toe hiking sandals and clothes that can dry fast. If you plan to swim in the ocean or go snorkeling, please use reef safe sunscreen. A rain jacket is also useful!
Don't walk alone at night, always take a taxi. Don't go out onto the beach at night or early in the morning by yourself. Always keep an eye and have a hand on your belongings when you're out.
Puerto Viejo is a party town so if you don't want to be in the middle of the hustle and bustle, stay at Playa Negra, Punta Uva or Chiquita. Those neighborhoods are much quieter.
If you're looking for a quiet, adult only hotel, check out Hotel Banana Azul on Playa Negra.
Read about other things to do in Costa Rica below!
Things to do in Manuel Antonio
Dominical and Uvita things to do
This post has affiliate links.