The small coastal village of Manuel Antonio is one of the top destinations in Costa Rica thanks to its plethora of luxury hotels, abundance of wildlife and beautiful tropical nature.
For these reasons, Manuel Antonio holds many of the bests in Costa Rica: one of the best places to visit in Costa Rica, best beaches in Costa Rica, one of the best destinations for families and best beach towns in Costa Rica. If you're planning on visiting, read our guide to help plan your trip.
Manuel Antonio Beaches
In the Central and South Pacific of Costa Rica, this area is the best for white sand beaches and bright blue waters. The main beaches in Manuel Antonio are Manuel Antonio, Biesanz, Espadilla Sur and Espadilla Norte.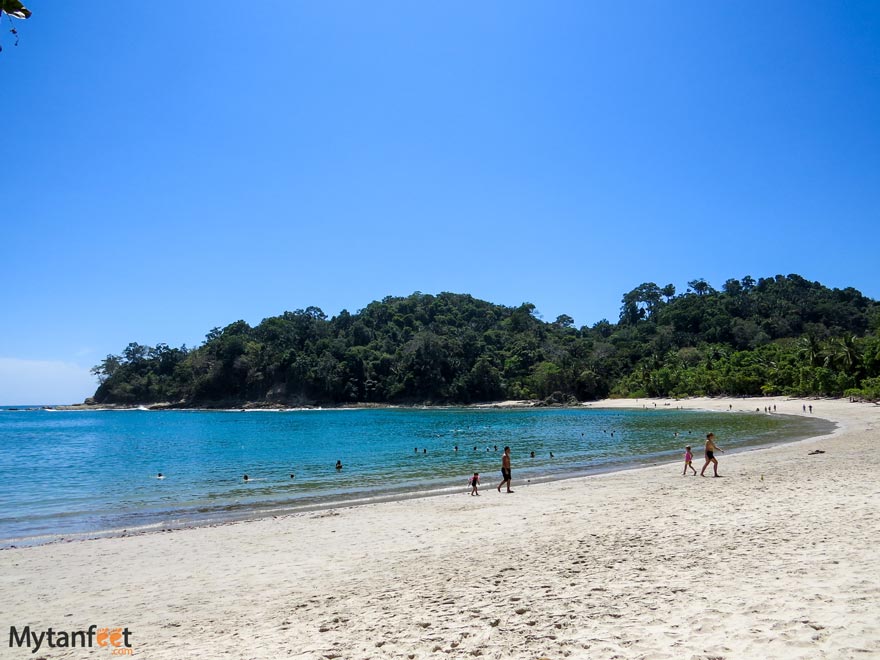 To get to the beaches inside the national park, you have to pay the national park fee. Biesanz, Espadilla Norte and Playitas are free as they are outside the national park.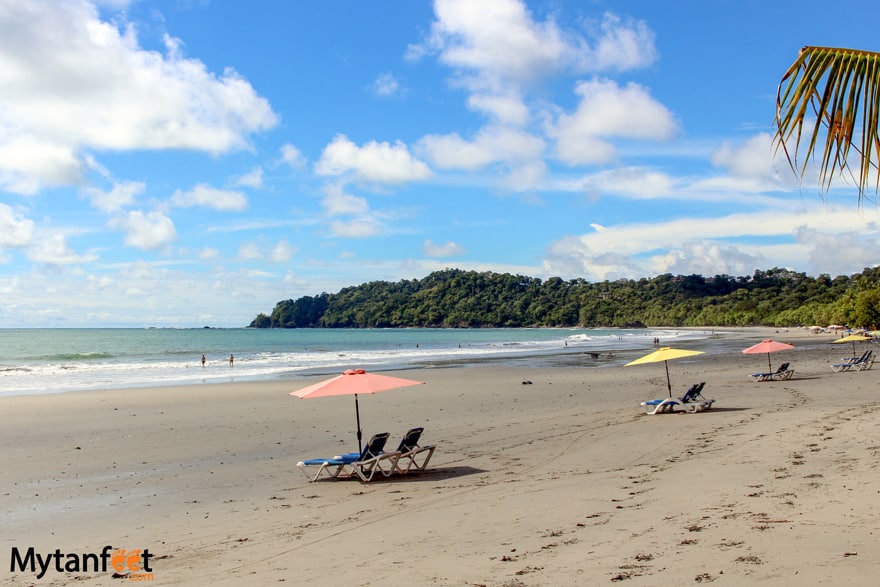 Playa Espadilla Norte is where all the action is. You can go parasailing, jet skiing, surfing and swimming there. If you would like to rent beach chairs and umbrellas in Manuel Antonio, you can find them on Playa Espadilla Norte. This beach is the most popular beach outside the national park for tourists since it is easily accessible and very beautiful.
Things to Do in Manuel Antonio
Here are some of our most recommended Manuel Antonio activities. Don't forget to get our Manuel Antonio/Quepos tours discount if you're interested in hiking, rafting, ziplining, catamaran cruises, kayaking through mangroves and more.
Manuel Antonio National Park
You can't miss the the national park! Hike, see wildlife, swim, lay at the beach and enjoy the gorgeous views at the most visited national park in Costa Rica. We highly recommend walking some of the park trails to explore the rain forest.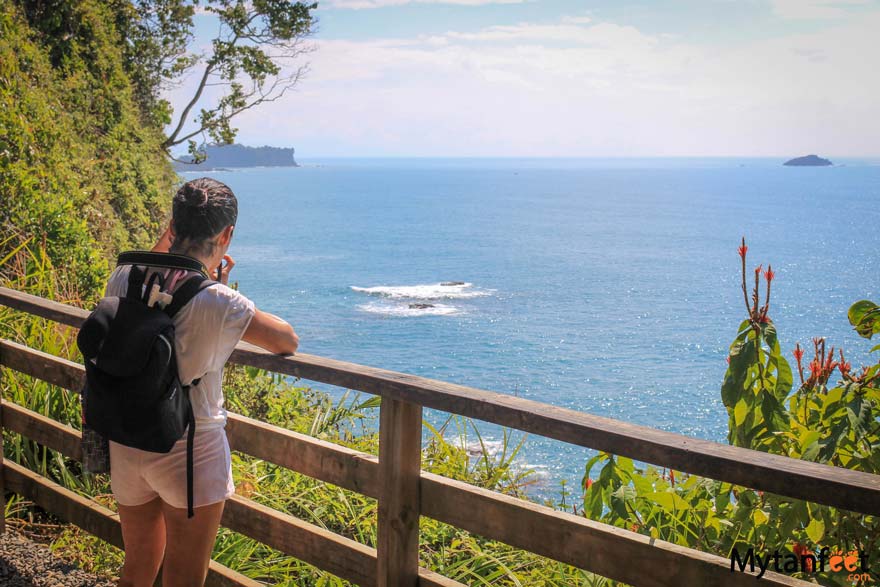 The entrance fee is $16 USD + tax per adult and you have to purchase tickets in advance online to enter the park. Check out our guide to Manuel Antonio National Park for more information. If you're interested in a tour to the park that includes roundtrip transportation, bilingual guide, national park ticket and refreshments included, click here to book this tour with our discount!
White Water Rafting
There are a couple of excellent rivers for rafting in the area. Raft through Class 2, 3 and 4 rapids surrounded by pristine rainforest! The Savegre and Naranjo rivers are the best for white water rafting in Manuel Antonio.
Sailing Cruise
Go for a morning or sunset sail out of Quepos marina for snorkeling, beautiful ocean views and to see wildlife. Lots of fun for the whole family!
You can read our post things to do in Manuel Antonio for more ideas. Unfortunately snorkeling in Manuel Antonio is not the best and it really depends upon conditions. The best beach to try snorkeling is Playa Biesanz, but it is not consistent or always calm, especially in rainy season.
Animals in Manuel Antonio
If you want to get up close with wildlife in Costa Rica, Manuel Antonio is one of the best places in Costa Rica to see monkeys and sloths. Some of the most common animals in Manuel Antonio are 2 and 3 fingered sloths, white face, howler and squirrel monkeys, iguanas and raccoons.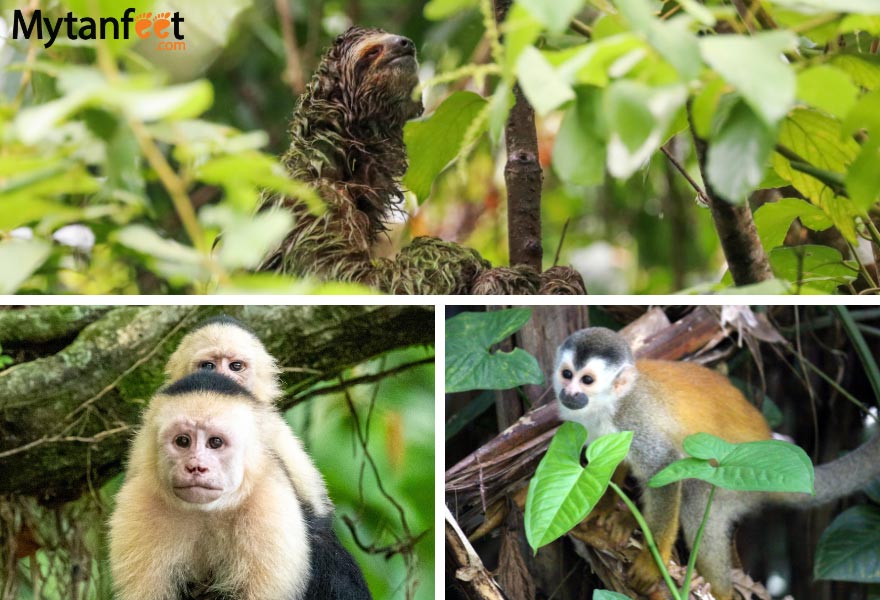 A lot of hotels have wildlife on their property so you can see animals right from your balcony or the pool.
Manuel Antonio Hotel Recommendations
There are no shortages of hostels, resorts, apartments and hotels in Manuel Antonio. If you're here for a romantic getaway or luxury vacation, you have many 5 star ocean view resorts to choose from. Likewise, there are plenty of budget and mid range options and hostels.
Luxury Hotels
Mid Range
Budget/Hostels
Vacation Rentals
Lots of rentals available on Airbnb and VRBO. A good option if you're visiting with a big group and want to have the comforts of a home. We stayed in a house in Quepos with my parents (2 bedroom, 2 bathroom) that I found on Airbnb for a good price as Quepos is normally cheaper than Manuel Antonio.
Location
Manuel Antonio is 170 kilometers (105 miles) southeast from San Jose on the Central Pacific coast of Costa Rica in the Puntarenas province. The closest town is called Quepos and the area from Quepos to the national park is known as Manuel Antonio.
Click here to go to our interactive map and see where Manuel Antonio is.
How to get to Manuel Antonio, Costa Rica
Click the link for more details on getting to Manuel Antonio from San Jose, Guanacaste and other destinations. Below is a brief summary.
Driving
Manuel Antonio is a 3 hour drive from San Jose Airport. This entire route is on a well paved highway.
Safety tip: The road from Quepos to Manuel Antonio National Park is super narrow and curvy. Make sure to drive carefully! Additionally, street parking is quite tight. You may need to have a passenger help you since cars drive fast. Whenever you park, make sure not to leave any valuables visible and to roll up windows and lock doors as majority of parking is street parking.
Flying
Quepos has its own local airport. It's about a 10 minute flight from San Jose and costs around $75-$100 USD one way with Sansa Air. The local airport is 5 minutes outside of Quepos.
A lot of people don't want to drive through San Jose all the way to Manuel Antonio. In this case, what they do is take a local flight to Quepos, rent a car in Quepos during their time there, return the car and then fly back to San Jose.
Public Bus
There is a daily direct bus from San Jose to Quepos with Terminal Transportes Tracopa at 530 AM and 12 PM. This takes about 4 hours and costs around 4500 colones (~$8 USD). T
From the Quepos bus station, there are buses go the national park entrance every half an hour or so starting at 530 AM and ending at 930 PM. Costs 380 CRC (~$.57 USD). It makes stops along the way to the park, so it's a great option for those staying in Manuel Antonio to get to the park or to Quepos.
From Jaco, there is a direct bus to Quepos and then you'll switch buses to get to the park. You can find more information in this guide to taking the bus from Jaco to Manuel Antonio.
Shuttle Van
You can take private or shared shuttles. A private shuttle from San Jose to Manuel Antonio is around $200 USD for 1-8 passengers and from Guanacaste, around $280 USD. Contact us if you'd like a private shuttle quote.
A shared shuttle is around $59 USD per passenger with companies like Interbus, Ride CR.
How to Get Around
If you do not plan to rent a car, you can easily get around via the public bus that runs between Quepos and the national park. You can also walk. However, the hill is very steep and doesn't really have sidewalks or street lights. In the rainy season, you may need to rely more on taxis and Ubers to avoid getting drenched.
We recommend choosing a hotel that is within walking distances to restaurants, supermarkets, and other places if you do not plan to rent a car.
Things You Need to Know About Manuel Antonio, Costa Rica
Manuel Antonio is one of the most popular destinations for gay travelers in Costa Rica. Costa Rica is quite accepting of all people, particularly touristic destinations.
It is expensive! You can still travel on a budget but you'll have to research a bit to cut your spending. Our tip: Eat at local places or bakeries, avoid the touristic restaurants.
There are many local hawkers near the national park. You will also find lots of "parking guards" who will stop your car and try to steer you into their parking lot. Do not stop, keep driving all the way to the park entrance for the closest parking. For the national park, the best places to park are marked on Google Maps as "Parqueo Privado Manuel Antonio – $5" or "Parking Manuel Antonio (Prive) – 4000 CRC).
Manuel Antonio, Costa Rica Weather
Manuel Antonio weather is hot and humid with year round average day time temperatures in the mid to high 80s F (29-30 C). Average nighttime temperatures are around mid 70s (23 C). This area experiences typical tropical weather so you have the normal dry season from roughly beginning of December – end of April and rainy season from beginning of May to end of November.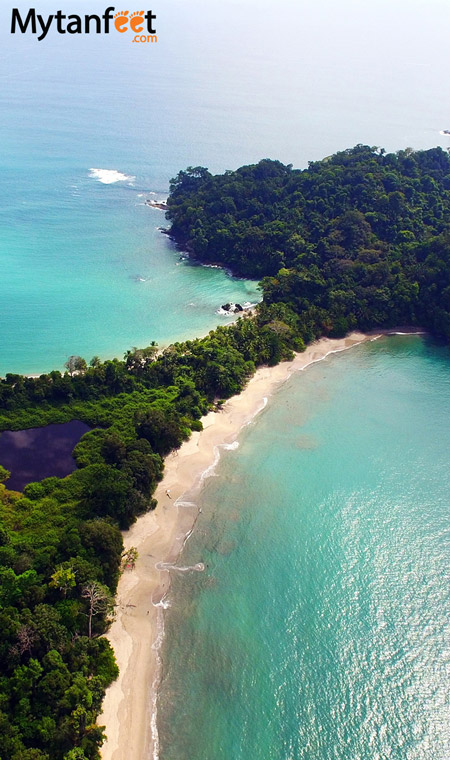 February and March are generally the driest months in Manuel Antonio. September, October and November are the rainiest months.
In rainy season, daytime and nighttime temperatures stay about the same. Mornings are usually sunny and clear and it can start raining on and off in the afternoons and nights.
Best Time to Visit Manuel Antonio
Manuel Antonio is beautiful any time of year. However, there are a few things to keep in mind about visiting this national park.
Manuel Antonio Crowds
It is very crowded mid December – end of April. This is high season and this area gets incredibly busy. You will have the best weather but the most people and more expensive prices. July is also a busy month.
September – November are best times for less people. May and the first half of June are not too busy as it is the start of rainy season and before the summer vacation travel. For less crowds, this is another great time of year to visit Manuel Antonio.
Where to Eat in Manuel Antonio
Cafe Agua Azul: Nice ocean view, yummy smoothies, good sandwiches and burgers. Great place for happy hour and ocean view. $$
Cafe Milagro: Best place for coffee and cake. Also has good dinner and a really nice patio with live music. They have their own coffee. $$-$$$ For just coffee, they have a small coffee shop in Quepos (Cafe Milagro Coffee Roasters, no food).
Emilio's Cafe: Nice place with a beautiful view for a fancy dinner. $$$
Restaurant El Arado. Good place for typical Costa Rican. $$
En TODAS: Beachside "food struck" from a school bus, serves burgers on Playa Espadilla $$
Rafaeles Las Terrazas (Raphael's Terrazas): Beautiful view, great place for sunset happy hour, has great sushi.
Manuel Antonio Falafel Bar. Healthy, delicious wraps and falafel. $-$$
Colina Steak House: Go for the pizza, not steak. Their pizza is one of the best in the area
Barba Roja. Nice ocean view restaurant with burgers, wraps. $$
Z Poolside Bistro. Steakhouse, seafood, open for breakfast, lunch and dinner. $$
Sancho's. Mexican place with good tacos and fun vibe. $$
El Chante Soda (Costa Rican restaurant). Cheap traditional Costa Rican restaurant right by the national park office behind the Coopealianza office.
Musmanni: Cheap bakery with pastries, sandwiches, etc.
Soda Angel: A cheap Costa Rican restaurant.
We also recommend to go down to Quepos or Marina Pez Vela which has great options too. We like Soda Sanchez, Tiquicia Delicias, Mira Olas and Jardin de Mar in Quepos. In Marina Pez Vela, Doublehook has a fun bar atmosphere and nice view of the sunset and marina.
Shopping
There are a bunch of souvenir stores near the entrance of the park where you can find typical Costa Rican souvenirs like shirts, dresses, clothes, and little trinkets.
For more variety, there are some nice stores like Jungle AV Artesanal, Cafe Milagro gift shop, Yara art gallery, Besos Locos, BamBamBoo, Modern Primitive living, Altair and Mariposa gift shop and gallery.
Home Base or Stay for a Few Days?
You can definitely use Manuel Antonio as your home base. There are plenty of things to do and see in the area. All services are available such as hospitals, clinics, supermarkets, laundromats, pharmacies, banks and gas stations.
We highly recommend renting a car if you're staying for more than a couple nights to get around and explore. That way you can visit other great places like Dominical, Uvita, Jaco and Ojochal.
Most people stay an average of 3 nights in Manuel Antonio if they are not using it as a home base.
Itineraries
Here are some sample itineraries we've made that include this destination.
There are affiliate links in this post.