Planning a vacation takes a lot of time, especially for families or big groups. You have to find a way to make everyone happy and if you haven't traveled internationally before, Costa Rica trip planning can feel incredibly overwhelming. Even if you're only visiting for a short vacation, you want to make sure you make the most out of it and get the best value.
Although you can find tons of Costa Rica travel tips on this blog, it's helpful to have a timeline to organize yourself rather than jumping around and getting yourself confused. I know all too well what that's like too. You start looking at all these amazing places, save them to your list and then have no idea where to start!
In this article, our Costa Rica trip planning timeline will help you decide how far in advance you need to book tickets, activities, hotels and all the details. So let's get started!
Helpful Costa Rica Trip Planning Timeline
In this timeline, you'll find out what you should start planning 12 months out, 6 months out, 4 months and so on. This is a general guideline for stress free planning. I am the type of person who hates leaving things to the last minute and like to plan well ahead of time to know where I'm going and what I'm doing on vacation.
1 year+
If you have a year in advance to plan, take this time to decide when to visit Costa Rica if you have the flexibility. You can read this post on the best time to visit Costa Rica for ideas.
6-12 Months
You can start peeking at flights at this time. According to Skyscanner, the best time to book international flights from the US is 5-6 months out. An additional survey from CheapAir also says the best time to purchase tickets to Central America are 70 days out and the prime booking window is 2 weeks to 6 months out. That's a pretty big window so I highly recommend to at least start looking at least 6 months out.
It will depend on what month you are planning to visit Costa Rica however. If you are planning to visit during Christmas/New Years, it is best to purchase them stat as December is the most expensive month and it will only get more expensive the closer the date is!
You will also need to decide which airport to fly into: San Jose International Airport or Liberia International Airport. Make sure to check prices and set flight alerts for both because it is normally more expensive to fly into San Jose than Liberia and it will depend on where you want to go in Costa Rica.
Tips for booking cheap flights to Costa Rica
I am no flight expert but here are my tips.
Set up flight alerts with Google Flights, Momondo and Skyscanner (my three favorite websites for flights). If you're flexible, fly on weekdays instead of the weekend.
If you're coming from far away, see if you can add a stopover (long layover) in a destination so you can have an extra trip. For example, when my friends from Seattle came to visit, they chose an itinerary with a extra long layover in LA. That flight was cheaper and they got to spend one day in LA. Direct flights are usually more expensive.
If you're flying from Europe, make sure to check the airlines since some airlines (like KLM) only fly on certain days of the week to Costa Rica. Try to be flexible.
The best tip I have? Sign up to flight hacking websites. Dollar Flight Club and Scott's Cheap Flights are two I personally use to find cheap flights. They post error fares and last minute cheap tickets. You can designate your departure region/airport and places you want to go and they'll email you with cheap flights every time they find one. I used them to buy cheap tickets to Iceland and from Costa Rica to Seattle! You can read more tips in my finding cheap flights to Costa Rica post here.
My next best tip? Get a travel credit card to rack up points to use for flights and hotels! I have the Chase Sapphire credit card which I absolutely love! You get 60,000 points when you spend $4000 from initial account opening, 2x points on travel and dining and they also offer travel insurance for rental cars and trip delays. You can redeem the points you get from using this card to pay for flights, hotels, etc.
Don't forget to research which Costa Rica international airport you should fly into!
What else you should be doing for your Costa Rica trip planning

You can start looking on the Internet for ideas and articles. I personally love using Pinterest for travel ideas. You can find a ton of articles and photos on there that you can save and read in your downtime.
And don't forget to look through our blog! We have a dedicated Costa Rica travel tips section where you can browse through articles. Our Instagram also has a lot of ideas for things to do and places to go.
4-6 Months
At this point, you should hopefully have your flights, at least if you are visiting in the Christmas season. You can keep looking if you're visiting another time of the year to try to find the cheapest ticket.
If you are visiting during peak season, I also recommend to start looking for accommodation. Hotels during Christmas and New Years go fast and they are much more expensive so you want to get that locked down. Some boutique hotels get booked out a year in advance during Christmas!
You can check our Costa Rica itineraries for ideas.
2-3 Months
Narrow down your places of interests to start outlining a rough itinerary. Can't decide where to go yet? Check out our best places in Costa Rica for first time visitors post for ideas.
Secondly, you should start looking at car rentals especially if you are visiting July, August and high season (December – April). Car rental companies run out of availability very quickly during these times of year and it will be incredibly difficult to find one last minute. Most of the time, all that's left are premium cars and car rental companies jack up the prices if they only have a few cars left. If you are visiting during Christmas/New Years, you need to start booking at least 3 months in advance.
I really don't recommend booking upon arrival either as that usually is more expensive and you need to do research on car rentals regarding insurances and taxes so you don't get hit with an ugly surprise (hidden fees/taxes/insurance).
Here are articles on renting a car that will help:
Costa Rica car rental insurance
And we have a Costa Rica car rental discount you can get to save money and get extra benefits.
If you're not sure how you're going to get around…
If you don't know if you want to rent a car yet, then you'll want to decide soon for the reasons I mentioned above. Shared shuttles only have a certain number of spots available and it's always first come first serve. You don't want to get stuck with no car and no shuttles! Same for domestic flights and airports.. Although there are several local airlines, each plane can only hold a handful of people and there may only be 1 or 2 scheduled flights a day so you will want to get those booked.
Here are more articles on getting around that will help:
Tips for taking the bus in Costa Rica
Skyway Costa Rica airline discount
You don't need to be in too big of a rush if you're visiting in the off season like May, June, September, October and beginning of November. Those are slow travel seasons so you don't need to book everything asap.
1-2 Months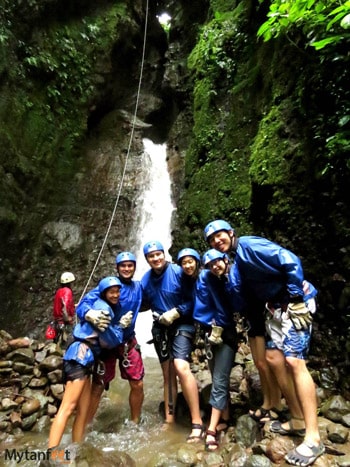 You should have your itinerary somewhat solid at this point. You know where you're going, how many days you're staying and how you're getting around.
Additionally, you should also have booked your hotels, cars and shuttles or at least start booking them. Now you can start planning your daily itinerary.
Popular activities like Tabacon hot springs, snorkeling, whale watching and adventure parks book up quickly during high season so you will want to save your spot.
If there are any activities you absolutely have to do, definitely book those in advance!
It's better to pre-book those tours rather than scrambling last minute to find a company who still has space, which may not be the best company or offer the best price.
We have several discounts on tours you can check here: Costa Rica tours promos.
1-2 Weeks
You should start figuring out what to pack and picking up necessary items like sunscreen and mosquito repellent. If you're visiting in rainy season, there are certain things we highly recommend to bring like a waterproof backpack and waterproof rain jacket.
You can read our Costa Rica packing list for tips. Like to check things off? Download and print out packing checklist!
Costa Rica Trip Planning Summary

To sum up, if you are visiting during Christmas and New Years, book hotels, tours and car rentals as soon as you can. Do not wait until last minute! So many times we've had readers who emailed us beginning of December asking to help them find a car for Christmas and it was not possible or the only cars left were the expensive premium cars. We've also had many readers ask us for help booking tours since all the companies were full during the New Year holiday. This is one of the mistakes you want to avoid when traveling in Costa Rica.
If you're visiting February, March, April, July or August, book car rentals, hotels and tours at least one month out as that is a very busy time as well. We made the mistake of waiting until last minute to book hotels in La Fortuna in July when my parents came to visit and nearly everywhere was full or was super expensive. We managed to find a standard hotel in downtown which wasn't exactly what we wanted.
You don't need to book everything asap if you're visiting in the off season. You can start looking around a couple weeks to a month out.
Don't try to book too many activities and try to aim for one big activity a day. For big groups, families with small children or seniors or short trips, don't try to go to too many destinations. Places in Costa Rica are fairly spread out so travel times are long. You may need to dedicate one entire day to travel! It'll be too tiring and you can spend that time enjoying rather than driving or sitting on a bus/shuttle.
There are affiliate links in this post.