If you're looking for an all inclusive resort in Costa Rica, then look no further! All-inclusives are an easy way to vacation and offers nothing but relaxation, luxury and attentive service. And in Costa Rica, there are all-inclusives of all kinds whether you want a mountain escape or a beach getaway.
If you're looking for an all-inclusive resort, here is our list of the best all inclusive hotels in Costa Rica. You'll find your typical beach resort but there are a few "all inclusive" boutique hotels and eco-lodges for someone looking for a unique experience.
The Westin Golf Resort & Spa, Playa Conchal
The Westin is one of the most popular Costa Rica all inclusives on the beach. Since it is on the stunning Conchal beach, visitors choose the Westin to take advantage of their very convenient location as well as their superb amenities and facilities.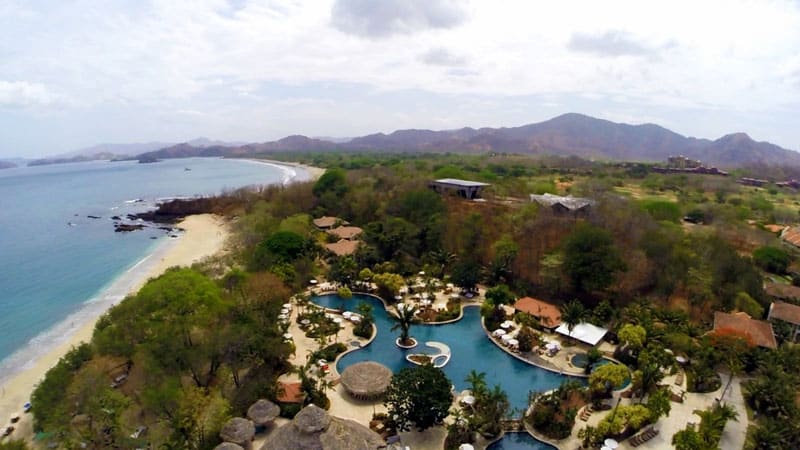 Offering a gym, multiple restaurants of different cuisines, buffets, multiple pools including one with mineral water, a child care center, a shopping center, a spa, a golf course, night time entertainment and many lounges, the Westin has absolutely everything you need to have the ultimate all inclusive experience. It is definitely a 5 star resort in Costa Rica!
Though it is a top pick for a romantic getaway, their child care facilities and family suites make it an excellent choice for a family friendly all inclusive. Additionally, if you upgrade to the Royal Beach Club for a room in the towers, you get exclusive access to the royal beach club pool and breakfast hall and free room service and minibar. The Westin Conchal is one of the best all inclusive resorts for honeymoons in Costa Rica.
Copa del Arbol Rainforest Resort
For a luxury all inclusive beach and rainforest resort, check out Copa del Arbol in the stunning Drake Bay. They have 11 eco-luxury villas only 100 meters from the beach in a remote part of Costa Rica. Their rates include 3 meals, a welcome drink and use of SUP boards and kayaks.
Click here for the latest rates at Copa del Arbol.
Villa Buena Onda
Sitting on top of a hill overlooking Coco Bay, Villa Buena Onda is the best boutique all inclusive hotel in Guanacaste. They have only 8 rooms so if you're looking for a hotel with the utmost privacy, this is a great choice.
They have a spa, infinity pool and restaurant. I have to say that this is probably one of the best resorts for couples in Costa Rica since there are such few rooms and it's in a very quiet part of Playas del Coco with an incredible view!
Click here for the latest rates at Villa Buena Onda.
Lapa Rios Eco Lodge
For the ultimate rainforest getaway, go to Lapa Rios Eco Lodge. This lodge is nestled deep in the Osa Peninsula, the most remote corner of Costa Rica. Stay on their 1000 acre private reserve with no AC, Internet or TV. Instead, go birdwatching, hiking and surfing and spend your nights listening to nothing but the symphony of the jungle.
Click here for the latest rates at Lapa Rios.
Casa Conde del Mar
This beach front hotel will surprise you that it's an all inclusive. It doesn't have the glitz and glam nor the size like other all inclusive hotels in Costa Rica but don't underestimate this one. It is located on Playa Panama, a quiet beach in Guanacaste where visitors can indeed watch the beautiful sunset while sipping cocktails.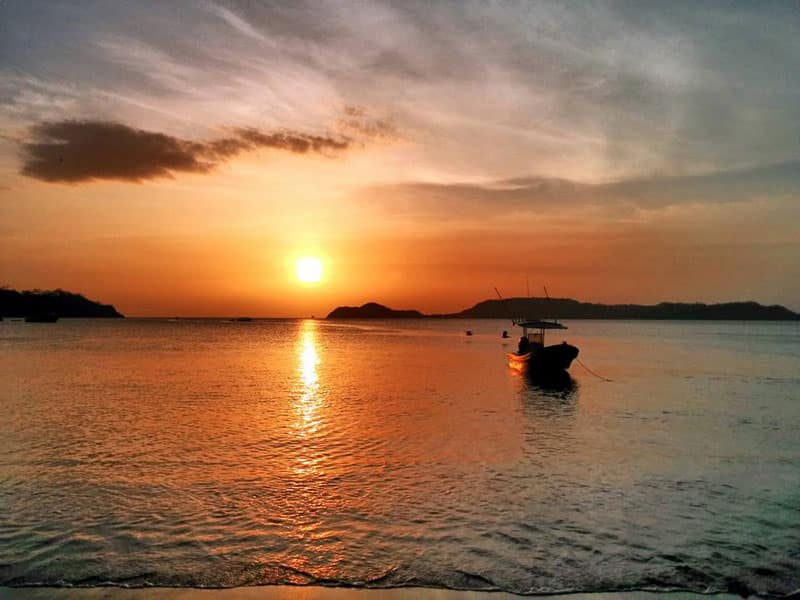 The best thing about this hotel is the atmosphere. Despite it being an all inclusive, there is no loud reggaeton music bumping at the pool as it's located on a smaller, lesser known beach in Guanacaste. For a quieter and more intimate all inclusive getaway, this is a top pick.
Click here to get the latest rates at Casa Conde del Mar.
Barcelo
There are two Barcelo all inclusive hotels in Costa Rica. One at Playa Langosta (now called Occidental Tamarindo) and one at Tambor.
As Langosta is very close to Tamarindo, you can have all the fun and conveniences of Tamarindo but go back to the quiet beach at the end of the day. Playa Langosta is equally as beautiful with gorgeous sunsets, surfing waves and tan colored sand. Enjoy their spa, pool, beautiful natural surroundings, variety of cocktails and live music.
Keep in mind that Barcelo Tambor often throws promotions for locals looking to party hard on the weekend so that one is more crowded and more rowdy.
Riu
The Riu is on a beautiful beach in Guanacaste so it's the perfect home base if you love water sports. Enjoy scuba diving, snorkeling, sailing and snuba from your front door. ScubaCaribe has an office on the property so you can easily sign up for ocean tours.
The hotel is built almost like a little city. Walk through the main road lined with shops and casinos and you'll feel like you're on a Vegas strip.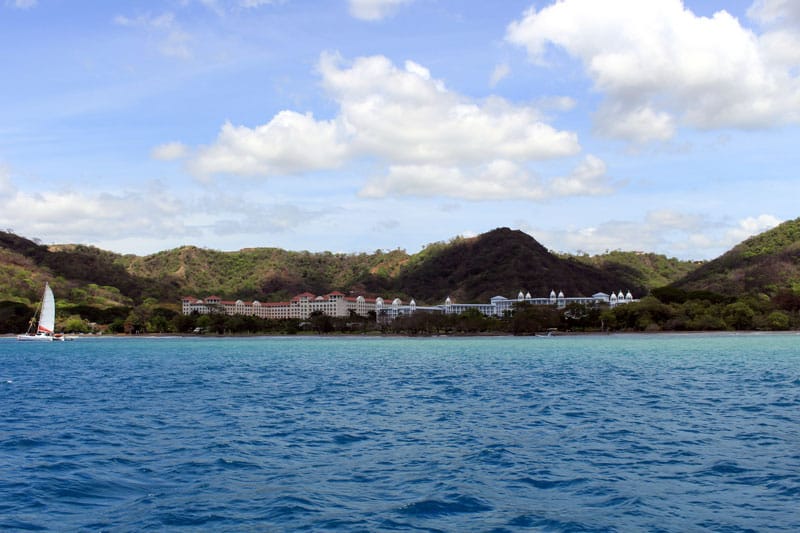 There are two separate sections of this all inclusive, the regular hotel Riu and then the Riu Palace. Riu Palace is more exclusive with a 24 hour buffet, high end restaurants and the building is completely separate from the Riu. Many rooms have a spectacular pool and ocean view.
Like I mentioned, this hotel is huge so you won't get the feel of an intimate or private all inclusive vacation here unless you opt for the Palace. If you're looking to meet and mingle with other travelers, this is a great resort to do so. It has more of a party atmosphere, so it's a top choice for big parties, weddings and bachelor/bachelorette parties.
Click here to check the latest rates at the Hotel Riu Guanacaste.
Dreams Las Mareas
Dreams Las Mareas offers visitors a quiet getaway as it is in a not very crowded part of Costa Rica: Salinas Bay. As part of the AMResorts collection, they offer only luxury amenities and facilities. Since they have facilities for kids, teens and adults, it's a great option for families.
Splurge and book a room with a Jacuzzi on the balcony, overlooking the ocean for a romantic stay. Or book a variety of fun land and water activities with Dreams such as ATV, jet skiing and more.
If you stay here, do note that it's pretty far away from everything.
Click here for the latest rates at the Dreams Las Mareas.
Occidental Grand Papagayo
This Occidental Papagayo is a reasonably valued all inclusive in the Gulf of Papagayo. It's adults only and you can usually find good deals online. Additionally, the resort is on a quiet beach which is really nice.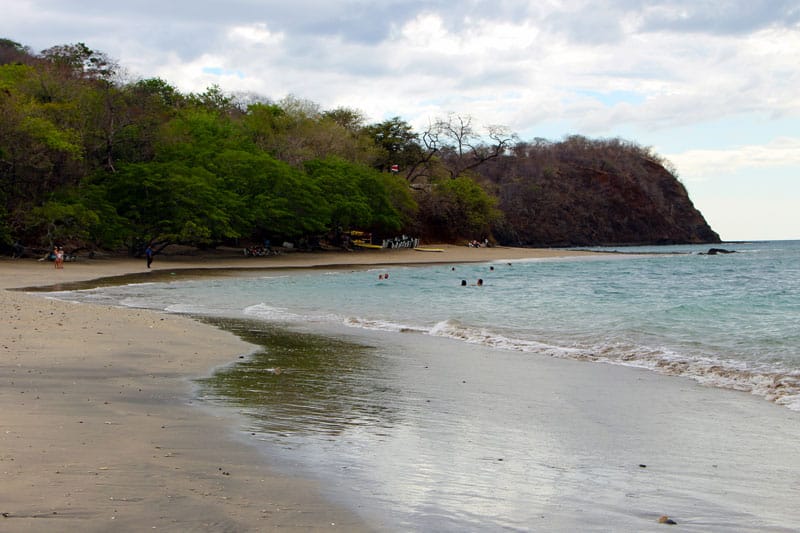 Due to these reasons, this is a nice all inclusive hotel for those who aren't looking to splurge but still want the resort facilities. All rooms have a balcony or terrace and some have Jacuzzis.
Though the beach isn't the prettiest, the Occidental is very close to a few white sand beaches. The fact that it's adult only and on a lesser visited beach makes the Occidental one of the best all inclusives in Guanacaste for adults who want an intimate and quiet beach getaway.
Click here for the latest rates at the Occidental Grand Papagayo.
Croc's Resort & Casino
This oceanfront resort at the northern end of Jaco beach has one of the nicest casinos in Costa Rica (Las Vegas style), a huge pool, spa, gym, 4 restaurants and a cafe. Their cafe is excellent (we used to go get afternoon coffee and cake there) and it's in a quieter part of Jaco so you aren't right in the middle of all the hustle and bustle but you are close enough to enjoy the town.
They have standard mountain and ocean view rooms, suites and condos available, all furnished with top of the line bedding and amenities. Nightly turn down service is included which is always a nice extra touch.
Click here for latest rates at Croc's.
Fiesta Resort
The Fiesta Resort (formerly Doubletree Hilton) is a very popular all inclusive resort in Costa Rica. It has several restaurants, multiple pools, tennis courts, a ballroom, casino and spa. It's located on the Puntarenas coast so the beach isn't the nicest. However, it's suitable to relax, watch the sunset and join in on a game of volleyball.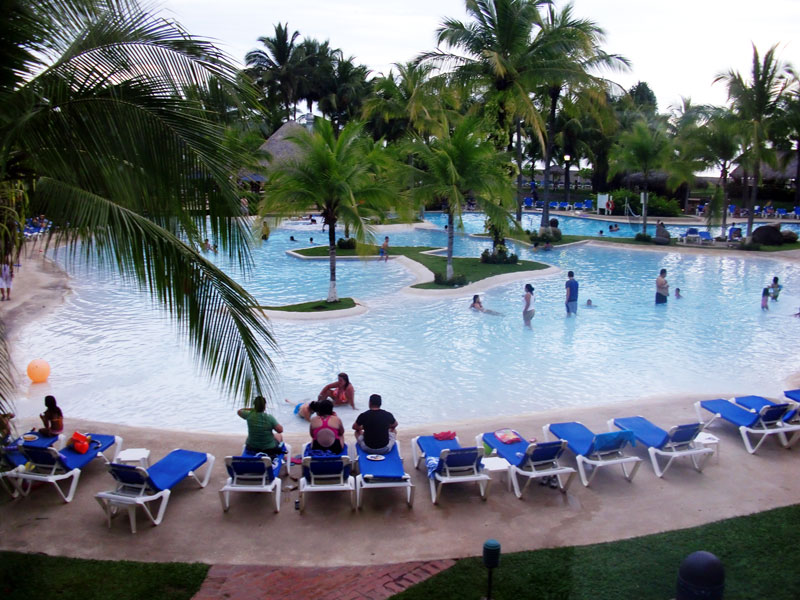 Despite the not so nice beach, the location is ideal as it is within reasonable driving distance to Puntarenas, San Jose and surrounding attractions.
One thing to be aware of is that they sell cheap day passes popular with locals who are looking to party. Keep that in mind if you're looking for something more intimate and private. We stayed a few nights in September when they were selling cheap day passes and it was extremely crowded.
Click here for the latest rates at Doubletree Hilton Puntarenas
Secrets Papagayo
This all inclusive resort is in the Gulf of Papagayo and has its own beach. It's adult only and has a spa, 4 restaurants and a gym. The location is excellent since you're only about a 30 minute drive from Liberia Airport. You're also near some of the most beautiful beaches in Costa Rica. The food is excellent and they have a 24 hour cafe open to all guests which is super nice.
Click here for the latest rates at Secrets Papagayo.
Costa Rica All Inclusive Resorts Map
Costa Rica all inclusive resorts map.
Read all of our Costa Rica hotel reviews here.
Flying into Liberia International Airport? Here's our list of best hotels by LIR.
Disclaimer: This post contains affiliate links.