If you're staying in Samara and would like to take a day to visit a lesser known beach, then you have to go to Playa Barrigona. This secluded crescent shaped beach is so beautiful that even Mel Gibson built a huge resort next to it! Luckily all beaches in Costa Rica are public so not even celebrities can prevent people from visiting this stunning beach.
In this guide, you'll read about how to get to Barrigona beach, what it's like and why you should make it a point to visit.
Location and Directions
Playa Barrigona is in the south Guanacaste province, very close to Samara.
How to get to Playa Barrigona
Even though Barrigona looks close to Samara, it's more complicated to get there than it seems. The best and easiest way is by driving as there are no direct buses. Taxis may not take you all the way if its a small compact car or if it's been raining heavily.
Driving directions from Samara
From Samara, get on Route 160. If you are at the main intersection in town with the beach behind you, take the road that goes to the west side of town (left). From there, continue on this road towards Hotel Samara Pacific Lodge and stay on the main road. After about 9 kilometers, turn left to stay on Route 160.
You'll pass Rio Buena Vista (small river in dry season) and keep going. You'll pass a Ferreteria Coyote on your left and the turn to Barrigona is not too far ahead. Look out for an intersection and tree with a red B painted on it. It looks like this: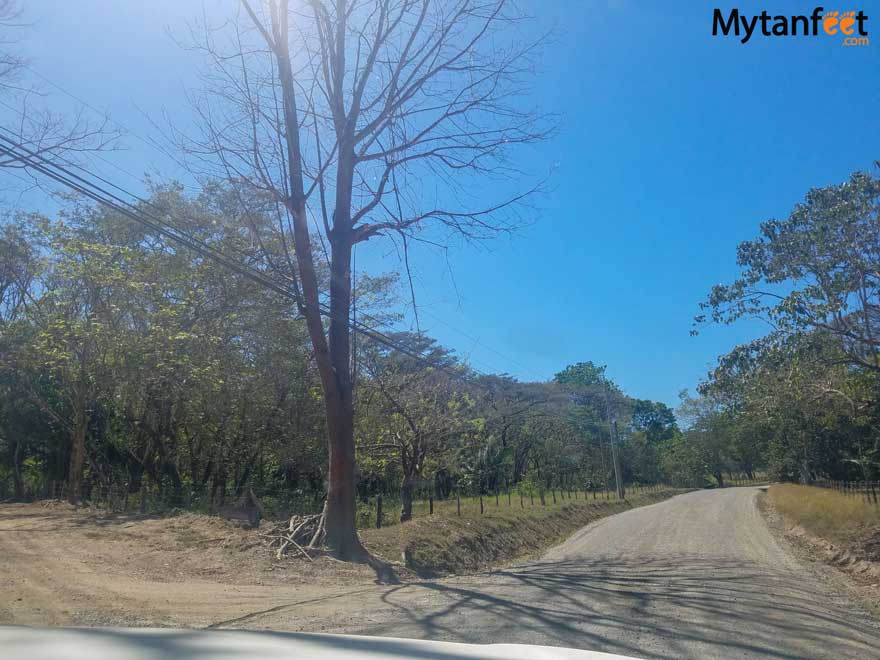 The GPS coordinates for this turn is N9 53.546 W85 34.463.
Once you leave Samara, the road is unpaved and when you turn left at the red B tree, the road gets really bumpy. In dry season, you can make it with a 4wd but in rainy season, it becomes one giant slippery mess. You can see what the road looks like in dry season below: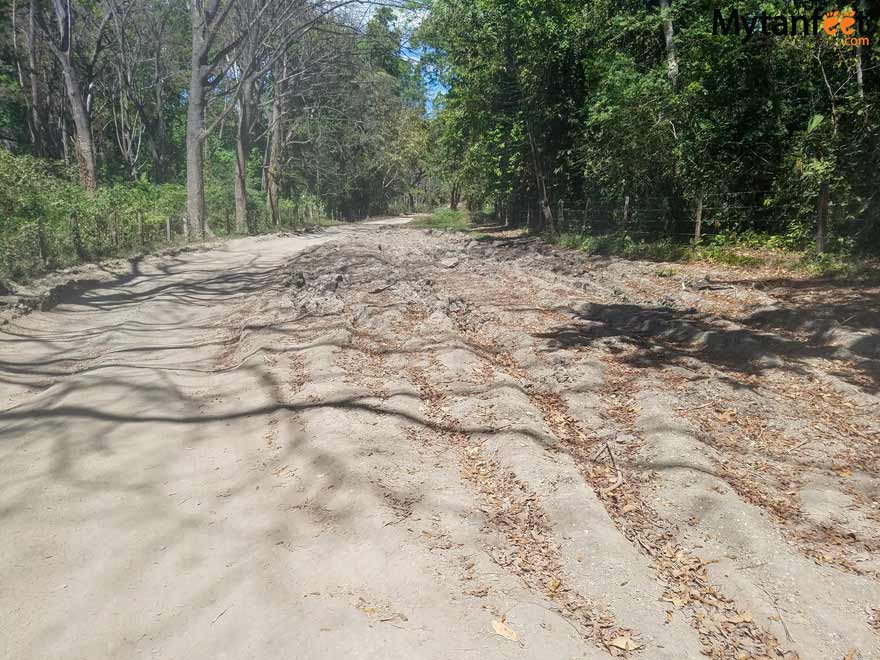 4×4 required?
The road to Barrigona requires a 4×4 in rainy season. Because of the road, taxis will drop you off at the intersection and you will need to walk the last couple kilometers if you go during rainy season. In dry season, you can probably get there with a normal car by going slow.
We visited in February which is peak of the dry season and all the rivers were dried up or very small. Driving there was no problem in our truck. But if you go during May – November (especially September to November), a 4×4 is required and I definitely don't recommend going if it's raining.
If you want to go in rainy season and it's super muddy, some people will park at the intersection and walk the rest of the way. However, this does leave your car vulnerable to break ins so keep that in mind.
Parking
There is no dedicated parking lot. You will have to park your car before the river and as there is no security or anything around, make sure you lock your doors, roll up windows and don't leave valuables visible in the car. Petty theft is the most common tourist crime and it is easy for thieves to get in and out of your car quickly. When you are on the beach, you don't have a view of the parking lot at all.
Horseback riding tours
There are some horseback riding tours that go down to Barrigona. Check with the Samara Info Center for more information. It's $60 for a 3 hour horseback ride (morning and afternoon).
Playa Barrigona Costa Rica Beach

The reward after this section of treacherous road is an absolutely breathtaking beach. You'll see a small parking lot at the end of the road. There's a river to the side but in dry season, it isn't very full and you can walk around it to get to the beach.
Then you'll see the full beauty of Playa Barrigona.

The beach has soft white sand and bright blue waters, surrounded by forest covered mountains from end to end. During dry season, the mountains are more yellow and sparse but in rainy season, they turn a lush green.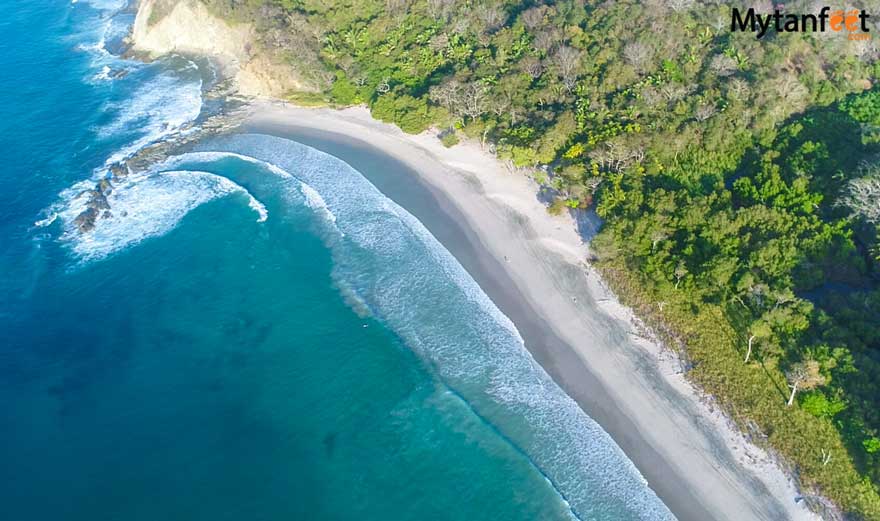 What to do on the beach
There is nothing on Barrigona: no hotels, no restaurants, nothing. It's a wonderful escape from the crowds of Samara!
At both ends of the beach are large rocky reefs and the north end rocks are always visible. This side has some nice palm trees and flat spaces for laying down and relaxing.
Swimmable?
The waves at Barrigona are much bigger than it seems so if you want to swim, be very careful. The Triple Crown surf competition was held at Barrigona in 2014 so if you're a surfer tired of the crowds at Samara, this is an excellent nearby beach to catch waves.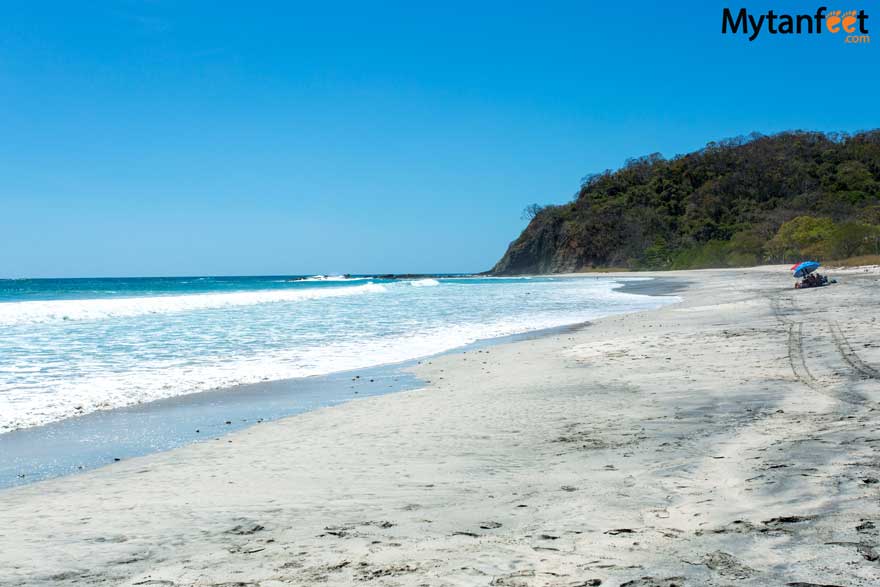 Crowds
When we visited in February, we saw only one other car there even though it was high season. It was the couple in the photo above, they brought their own umbrella and towels. It was amazing to share this beautiful beach with only two other people! Samara was completely packed in February which is why we set out to find Barrigona.
Camping
There isn't really anywhere to camp at Barrigona. If you want to camp, you would have to drive on the beach to get to the trees on the other end of the beach which is not encouraged. If you can, stay until sunset at least because it is very beautiful at Barrigona!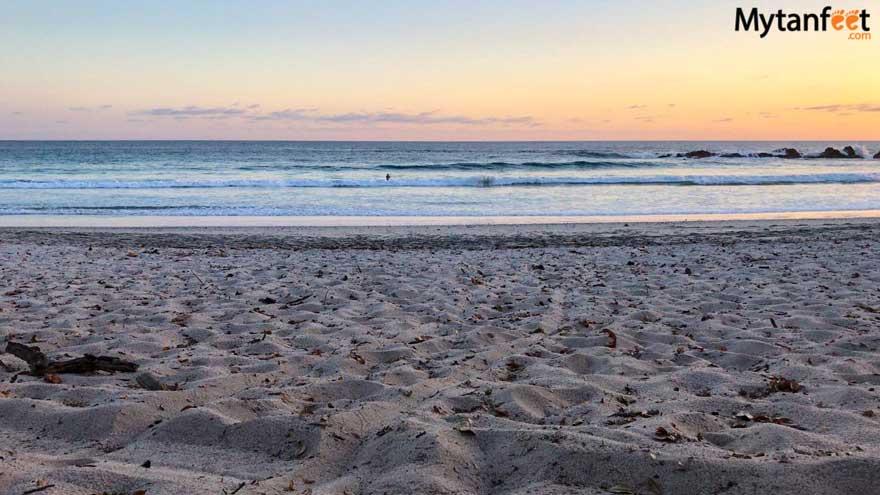 Other Beach Near Samara
You can also visit Playa Carrillo for another beautiful quiet beach near Samara.
Read about other secluded beaches in Costa Rica below!
Playa Mina Guanacaste: Local favorite white sand beach south of Conchal
Cuevas beach: Small white sand beach in Mal Pais, great snorkeling bordering a private reserve
Playa Cabuyal Guanacaste: Empty white sand beach in Gulf of Papagayo
Chiquita Puerto Viejo: Beautiful beach between Punta Uva and Cocles
Playa Buena: Small white sand beach between Playa Panama and Hermosa in Guanacaste
Playa Penca: White sand beach with clear waters by Playas del Coco