Playa Bejuco in Puntarenas is a beautiful dark sand beach that is the complete opposite to the nearby Jaco or Manuel Antonio, making it the perfect day trip for anyone looking to experience a more rural and natural beach in Costa Rica. It is also a fantastic beach town for any visitor looking to get away from crowds and to stay in a natural beach paradise.
Here is our guide to Playa Bejuco to help you plan your visit.
Location
Playa Bejuco is in Puntarenas, in the Central Pacific of Costa Rica. It is 117 kilometers (72.8 miles) from San Jose Airport, 32 kilometers (19.7 miles) from Jaco and 42.9 kilometers (26.7 miles) from Manuel Antonio.
4×4 required?
Although the main road to Bejuco, the Costanera Sur is all paved, the road to the actual beach becomes a rocky/dirt road, akin to many of the beaches in the South Pacific. Even still, a 4×4 is not required for Playa Bejuco. However, it is recommended to have a high car for this area, especially if you plan to keep going down south towards Uvita, Ojochal, Golfito, Pavones and Osa Peninsula.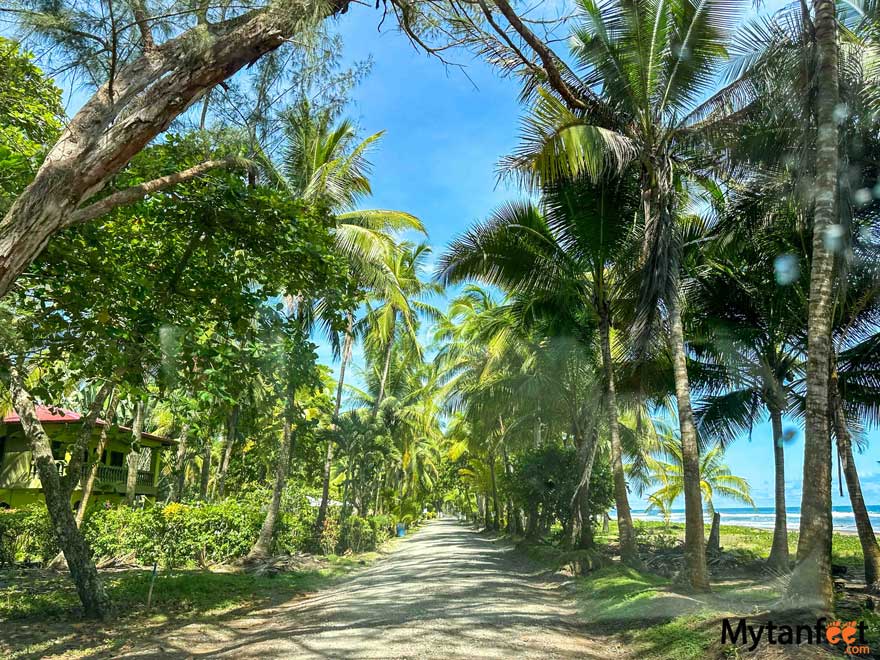 *Make sure to check with your accommodation host to see if a 4×4 is actually required for where you're going or if a high car is sufficient.*
Parking
You can park anywhere along the road parallel to the beach. Just make sure to roll up windows, lock your doors and don't leave valuable visible. There may or may not be the local "parking guards" and we usually give them like 500 or 1000 colones even though they aren't official guards.
The Town
The town of Bejuco is one of the reasons why I love this beach so much. It's just a laid back, local fishing coastal village. There are no all inclusive resorts, no beachfront condo towers, just local houses. However, in the past few years, many foreigners have discovered Bejuco so you can now find a few gated condo communities close to the beach. There are more hotels and vacation rentals in this area as Bejuco continues to grow.
If you are staying at Bejuco for a couple nights or using it as a home base, you must rent a car. For pharmacies, banks, full service supermarkets and those kinds of services, you will need to go to either Jaco or Parrita.
Bejuco will most likely continue growing as more foreigners choose to visit there or move there instead of Jaco or Manuel Antonio.
The Beach
Bejuco beach is a classic beach in the Central and South Pacific of Costa Rica with palm trees, dark compact sand, long shores and dark blue waters. This beach also has the Blue Flag award, given to only the cleanest and most natural beaches in Costa Rica.
Can You Swim at Playa Bejuco?
Bejuco is not the best for swimming as this area commonly experiences rip tides and dangerous currents. However, it is perfect for long beach walks and sunbathing. You can surf if you're an experienced surfer.
Snorkeling is not good at this beach either. It is not recommended to swim far at Bejuco. You can play in the shallow waves and dip your toes but don't go too far out.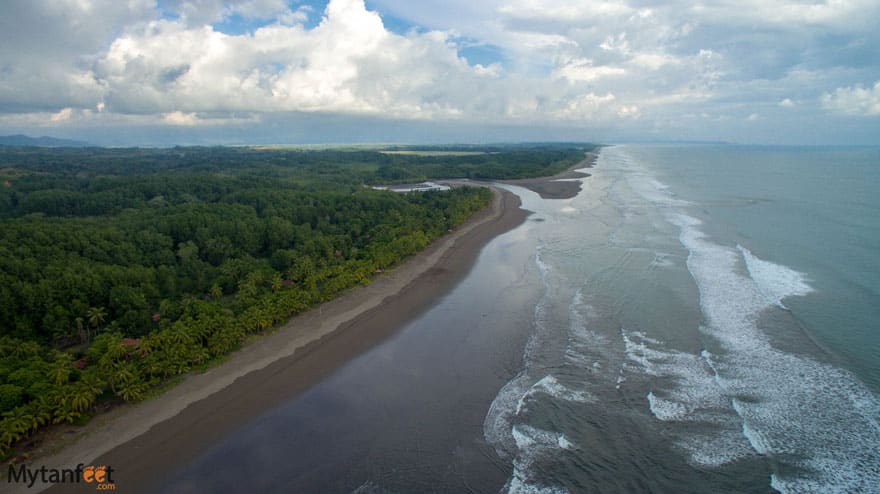 Many times, you will feel like Bejuco is your own beach as there are not many tourists in this area.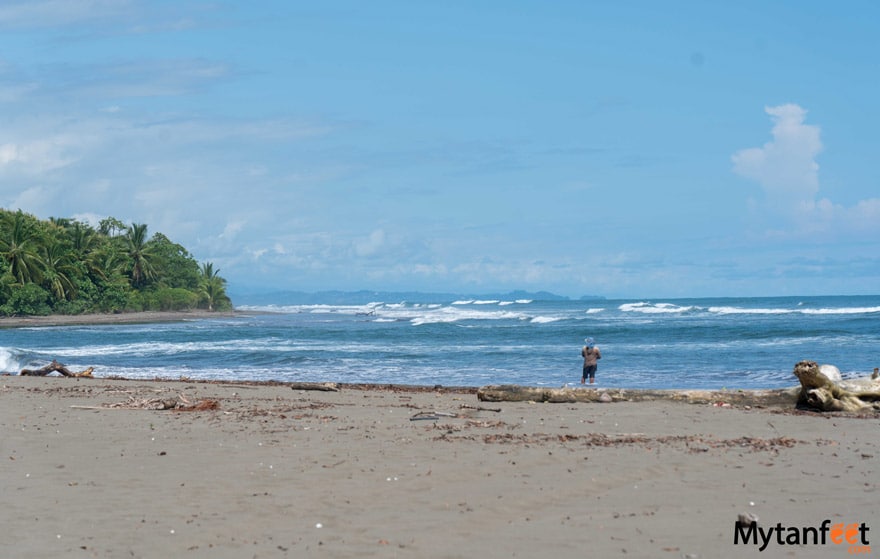 We spent an afternoon here hanging out with a couple local families, watching their kids play futbol and dads fishing. Sunsets were beautiful!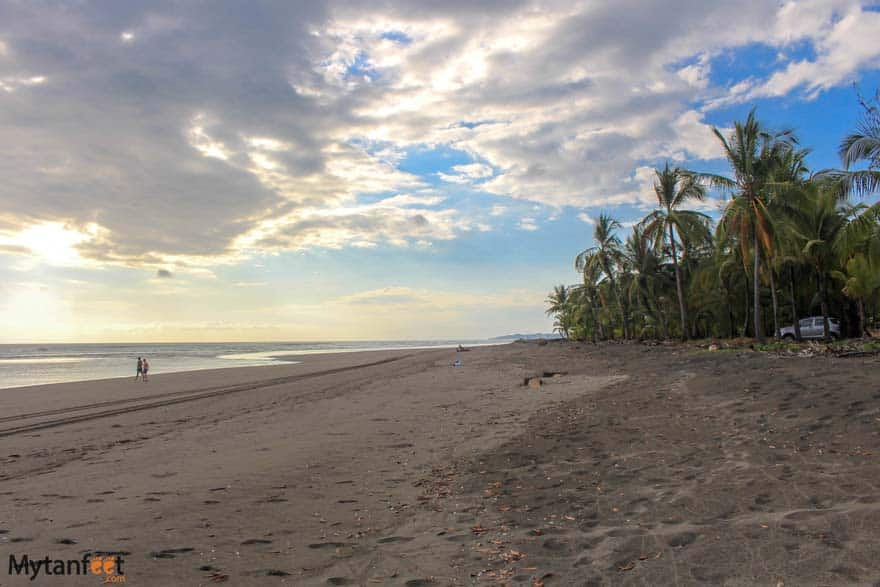 Thanks to the year long humid climate in this area, the mountains stay lush and green. Additionally, you may see colorful tropical birds flying around at the beach or the surrounding mountains.
Hotels, Restaurants and Other Services
There aren't many hotels in Bejuco. Hotel Playa Bejuco and Hotel Delfin Playa Bejuco are two decent cozy hotels right on the beach. There are also camping areas and camp sites as camping is very popular among city Costa Ricans.
There are a couple of gated communities such as Jardines del Pacifico and Condominio Horizontal Residencial Costa del Sol which you can find on vacation rental booking sites.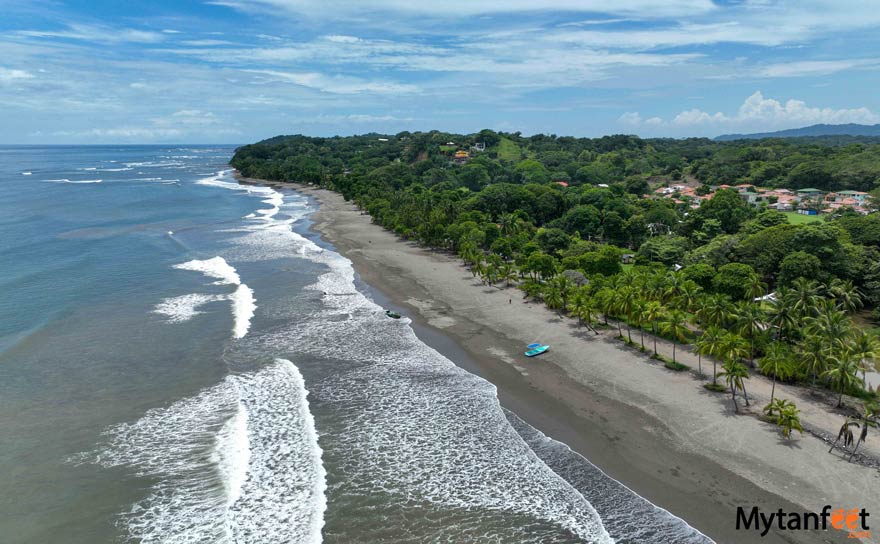 For restaurants, the town is tiny so there isn't much. There are more restaurants off the main Route 34 or in Esterillos Este. Don Toro Beach is a beachfront restaurant at Esterillos Este next to Playa Bejuco which is very good.
There aren't any bathrooms, changing rooms, showers or any services at the beach.
This is another reason why you should rent a car if staying at Bejuco or making it your home base as there really isn't much there. With a car, you can drive to Esterillos or even Jaco as they have more restaurants and services. Take advantage of our Costa Rica car rental discount and extra freebies in the link!
Things to do at Playa Bejuco
If you're using Bejuco as a home base, you're in a great central locations to many attractions in the area such as Carara National Park, Manuel Antonio National Park, Vista Los Sueños, Rainforest Adventures Jaco, Nauyaca Waterfalls, Esterillos Oeste Beach and many more. You can take many day trips from Bejuco all within a couple hours drive.
Read about other similar beaches below!
Puerto Viejo Guanacaste: This is the southernmost point of Conchal beach, a very local and non touristy beach.
Playa Los Suecos: Beautiful white sand beach with great snorkeling in Mal Pais. Lesser known.
Linda beach: Long, tan sand beach with nice surfing waves by Dominical.
Pochote: Dark sand beach near Paquera in the Nicoya Peninsula. Nice camping facilities, a local favorite.
Hermosa: Long, dark sand beach in Uvita with nice surfing waves.
Lagartillo: Hidden beach by Avellanas in Guanacaste.
There are affiliate links in this post.