Do you have a couple of days in San Jose and are looking for the best day trips from the capital city of Costa Rica? If so, one excellent option is the Arenal Volcano tour from San Jose. This Arenal Volcano day tour from San José gives visitors the chance to experience two main highlights of the Arenal Volcano region: Arenal Volcano and relaxing hot springs. It also includes a stop at a local craft town along the way.
Read on to see what this Arenal Volcano tour from San Jose is like. You can also watch our video! We also offer small discounts for day trips from San Jose, including this one, just click the link!
This full day tour tour goes to Sarchi, La Fortuna, Arenal Volcano viewpoint and hot springs set in a tropical garden in La Fortuna. You can choose from either Ecotermales hot springs or Baldi hot springs. We went to Ecotermales hot springs.
Arenal Volcano Tour from San Jose Details
This Arenal Volcano day tour from San Jose with our partner includes roundtrip transportation from most San Jose area hotels in the San José province, bilingual guide, entrance fees, lunch and dinner.
The tour is a full day trip. Pick up is around 730-830 AM and return back to San José is around 930-1030 PM. Transportation is an air conditioned vehicle and groups are no more than about 20 passengers per unit for the shared service. This service is available as a private tour for a different rate.
Regarding transportation, you can use this tour as an interconnection meaning the tour operator will pick you up in San José and leave you in La Fortuna. They can drop you off at your hotel in La Fortuna if it's on their route. If not, they will leave you at a designated place nearby your hotel and then you need to arrange your own way to your hotel.
Video
First stop on the Arenal Volcano Day Tour from San Jose: Sarchi
Our hotel pickup time was 730 AM. The first stop on the Arenal Volcano day tour from San José was Sarchi, about a 1 hour drive. Sarchi is a small town in Costa Rica famous for its craftsmanship, arts and woodwork. It is home to the original oxcart factories in Costa Rica which is a national symbol of the country.
We stopped at the original oxcart factory in Sarchi for a short presentation and had some time to browse their large souvenir store and sample coffee. It was fascinating to hear the stories of how the oxcart factory came about over 100 years ago and how it changed the course of Costa Rica's history.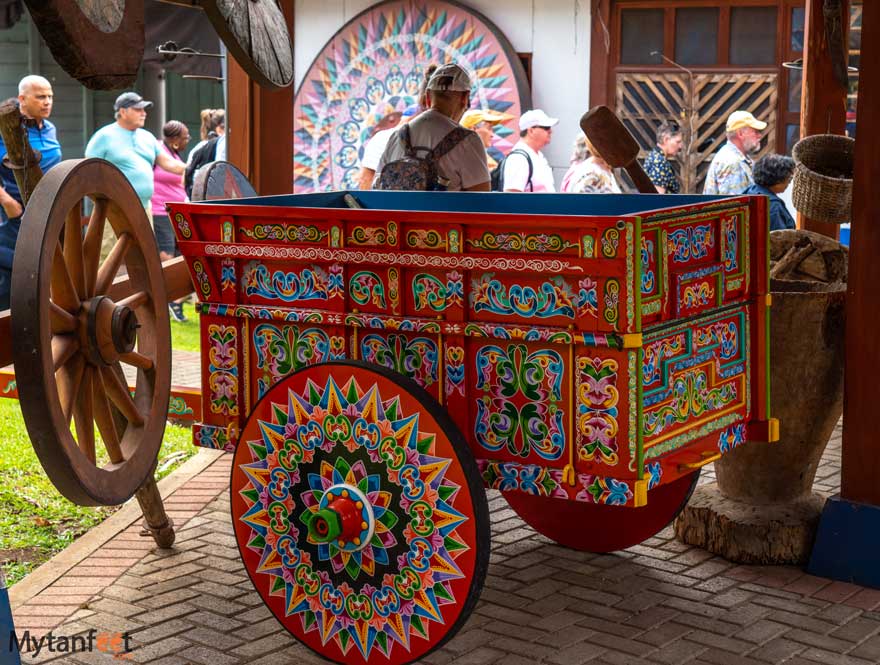 Sarchi was definitely a great place as a first stop on the Arenal Volcano day tour from San Jose to see and learn about local Costa Ricans cultures and traditions. The drive goes through a beautiful scenic route through the Central Valley with amazing mountain views and rolling green landscapes.
Second Stop: Lunch in La Fortuna at a Traditional Costa Rican Restaurant
After our stop at Sarchi, we drove 2 hours to the town of La Fortuna. La Fortuna is the main tourism hub in the Arenal Volcano area. Filled with a plethora of fantastic outdoor adventure, surrounded by lush tropical rainforest and located just 20 minutes from Arenal Volcano National Park, La Fortuna is one of the most popular destinations in Costa Rica.
Here in La Fortuna, we stopped at a local typical restaurant for a delicious Costa Rican lunch. We had a choice of rice with chicken, a burger or a casado (rice, beans, salad, meat). I chose a chicken casado which was tasty. Dessert, coffee, water and juice were also included.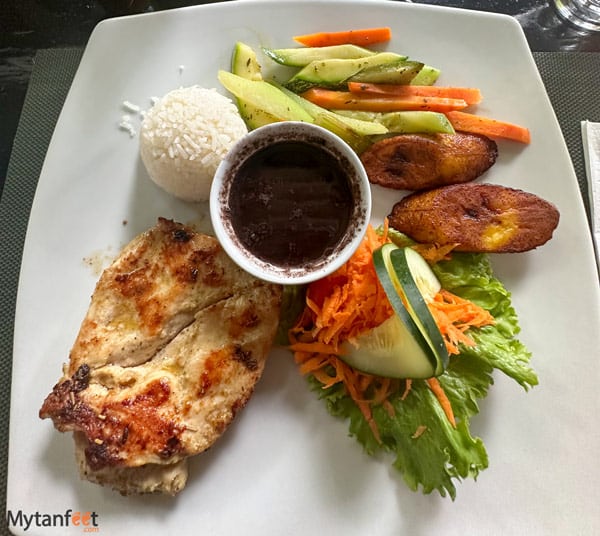 At the restaurant located very close to downtown, not only did we have a nice lunch, but we also saw a sloth right outside! Additionally, the Arenal Volcano was super clear. We were really excited for our next stop after lunch, which was to a private reserve to go to a viewpoint of the famous Arenal Volcano.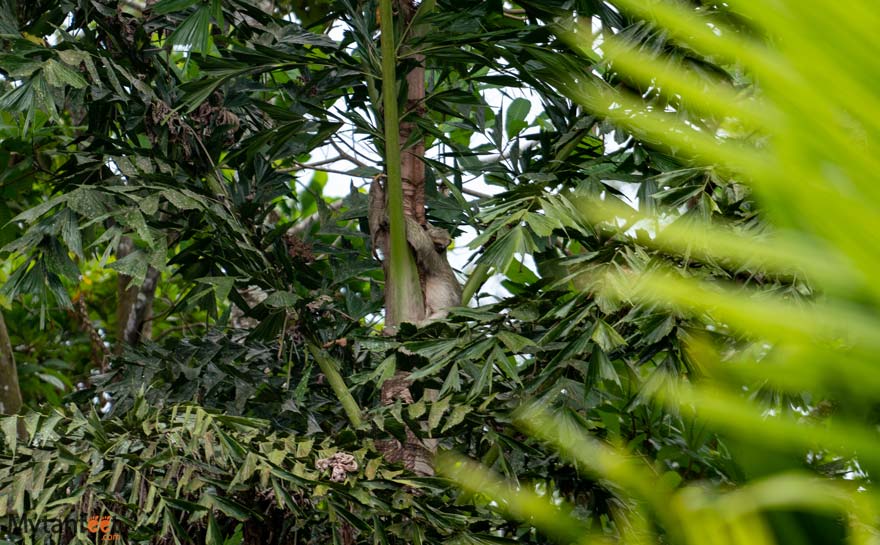 After lunch, we drove ten minutes to the next stop.
Third Stop: Arenal Volcano Viewpoint
La Fortuna is arguably the most popular touristic region in Costa Rica thanks to the impressive cone shaped Arenal Volcano. Although it is not spewing lava and lava rocks like it used to before 2012, the volcano is still active. However, now it is just smokes and steams from the top.
Arenal 1968
The Arenal Volcano viewpoint was not in Arenal Volcano National Park, but in a private reserve right next door called Arenal 1968. The walk from the parking lot to the viewpoint was just 5 minutes.
We were so excited to run up to the viewpoint because Arenal Volcano is not usually 100% clear and when it's clear, it usually doesn't last too long. We saw it completely clear at lunch so we were praying that it wasn't covered by clouds already. As soon as we arrived, we hurried up the viewpoint and got a real treat for the eyes.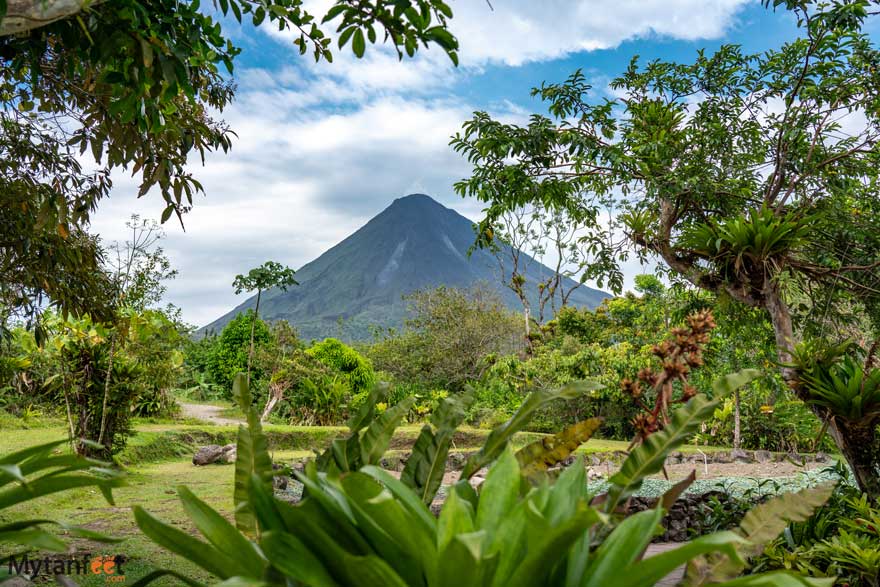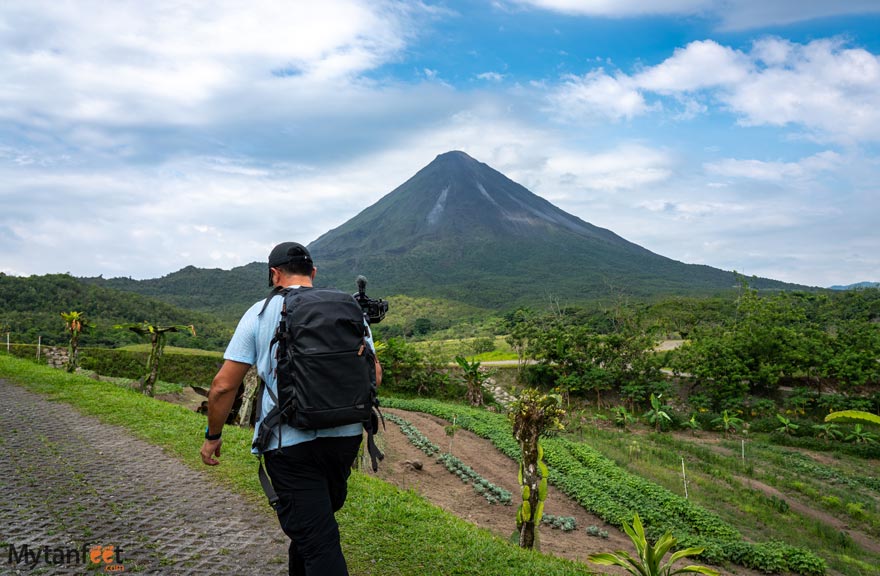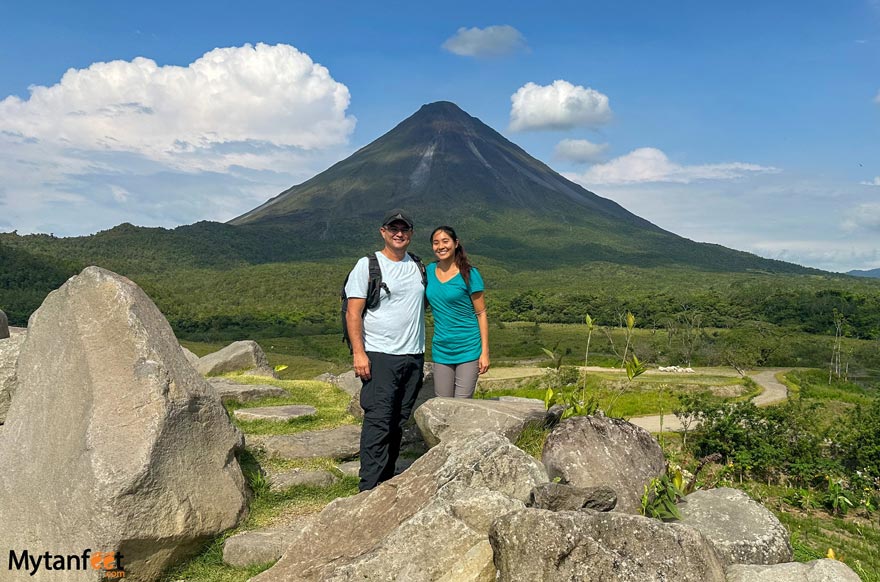 This viewpoint also had a cafeteria with a rooftop for an even more amazing view of Arenal Volcano and Lake Arenal. You could see all the surrounding rainforests.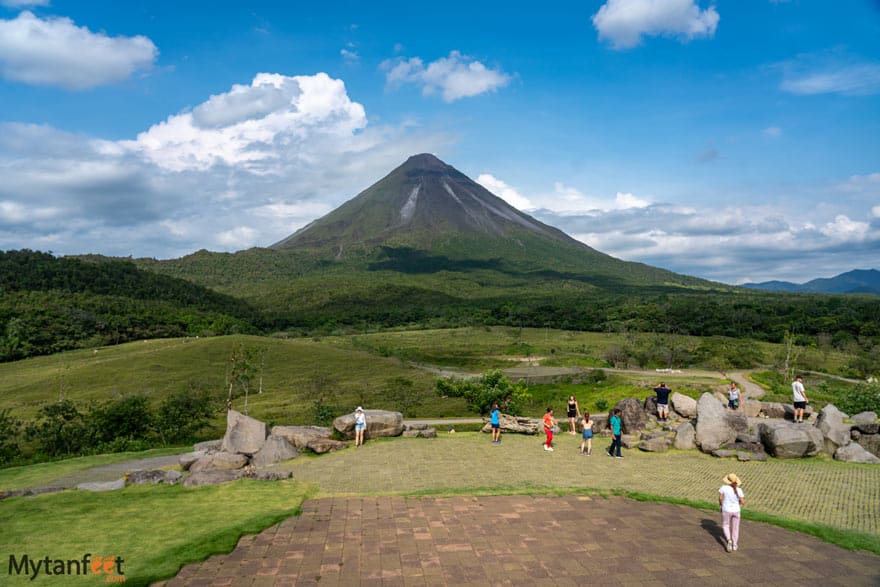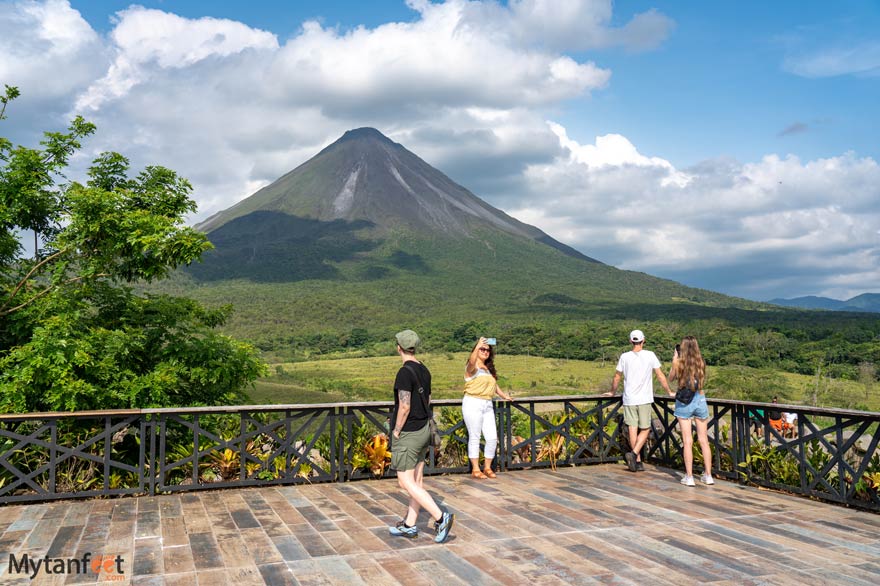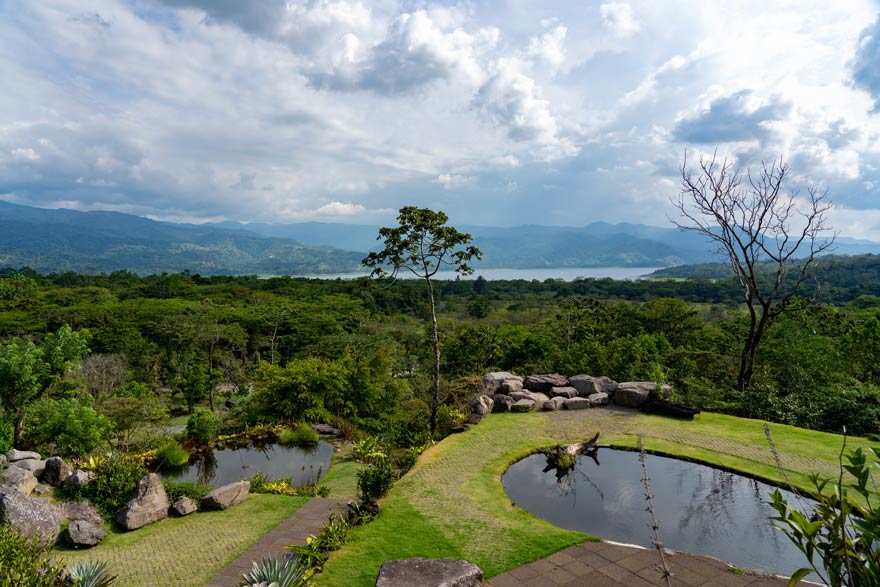 We spent a little over an hour at Arenal 1968, enjoying the spectacular views. As soon as we left, the clouds started rolling in which was absolutely perfect timing! Now that it was getting to be late afternoon with the rainy season clouds coming in, it was the ideal time to go to the hot springs to end the day.
Stop 4: Ecotermales Hot Springs
For our specific San Jose day trip, we went to the Ecotermales hot springs in La Fortuna. Included in our few hours visit was a delicious Costa Rican dinner, buffet style.
When it comes to wellness, La Fortuna is a top wellness destination in Costa Rica thanks to the many hot spring resorts in the area powered by the nearby naturally Tabacon river.
Ecotermales has multiple hot springs pools with different temperatures including a cold water pool and a freshwater pool section. All their pools are surrounded by lush tropical gardens and rainforest. We even saw some colorful tropical birds while relaxing in the thermal water mineral pools!
Their hot springs resort is extremely clean and well taken care of with clean bathrooms, changing rooms and lockers and well maintained walking paths and pool chairs.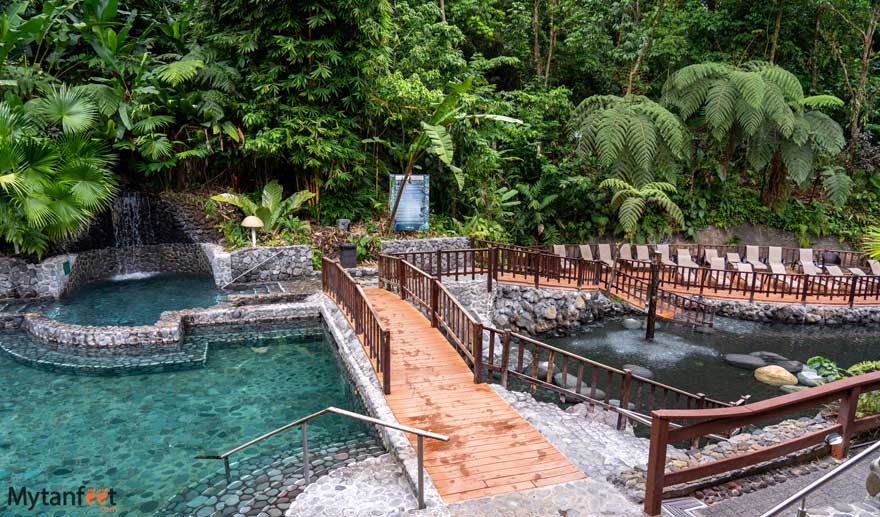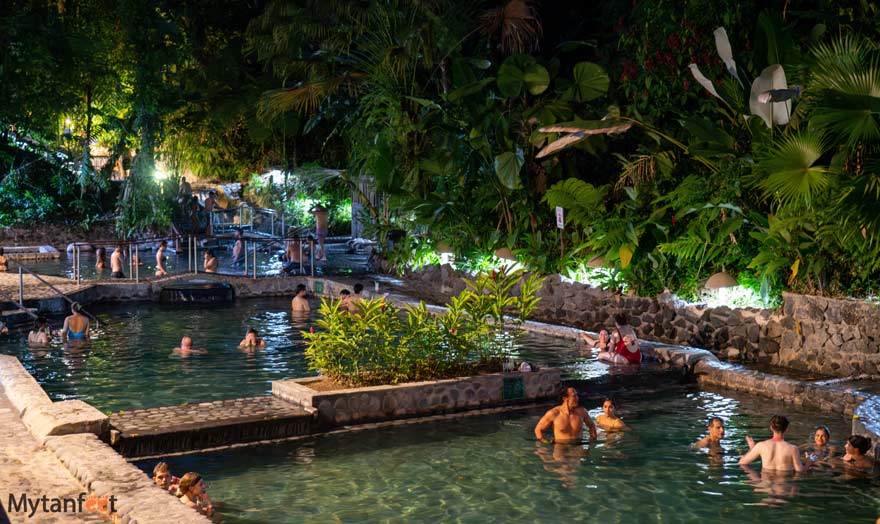 We arrived to Ecotermales around 330 PM. Our tour guide showed us around the facilities and told us that dinner was at 630 PM so we had plenty of time to enjoy the pools before dinner.
In addition to the pools, there is a bar with poolside service which was super nice. The bartenders made some delicious cold drinks, cocktails and juices.
Dinner
One of the things I really liked about their dinner buffet was that its all farm to table and they label everything for those with diet restrictions or food allergies.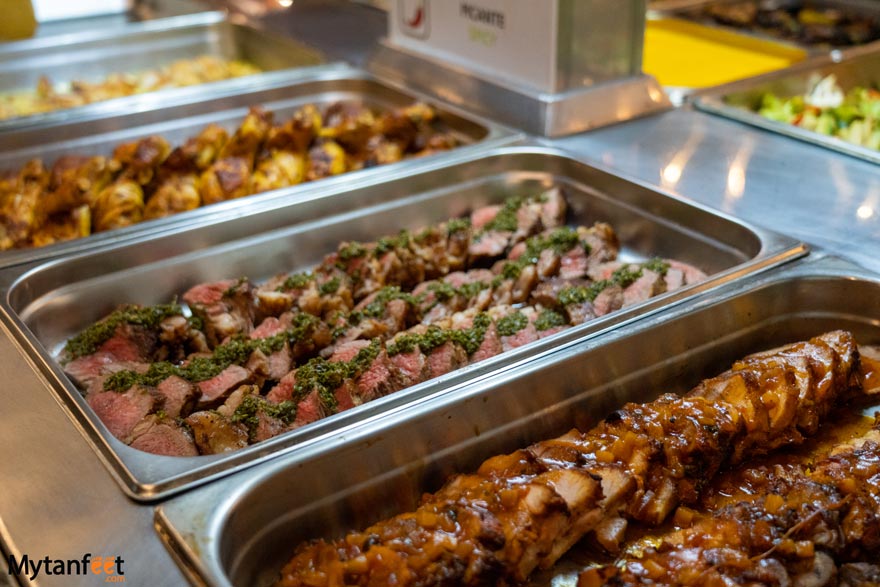 They also had water, juice and dessert. For any alcoholic drinks, we had to pay for them (not included).
Back to San José
After we were watered and fed, we got back onto the shuttle to head back to the city. The bus ride from La Fortuna was about 3 hours and I had a fantastic nap on the way back as I had a full belly of yummy food and was very relaxed from soaking in the hot thermal spring pools.
All in all, the Arenal Volcano one day tour was a wonderful experience. It is a very long day but I really liked how they stopped in Sarchi first to break up the drive. If your time in Costa Rica is very short and only in San José, definitely book the Arenal Volcano tour.
Remember we have a discount for San Jose day trips! We also offer Arenal Volcano + Baldi hot springs which is a tiny bit cheaper than Ecotermales (difference is around $15 USD).
Ecotermales or Baldi Hot Springs?
Both are excellent hot springs. However, I would say Baldi is better for families because they have a dedicated kid section, caves and a waterslide. Unfortunately, Baldi's food is not as great. Ecotermales definitely has better food but they only have pools.
More San Jose Day Tours Ideas
Looking for more day trips from San Jose ideas? Check these out!
Irazu Volcano (get 7% off)
Rainforest Adventures Braulio Carrillo (get 10% off)
Pacuare River White Water Rafting II & III (get $5 off)
Tortuga Island Cruise (get $10 off)
Costa Rica Vacation Checklist