Costa Rica: the country with more monkeys than humans. This was on a sign I saw in Manuel Antonio and I couldn't help but snicker to myself. Not because it was absurd, but because it actually feels 100% true.
Monkeys in Costa Rica and Where to See Them
Costa Rica is home to 4 different species of monkeys: Howler, White Face or Capuchin, Squirrel and Spider. If you're dying to see monkeys in Costa Rica, here is all you need to know!
Mantled Howler Monkey
The Mantled Howler Monkey is a New World monkey and one of the largest Central American monkeys. They are aptly named "howler" because they make a very loud howling sound which can be quite scary the first time you hear it at 5:30 in the morning!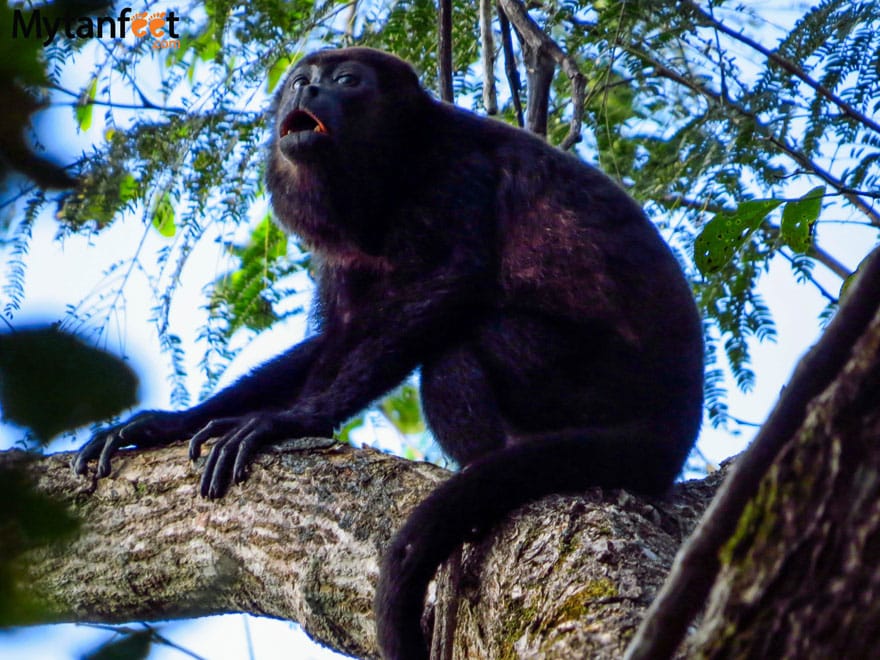 Howler monkeys are very common, found in many parts of Costa Rica. You will hear them before you see them because they are the loudest land animal!
Male howler monkeys have an enlarged hyoid bone which allows them to amplify their calls for miles. Only males howl in order to communicate within the troops and in response to their environment. They have been known to howl during the rain, howl back at dogs and at people and they can howl any time of day, but mostly sunrise and sunset.
Since they have a folivorous diet meaning they eat mostly leaves, they don't move as much as other monkeys. They sleep a lot to digest the leaves so they can survive in the dry arid heat of Guanacaste easier. Many times when you see a howler monkey, they look a little like this: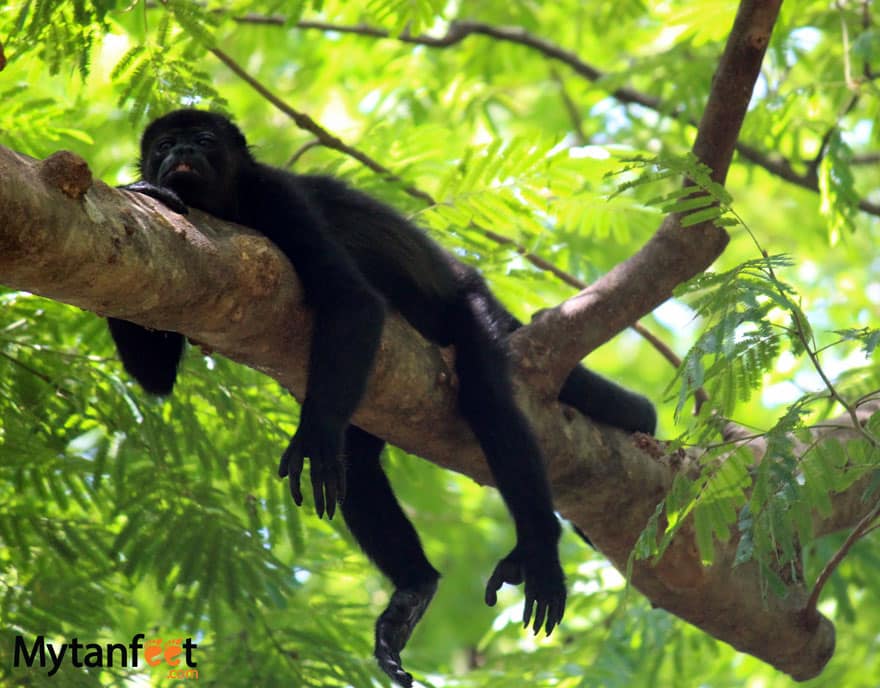 Where to see them
You can see howler monkeys in Osa Peninsula, Manuel Antonio National Park, Guanacaste, Nicoya Peninsula, Monteverde, Arenal, Sarapiqui and the Caribbean coast. Pretty much all throughout the country except not as much in the high elevation places.
We have seen them many times in the trees of some beaches in Guanacaste such as Tamarindo, Ocotal, Conchal and Hermosa. Since they are quite common in Guanacaste, you may even see them on the side of the road!
White Face Monkey
These cheeky monkeys are native to Central America and are extremely intelligent. You may recognize this monkey from movies and TV but did you know they have also trained White face monkeys to assist paraplegics?
These monkeys are omnivorous and highly active, living in troops of more than 20 members. They also walk on the ground more than other New World Monkeys. Considered to be the most intelligent New World Monkey, they have been observed using tools and adapting to human behavior.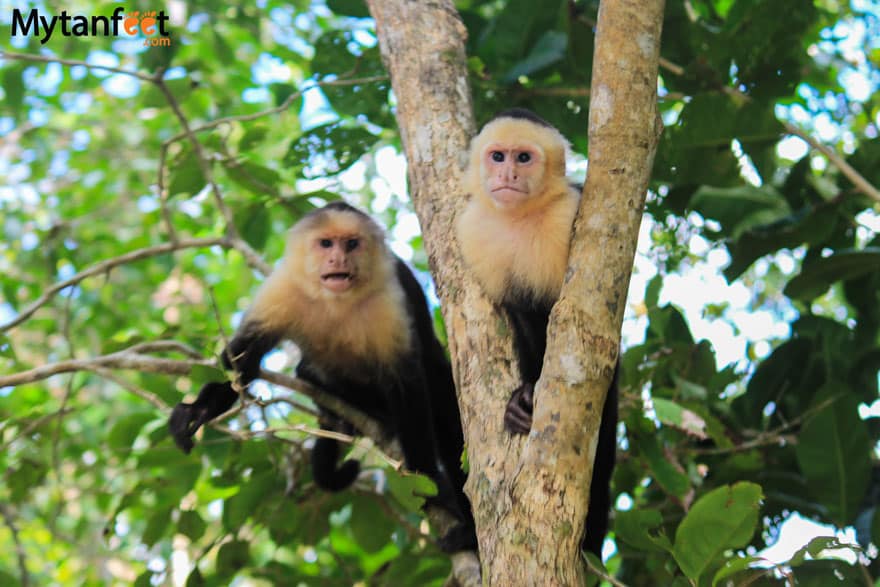 Best places to see them
In Costa Rica, you can commonly see white face monkeys in Manuel Antonio, Osa Peninsula, Monteverde, Arenal, Nicoya, Tortuguero and Palo Verde. They are especially common in Manuel Antonio National Park, where they are known to steal food from tourists (please do not feed the animals).
Central American Squirrel Monkey
The Squirrel Monkeys are among the smallest of the primates found only on the South Pacific coasts of Costa Rica and Panama. They are omnivores and live in big troops from 20 to 75 members.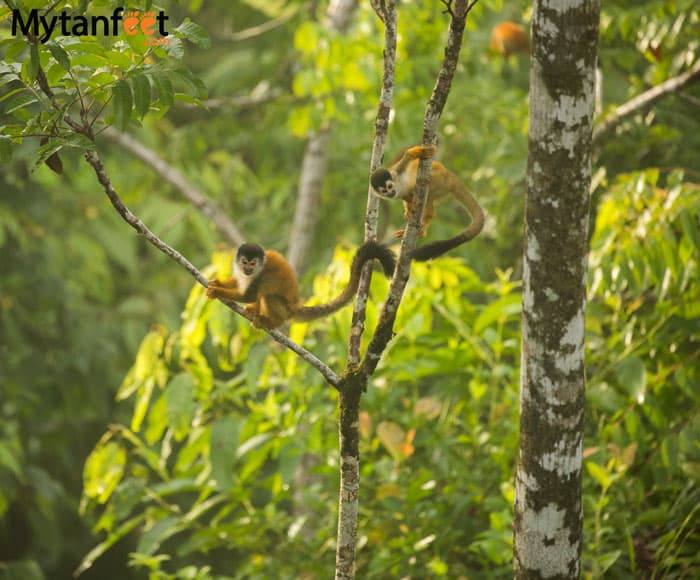 Currently the Squirrel Monkey is vulnerable mainly due to deforestation and illegal pet trade. Costa Rica's national parks where the monkeys are found is helping them bring their numbers back up.
Best places to see them
You can see these monkeys in Corcovado National Park, Osa Peninsula and Manuel Antonio National Park.
Geoffrey's Spider Monkey
The Spider Monkey is another New World monkey. It has a prehensile tail that can support the entire body weight of the animal! It's one of the biggest New World monkeys weighing up to 20 lbs (9 kg).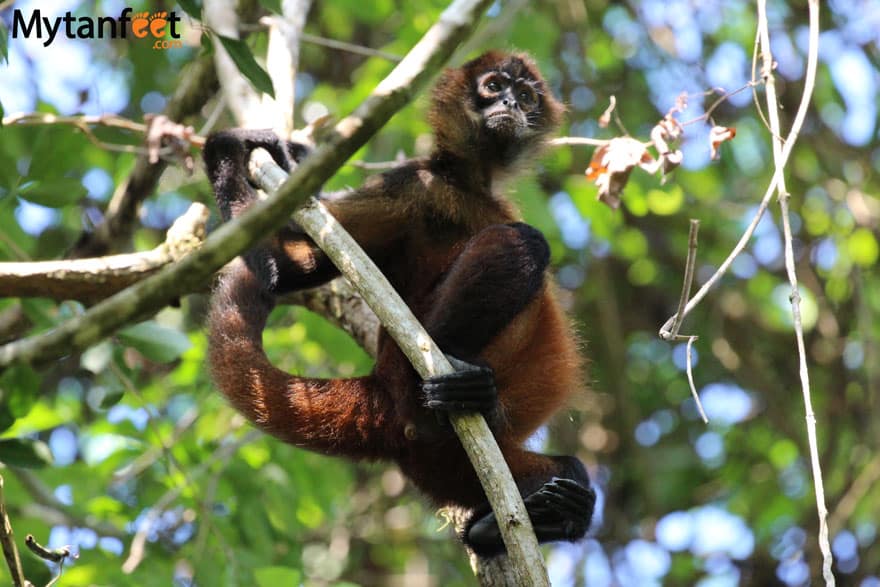 Spider monkeys are commonly seen in Corcovado National Park and Osa Peninsula. They used to be quite abundant throughout Costa Rica but not so much anymore sadly due to deforestation and hunting. So now they live in more remote places that support their large troop size and diet as they eat mostly fruit.
They have also been seen in Rincon de la Vieja National Park, Tortuguero, Sarapiqui and Monteverde but are less common.
They're the most active of all four Costa Rican monkey species since they have the prehensile tail which allows them to move swiftly through the treetops. Sometimes if a spider monkey doesn't have other members to create a troop, it'll join a troop of White Face monkeys. There have been sightings of a White Face monkey troop of 20 members and 1 Spider Monkey.
Best Place to See Monkeys in Costa Rica
The Osa Peninsula is the best place to see monkeys in Costa Rica and Corcovado National Park is the only park in Costa Rica where you can see all 4 monkeys!
Plan your trip to the Osa Peninsula with this guide!
Want to see other wildlife in Costa Rica? Check these posts out!
Reptiles & Amphibians in Costa Rica