Costa Rica is a popular country in Latin America for digital nomads. Though it's still not as cheap as Thailand or Mexico, iCosta Rica is close to the US and Canada, has great weather and tons of nature.
Before settling down into the pura vida lifestyle, there are many things you need to know and here is our guide to being a digital nomad in Costa Rica.
Note: All prices are in USD.
Popular Towns for Digital Nomads
If you're going to be a digital nomad in Costa Rica, you'll want to thoroughly research where in the country you want to live. Depending on your style of living, standards and needs, you'll be able to narrow down the best place for you. Here are the popular towns for digital nomads in Costa Rica.
Most digital nomads in Costa Rica stay for 3 months to 1 year. Or they will come yearly for 2-3 months to escape the winters up north as Costa Rica's summer time is Canada and USA's winter time (Summer in Costa Rica or dry season is December – April).
This funky little town in the Caribbean is popular with digital nomads who like the laid back beach life. It's also great for those who like wildlife as this area is teeming with sloths, toucans, monkeys and all sorts of birds. In Puerto Viejo, you won't find any high rise buildings but you will find all the basic services such as banks, pharmacies, laundry, etc.
Pros: Small expat community so easy to make friends, a party town so always something going on, beautiful beaches, wildlife, easy to get around without a car. Able to find cheap places to rent ($300 USD for more rustic cabina up to $900 USD for a house).
Cons: Far from the San Jose International airport, closest local airport is 1 hour away, known for having a higher crime rate, not as many luxury or upscale places. Fast internet is not everywhere. Rainier and more humid.
Jaco in the Central Pacific
A popular surfing town in the Central Pacific, Jaco attracts digital nomads who want to be close to San Jose, don't have a limited budget and don't mind crowds. For those who like luxury or having the same conveniences as North America, Jaco is the place to be. Read what it's like to live in Jaco.
Pros: Many luxury and upscale housing options, only 1 hour from San Jose, lively nightlife, great variety of fine dining, easy to get around without a car, wildlife, great surfing, 4g common
Cons: Jaco is a party town so more prostitutes, crime and drugs, expensive rent, gets super crowded on weekends, not a very pretty beach but good for surfing. Able to get good internet.
Playas del Coco in Guanacaste
A small fishing village, Playas del Coco is now one of the most popular beach towns in Costa Rica. This town is also ideal for someone who has a family as Coco is very family friendly.
Pros: Easy to meet other foreigners, easy to get around without a car, wide variety of housing options and budgets, only 25 minutes from Liberia International Airport, one of the sunniest places in Costa Rica
Cons: Food is expensive, limited restaurant options, mostly retirees and snowbirds, pretty quiet, lack of water
For digital nomads who want to be around other young digital nomads or expats, Tamarindo is an excellent option. Tamarindo attracts a younger crowd than Coco due to the incredible surfing in the area and better options for backpackers.
Pros: Wide variety of restaurants, excellent surfing, huge population of foreigners, good nightlife, has its own local airport, gorgeous sunsets
Cons: slow Internet in town, expensive rent, more foreigners so not a lot of local culture in town, touristy, theft and house robberies more common, not easy to get around by bus. It is easy to just stick to English speakers so if you want to learn Spanish, it can be hard since there are more foreigners in town than locals (hence the nickname Tama-gringo).
Though most people prefer living at the beach if they're going to be a digital nomad in Costa Rica, some people like the city and want all the conveniences of city life. There are several neighborhoods in San Jose that are great for foreigners like Escazu, Barrio Esclanate and La Sabana.
Pros: San Jose international airport, wide variety of housing options, access to all the services, easy to get around by bus, excellent weather, lots of malls and movie theaters, easy to experience local culture, excellent variety of food, more fast Internet options
Cons: Lots of traffic, downtown San Jose is not the safest place, traffic, super crowded, roads and sidewalks are not in good condition and did I mention the traffic? San Jose is also not a very beautiful city so don't expect to have sweeping panoramic city views like Hong Kong or Bangkok.
Dominical/Uvita in the South Pacific
This part of Costa Ballena is for people who want a more nature, less touristy experience. Most of them live up in the mountains so it's very quiet and peaceful and they can get a great view of the ocean. You can read our Dominical and Uvita guides here.
Pros: Not a super popular area for digital nomads/expats so quieter than Guanacaste towns, close to lots of natural landmarks, stays green most of the year since it's really humid, excellent hiking, lots of wildlife, good surfing in Dominical
Cons: 4g is not common, hard to get around without a car, 4×4 is required since most houses are up in the mountains, far from the San Jose Interpolate airport, closest local airport is Quepos or San Isidro de Perez Zeledon. Not a huge variety of housing options, also can be harder to meet people since there aren't as many digital nomads/expats.
Santa Teresa
Santa Teresa, the laid back remote surfing beach town in the Nicoya Peninsula has gotten more popular with digital nomads the past few years. This area is great for anyone looking for a more "rural" beach experience, wants to be close to surfing beaches, enjoys yoga and wellness and doesn't mind being very far from city life.
Pros: Excellent weather, tons of foreigners including young digital nomads and entrepreneurs, great surfing, beautiful beaches and sunsets, lots of food options, many hostels and rentals, very big spread out beach community so it doesn't feel like as crowded as Tamarindo or Samara
Cons: Super dry, dusty and hot. Lots of foreigners, not much local culture. Only one ATM in town and Santa Teresa is a cash community. Far from the international airports, major hospitals and other places of interest. Can be hard to get around without a car so most people rent long term an ATV.
Manuel Antonio
I know more people who do work exchanges or volunteer in Manuel Antonio than live there as digital nomads. Since Manuel Antonio is very touristic, there are many opportunities for foreigners to do some sort of work exchange. Many of them work in a hostel in exchange for free rent or volunteer. About 3 hours from San Jose International Airport.
Samara
For those who love the beach, yoga and surf. Though the popularity of Samara is growing a lot, it is still a fairly mellow, laid back beach town attracting many yogis and surfers. The town has many vegan/vegetarian and organic options. It's 2 hours from Liberia International Airport.
Monthly Expenses
Since the goal of a digital nomad is to make enough income to sustain their travel lifestyle, they want to keep their monthly expenses as low as possible. However, this is one of the reasons why most people don't stay in Costa Rica very long. Unfortunately the cost of living in Costa Rica is not as super cheap as one may think. It's nothing like Chiang Mai or Canggu.
Here is an infographic of the breakdown of an average monthly expense for a digital nomad. Remember, this greatly depends on where you live and your standard of living.
There are other expenses I didn't factor in like clothes, travel, books and others. This is an average for the basics. I also didn't add in electricity since this varies depending on where you live. If you live on the coasts, you'll be using AC a lot. You can spend up to $300 USD a month on electricity for a small 70 square meter condo running 1 AC all day.
Internet
If you noticed one common con in the towns listed above, it's the Internet. Internet is getting better in Costa Rica though! It isn't quite as expensive as it used to be a few years ago.
It is more common to find high speed internet and fiber optic in Costa Rica now.
What to Know About Internet in Costa Rica if You are Renting
If you rent an apartment, you will likely have to put Internet in yourself. Or if internet is included, it is the bare minimum and the slowest possible speed! Something else to know is that which provider you use depends on your location. Not all providers will be present in an area.
For example, when we used to live in Playas del Coco, we used Tigo (which is awful and so slow) as it was the ONLY available provider in our condo complex, even though the houses down the street had Kolbi!
In Tamarindo, we used CableTica at our first apartment because Kolbi didn't reach us. That worked fine actually even though we only had 10 mbps speed but it was consistent. Then after a few years, we moved to a neighborhood across the street from our first apartment and put in Kolbi fiber optic as it just arrived to the area.
One other thing to take note of is that in rainy season, it is quite common for electricity to go out for the rains. So if you need to be connected as much as possible, we recommend to get a battery back up for your modem and router.
So when you are trying to find a place to rent, make sure to ask about the Internet!
Costa Rica Internet Cost and Providers
There are several internet providers in Costa Rica. Kolbi, which is the main telecommunications company is a government organization. Tigo, Cable Tica and Claro are other Internet providers.
Public Wi-Fi and Co-Working Spaces
When it comes to public Wi-Fi and co-working spaces, it's grown a lot. WeWork is now in San Jose and you'll see a few co-working spaces here and there. There are more co-working spaces in the popular beach towns like Tamarindo and Santa Teresa.
Cafe culture is nearly non existent in Costa Rica. Many restaurants have their own Wi-FI but refuse to share the password as they don't want customers to linger. They want people in and out so it's rare to see people working on their laptops in public places.
We have stayed in a few condo towers in San Jose that have dedicated co-working and meeting rooms which was nice. Selina is actually a hostel more than digital nomads so that's a good place to start looking for where to stay that offers good internet and coworking spaces.
Sim Cards
Sim cards are super easy to get in Costa Rica. A pre-paid sim card is the way to go for digital nomads since you can buy a chip for as cheap as $2 then you can load credit as you go. Most companies have data + calling plans.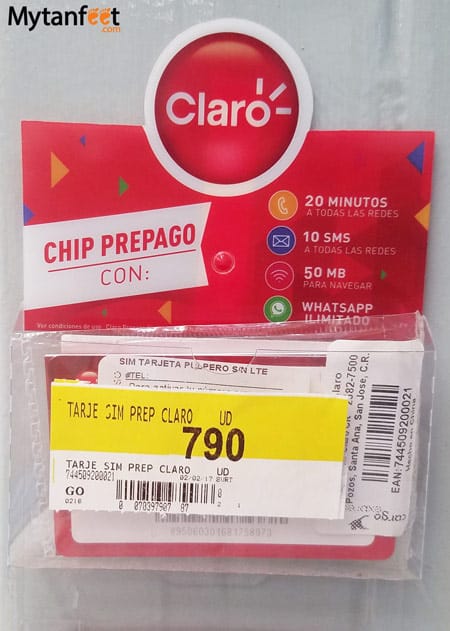 Unfortunately, don't expect lightning fast data speed on your phone. 4g is in Costa Rica but coverage is not everywhere, even with Kolbi the government telecommunications company.
Also make sure to ask your renter which provider you should get for a prepaid SIM card. For example, in Golfito, only Claro worked for us, not even Kolbi or Movistar. In Bajos del Toro, only Kolbi worked. When we lived in Playas del Coco, I switched from Movistar to Kolbi because I had absolutely no service in our apartment with Movistar.
Housing
This is what will take a huge chunk of your monthly budget: housing. Most towns have a variety of housing options but you need to keep 3 super important things in mind is how you are going to get around, when you plan to stay and how long you are going to stay.
You are most likely not going to buy a car during your time in Costa Rica so it's best to live in town so you're within walking distance to everything. And like they say, what's the most important factor in real estate? Location, location, location.
Our Experience in Tamarindo area (2016-2019)
For example, during this period of time we lived about 10 kilometers (6.21 miles) away from Tamarindo. Our apartment was not super big with 1 bedroom/1 bathroom and 1 bedroom we converted into an office/storage. We didn't have a pool, laundry, yard, furniture, a guard or even a working oven. No shelves, closet or cabinets so we built our own. It came with only 1 very old, almost broken down air conditioning unit. We bought all our furniture including a stove, sink, closet, bed, sofa, refrigerator, etc. Since we worked at home with lots of computers, we bought our own air conditioning unit for the office.
It was a very "Tico" place to live, which means nothing fancy. It was also very old with major issues as it had absolutely no maintenance. For this, we paid $375 USD a month plus utilities. We found this place by driving around Tamarindo and Villarreal and calling all the phone numbers on "se alquila" signs.
If you're looking at Tamarindo downtown, apartments and houses can run from $600-2000 USD a month easily. The increase in price is due to the location and time of year. For example, one of our friends lived in a small studio in Tamarindo for $600 USD a month plus utilities for a 6 month contract. Another friend lived in a 1 bedroom apartment for $800 a month plus utilities.
If you plan to stay short term during the high tourism months starting December – April, prepare to pay more. This is the busiest and most expensive time to visit and stay in Costa Rica. Owners in touristic areas prefer to rent short term stays to tourists because they can make more money. When we looked for a place in Tamarindo starting in January, I couldn't find anything for less than $1000 USD a month and this was for a small studio with no parking. If you start looking around May, June, September and October for a long term rent, you will get a much better price.
Our Experience in Jaco (2015)
When we lived in Jaco, we lived in a gated condo complex. It was at the north end of town in a 2 bedroom/2 bathroom apartment. Our rent was $725 USD plus utilities (we paid 6 months in advance so we got a discount, original price is $850). Our friend who lived on the beach paid $2500 USD a month for his 3 bedroom, 3 bathroom, ocean view, very spacious condo.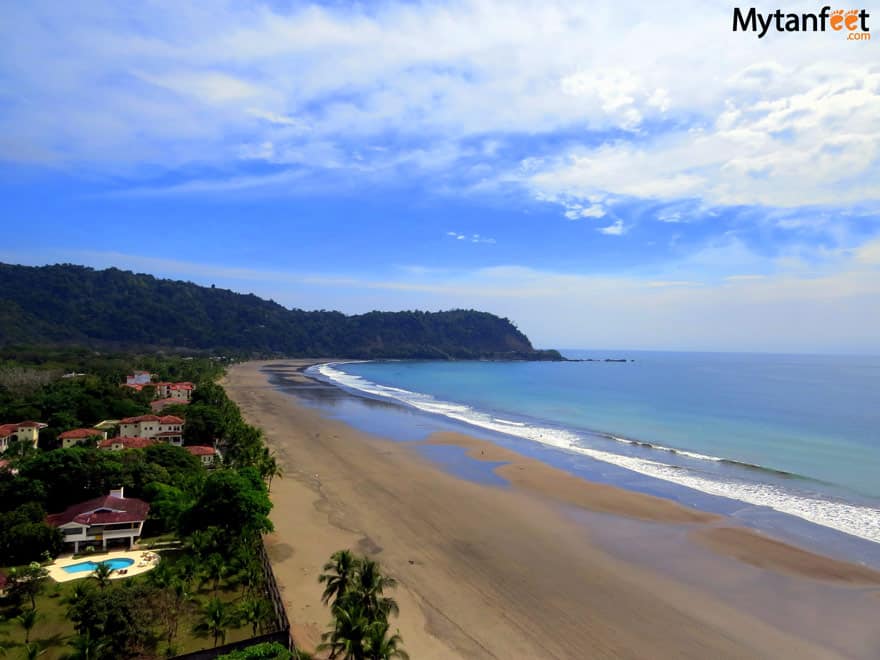 We found this condo through a friend who also lived there.
How Much Will You Spend?
How long you're staying will also greatly affect how much you spend on housing. A digital nomad staying 1 week will have a very different experience compared to someone staying 3 or 6 months.
Short term stay (less than 3 weeks)
Your options are hostels, couch surf or apartment rentals. If you plan ahead, you may even be able to find a house sit that works for you. However, this takes a lot more work since you need to constantly be looking. Competition is high for house sitting in Costa Rica.
Hostels in Costa Rica generally are clean and have a shared kitchen with a communal area. However, many of the communal areas aren't conducive for working as they don't have a designated working space and you can get distracted easily. Wi-Fi is usually available although not the fastest. Some hostels have their own restaurant which you may be able to use as a working space since you are a guest. Selina Hostel is an excellent option with a co-working space.
Something important to take note of is that air conditioned businesses are not common. Most of the restaurants in Costa Rica are open air which can be a problem for your equipment. We run heavy programs on our computers and have lost a few laptops due to the intense heat, saltwater and humidity here. Take note of this particularly if you plan to stay close to the beach because the sand and saltwater is horrible for equipment.
Mid term stay (1-5 months) and long term stay (6+ months)
Airbnb and local listings are the way to go. You can also go to a real estate office but generally those can cost more because of the agents commission and they normally list the fancy places. In touristic areas, they usually only have the very expensive luxury houses or condos.
If you find a place you like on Airbnb that you want to rent for long term, contact the owner directly and see if they are willing to negotiate a long term contract.
Facebook is also your best friend. Each touristic destination has their own real estate and rentals group like Tamarindo Rentals, Puerto Viejo Rentals, etc. There you can post your request for an apartment and find available listings. I highly recommend putting notifications on them as rentals go fast, especially in high season.
Transportation
Costa Rica's public transportation system can take you all around the country from San Jose or Liberia. However, routes are long. The upside is that it's cheap!
As a digital nomad, you're probably only planning on staying in one area. Then taking day trips or traveling at the end of your stay. Most likely you will find a place where you can walk to everything during your stay. Then you can think about getting a bike or renting a vehicle for some days.
As for ride shares, Uber is in many places in Costa Rica such as San Jose, Jaco, Quepos, La Fortuna, Grecia and Liberia but do not rely on it as your sole method of transportation.
Food
Food isn't the cheapest but you can eat cheap in Costa Rica. To eat cheap, your best options are sodas (traditional Costa Rican restaurants) or bakeries. A typical lunch of rice, beans, salad and meat on average is $6 USD at a soda in a non-touristic destination.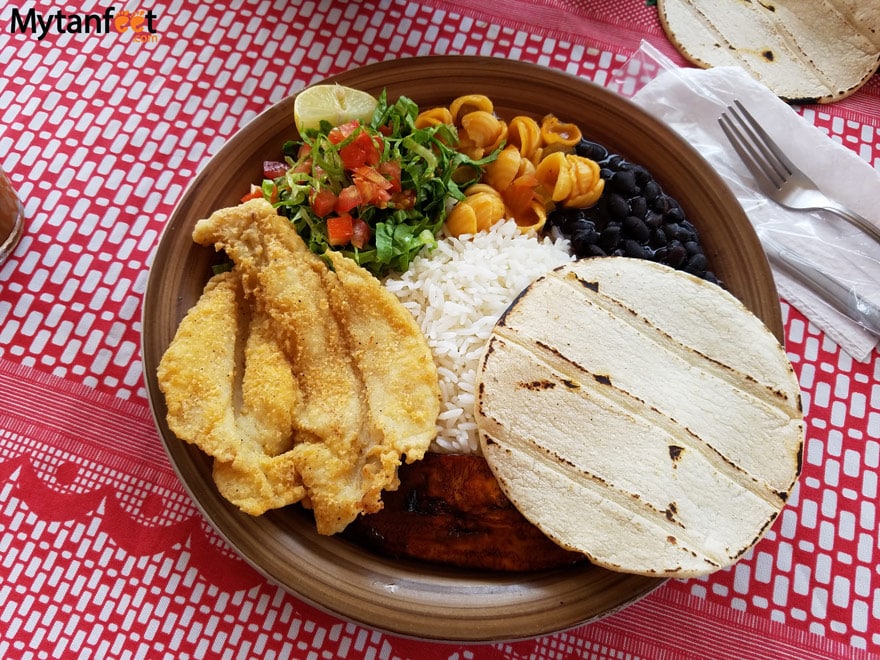 With the huge influx of immigrants the past several years, you can find more variety of food thankfully. Italian, Mexican, Argentinian grill and American are the most common international cuisines. Sadly good Asian food is nearly impossible to find outside of San Jose (and even the ones in San Jose are so-so). Expect to pay $$$ for anything not Costa Rican, especially in touristic places. A personal pizza is easily $15, Argentinain grill $40-50 per person not including drinks, dessert or appetizers.
Groceries
Thankfully, fresh vegetables and fruit are everywhere. Many towns have a feria (farmers market) every weekend where you can get local produce and specialty items. Not only do you help local farmers, but it's usually a bit cheaper.
2 dozen eggs cost around $2, a kilo of tomatoes is $3 and two kilos of onions are $3. Mangoes, pineapples and cantaloupe are very cheap since they are grown here. But not all produce is cheap. Anything they import is expensive such as asparagus, cherries and Hass avocados.
Meat can be expensive in Costa Rica, depending on the cut. I love dark meat chicken which is super cheap in Costa Rica but white meat isn't. Good quality beef can be expensive here.
Entertainment
One of the reasons why digital nomads choose Costa Rica as a temporary home base is the myriad of fun activities to do. Spend your weekends hiking in the national park or chasing waterfalls, end your day with happy hour on the beach. Surf in the morning, party at night. The options are endless!
Bars
In touristic towns, particularly the beach areas, bars are everywhere so take advantage of the happy hour. Some bars have happy hour from 11 AM -7 PM! Local beer (Pilsen, Imperial, Bavaria and Rock Ice) is around $2 and mixed drinks start around $5. Craft beer also starts around $5.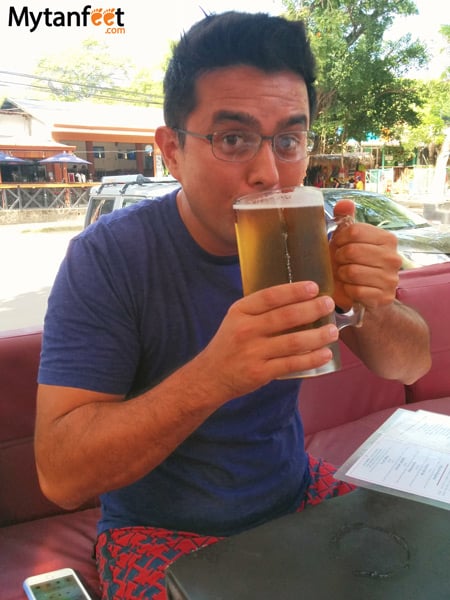 Craft beer is growing a lot in Costa Rica so if you love beer, you'll have lots of options as pretty much all restaurants and bars in touristic destinations now offer craft beer.
Beach
Many digital nomads prefer to live by the beach because there are so many things to do and plus, who doesn't want to experience the beach life in Costa Rica? Depending on which beach you're at, you can fish, surf, SUP, swim or snorkel.
Tamarindo, Jaco and Dominical are surfing beaches whereas Coco is a fishing village. Puerto Viejo has beautiful beaches nearby with good snorkeling and surfing at Cocles. Samara is great for surfing, kayaking and swimming.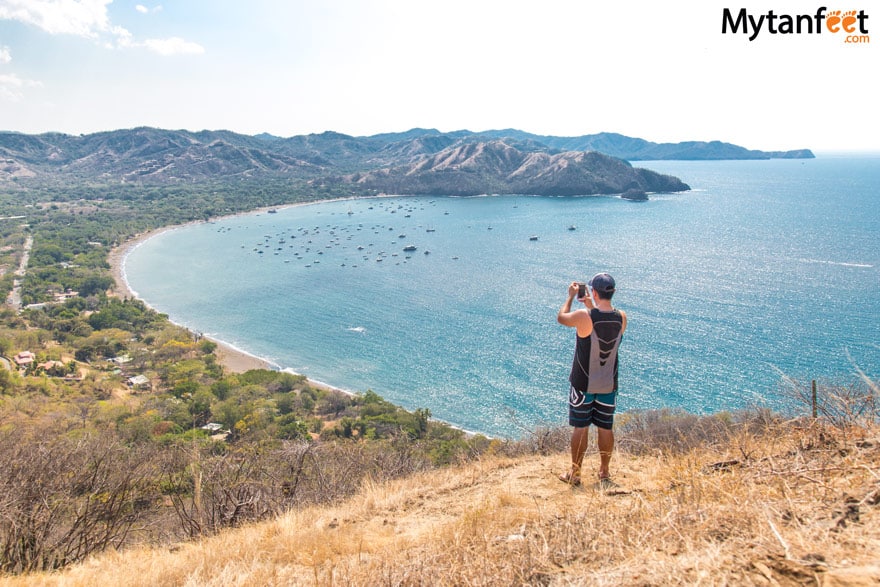 If you're in the Central Valley cities, you can grab a bus or Uber to popular spots like Poas Volcano National Park. From San Jose, you can bus to every main town so you can easily go on weekend getaways to the Caribbean, Arenal, Guanacaste or Manuel Antonio.
Tours
Since Costa Rica is a touristic country, there are a ton of things to do. Go ziplining, horseback riding, canyoning, white water rafting, hiking, surfing, cave exploring, sunset sailing and more.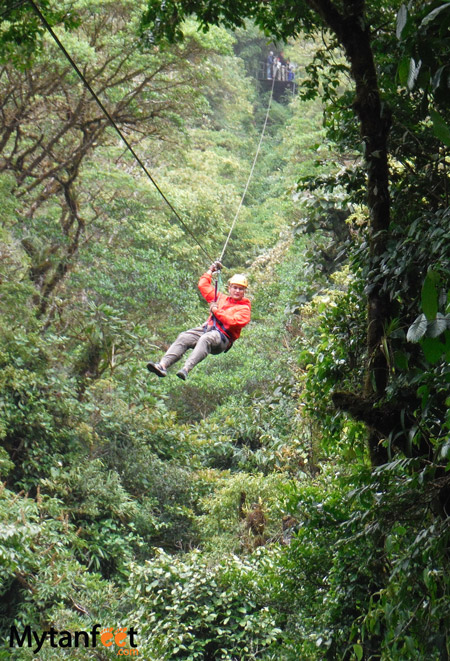 Tours can be expensive but I highly suggest setting aside a part of your budget for them because they are crazy fun. Go ziplining in the cloud forest, horseback ride on the beach, SUP to a white sand beach, sail back under the sunset – you can't do any of those things if you don't go on a tour.
Tours prices depend on what the activity is and if you need transportation. A ziplining tour costs around $75, a sunset sailing tour is $85 and white water rafting is $100.
For exercise, gyms in Costa Rica are around $50-70 a month for a membership and classes are $5-10 per session. Lots of yoga classes, crossfit, and those kinds of classes. If you surf, you can look for a used board which can run around $200-400 depending on the board and condition.
Networking
The best way to network in Costa Rica is to join the Facebook groups like Expats in Costa Rica or finding the Facebook page of the town you're living in and seeing what's going on that week. Networking works largely through the events put on for tourists which makes it easy to meet people.
Costa Ricans are very outgoing and friendly people so even if you know a little bit of Spanish, it's not too hard to meet locals. And when you meet one local, they'll introduce you to everyone they know. We highly recommend learning a bit of Spanish before coming to Costa Rica so you can get to experience the local culture more.
If you stay in touristic places like Samara, Tamarindo or Santa Teresa, it's easy to just stick to English speakers which honestly won't let you experience much of Costa Rican culture. Try to visit the surrounding small towns and villages to experience more culture and local life. Also, learning to surf is a great way to meet locals!
Visa
USA and Canada passport holders can stay in Costa Rica for up to 90 days on a tourist visa. Digital nomads in Costa Rica do a visa run every 3 months and most people pop over to Nicaragua or Panama for a short visit. You can do a one day visa run.
What to Bring and Other Important Things
It is very important to bring extra electronic equipment because it is hard to find in Costa Rica and expensive. Here are our recommendations.
Bring extra battery packs. It is common in rainy season for the power to go out. A surge protector is not a bad idea either because of this reason.
If you have an iPhone, bring extra charging cables. Bring extra USB-C cords if you use them.
Voltage is 110 in Costa Rica so bring several convertors/adapters if you need to as they're not super common.
Extra SD, CF and memory cards. Bring two CF card readers as they're so hard to find here. External hard drives. Memory card readers.
Take extra care in your electronics and don't lose them!
Health
This is something incredibly important many digital nomads gloss over. As much as we'd like to think nothing will happen and that we won't ever need it, it's important to make sure you are covered for your health in case of accidents, death, sickness, hospitalization, etc. And now, pandemics.
In Costa Rica, their health care system is a universal health care system. If you go to any public hospital or clinic, the doctors have to see you whether you have insurance or not and whether you are a citizen/resident or not. There are also private clinics available.
Depending on your required treatment and which type of facility you visited, you will have to pay but the cost of healthcare in Costa Rica is very low compared to the USA. You can read more about the Costa Rica medical system here.
Overall
Costa Rica may not have an impressive city skyline or a cheap cost of living compared to other countries, but we have breathtaking waterfalls, volcanoes, beaches, rivers, mountains and jungles. Instead of working inside a 50 story skyscraper, you get to work in the jungle surrounded by toucans, monkeys and sloths.Live on the coasts and your only traffic is the herd of cows in the middle of the street.
Wake up every morning to monkeys howling outside your window, catch waves in the afternoon and end every day watching the sunset on the beach. Get your fill of Vitamin D with nearly year round sunny weather. Hike through jungles to hidden waterfalls, trek through the cloud forest for stunning tree top views.
The beautiful nature, peacefulness and tranquility of Costa Rica is what attracts people the most to this country.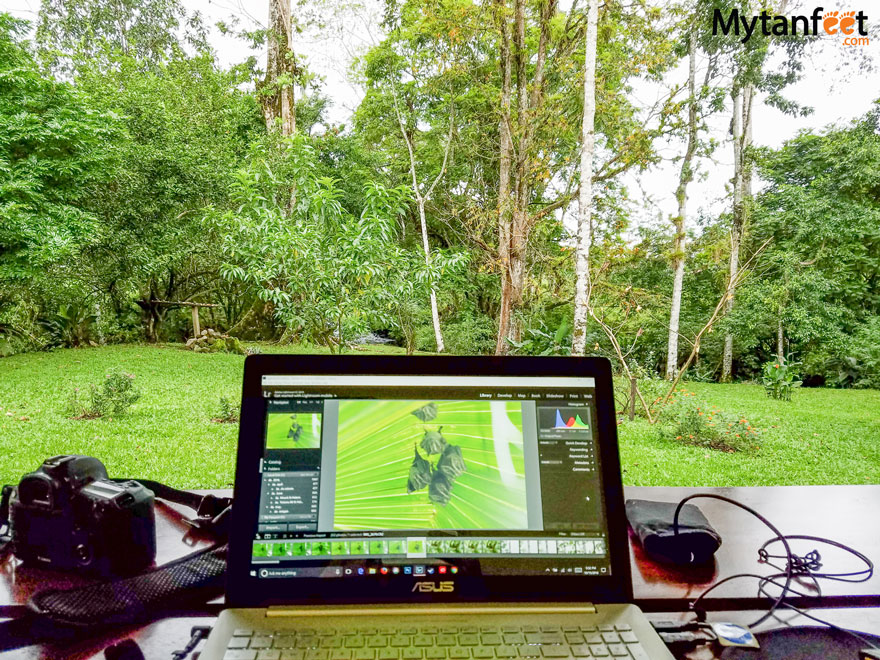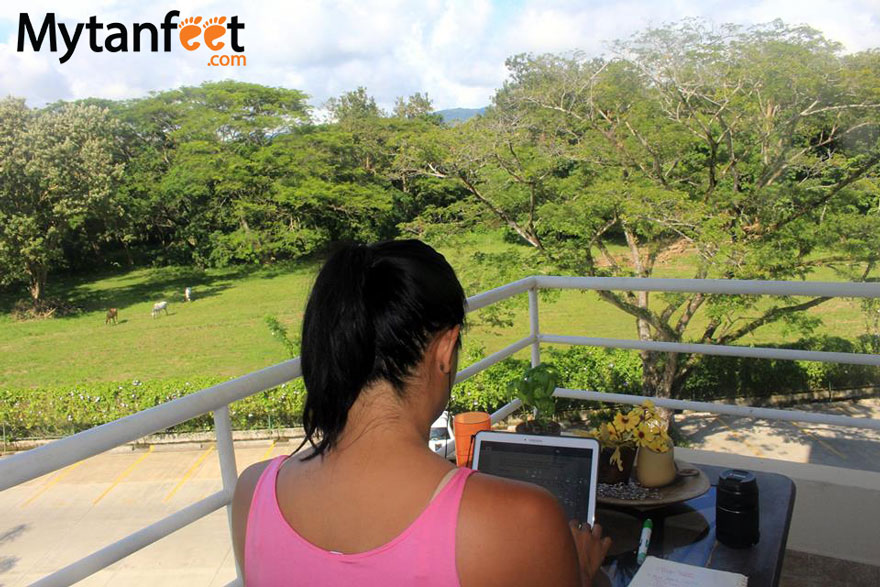 Thinking about moving to Costa Rica permanently? Check out my living in Costa Rica stories!
I hope this guide helps you gain more insight into the life of a digital nomad in Costa Rica and gives you a better idea of how much you'll spend. It is definitely a country for those who don't mind a slower pace of life, aren't on a crazy tight budget and want to escape city life.
I absolutely love that we can surf/hike in the morning, work all day and then relax in our hammock at night. Or watch the sunset from our favorite hill. Or go to one of the dozens of beautiful beaches nearby on our day off!