If there's any animal that visitors want to see in Costa Rica, it's the sloth. The sloths in Costa Rica have become the symbol of the country due to its oh-so-adorable face, snuggly body and very pura vida lifestyle.
If it's your life goal to see one of these precious perezosos during your trip to Costa Rica, it's best to do a bit of research about them first. Sloths are common in Costa Rica but not so common that you'll see them everywhere all the time. Since they camouflage themselves so well, you could walk past a handful of them and never notice!
So here I answer the question that many of you ask: where to see sloths in Costa Rica?
Types of Sloths in Costa Rica
There are two species of sloths in Costa Rica: the Brown-throated sloth, a species of 3 toed sloth and the Hoffman's two-toed sloth. Both of these can be seen in Costa Rica. The technically correct name to call them are 3-fingered and 2-fingered as both sloths have 3 toes in their hind feet.
Facts About Sloths
Mammals that belong to two families: Megalonychidae (two-fingered sloth) and Bradypodidae (three-fingered sloth). There are 6 species within these two families.
They are related to anteaters, which have a similar set of claws.
Arboreal mammals, (tree-dwelling) in Central and South America.
Leaves are their main food source but provide little energy, so they lower metabolic rates and body temperature to balance it out. Hence the sloooow movements.
They cannot survive outside the tropical rain forests of C. and S. America.
They defecate and urinate once a week when they climb to the ground.
Life span of around 20-30 years.
They are competent swimmers.
Two Fingered Sloth
This two-fingered sloth is largely nocturnal, so it's harder to see them than the 3-fingered sloth. If you do see them, they will most likely be sound asleep.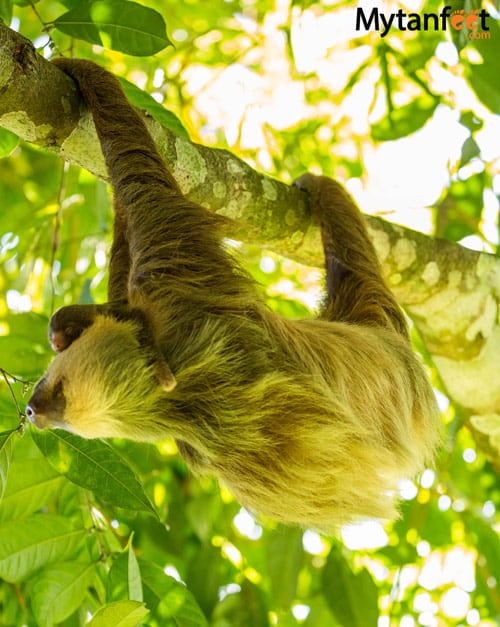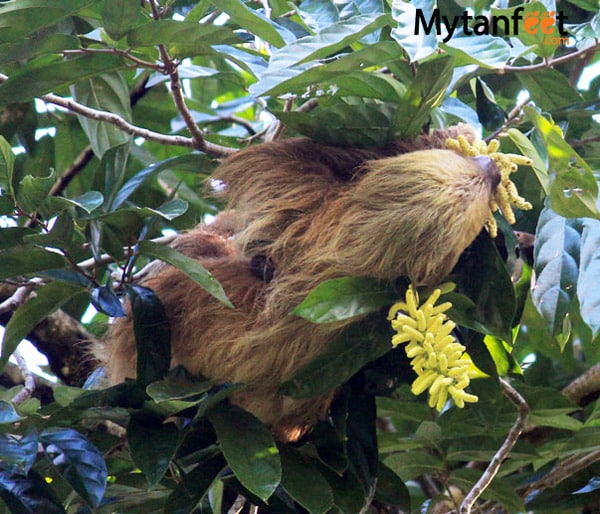 Their two front feet have two toes, each with a set of long curved claws. However, their hind feet have three toes. They differ from the 3-fingered sloth by their longer snout, separate front toes, larger size and no hair on the soles of the feet.
Where to See Them
Two-toed fingered live in dry forests, humid forests, riparian forests and old secondary forests. In Costa Rica, they live in forests up to 3000 meters in elevation.
Places they've been commonly spotted:
Manuel Antonio
Osa Peninsula/Corcovado National Park
Nuevo Arenal, La Fortuna, Cano Negro (Northern Plains)
Limon, Puerto Viejo, Cahuita
Dominical/Uvita/Ojochal
Monteverde
Bijagua
Vara Blanca
Three-fingered Sloths
The Brown-throated sloth is the most common of the 3-fingered sloth species. All of their feet have 3 fingers with long claws. They have a round head and a short nose.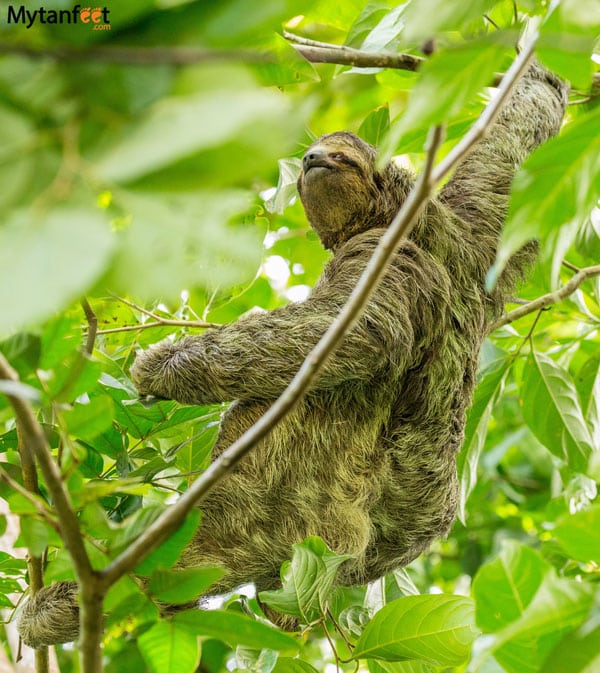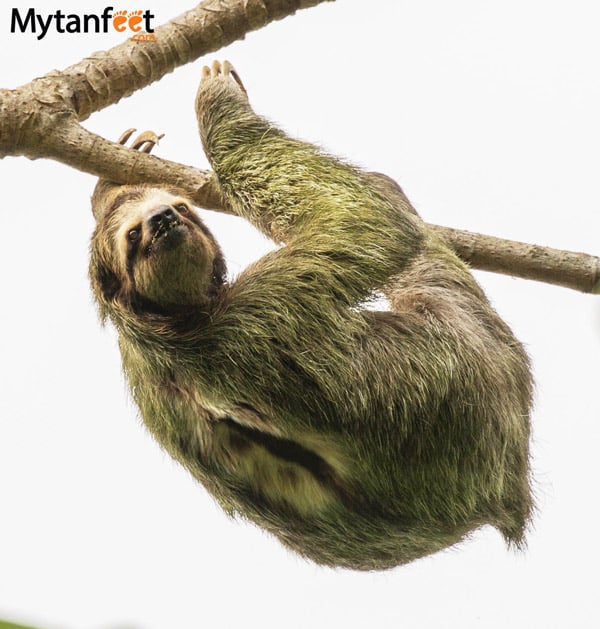 They sleep around 15 hours and are active both day and night.
Where to See Them
They are found in pretty much the same areas as the two-fingered sloth, but they are easier to spot. When the two sloths overlap in habitat, the Brown-throated tends to be of smaller size and more numerous, as they are more active than the two-fingered sloths.
3-fingered sloth are not found in the Monteverde or high elevation areas. They don't have as much fur as the 2-fingered sloth and can't survive in colder climates.
Wildlife Refuges and Sloth Sanctuaries
If you absolutely have to see a sloth, then the best option is to visit a wildlife refuge or sanctuary. Please note that you cannot pet, touch or hold sloths in Costa Rica. No "sanctuary" should allow you to do this as it is extremely bad for the sloth's health since they get very stressed out and humans can transmit bacteria and other harmful things.
In these centers, you will see only 2-fingered sloths since they are easier to rehabilitate and keep in captivity due to their diet. 2 fingered sloths have a more variable diet (leaves, fruits, insects) whereas 3-fingered sloths eat strictly leaves.
Rescue Centers
These centers work to rehabilitate and release the sloths back into the wild.
Jaguar Rescue Center: This rescue center helps and rehabilitates all sorts of animals, including sloths. Located in the Caribbean, part of the La Ceiba wildlife refuge by Puerto Viejo de Talamanca.
Toucan Rescue Ranch: This rescue ranch is in Heredia and rescues and rehabilitates wildlife. However, many of their animals are permanent residents as they were too injured to be released or were unable to survive in the wild on their own.
Alturas Wildlife Sanctuary: This center in Dominical rescues, heals and rehabilitates as much wildlife as they can back into the wild. They take care of any and all animals that are injured. You can take a guided tour to learn more.
Sanctuaries
These sloths are permanent residents as they are unable to survive in the wild (kept as pets, handicaps, disabilities, born in captivity, etc.)
Springs Resort & Spa: This hotel in Arenal has a small animal sanctuary with 2-fingered sloths. Newly renovated.
La Paz Waterfall Gardens: They have a couple 2-fingered sloths in the waterfall park in Vara Blanca. (Get 7% off the gardens entrance fee)
Diamante Adventure Park: This adventure park by the RIU Guanacaste (Gulf of Papagayo) has a animal sanctuary with two fingered sloths. (Get 10% off the park entrance in the link!)
**Not a rescue center or refugee** The Sloth Institute: Non profit dedicated to conservation and education on sloths. Their main goal is to release sloths back in the wild. Though they aren't open to the public, if you want to learn more about sloths, they are the place to ask. They do a sloth walk on the Tulemar property in Manuel Antonio every day which is only open to Tulemar guests (we saw 10 sloths when we were there!)
How to Guarantee a Sloth Sighting
The best way to see a sloth in the wild is to hire a naturalist guide. They are trained to see sloths, since they are extremely good at camouflaging themselves and they will have binoculars and telescopes to find them.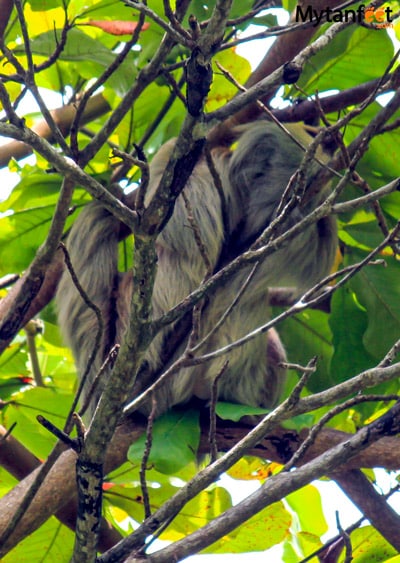 The first time I ever saw a sloth in the wild was thanks to a guide who was nice enough to point out to everyone the two-fingered sloth sleeping high in the trees. Sloth sightings were all thanks to the guide and their sharp eyes!
Best Place to See Sloths in the Wild
Sloths are easier to see in Central and South Pacific and the Caribbean due to the high humidity and lush rainforest all year round.
The best places to see sloths in Costa Rica are Puerto Viejo, Tortuguero, Manuel Antonio, Uvita, Dominical and the Osa Peninsula. You can see them in the treetops on the side of the road, crossing the road or snoozing in palm trees on the beach!
Sloths in Guanacaste
It's harder to see sloths in Guanacaste and the Pacific coast as it is too dry for them. There are no sloths on the beaches or coasts of the Pacific, you will need to go inland to the rainforests to see them. If you're super ducky crazy lucky, you may see a sloth in Rincon de la Vieja or Santa Rosa National Parks but that is extremely rare.
La Fortuna and Bijagua are your best options to see sloths in the wild from Guanacaste. In Bijagua, you can check out Bijagua Ranas, they have many sloths living on their property. Casitas Tenorio also has a couple. In La Fortuna, the best option is the Bogarin Trail, which I'll talk about more below.
Sloths in Arenal

There are a lot of sloths in the La Fortuna and Arenal area but not in the Arenal Volcano National Park. You will need to look in the primary and secondary rainforests in the area. It may seem like there aren't any sloths there but you just need to know where to look.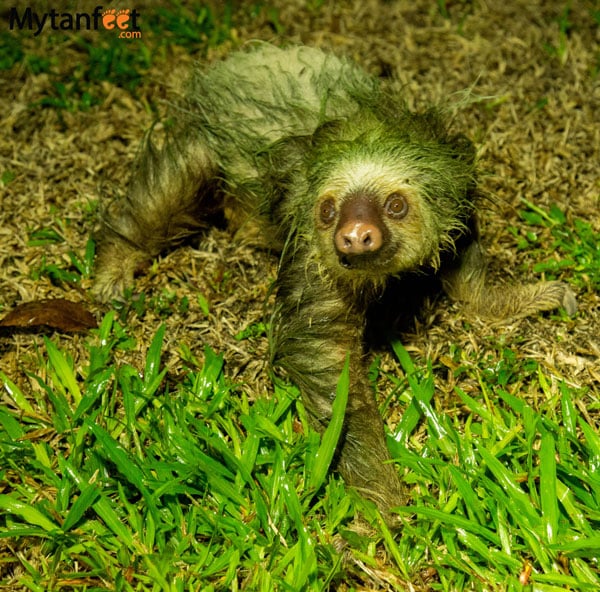 The best place to see sloths in La Fortuna is at the Bogarin Trail right in town. It is a restored secondary forest and there are around 25 sloths on the property. Take a guided walk to see around 5 to 6 sloths in an hour!
Sloths in Monteverde
Only the 2-fingered sloth lives in Monteverde due to the cold climate and since these sloths are mostly nocturnal, it is harder to see sloths in Monteverde for this reason.
You may be able to see one on a Monteverde night walk or in the forests in the area. A lot of people see sloths on the power lines in Monteverde too.
Hotels
Many hotels in Costa Rica have wild sloths on the property. We have seen sloths at the Nayara Hotel in La Fortuna, Hotel Cuna del Angel in Dominical, Hotel Banana Azul in Puerto Viejo, Evergreen and Aninga Lodge in Tortuguero, and Tulemar in Manuel Antonio.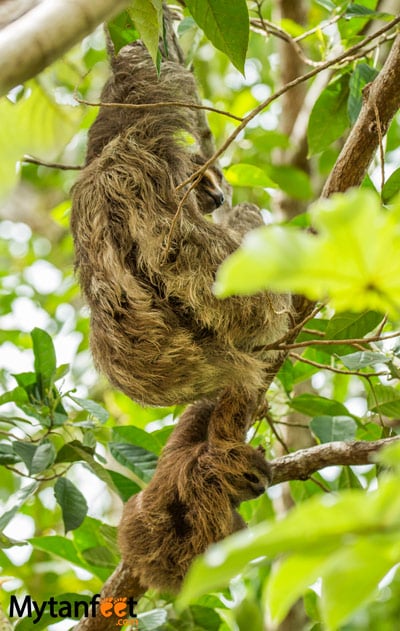 So if you really want to see a sloth in the wild, you can also book a hotel that has sloths on their property! (Read reviews to see what people say).
Tips for Seeing Sloths in Costa Rica
Do not touch them. If you see one, don't touch it as a certain species of moth lives and lays their eggs in the fur of the three-toed sloth. A certain type of red algae also lives in their fur giving them an illusion of moss and they also get stressed out when touched by strangers.
Always look up in the tree tops and through the trees. I've walked under a sloth that was literally 5 feet above my head but didn't notice until someone told me to look up.
Bring a pair of good binoculars or a long zoom lens for an up close look. If you're with a guide, many of them bring telescopes. You can use your cell phone camera to take a picture of it through the telescope
If you see an injured sloth and you have a phone, you can call 911 and ask for the nearest wildlife rescue center. If there is a local nearby, ask them for the closest vet or ask if they can help (some locals may have had previous experiences with sloths especially if they are farmers or naturalist guides).
Take tons of photos when you see one because they are just so darn cute!
And please, do NOT hug sloths (and no "sanctuary" should ever allow you to). As awesome as it sounds, you should never touch a wild sloth or any wild animal. Please do not try to move it so you can get a selfie.
Now you know where to see sloths in Costa Rica and it'll be an amazing moment I promise,  in fact it's one of the 10 essential experiences to have in the country. Happy sloth watching!
Sloth Video
Want more sloth action? Watch this video of sloths we saw in Uvita!
More Costa Rica wildlife posts here!
Guide to seeing Costa Rica wildlife
The creepy crawleys of Costa Rica
There are affiliate links in this post.