Spending Christmas in Costa Rica is a dream vacation for many people but you will need to do a bit more extra planning. If you plan to visit Costa Rica over the winter holidays, here are some very important things to know about visiting Costa Rica during Christmas and New Years.
Know before you go: Costa Rica is a Catholic country so Christmas is very much celebrated here.
Costa Rica is Very Expensive During Christmas and New Years
First and foremost, the Christmas and New Years holidays are the most expensive times to visit Costa Rica. Hotels that normally cost $100 USD a night may cost $200 USD a night over the winter holidays. Car rentals that are normally $50 USD a day may increase to $120 USD a day during Christmastime. If you are visiting Costa Rica during Christmas, you will need to have a bigger budget. Especially if you want to rent a car, stay in a nice hotel or do any tours.
If you're traveling on a very strict budget, then either book super super early or reschedule your trip for when it's not so expensive (find out how to save money traveling in Costa Rica here).
Book Everything At Least 4 Months Out – Do NOT Wait Until Last Minute
Availability goes SUPER fast during Christmas and New Years in Costa Rica. I know some vacation rentals and hotels that book out 6 months, even a year in advance! This is especially true for beach towns and for the nights of the Dec 24th, 25th and 31st. By September, many popular hotels in the main tourist destinations will have already booked their Christmas dates. If you're staying at a resort or luxury vacation rental, stat reserving at least 5-6 months out.
Car rental availability is the same and since these price fluctuate, booking earlier is better. If you wait until the week before your Christmas vacation to rent a car, availabiltiy will be extremely slim pickings. You may find that the only choice you have are the big premium, super expensive cars. Maybe you can find a 4wd or sedan, but it will be super expensive and it may not be with a reputable company. Make sure to read our tips for renting a car in Costa Rica post to help you book with a reputable company and get our Costa Rica car rental discount and extra benefits here.
Then for tours, availability is also slim. Book any tours you know you want to do as soon as possible to guarantee your space. This is especially important for private tours, animal rescue centers that run tours like Jaguar Rescue Center and popular parks such as Sky Adventures, La Paz Waterfall Gardens Nature Park, Diamante Eco Adventure Park, Tabacon Hot Springs Resort and Hacienda Guachipelin. Booking tours? Check out our Costa Rica tours discount here!
The longer you wait, the less choices you will have and the more you will pay.
Check Cancellation Policies as Some Policies are Different for Christmas
Some places have different cancellation policies and booking policies during Christmas and New Years. For example, Tabacon hot spring resort normally has a 100% cancellation penalty fee if cancelled in less than 15 days. During the dates of December 18 – January 8, they have a 100% cancellation penalty fee if cancelled in less than 44 days.
Always ask what the cancellation policy is for Christmas and New Years.
If You Plan to Visit a National Park, Arrive Early
Many national parks in Costa Rica do not have a system to pre-purchase tickets. Only a select few do such as Manuel Antonio, Tortuguero, Chirripo, Irazu, Isla San Lucas, Tapanti and Poas.
Manuel Antonio National Park and Poas Volcano National Park are two of the most popular national parks in Costa Rica and visitors must purchase their park tickets beforehand in order to enter. Make sure you do this as soon as you can because the parks have a maximum capacity and they will sell out for Christmas and New Years.
Then for the rest of the national parks, you can only purchase park tickets at the office. Therefore, if you plan to visit any of the other popular national parks such as Tenorio Volcano (Rio Celeste), Arenal Volcano or Rincon de la Vieja, we recommend to arrive at least 30 minutes – 1 hour before it opens to make sure you get tickets. These parks are especially popular with locals and it's first come first serve.
Costa Rica Christmas Weather is Usually Very Nice
Christmastime normally has really nice weather in Costa Rica. December is the beginning of dry season so the rains will start letting up. By the end of December, usually skies are clear and sunny.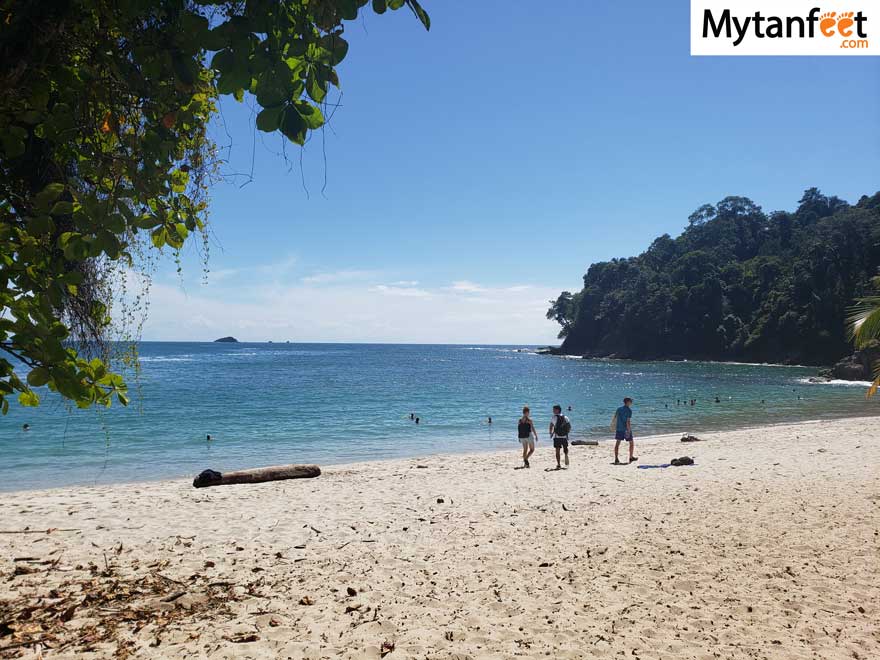 As for temperatures, it's usually around 85 F to low 90s F (29 – 34 C) on the coasts. In the Central Valley, country side and mountains, it's around 75 F (24C). Those areas may still have some on and off rains in December so keep that in mind.
Something else to know about visiting Costa Rica during Christmas is that it is very windy. This is normal, in Costa Rica we call them vientos navideños (Christmas winds). You will need to be careful if you plan to do any ocean activities (surf, sail, etc.) or hike up mountains because it does get extremely windy.
Read more about Costa Rica weather here.
Beach Towns are VERY Crowded
As you can imagine, most tourists want to go to the beach for Christmas in Costa Rica. This also applies to the locals so during Christmastime, city Costa Ricans flock to the coasts. Popular beach towns like Jaco, Tamarindo, Manuel Antonio and Playas del Coco are absolutely packed.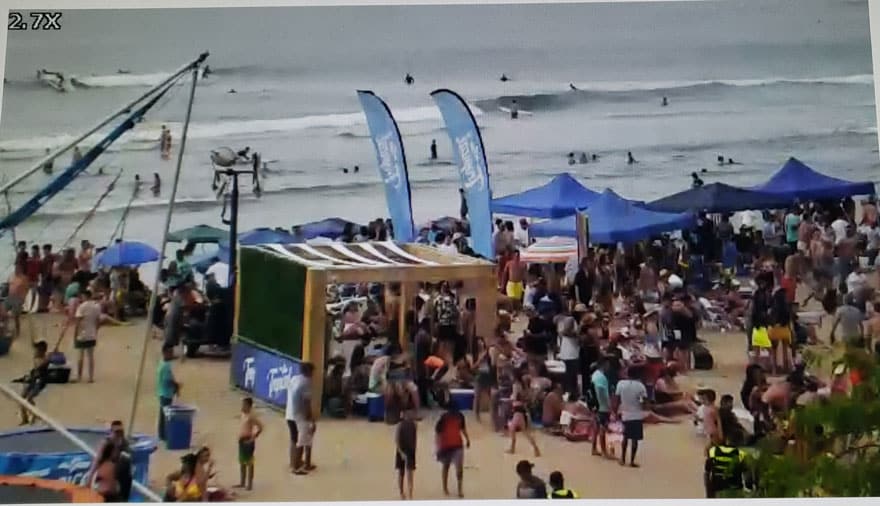 And it is not just December 24, 25 and 31st that are very busy. The Costa Rican school summer vacation starts around mid December and many locals will take the whole month of December off. Likewise, many families from the US, Canada and Europe will spend their entire winter vacation in Costa Rica.
As Costa Rica is a Catholic country, December 24th is usually spent at home or church with family. Christmas day is usually spent outside. December 31st is party day. January 1st is the tending to hangovers and getting ready to go back to work day.
On the other hand, usually the cities are empty because all the city Costa Ricans went to the beach or left for vacation. So if you're interested in visiting San Jose or any of the Central Valley cities, Christmastime and New Years is a good time.
Public Buses Get Packed
If you're taking the public bus in Costa Rica, you need to get there at least 1-2 hours to purchase tickets and save your spot for routes that don't allow you to buy tickets beforehand. This is especially important if you are traveling on a weekend. All the buses will be packed with locals going on vacation, particularly to the coasts.
Some bus routes let you purchase tickets the day before. There is a website called La Terminal that allows you to reserve your ticket beforehand so check if your route is on there.
Plan for Longer Driving Times
If you're landing in San Jose International Airport and heading to the beach towns like Puerto Viejo, Jaco, Manuel Antonio or the Guanacaste coast, plan for much longer driving times. Since all the city Costa Ricans are also on vacation and majority go to the beach (specifically Guanacaste, Jaco, Manuel Antonio and Puerto Viejo), double your driving time if you inconveniently land on a Friday, Saturday or Sunday and are driving during the day.
Use Waze as your GPS and bring plenty of snacks and drinks in the car. Fill up on gas before you leave to make sure you start your journey with a full tank.
Immigration and Customs Will Take a Lot Longer…
…Especially if you are landing on the weekend. Many international flights land at the same time so immigration and customs will take a LONG time. I know people that took 2-3 hours to get through immigration and customs when they landed on the Saturday before Christmas.
Therefore, if you are taking a shared shuttle or local flight or the public bus, make Plan B and C in case you get stuck in immigration and won't make it.
This is one of the advantages of booking a private shuttle service in Costa Rica as the driver will wait for you until you exit the airport even if it takes a long time.
Petty Theft and Pick Pocketing is More Common During Christmas in Costa Rica
If you're going to be out partying, please do take extra care of your valuables and belongings. Pick pocketing and petty theft increases a lot during this time of year, as thieves take advantage of inebriated and unaware tourists. Do not leave ANYTHING in your rental car, always roll up windows and lock your doors, keep your belongings close to you where you can see them and never let your credit card out of sight when paying.
Read more tips on staying safe in Costa Rica.
Stock Up on Groceries if Staying at a Vacation Rental
As soon as you can, head to the supermarket and stock up on groceries. We live near Tamarindo and we always stock up on groceries right before the influx of tourists. There have been times when there almost weren't any toilet paper, paper napkins or some local produce because there were SO many people.
The supermarket is always crazy busy so try to stock up to avoid a big shopping trip during those days. Otherwise, try to go early in the morning right when the market opens or right when it's closing. Read more about grocery shopping in Costa Rica here.
Please Don't Forget to Pack Your Patience
In the end, if you're visiting Costa Rica for Christmas and New Years, please pack your patience. You may need to wait in a very long immigration and custom line, it may take longer to pick up your rental car, there may be a long line to check in to your hotel, you might need to wait awhile to get gas. That is the reality of visiting Costa Rica for the winter holidays as it is our busiest time of year. You will still have an amazing time, just make sure to have a bit more patience and understanding.