For those who prefer less crowds, more green landscapes and empty beaches, head down to the South Pacific for a quieter and more natural experience. Two popular towns in the South Pacific are Uvita and Dominical.
Though it may not look like much on the surface as you're driving down the Costanera Sur, there's tons to explore and do in this area. Waterfalls, rivers and beaches ensconced in the surrounding jungles, humpback whales and dolphins frolicking in the ocean and oh so much more.
If you're planning on staying a few days in the area, here are our top things to do in Uvita and Dominical. Since these two towns are so close to each other, you can spend a few days exploring the entire area and you can stay in either place for your home base. You can also do these activities if you are staying in Ojochal.
1. See the whale's tail at Marino Ballena National Park/whale watching
Marino Ballena National Park is a huge national park in Uvita that has one very interesting characteristic: there is an area where two beaches meet and during low tide, the rocks and sand create a formation in the shape of a whale's tail. It's even more interesting because this area is the best spot for humpback whale watching in Costa Rica and is the longest in the world!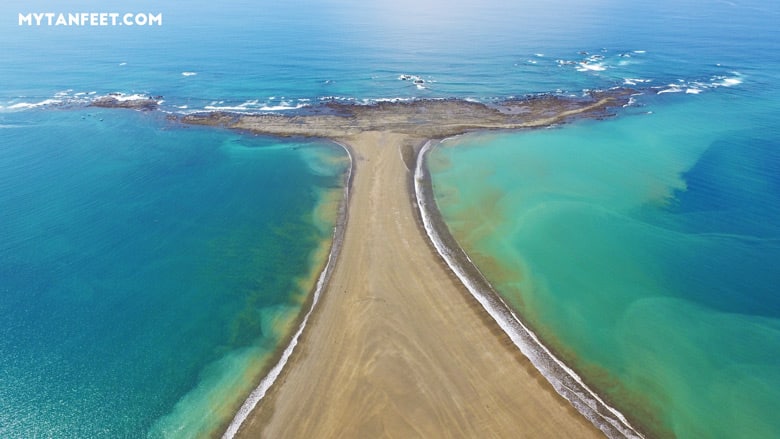 Make sure you go in low tide to see the whale's tail and there are plenty more activities in the national park. Walk along the dark sand to admire the jungle meets beach landscape, swim or simply relax.
See Marino Ballena National Park and the whale's tail from the air!
There are many whale and dolphin watching tours that depart from Marino Ballena National Park. Don't miss out on the chance to see humpback whales in the wild!
2. Jump off Nauyaca Waterfalls
Close to Playa Dominical is a big beautiful waterfall called Nauyaca Waterfalls, one of the most popular in the country. You have to hike about 4 kilometers from a private property to get there or take a horseback riding tour, and either one you choose is guaranteed to be a fun day in the jungle.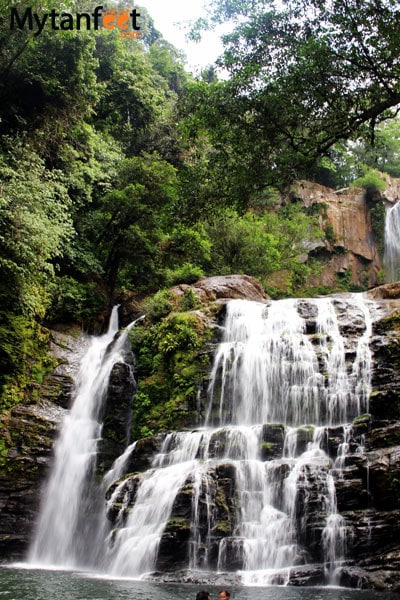 Once you're at the waterfall, you can swim in the pool, lay on the rocks or jump off the side of the fall. The horseback riding tour guides tie a rope so that people can climb up and leap off the edge.
The horseback riding tour is around $70 and the entrance fee is $8 but you will need your own transportation. It's only about a 15 minute drive from Dominical.
3. Surf at Playa Dominical
Playa Dominical is known for having fairly consistent waves and is an excellent spot for beginners. There are several surf camps and schools where you can indulge in surfing all day for a week or take a lesson.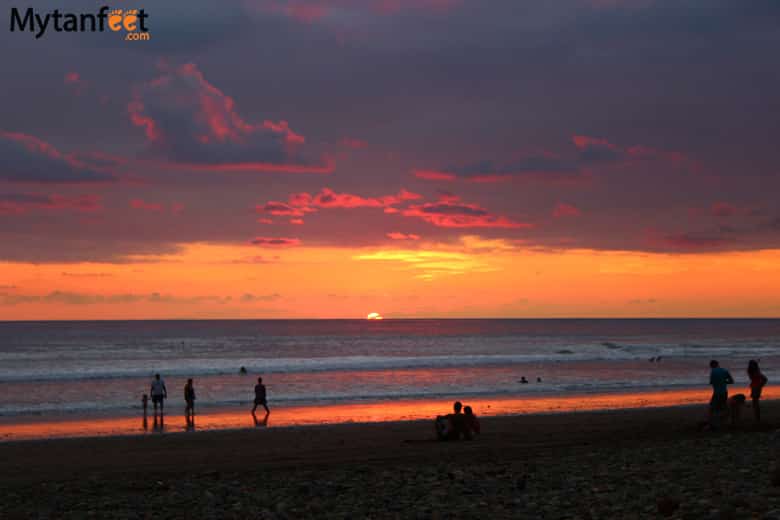 It's a popular spot for both locals and tourists but make sure to check the tide warning to see how the waves are since they can get quite strong, especially at the mouth of Riu Baru.
During certain times of the year, waves at Playa Dominical can get big and that's when all the pros and locals go to Dominical. There are a couple of other beaches great for surfing nearby like Playa Linda.
4. Snorkel/scuba dive at Caño Island
Caño Island Biological Reserve is one of the best snorkel/scuba dive spots in Costa Rica as it houses an abundance of marine life. It's famous for the pre-Columbian artifacts found on the island and many biologists come to research the coral living there.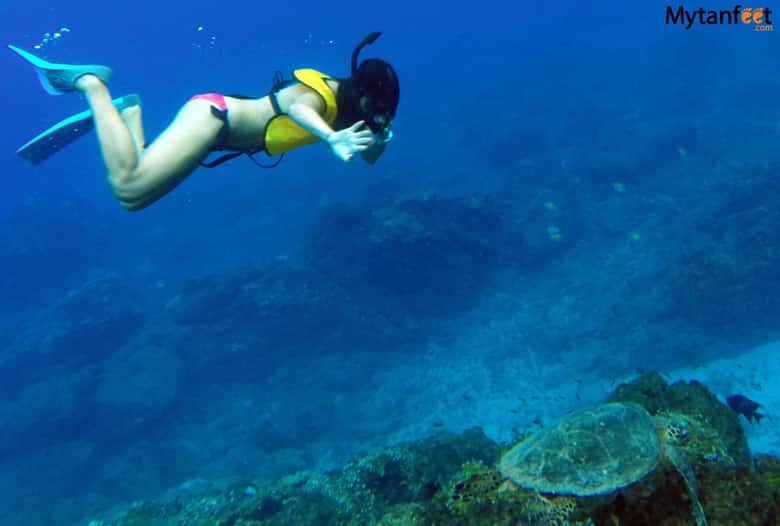 You can take snorkel/scuba dive day trips to Cano Island from Uvita and the snorkeling there was incredible. It's about a 1.5 hour boat ride departing from Marino Ballena National Park, then you snorkel for a couple hours at the island and head back along the coast for stunning views.
You can see dolphins, turtles, all sorts of fish like snappers, jacks, trumpet fish, pufferfish, parrotfish and more. Other animals to see are manta/eagle rays and white tip reef sharks.
You can read about our Caño Island snorkeling trip. Definitely a must do!
5. Take a day trip to Corcovado National Park
If you're not planning on going any further south, then a day trip to Corcovado National Park is another must do. From Uvita, you're a boat ride away from one of the most biologically diverse spots in the world. Day trips from Uvita go to San Pedrillo Ranger Station, where you'll hike for a couple hours and visit a waterfall.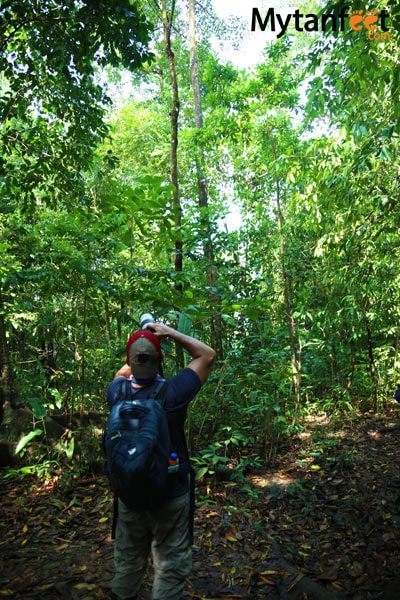 Wildlife that can be seen at San Pedrillo station are birds such as toucans, macaws and tanagers, tapirs, agoutis and monkeys. Don't miss out on exploring the dense jungles of the south and fabulous wildlife watching!
6. Visit other waterfalls
Nauyaca waterfalls isn't the only waterfall in the area – there are so many more! You can go on a waterfall tour or explore on your own which we personally like to do. Nauyaca waterfalls is one of the biggest ones in the area but there are several more where you can jump off – even slide off!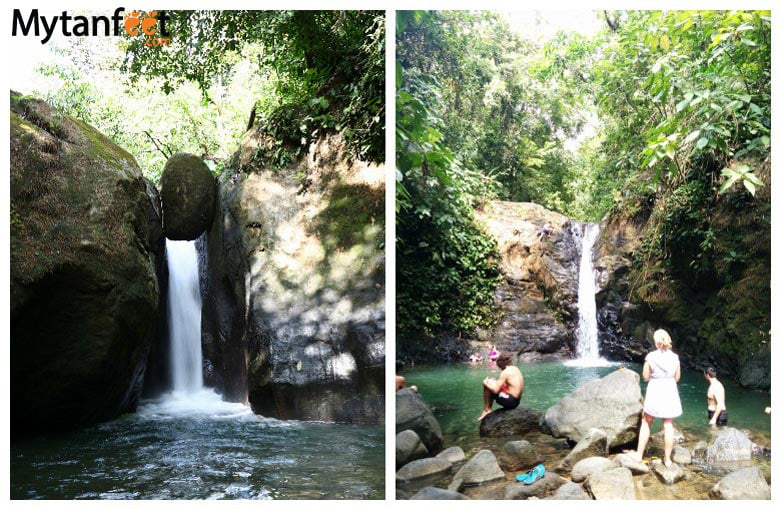 Cascada El Pavon (left) is a small but very cool waterfall that has a rock in the middle. Uvita waterfall is another small one but you can climb up to the top and slide down! This one has an entrance fee ($3 or so) but El Pavon is free. Both are easily accessible from Dominical and Uvita.
7. Explore other beaches
Along the Costanera Sur, there are a ton of entrances that look like they don't go into anything. Many of them actually go to different beaches such as Playa Ventanas, Playa Tortuga, Playa Linda, Hermosa and more.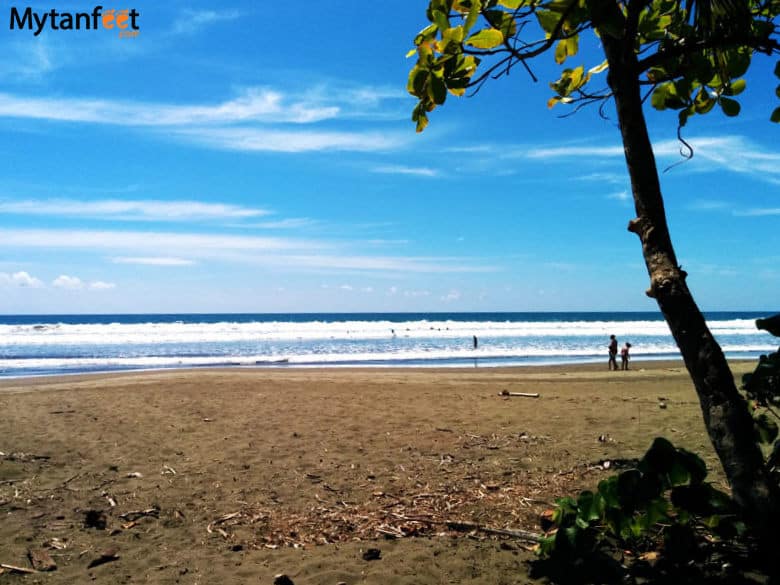 Most of the beach entrances are unpaved roads and we've encountered a couple that we needed the 4X4. Others were gravel roads that you just need to drive slowly.
8. SUP/Kayak
SUP/Kayak is a very popular activity in the Dominical and Uvita area because there are several places to do it for beginners and pros. Many people like to do it at Marino Ballena National Park because of the views and the whale's tail but you can also SUP/kayak at Rio Baru, Ventanas Cave and the Sierpe mangrove.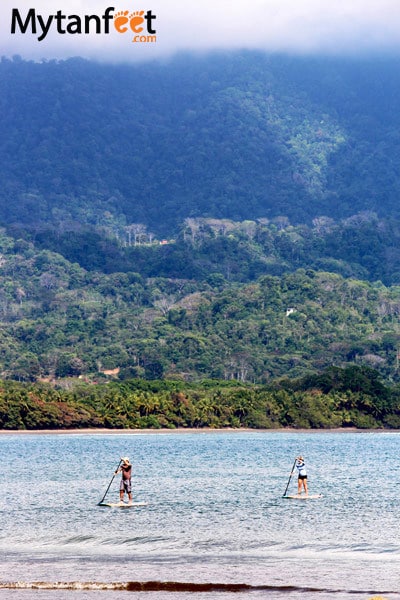 It's a fun sport that first timers can do and you may even have the chance to see some wildlife if you go in the ocean! You can check out Pineapple Tours Kayak & SUP for tours in Dominical.
9. Bird watching
As the South is more humid and dense than the North, the amount and variety of birds greatly increases. You can find birds endemic to this area with beautiful coloration and interesting calls, making this spot a must for bird lovers.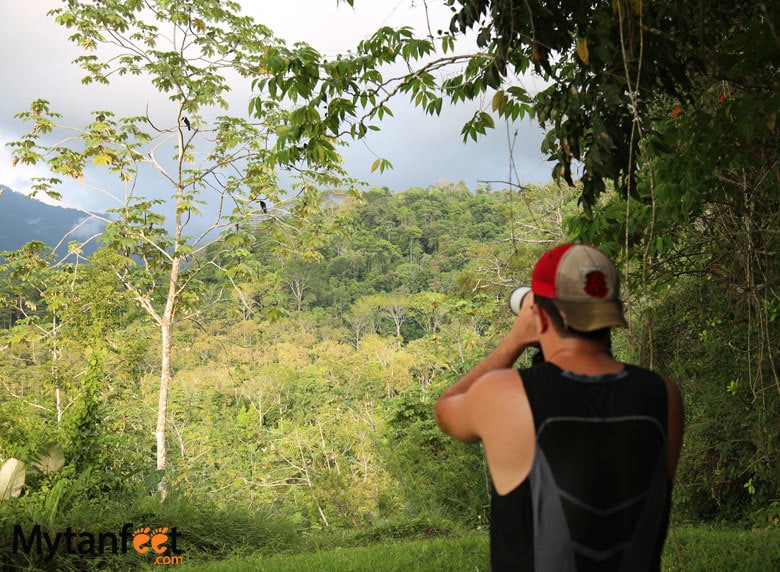 You can go on a guided bird watching tour which is recommended. You'll have someone who knows the area to help you locate the birds. Some of the best spots are Hacienda Baru, Oro Verde and Rancho la Merced which are all in close vicinity to Dominical and Uvita.
Some birds you can see are toucans such as the Black-mandibuled and Fiery-billed Aracari, hummingbirds, tanagers and birds of prey.
10. Visit the Sierpe mangrove
The Sierpe mangrove is the largest in Central America and it's not very far from Uvita and Dominical. You can take a guided boat trip, kayak or SUP in the mangrove to see the various wildlife and learn about this important habitat.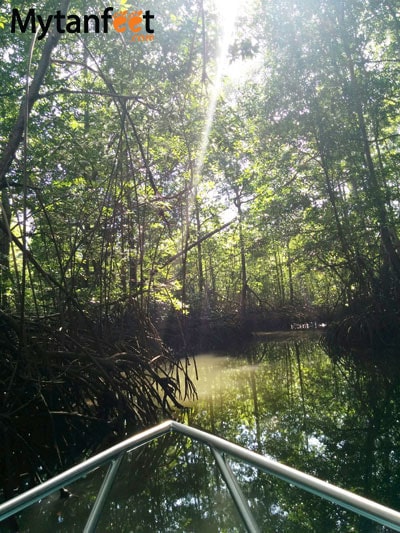 It's a very peaceful place as you glide in the water quietly to get close to the nature.
Other Recommendations
A couple other things to do in Uvita and Dominical are Alturas Wildlife Sanctuary, Parque Reptilandia, Hacienda Baru, and yoga. Looking for an off the path activity? Check out Finca 6 to see the mysterious stone spheres.
Tips for Visiting Uvita and Dominical
Some hotels and beaches require a 4X4. Check with your hotel first if this is necessary and arrange appropriate transportation.
It is a lot easier to get around this area by car because everything is so spread out. If you don't have a car, try to stay in Dominical or Uvita town so you are close to restaurants, the beach and shops. However, it'll be difficult to explore the hidden beaches and waterfalls without a car. You can hire a private shuttle or take a taxi, but it'll get expensive.
If you're renting a car, Adobe has a new office in Uvita so take advantage of our discount, 2 free drivers and 33% off GPS deal.
Check tides before visiting certain beaches like Playa Arco which can only be visited in low tide.
Remember to bring lots of mosquito repellent, sunscreen and rain gear, especially in rainy season. This area is much more humid so mosquitoes are really bad!
Where to Stay in Uvita and Dominical
Cool Vibes Hostel in Dominical: Probably the best hostel in Dominical since it's right in front of the beach and next to restaurants and bars. Gets a bit noisy during full moon parties and Envision though. A bed starts at $12, requires 2 night minimum stay for online booking.
Manoas in Uvita: They have glamping tents and villas/apartment rentals. You need a 4X4 to get there but it's absolutely worth it. Only 2 miles from Uvita town, you're tucked away in the jungle next to two rivers. Tents start at $100. Click here to read our review about it and get 10% off your booking.
Villas Rio Mar: This hotel is in Dominical but in a quiet part of town so you're still in walking distance to everything but very quiet. They have a beautiful property with gardens and a pool.
Want to read about other things to do in Costa Rica? Here you go!
10 things to do in Arenal and La Fortuna