If you want to visit a place in Costa Rica with less crowds, more lush rainforest, abundant wildlife and empty beaches, there is one destination in Costa Rica that perfectly fits this description: Uvita. This small beach town in the South Pacific is perfect for anyone looking for a quiet and relaxing getaway close to the beach and the rainforest.
Below is our list of the best things to do in Uvita and a sample itinerary of how to spend 3 days there. If you are interested in doing any tours like ATV, Caño Island snorkeling, whale watching or Sierpe mangrove boat tour, please contact us and we will be happy to help set it up!
There are affiliate links in this post.
Uvita Quick Facts
212 km (131 miles) from San Jose International Airport. 319 km (198 miles) from Guanacaste Airport. 3.5 hours driving from San Jose, 5 hours from Liberia.
Small coastal town in the South Pacific, specifically in an area known as the Costa Ballena. Other towns in the Costa Ballena are Dominical and Ojochal.
Known for mountains, tropical rainforest, wildlife (specifically humpback whales)
Visit Marino Ballena National Park to See the Whale Tail
Marino Ballena National Park is a huge national park in Uvita encompassing four different beaches and rainforest. This beach is very big with vast palm tree lined beaches, perfect for walking, swimming and sunbathing.
This national park has one very interesting characteristic: there is an area where two beaches meet and during low tide, the rocks and sand create a formation in the shape of a whale's tail.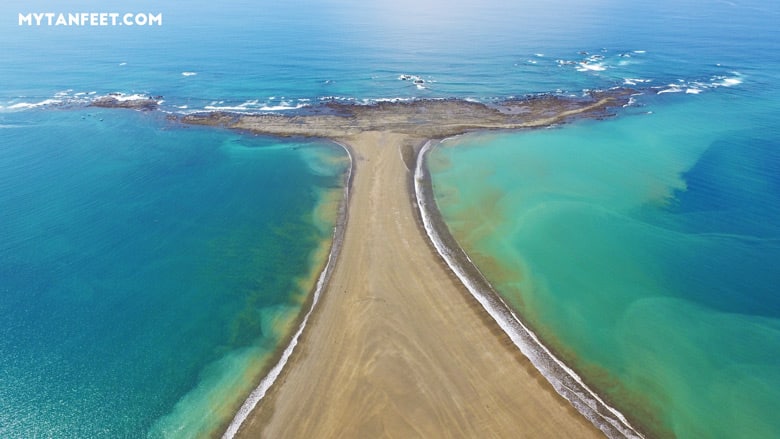 It's even more fascinating that this specific national park has this characteristic because Uvita is known as the best place to see humpback whales in Costa Rica! To see the Whale Tail, you have to visit during low tide or else the water will cover it in high tide.
There are four different sections to the park but the main one is Sector Uvita, the closest to the Whale Tail. If you visit the park, do make sure you see the sunset here, it is stunning!
Do a Humpback Whale Watching Tour
As Marino Ballena National Park is one of the best places to go humpback whale watching in Costa Rica, you cannot skip out on a whale watching tour! The best months to see humpback whales are December to mid March and then July to October. Peak months are August and September.
You will also have chances to see other marine wildlife like dolphins, turtles, manta rays and other whales.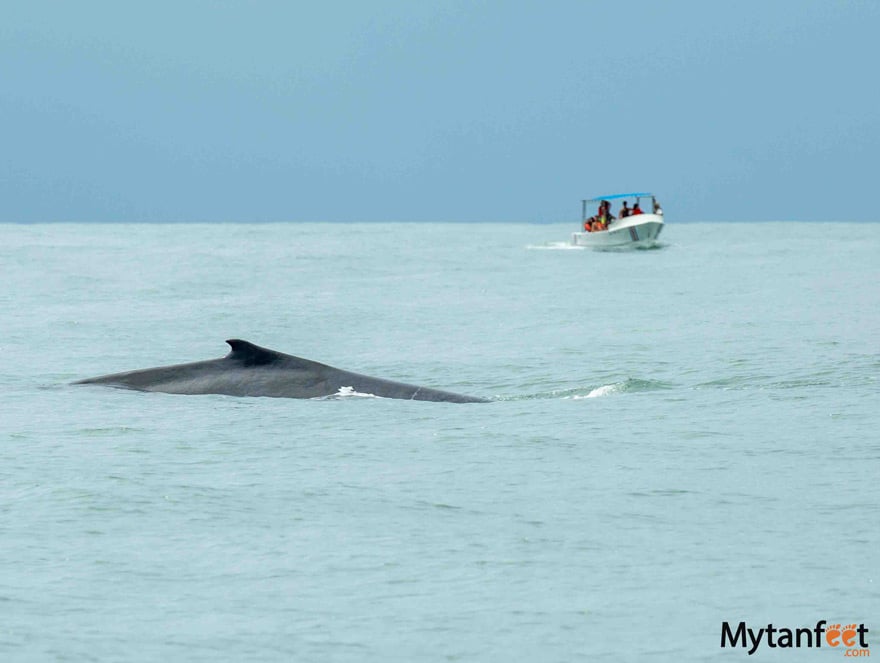 Whale watching tours are half day, in the morning or afternoon and depart from the national park.
Visit Nauyaca Waterfalls
30 minutes away from Uvita are two of the most popular waterfalls in Costa Rica, Nauyaca Waterfalls. There are three ways to get to the waterfalls in the rainforest: hike 4 kilometers (~2.5 miles), go horseback riding or ride a 4×4 truck.
The 4×4 truck is the easiest and fastest way and it is accessible for everyone. The hike is fantastic for active visitors and the horseback riding is in between the hike and truck. The horseback riding tour includes snacks, coffee and lunch.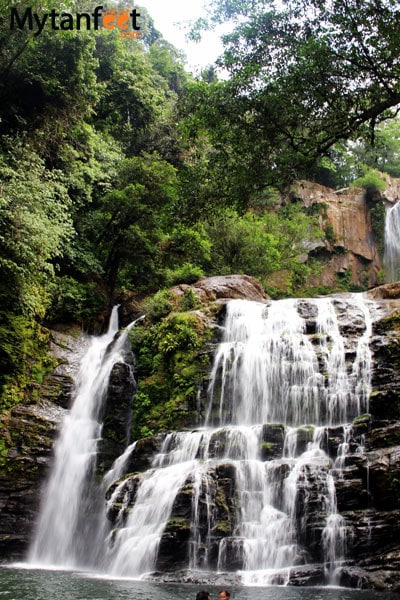 Once you're at the waterfall, you can swim in the pool, lay on the rocks or jump off the side of the fall.
Take a Surf Lesson
There are a couple of good spots for surf lessons in Uvita, particularly the Sector Colonia in Marino Ballena National Park.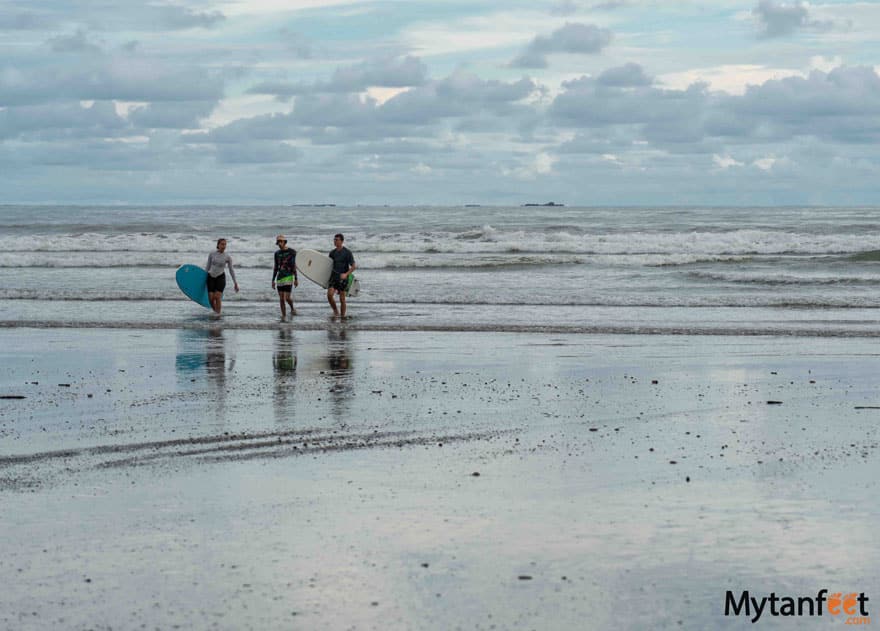 For experienced surfers (shortboarders), head to Dominical as waves there can get very big and strong! For longboarding, we love Playa Dominicalito, just south of Dominical (15 minute drive from Uvita).
Caño Island Snorkeling Tour (Scuba Diving Available Too)
Caño Island Biological Reserve is one of the best snorkel/scuba dive spots in Costa Rica as it houses an abundance of marine life. It's famous for the pre-Columbian artifacts found on the island and many biologists come to research the coral living there.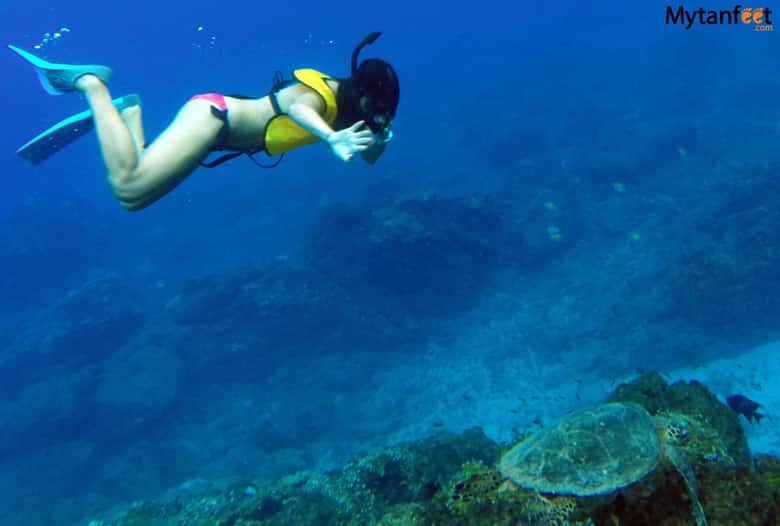 You can take snorkel/scuba dive day trips to Cano Island from Uvita. It's about a 1.5 hour boat ride departing from Marino Ballena National Park, then you snorkel for a couple hours at the island and head back along the coast for stunning views after having lunch on one of the nearby islands.
You can see dolphins, turtles, all sorts of fish like snappers, jacks, trumpet fish, pufferfish, parrotfish and more. Other animals to see are manta/eagle rays and white tip reef sharks.
You can read about our Caño Island snorkeling trip. Definitely a must do!
If you are a scuba diver, there are some scuba diving shops in the area to explore the underwater world.
Day Trip to Corcovado National Park
If you're not planning on going any further south, then a day trip to Corcovado National Park is another must do. From Uvita, you're a boat ride away from one of the most biologically diverse spots in the world. Day trips from Uvita go to San Pedrillo Ranger Station, where you'll hike for a couple hours and visit a waterfall.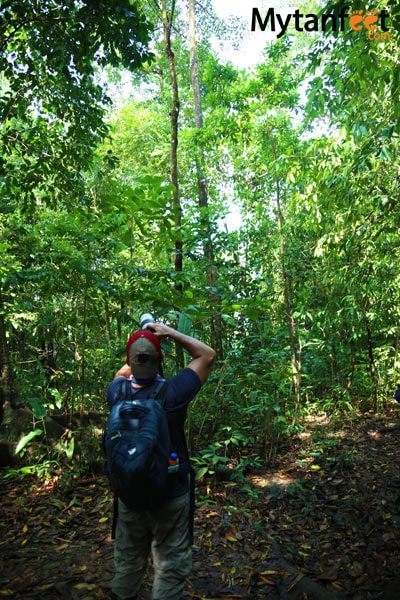 Wildlife that can be seen at San Pedrillo station are birds such as toucans, macaws and tanagers, tapirs, agoutis and monkeys. Don't miss out on exploring the dense jungles of the south and fabulous wildlife watching!
Tour operators also combine Corcovado National Park + Cano Island Snorkeling in case you don't have as many days in Uvita. This is a great tour to experience two fantastic places!
Catarata Uvita (Uvita Waterfall)
There is a small but charming waterfall right in Uvita and is worth a visit. The entrance fee is only about $3 USD a person. You can relax in the river pools or even climb up to Uvita waterfall and slide down!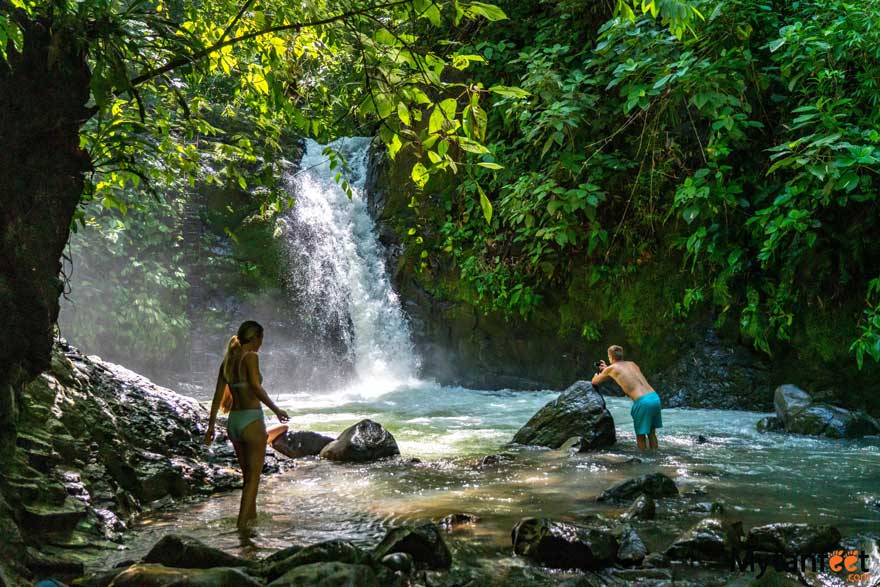 It's a great place for families or anyone looking for a cheap and close activity in Uvita.
Beach Hopping!
Along the Costanera Sur, there are a ton of entrances that look like they don't go into anything. Many of them actually go to different beaches such as Playa Ventanas, Playa Tortuga, Playa Linda, Hermosa and more.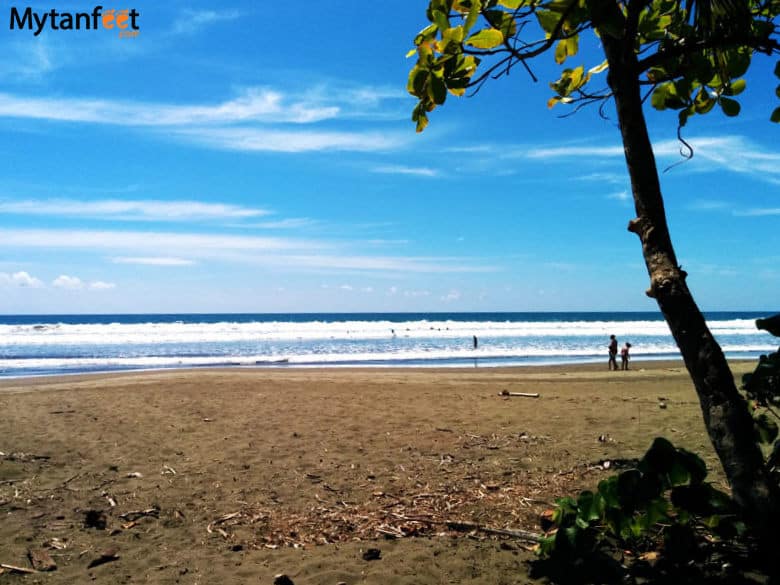 Since the Costa Ballena is so vast, there are tons of different beaches to check out. If you're up for more of an adventure and want to put your explorer hat on, visit Playa Arco, part of the Marino Ballena National Park. You can only get to this beach during low tide due to its location.
There are two ways to get there. The easy one is through the Cusinga Lodge, they have a trail down to the beach and you just have to ask them for access as all beaches in Costa Rica are public.
The second way is more adventurous. You have to park a bit south near the MINAE post (Sector Ballena) and walk about 30 minutes across a beach, over a river and through the forest to get to the beach. Please make sure you ONLY visit during low tide. When the high tide comes in, it floods the entrances and is not possible to get out or go in. Also make sure not to leave any valuables unattended at the beach or in your car.
Bird watching
The South Pacific rainforest is home to a ton of birds and offers fantastic birdwatching in Costa Rica. You can find birds endemic to this area with beautiful coloration and interesting calls, making this spot a must for bird lovers.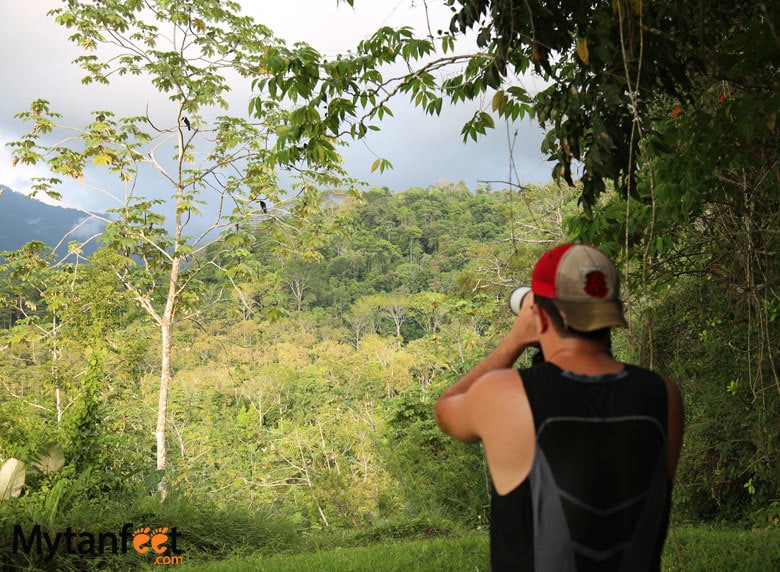 You can take a birdwatching tour or just wake up early and walk around your hotel property if it's up in the mountains. Hacienda Baru offers fantastic birding tours on their huge wildlife reserve (20 minute drive).
For more hardcore birders, La Cusinga Lodge is a wonderful birding lodge in the area.
Sierpe Mangrove Boat Tour
The Sierpe mangrove is the largest in Central America so it is incredibly important for the surrounding flora and fauna. Mangroves are an essential ecosystem, providing home and shelter to all sorts of birds, reptiles, amphibians and mammals!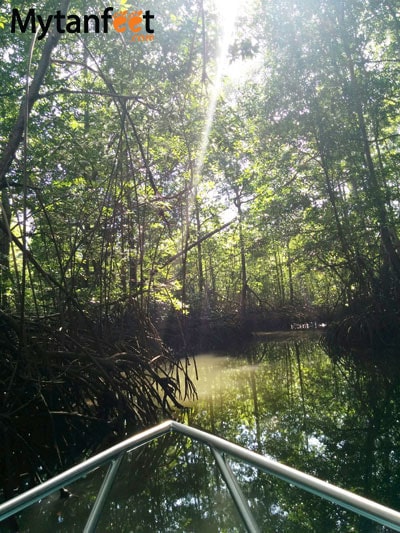 The safari boat ride through the mangrove is the best way to experience this unique ecosystem and see the wildlife that lives inside it. You'll be inside a covered river boat for about a 2.5 hour ride while your guide points out different animals.
This is a great way to see wildlife for seniors or anyone who doesn't want to do any strenuous activity.
Other Recommendations
Every year in February/March is the Envision Festival in Uvita. This festival is one of the biggest in the world of its kind, celebrating life, companionship, spirituality, love and friendship through music, art, dancing, martial arts, fire shows and meditation. Get your tickets ASAP because this festival sells out crazy fast.
If you are visiting around end of February to March but not going to the festival, book your hotels ASAP! And expect it to be very busy and crowded.
We also recommend visiting the local market "El Mercado de Bahia Ballena" on Wednesdays from 8 AM to 2 PM and Saturdays from 8 AM to 1 PM. They'll have local artists and vendors selling their goodies.
Tips for Visiting Uvita
Some hotels and places require a 4wd or 4X4. Check with your hotel first if this is necessary and arrange appropriate transportation.
If you want to explore, you have to rent a car. Without it, you are really stuck and will not be able to see much. Get our Costa Rica car rental discount here!
Remember to bring lots of mosquito repellent, sunscreen and rain gear, especially in rainy season. This area is much more humid so mosquitoes are really bad!
This area can rain even in the dry season. Make sure to bring a waterproof rain jacket and clothes that dry fast! Get our Costa Rica packing list here and read about Costa Rica weather in this post.
How to Spend 3 Days in Uvita
Here is a sample itinerary with our recommendations for 3 full days in Uvita (not counting travel days).
Day 1: Whale watching tour in the morning
If you are visiting during whale season, then take a morning whale watching tour! It ends around 1130 AM and if you're not super hungry afterwards, then walk out to see the Whale Tail if it's low tide. If you aren't visiting during whale season, we recommend to do the Caño Island snorkeling tour instead.
If it's not low tide, you can stay in the beach if you like. Otherwise, have lunch at a Costa Rican restaurant right outside the park entrance, Los Almendros. Then go back to your hotel to shower, freshen up, nap.
For sunset/happy hour and dinner, head to Mirador Don Roger to spend your evening.
Day 2: Uvita Waterfall, Playa Hermosa
Head to the Uvita Waterfall around 10-11 AM and spend a couple hours there cooling off in the refreshing water. For lunch, get a hearty meal at Mosaic Wine Bar or Indomitos Cafe (Vegetarian).
Then stop by the hotel to change or pick up stuff and head to Playa Hermosa for the rest of the day and sunset.
For dinner, we highly recommend Bar Restaurant Los Laureles. They also have cabins and rooms for a very reasonable price.
Day 3: Relax, ATV or Enjoy the Pool
For your last day, it's up to you how you want to enjoy it! If you want to do a fun excursion, then I recommend an ATV tour in the morning and then relax the rest of the day. For another day excursion, we recommend the Cano Island + Corcovado National Park combo tour.
If you're staying at a very high end luxury hotel, then definitely get your money's worth and spend the day enjoying the pool and property. You can find some of the most spectacular boutique luxury hotels and vacation rentals in the Uvita area such as Kura Boutique, Golden Pineapple Villas and Oxygen Jungle Villas.
Want to read about other things to do in Costa Rica? Here you go!
10 things to do in Arenal and La Fortuna
5 things to do in Playa Conchal
Costa Rica Vacation Checklist