The Gulf of Papagayo is one of the most popular beach destinations in Costa Rica thanks to the plethora of gorgeous beaches, excellent fishing and water sports and high end resorts. Additionally, it is very close to Liberia International Airport (Guanacaste International Airport) so you can go from touchdown to happy hour on the beach in less than an hour!
If you're planning to visit the beach towns in the Gulf of Papagayo such as Playas del Coco, Ocotal, Playa Hermosa, Playa Panama or any of the resorts on the Papagayo Peninsula, luckily your trip is not hard to plan. In this post, you'll find out how to get to Playas del Coco and the Papagayo Peninsula from Liberia Airport by car, bus and shuttle and vice versa.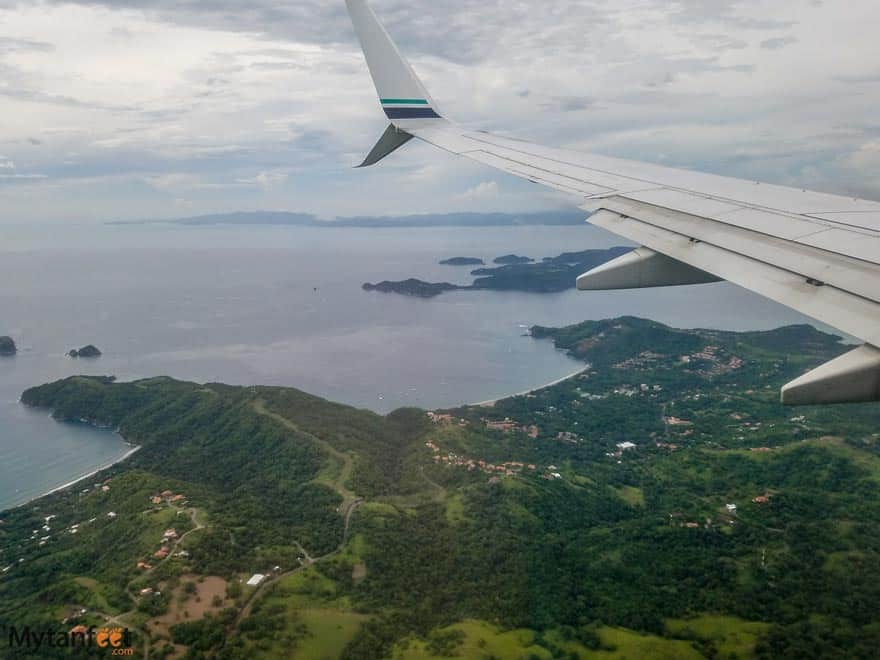 How Far is Playas del Coco from Liberia Airport?
What is the distance between Playas del Coco and the Papagao Peninsula from Liberia Airport?
The distance between Playas del Coco and Liberia International Airport is 23.3 kilometers (14.5 miles).
The distance between the Papagayo Peninsula and Liberia International Airport is approximately 31.7 kilometers (19.7 miles) depending on which resort you are going to.
Liberia Airport to Playas del Coco by Car
By car, it takes about 30 minutes to drive to Playas del Coco from Liberia Airport. This route is mostly on the highway Route 21 and Route 151, fully paved and very easy to drive with clear signs.
There are many car rental companies in Liberia Airport. Since the airport is very small, the car rental companies will pick up clients from the airport and shuttle them to their airport office to pick up the car. All car rental company offices are within a 5-10 minute drive from Liberia Airport.
We have a partnership with Adobe Rent a Car, a 100% Costa Rican car rental company to give discounts and extra benefits to our readers. The Adobe office is a 10 minute drive from Liberia Airport. Click here to get our Costa Rica car rental discount. From there, it's an easy 25 minute drive to Playas del Coco.
Driving Route Map to Coco
For all these destinations, you can use Google Maps or Waze to navigate.
To Ocotal, you first need to pass through Playas del Coco. The route is on a fully paved road the entire way.
To Hermosa, the road is fully paved all the way to Playa Hermosa.
To Playa Panama, the fastest route is via Route 21 and Route 254.
Driving to Papagayo Peninsula Resorts from Liberia Airport
You can use Google Maps or Waze. All the resorts such as Riu Guanacaste, Four Seasons, Secrets, Planet Hollywood, Occidental Papagayo and Andaz Papagayo from Liberia Airport are about a 25-40 minute drive on fully paved roads.
Liberia Airport to Playas del Coco Bus
The cheapest way to get to Playas del Coco from Liberia Airport is by bus. Unfortunately, there isn't a bus that goes directly from the airport to Coco. You will need to walk out of the airport to the main road (Route 21). There is a small bus stop right at the intersection and you will see a lot of locals waiting there. This walk takes around 20 minutes. Do note that the average day time temperatures in this area is around high 80s F, low 90s F (32 C) so this will be a VERY hot and sweaty walk with luggage.
The bus from Liberia to Playas del Coco passes by that stop every 45 minutes or so from 6 AM to 8 PM. You can look for the company called "Pulmitan" and the bus is blue. It will say Playas del Coco on it and you will need to wave it down. This trip is about 1 hour and costs around 750 Costa Rican colones (around $1.20). The bus' final destination will be at the bus station in Coco. From there, it is about a 15 minute walk to the town center and beach. Then, you can grab a taxi to go to your hotel.
Hermosa and Playa Panama
There is a public bus from Liberia to Playa Hermosa and Playa Panama with Liberia Municipal that passes by the airport. The bus leaves the Liberia bus station at 7:30 am, 8:40 am, 9:30 am, 11:30 am, 1 pm, 3:30 pm and 5:30pm and takes around 20-30 minutes to get to the airport. This bus doesn't go to Playas del Coco.
Something important to keep in mind that bus schedules in Costa Rica are more like guidelines. They're not always punctual so always go early to the bus station.
There aren't any buses that go directly to the resorts like Four Seasons, Andaz or Riu. You will have to drive, take a taxi or book a shuttle.
Private Transfer from Liberia Airport to Playas del Coco
There are shuttles available from Liberia Airport to Playas del Coco. Since the ride is so short, private shuttles are cheaper and a better option than shared. We work with a private transportation provider, please find the information below and in case you are interested in booking a transfer, please contact us.
A private shuttle charges around $65-75 for a transfer up to 8 people. The driver will wait for you directly at the airport when you land. It includes one stop along the way and offer door to door service (including vacation rentals). This is the most hassle free from way to get from Liberia Airport to Playas del Coco and the Papagayo Peninsula.
Taxi/Uber from Liberia Airport to Playas del Coco
You will find a ton of taxis at Liberia Airport. First, read our post on what to know about taking taxis in Costa Rica. The most important thing is to take an official red taxi. Prices should be similar to a private transfer and the official red taxi should turn on a meter. However, some taxi drivers, despite being an official taxi, may still try to stiff tourists (like hacking the meter, saying one price but then charging more, not giving back change, taking the long way), so personally, we do not recommend to take a taxi.
This is especially apparent during holiday travel such as Christmas, New Years and Easter, if you land late at night or are a solo traveler. In these cases, it is best to pre-book a private transfer. That way you are guaranteed a safe ride. You won't have to worry about getting ripped of by dishonest taxi drivers.
Unfortunately Uber does not readily exist at Liberia Airport. The airport police stationed there actually look for Uber drivers so you cannot depend on Uber at the Liberia Airport. Likewise, the best option is to pre-book a private transfer. Contact us to book your private transfer service.
How to Get to Other Places in Costa Rica
There are affiliate links in this post.