The Gulf of Papagayo is one of the most popular beach destinations in Costa Rica thanks to the plethora of gorgeous beaches, excellent fishing, snorkeling and scuba diving and high end hotels. Additionally, it is very close to Liberia International Airport so you can go from touchdown to happy hour on the beach in less than an hour!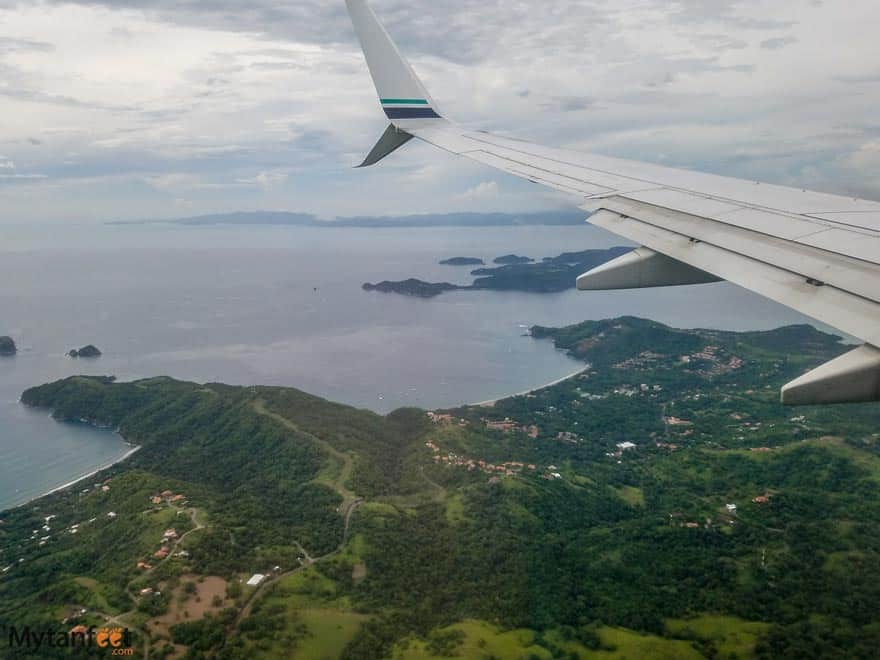 If you're planning to visit Playas del Coco, Ocotal, Hermosa, Panama or any of the resorts on the Papagayo Peninsula, luckily your trip is not too hard to plan in terms of transportation. In this post, you'll find out how to get to Playas del Coco and Papagayo Gulf from Liberia Airport by driving, bus and shuttle.
Driving
Driving is the easiest way to get to Playas del Coco from Liberia Airport. There are many car rental companies in Liberia Airport. Since the airport is very small, the car rental companies will pick up clients from the airport and shuttle them to their airport office to pick up the car. All car rental company offices are within a 5-10 minute drive from Liberia Airport.
We have a partnership with Adobe Rent a Car, a 100% Costa Rican car rental company to give discounts and extra benefits to our readers. The Adobe office is a 10 minute drive from Liberia Airport. Click here to get our Costa Rica car rental discount. From there, it's an easy 25 minute drive to Playas del Coco.
Driving Route Map to Coco
To Playas del Coco: From the airport, turn right onto the main road. You'll continue on this road for about 10 minutes until you hit the next big intersection. Turn right and then continue on that road all the way to Coco. You enter town when you see the big white anchor and the road splits into a boulevard.
To Ocotal, you will drive to Coco. Keep going straight down the boulevard and when you hit the intersection with Super Compro on the left and the beach and downtown straight ahead, turn left and continue on this road for about 15 minutes to Ocotal.
To Hermosa, you will turn right at the intersection of the billboards before entering Playas del Coco. Continue on this hilly road to first reach Playa Hermosa.
To Playa Panama, the fastest route is by taking a right onto Route 254 by the Do-It Hardware Center. You'll continue on this road for about 15 minutes and then you will reach Playa Panama from the east. You can also take this route to get to Playa Hermosa and just continue on the main road past Playa Panama.
All these routes are on well paved roads with good signage. The driving time from Liberia Airport to Coco is around 25 minutes. You can use Waze (highly recommended) or Google Maps for GPS.
Driving Map Route to Papagayo Peninsula Hotels
These routes are from Liberia Airport to Riu Guanacaste, Four Seasons, Secrets, Planet Hollywood, Occidental Papagayo and Andaz Papagayo. They are 20-45 minute drives.
Public Bus
Taking the bus from Liberia Airport to Playas del Coco is not super difficult. The bus is the cheapest option. However, there isn't a bus that goes directly from the airport to Coco. You will need to walk out of the airport to the main road (turn right when you exit the airport). There is a small bus stop right at the intersection and you will see a lot of locals waiting there. This walk takes around 15 minutes.
The bus from Liberia to Playas del Coco passes by that stop every 45 minutes or so from 6 AM to 8 PM. You can look for the company called "Pulmitan" and the bus is blue. It will say Playas del Coco on it and you will need to wave it down. This trip is about 1 hour and costs around 700 Costa Rican colones (around $1.20).
There is a public bus from Liberia to Playa Hermosa and Playa Panama with Liberia Municipal that passes by the airport. The bus leaves the Liberia bus station at 7:30 am, 8:40 am, 9:30 am, 11:30 am, 1 pm, 3:30 pm and 5:30pm and takes around 20-30 minutes to get to the airport. This bus doesn't go to Playas del Coco.
Something important to keep in mind that bus schedules in Costa Rica are more like guidelines. They're not always punctual so always go early to the bus station.
There aren't any public buses that go directly to the resorts like Four Seasons, Andaz or Riu. Taxi, driving or shuttle are your options.
Shuttle
There are shuttles available from Liberia Airport to Playas del Coco. Since the ride is so short, private shuttles are cheaper and a better option than shared.
For example, Interbus has a shared shuttle from Liberia to Playas del Coco. However, they can't pick up at the airport so clients need to go to the Hilton Garden Inn Liberia Airport for pick up (3 minute drive or 20 minute walk). Then they only have one schedule at noon. Lastly, it is expensive at $55 per person!
A private shuttle charges around $50 to $55 for 1-4 people and the driver will wait for you at the airport when you land. Another thing is that the private driver can stop at the supermarket or bank on the way if you want. Additionally, the private shuttle will drop you off at a condo or vacation rental, which shared shuttles don't do as they only go to hotels.
Taxi
You will find a ton of taxis outside Liberia Airport. First, read our post on what to know about taking taxis in Costa Rica.The most important thing is to take an official red taxi. If a taxi driver tries to charge you more than $50-55 one way, haggle if you feel comfortable or walk away and find another one. Private shuttles are around $50 one way and a taxi shouldn't charge too much more than that. We know someone who got charged $65 for a small taxi sedan (2 people) which was a total rip off!
If you are visiting during holidays like Christmas, New Years or Easter, arriving late at night and/or a solo traveler, it is best to book a private shuttle beforehand. That way you are guaranteed a safe ride and you won't have to deal with haggling or worrying about getting ripped of by taxis.
If you are going to Tamarindo, find out how to get to Tamarindo from Liberia Airport.
Find out how to get to Manuel Antonio from San Jose, Guanacaste and other places in this post.
There are affiliate links in this post.