If you have just 1 week in Costa Rica and want to stay at the beach the whole time, we have a great itinerary for you. This itinerary flies in and out of Liberia International Airport and uses the beach town of Tamarindo as a home base. You will have 5 full days in Tamarindo, total 1 week including your flying in/out days.
This is a helpful guideline for families who are visiting during spring break and only have 5 full days in Costa Rica. You can also use this to get ideas if you only have 2-3 days in Tamarindo.
There are affiliate links in this post.
What to Know About This Tamarindo 5 Days Itinerary
The best way to get around for this Tamarindo 5 days itinerary is to rent a car, but you don't absolutely have to. However, having a car will be way easier to do/see more during your short time in Costa Rica. Your next best option if you don't rent a car is to book private shuttles for the day trips or book tours with transportation. You can rent a sedan or compact SUV if you are a group of 1-4.
For groups of 5 and more, you will need a full size 7 passenger SUV if everyone is bringing limited luggage or a 12 passenger van for more people and luggage. Get our car rental discount here.
In the dry season, a 4wd is not required to the places in this itinerary. If you are visiting during the rainy season, we recommend a high clearance car instead. Read more about Costa Rica weather here.
This itinerary is doable any time of the year. Best weather is December through April (summer – no rain). May through November is rainy season but we actually personally prefer Tamarindo in the rainy season as it's much more lush and green and it's a bit cooler.
Without a car
You will have to book private shuttles and tours with transportation. You can contact us to book your transportation and tours for this itinerary as we have partners that provide these services.
About Tamarindo
Tamarindo is one of the main beach towns in the Guanacaste province. It's very popular among surfers, backpackers, couples and families thanks to its excellent year round surfing waves, close proximity to the airports and developed tourist infrastructure.
Day 1: Land, Check in
Today you fly into Liberia International Airport! Go through immigration and customs, pick up your rental car and drive a little over an hour to Tamarindo. Make sure you do not fly into SJO International Airport, as the drive from San Jose to Tamarindo is at least 4-5 hours.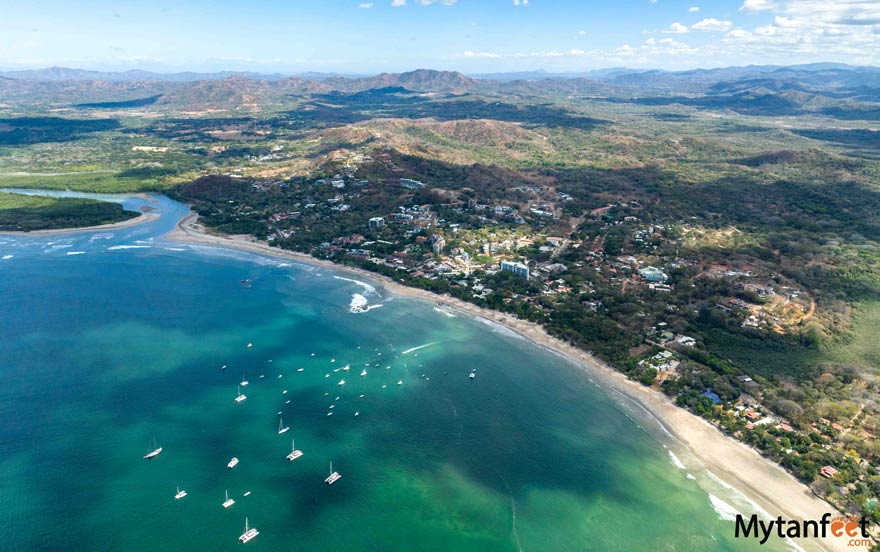 After settling in and freshening up, head to the beach. On your way to the beach, stop by one of the many surf shops to book your surf lesson for day 2.
Dinner: Mercadito, Nogui's, Pikatas, El Be
Hotel Recommendations
Budget: Marielos, Pura Vida Hostel
Mid Range and Up: Hotel La Palapa, Villas Macondo, Hotel Luna Llena, La Ramona Charming Hotel, The Beach Bungalows, Ocho Artisan Bungalows, Jardin del Eden
There are a ton more hotels at different price points as well as vacation rentals and condos. For families, I'd recommend booking a vacation rental.
Day 2: Surf lessons
Today you will take a surf lesson! You'll do an hour on the sand, practicing and getting familiar with your board. Then your knowledgeable instructor will take you out to start pushing you on waves. Time of your surf lesson will depend on the tide so just enjoy the beach, walk around town and take a nap for the rest of your day.
Cost for 2 hour group lesson: ~$50 USD per person.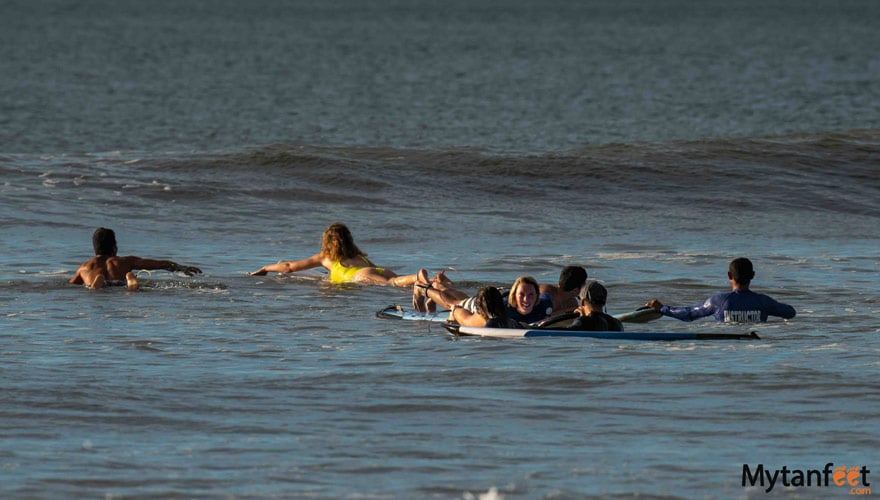 If you're not keen on surfing, that's totally fine and you can have a beach day. Walk end to end, swim in the waves, sunbathe, get a massage.
Lunch: Pico Bistro or Volcano Brewing Company
Dinner: Pangas, Red Door, Noi Bistro
Alternative option to surf lessons: Take a mangrove tour through Marino Las Baulas National Park to see crocodiles, monkeys and birds. This is right in town on the north end of Tamarindo beach where the boats are.
Day 3: Beach hopping and snorkeling tour in Playas del Coco morning, Diamante ziplining afternoon
Today is a full day of fun! On day 3 of your 5 days in Tamarindo, you will drive one hour and 20 minutes to do a private beach hop and snorkeling tour from Playas del Coco in the Gulf of Papagayo. The Gulf of Papagayo is home to some of the most beautiful white sand beaches and clearest waters in Costa Rica.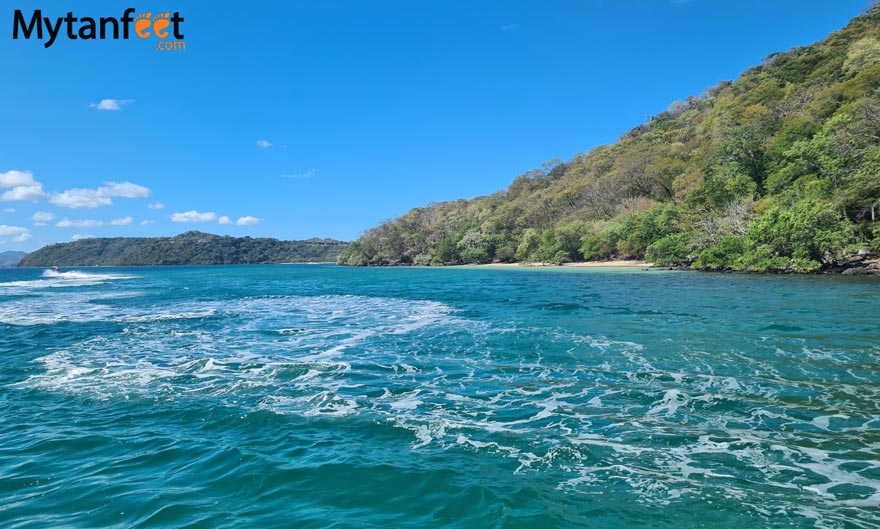 You will do a morning tour from 8 AM to 12 PM, have lunch in Playas del Coco afterwards and then stop by Diamante Eco Adventure Park to do a very exciting ziplining tour in the afternoon. Get 10% off the Diamante zipline pass!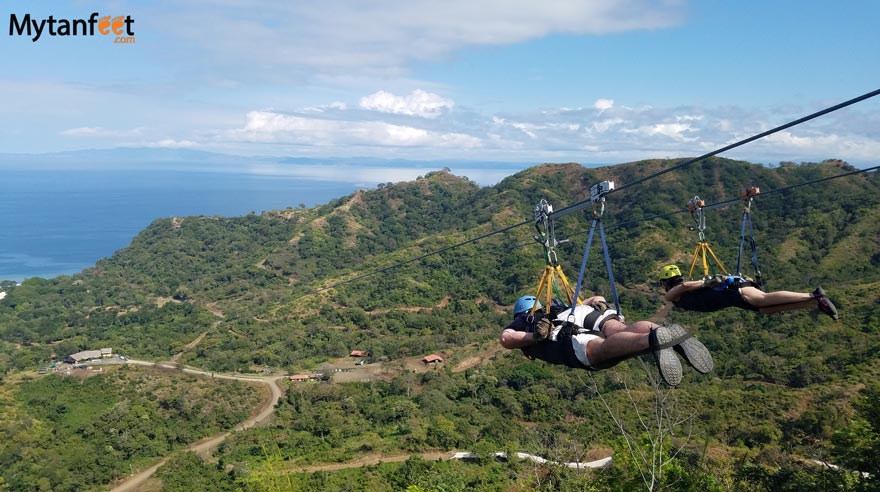 Lunch: Soda Teresita, Le Coq, Zi Lounge, Coconutz, Cafe Corzazon or Johann Bistro
Dinner options in Tamarindo: Jardin Tamarindo Food Truck Park, Surf Shack Burgers and Wings, La Oveja Surf House
Alternative options: A morning zipline at Black Stallion Hills (right outside Tamarindo) and then an afternoon sunset sailing tour.
Day 4: Rio Celeste Hike + Wildlife Nature Walk
Today is your day to explore the rainforest of Costa Rica! You will drive 2.5 hours to Tenorio Volcano National Park to see Rio Celeste, a sky blue river and waterfall. This national park is near the town of Bijagua, a small farming town.
We recommend to leave early in the morning so you can get to the park before 9 AM. Tour groups start arriving around 930 -10 AM and it gets incredibly crowded. If you are visiting during Christmas or New Years or Easter week, please leave early enough to get to the park by 8 AM as tickets are first come, first serve with a maximum number of guests allowed per day.
The hike takes approximately 3 hours or so depending on how fast you walk. Afterwards, have lunch at the restaurant right outside the park entrance or stop by a place in Bijagua. Recommendations: Restaurante Metamorphosis, Pizzeria El Barrigon or Rest y Marisqueria PORO.
After lunch, head to Finca Verde Lodge to do a nature walk on their property. The guide will take you around the hotel grounds to point out sloths and frogs, amongst other wildlife on a short walk.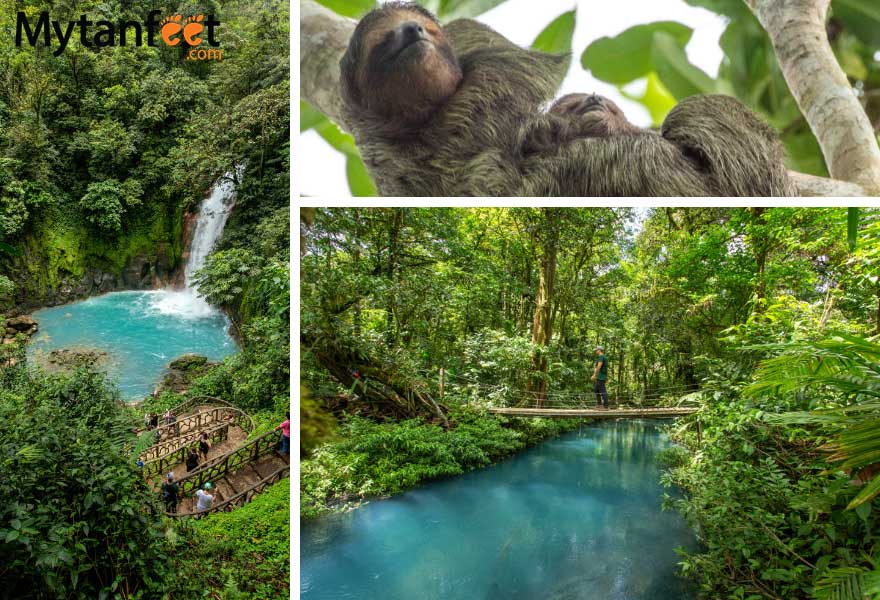 Then drive back to Tamarindo after your day in the rainforest.
Dinner option in Tamarindo: Green Papaya, Dragonfly, Falafel Bar
Day 5: Conchal Beach
Sleep in and grab lunch from Breaking Bread or Sol Bakery. Afterwards, drive 30 minutes to Brasilito to walk 15 across the beach to get to your destination for the day, Conchal Beach.
Conchal beach is one of the most beautiful beaches in Costa Rica, with sparkling white shells instead of sand and clear bright blue waters. You'll spend the rest of the day at this beach.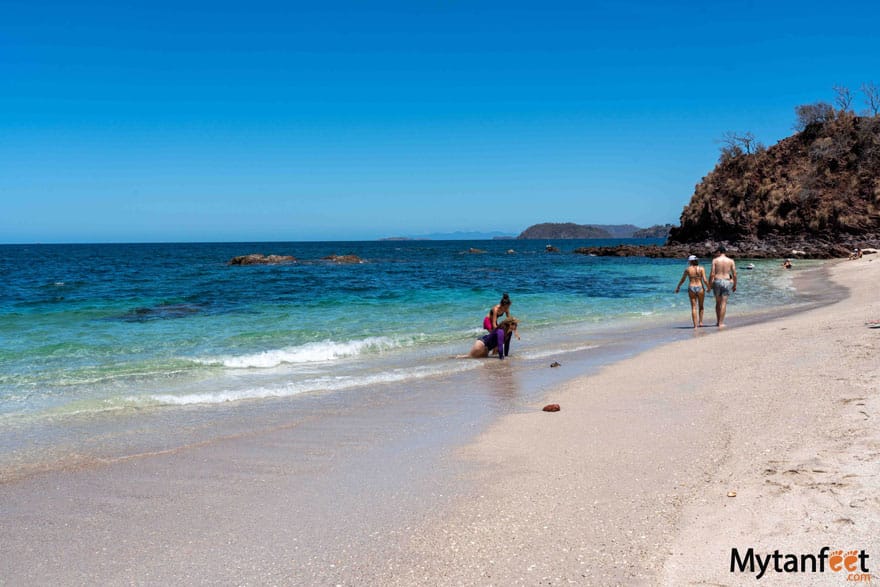 Have dinner in Brasilito at Masala Indian, Patagonia del Mar, Soda Brasilito or Las Olas BrewPub and then head back to Tamarindo.
If you want to go out, The Alley, Lizard Lounge and Rumors usually have something going on.
Day 6: Tamarindo
On your last full day in Tamarindo, just relax and enjoy. Nothing is planned for today so it's open to how you want to spend it. Sleep in, lay by the pool, go shopping, surf, swim, lounge.
You can watch the sunset on the beach or walk up to the viewpoint in town called "Scenic Overlook of Tamarindo" on Google Maps.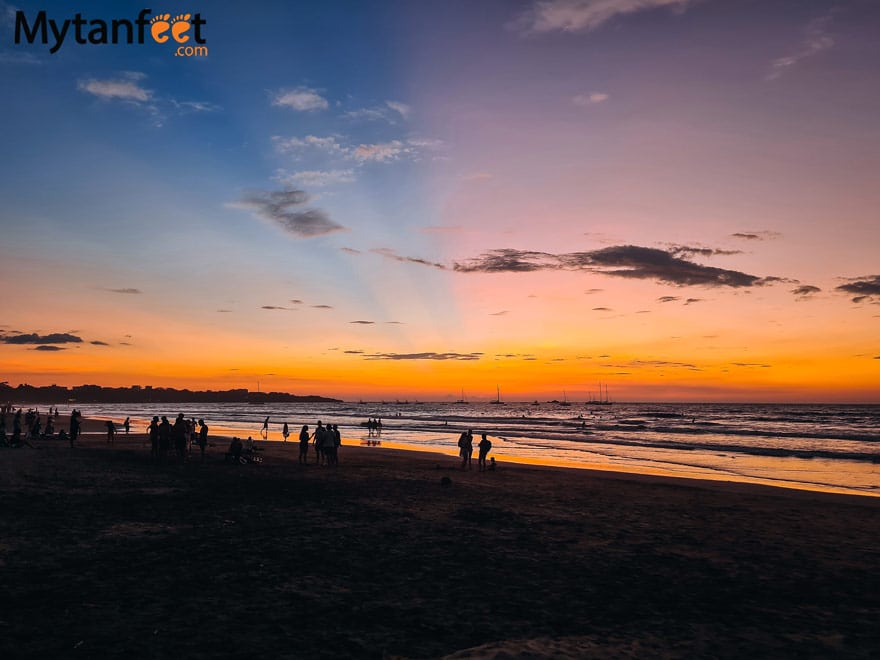 If you do want to do something, you can take an ATV tour, visit Playa Langosta or kayak and snorkel at Isla Capitan.
Day 7: Fly Out
Today you will fly out of Liberia International Airport to go back home. We hope you had a fantastic 5 days in Tamarindo!
More Costa Rica Itineraries
1 week in Costa Rica Central and South Pacific (Fly in/out of SJO Airport)
Costa Rica 13 days: San Jose, Puerto Viejo, La Fortuna, Monteverde
Costa Rica 8 days: La Fortuna & Playas del Coco