If you have one week in Costa Rica, check out this 1 week Costa Rica itinerary to help you plan.
This sample one week Costa Rica itinerary flies into San Jose International Airport, and goes to Jaco, Manuel Antonio and Uvita. This Costa Rica 7 days itinerary is ideal for those who want to see beaches, rainforest and nature.
Important note: this itinerary requires renting a car. There are buses and shuttles but since you are there for only one week, you want to maximize your time and minimize the time on the road. Get our car rental discount and extra freebies here!
Day 1: San Jose & Jaco
Land at San Jose International Airport, pick up your car rental and head to Jaco right away, about a 1.5 hour drive. Do note that traffic in San Jose is heavy so it may take you around 2 hours or more depending on the time of day you land.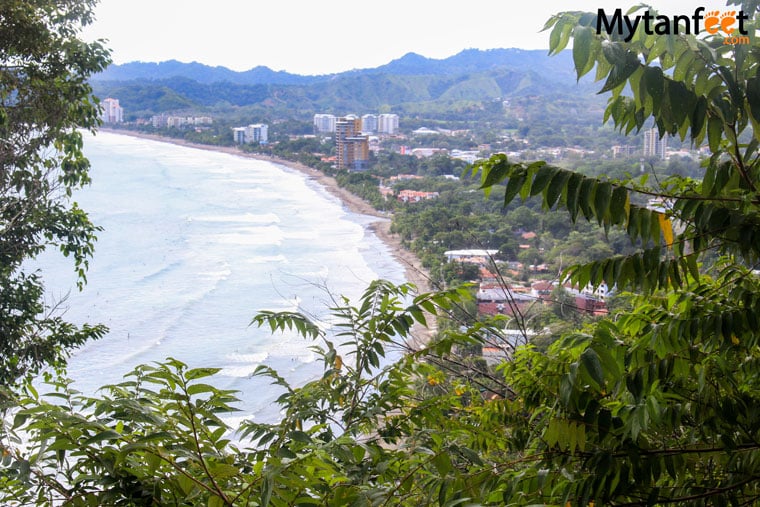 About Jaco
Jaco is the closest beach town to San Jose so it's full of locals and tourists and has tons of good restaurants, shops and other services. This beach is famous for surfing as it has constant waves and several breaks, perfect for beginners and pros. This town also has some of the best restaurants in Costa Rica and a very lively nightlife.
It's not the most beautiful beach but it's close and easy to get to so rest up, wander around downtown, watch the sunset on the beach and get ready for day 2!
Where to stay in Jaco
Tuanis Aparthotel, Budda Hostel, Selina Jaco, Croc's Casino and Resort, Oceano Boutique Hotel, and Beach Break Resort. You can find hostels for as little as $15 USD a bed, mid range hotels for around $80 USD or nicer places for $100 USD and more.
An alternative option for Jaco is Playa Hermosa. This is the ultimate surfing beach in Costa Rica with a few hotels and restaurants and it's much more laid back and relaxed than Jaco. It's just a ten minute drive south of Jaco. Great for those looking for a less touristy and quieter beach.
Where to eat in Jaco
Grafitti, Soda Rustico, Amancios, Tsunami Sushi, Pizza Shop, Orange Pub, Beer House, Soda Garabito. Read more of our favorite restaurants in Jaco here. Food in Jaco can run anywhere from $6-20 USD a meal depending on where you go. There are tons of happy hour and drink specials at the bars.
Day 2 of this 1 Week Costa Rica Itinerary: Jaco
Day 2 is open to whatever you want to do. Below are our recommendations.
What to Do in Jaco
There is so much to do in Jaco! You can take a surf lesson, explore waterfalls, ATV, SUP and much more. You can read more things to do in Jaco here.
For one full day in Jaco, we recommend to spend the day checking out town and the beach. If you feel up for it, you can take a surf lesson which costs around $50 USD per person. For surf lessons, you can find instructors on the beach or you can go to one of the many schools.
Have lunch at Soda Rustico Jaco and dinner at Graffiti, El Manglar or Puddlefish Brewery. You can get ice cream at the El Barco or Pops in downtown.
Day 3 & 4: Manuel Antonio
Today you'll drive to Manuel Antonio, about a 1 hour drive south of Jaco.
About Manuel Antonio
This is a very popular area in Costa Rica because of the national park, stunning beaches, abundant wildlife and incredible views. Here is where you will have the best sloth spotting opportunities in this one week Costa Rica itinerary.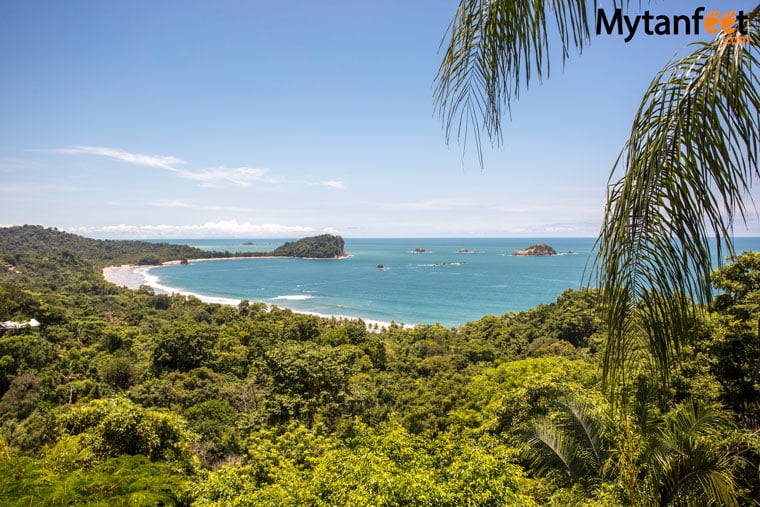 You don't have to leave super early in the morning as it's just one hour away, so take your time in the morning and enjoy the drive. Once you arrive at Manuel Antonio, relax, hang out by the pool and drive down to the beach to watch the sunset. For dinner, we highly recommend Emilio's Cafe, Raphael's Terraza, or Cafe Agua Azul.
Day 4: Manuel Antonio National Park
Once named by Forbes as one of the most beautiful national parks in the world, Manuel Antonio National Park has postcard perfect beaches with sparkling turquoise water, fluffy white sand and swaying palm trees.
At the national park you can hike the trails, swim, spot sloths, lay on the beach and hang out with monkeys. I recommend getting to the park early (it opens at 7 AM) to take advantage of the whole day. The national park entrance fee is $16 USD per adult..
You can hike the park by yourself, but if you really want to see lots of wildlife and learn about the flora and fauna, I recommend hiring a guide. You can hire one at the national park entrance if you rented a car or book one through a tour company.
We have discounts for guided Manuel Antonio National Park tours which you can read more about in our Manuel Antonio discount page here.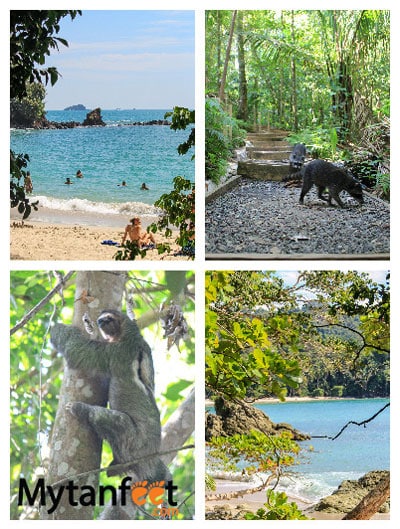 Where to stay in Manuel Antonio
Hotel San Bada, Selina Hostel, El Faro Hotel, Vista Serena Hostel, Hotel Costa Verde, Plaza Yara, Tico Tico Villas, Jungle Beach Hotel, Tres Banderas. There are many hostels in Manuel Antonio or you can splurge for a luxury hotel. Hostels are around $10 -15 USD a bed and upscale hotels run a minimum of $250 USD a night.
If you want to splurge on a hotel for this 7 days Costa Rica itinerary, I highly recommend doing it in Manuel Antonio. Many luxury hotels have a spectacular view of the national park, infinity pools, spas and some even have private hot tubs on the balconies. Some high end hotels are Si Como No, Gaia, Makanda by the Sea, Tulemar, the Falls Resort, Arenas del Mar, Parador and Hotel La Mariposa.
Days 5 & 6 of this 1 week Costa Rica itinerary: Uvita
On day 5, you'll drive to your next destination: Uvita.
About Uvita
Uvita is a small town in the Costa Ballena, perfect for a peaceful jungle getaway. This area doesn't see as many tourists at Jaco or Manuel Antonio so you will have the opportunity to enjoy beaches and the rain forest without crowds.
Manuel Antonio to Uvita is roughly one hour south on Route 34 and is an easy drive. I do recommend getting there somewhat early so you have more time to explore. Hotels will hold onto your luggage for you if early check in is not available.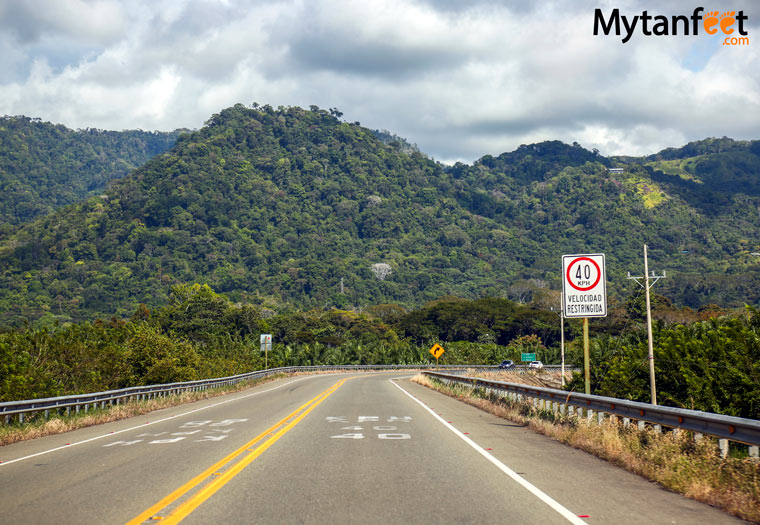 Things to Do in Uvita
You can visit a couple of waterfalls nearby such as Catarata La Uvita and Cascada El Pavon. Both are small charming waterfalls 15 minutes from Uvita, a short walk and cheap.
Make sure to visit Marino Ballena National Park and hang out there for the rest of the afternoon. You can walk on the beach, swim, visit the Whale's Tail if it's low tide and watch the sunset.
Day 5
This day is open for you whether you want to chill or do some activities.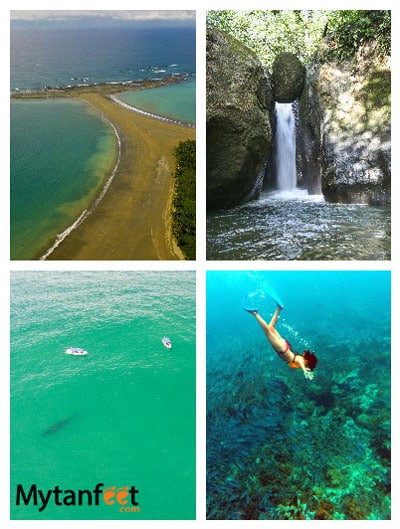 What to do in Uvita
Some of our favorite things to do in Uvita are the Nauyaca waterfalls, humpback whale watching and Cano Island snorkeling. If you want to go ziplining, there is a fun zipline at Hacienda Baru near Dominical.
For those visiting January – March or July – September, definitely take a whale watching tour. Uvita is the best place to see humpback whales and those are great months to see them.
Where to stay in Uvita
Manoas, a glamping and villa resort in the mountains (get 10% off), Los Laureles Cabinas, La Cusinga Lodge, Cristal Ballena, Hotel Cuna del Angel and Oxygen Jungle Villas. As most of the hotels are outside of Uvita up in the mountains, a 4×4 may be required.
**You can also choose to stay in Dominical or Ojochal. Dominical is about 20 minutes driving from Uvita and is a surfing beach town, but not as big as Jaco. It has more of a hippie feel and the beach is very different. Most people who stay in Dominical are those who like surfing or want to camp on the beach.** Ojochal is about 20 minutes south of Uvita and has lots of luxury vacation rentals.
Day 6: Back to San Jose
Today you'll head back to San Jose. It's about a 3.5 hour drive from Uvita to San Jose. If your flight is early in the morning, we recommend to go to San Jose the day before so you're not driving in the
If your flight is in the late afternoon, make sure you leave with plenty of time to get to the airport at least 2 hours before your flight and to account for traffic and returning the rental car.
Where to stay by SJO airport
Hotel El Aeropuerto, Adventure Inn (get 10% off here),Terida Airport B&B, Hamptonn Inn and Suites San Jose Airport. You can read more suggestions for best hotels by San Jose Airport here.
Many airport hotels offer free airport shuttles so you can return your rental car on this day. If you stay more in downtown San Jose, you can take an Uber to the airport. Uber works well in San Jose. Read our tips on using Uber in San Jose, Costa Rica.
From San Jose downtown to the airport, it costs around $15 USD one way for an UberX.
Day 7: Fly Home!
And your Costa Rica has come to an end as you fly home on day 7. This 1 week Costa Rica itinerary gives you a good amount of time to explore 3 different places.
Sample 1 Week Costa Rica Itinerary
Here is an interactive map where I've included our hotel and restaurant recommendations, driving routes and relevant guides. (Use the sidebar to find the filters and key map)
The destinations in this 1 week Costa Rica itinerary are not too far apart and luckily it is just one main highway you'll be driving on outside of San Jose.
Alternative Ideas
This itinerary is a bit quick. If you don't want to move around as much, you can skip Uvita and add a day to Jaco and Manuel Antonio. If Jaco doesn't sound like your kind of place, you can skip Jaco, and go straight to Manuel Antonio, Dominical and Uvita instead.
Another idea is to just pick one destination to use as a home base and take day trips. This is less stressful since you won't have to move or drive every couple days.
Estimated 1 Week Costa Rica Itinerary Cost
For this 7 day Costa Rica itinerary, if you're staying in hotels that cost about $80 USD a night, spending about $40 USD a day on meals and drinks, doing 2 tours around $100 USD each, you're looking at spending roughly $1100 USD for the week per person. This doesn't include the car rental which can be $400 USD a week depending on the model, time of year, insurances and extras.
You can do it cheaper by staying in hostels/budget places and taking the bus. You can also skip costly tours. However, we do recommend doing at least one tour since they take you to places you can't go on your own.
For more of an idea, check out this one week Costa Rica travel budget to see how much we spent in Jaco and Playas del Coco.
Check out other Costa Rica itineraries!
2 week Costa Rica itinerary: Arenal, Monteverde, Santa Teresa and Playas del Coco
14 day itinerary: Tortuguero, Arenal, Monteverde, Guanacaste
10 day itinerary: San Jose, Puerto Viejo and Arenal
This post has affiliate links