Sitting in the northern corner of the Osa Peninsula, Drake Bay offers an escape from the crowds surrounded by dense jungle and beaches. With a small town consisting of a couple pulperias and sodas, Drake Bay is the ideal spot for a few days of peace and quiet or as a home base to explore the Osa Peninsula.
It's considered the most remote place in Costa Rica and is quite an adventure to get there. If you're visiting Drake Bay, read our guide on taking the boat from Sierpe to Drake Bay.
Prices are listed in USD below.
How to Get to Drake Bay
Getting to Drake Bay is quite an adventure itself as it's one of the most remote places in Costa Rica. There are three ways to get there: boat, plane or car/bus, each with their own pros and cons.
Plane: A local airline called Sansa Air flies into Tortuguero. You get stunning views of the coastline. Flights are about 40 minutes and around $180 one way in high season.
Bus: From San Jose, you can take the bus to Sierpe (830 AM with Empresa Tracopa from Calle 5, Ave 18-20). It takes 4.5 hours and runs everyday.
From Puerto Jimenez, you can grab the bus to San Jose and ask the driver to drop you off at La Osa. Then you have to flag down the local bus at around 445 PM to get the bus to Drake. Though it's cheap, the bus to Drake Bay is also a local colectivo and runs only once a day (if it comes).
Driving: There is one road that leads you all the way to Drake Bay, which is pretty wild so it is required to have a 4×4. It's safer to drive in dry season when water levels are low. Driving isn't recommended in rainy season where water levels can get very high and you can get stranded due to heavy rains and storms.
Boat: The most common method to get to Drake Bay. Take a taxi boat from Sierpe to Drake Bay, about one hour.
Renting a Car
If you're planing on renting a car and taking the boat, here is the information on how to do it. We also have a Costa Rica car rental discount (click to make a reservation) with Adobe Rent a Car.
Returning a car in Sierpe: There aren't car rental companies in Siepre but companies will pick up the car there for an extra fee. With Adobe, their closest office is in Uvita but they can pick up and deliver to the Sierpe dock for a fee.
So you can drive to Sierpe dock, have Adobe pick up the car and then go to Drake Bay so you don't need to worry about parking the car. The latest Adobe can go to Sierpe dock is at 1 PM so you need to take the earlier boat.
Renting a car in Sierpe: Then if you want to rent a car after your Drake Bay trip, Adobe can deliver the car to Sierpe dock when you arrive so you don't need to go to their office in Uvita. You also have to take the earliest boat because Adobe doesn't deliver the car to Sierpe dock past 1 PM.
Taking the boat from Sierpe to Drake Bay
Taking the boat from Sierpe to Drake Bay is very fun and has gorgeous views. Many hotels include boat transportation in their packages but if yours doesn't, you'll need to arrange it by yourself.
Here is the map of the route you will take for the boat from Sierpe to Drake Bay.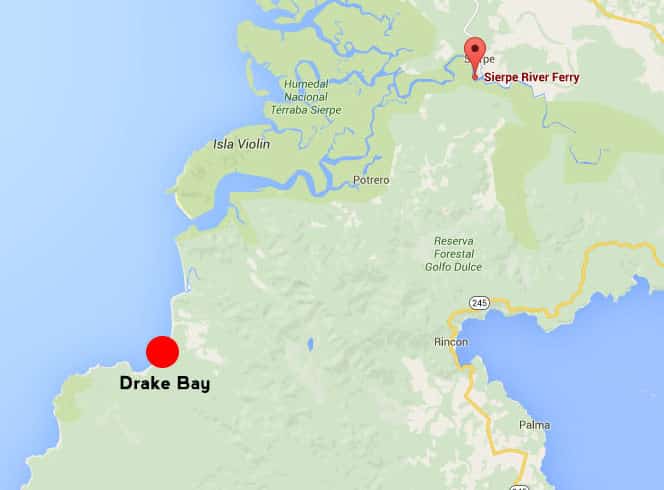 You can see you will go through the Sierpe mangroves and out onto the coast for this boat ride.
Getting to Sierpe
The launch point for the boats is in Sierpe so whether you're driving, going with a shuttle or taking the bus, you need to get to the La Perla del Sur restaurant next to Hotel Oleaje Sereno.
If you're taking the bus, there are buses from Palmar Norte to Sierpe everyday at 4:30, 7, 9:30, 11, 13:30, 14:30 and 17:00 which takes about 40 minutes.
If you're driving, stay on the Costeanera Sur until you reach the intersection for Palmar Norte, about 45 minutes from Uvita. Take a right at the main intersection, go across the bridge and take the next immediate right (there are signs) to Sierpe, another 10-15 minutes drive.
Parking
Stay on the main road once you reach Sierpe and drive all the way through town until you see a big sign that says La Perla del Sur Adventures. Turn left and this is where you'll get your parking pass. There will be a guy handing out passes and he'll tell you where to park.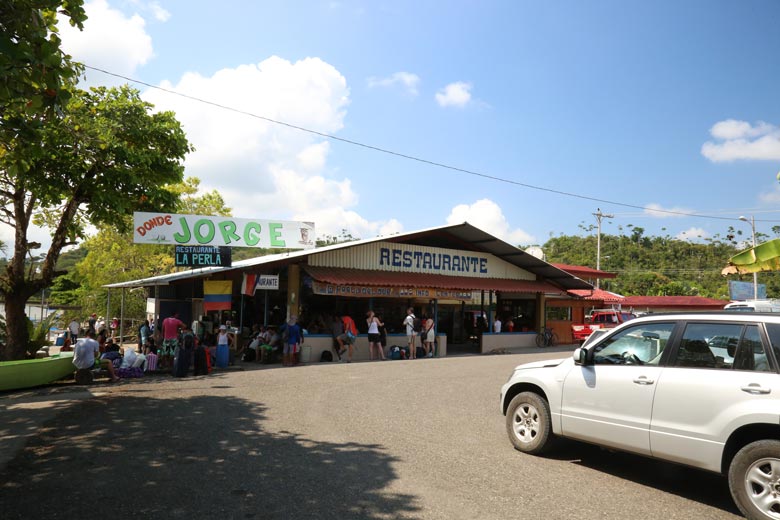 The parking lot is to the right of the sign and it costs $6-8 USD a day. Keep the pass he gives you, you'll need it to pay when you come back.
Sierpe to Drake Bay Boat Schedule
The taxi boat is called Don Jorge and there are two departure times for Drake Bay: 11:30 AM and 330 PM. It costs $20 USD per passenger at 11:30 AM and $25 USD at 330 PM.
Talk to the man directing the cars but if you can't find him, go into the office next to the restaurant. Tell them which hotel you're going to and they'll tell you when which boat you'll go on and when it'll be ready. You can wait in the restaurant.
You pay them when you reach Drake Bay before you get off the boat in either dollars or colones.
If you check in at the Las Vegas Bar and Restaurant, there are also other taxi boats that run throughout the day. In case you miss the two scheduled ones from Don Jorge, you can ask around the restaurant as there are usually many locals waiting around there with their boats.
The boat ride
The boats are not very big (holds probably around 12-15 passengers) and they don't wrap your luggage so make sure your belongings are nicely zipped up. It's unlikely your luggage will get wet but you never know, so bring garbage bags with if you are worried.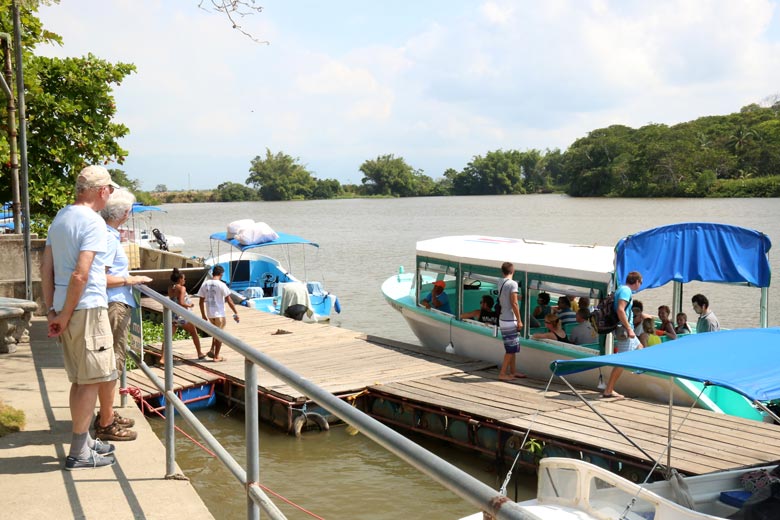 They'll take your bags for you to load into the boat and you can keep your backpack or purse. They'll start calling hotels once boats are ready so listen for your hotel.
Once everyone is ready, you'll begin your journey through Sierpe river and you'll see glimpses of the mangrove on the way.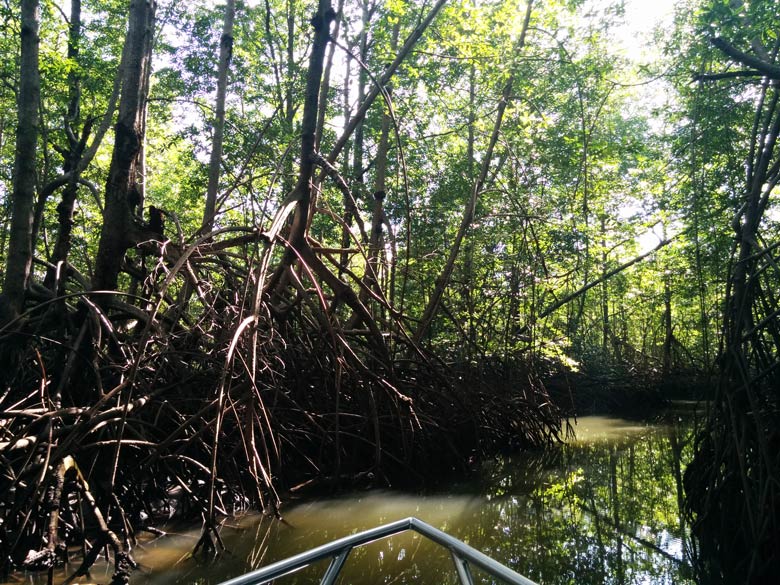 After about 40 minutes or so, it's time to merge into the ocean. This part is a bit bumpy depending on the tide, so hold on! The boat captains are all very familiar with this area however, so don't worry. They know how to navigate and cross the river mouth to the ocean pretty well.
The first time we took this boat ride it was fairly smooth but the second time, oh boy! It was quite an adventure and it was exciting yet a little terrifying. We waited for about 20 minutes while the boat captain observed the waves and finally got a break for us to zip through.
From there, it's about 20 minutes to Drake Bay. The views of the coast are spectacular! This is why taking the boat from Sierpe to Drake Bay is highly recommended – you don't get to experience the thrill of boating in a river and ocean if you drive or fly.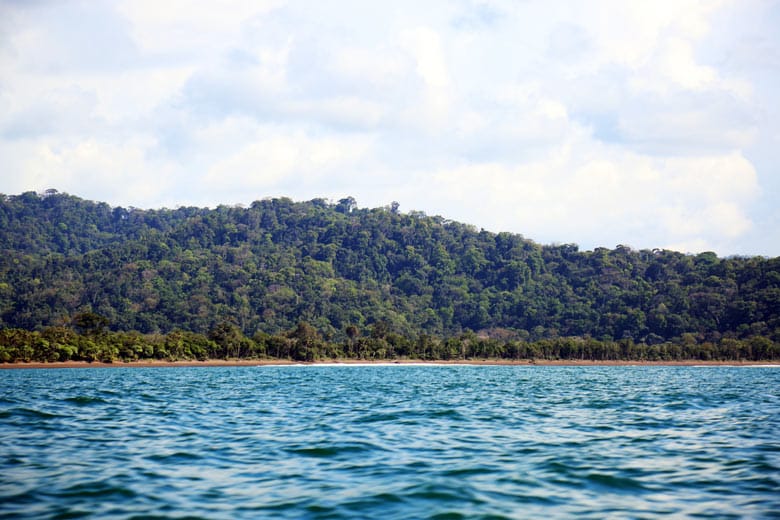 Arriving at Drake Bay
Once you reach Drake Bay, they'll help you unload your luggage and get you off the boat. Make sure you're wearing sandals or flip flops and shorts or roll up your pants because it is a wet landing.
For recommendations on hotels in Drake Bay, we stayed at Tranquilo Lodge which was amazing!
Drake Bay to Sierpe Boat Schedule
The public boat from Drake Bay to Sierpe is at 7:15 AM and 2:15 PM. The AM costs $15 USDper person and the PM costs $20 USD per person. You can also see if your hotel can arrange a private boat transportation for you in case those times don't work out.
Tips for Taking the Boat From Sierpe to Drake Bay
You can't pre-book reservations so arrive in Sierpe at least 30 minutes early. In high season, at least 1 hour. It was really crowded when we went beginning of January and we were afraid we wouldn't get a spot.
Fees recap: 3,000 colones ($6) a day for parking, $15 per passenger at 11:30 AM, $20 per passenger at 4 PM
If you get seasick, take anti-nausea medicine and bring some ginger ale or ginger candies. It depends on the wind and tide how bumpy it is.
Make sure you don't leave any valuables in your car, roll up the windows and lock the door. It's a secure parking lot but you don't want to take any chances
Wear sunscreen. At 11:30 AM the sun is high and bright and half my face was in the sun for a good hour.
Once in Drake Bay, relax and enjoy the beautiful Osa Peninsula. Go snorkeling at Cano Island or hike Corcovado National Park, two of the best activities to do in the area!
How to Get to Other Destinations in Costa Rica
Playas del Coco/Gulf of Papagayo