"Wow, this is beautiful," I thought to myself as we approached the viewpoint. Despite Arenal Volcano hiding behind some clouds, the view was breathtaking. Deep green forest stretched in front of us for miles and miles. A slight mist hung quietly over the top of the trees and birds sang cheerily in the distance. It was quiet, so very quiet as we rode deeper into the forest.
With a view like this, it was the best way to introduce my family to the rain forests and mountains of Costa Rica.
La Fortuna Horseback Riding Tours Experience
At the view point, we listened to our guide as he explained to us the importance of this very spot. From here we could see the site of Tabacon old town before it was destroyed by the 1968 eruption of Arenal.
For this reason, the El Silencio Mirador is actually considered in the high risk zone but as Arenal Volcano has stopped erupting, many people hike and horseback ride through this area just like us.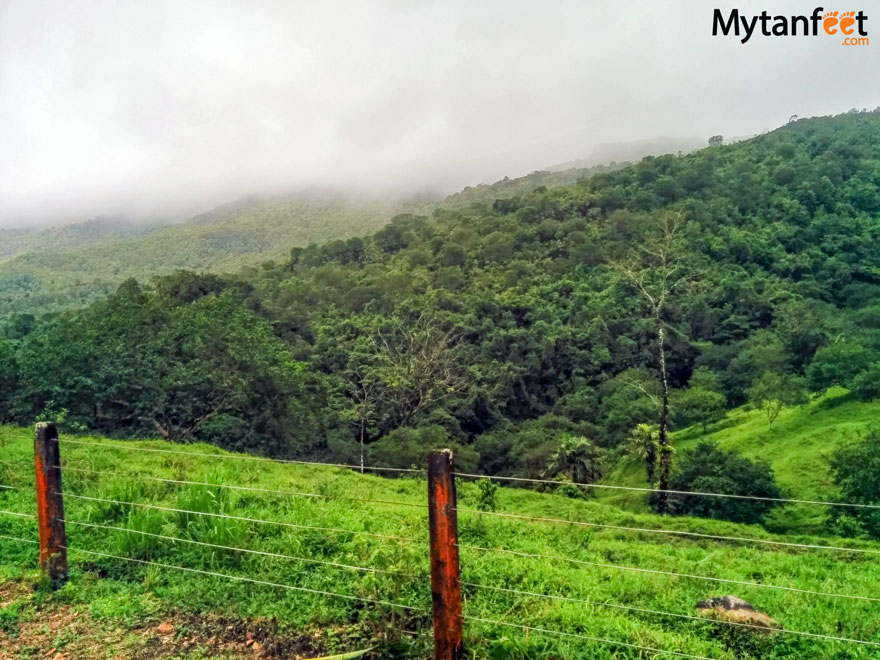 Nudging our hoses along, we made our way through the 555 acre nature reserve surrounded by old growth trees as far as the eye can see. We stopped to observe a giant Ceiba tree and took some photos.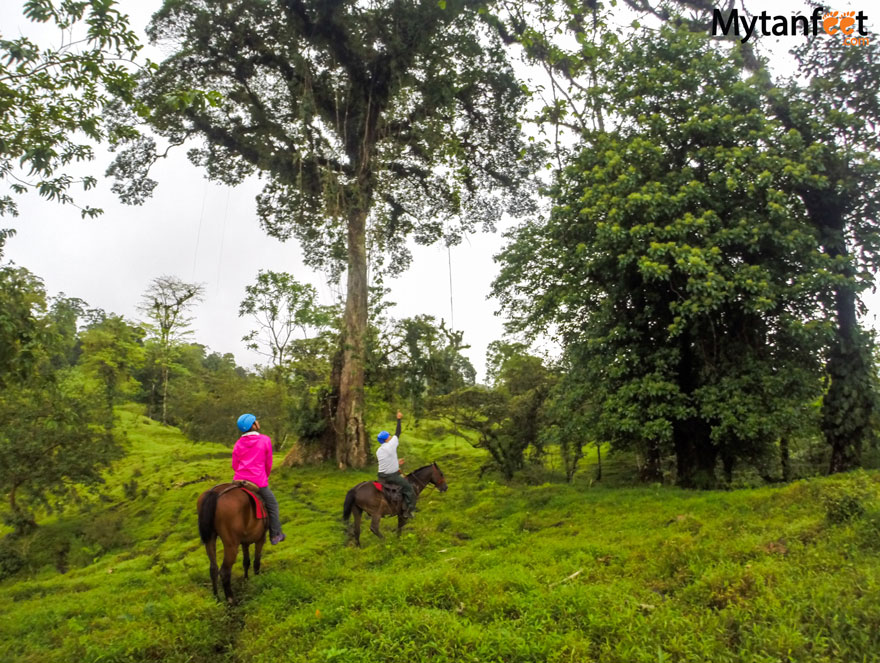 Trotting just a hundred feet more, we reached another viewpoint that overlooked the Arenal Volcano National Park. A herd of cows sleepily observed us as we got closer.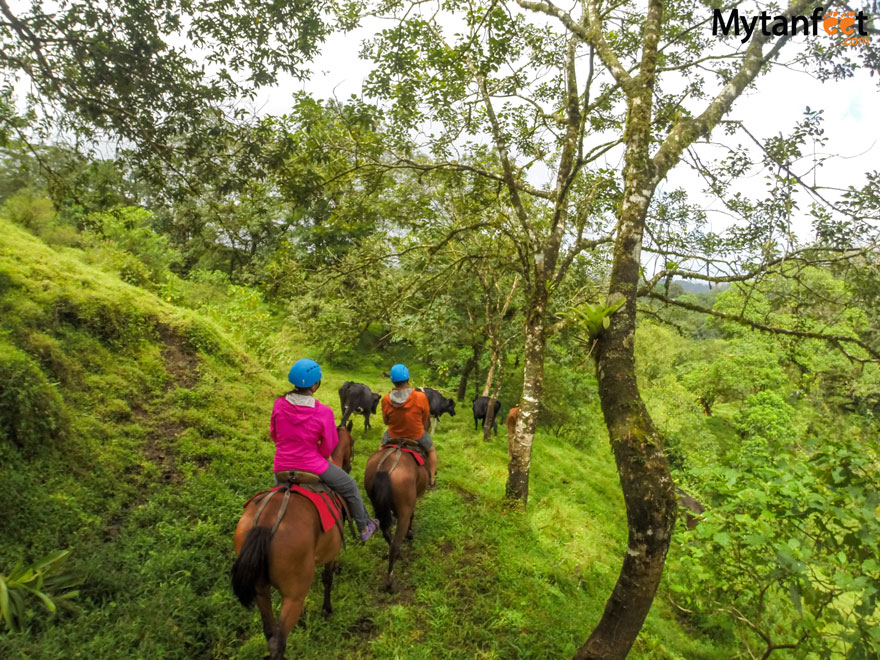 There was still so much more to see so we headed back towards the mirador to turn onto another trail that would take us through the reserve.
Why You Should Take a La Fortuna Horseback Riding Tour
The Arenal area has always captured our hearts, delighting our eyes with lush forests. Compared to the arid and yellow desert of Guanacaste that we saw for nearly 8 months of the year, being surrounded by all this intense green was certainly a welcome change.
About halfway in, a light sprinkle came down and I turned my head to the sky, licking the raindrops off my lips savoring the cool fresh water. My horse had the same idea, pausing to nibble on some of the dewy grass.
This is one of the things we love most about the Arenal area. It's hot but gets plenty of rain so the air feels crisp and refreshing. The landscapes are some of my favorite. There is primary rain forest everywhere you look!
Who wouldn't want to horseback ride through all this spectacular scenery?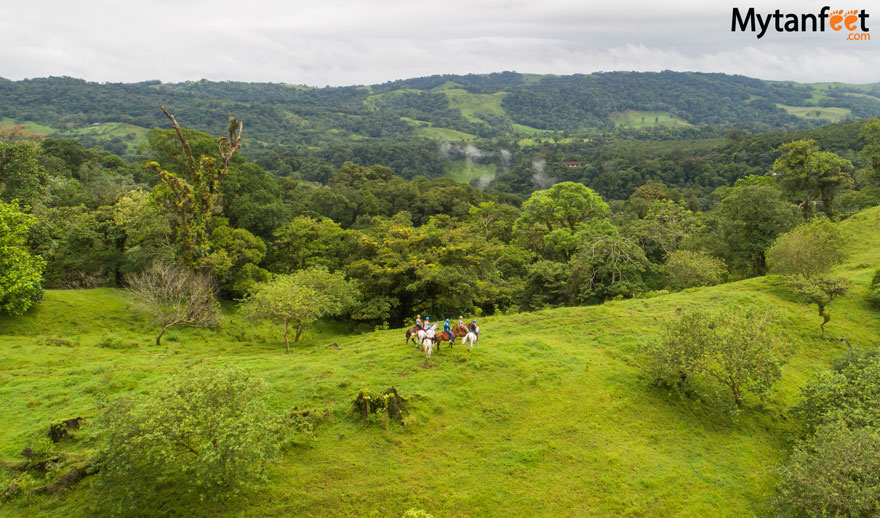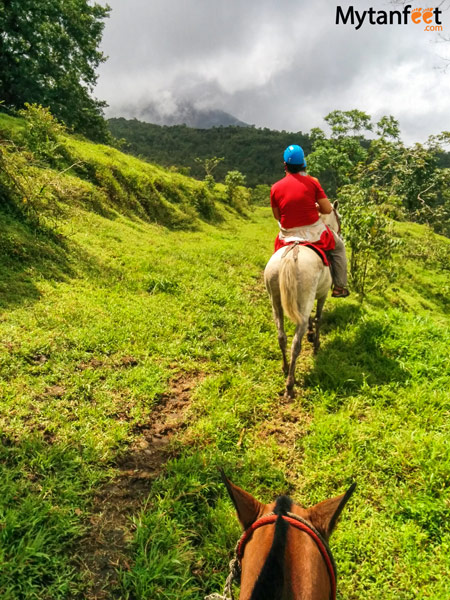 My parents had never gone horseback riding before and taking them through a nature reserve in the rainforest was, in my opinion the best way for them to try it for the first time.
Horseback Riding Tips
Wear long pants and closed toed shoes. If you've ever been horseback riding before, you'd know there's a reason why cowboys always wear jeans or long pants!
If you go in rainy season, bring a rain jacket. They gave us a poncho just in case.
You don't really need to bring anything. Our guide brought water and had fruit for us at the end.
You can bring a camera but I don't recommend a DSLR if you're not comfortable on a horse. Sometimes they will break into a trot and you don't want to be dropping anything. I used a waterproof phone case and wore it around my neck. You can bring a point and shoot with a wrist trap.
If you bring your GoPro, make sure you have the helmet clip and mount.
Horses know where to go so sit back, relax and enjoy the views!
Watch a video of the horseback riding in Arenal tour here. This is one of the best Arenal horseback riding tours and we highly recommend it!
Want to do this Arenal horseback riding tour? Get 7% off with our La Fortuna tours discount here!
Read about other things to do in Costa Rica!
There are Amazon affiliate links in this post.