The small village of Samara, Costa Rica in the Guanacaste province has been a long time favorite vacation spot for tourists, attracting visitors looking for a family friendly, fun and mellow beach town.
In this guide, we will help you plan your trip to Samara.
The Town
The town of Samara is quite small and you can easily walk to get around. Driving in Samara is not too bad but parking is very limited on the main street.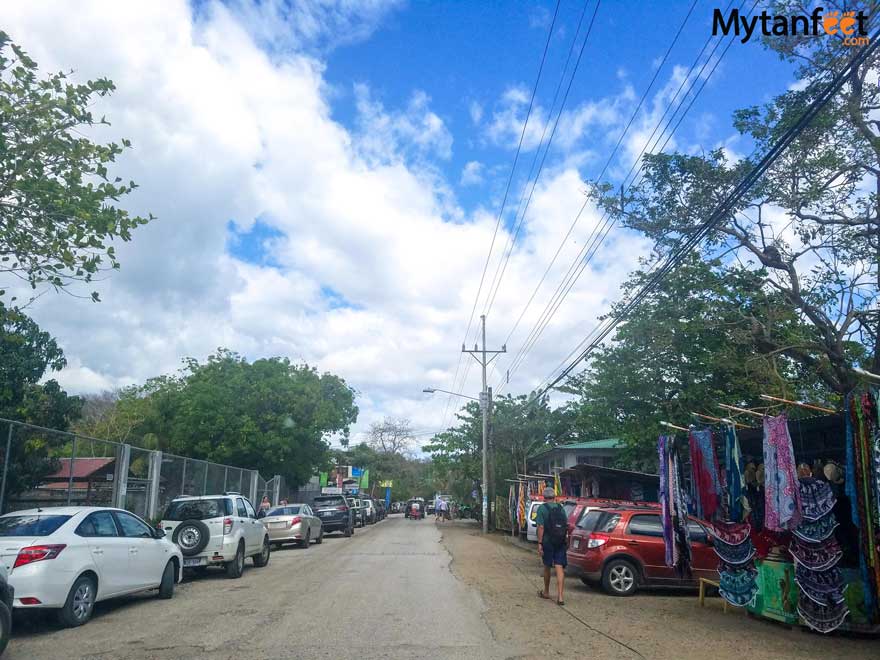 The roads are paved and you can find hotels, hostels, restaurants, shops, banks and everything in Samara.
How to Get Around Samara
You will find bike and ATV rentals, car rentals and golf cart rentals in Samara and it's easy to get around the area.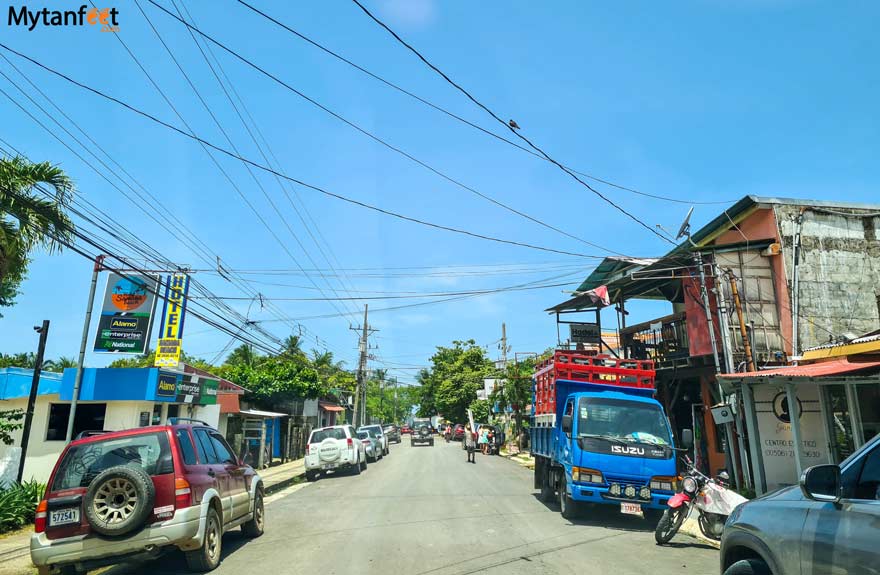 There are many hotels and rentals right in town, a 5-10 minute walk to the beach.
Samara Vibe and Demographic
Samara is a popular expat and immigrant beach town in Guanacaste and you can find people from all over the world. Many people who move to Samara are into yoga, surfing and vegan/vegetarianism. Samara has fun nightlife but it has a very healthy vibe, making it a favorite for families.
The Intercultura Spanish School and Costa Rica TEFL have a branch in Samara. Many tourists go there to get there TEFL.
There are also a few digital nomads and expats in Samara. The digital nomad scene is growing a lot and some hotels are adapting their accommodations to host short term and long term digital nomads.
The Beach
Samara beach is perfect for a leisurely stroll, relaxing and swimming. There are also surf schools around as waves are good for beginners and lessons.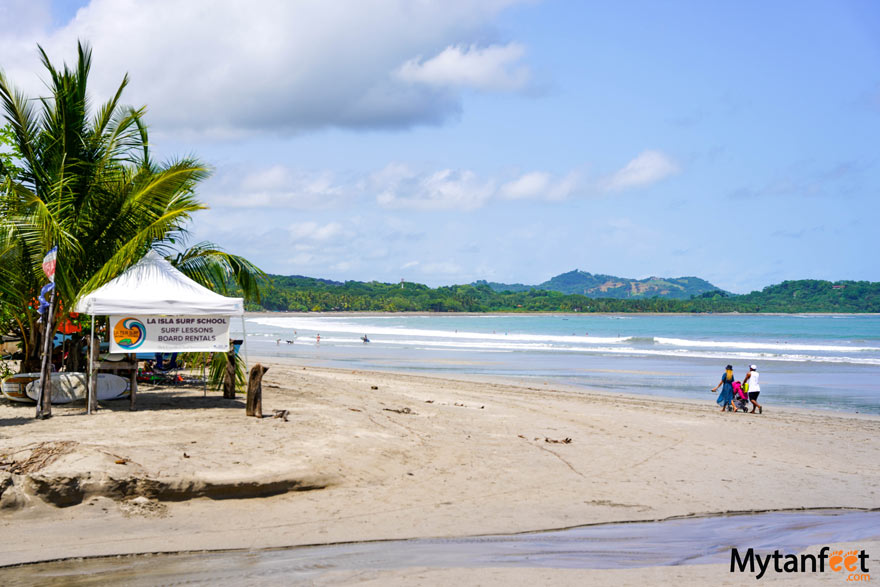 At the main beach entrance, they made a very nice platform to walk down to the beach. There are some beachfronts bars and souvenir stores around there.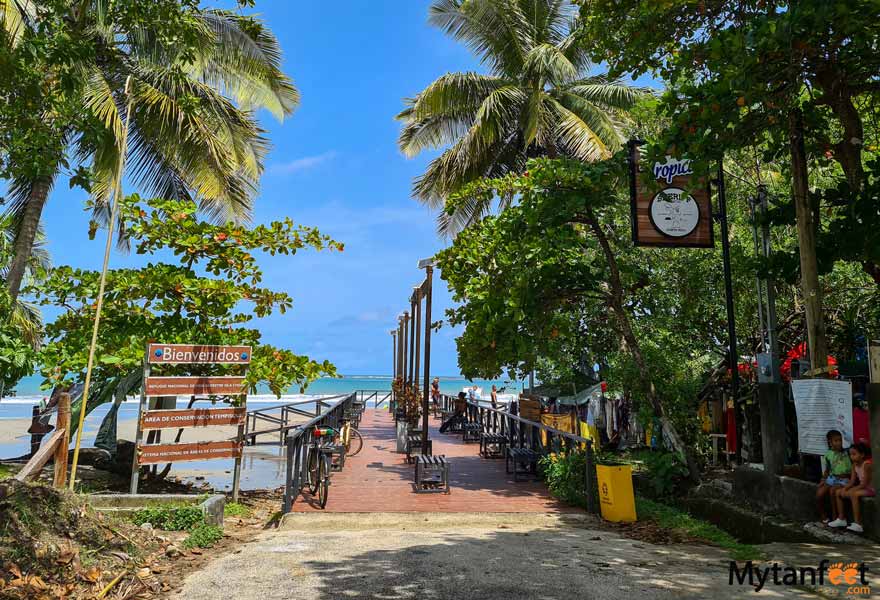 The beach is undeniably beautiful and I witnessed one of the most beautiful sunsets here!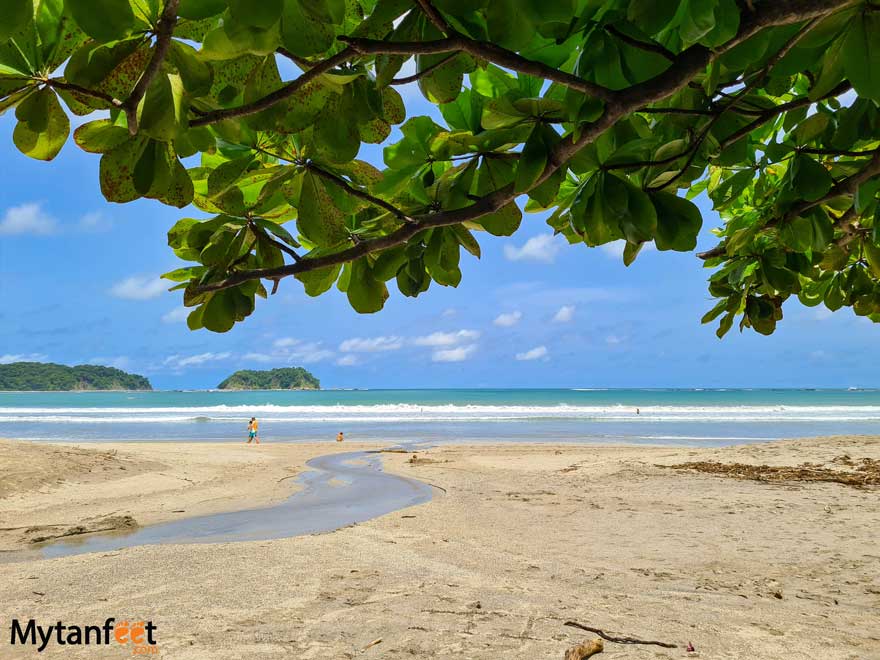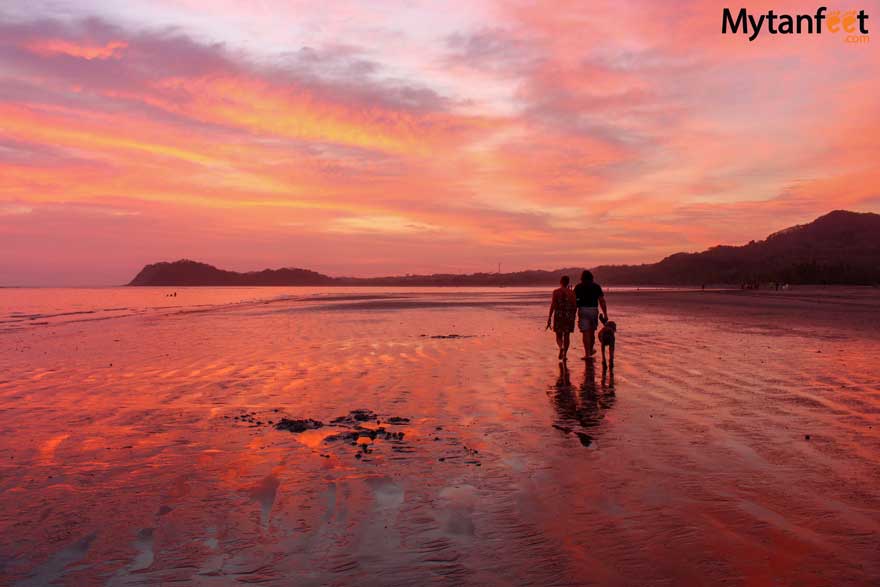 Supermarkets and Services
For supermarkets, there are a few small grocery stores in town like Super Samara, Pali, Super China and Fruteria Pura Vida (fruits and vegetable store).
There are also banks, ATMs, pharmacies, laundromats, tour centers, car rentals, the bus station and clinics right in town.
Samara, Costa Rica Weather
Samara has great weather with nearly year round sun experiencing typical tropical weather with a distinct dry and rainy season. Dry season is from beginning of December – end of April and rainy is beginning of May to end of November approximately. The average temperature in Samara is around low 90s F (32-35 C) during the day and mid to high 70s F (24 C) at night.
The rainiest month are generally September and October and the typical rainy day is that it will be sunny and hot in the mornings, cloudy in the afternoon and then off and on rains in the late afternoon/evenings.
Samara Hotels
There are many hotels and different types of lodging available in Samara. There are also lots of vacation rentals outside of Samara. For long term rentals, Beach House Apartments are highly recommended with AC and a little outside town.
Hideaway Hotel Samara: This is a cute boutique hotel with a pool near Carrillo. It's in a very quiet area of the beach. They have 12 spacious rooms and a penthouse. Check Hideaway Hotel rates here.
Tico Adventure Lodge: A cute little hotel about a 10-15 minute walk to the beach. Has fiber optic internet, a nice garden and various rooms (single/doubles). Good option for those who need good internet to work. Check Tico Adventure Lodge rates here.
Hotel Samara Beach: Only 50 meters from the beach and right in town with standard hotel rooms. Check Samara Beach Hotels here.
Villas Kalimba: This hotel has 6 independent villas. The property has a garden and large pool with a waterfall and Jacuzzi. Check Kalimba rates here.
Hotel Sol: This hotel is near the east end of the beach and has 11 standard hotel rooms and a family suite. In a quieter area of Samara. Check Hotel Sol rates here.
Hotel Villas Playa Samara: A family friendly beachfront all inclusive resort with a spa, restaurant, pool and bungalows and villas. Check Villas Playa Samara rates here.
Hotel Azura: Adult only, luxury beachfront all inclusive resort. Check rates here.
For a unique experience, check out Kintiri Glamping. It's 40 minutes outside of Samara up in the mountains (4wd/4×4 car) with a beautiful view, amazing sunsets and glamping dome tents.
Samara Restaurants
Samara is a great place if you're gluten free, vegan or vegetarian traveling in Costa Rica. Here are our recommended restaurants.
Falafel Cafe: Decent place for Mediterranean and Lebanese food.
Roots Bakery: Great coffee, lots of different pastries like empanadas, scones and croissants. Also has breakfast.
Ahora Si Restaurant: Good Italian restaurant, also has a cooking school.
El Lagarto: Beach bar and very good barbecue
Soda Marisqueria Colochos: Good place for Costa Rican food and seafood.
Di Mare Di Vino: Typical Italian with pastas, pizza and seafood. Part of the Hotel Giada.
El Ancla: Very nice beachfront seafood restaurant, great ceviche. Also dog friendly.
Gusto Beach: Another Italian restaurant and pizzeria. Beachfront.
La Aldrea: Great spot for smoothies, juices, veg food and drinks. They also have a little store and a hostel.
La Catrina: Really good barbecue and smoothies
Restaurant Casa Esmeralda: Good seafood
Things to do in Samara, Costa Rica
There are a lot of fun things to do in Samara. Here are some recommendations.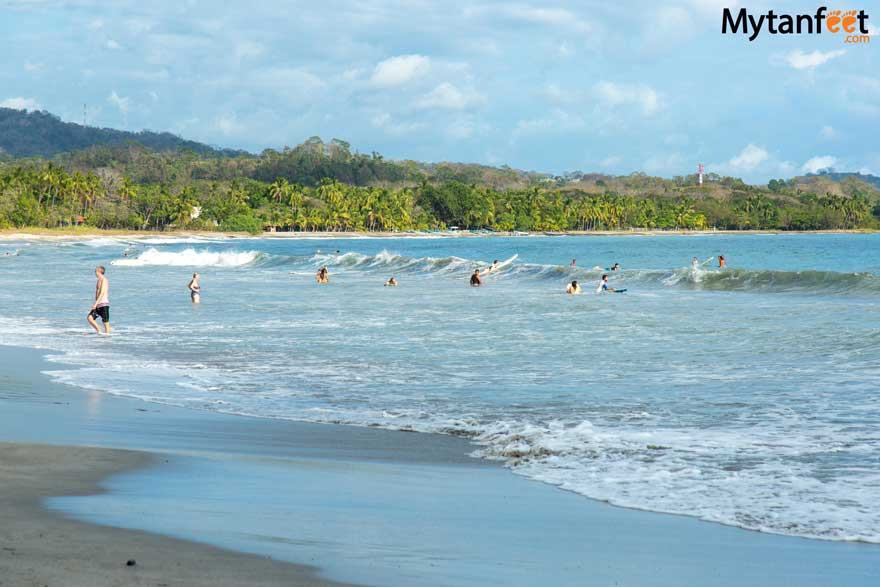 Horseback riding: Take a horseback ride around Samara and go up the mountains or ride on the beach.
ATV Tours: Go on an ATV tour to ride around the mountains of Samara up to beautiful viewpoints.
Surfing and SUP: Take a surf lesson or rent a SUP board. Samara is a great beach to learn how to surf.
La Roca Waterfall: Just a 20 minute drive from Samara is the La Roca Waterfall. They are 3 waterfalls total and takes about 15 minutes walking down a trail. Not huge waterfalls but very nice and refreshing.
Fishing: Go off shore or inshore fishing from Samara. It's a great place to go fishing in Costa Rica.
Kayaking Isla Chora: Snorkeling right off Playa Samara is not great but just off the beach is an island which good snorkeling. You can take a boat ride out there but we recommend kayaking. We kayaked to and snorkeled at Isla Chora which was a fun way to see Samara from the water and snorkel around the island.
Snorkeling: The best place for snorkeling in Samara is Isla Chorro or the Cangrejal, which is at the western end of Samara. The coral reef there is home to many tropical fish and other creatures.
Sunset Catamaran: Go on a catamaran cruise in the afternoon to snorkel and sail back under the sunset.
Ziplining: Go on a beginner zipline with Wingnuts in Samara.
Camaronal Wildlife Refuge: This wildlife refuge protects Camaronal beach, where many turtles in Costa Rica nest. The best time to visit is rainy season and you can take a night time turtle watching tour.
Day Trips from Samara
You can use Samara as a home base for your Costa Rica beach vacation. However, if you want to see something else besides the beach, we recommend to stay a few nights in Samara and then stay a few nights somewhere else like La Fortuna or Monteverde.
Carrillo Beach: Playa Carrillo is a stunning beach right next to Samara so it's is easily accessible via car or biking.
Playa Barrigona is another beautiful beach about 30 minutes away. It has been host to surf competitions but it's very much a local beach. High clearance car recommended.
Ostional Wildlife Refuge: Ostional is one of two places in the world where an arribada (mass gathering of turtles) occur. If you are there the right time of year, you can see tens of thousands of turtles on the beach at one time! It is a 1 hour drive.
Barra Honda National Park: This national park is a 1 hour drive. Go for a hike or take the cave exploring tour. Beautiful views of the landscapes from the viewpoints and in rainy season, there is a waterfall. Hike is moderate to difficult.
Palo Verde National Park: Take a boat ride down the Rio Tempisque to see caimans, monkeys, iguanas and other wildlife in Palo Verde National Park. The river houses the rare dry tropical forest, therefore it is one of the most important reserves in Costa Rica. It is a 2.5 hour drive one way from Samara.
Nightlife
Lo Que Hay is great for happy hour and Bar Arriba turns into a night club at night with music and dancing. Frank's is another bar for sports games.
From Nosara, you must take the bus from Nosara – Nicoya – Samara.
How to Get to Samara
First, the best airport to fly into for Samara is Liberia International Airport (Guanacaste Airport)
Driving to Samara
Liberia International Airport is a 2 hour drive to Samara.
From Liberia, Tamarindo, Playas del Coco or anywhere from North Guanacaste, the road you should take is to Nicoya on Route 21 and then to Samara on Route 150. This is a completely paved road and very easy to drive.
We do not recommend taking Route 160 from Nosara because you have to cross a very big river (Rio Buena Vista). This route is not fully paved and has lots of pot holes. In rainy season, not even with a 4wd/4×4 we recommend to cross the river because the embankment is very muddy and slippery.
From San Jose International Airport, it is about a 4 hour drive. The route is via Route 27, 1, 18, 21 and 150. Make sure you go through Nicoya and then take Route 150 to Samara.
Get our Costa Rica car rental discount and extra freebies here to save money on your trip!
Shuttle
There are private and shared shuttles to Samara. From Liberia Airport, a private shuttle is around $160 USD total for 1-8 people. From San Jose, a private shuttle is around $295 USD for 1-8 people one way. Please contact us if you're interested in a private shutle.
A shared with Interbus is around $59 USD per adult.
Bus
There is a public bus from San Jose to Samara at 12 PM every day that takes 5 hours. During high season (December – April), there is a second bus at 5 PM.
From Liberia, you will first need to take a bus to Nicoya (3:30 AM – 7 PM every 30 minutes, 8:30 PM and 9 PM) which takes 2 hours. Then take the bus from Nicoya to Samara (5 AM, 5:45, 8, 10, 11, 12, 1 PM, 2 PM, 3 PM, 4:30 PM, 6:30 PM, 8 PM and 9:45 PM). This bus costs 1250 colones one way, is in service Monday to Saturday and takes about 1 hour.
Map
Samara map
Samara is located in the South Pacific coast of Guanacaste, 105 kilometers (65 miles) from the Liberia International Airport and 225 kilometers (140 miles) from San Jose International Airport.
Plan Your Trip to Samara, Costa Rica
Thanks to its laid back vibe, beautiful beach and healthy atmosphere, Samara is an excellent destination for families. If you want to visit Samara for your vacation, check out our Costa Rica itinerary for families that include Samara.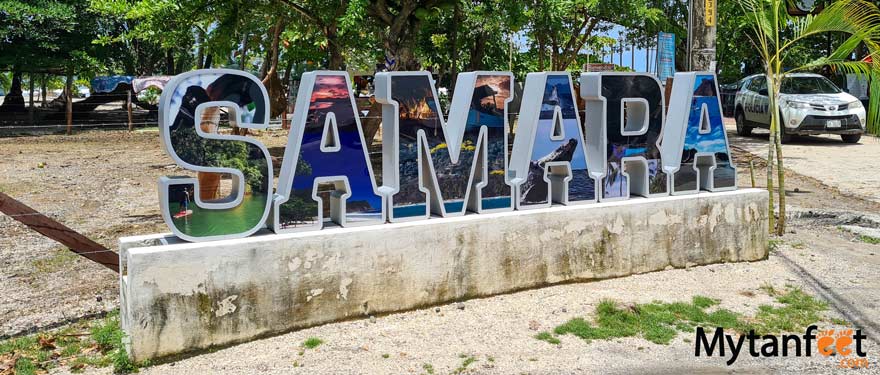 Read about other beach towns in Costa Rica below!
Uvita: Small coastal village in the South Pacific, ~3 hours from San Jose International Airport
Cahuita: Small beach town on the Caribbean coast, home to a beautiful national park
Flamingo: Luxury beach community in Northern Guanacaste with a fancy marina