Since Tortuguero, Costa Rica is located in the rainforest sandbars of the Northern Caribbean coast, the only way to get there is by boat or plane. With no roads, it may seen like it's difficult to get to when in reality, it is not that hard. In fact, the entire journey to Tortuguero is an adventure!
In this post we breakdown the two methods of getting to Tortuguero (plus one fun alternative). Find out how to get to Tortuguero from San Jose, La Fortuna, Puerto Viejo by plane and boat independently and by tour packages.
Fastest But Most Expensive Option: Plane
Flying is the quickest way to get to Tortuguero. Tortuguero has their own domestic airport in the village. Sansa Airlines flies into Tortuguero and costs from $75-100 USD one way per person depending on the season. The flight takes around 30 minutes for direct, 1 hour with one stop.
Even though getting to Tortuguero by plane is the most expensive option, it saves a ton of time and you get great views from the air.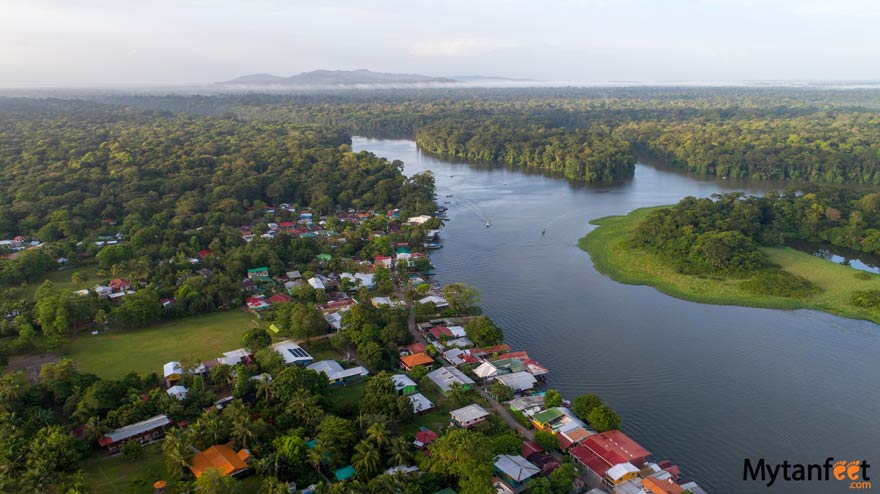 The Tortuguero airport is only a 5 minute boat ride to the village and the hotels in the area. There are taxi boats at the airport and cost ~$3 USD per person one way from the airport to town and a little more to the hotels.
If you flying from any other destinations, you will have to go first to San Jose. So if the schedules don't work out, you may need to stay a night in San Jose. If so, here are some ideas of things to do and where to stay in San Jose.
Most Common Way: By Land and Boat
The most common way to get to Tortuguero is by boat. There are two places you can take a boat to Tortuguero: the La Pavona and Moin docks. Which one you go to depends on where you're coming from. La Pavona is best for La Fortuna and San Jose. Moin is best from Puerto Viejo, Cahuita or Limon.
How to Get to Tortuguero: Map
Here is a quick Google Maps of Tortuguero, Tortuguero National Park and the driving routes from La Fortuna, Puerto Viejo and San Jose. Click the side bar to navigate and see the directions.

The Boat Ride
Both boat rides go through the mangroves and rivers to Tortuguero, offering scenic views and plenty of wildlife watching opportunities. It is almost like a tour in itself which makes it more fun!
The boats are long motorized boats with seating for around 20 passengers. The passenger boats have a canopy cover whereas the luggage boats do not. The Caribbean tends to rain more so they do cover the luggage with a tarp if it's raining but it can still get wet if it's pouring. We recommend wrapping up your luggage in plastic or putting it in a large plastic bag if you have valuables and making sure they are fully fastened and zipped.
Passengers are allowed to bring small backpacks with them on the boat. No matter what time of year it is, we recommend a waterproof rain jacket, waterproof backpack or rain cover and hiking sandals. Sunglasses and sunscreen are also recommended.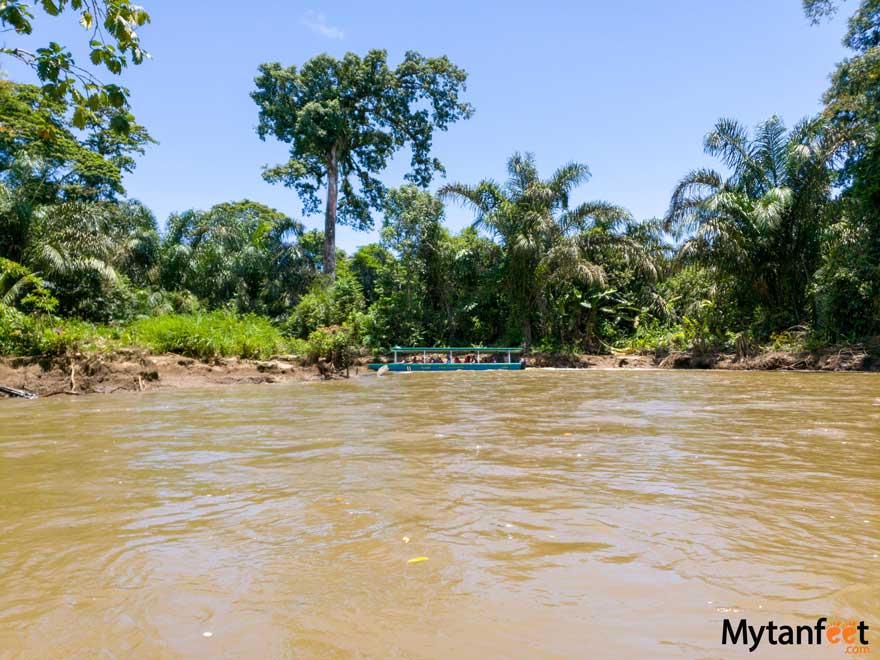 You can purchase tickets for the public taxi boat at La Pavona if you are traveling independently and not on a package. If you are traveling on a Tortuguero package, there will be private boats for your hotel. So if you booked with Pachira, your guide will direct you and your luggage to the correct Pachira boat.
La Pavona dock and boat ride
La Pavona dock is the more popular dock out of the two, servicing all passengers coming from San Jose and La Fortuna. It has a parking lot, a restaurant, clean bathrooms, a snack stand, small cafeteria and gift shop. There, you can purchase boat tickets and get on/off the public bus.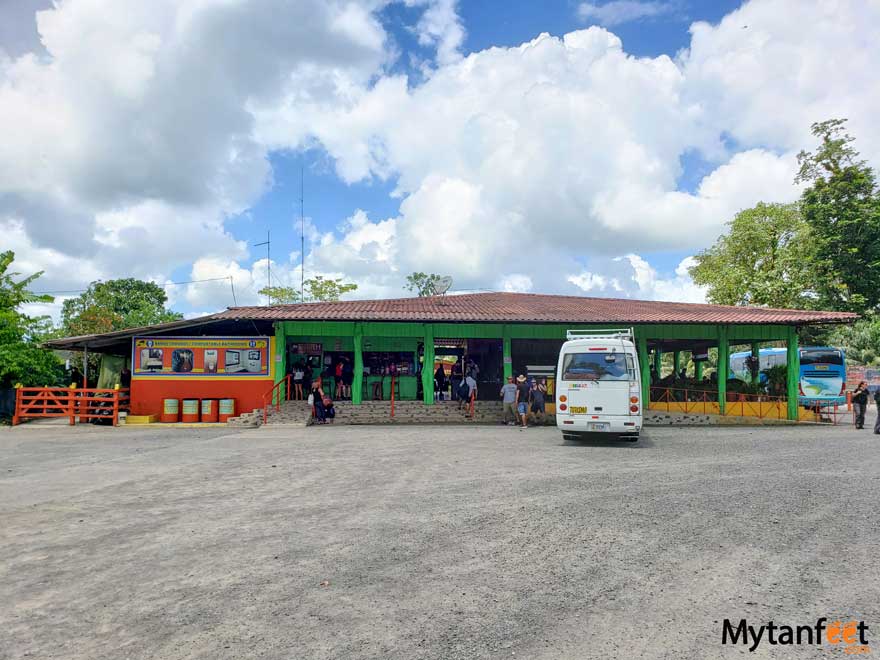 The boat ride from La Pavona to Tortuguero village is about 1 hour. However, this does depend on the tide. In low tide, it can take up to 2 hours since the boats have to go much slower. The first time we visited Tortuguero took us 2 hours because we actually got stuck a couple of times, the water level was that low!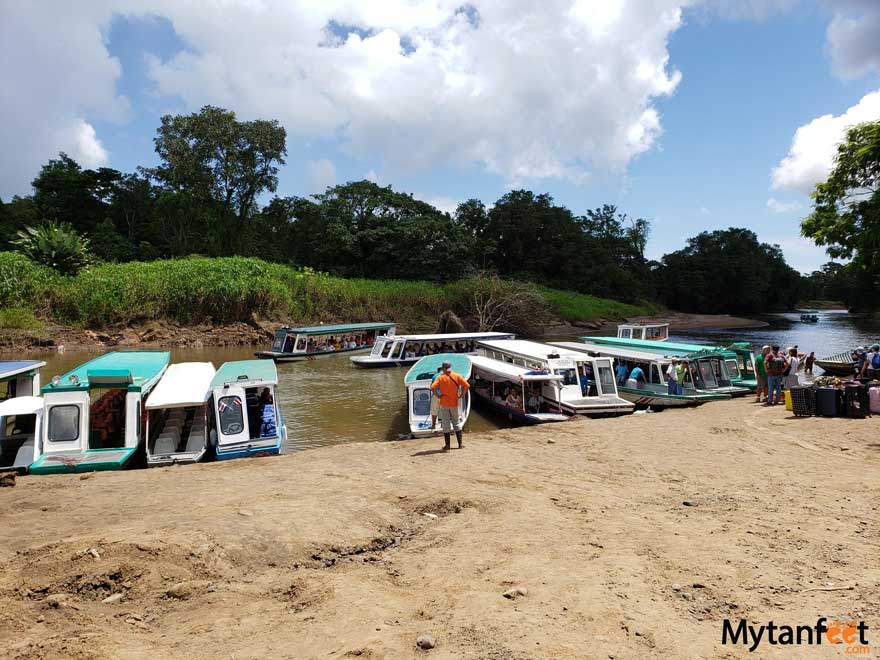 Keep your eyes open during the boat ride. We saw crocodiles, caimans, iguanas, river birds and monkeys!
Schedule
The boat schedule from La Pavona to Tortuguero is 6 AM, 9 AM, 12 PM, 2 PM and 4 PM. Tortuguero to La Pavona is 5 AM, 7 AM, 10 AM and 2 PM. Please note that these times may not be exact or schedules may have changed for the pandemic so try to arrive as early as possible.
Tickets
A boat ticket costs ~$5 USD per person. You purchase tickets at the restaurant.
You can also choose to hire a private boat. Last time we checked, it was $50 USD for a private (before COVID so may not be the same now).
Parking
La Pavona has a secure parking lot that costs $10 USD per night.
Facilities
Clean bathrooms are available for $1 USD or 600 colones in the restaurant.
How to get to La Pavona Dock
By public bus from San Jose
First, take the bus from San Jose to Cariari. There is a bus every day at 6:30, 9, 10:30, 1PM, 3 PM, 4:30 PM, 6 PM, 7 PM and 8:30 PM. This bus ride takes 2 hours and costs 2,100 colones. It leaves from San Jose Gran Terminal del Caribe, Calle Central Ave 15 in downtown.
Second, get off at the Cariari bus station. This bus doesn't go any further so you need to get off in Cariari.
Third, you must take another bus to La Pavona dock from Cariari. This bus runs daily at 6, 9:30, 12 and 3 PM, costs 1,100 colones and takes about 1.5 hours. The bus station you need to go to is Terminal de Buses Coopetraca, 500 meters north from where you get off the Cariari bus. It will go all the way to La Pavona dock and drop you off at the restaurant.
You will pay on the bus for both routes and you must pay in Costa Rican colones.
Lastly, once you are at La Pavona, purchase your boat ticket at the restaurant. It is $3 one way per person. If you don't know when you want to take the bus back to La Pavona from Tortuguero, that's OK. You can purchase your ticket in Tortuguero village.
After you purchase your boat ticket, then you need to go to the dock area where all the boats are and wait for the public one. There will be a lot of people and boats but the public boat says "taxi boat" on it. If you're not sure, you can ask any of the locals and they'll point you in the right direction.
By shuttle
There are some companies that include shuttle and boat transportation from La Fortuna and San Jose. EasyRide has this option for $69 per person, leaving at 730 AM from La Fortuna. Caribbean Connection offers this transfer for $45 each way leaving San Jose at 6 AM and Tortuguero at 2 PM (phone number for reservations is 2221-8082).
Costa Rica Roots also offers boat and shuttle transfers from Tortuguero to San Jose, La Fortuna and Cahuita/Puerto Viejo for $55 per person.
You can also take a private shuttle to Tortuguero. From San Jose, it costs around $200 one way for 1-6 people and $400 for up to 10.
How to get to Tortuguero by car
If you have a rental car, you can drive to La Pavona and leave your car there. Unfortunately this is an extra cost since you're paying $10 a night for parking and for the car rental but this is an option.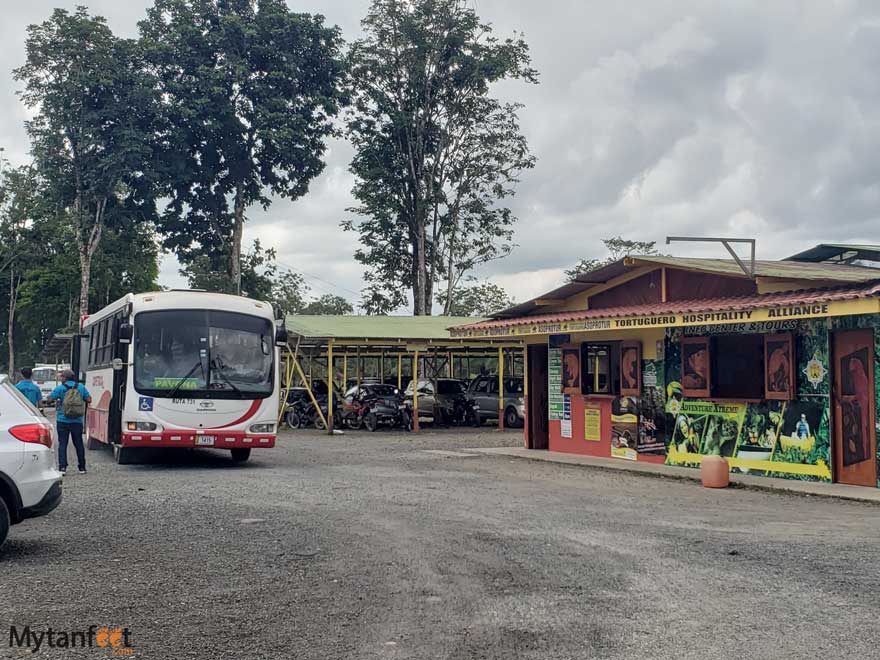 The route you have to take from San Jose is on Route 32 through Braulio Carrillo National Park towards Guapiles. Once in Guapiles, you will get on Route 247 north towards La Pavona. This route does become unpaved past Cariari but it is nothing horrible.
If you want your car rental company to pick up the car in La Pavona, there is an extra $75 fee (depending on the company).
Picking up your car rental after Tortuguero from La Pavona
If you are visiting Tortuguero on a package or independently and want to rent a car after your trip, you can perfectly do that. You have two options to get your car rental:
Have the car rental deliver the car to La Pavona dock. This has a delivery fee of around $75.
Pick up the car in Guapiles for free. Car rental companies will go to the restaurant the hotel packages stops at for lunch or you need to go to the car rental meeting point.
We have a discount with Adobe Rent a Car and they have a meeting point in Guapiles. Tour companies can drop you off at their meeting point without an additional charge so you can pick up your car in Guapiles.
Moin dock and boat ride
Moin dock is the one for those coming from Limon, Cahuita or Puerto Viejo as you will just go up the Caribbean coast. This boat ride is much longer at around 3 – 3.5 hours. The drive from Puerto Viejo to Moin is about an hour since it is right next to Limon. Total travel time is around 5 hours.
We recommend booking the shuttle and boat transfer beforehand. You can also go via bus and then find a local boat but most likely, you won't get a steady price. Since Moin isn't as common or have as stable of an operation as La Pavona, you can find prices varying from $35 per person to $150 a person. It is not ideal for solo travelers since you're paying for a whole boat for yourself. You can negotiate if you're in bigger groups.
Schedule
Boats leave around 10 AM from Moin dock and this boat ride takes around 3.5 hours. Make sure to get there early to negotiate a price and secure a spot.
How to get to Moin dock
Moin also has secure parking and you can get there via shuttle, bus and car.
From Puerto Viejo/Cahuita via bus
First, take the bus to Limon (730, 930-1130 every hour, 130 – 530 PM every hour and 730 PM). Then from Limon, take the bus to Moin, there is one every 30 minutes. You can also taxi to Moin dock ($8 – $10 one way).
Shuttle
Shuttle companies like Caribe Shuttle and Pleasure Ride both offer shuttle and boat transfers via Moin. They leave around 8 AM and costs $75 per person.
Driving
Moin is right next to Limon. As an industrial city, there isn't much there but the dock has a secure parking lot next to the docks. It costs $10 a night. Make sure not to leave valuables in the car!
Here are the driving directions via Waze (opens in app) or look for "Moin Muelle.
How to Get to Tortuguero National Park
Once you are in Tortuguero, it is very easy to get to Tortuguero National Park.
If you are staying in the village, you can walk to the entrance. It's at the very south end of town, you can't miss it.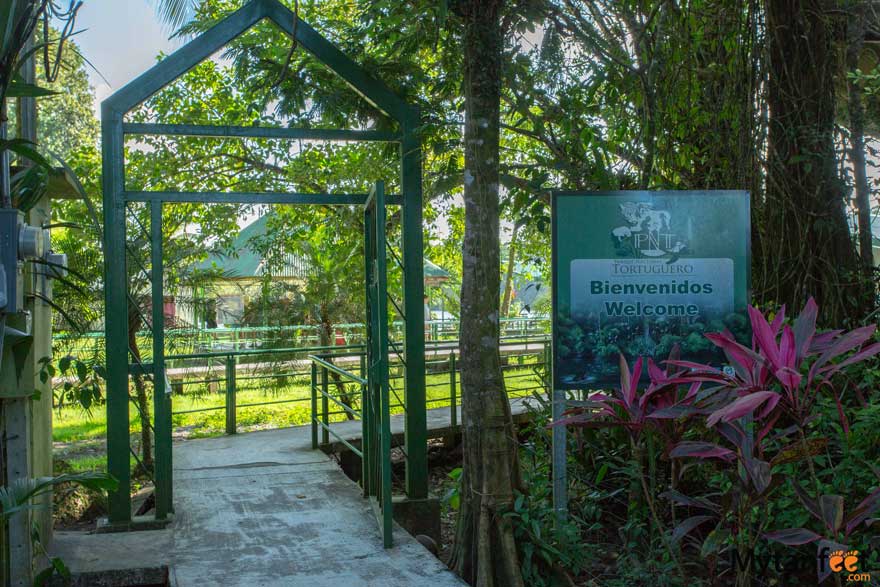 If you are staying at the hotels along the river, you can take a taxi boat to the entrance to purchase tickets.
Tortuguero Packages
By far, the easiest way to get to Tortuguero is through a package. Hotels such as Mawamba, Manatus and Pachira offer packages that include everything: roundtrip transportation from San Jose, food, activities and guide. You don't need to plan anything. All you have to do is get picked up at your hotel in San Jose, get on the bus and follow the guide.
Pachira 2 days 1 night Tortuguero packages cost $230-300 depending on the number of travelers. Click here to save 7% on your Tortuguero package!
From Puerto Viejo
You can book 2 days 1 night or a 3 days 2 night Tortuguero packages from Puerto Viejo including transportation, lodging and certain meals. Contact us for more information!
From San Jose
You can book through various companies such as Pachira, Evergreen, Aninga, etc. Get our 7% discount off Tortuguero packages from San Jose!
I hope this post helps you plan your trip since now you know how to get to Tortuguero.
You can read other helpful posts about Costa Rica below!
Driving to La Fortuna from Guanacaste