If you're planning on driving to Arenal from Guanacaste, we'll show you what it's like in this post. We've driven this exact route quite a few times and it is one of our favorite drives in the country with beautiful views and fresh weather.
You can watch our video below or read on to find out if what kind of car you need, see what the road is like and why it's such a beautiful drive! Don't forget we also have a Costa Rica car rental discount which you can get in the link.
*This post was updated Sept 2019.*
Driving to Arenal from Guanacaste
Whether you are staying in Gulf of Papagayo (Playas del Coco, Hermosa, Ocotal, etc.), the Riu Guanacaste or coming from Tamarindo/Conchal/Flamingo, the route is about the same.
You need to go to Liberia, get on the Interamericana highway 1, exit at Cañas, drive to Tilaran, go around Nuevo Arenal and the lake and finally reach La Fortuna. The distance is about 130 kilometers or 80 miles.

Arenal to Guanacaste Driving Time and Route
Here is the route on Google Maps. From Coco and Liberia Airport to Arenal drive time takes around 3 hours. If you're coming from Tamarindo, it is around 4 hours.
The entire route is on well paved roads, however, once you start going around Nuevo Arenal and Tilaran, watch out for some pot holes. Additionally, once you start going around the lake, the road gets very curvy so you have to go slow.
Driving Directions to Arenal from Liberia
When you arrive in Liberia city with the Mcdonalds in front of you and gas station on your right, turn right onto the Interamericana highway 1. You will drive on the highway for about 47 kilometers (29 miles), exit (you will see a sign for Cañas) and at the roundabout, take the 3rd exit to enter the town.
Then you will continue on this road for 1.5 kilometers past the park and then turn left. Go for about 60 kilometers (37 miles) on this road and follow the signs to Tilaran, Nuevo Arenal and La Fortuna. Once past Tilaran, you will start going around Lake Arenal which you will see on your right hand side.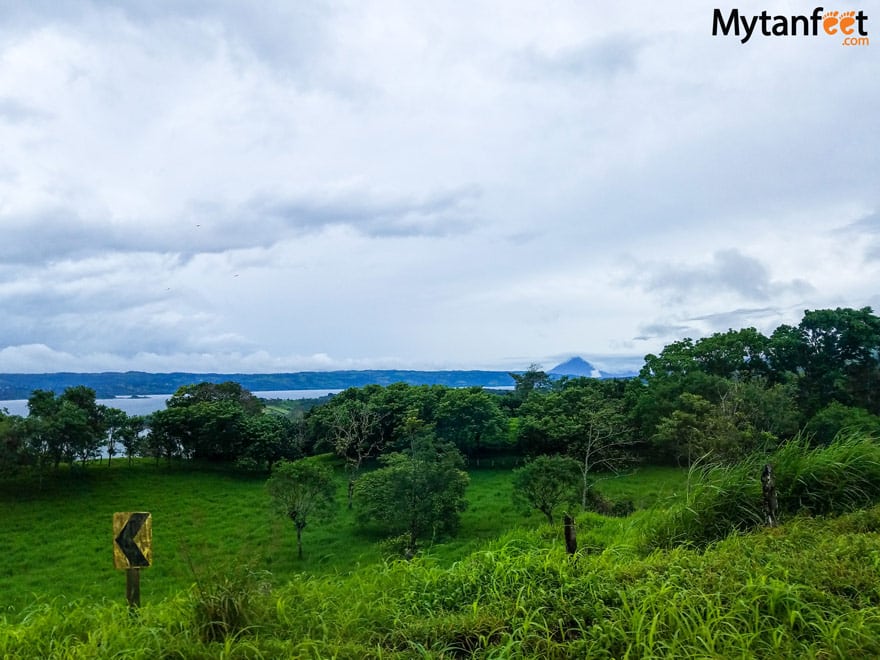 There are many signs for Lake Arenal/Nuevo Arenal so keep an eye out.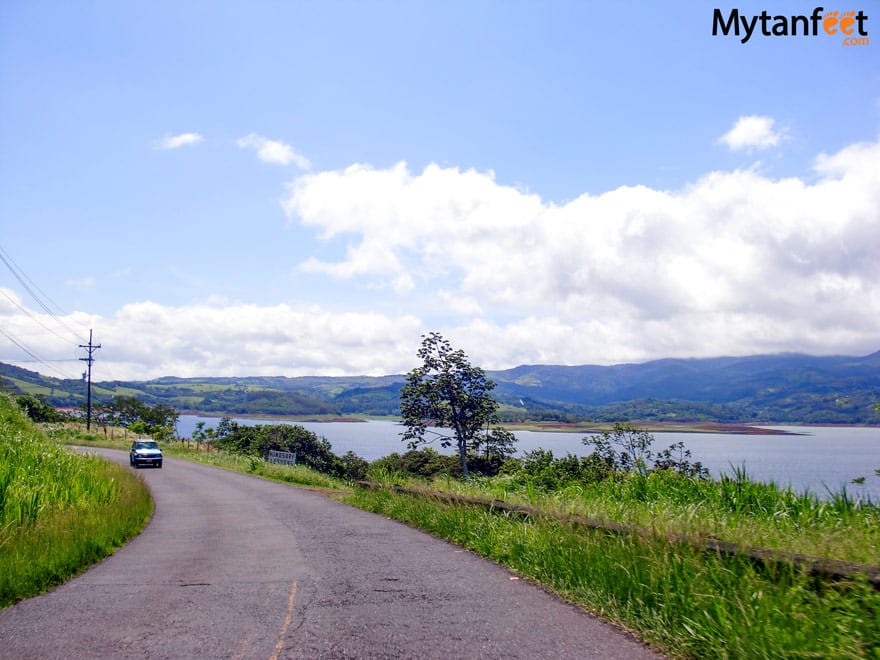 Eventually after all the curves and turns, the volcano finally appears and you'll start noticing signs for resorts like the Springs and Nayara. You will know when you are close to La Fortuna when you arrive at a bridge and the hydroelectric plant where you will see people going on boat rides, kayaking or stand up paddling. There is a view of Arenal Volcano right in front of you on the bridge to the left.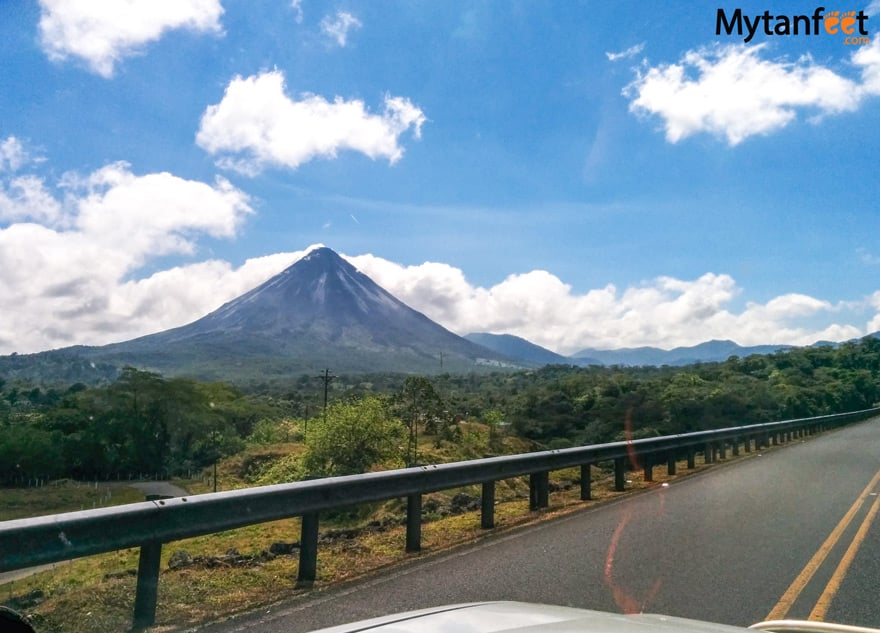 Keep going on this road, driving past the many luxury hotels and resorts in the area, passing the Arenal Volcano National Park entrance on your right and eventually ending up in La Fortuna, the main town and tourism hub.

Points of Interest on the Way
In Liberia, you can stop at Catarata Llanos de Cortes. It's technically in Bagaces, about a 15-20 minute drive from Liberia and right off the highway before Cañas so you won't be taking a big detour. This waterfall is definitely worth a stop!
There are three towns where you can stop after Liberia: Cañas, Tilaran and Nuevo Arenal.
Lake Arenal Brewery, Los Heroes and Cafe y Macademia are three really nice spots around Lake Arenal to stop. Lake Arenal Brewery has food and craft beer, Los Heroes has a restaurant and a train station (nice for kids) and Cafe y Macademia has coffee, pastries and food. All three places have really nice views of the lake. There is also a good German bakery in Tilaran. If you don't mind stopping somewhere not right off the main road, Tinajas Arenal is a nice restaurant with a beautiful view.
Viewpoints
You will also see several signs after Cañas that say something like "view point" or "tourist coffee stop" before it starts getting curvy (right at the turn to Lake Arenal Condos). We stopped by one viewpoint (turn to the left from Liberia) that led us to a beautiful view of Tilaran and close to the windmills. There is also a sign when you are driving around the lake to see a very old and big Ceiba tree (turn to the left) which is cool.
Another neat stop is Centro de Rescate Las Pumas in Cañas. You can take a short tour of the rescue center to learn about their work and see their animals. If you want to visit a less touristy spot, stop by Restaurante Mimis in Cañas. It's a local restaurant and no tour buses or shuttles stop there and is a fun way to experience a very local and popular restaurant.
Below is a map with most of the points of interest I mentioned.
Video
Once you get around the lake, you can stop by the dam for a nice view of the volcano and lake.  You can watch our video of our road trip from Guanacaste to Arenal in the video below to see where we stopped. **In Sept 2019, last time we drove this route, they had closed the area by the dam so you can't stop there anymore.*
Tips for Driving to Arenal from Guanacaste
If you get carsick, bring anti-nausea medicine. The road gets quite curvy. Be very careful if it's raining!
It's not advised to drive this route late at night, especially in rainy season. This is because of the curvy roads and lack of good signage. Remember it gets dark by 6 PM and it tends to start raining in late afternoon.
If your flight arrives late like 7 or 8 PM, we recommend to stay a night in Liberia and then leave early the next day instead.
If you don't rent a GPS, use Waze, a GPS app. Download it on your phone and you can use it if you get a Costa Rica pre paid sim card or have data.
The road is nicely paved so you won't need a 4X4. But there are a lot of potholes once you start going around the lake. Go slow!
There are gas stations in Liberia, Canas, Tilaran and La Fortuna. Read more about Costa Rica gas stations here.
You can watch our video below of us driving from Liberia to Arenal. We included the major turns and towns.
Alternative Route (Via Bijagua and Rio Celeste)
There is an alternative route you can take from Guanacaste to La Fortuna and it allows you to see one of the most beautiful places in Costa Rica. You can drive from Liberia to Bijagua, hike Rio Celeste and then continue to La Fortuna.
The drive from Liberia to Rio Celeste is about 1.5 hours and Rio Celeste to La Fortuna is about 1.5 hours. If you are coming from Tamarindo, it is 2.5 hours to Rio Celeste. This road is completely paved the whole route.
You can read more about getting to Rio Celeste in this post here.
Are you coming from San Jose instead of Liberia? Check out our post driving from San Jose to La Fortuna to see what it's like.
Looking for some activities? Find out what are the top things to do in La Fortuna/Arenal!