If you're planning on driving to Arenal from Guanacaste, we'll show you what it's like in this post. You can watch our video below or read on to find out if what kind of car you need, see what the road is like and what to know for this drive.
PS. Don't forget we also have a Costa Rica car rental discount which you can get in the link if you plan to rent a car.
Driving to Arenal (La Fortuna) from Guanacaste
Whether you are staying in Gulf of Papagayo (Playas del Coco, Hermosa, Ocotal, etc.), resorts like Riu Guanacaste, Four Seasons, Planet Hollywood or coming from Tamarindo/Flamingo/Westin Conchal, the driving route to La Fortuna is about the same.
You need to go to Liberia, get on the Interamericana highway 1, exit at Cañas, drive to Tilaran, go through Nuevo Arenal, drive around the lake and finally reach La Fortuna. The distance is about 130 kilometers or 80 miles.
From Liberia Airport to Arenal, the drive time takes around 3 hours. If you're coming from Playas del Coco, Gulf of Papagayo, Conchal or Tamarindo, it is around 4 hours.
Arenal to Guanacaste Driving Time and Route
Do you need a 4×4 for La Fortuna from Guanacaste? No. These are all main paved roads. In fact, most of it goes on a highway. However, there are some big pot holes around Nuevo Arenal you must watch out for.
Additionally, once you start going around Lake Arenal, the road gets very curvy so you have to go slow. If you get carsick or have kids, I highly recommend taking anti-nausea medicine before driving to La Fortuna.
Here is the route from Liberia to La Fortuna. The route from Liberia to La Fortuna does not require a 4×4 using Route 1 and Route 142.

When you set your GPS for La Fortuna, enter your hotel as your final destination. To stay on the completely paved road, make sure your route stays on Route 1 and Route 142.
Driving to Arenal from Liberia
This is a beautiful drive as you go through the rainforests and around the Lake Arenal.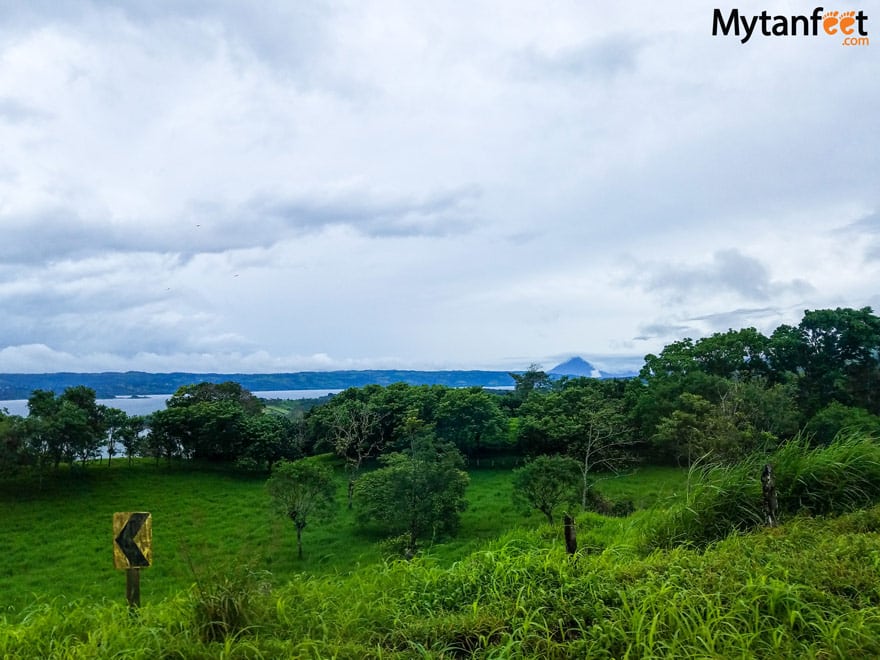 This route has a lot of signage but we still recommend to use a GPS.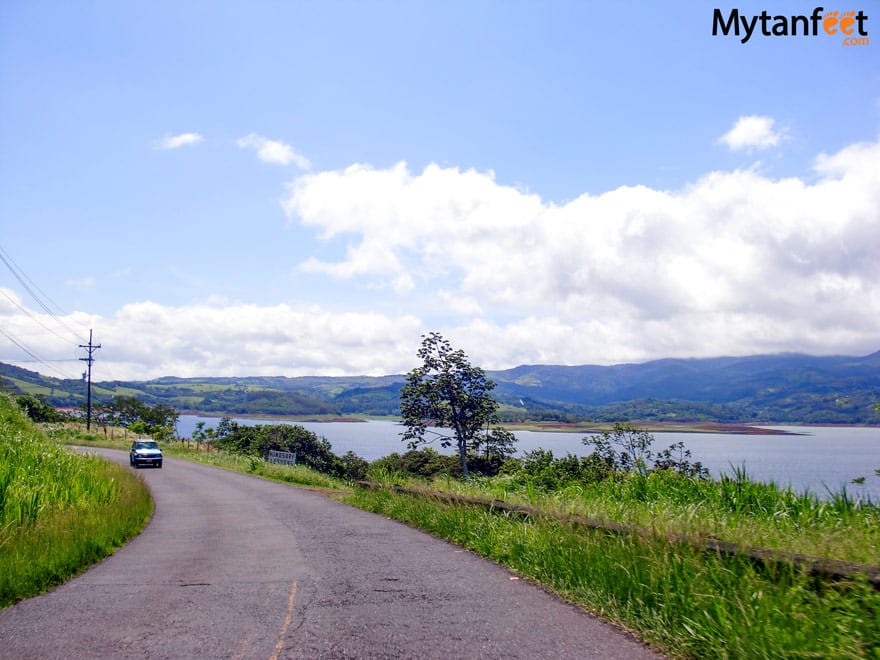 Eventually after all the curves and turns, the volcano finally appears and you'll start noticing signs for resorts like the Springs and Nayara. You will know when you are close to La Fortuna when you drive across a short bridge on the lake.
There is a view of Arenal Volcano right in front of you on the bridge to the left. From there, you are only about 20 minutes from La Fortuna downtown.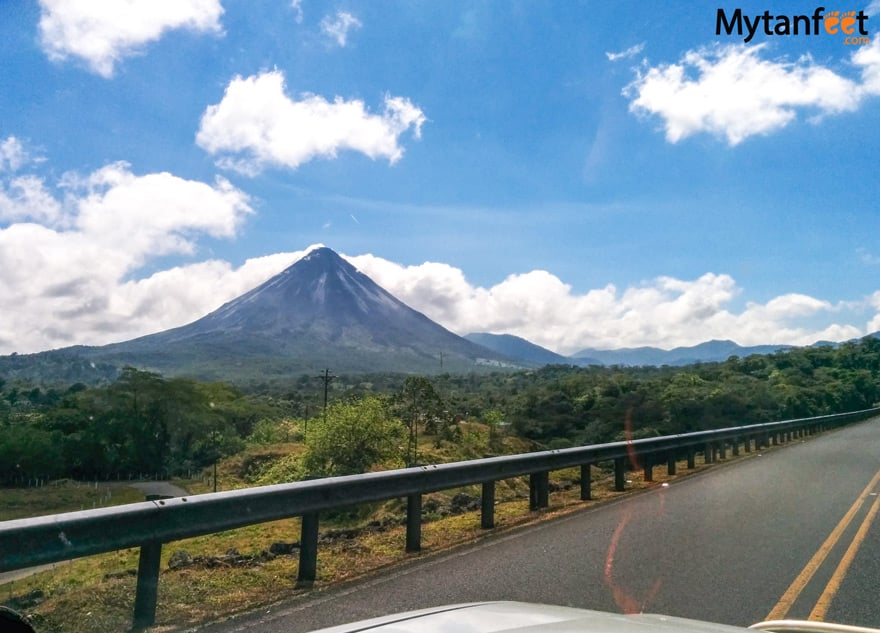 Keep going on this road, driving past the many luxury hotels and resorts in the area, passing the Arenal Volcano National Park entrance on your right and eventually ending up in La Fortuna, the main town and tourism hub.
Guanacaste to Arenal Driving Stops: Restaurants, Bathroom, Places to See, Etc.
Liberia
A little bit before Liberia, there is a coffee shop called Sun Burst at the Do-It Center. Our favorite stop for coffee to go! They also have bathrooms and a small cafeteria for food. There is also a gas station right by the building.
Then, if you need to use the bathroom, in Liberia, the Plaza Santa Rosa has public bathrooms. This plaza also has a large supermarket, bank and ATM. As Liberia is the capital city of Guanacaste, there are a lot of food options, including fast food. Liberia also has a Walmart.
Then on the drive from Liberia to Cañas, you can stop by Catarata Llanos de Cortes for a quick photo. It's technically in Bagaces, about a 15-20 minute drive from Liberia and right off the highway before Cañas so you won't be taking a big detour. It a 5 minute walk down to the beautiful waterfall.
Cañas
In Cañas, we like to get breakfast/lunch at Restaurante Mimi. This is where all the local farmers and workers eat in town. Great cheap local spot. There's a statue of the pig right out front. They have a parking lot and a convenience store right next door. Right on the route so no detour required.
Tilaran
In Tilaran, there is a famous Costa Rican restaurant called Restaurante Aroma Tico. It's a great stop in the middle of the drive to get lunch, use the bathroom and check out some souvenirs. You can also get gas as there is a gas station right in the center of town that you will pass.
Lake Arenal
There are several places around Lake Arenal to stop. You will see a ton of signs that say something like "tourist stop" "tourist coffee" "Great views and coffee" and things like that.
For us, we usually like to stop at Cafe y Macademia because it's very convenient being right off the road. They have a bakery, restaurant, clean bathrooms, souvenir store and a nice view of Lake Arenal. However, Cafe y Macademia is where all the tour buses stop so there are always a lot of people there.
For places that are not quite touristic, check out Lake Arenal Brewery, Tinajas Arenal or Los Heroes. Tinajas is a lakefront restaurant with a beautiful view and is about a 10 minute detour from Nuevo Arenal.
Nuevo Arenal
This town has convenience stores and restaurants. Moya's Place is a great restaurant. The German Bakery is kind of expensive and I didn't like their pastries but they had good coffee. Parking there is not very convenient as it's only street parking on a steep-ish road.
Closer to La Fortuna
Selva Paraiso is another coffee shop with souvenirs and bathrooms right off the road. Then for a couple of local spots with great views, there is Rancho Mirador Los Peñas, near Mistico Arenal Hanging Bridges Park.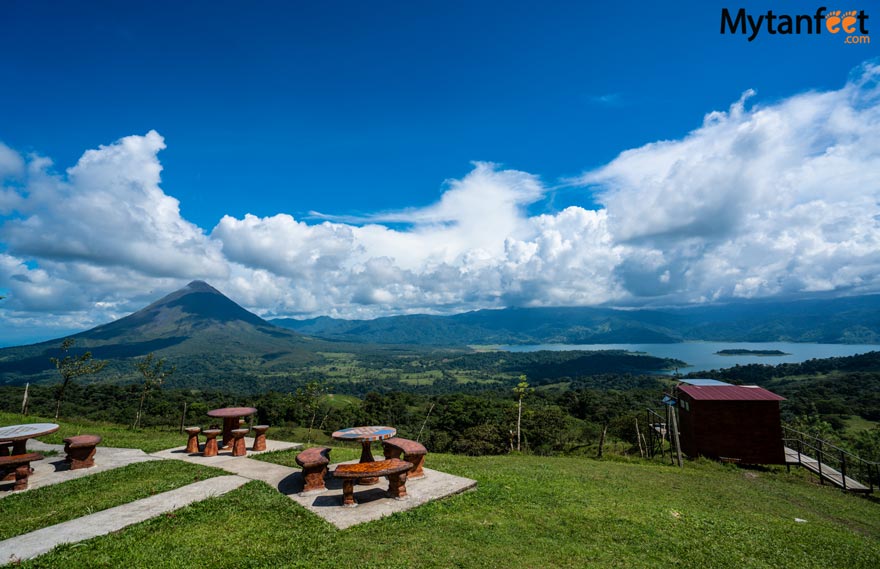 It's a local family owned property with a stunning view of Arenal Volcano and Lake Arenal, offering traditional food. This one requires a longer stop, it's about 30 minutes total to go there and back from the main road. 4wd highly recommended to visit this spot.
Viewpoints
One of our favorite viewpoints on this route is in Tilaran, close to the turn of Lake Arenal Condos. It goes up the mountains toward the windmills and you get a beautiful view of Tilaran and the Guanacaste province below.
If you want to see this one, you can set the GPS destination as "Planta Tejona, ICE" and right around there are some beautiful views. You can also get very close to the windmills which is impressive!
This is a dirt road going up the mountain so a high car is recommended.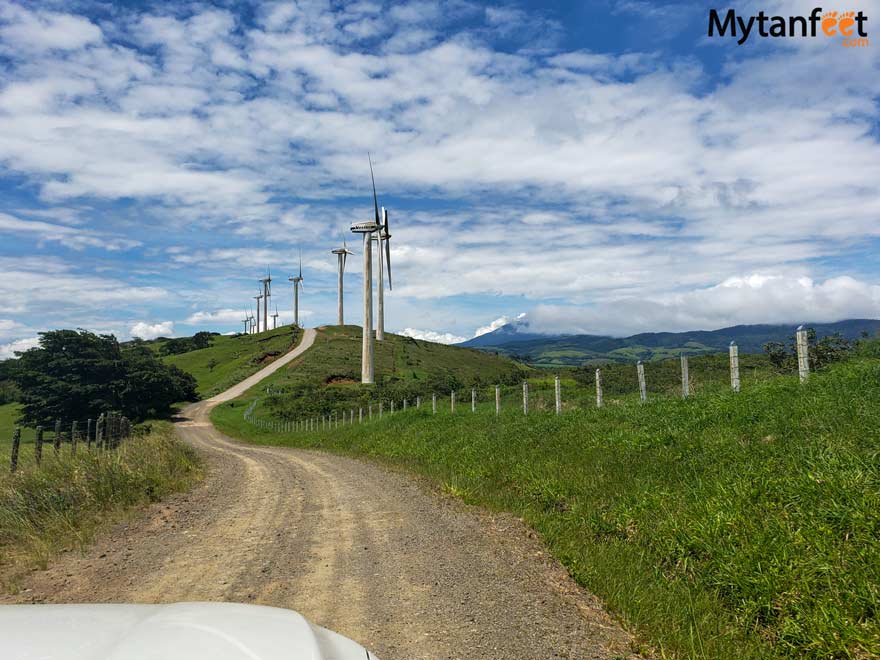 There is another more accessible viewpoint in Tilaran. On the map it is called "Mirador Tilaran" and you can just pull off to the side of the road for photos of the lake and hills.
Lake Cote
If you rented a 4×4 and are a proficient off road driver, you can also stop by Lake Cote. This is the largest natural lake in Costa Rica and also the spot of the only "official" UFO sighting in the country.
As it is truly an off the beaten path place, a 4wd/4×4 is required. Read our post for more information because this detour will add at least 1 hour to your drive from Guanacaste to La Fortuna.
Mirador La Armonia
This is another nice place to stretch your legs. It's a local family owned property with a beautiful view of Arenal Volcano and Lake Arenal. They don't offer anything and the entrance fee is kind of expensive for just a lookout point at 3000 colones per person (~$5 USD). But if you bring food and drinks, you can enjoy a picnic since they have some benches around.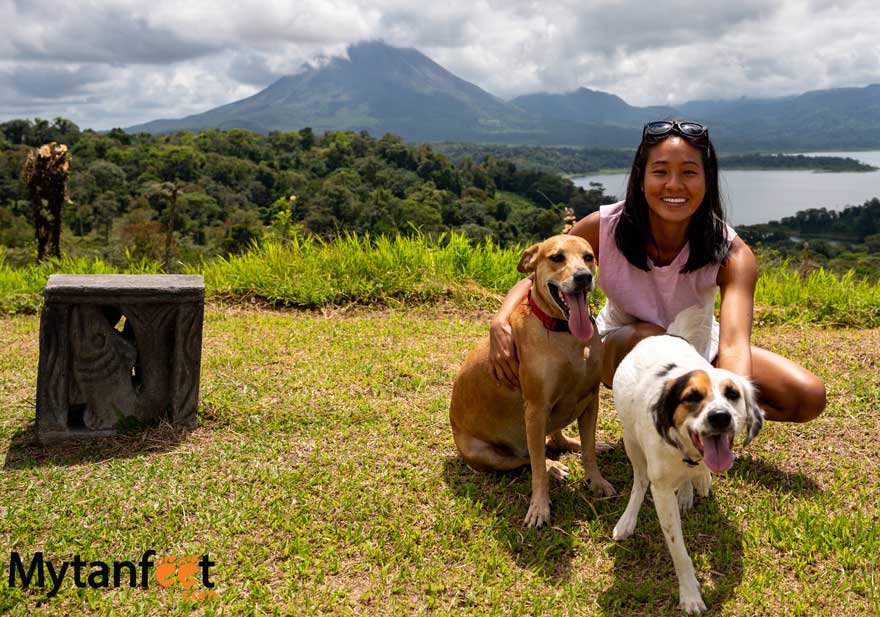 We brought our dogs and they loved running around the property since it is very flat with lots of space. They also offer camping but they don't have showers.
Map of the Route and Points of Interest
Click here to go to our interactive map.
Video
Once you get around the lake, you can stop by the dam for a nice view of the volcano and lake. You can watch our video of our road trip from Guanacaste to Arenal in the video below to see where we stopped.
If you want to follow our exact route that we took in this video, including the stops, please check the map here!
Tips for Driving to Arenal from Guanacaste
Give yourself at least 4,4.5 hours for this drive to include bathroom, photo and food stops. Drive slow around the lake. It's curvy with tight turns and no street lights.
Whenever you stop, try to park your car where you can see it from the restaurant. Always roll up windows and lock your doors. Try to hide your luggage so it's not visible in the car.
If you get carsick, take anti-nausea medicine.
It's not advised to drive this route late at night, especially in rainy season. This is because of the very dark and curvy roads. Remember, the sun sets at 6 PM and it tends to start raining in late afternoon in rainy season.
If your flight lands from 4-6 PM, we recommend to stay a night in Liberia and then leave early the next day instead. You can also stay somewhere halfway like in Tilaran or Nuevo Arenal.
If you don't rent a GPS, use Waze or Google Maps. You need phone internet data so get a Costa Rica pre paid sim card or sign up for an international date plan with your home provider.
There are many gas stations along the way in Liberia, Cañas, Tilaran and La Fortuna.
Alternative Route (Via Bijagua and Rio Celeste)
There is an alternative route you can take from Guanacaste to La Fortuna, allowing you to see one of the most beautiful places in Costa Rica. You can drive from Liberia to Bijagua, hike Rio Celeste and then continue to La Fortuna.
The map is below. In Google Maps, you can set it as Liberia – Parqueo del Parque Nacional Tenorio – La Fortuna.

The drive from Liberia to Rio Celeste is 2 hours and Rio Celeste to La Fortuna is about 2 hours. High car is recommended.
Tips For This Alternative Route Stopping at Rio Celeste
If you plan to stop at Rio Celeste, we recommend to arrive at the Tenorio Volcano National Park early as the hike can take around 3-4 hours. That way, you can arrive in La Fortuna right at sunset and not have to drive much in the dark.
After the hike, have lunch at the restaurant outside the national park entrance and then head on your way to La Fortuna. So try to get to the park before 9 AM to finish the hike by 12- 1 PM, have lunch, leave before 2-3 PM and you'll arrive to La Fortuna before dark.
Keep in mind that if you visit during rainy season, particularly months like May, June, August – December, the Rio Celeste area does tend to rain a lot. The river may not be quite as blue or you may get really rained on.
You can also stop at the Rio Celeste Free Pool to swim in the river after the hike.
You can read more about getting to Rio Celeste in this post here.
San Jose to La Fortuna
Are you coming from San Jose instead of Liberia? Check out our post driving from San Jose to La Fortuna to see what it's like.
Driving from San Jose to Tamarindo? Click the link to read our guide to that drive.
Looking for some activities? Find out what are the top things to do in La Fortuna/Arenal!
There are affiliate links in this post.