If you're planning to drive in Costa Rica, it's important to learn about the driving culture. So in this guide I will tell you exactly what it's like to drive in Costa Rica and give you my local tips to stay safe while driving in Costa Rica as a tourist. Also make sure to read our renting a car in Costa Rica guide and get our Costa Rica car rental discount!
Important Things to Know About Driving in Costa Rica
Costa Rica drives on the right side of the road (just like USA and Canada).
Traffic signs are in Spanish and use the same/similar shapes as USA and Canada (like the red octagon for stop).
Costa Rica uses the metric system so speed limits are in kilometers and gas tanks are in liters.
The normal speed limit on the highway is 90 Km/h (~55 mph).
Foreigners can drive in Costa Rica with a valid original driver's license and their original passport with a valid tourist stamp. Tourists must have their original passport and valid original driver's license with them when they drive. They can only drive for as long as their tourist visa is valid. Temporary licenses and paper driver license copies are not accepted.
The legal driving age is 18 in Costa Rica. For car rentals, the minimum age to rent a car will vary depending on the agency. Usually it is 21 – 23 years old.
Defensive driving is the best way to drive safely in Costa Rica.
Costa Rica Road Signs
All the road signs are in Spanish. They use the same symbols, but it's always good to familiarize yourself with the Spanish words. Here are the most common signs you'll see.
Alto – stop. Is also a red octagon
Velocidad maxima – maximum speed. Remember they use kilometers so you'll see KPH
Ceda el paso – yield. Is also a red and white triangle
Puente angosto – narrow bridge
Desvio – detour
Despacio – slow
Cruce de monos – monkey crossing (or some other animal, they will put a picture of it)
Una via – one way
Carretera en mal estado – road in bad condition
Puente en mal estado – bridge in bad condition
No estacionar – no parking
Curvas peligrosas adelante – dangerous curves ahead
No hay paso – don't enter
No virar en u – no U turns
Calle sin salida – dead end
Tarifa liviano – lightweight fare (you will see this at the toll boths)
Driving in Cities vs Rural Areas in Costa Rica
Road conditions will depend on what part of the country you are in. Driving in the city is different than the countryside, below you can see what it is like.
City Roads
You will find that in the Central Valley and bigger cities like San Jose, Heredia, Liberia, Cartago, Puntarenas and Alajuela. Roads are paved, most with painted lines but not all.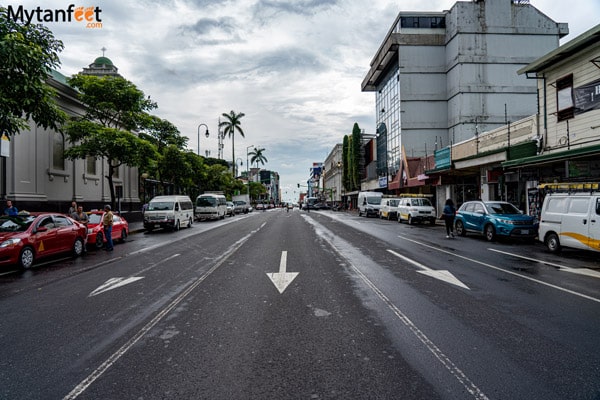 Smaller cities and touristic beach towns like San Ramon, Grecia, Turrialba, Zarcero, Jaco, Manuel Antonio, La Fortuna, Tamarindo, Playas del Coco and Puerto Viejo all have paved main roads, though not necessarily any painted lanes.
However, one thing that you will not see too much here are traffic lights and sidewalks once you are out of the capital city of San Jose.
Then in San Jose, there are roundabouts but it can get kind of crazy as everyone goes when they can and there are no painted lines within the roundabout. It's a bit like a free for all, just go when you can as most people don't yield or use blinkers. The driving culture is a bit impatient, so don't freak out if people start honking at you while you are waiting to enter the roundabout. It is better to take your time than try to rush.
You also need to be careful on freeways because roads can end with no warning. Then you'll have to merge with little space. They have speed bumps here but they don't always have the reflective lane markers or signs.
Traffic in the City/San Jose
More than 1.5 million Costa Ricans live and work in San Jose, representing almost half of the total population in the country. Therefore the main roads are always packed during rush hour.
One of the best tips for driving in Costa Rica is to avoid driving in the cities during rush hour which is 3-6 PM and 5-8 AM Monday through Friday. But if you have to drive during those times, make sure to be super alert and drive very defensively.
Don't get road rage because you will get honked at, people will cut you off and drivers won't yield for you.
City driving is always a bit of a mess with lots of traffic, regardless which capital city you are in the world. However due to the poorer infrastructure and shoddy road conditions, there are some things you need to be extremely aware and careful about when driving in Costa Rica.
Examples
Here are some pictures I took from one of our drives through San Jose so you can get an idea of what it's like. Most of the drivers (but not all of them) act like the ones in the pictures below. My intention is to not to discourage you to drive but to show you the truth so you are aware of what it's like.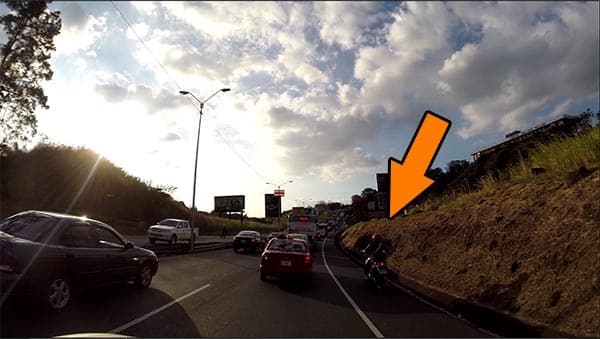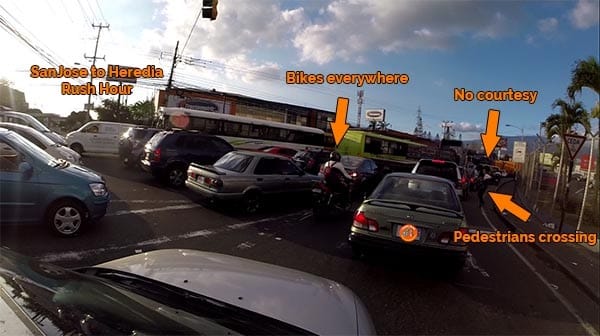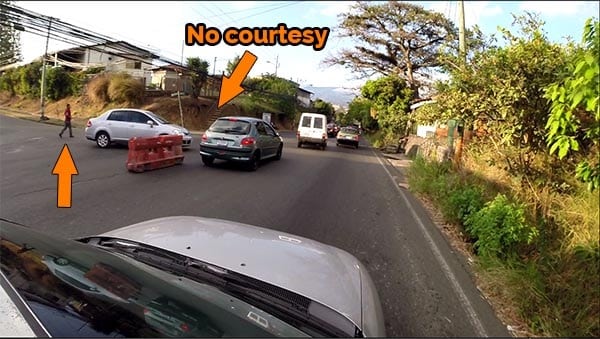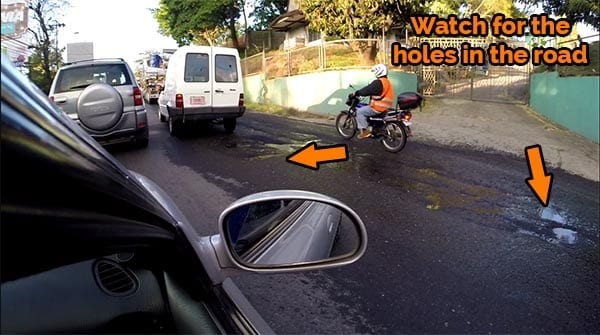 Sometimes in San Jose, you may need to drive a bit assertive or else you will be waiting forever to turn left or to cross the street. Drivers here are not used to yielding and giving space even if you put your blinker on, so you may need to squeeze yourself in (but do it carefully).
Highways and Freeways
Costa Rica has both highways and freeways but they don't look exactly quite like the ones in other countries. Many of them have only one lane or 1-2 lanes for a short period of time.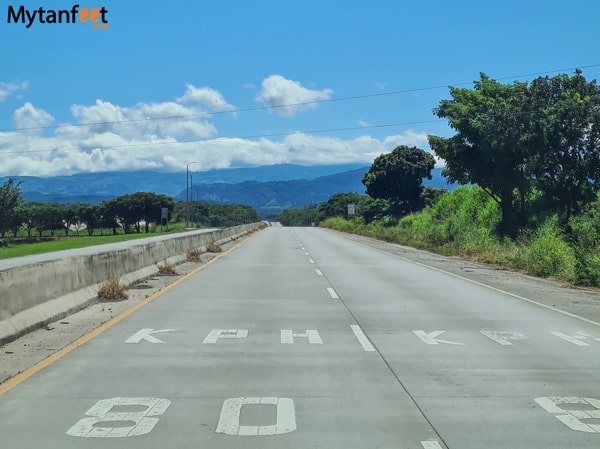 The nicest highway, Interamericana Highway 1 underwent construction a few years ago and now has two lanes in both directions and are very nicely done. Most of the other freeways in Costa Rica have just 1 lane and no shoulders.
Farming areas/rural areas
In rural areas, usually just the main road is paved with marked lines and all other roads are not. Additionally, they don't usually have sidewalks and are one lane.
The nice thing about driving in rural areas is that you will not find as many cars or as much traffic as San Jose. However, you will find other obstacles such as chickens, cows, kids, bicyclists, motorcycles and people walking on the road.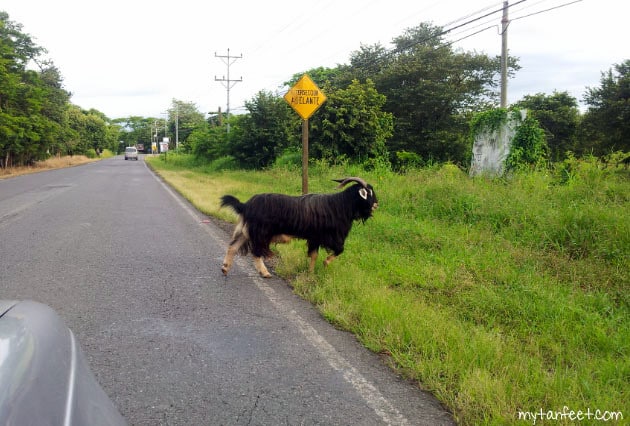 Since there aren't really sidewalks, you will need to be careful if there are people walking/biking on the side of the road. As roads are usually narrower and smaller, it is not always possible to give them a full 6 feet of room when passing them. Bike lanes are not common in Costa Rica.
Additionally, in farming areas, be very aware that there may be animals on the side of the road. You may see herds of cows and horses in the middle of the road! In places like Puerto Viejo and Dominical, there may even be sloths crossing the road so be super careful.
Examples
Here are some examples of rural/farm roads and the driving.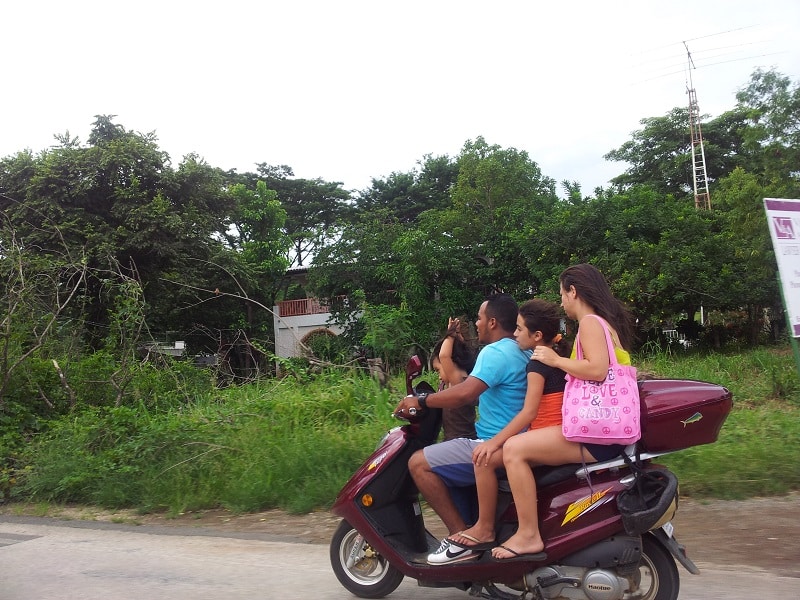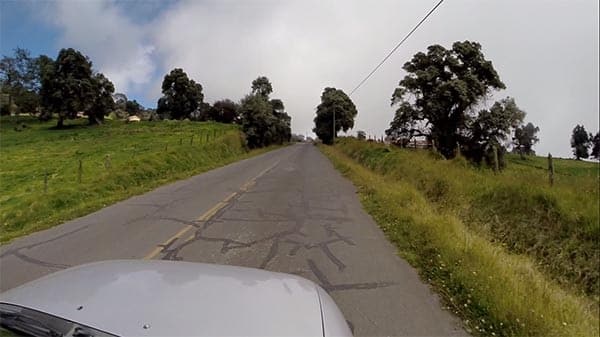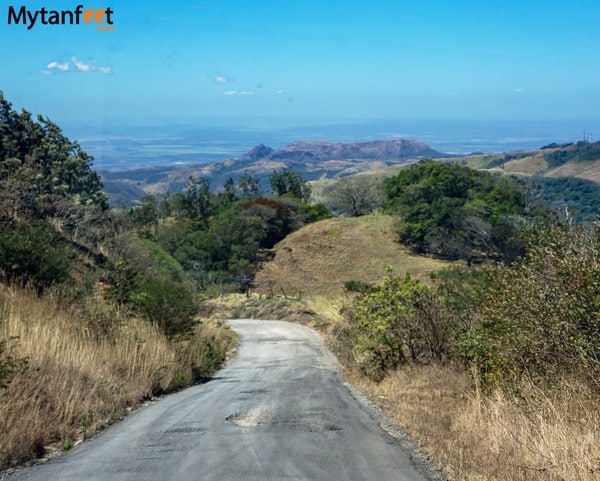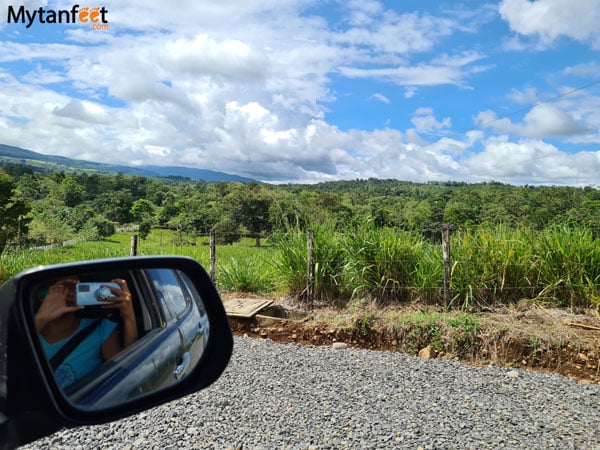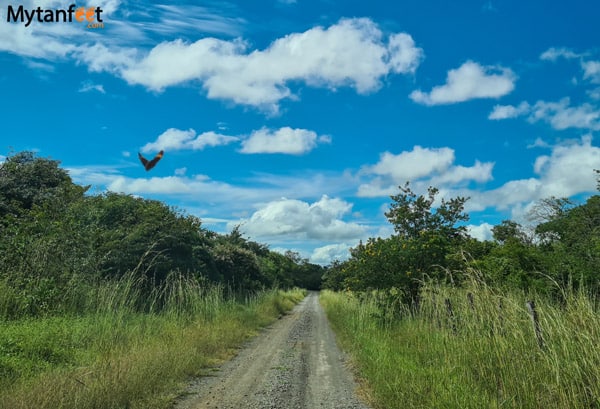 Once you leave the GAM (San Jose/Alajuela/Heredia/Cartago), you will find mostly rural and farming road. There will also be less traffic on the intercity roads but it is very common to have traffic on the highways since most of them only have 1 lane.
Be Prepared for Anything and Everything
One of the most important things to know about driving in Costa Rica is to drive defensively and be prepared. Be prepared for unexpected traffic, be prepared for animals crossing the road, be prepared for people walking in the middle at night with no reflexive lights.
Additionally, you need to look up the road conditions in Costa Rica to see which type of car you need. Always research to see if you need a 4×4 or 4wd or a high clearance car for your destinations.
If you want to see what it's like to drive in Costa Rica, we have made lots of driving videos on our Youtube channel!
Tips for Driving in Costa Rica for the First Time
Here are our personal tips for driving in Costa Rica for first timers.
Do not EVER drink and drive or do drugs and drive. If you are caught driving under the influence, no insurance will cover this and you will get in big trouble (tickets/jail time/etc.) BE A RESPONSIBLE TOURIST IN ANOTHER COUNTRY!
There isn't really a thing as a 4 or 3 way stop. All the stops are normal as in you have to stop and then you can go.
Lock your doors while driving.
If you get a flat tire (not covered in insurance), go to a mechanic or gas station to change it. Then drive to your rental car company's closest office to get a new tire.
Know that right of way is more like a suggestion in Costa Rica. Many local drivers do not follow it.
If you are driving in a parking lot and you see a car in front of you backing out, they may not stop even if they see you. Local drivers don't really give the right of way to the car already driving.
If you're on the highway and you're going to change lanes, your blinker will mean almost nothing to other drivers. Make sure to look 3 times before you do.
If you are being tailgated, don't speed up or try to Fast and the Furious the other drive. Tailgating is so normal here. Just let them do their thing and pass you.
Pedestrians are not used to cars stopping for them when crossing the road. Don't be scared if you see a pedestrian getting close to your car or if it looks like they are about to walk into your car.
If you stop to let pedestrians/animals cross the road, be aware of the cars behind you. They might not know that someone is crossing so they could pass you and hit the pedestrian. If you stop or brake suddenly, turn on your emergency lights to signal the driver behind you.
If you're at a busy intersection trying to turn left, be very careful. Other drivers may completely ignore you and just try to jam themselves in front without using their blinker or checking. A lot of drivers will jump the line.
Passing
Because many roads have only one lane, you may get stuck behind a semi-trailer truck or a slow car. In these situations, you may need to pass the car ahead of you.
However, if you do not feel comfortable passing, do not do it. Only pass when you are comfortable and are 1000% sure the road is clear. If you are going to pass, double check the coast is clear and use your blinkers.
Furthermore, if the car in front of you starts to pass, do not blindly follow them. There may be a car coming in fast from the other direction. Always check that it's clear before you go.
Also note that before you pass, the car behind you may try to overtake you so check your mirrors before going.
Speed Limits and Speeding
There are speed limit signs but locals don't really adhere to them, especially outside the city. However, as a tourist, we recommend to follow the speed limits in Costa Rica. If the car behinds you starts to tailgate you, just let them pass.
Police do give speeding tickets and they are super expensive in Costa Rica (can be on average around $300-400 USD a ticket).
What happens if you get a driving ticket in Costa Rica? If you receive a parking ticket, speeding ticket or any time of driving violation ticket, you must pay the ticket to the car rental company you rented your vehicle with. You can do this during your rental or when you return the car. The car rental company will give you a receipt and voucher for proof of payment.
River Crossing
There are some places in Costa Rica where a river crossing may be required in the rainy season. This is more in the rural, off road areas like in the Nicoya Peninsula, Drake Bay and Osa Peninsula. There are some very important things to know about river crossings.
Water damage to rental cars are not covered under any insurance.
Flash floods can happen in rainy season, particularly September through November.
If the river is too full or you don't feel comfortable, DO NOT CROSS. Turn around and go onto the main road. It may seem fun but safety should always be your priority. It is NEVER worth that Instagram shot of you driving across a river because there is a possibility of a flash flood, getting stuck or damaging the car.
Driving at Night
Should you drive at night in Costa Rica? You'll read many blogs saying no, absolutely not. But what if your flights lands at 8 PM and you want to drive to your hotel in the city? Or you want to drive to dinner?
Remember it gets dark by 6 PM everyday in Costa Rica!
At the end of it, you can drive at night in Costa Rica for short distances. However, we do not recommend driving at night during rainy season (May – November), if it is a long route (more than 1 hour), the route is unpaved and requires a 4×4 or if you do not have a GPS. In these situations, it will be safer to book a nearby hotel for the night and leave early the next morning.
We do not recommend to drive long routes at night during both dry and rainy season (more than 1 hour).
Read more Costa Rica safety tips in this post!
Driving From Liberia International Airport at Night
An exception is if you are flying into Liberia International Airport and your first destination is not very far. For example, Playas del Coco is only about a 25 minute drive Liberia Airport and Tamarindo is only 1 hour. Both routes are easy in the sense that it is on a well paved road with good signage going through small towns. You can drive those routes at night using a GPS.
Driving from San Jose International Airport at Night
If you are landing late in San Jose International Airport, you can drive to your hotel in the city. San Jose Airport is actually in Alajuela so from the airport to downtown San Jose, it is around 30 minutes.
However, San Jose traffic is awful so if you don't want to deal with traffic and city driving, it's best to book a hotel by the airport and take a taxi/Uber/shuttle to your hotel. You can pick up your rental car the next morning.
Safety tip: something very important to be aware of when driving at night are the pedestrians and bikers. Locals don't really use reflexive clothing or flashlights and since sidewalks are pretty much non-existent in Costa Rica, they will be walking on the road. Driving slow is the best advice for driving at night in Costa Rica.
What to Do if You Have an Accident Or Get a Ticket
If you have an accident, call 911 if there are injuries and contact your car rental company immediately to report the accident to them. There are also some things you need to be aware of if you get into an accident/incident.
Some people will try to approach and help you but this MAY be a tourist scam. There have been some cases where people act like they're helping but instead rob the person. Read more common tourist scams in Costa Rica here.
The emergency number is 911 and they have an English speaking line.
You can move your vehicle if there is an agreement between both parties (or vehicle and object), if nobody was injured, one of the drivers accept responsibility or if it is necessary to move for traffic.
If you get a traffic ticket, call your rental car company to let them know. You will have to pay it when you drop the car off and it's best to give your company a heads up so you can begin the payment process.
If you do not pay your ticket, you may get stopped at the airport and not be allowed to board the plane. They may detain you so pay your ticket!
What to Do if a Police Officer Stops You
In Costa Rica, traffic stops are very common and normal here. Police are allowed to ask anyone: citizens, residents, and tourists to show them their papers which may include your passport, drivers license and tourist visa.
Most of the time, they are actually looking for something specific (drugs, alcohol, etc.) so if everything is OK, they'll quickly send you on your way.
If a police officer stops you and you don't speak Spanish, tell them "No hablo Español". Usually they will want to see your driver's license and your passport. All the police officers have access to an English line in case they need it. Be respectful and simply answer his questions.
If a police officer tries to bribe you, ask for his name, his car or badge ID, take a picture if possible and you can report him. Police officers are not supposed to bribe tourists.
Below are some more of our local tips for driving in Costa Rica.
Costa Rican Driving "Lights Vocabulary"
If you see cars flashing their lights, they are actually sending a message. As a Costa Rican, this is very normal for us to see. This is what it means if you see a car flashing their lights at you.
There is a cop ahead of you: This is very useful and it might save yourself from a ticket. If you're on the highway and you see the car coming from the other direction flash their lights twice (one short, one long) it means that a cop is ahead of you.
Thank you: Let's say that the person in front of you slows down to let you pass, we usually say thank you by turning on the emergency lights for a few seconds (blink 2 or 3 times).
Pass me: I'm not a big fan of this one but just in case you see it you'll know what's going on. When you drive on the main highway you'll see big semi trucks going really slow. Since it's hard to see, the driver will turn on his left blinker to let you know you can pass him and usually stick his arm out and wave. Like I said I don't like this one but it's very common.
There's an accident or obstacle: Sometimes local drivers will flash their lights if there is an accident or large obstacle blocking the road ahead.
Emergency Lights
Additionally, if you see the car in front of you turn on his emergency lights all of a sudden, slow down. There is probably an obstacle ahead and he had to brake suddenly. It is very common in Costa Rica for drivers to put on their emergency lights. They will put on their emergency lights when stopping in the middle of the road, braking suddenly or just talking to their neighbor.
Parking
In the city, San Jose and the GAM do have official parking lots that are paid and with a guard. I highly recommend to park only in official lots in the city.
If you are outside the GAM, you will notice that a lot of locals park anywhere and everywhere. They'll park on the side of the road, put on the emergency lights and leave the car running to go to the supermarket and block half the road in the process. This is very common so be careful if you see a parked car with emergency lights. Drive around them carefully.
The traffic police do give parking tickets in the GAM (San Jose/Alajuela/Heredia/Cartago) and it is also normal in Jaco and Quepos.
Try to park on well lit streets and do not ever leave any valuables visible in your car wherever you are in Costa Rica. Always roll up your windows and lock your doors.
You may be approached by a man or woman wearing an orange vest offering to watch your car. They'll most likely try to charge you for parking in their "area" so you can give them a little tip but do not rely on them to watch your car 100%. Never leave anything valuable visible in your car and always roll up your windows and lock your door.
Directions in Costa Rica
If you are driving in Costa Rica, you will see that addresses are a little different.
Costa Ricans use referral points to get to places. You'll see addresses like "200 meters west of the bus stop" or "Calle 4" as the address.
This is super common which is why you should use a GPS when driving in Costa Rica. Waze and Google Maps work in Costa Rica.
If you rent a GPS, enter the name of your hotel, restaurant, business, etc. as your destination. Also, you can ask the car rental agent to show you how to use the GPS and help you program your first destination.
Costa Rica erected its first street signs in 2012 but they're not very helpful to be honest. The signs are really small and on the street corner. Many of the road names are simply "Calle 1" or "Avenida 2" and houses still do not really have a house number.
Tolls
There are a few toll booths leaving San Jose on Route 27 that range from 200-1100 colones. Then there are toll booths for exits on this highway like to Jaco, Atenas, etc.
You can pay these tolls in cash or credit card. They also accept both USD and CRC (local currency). However, we recommend to use Costa Rican currency since they do not use a very good exchange rate but if you have to use USD, you can pay in 1, 5, 10 and 20s bills. They will give you your change back in Costa Rican colones. If you pay with credit card, they will charge in local currency and use the poor exchange rate.
You will know when tolls are coming up because there will be a sign for "Peaje" and there will be a sign with a list of prices. You just need to pay the automobile price for a car which is the first line (Automóviles liviano). However if you have are driving a 12 seater van like the Hyundai H1 or Staria, they will charge you the category up. Do NOT go in the lane that has the sign "Quick Pass" as that is for cars that have the toll pass. Check the photo below for how to cross the toll booths in Costa Rica.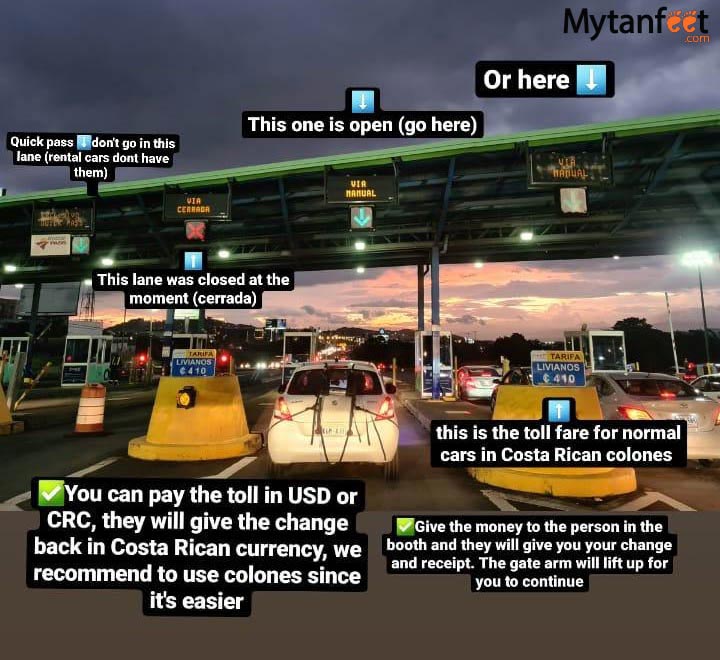 If you need local currency, you can exchange like $5 or $10 USD at the airport to get some Costa Rican colones to use for the tolls. Then exchange larger amounts at the bank later.
Gas
Gas stations are full service in Costa Rica – you do not need to pump your own gas. Regular and super gasoline and diesel are available at every gas station, which are 24 hours.
When you pull up, tell the attendant you want lleno de regular por favor (or diesel) to fill up your tank completely. You can read our full guide to getting gas in Costa Rica.
Conclusion
If you want to see Costa Rica and explore as much as you can, driving in Costa Rica is the best way to get around. In my opinion, renting a car is the best option since you'll save time and have more freedom. We hope our tips for driving in Costa Rica helps relieve any fears or reservations you have and now you know what to expect! Don't forget to get our Costa Rica car rental discount and extra benefits!
Have as much fun as you can in Costa Rica and I hope these tips for driving in Costa Rica were helpful. When it comes down to driving in Costa Rica, the most important thing is to drive defensively, don't drink or do drugs and drive and stay alert.
More Helpful Costa Rica Posts!
Booking your hotels in Costa Rica
Why you should get travel insurance for your Costa Rica trip