Costa Rica's main international airport is Juan Santamaria International Airport, commonly known as the San Jose International Airport in Alajuela. It's much bigger than its fellow international airport, Guanacaste Airport and offers the most international flights.
If you're flying into San Jose Airport, check our guide below to help you navigate through the main international airport in Costa Rica.
San Jose International Airport Location
San Jose International Airport is located in the province of Alajuela, about 10 kilometers (6.2 miles) from downtown San Jose, Costa Rica. This is extremely important to know if you are looking to book an airport hotel as downtown San Jose is around a 30 minute drive to the airport without traffic.
If you're looking for an airport hotel, the closest hotels will be in the Alajuela province, not San Jose province. Check our list of best San Jose International Airport hotels here.
About San Jose International Airport and Airport Code
The name Juan Santamaria is after a drummer boy who died helping Costa Rica prevent getting taken over by the United States in 1856.
The San Jose International Airport airport code is SJO.
IMPORTANT!!! Do NOT get SJO confused with San Jose, California whose airport code is SJC.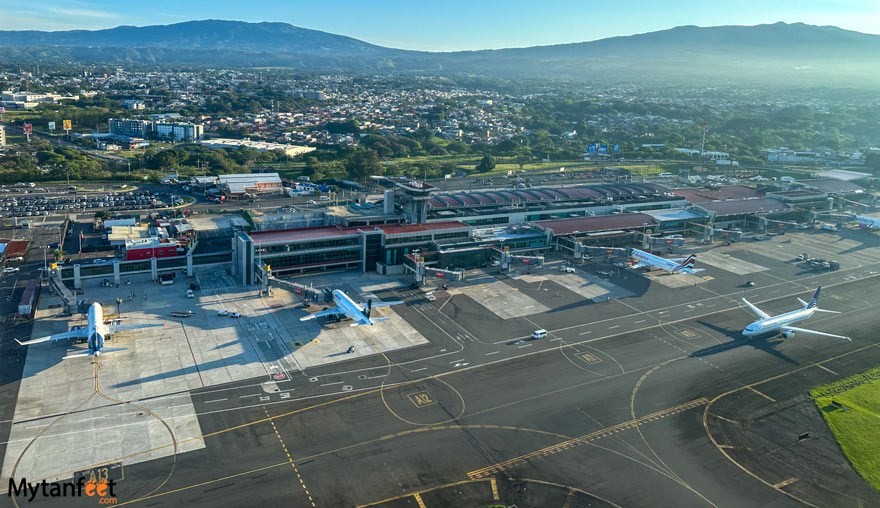 In 2019, San Jose International Airport welcomed over 5 million visitors. In 2022, it welcomed almost 5 million visitors and in 2023, it is on track to well surpass those numbers.
San Jose Airport now has 20 gates servicing 24 airlines from North America, Latin America and Europe.
Getting to Juan Santamaria International Airport
That being said, if you are not staying at an airport hotel that offers free airport shuttle, then there are a couple of easy ways to from your hotel to the airport.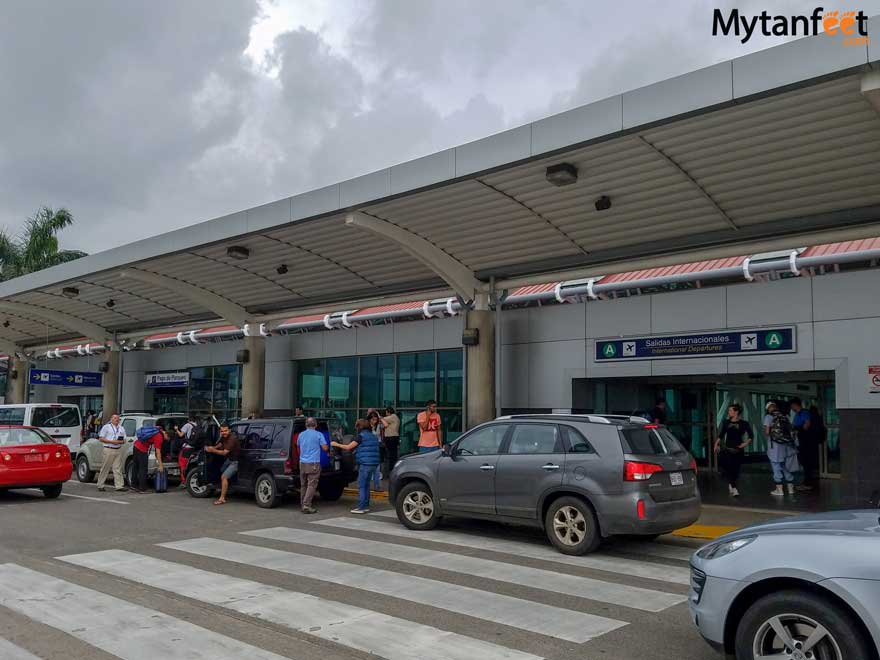 Uber: Uber is readily available in the Central Valley cities (Heredia, Alajuela, San Jose and Cartago). We have been able to call an Uber at 3 AM, 4 AM, 10 PM, 11 PM, at all hours of the day to catch a ride to the airport. However make sure you give yourself at least 20-30 minutes to call your Uber since during rush hour, there is a lot of demand and traffic. From downtown San Jose, an Uber X costs around 9000 CRC (~17 USD).
Private shuttle: Erase the time of trying to call an Uber by pre-booking a private shuttle at the time of your choice. Your driver will show up right at your designated time, help your group to load the vehicle and whisk you away straight to the airport departures gates. As a private shuttle, you won't be waiting around for anyone else. Contact us if you want to book your private airport shuttle. For up to 8 passengers plus luggage, the private shuttle costs ~$60 USD.
For departures, you should arrive at the airport at least 3 hours before your departure time.
Arriving at San Jose Airport
One you land at the San Jose International Airport on an international flight, all visitors must go through immigration and customs. Remember, immigration is for people, customs is for luggage.
You will go through immigration first where you need to supply the officer your details such as name, occupation, length of time in Costa Rica, first destination in Costa Rica and date of departure. Then you will collect your luggage to go through customs.
Next to baggage claim 5, there is a Claro SIM card stand in case you need to purchase a Costa Rican prepaid SIM card. Open everyday from 5 AM to 9 PM, sometimes 11 PM on weekends. There is also one 24/7 duty free store with alcohol.
After clearing customs, you will exit the airport terminal where you can then look for your tour company, car rental agent, private shuttle driver or catch your Uber, book a taxi or get picked up.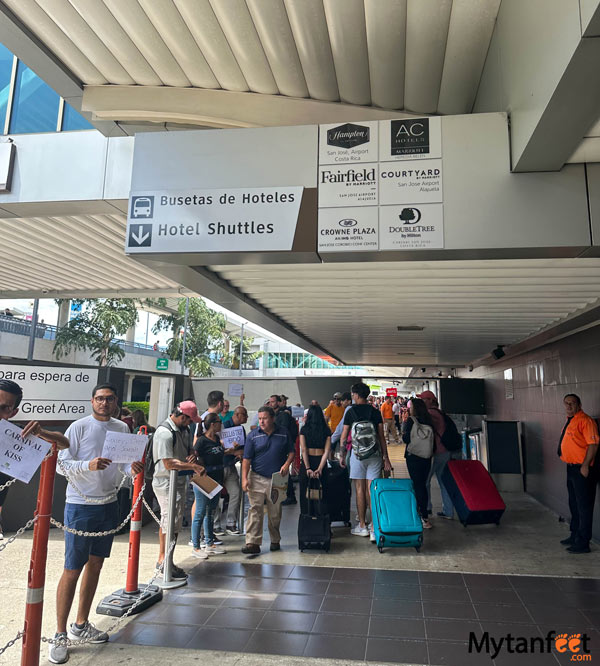 You can check our customs and immigration at San Jose International Airport and Guanacaste Airport guide for more details.
Leaving San Jose International Airport
From San Jose Airport, you can find many ways to get to your next destination.
Bus: There is a public bus stop down the ramp from arrivals that goes into downtown San Jose. It runs fairly frequently and is very cheap. If you plan to take this bus, we highly recommend to exchange like $5 USD into local currency at the airport to pay for the bus as it doesn't take USD. There are ATMS at baggage claim and a money exchange.
Private shuttle: If you pre-booked a private shuttle, your driver will be waiting for you outside the airport terminal, holding a sign with your name on it.
Shared shuttle: If you booked a shared shuttle, most shared shuttle companies will have you meet them at the Denny's or Rostipollos Restaurant which is 1.5 km away (~1 mile). The best way to get there is just to grab one of the official airport taxis right outside.
Taxi: You will see lots of taxis when you exit the airport. Official taxis in Costa Rica are red and orange for airport taxis and there is an official taxi stand right when you exit the airport.
Uber: We personally prefer taking Uber in Costa Rica. You can connect to the airport Wi-Fi to use the app to call your Uber. Some Uber drivers will have you meet them at departures upstairs or by the Malinche restaurant at arrivals. They may also ask you to sit in the front seat.
San Jose Airport Car Rentals
If you made a car rental reservation, then you need to look for your agency's agent who will be waiting for you outside the exit terminal, holding a sign with the company logo on it. Meet them, and they will bring you to their shuttle to take you to their off-site airport office to get the car. (Some companies may offer a VIP direct airport service, but for an extra charge and not all). Read more about renting a car in Costa Rica and get our Costa Rica car rental discount here.
If you did not pre-book a car, you will see car rental stands in the baggage claim area. You can go up there to check availability and prices. However, since the airport is not big enough to accommodate all the car rental companies' offices, they will take you to their satellite airport office nearby to pick up the car.
We have a partnership with Adobe Rent a Car to give car rental discounts and extra benefits (free cooler, free prepaid SIM card, etc.). You can click here "Costa Rica car rental discount" to make a reservation. Adobe will pick up passengers from the airport and take them to their close by airport office via complimentary shuttle. You can watch the process below.
Flying Out of SJO Airport: San Jose Airport Food, Shopping and Other Services
You should arrive at the airport 3 hours before your departure time.
San Jose International Airport has free Wi-Fi, restaurants, souvenir stores, luggage packing services, bathrooms, duty free shopping and VIP lounges.
There is only one level in San Jose Airport so after you clear security, go up an escalator. You'll be at the level where all the gates, food and shops are. There is a Starbucks, Britt Coffe and a couple of restaurants. If you have an early flight, there is a place that is 24/7, the Starbucks opens from 4 AM to 130 AM everyday.
There are two VIP Lounges. The VIP lounge for BAC Credomatic is at Gate 19-20 everyday from 430 AM to 430 PM. The VIP Lounge for Star Alliance passengers is at Gate 5, superior level from 430 AM to 8 PM.
Parking
San Jose International Airport has its own parking lot. It costs $2.48 USD per hour, $35 USD per day and $200 USD per week. It is under roof parking.
San Jose Airport Hotels
There are many hotels around San Jose Airport with free airport shuttles included. You can read our post "Best hotels near San Jose Airport" for recommendations. We really like Adventure Inn (we have a 10% discount in the link) but there are plenty of options you can read in the post above.
San Jose Domestic Terminal
For those flying on a local airline to take a domestic flight with Sansa, Aerobell or Green, you need to go to the Domestic Terminal SJO for your flight. This is a separate terminal, about a 5 minute walk from the international terminal. On Google Maps, it is called "Terminal Domestica SJO."
Should You Fly Into Liberia or San Jose Airport?
San Jose and Guanacaste Airport are hubs for different parts of the country. Find out which you should fly into before booking flights.
You should fly into San Jose Airport if you are going to San Jose, Heredia, Alajuela, Cartago, the Central Valley, Jaco, Manuel Antonio, Puerto Viejo de Talamanca, Tortuguero, Uvita, Dominical, Puerto Jimenez, Ojochal, Sierpe, Drake Bay, Golfito, San Gerardo de Dota, San Isidro de Perez Zeledon, San Vito, Turrialba, Vara Blanca (La Paz), Bajos del Toro, or Sarapiqui. Those destinations are closest from San Jose than Liberia.
If you are going to La Fortuna or Monteverde, both destinations are around 3-3.5 hours from Liberia and San Jose. However, due to the amount of traffic in San Jose, it could take much longer. So if you are able to, I would choose Liberia over San Jose if you're going to La Fortuna/Monteverde right away.
Read more about which Costa Rica international airport is best for you.
Other Important Information
The $29 USD exit tax is now included in most of the airline tickets. Some airlines do not though (some Canadian and budget airlines). You can check the billboard in the check in area to see if you need to pay it.
There is free Wi-Fi at the airport.
Costa Rica Vacation Checklist