Costa Rica's main international airport is San Jose International Airport or Juan Santamaria in Alajuela. It's much bigger than its fellow international airport, Liberia International Airport in Guanacaste with many major airlines flying into San Jose Airport.
If you're flying into San Jose Airport, check our guide below to help you navigate through this airport.
Location
San Jose Costa Rica airport map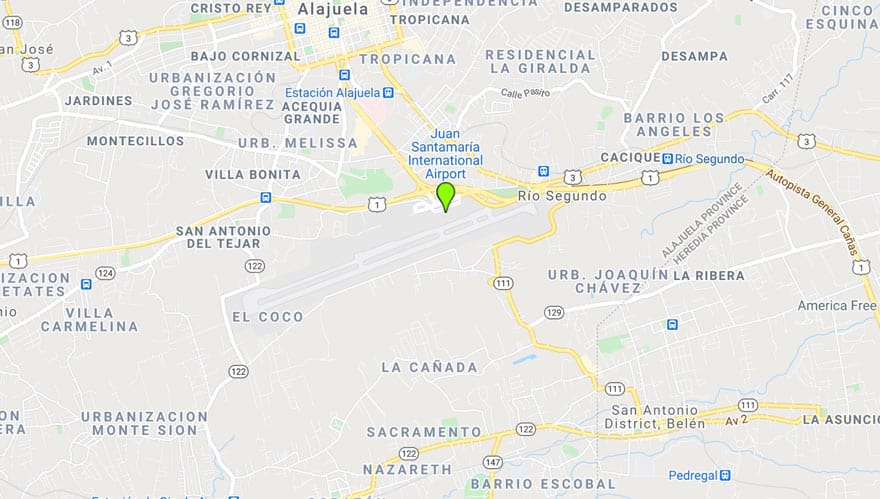 San Jose International Airport is located in Alajuela, about 10 kilometers (6.2 miles) from downtown San Jose, Costa Rica.
About San Jose International Airport and Airport Code
The San Jose International Airport code is SJO. The name Juan Santamaria is after a drummer boy who died helping Costa Rica prevent getting taken over by the United States in 1856. Make sure NOT to get SJO confused with San Jose, California whose airport code is SJC.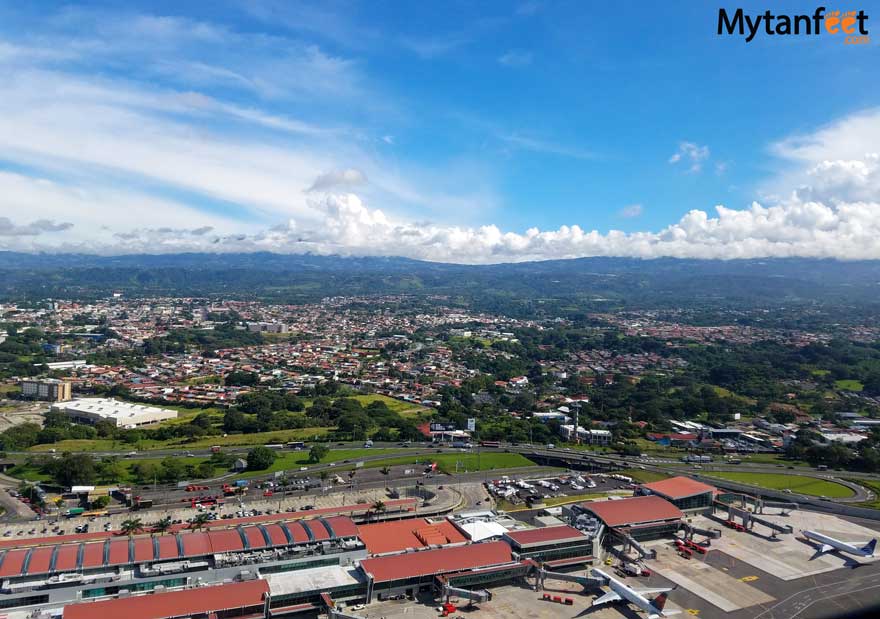 In 2016, over 4.5 million passengers passed through San Jose International Airport. This airport is not huge and is easy to get around. In 2019, they opened 4 more gates.
Should You Fly Into Liberia or San Jose Airport?
San Jose and Liberia airport are hubs for different parts of the country. Find out which you should fly into before booking flights.
You should fly into San Jose Airport if you are going to San Jose, Heredia, Alajuela, Cartago, Jaco, Manuel Antonio, Puerto Viejo, Tortuguero, Uvita, Dominical, San Isidro de Perez Zeledon, Turrialba or Sarapiqui. Those destinations are closest from San Jose than Liberia.
If you are going to La Fortuna or Monteverde, both destinations are around 3 hours from Liberia and San Jose. However, due to the amount of traffic in San Jose, it could take much longer. So if you are able to, I would choose Liberia over San Jose if you're going to La Fortuna/Monteverde right away.
San Jose Airport has more flights than Liberia and is generally cheaper. From Seattle, I found that flights into San Jose were about $100-200 USD cheaper than Liberia depending on the time of the year. However, there are some times of the year where prices are comparable since Liberia is getting more flights. Definitely check both airports.
Read more about which Costa Rica international airport is best for you.
What to Know About Flying into San Jose Airport
Driving in San Jose can be a nightmare so if you're renting a car, just know that it's not an easy drive out of the airport area. During rush hour, it has taken us over an hour to get from the airport to the highway, even though it was only a few kilometers! In Liberia, the roads are wider with way less people so driving is much easier.
If you fly into San Jose Airport and need to get to Guanacaste, you have a few options besides driving.
First, you can take the bus from San Jose to Liberia. It's about 5 hours and costs around $9 USD (5,000 Costa Rican colones). Second, shared and private shuttles are also available. Shared costs around $57 USD per adult one way with Interbus. For private, it's around $220 USD for 1-4 people total. Third, flying is another option, you can fly from San Jose Airport to Liberia Airport on a local airline like Sansa.
San Jose Domestic Terminal
If you are flying on a local airline to take a domestic flight with Sansa, Aerobell or Green. There is now a separate domestic terminal that you have to go to. It is right next to the international airport.
San Jose Airport Food, Shopping and Other Services
There is only one level in San Jose Airport so after you clear security, go up an escalator. You'll be at the level where all the gates, food and shops are. There is a Quiznos, Starbucks, a cafe and a small food court with Smashburger, other fast food and restaurants.
For shopping, there are two Britt Cafe souvenir stores, a couple artisan souvenir stores and a technology store. There is also the duty free stores where you can buy watches, jewelry, perfume, alcohol, etc. The San Jose Airport has a VIP and Star Alliance Lounge and a spa.
Next to baggage claim 5, there is a Claro SIM card stand in case you need to purchase a Costa Rican prepaid SIM card. Open everyday from 5 AM to 9 PM, sometimes 11 PM on weekends. There is also one 24/7 duty free store with alcohol.
Transportation
From San Jose Airport, you can go to any of the major bus terminals such as Pulmitam, 7-10, Terminal Atlantico Norte and Terminal del Caribe.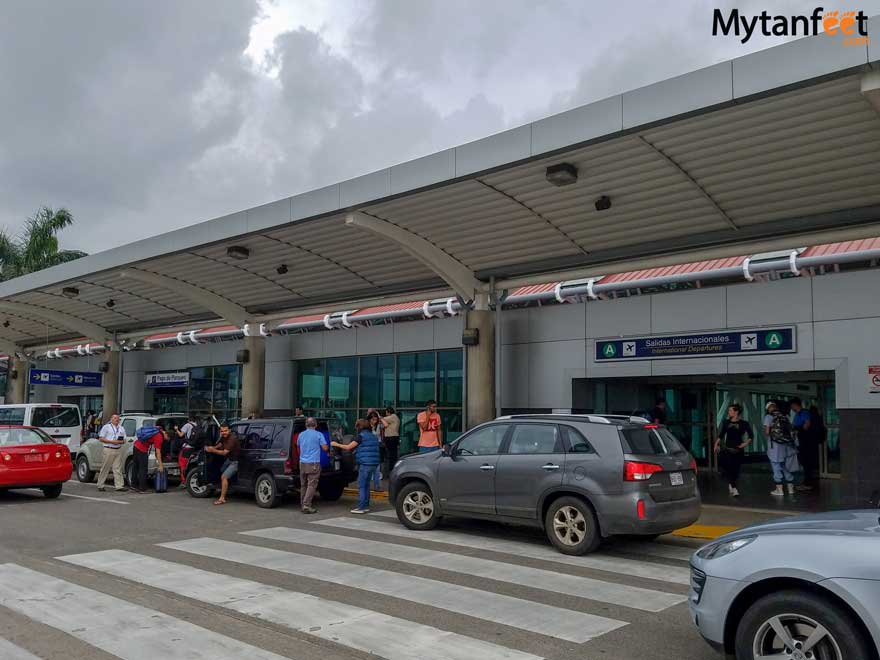 Bus: There is a bus stop down the ramp from arrivals that goes into downtown San Jose. It runs fairly frequently.
Shuttle: You can take a shared or private shuttle to do a transfer into San Jose downtown. For shared shuttles, iIf you're doing a nationwide transfer, you will need to taxi to the Denny's Restaurant for pick up with Interbus. Private shuttles will pick you up directly from the airport.
Taxi/Uber: You will see lots of taxis when you exit the airport. Official taxis in Costa Rica are red and orange for airport taxis and there is an official taxi stand right when you exit the airport. We personally prefer taking Uber in Costa Rica when in the city.
San Jose Airport Car Rentals
If you're renting a car in Costa Rica, you will see car rental stands in baggage claim in the San Jose Airport. However, since the airport is not big enough to accommodate all the car rental companies' offices, they will take you to their satellite airport office nearby to pick up the car.
We have a partnership with Adobe Rent a Car to give car rental discounts and extra benefits (free cooler, free cell phone, etc.). You can click here "Costa Rica car rental discount" to make a reservation. Adobe will pick up passengers from the airport and take them to their close by airport office via complimentary shuttle. You can watch the process below.
San Jose Airport Hotels
There are many hotels around San Jose Airport with airport transfers included. You can read our post "Best hotels near San Jose Airport" for recommendations. We really like Adventure Inn (we have a 10% discount in the link) but there are plenty of cheap hotels you can read in the post above.
Other Important Information
The $29 USD exit tax is now included in most of the airline tickets. Some airlines do not though (some Canadian and budget airlines). You can check the billboard in the check in area to see if you need to pay it.
There is free Wi-Fi at the airport.
Read more Costa Rica travel tips below!