Here is all you need to know about handling money in Costa Rica when it comes to local Costa Rican currency, exchanging money and using USD in Costa Rica. First thing to know is that US dollars are readily accepted in Costa Rica. We will go into more details below and we will also talk about how to pay for things if you are Canadian.
Costa Rica Currency
The Costa Rica currency is the colon (colones plural), named after Christopher Columbus. The Costa Rican currency symbol is ₡, a c with two lines across.
Costa Rica Colon to USD Exchange Rates
The Costa Rica currency exchange rate changes constantly and it can change day to day. What was the exchange rate yesterday, may not be the rate it is used today. The first quarter of 2022, it was around 620 to 1. Now in the second quarter of 2023, it is around 530 to 1.
Additionally, the exchange rate is not the same in every bank or financial institution since the colón is not bound to the Central Bank of Costa Rica devaluations. Since 2006, exchange rates posted by the Central Bank are used as a reference. Costa Rica money exchange rates change daily due to this reason.
Don't get scammed: There are some places that may try to use a 500 to 1 exchange rate. This will make you lose out. This used to work many years ago when the exchange rate was 500 CRC to 1 USD but as you can see, it is no longer that close to 500 to 1.
Make sure to always calculate the exchange rate when using USD because some locals may try to pull a fast one with the exchange rate and still use 500 to 1. If they give your change back using the 500 to 1 rate, you will be losing money! More on this in a bit.
Costa Rican Currency Bills and Coins
Colones bills come in 1000, 2000, 5000, 10000, 20000 and 50000. The coins come in 5, 10, 25, 50 100 and 500.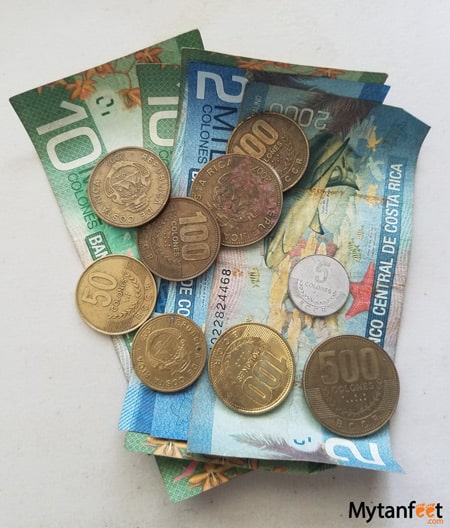 Interesting fact: The 1000 colones bill (red) has the national animal which is the white-tailed deer.
Now bills are all made of plastic substrate, cotton bills are no longer accepted in circulation.
Is USD accepted in Costa Rica?
Yes, Costa Rica takes US dollars. This is because Costa Rica is a touristic country with United States citizens as their main tourists and many American companies have headquarters in Costa Rica.
For this reason, tours and hotels are quoted in USD. Some restaurant menus even list prices in USD (common in touristic areas). Because of this, you do not absolutely have to exchange money before traveling to Costa Rica if you already have US dollars. However, there are some exceptions which I will talk about below.
How Much Cash Should I Bring to Costa Rica?
This depends on how long you will be in Costa Rica, what you plan to do in Costa Rica and where you are going in Costa Rica. Credit cards are accepted nearly everywhere in Costa Rica so you don't have to bring a ton of cash. However, you do need to have some cash with you.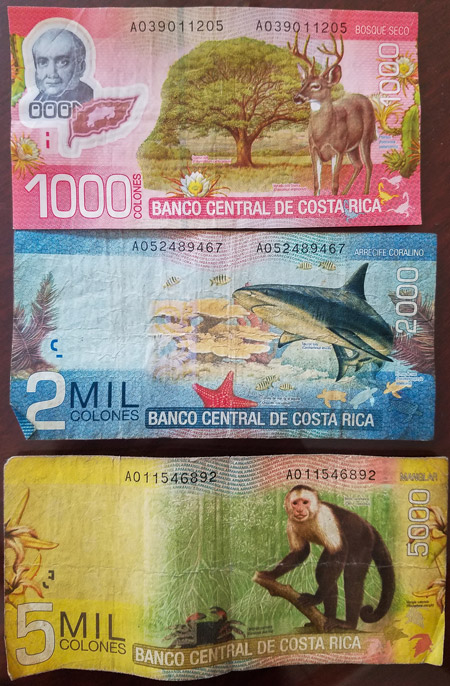 This is because there are many businesses that don't accept credit cards. Common places where credit cards may not be accepted are Osa Peninsula, Tortuguero, Drake Bay, Bijagua, Santa Teresa, Samara and Tamarindo.
For a one week Costa Rica trip, I recommend to bring around $300 dollars in US dollars cash per person to begin with. Then, exchange about $100 USD to Costa Rican colones when you first arrive at the bank or supermarket. If you need to exchange more, you can do it later on because you don't necessarily need to go to a bank to exchange money in Costa Rica. To get more cash, you can go to any ATM to withdraw cash.
Our personal recommendation for using US dollars in Costa Rica: Bring small bills
Bring fives, tens and twentys bills only. It is very hard, almost impossible to break 50s and 100s USD in Costa Rica unless you go to the bank or a casino.
Also make sure all the bills are in good condition – no rips, tears, misprints, stains, super wrinkled bills. Costa Rica is very strict on this and they will not accept any bill with a flaw. I once received a $20 bill from the Costa Rican bank ATM that had a tiny folding misprint and no one would take it except the bank… even though I got it from an ATM IN Costa Rica.
Where Can I Exchange Money in Costa Rica?
For the best exchanges rates in Costa Rica, go to the bank. You can exchange currency in Costa Rica at any of the banks like Banco Nacional, BCR, Scotiabank, etc. To exchange money in Costa Rica, it is required to bring your original passport.
You can also exchange currency at the airport in Costa Rica. Both the Liberia International and San Jose International Airport have a currency exchange after immigration and they take other currencies than USD such as Euro and CAD. You don't get the best exchange rate at all so if you can wait until the bank, I would.
Hotels can also exchange Costa Rica currency for you. However this is not every hotel. Usually only the big chain hotels like Marriotts or Hiltons can exchange USD.
You can exchange Costa Rican currency at the supermarket, gas stations or restaurants. If you pay in USD, they will give you your change back in colones. Just make sure to check the exchange rate as they should post a sign somewhere the exchange rate they use.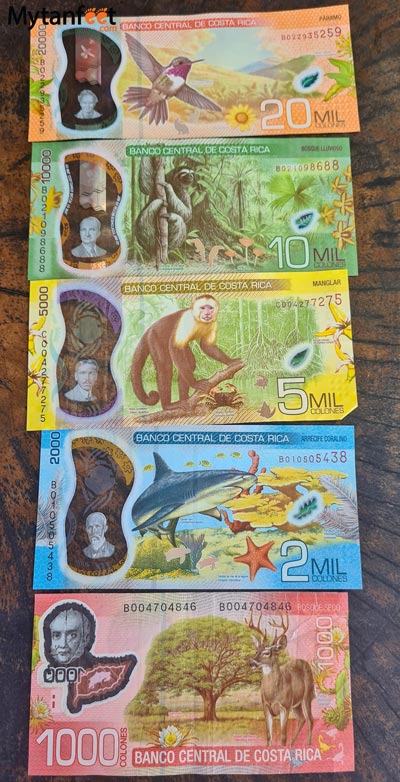 Should I Use Dollars or Colones in Costa Rica?
Even though US dollars are accepted in the touristic destinations in Costa Rica, there are some instances where it is more favorable to use one or the other.
Pay in USD when things are quoted in USD. These are things like tours, private/shared shuttles, hotels, etc. Usually the more expensive products in tourism. This is the best currency to use in Costa Rica for these kinds of things.
Use Costa Rican colones for smaller priced items quoted in colones. These are supermarkets, souvenir stores, farmers markets, street vendors, taxis, buses, gas stations and toll booths. That way you don't need to worry about losing out on the exchange rate or having to calculate to the exact colon if you use US dollars. But like mentioned earlier, you can pay in US dollars at big supermarkets or gas stations and they will give you back Costa Rican colones.
If visiting the Central Valley cities like San Jose or rural areas, use Costa Rica currency.
And lastly, if you visit during low season like September or October, some businesses will give extra discounts if you pay in cash.
Other Places to Pay in Colones
Public buses: the buses that you pay when you get on in San Jose do not accept any currency except Costa Rican colones.
Cross country public buses like San Jose to Liberia or Puerto Viejo have to be paid in advance via credit card or cash (USD or CRC) at the bus station.
Toll booths: Use colones as it's quoted in colones. They accept US dollars and credit cards but it's easier to pay in CRC. If you use USD, they do not use a good exchange rate.
Tipping: You can tip in either colones or dollars.
Can I Pay in Colones for Something Quoted in US Dollars if I Want to?
Yes. If you are quoted something in USD, you can always pay for it in Costa Rican colones. I know that the exchange rate for CAD and USD isn't favorable for Canadians so it's better for Canadians to pay in Costa Rican colones instead of USD.
Just tell the business you want to pay in colones and ask them how much you owe them. Make sure to confirm the rate they give you.
Can I Use Canadian Dollars or Euros in Costa Rica?
Canadian dollars, Euros, or any other sort of foreign currency besides USD are not accepted in Costa Rica. Not all banks accept or exchange Canadian dollars or Euros either, very few do. Scotiabank and sometimes Banco Nacional usually are able e to exchange currencies other than USD.
There is a currency exchange at San Jose and Liberia Airport that can exchange your CAD. In case you don't have any USD beforehand and no bank in your city has Costa Rican colones, we recommend you to exchange at the airport to get some Costa Rican colones, especially if you are going to a rural/remote area.
Then when you are in Costa Rica, pay with credit card for as many things as possible but make sure you have a credit card that doesn't have any foreign transaction fees. Furthermore, when you pay, ask them to charge you in CRC so you don't have to convert to USD, it will convert directly from CRC to CAD using the exchange rate from the Central Bank of Canada (normally).
ATM Use
You can find ATMs throughout Costa Rica. They are in English and Spanish and you can withdraw both Costa Rican currency and USD.
All banks have an ATM and they are available 24/7. We recommend to withdraw money during the day and be cautious of people hovering about. Take great care of protecting your PIN and do not forget to remove your card when finished.
What Credit Cards are Accepted in Costa Rica?
Nearly all credit cards are accepted in Costa Rica. The exception is American Express which is accepted only in certain places, so make sure to have a Visa handy. Visa is the most widely accepted credit card in Costa Rica.
Important Things to Look Out For When Paying with Credit Card
ALWAYS know which currency you are paying in when using credit/debit card! Why? Sometimes the vendor will ask you which currency you want to pay in: Costa Rican colones or USD. Make sure to tell them which currency and check the machine before entering your PIN number or pressing the yes button.
However, not all vendors will ask you. The vendor may instead enter the amount to charge in colones instead of USD and that's a HUGE difference.
So instead of being charged $10 USD, they charge you 10,000 Costa Rican colones. Always ask and make sure you know which currency you're being charged in!
Debit Cards in Costa Rica
I used my debit card for a couple of years in Costa Rica. However, I don't recommend it since there isn't as much protection for debit cards as there is for credit cards.
Furthermore, car rental companies don't normally take debit cards since the deposit takes 1-3 months to return compared to 72 hours for credit card. If they do accept it, they'll have you sign a waiver saying you understand that the using debit card requires a longer time to return the deposit as it's a "real cash transaction."
Credit cards offer more security and protection in case it gets stolen, so I recommend to use a credit card in Costa Rica.
Read more Costa Rica travel tips below!
Tips for traveling in Costa Rica on a budget
1 week Costa Rica travel expenses wrap up
How much things cost in Costa Rica