Many people don't realize there are actually three cloud forest reserves in Monteverde with Monteverde Cloud Forest Biological Reserve as the most popular. But if you aren't keen about being around a lot of tour groups, then you should visit the sister reserve, Santa Elena Cloud Forest Reserve (La Reserva Bosque Nuboso Santa Elena).
The Santa Elena Cloud Forest is higher in elevation at 1600 meters (5250 feet) and has 12 kilometers (7.5 miles) of well maintained trails with beautiful view points and scenery. It is privately run by the Santa Elena Technical Professional High School and protects over 300 hectares (741 acres) of land. Santa Elena Reserve is considerably less crowded than Monteverde and offers equally as nice hiking trails and views.
How to Get to the La Reserva Bosque Nuboso Santa Elena
Bus: There is a local bus from Santa Elena town to Santa Elena Cloud Forest Reserve. It runs everyday at 630 AM, 830 AM, 1030 AM and 1230 PM and returns at 9 AM, 11 AM, 1 PM and 4 PM. The bus costs $3 per person. Reservations required before 830 PM the day before (many hotels/hostels in town can book this for you). You can also Whatsapp 8346 0748 or 8964 2288.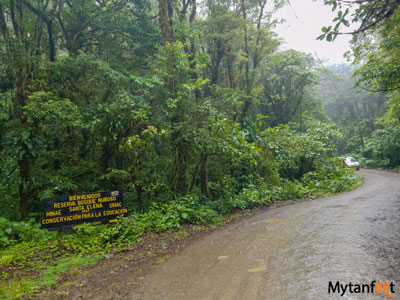 Driving: The drive from town to the cloud forest reserve is straightforward and luckily, the road isn't too bad but it does go up some steep hills and it is not paved. You have to drive northeast towards Sky Adventures and past Selvatura Park. You can find it on Google Maps and Waze.
We highly highly recommend to rent a high car (dry season) or a 4wd (rainy season) when visiting Monteverde due to the road conditions outside the town center. You can read more about Monteverde road conditions here.
You will reach a parking lot (free) and you can purchase tickets at the entrance office. There are bathrooms and a souvenir store.
Location
Santa Elena Cloud Forest Reserve Location

The Santa Elena Cloud Forest Reserve is 7 kilometers (4.3 miles) from Santa Elena town and is on the Caribbean side of the Continental Division. On Waze and Google Maps, it is called La Reserva Bosque Nuboso Santa Elena (Spanish).
Entrance Fee and Hours
The Santa Elena Cloud Forest entrance fee is $16 USD for foreigners adults and $7 USD for kids and is open every day from 7 AM to 3 PM.
Map
You can get one of these maps at the entrance office for free. On the map, you can see all the trails, the lengths and different view points.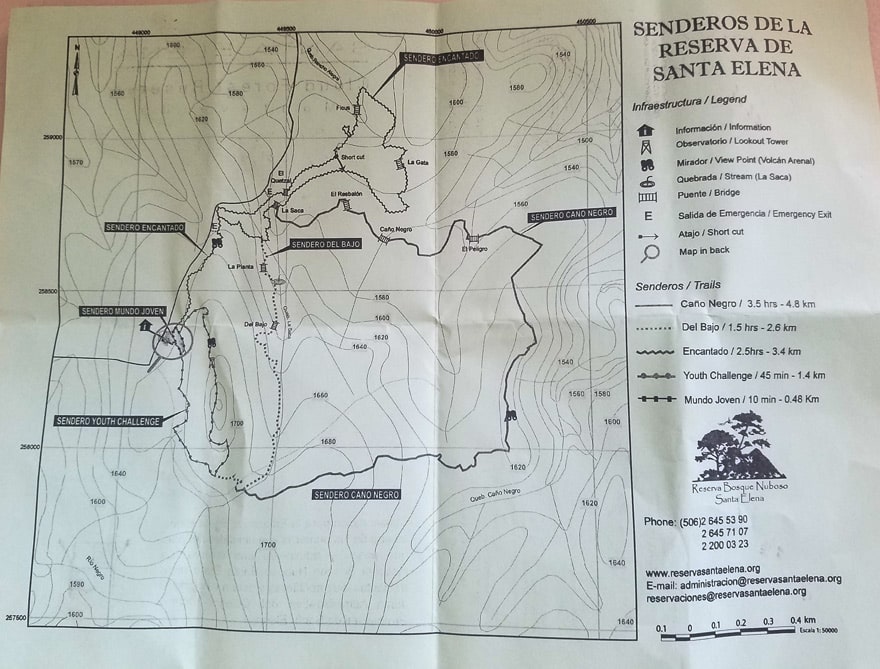 Something else really nice about Santa Elena Reserve is that they have a handicap trail.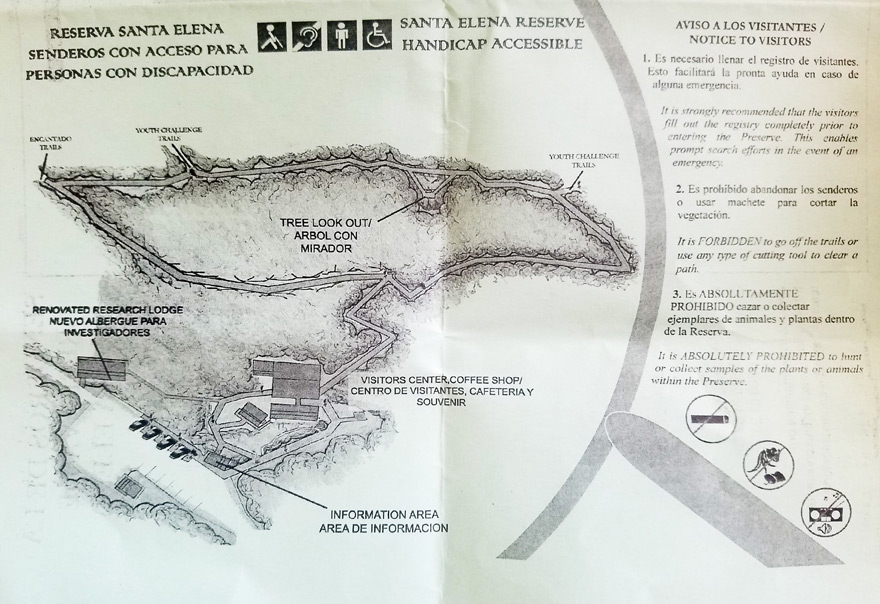 Manuel Antonio National Park and Carara National Park are two other parks that have handicap friendly trails. Unfortunately, not many national parks and reserves in Costa Rica have handicap friendly facilities.
Santa Elena Cloud Forest Reserve Hiking Trails
As you can see, the reserve has 5 trails of various lengths with the shortest at half a kilometer and longest at 5 (.3 miles to 3.2 miles). We were only able to hike the Encantado Trail because it started pouring down rain otherwise we would have stayed longer.
We recommend doing the Encantado or Cano Negro trails as they have a great view of Arenal Volcano.
Trail Conditions
The trails are all in well maintained conditions. The first entrance is on a concrete path (for the handicap friendly) and it ends when you get deeper into the forest.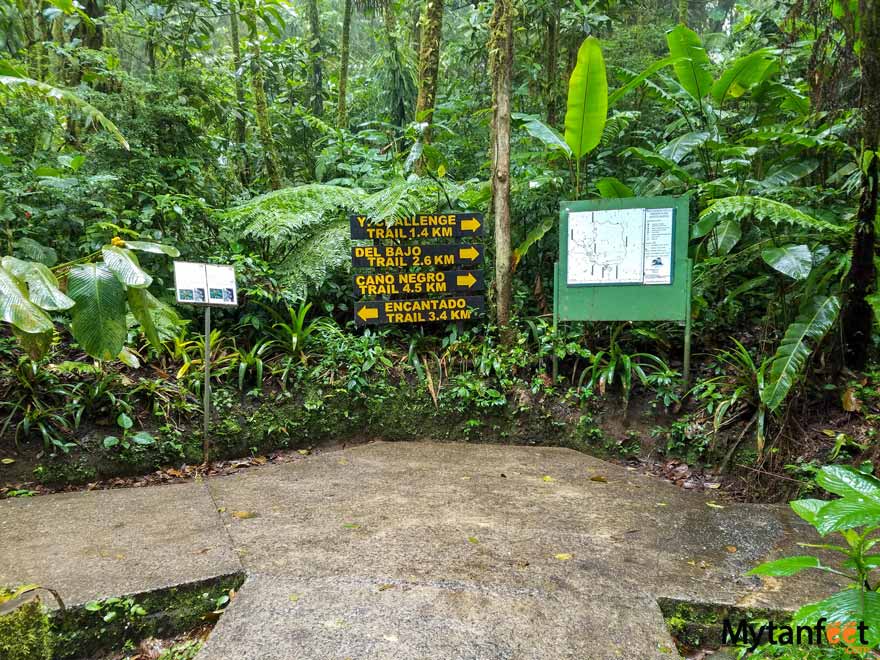 Encantado Trail
The Encantado Trail didn't have that many view points but the scenery was gorgeous.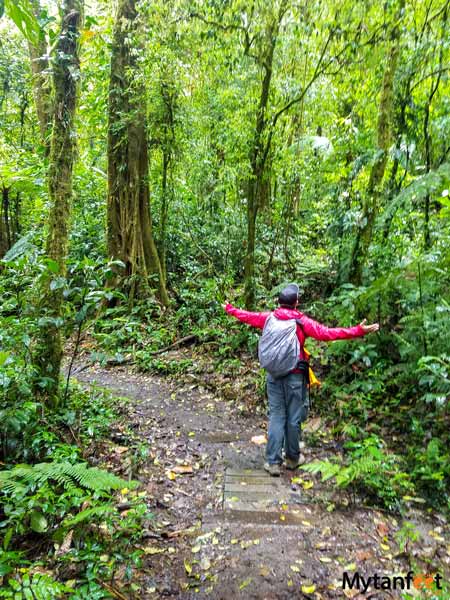 The trail led us through the cloud forest surrounded by moss covered branches and a beautiful array of towering trees. The intensely thick vegetation made it hard to see the ground as there were layers upon layers of plants, moss and epiphytes sprawled on the ground floor.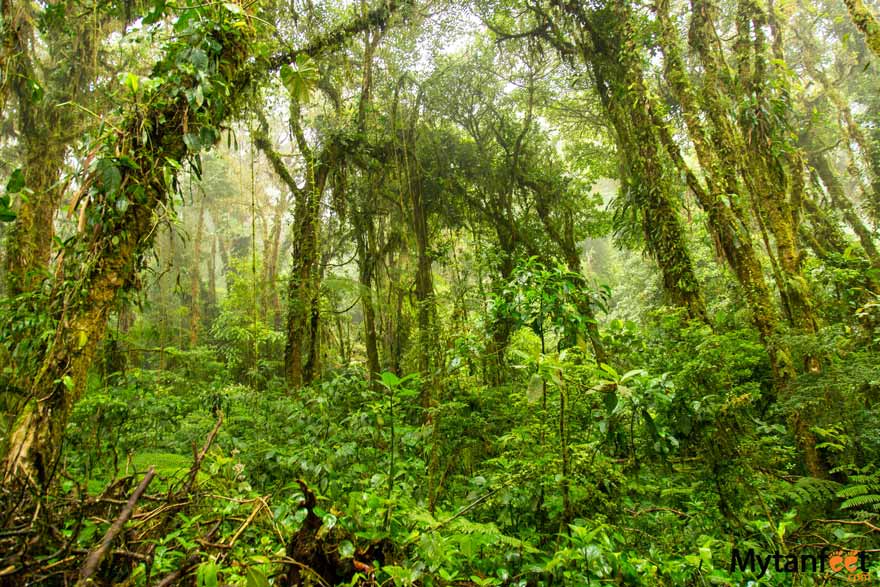 Even though it rained, it made the forest feel more magical. The abundant vegetation never ceased to astound us and it felt like we were walking in a fairy tale. Raindrops glistened from every leaf and branch, shining brightly all around us.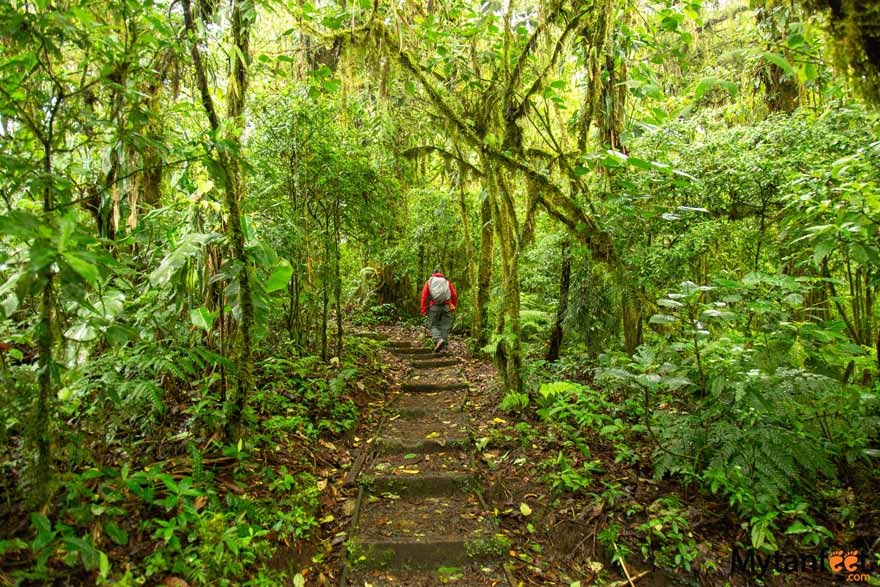 We loved our hike in Santa Elena. With such fresh air, incredible greenery and empty trails, it was exactly the break we needed from the intense heat of Guanacaste.
The community who put together the reserve did an excellent job. The signage on the trails is great and the paths were easy to walk on. There are also benches on the trails making it extremely friendly for visitors of all ages.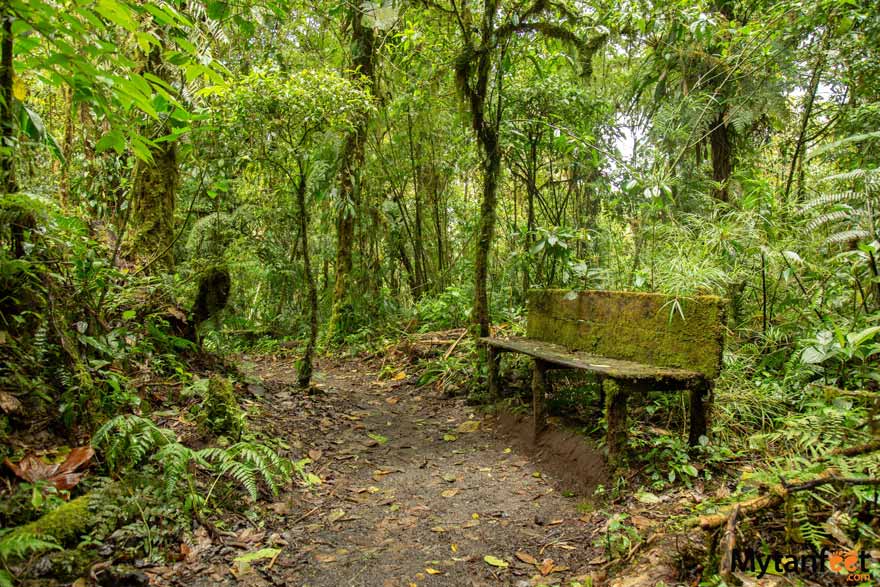 Santa Elena Cloud Forest Animals
We didn't see any animals when we were there but we heard lots of birds. However, the forest canopy is so dense and thick that it was impossible to pinpoint where they were.
Some of the animals you may see are coatis, agoutis and monkeys. If you're very lucky, you can see the Resplendant Quetzal which are abundant in Monteverde the months of February – July. We met one couple who went on a guided hike in Santa Elena and saw 2 Quetzals and monkeys.
When it comes to seeing wildlife in the Santa Elena Cloud Forest Reserve, it's not quite as easy as Curi Cancha Reserve. Curi Cancha is much more open so it's easier to see bird. Santa Elena, in our opinion, is best for hiking and enjoying the incredible cloud forest views.
Guided vs Self Guided Tour
We visited Santa Elena Reserve on our own. Even though we love guided hikes and always recommend them, we didn't feel a need for one this time. We spent most of our time enchanted by the beauty of the cloud forest!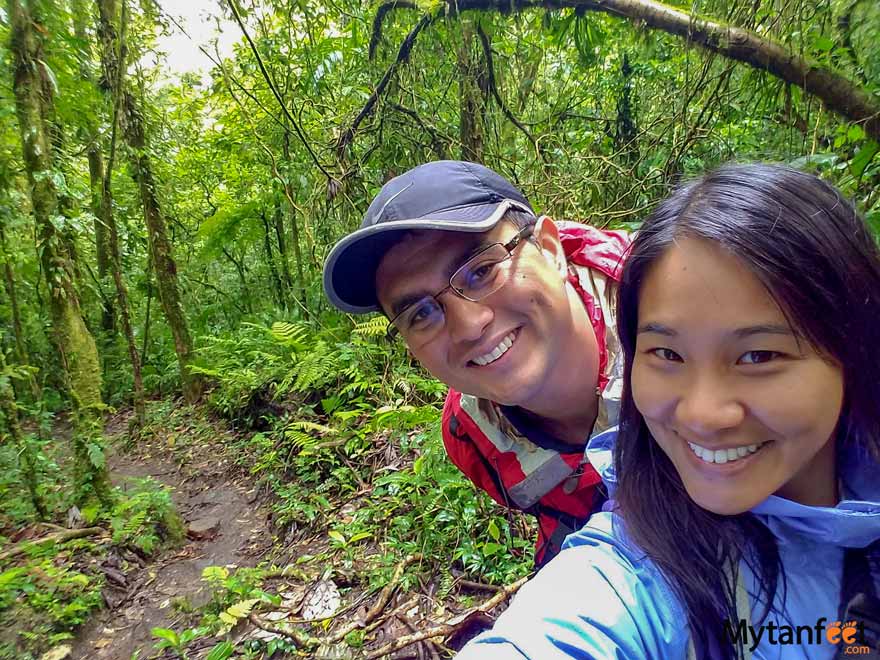 The trails were easy to walk on and because we did a guided walk at Curi Cancha, we didn't feel like it was necessary for Santa Elena.
But if this one is the only hike you're doing and you want to learn more about it, then I recommend doing the Santa Elena Cloud Forest guided tour. You can hire a guide at the entrance office but you do need to make reservations at least 1 day before hand (you can do it on their website) and have your own transportation.
Differences Between Monteverde and Santa Elena Cloud Forest
We wrote an in-depth post comparing the differences between Monteverde and Santa Elena you can read here. Below is a quick guide to both.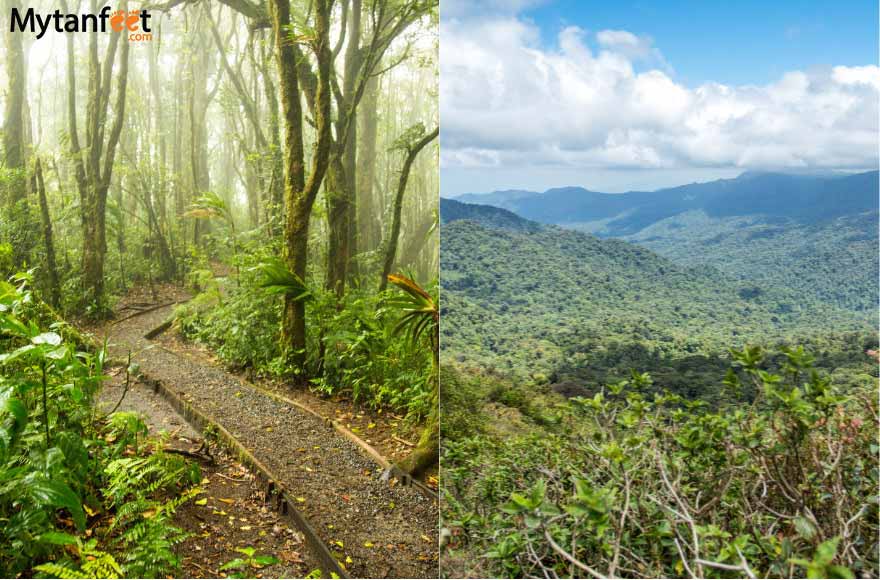 Trails
Santa Elena has a couple longer trails but both are well maintained and easy to walk. The Monteverde Cloud Forest does have some more facilities such as hanging bridges, an observation deck, a lodge and there is a waterfall.
People
Santa Elena doesn't nearly receive as many visitors as Monteverde. When we visited, the parking lot at Santa Elena was half full and it was all rental cars, no large tour shuttles and vans. We ran into only 3 small families during our entire time in the reserve and for a couple hours, it was just us and the trees.
Monteverde was a different story. The parking lot full with large tour shuttles and rental cars. We always saw people on the trails, mostly tour groups. There were times when we had to step aside as the trail didn't fit everyone. It was gorgeous but crowded.
Keep in mind that we visited in March, one of the busiest times of the year. If you visit during the shoulder months or low season, you won't see nearly as many people as we did. You can read more about the best time to visit Costa Rica in this post.
Do You Need a 4×4 to Santa Elena Cloud Forest Reserve?
Both reserves are easily accessible as they are on Google Maps and Waze. We do recommend a high clearance car for both Monteverde Cloud Forest Reserve and Santa Elena Cloud Forest Reserve.
You can also take the local shuttle bus from town to the reserves and back.
Best Time to Visit
The best time to visit would be in dry season. Even in March, one of the hottest and driest months of the year and it rained on us! You have a better chance to see the Arenal Volcano view point and not get rained on in dry season. February – July is also the Quetzal mating season so you have the possibility to see the birds.
If you visit in rainy season, you must be prepared for rain any time of day. Since the cloud forests are so high up in elevation, it can rain more frequently.
You can read more about Costa Rica weather in this post.

What to Wear
We recommend wearing long hiking pants, closed toed hiking shoes and a comfortable shirt that wicks away moisture. In rainy season, make sure to bring your rain jacket and a waterproof backpack or a rain cover. That will be necessary!
When we visited in March, I was very cold, especially as it was raining. I wore my cotton sweater with my rain jacket over it but I did warm up when we started walking and the rain stopped. I wore closed toed hiking sandals and my feet were cold, I wish I had wore socks with them no matter how silly it looked! But after it stopped raining and we warmed up from walking, my feet were fine.
You don't need mosquito repellent since there are not really any mosquitoes that high in elevation.
Read our Costa Rica packing list article for more tips.
Read About Other Great Places to Hike in Costa Rica
Rincon de la Vieja National Park: A national park in Guanacaste with hiking trails to viewpoints, waterfalls and boiling mud pots
Rio Celeste: The sky blue river inside Tenorio Volcano National Park
Cahuita National Park: A national park on the Caribbean coast with beach and jungle trails