One of the most popular routes for visitors to Costa Rica is from San Jose to La Fortuna. Although driving in Costa Rica may seem scary (you have probably already read some horror stories), many of the routes and destinations are easy to get to with good roads and this is one of them. The worst part of this route will be getting out of San Jose but once you're out of the chaotic capital city, it's smooth sailing from there.
Here is our guide to driving from San Jose to La Fortuna and vice versa.
Don't forget to check out our Costa Rica car rental discount!
How Far is La Fortuna from San Jose?
The distance between San Jose and La Fortuna is about 130 kilometers or 80 miles. The distance between San Jose International Airport and La Fortuna is about 115 km or 72 miles (remember the San Jose Airport is not in San Jose, it's in Alajuela).
The drive time from San Jose to La Fortuna is about 3.5 hours depending on how much traffic there is in San Jose.
There are a couple of toll boths you need to go through leaving San Jose. They are small amounts, like 200-800 Costa Rican colones (20 cents to $1.50 USD). You can pay in Costa Rican colones, credit card or small bills USD.
San Jose to La Fortuna Route
There are 2 ways from San Jose to La Fortuna: by way of Naranjo and Ciudad Quesada and by way of San Ramon. You can take either way but the San Ramon route is the shortest and is the one I'll be going over in this article. It is the most direct.
Road Conditions
The San Jose to La Fortuna road conditions are in good shape. You'll start off on the highway and then it goes through several small towns with all paved roads. It does get a bit curvy at one point though so I do recommend going slow.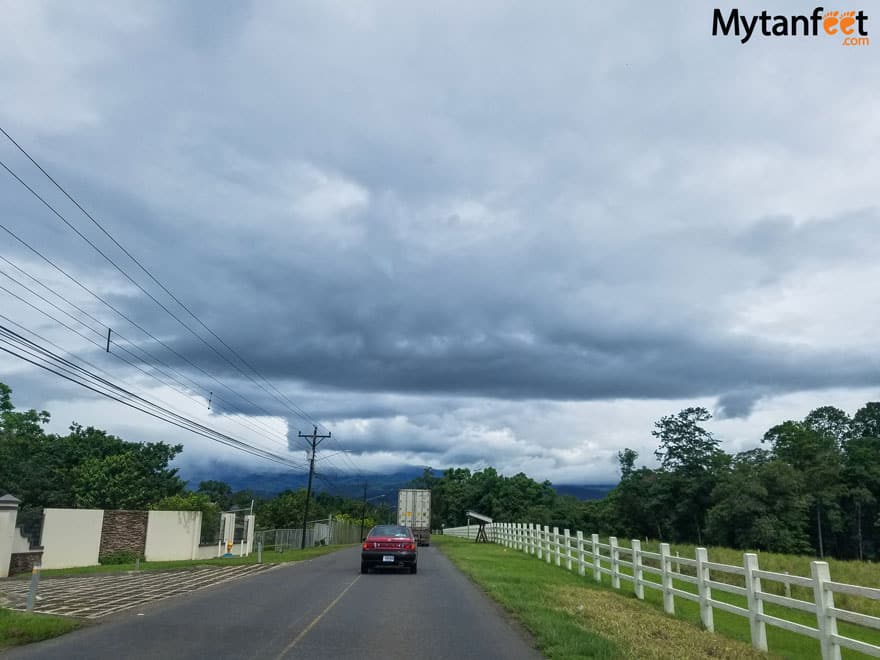 You can perfectly drive a sedan for San Jose to La Fortuna, no 4×4 necessary.
Driving Directions for San Jose to La Fortuna
If you have Waze, I highly recommend using that as your GPS. Since Waze chooses the shortest route most of the time, it will automatically pick the San Ramon route but make sure to check before you hit let's go.
From San Jose, you need to get onto the Panamerican highway to Puntarenas and exit at "San Ramon" on the right. Depending on traffic, it could take around 1.5 hours. You will pass Palmares right before the exit.
After you turn onto the San Ramon route, you will drive through the town. There are plenty of signs so follow the signs to La Fortuna and continue onto Route 702.
When you are on Route 702 and out of San Ramon, it is a very straight forward drive. Just continue on the road and you will see signs for La Fortuna and Arenal. You'll pass small towns of Angeles Sur, La Tigra, Santa Clara and Chachagua. This is the part that gets fairly windy and from there, it'll take around 2 hours until you reach La Fortuna.
La Fortuna to San Jose Route Video
Here is a video of us driving from Arenal to San Jose via San Ramon. I included all of the turns and clips of most of the towns.
You will head east from the park in La Fortuna past La Fortuna Backpackers Resort and drive towards Chachagua. It's very straight forward and there are signs the entire way.
Can I Drive to La Fortuna at Night?
Even though the roads are paved, it is recommended not to drive from San Jose to La Fortuna late at night because it gets very curvy and the signs are very difficult to see in the dark. Even if you have a GPS or Waze, it is recommended not to as there is a section of this road that gets extremely foggy and can be rainy. There are a couple points during this route where there is nothing around so you don't want to be stuck in the middle of nowhere in case something happens.
It gets dark at 6 PM every day in Costa Rica so if your flight gets in late, I recommend staying the night in San Jose and leaving early the next morning for Arenal.
Any Points of Interest Along the Way?
If you are leaving San Jose early in the morning and have all day for this drive, here are some interesting places to stop along the way from San Jose to La Fortuna.
Many people like to stop at La Paz Waterfall Gardens Nature Park up in Vara Blanca. It's about halfway between San Jose and La Fortuna and a really nice stop. This park has 5 waterfalls and an animal sanctuary, great for families. Get 7% off the La Paz park here!
If you're interested in coffee, San Jose has some of the best coffee tours in Costa Rica. You can do a morning tour at Doka Coffee Estate or Hacienda Alsacia – Starbucks Coffee Farm and then head to La Fortuna after the tour.
For restaurants, we like to stop in San Ramon because it is the biggest town on this route so they have more options. You can stop at Aroma's Cafe, La Choza de Doña Emilce or Chepes Restaurante. If you're in a rush, San Ramon also has a mall with fast food.
Driving from Guanacaste? (Liberia, Tamarindo, Playas del Coco, etc.) Check out our guide to driving to Arenal from Guanacaste!
Alternative Routes
A fun alternative route is to do San Jose – Bajos del Toro – La Fortuna. In Bajos del Toro, you can stop by the many amazing waterfalls in the area. The easiest one to see (shortest hike) and most "wow" one is Catarata del Toro.
If you decide to do this route, it is recommended to have a 4wd or a high car like a Hyundai Creta instead of a sedan, especially in rainy season.
Here is the map:

You can also stop at Sarchi, a small town famous for woodwork. It's a great place to get souvenirs and see a small local town. If you go to Sarchi, you can also do a coffee tour at Espiritu Santo Coffee Tour.
Curious about other routes for your trip? Read our Costa Rica road conditions post for more information.