If you're looking for a super chill, relax and local surfing beach, head to Playa Esterillos Oeste. Esterillos actually consists of three sections: Esterillos Oeste, Centro and Este stretching down the Central Pacific coast with Oeste as the most popular out of the three. Though the entire area of Esterillos is fairly big, Esterillos Oeste town is very small and rural and the beach is not very crowded.
Here is our guide to visiting this beach town.
Map
Esterillos Oeste map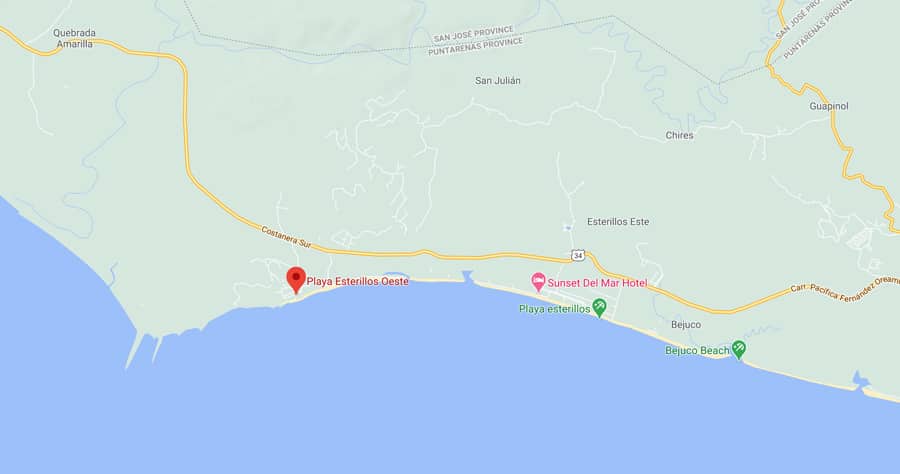 Esterillos Oeste is 122 kilometers (76 miles) from San Jose, a 2 hour drive. It is 15 miles (24 kilometers) and a 25 minute drive from Jaco.
How to get to Esterillos Oeste
You can get to Playa Esterillos Oeste by taking the Route 27 highway and Costanera Sur from San Jose, it is about 20 minutes south from Playa Jaco. From Liberia, you will want to go on the Interamericana highway then Route 27 and exit at the Jaco/Manuel Antonio exit and continue south from there. There is one toll booth for 180 colones.
The entrance to Playa Esterillos Oeste is on the right hand side and you can't miss it, there is a huge sign of a mermaid. Make sure you turn at Oeste since there is also a Esterillos town and Playa Esterillos Este which is different.
4×4 Required?
From both San Jose and Liberia, it is all on a well paved road except for when you turn into the beach town entrance. This road becomes unpaved but you won't need a 4×4. The pot holes do get bigger in rainy season but a 4×4 is not necessary.
It is highly recommended to rent a car if you are visiting this beach or area as it is hard to get around without one. There aren't a ton of restaurants or big supermarkets right in town and there aren't a lot of taxis.
If you drive, make sure not to leave belongings in your car and never leave your belongings alone at the beach.
Playa Esterillos Oeste Beach
Playa Esterillos Oeste beach has dark sand and dark blue waters with constant waves. It's not that nice for swimming but ideal for surfing. Palm trees line the long coast of Esterillos and you will see many local families playing in the sand and tide pools.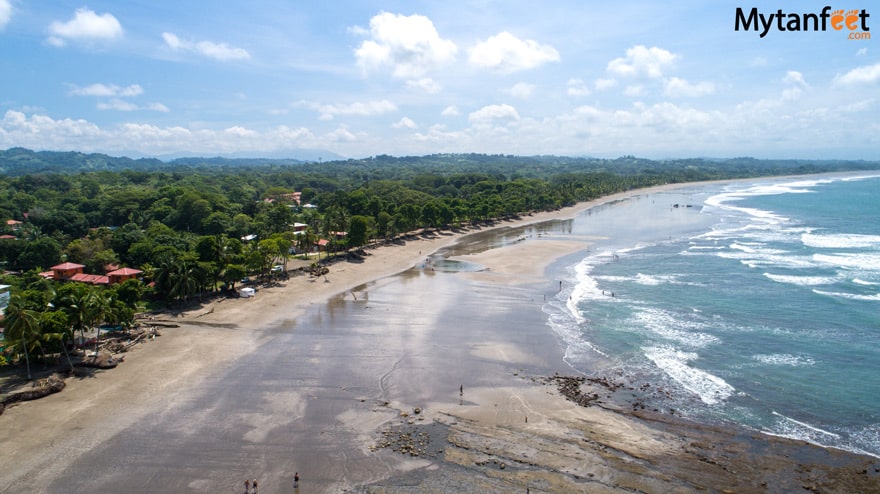 Although this beach may not have white sand or crystal clear turquoise waters, it offers an unforgettable experience for visitors with its empty shores, fun waves and beautiful views. It's definitely somewhere to go for those who want to stay at a non-touristic beach town in Costa Rica!
This beach is also very clean and has lovely sunsets.
Can you swim?
Esterillos Oeste is a surfing beach but you can splash around and have fun in the shallow waves.
Esterillos Oeste Mermaid statue
Besides surfing, Playa Esterillos Oeste is famous for one other interesting characteristic: a mermaid statue. Yes, I said that right. There is an Ariel (or one of her sisters) living in Costa Rica! If you head to the north end of the beach, you'll see her looking out into the water. During low tide, you can actually walk all the way up to her for a photo.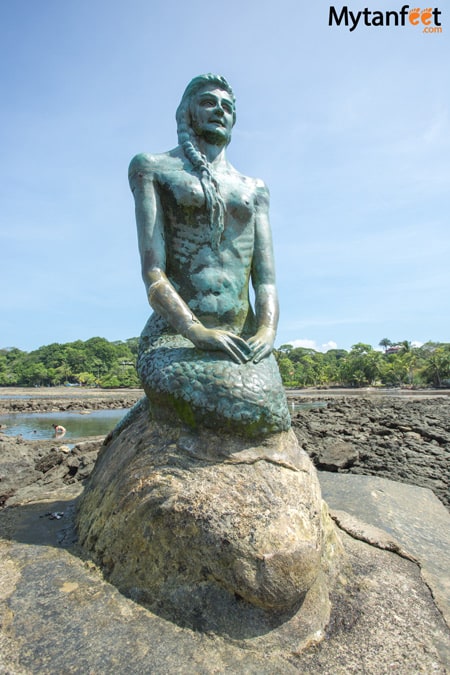 I asked the locals what her name was and her history but no one knew. They call her vagabunda (homeless woman) because for as long as they can remember, she's been sitting out in the water all day and night.
Playa Esterillos Oeste Town
Esterillos town is very small, as in the typical small Costa Rican beach town with unpaved roads, one or two small pulperias (convenience stores) and a couple of restaurants. However, this town is incredibly interesting.
It's still very rural and undeveloped but since last time we visited in 2014, it has grown quite a bit. More and more foreigners know where this little beach town is. Even the city Costa Ricans go to this beach for a weekend getaway since it's only about a 1.5 hour drive from San Jose. I personally have a feeling that this town will be seeing a substantial amount of development in the near future.
Tourists that don't like the commercialism of Jaco are drawn to Esterillos since it still has the feeling of a rustic Costa Rica beach town where chickens crow all day and night, cows and horses roam freely in the pasture next door and police cars are nowhere to be seen.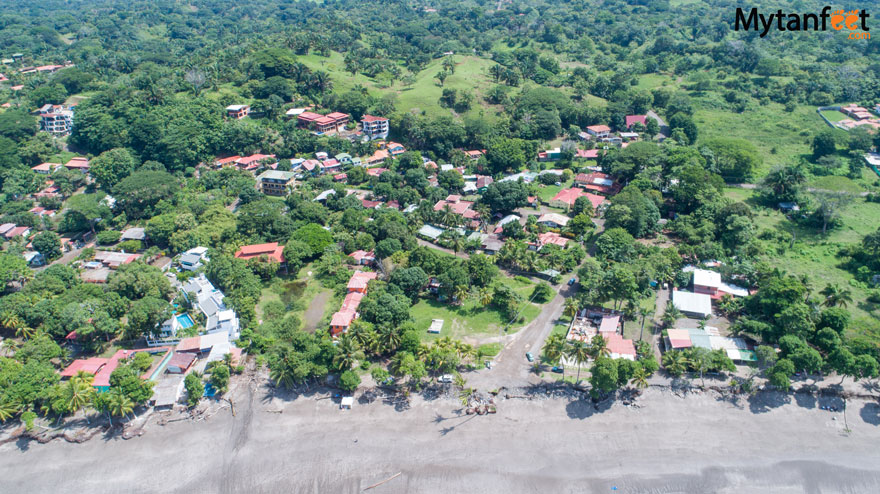 Though most of the people who live in Esterillos Oeste are all locals, there are some foreigners as well and they have built some big luxury communities and gated neighborhoods in the area.
Playa Esterillos Oeste Hotels
When it comes to lodging, you won't find any luxury or upscale places. There are a few campsites and you will mostly rustic or budget – mid range places to stay. As most of the visitors to this area are there to enjoy the beach or surf, the hotels in Esterillos Oeste are basic but comfortable.
We stayed at Hotel La Dolce Vita which is right on the beach with secure parking and very cozy suite like rooms. The rooms had a small kitchen, living space and separate bedroom area.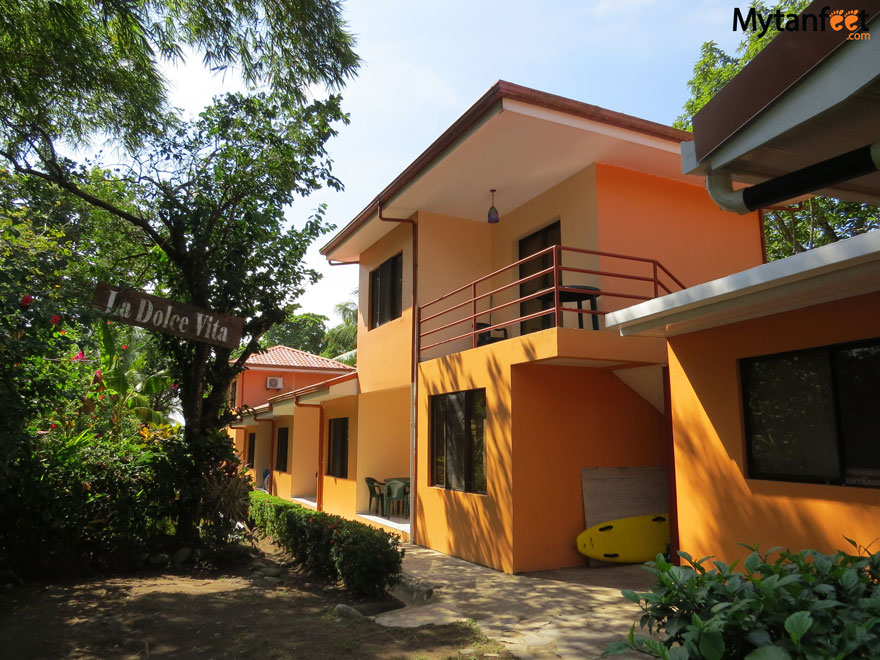 Airbnb is getting more popular in Costa Rica (get $40 here) and you can find some nice rooms and apartments in town. We booked a room through Airbnb at the Teak Boutique Hotels with a super cozy common area, hammocks, kitchen and nicely remodeled rooms.
The only thing about this place is that there isn't a secured parking lot. We didn't feel comfortable leaving our Mitsubishi Montero Sport on the street at night so we left it at the La Sirena Hotel which has a large secure parking lot.
You can find some vacation rentals up in the mountains outside of Esterillos, owned by foreigners who rent out their house or property.
Playa Esterillos Oeste Restaurants
There aren't a ton of dining options in Esterillos Oeste but the one place you have to visit is the Los Almendros restaurant for yummy Caribbean and local food.
For sodas, there are several in town. Sod Margherita and Soda Ana are two excellent ones and cheap. For 2 typical breakfasts with coffee, we paid $11 at Playa Margherita which is right on the beach where the mermaid statue is.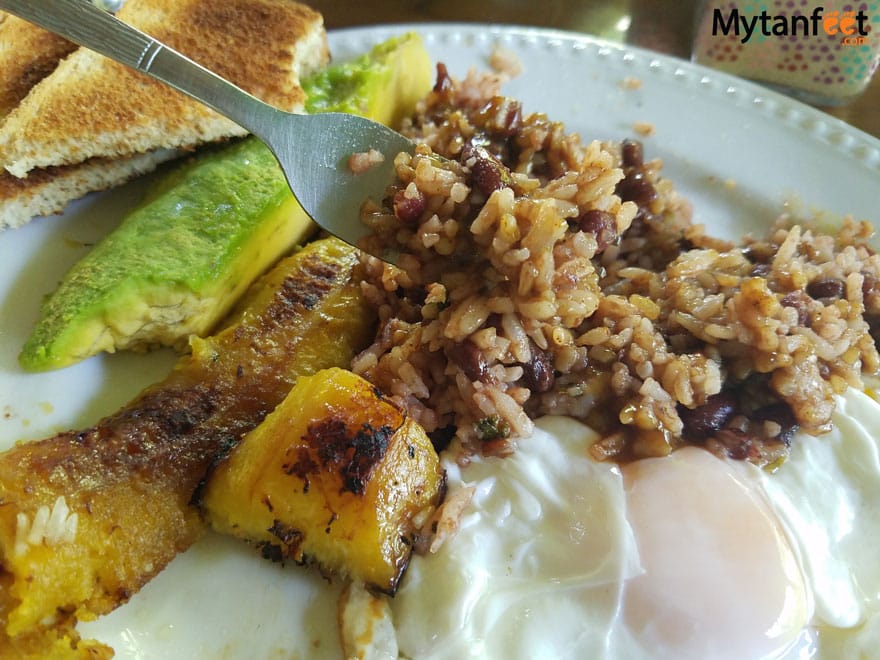 Things to do
Though there aren't a ton of things to do in Playa Esterillos Oeste itself except relaxing at the beach and surfing, there are many things to do in the area. You can also go horseback riding, visit the other beaches or take a day trip to Manuel Antonio if you're using Esterillos Oeste as a home base.
Playa Esterillos Oeste's serene atmosphere, laid back surfing vibe and rural town attracts visitors who aren't interested in a touristic beach town so if that is what you're looking for during your Costa Rica trip, then this is a great place for you to visit.
Read about other beaches in Costa Rica here!
This post has affiliate links.