If you want to visit Tortuguero, Costa Rica there are a few ways to do so. You can travel independently and book everything on your own or you can book a Tortuguero package. Many of the big hotels offer one day or overnight Tortuguero packages that includes roundtrip transportation (shuttle and boat), food, guide, lodging and activities.
Since getting to Tortuguero can take quite a bit of planning (no road access), many visitors prefer to book an all-inclusive Tortuguero packages. We did this recently with Pachira, the biggest operator of Tortuguero tours from San Jose. With Pachira, we booked the one of the Tortuguero packages which you can read about our experience below.
If you'd like to book a Tortuguero package, we have a small discount with Pachira! Click to get the Tortuguero package discount!
There are Amazon affiliate links in this post.
Tortuguero 2 day tour
Since Tortuguero is a very small place, 1 or 2 nights in Tortuguero is plenty of time to enjoy the area. However, you can stay for as you like.
This was our Tortuguero 3 days, 2 night itinerary but the schedule is subject to change depending on the conditions and weather.
What is included in our Pachira Tortuguero package
Roundtrip transportation (shuttle and boat)
Bilingual guide
Meals (starting from pick up in San Jose and ending with drop off in San Jose) and coffee
Tortuguero boat canal tour, nature walk and Tortuguero town tour
Accommodation
What is not included in the Tortuguero packages
National park fees
Additional activities like turtle tour, ziplining, etc.
Alcohol
Tips
Bottled water, cocktails, soda, juice
Day 1: Leave from San Jose, Journey to Tortuguero
Pick up from San Jose
Our first day started bright and early. We got picked up at our hotel in San Jose at 630 AM and they took us to the Pachira restaurant in Guapiles for breakfast (about 2 hour drive). From Guapiles, we had another 1 hour or so drive to La Pavona dock, where we took the boat to Tortuguero.
Tortuguero Boat Ride
Since Tortuguero is a rainforest covered sandbar with no road access, the only way in is by boat or plane. Although the boat takes longer, it's quite an adventure! You have to boat down a large river for about 1 hour until you reach the town.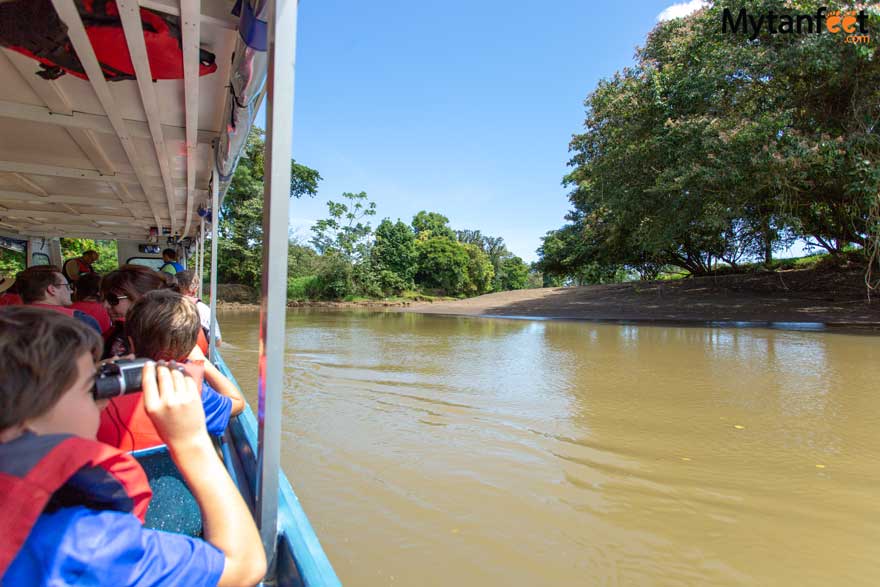 The boat ride is like a wildlife watching river tour. Our guide and boat captain pointed out wildlife to us like iguanas, herons, kingfishers and caimans on the way and the scenery was beautiful. It's one of the reasons why we think Tortuguero is a great first destination in Costa Rica. You get that quintessential "jungle" experience that everyone expects when they visit Costa Rica!
One thing to note is that this boat ride can take longer than 1 hour depending on the tide. When we were going to Tortuguero, it took us almost 2 hours because the tide was so low! On our way back, it was only one hour. (Make sure you use the bathroom before!)
Arriving in Tortuguero
When we finally arrived in Tortuguero, we got dropped off at Evergreen Lodge where we were staying. The second time we stayed at Pachira Lodge (both lodges are owned by Pachira). Since we arrived right at noon, we first had lunch and then went to our rooms to relax and change.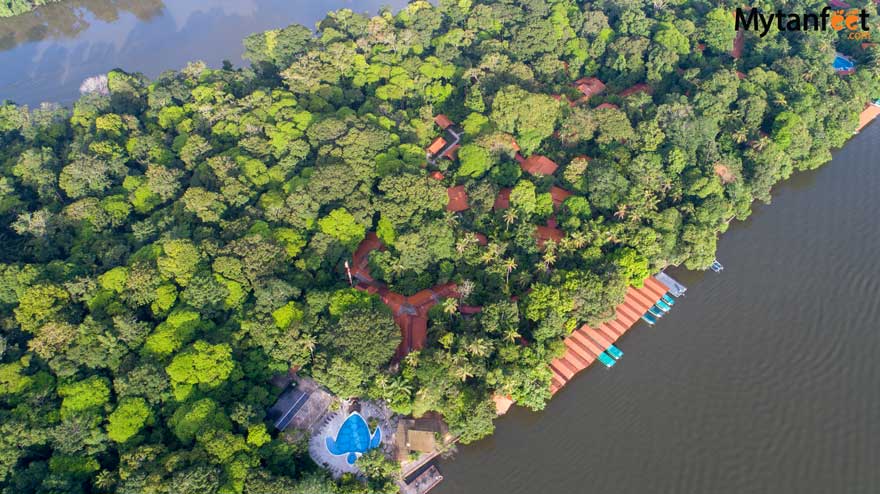 We stayed in one of the new standalone bungalows on the Pachira property which was really nice since there were only a few of them around. As soon as we got to our room, we had a troop of spider monkeys pass by in the trees next to us! Unfortunately their rooms don't have air conditioning but it does cool down at night and there are fans.
Our next activity was a trip to Tortuguero town at 230 PM so we had a little bit of time to relax.
Tortuguero Town Tour
Pachira Lodge is only a 2 minute boat ride to Tortuguero, the biggest village in the area. It's the main tourism hub of the area with its own entrance to the national park, flanked on either side by the ocean and river.
Our guide gave us the rest of the afternoon to explore town and walk on the beach. We decided to walk on the beach first and got super lucky as we arrived right at the moment a nest of baby turtles hatched!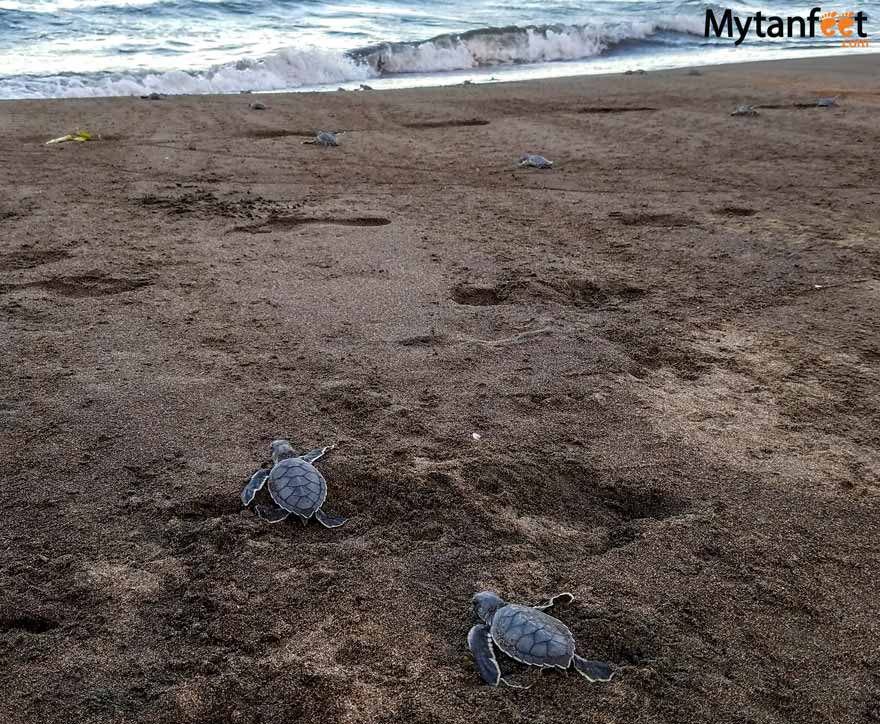 After watching the babies make their way out to sea, we walked back to town to check it out. Tortuguero village is not big at all, it's only about half a kilometer from one end to another! It was a blistering hot day so we got some pipa frias (cold coconut water), ice cream and browsed around the souvenir stores.
Our boat came to pick us up at 5 PM to bring us back to the lodge but our guide did also give us the option to stay longer if we wanted. A boat ride back to Pachira from Tortuguero costs $3 one way so some people stayed behind.
For the rest of the day, we relaxed, had dinner and enjoyed the night. When we visited in September, we went on a turtle tour at night.
Tortuguero Turtle Tours
Turtle tours are not included in the package so you will have to pay separately for them. They are $35 per person and run every night during turtle nesting season. Leatherback turtles nest March – May and Green Turtles nest July – October.
When we first visited Tortuguero, it was in November so we didn't take a turtle tour as the nesting season was over. The second time was in September and we saw 4 green turtles on a tour.
Day 2: Tortuguero Boat Tour and Nature Walk
Boat Tour
The next day, we woke up nice and early to go on the Tortuguero National Park boat tour. Since wildlife is most active after sunrise and sunset, we met our group at 530 AM sharp.
First, since the national park fee is not included, we boated over to the park entrance first to pay for tickets. Then off we went into the canals!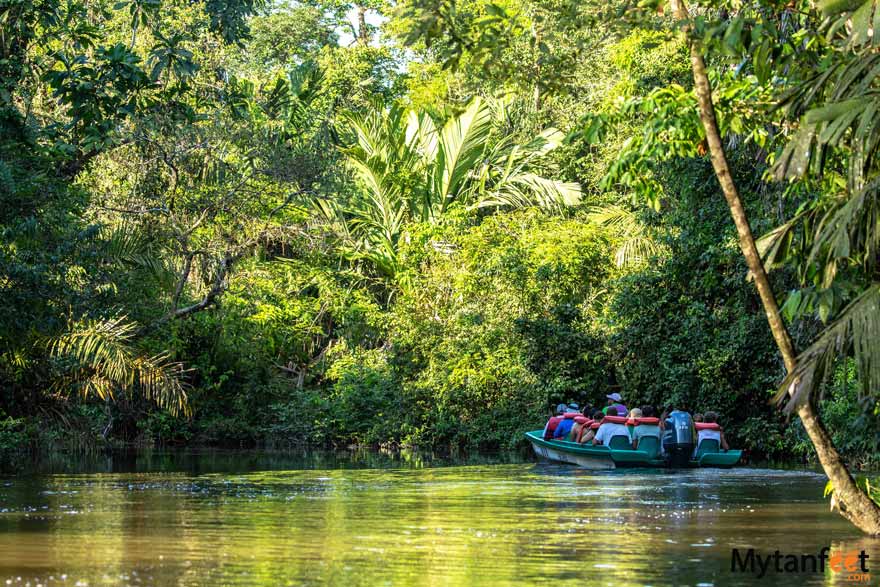 Did you know that Tortuguero's nickname is "Little Amazon?" This is because this area is completely made up of long winding canals! It's also one of the best places to see wildlife in Costa Rica thanks to the humidity keeping the rainforest lush all year long.
On this 2 hour boat ride, we saw toucans, macaws, river birds, a sloth, monkeys, caimans, iguanas and baby crocodiles.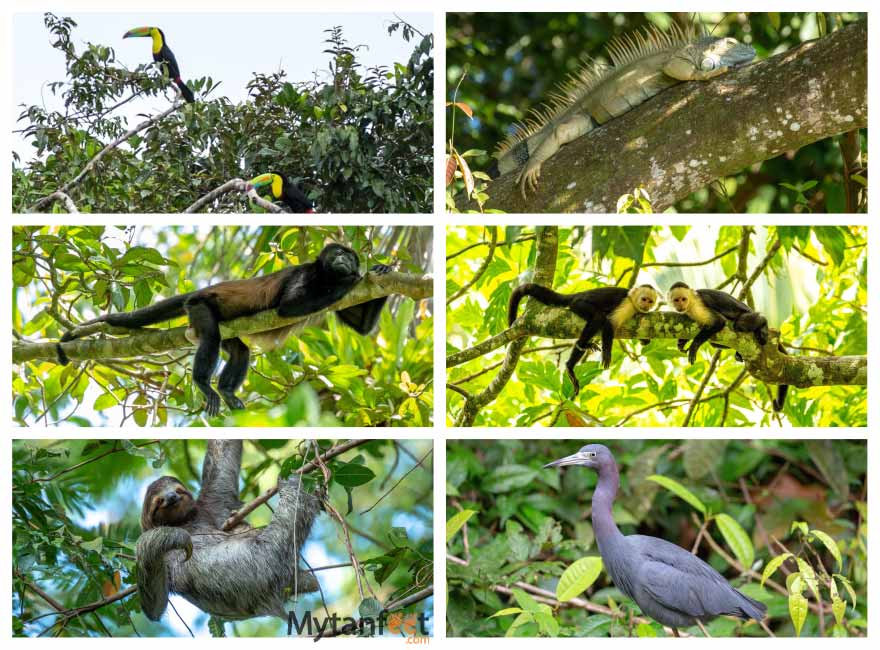 Yes, we saw all that wildlife from the boat! It was incredible to see. Make sure to bring a telephoto zoom lens to get good photos!
After the boat ride, we went back to the lodge. It was around 8 AM so we had breakfast. Then we had some down time until the next activity which was the nature walk on the Pachira property.
Our guide also gave our group the option to do a ziplining tour at 9 AM. It's a pretty good deal at $35 per person!
Nature Walk
Pachira Lodge has a 1 kilometer trail on their property that is nicely maintained and easy to walk (accessible for handicap and disabled visitors).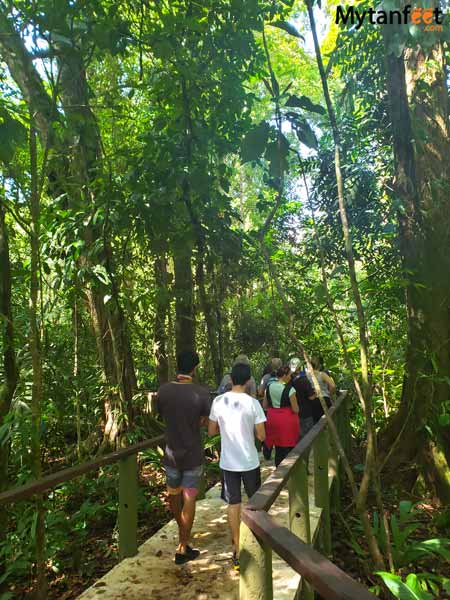 This walk focused more on the rainforest as our guide pointed out various plants, trees and flowers. We did see a couple of monkeys, a sloth and porcupine though!
After the nature walk, the rest of the day was ours to do what we pleased.
Day 3: Leave Tortuguero, Return to San Jose
Now it was time to return to San Jose. We had breakfast and took the boat back to La Pavona at 9 AM. And like on our way to Tortuguero, we stopped at the Pachira restaurant for lunch.
Pachira drops their guests off back in San Jose but they do offer an option if you want to rent a car after Tortuguero and not go back to San Jose. We rented a car with Adobe Rent a Car so we arranged with Pachira and Adobe to get dropped off at the Adobe meeting point in Guapiles to get our car.
This was very convenient and saved us a ton of time. From the Rio Blanco gas station in Guapiles, we headed to La Fortuna, our next destination so we didn't need to go all the way back to battle the San Jose traffic!
Renting a car? Click here to get our Costa Rica car rental discount and extra benefits!
Video of our Tortuguero Overnight Trip
Here's a video we made of our Tortuguero trip.
Pros and Cons of Tortuguero Packages
We really enjoyed our time on the Tortuguero overnight package. The first time we did a one night, two day and the second time we stayed for four nights with Pachira.
Pros
Pachira makes it super easy to visit Tortuguero as it's an all-inclusive package. You don't have to worry about transportation, driving, arranging activities or anything!
Having a guide was also very nice. They told us where to go, what time meals were and arranged all the activities for us.
You don't waste time on their packages since they have everything pre-organized for you.
The lodges are very nice and the property was beautifully landscaped and full of wildlife. If you want to stay in the jungle, then these lodges offer great experiences. You won't be able to see any wildlife in you stay in the village.
Cons
Not much flexibility. Since they have a pre-set itinerary, you don't have a ton of time to go off on your own unless you stay more nights.
There are a lot of people during high season (July, August, December and January) visiting Tortuguero in general, not just with Pachira. You can feel like a cow in a herd because there are so many people!
Depending on where you stay, it can kind of feel like a resort. Pachira is bigger and more resort-y so if you're looking for something quieter, stay at Evergreen or Aninga (more on the lodges below).
When it comes to prices, a package is definitely a little bit more expensive than if you traveled independently and stayed in town where there are hostels and cheap lodging. But you get to stay at a nice hotel, everything is included and you are taken care of which is the main reason why people book packages. It is easy!
Pachira, Evergreen and Aninga Lodges Review

Now let's talk about the lodges.
Pachira, Evergreen and Aninga Lodge are all owned by the same group, Pachira. Their rates and packages are exactly the same and they have a similar set up with a dining room, pool, sitting and Wi-Fi areas and being located on the river canals. However, there are a few differences.
Evergreen: All standalone bungalows and has 2 sections: monkey garden and the rest. Monkey garden is very quiet as it's smaller and more deep in the forest. Has more wildlife on the property since it's right next to the national park.
Pachira: The biggest property with standard hotel style rooms, a large pool, bar and a few standalone bungalows. This has a more resort-y feel so it's great for big groups or families since the property is so big.
Aninga: Smallest property of the 3. All have standalone bungalows and is much quieter and more intimate. Ideal for couples or those who don't want to be around a lot of people.
We have stayed at Evergreen and Pachira and spent a day at Aninga. Our personal favorite is Aninga since it's much quieter but each one can cater and fulfill the need of the traveler (families, couples, solo, etc.).
Tortuguero Packages Discount
We're happy to announce we've teamed up with Pachira to give 7% discounts on their Tortuguero packages from San Jose! Please click here to get the discount and book your package!
Trying to put together an itinerary that includes the Tortuguero packages? Check out this two week Costa Rica itinerary that goes to Tortuguero, La Fortuna, Monteverde and Guanacaste!