Just got married? Congratulations! Coming to Costa Rica for your honeymoon? Then you're in the right spot!
In this guide you'll find all the information you need to know about planning a Costa Rica honeymoon. Read our Costa Rica honeymoon itinerary ideas, recommendations for hotels, best places for a Costa Rica honeymoon, things to do and more!
Best Costa Rica Honeymoon Hotels and Resorts
Here are a few of the best hotels in Costa Rica for honeymoons and couples (more in the map above).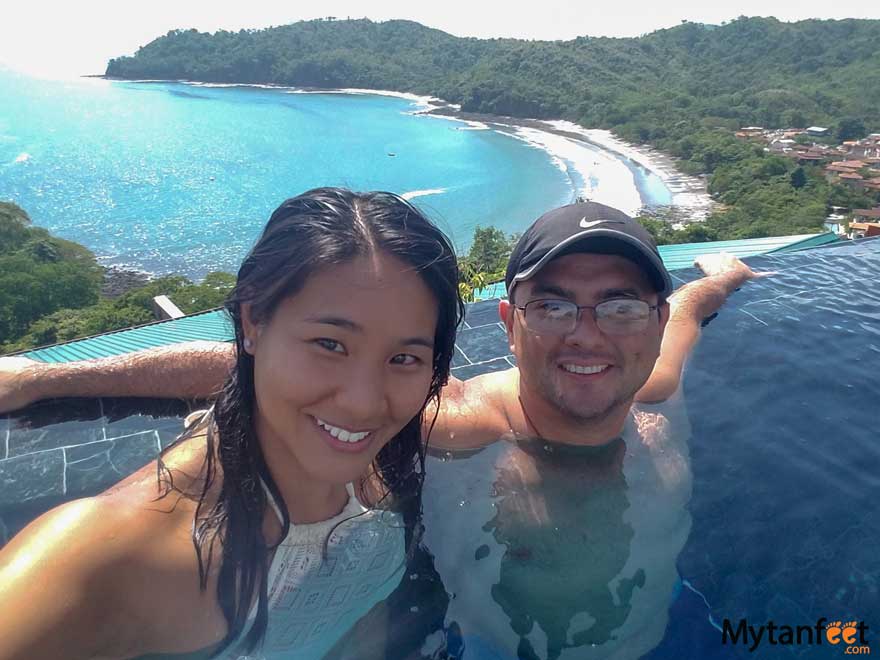 Las Catalinas and Mal Pais Casa Chameleon Hotels
Casa Chameleon has some of the most romantic boutique hotels in Costa Rica. Both of these adult only hotels feature ocean view villas, each with their own private plunge pool. The location cannot be beat when it comes to stunning scenery and privacy.
Las Catalinas is an up and coming community in the Guanacaste province by the beautiful and quiet beaches of Danta and Sugar Beach. Mal Pais is next to the bustling beach towns of Santa Teresa and Playa Carmen. Check rates for Las Catalinas and Mal Pais here.
Andaz Papagayo
As one of the most luxurious hotels in Costa Rica, any couple will love the Andaz. It sits above Culebra Bay in the Gulf of Papagayo, boasting breathtaking ocean views and their own beach. The property has two infinity pools, a spa and all the luxury amenities. It's located in a remote area of the Gulf of Papagayo so you can enjoy an intimate honeymoon in Costa Rica. Check rates here.
The Springs Resort and Spa
Although this upscale hotel is one of the best hotels in La Fortuna for families, it's also great for couples, weddings and honeymooners. They have their own outdoor adventure club, two large hot spring sections, a spa, multiple restaurants and a beautiful view of Arenal Volcano. Read our review of the Springs Resort and Spa.
Peace Lodge
Experience the rain forest while staying in luxurious comfort at the Peace Lodge in La Paz. All rooms have a balcony with a Jacuzzi, views of the cloud forest and free entrances to the La Paz waterfall gardens. Upgrade to a deluxe room to have another Jacuzzi in the bathroom. The Peace Lodge is a must for any Costa Rica honeymoon itinerary! Read our review of the Peace Lodge here.
Westin Playa Conchal
For couples looking for an all-inclusive, the Westin Playa Conchal is one of the best. Their Royal Beach Club is adult only and they have their own section of the resort with a pool, restaurants, check in and rooms. Couples can relax on the stunning Conchal beach, enjoy therapeutic massages and lay out by the saltwater pool. Read our review of the Westin Playa Conchal.
Ylang Ylang
This secluded resort on Playa Montezuma is perfect for any couple who doesn't need an all-inclusive resort and wants a quieter beach experience. They have all the comforts of home with spacious and beautiful rooms, all close to the pristine jungle and beach. Popular place for intimate beach weddings. Click to check rates.
Nayara Springs
For couples looking for the utmost privacy and romance, the Nayara Springs is the hotel to splurge on. The Nayara Springs is the adult only section of Nayara Hotel and each of their gorgeous luxurious villas have their own private hot spring and an outdoor and indoor shower. Hands down, the Nayara Springs is definitely one of the best hotels in Costa Rica for honeymoons! Click here to check rates.
Oxygen Jungle Villas
This adult only resort is up in the mountains of Uvita with a breathtaking view of the coastline. All the villas are made of glass and you can choose between jungle or ocean views. The infinity pool is one of the nicest in Costa Rica and they even have their own waterfall on the property. Click here to read our Oxygen Jungle Villas review.
El Silencio Lodge and Spa
This gorgeous mountain lodge is in Bajos del Toro, a remote part of the country. Guests can enjoy the stunning cloud forests, nearby hikes and many waterfalls in the area. Perfect for any couples who want a very intimate and unique stay in a non-touristic part of Costa Rica. They have 3 on-site waterfalls, a restaurant, adventure park and bar. Check our review of El Silencio Lodge here.
A few more recommendations are Prana Rainforest Retreat & Spa in Manuel Antonio, Makanda by the Sea in Manuel Antonio, Hotel Belmar in Monteverde, Rio Celeste Hideaway Hotel in Bijagua, Hacienda Altagracia in San Isidro de Perez Zeledon, Santa Juana Lodge in Naranjito, Senda in Monteverde and Kura Design Villas in Uvita. For resorts, read about the best all-inclusive resorts in Costa Rica.
Top Costa Rica Honeymoon Destinations
Here are the best places for a honeymoon in Costa Rica.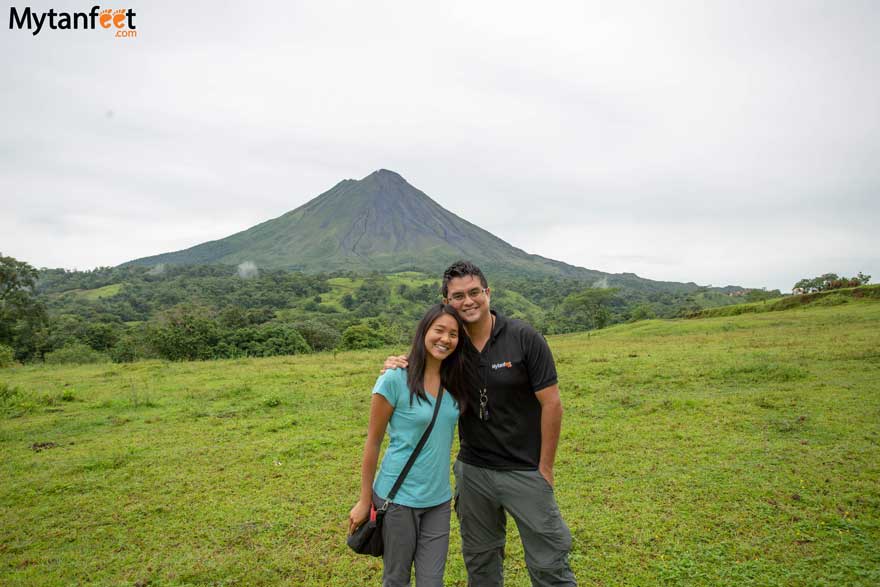 La Fortuna
As one of the most tourist friendly towns in Costa Rica, La Fortuna is the perfect place for honeymooners visiting Costa Rica for the first time. There are no shortages of luxury hotels and all sorts of romantic things to do for couples like hot springs, massages in the rainforest and hiking. Couples can easily spend 2-3 fun filled days in La Fortuna, exploring the jungle and volcano.
Some of the best hotels in La Fortuna for honeymoons are Tabacon, Kioro, Lost Iguana, the Springs, Nayara and the Arenal Observatory Lodge.
Monteverde
For the couples who love hiking, birds and nature, Monteverde is the destination to go. Discover the wonders of the cloud forest, see toucans and quetzals and go extreme ziplining. You don't need many days in Monteverde to discover the jewels of the cloud forest and it's not quite as touristy as the beaches. Great for the nature and hiking lovers.
There aren't as many high end hotels in Monteverde but Belmar and El Establo are two extremely nice ones.
Conchal
For the couples who want an all-inclusive beach vacation, Conchal is the best place as it is home to the Westin. Not only that, Conchal beach is one of the most beautiful beaches in Costa Rica with clear turquoise water and sparkling white sand and shells. Perfect for honeymooners!
Gulf of Papagayo
The Gulf of Papagayo is home to dozens of boat access only white sand beaches and is largely part of the reason why the Guanacaste province is nicknamed the "Golden Coast." You can find a handful of fancy resorts in the Gulf as well such as the Andaz, Four Seasons, Secrets and Occidental Papagayo (adult only). If you and your honey are looking for the ultimate relaxing beach vacation, you have to include the Gulf of Papagayo in your Costa Rica honeymoon!
Uvita
Uvita is the perfect place for couples looking for quiet jungle and beach. The South Pacific is not as developed or touristic as Guanacaste but has a ton of great nature and beach activities. Couples can hike to waterfalls, go whale watching, wake up to toucans and take long walks on the beach. There is so much to explore in this area! You can read our post 10 things to do in Dominical and Uvita for ideas.
Surprisingly, for how undeveloped this area is, you can find some extremely high end, luxurious adult only hotels. Oxygen Jungle Villas, Kura Design Villas, Three Sixy Boutique Hotel are just a few of them. You can also find some extremely fancy houses and vacation rentals on VRBO or Airbnb (get $20 credit here).
Manuel Antonio
Since Manuel Antonio was named one of the most beautiful national parks in the world back in 2012, couples from all over the world visit this area specifically for the park's lush jungles and pristine white sand beaches. It is a true nature lover's paradise! And with the plethora of luxury five star ocean view resorts, it's impossible not to have a romantic stay in Manuel Antonio.
Some of the best hotels for couples are Makanda by the Sea (adults only), Hotel La Mariposa (gay friendly), Parador, The Falls Resort, Tulemar, Gaia (gay friendly adult only), Los Altos and Arenas del Mar.
Puerto Viejo
For the couples who want a more laid back beach vacation without the pomp and circumstance, Puerto Viejo is an excellent destination. It's chill Caribbean vibes, incredible beaches and abundant wildlife will dance its way to you and your loved one's hearts.
It's not as developed as Guanacaste or Manuel Antonio and you won't find any big resorts but you can still find some lovely hotels on the beach such as Hotel Banana Azul (adults only and gay friendly), Hotel Le Cameleon, La Kukula Lodge, Tierra de Suenos Lodge or Treehouse Lodge.
Drake Bay
Drake Bay is the ultimate destination in Costa Rica for adventure couples. It requires either a 4 hour bumpy drive (4×4 absolutely necessary) or a wild boat ride through the mangroves and ocean from Sierpe. (Read how to take the boat from Sierpe to Drake Bay here). But you are rewarded with breathtaking ocean views, lush jungles and a plethora of wildlife as you will be in the Osa Peninsula, one of the most biologically diverse places in the world.
You can spend a few nights at Drake Bay hiking Corcovado National Park, fishing and snorkeling. Even though it's one of the most remote places in Costa Rica, you don't need to give up luxury to be close to nature. Stay at the high end Copa del Arbol or Tranquilo Lodge hotels that also include meals and air conditioning.
Costa Rica Honeymoon Map
This map has the Costa Rica honeymoon itineraries, best Costa Rica honeymoon destinations and best honeymoon hotels in Costa Rica.
An Easy 1 Week Costa Rica Honeymoon Itinerary
For those who only have one week in the country to celebrate their love, here is an easy one week Costa Rica honeymoon itinerary. You don't necessarily need to rent a car for this itinerary. You will be perfectly fine with taking shuttles (read our tips for shuttles in Costa Rica).
This itinerary gives you a little of everything Costa Rica is known for: adventure, beaches, rainforest, wildlife and volcano. Ideal for the couple looking for more leisure and relaxation.
Day 1: Land in Liberia, go to Guanacaste
Once you land in Liberia International Airport, you'll be less than an hour from some of the most beautiful beaches in Costa Rica. There are a few different areas you can stay in, all with high end hotels.
Gulf of Papagayo: The Gulf has the Four Seasons, Andaz, Riu, Secrets and the Occidental Papagayo so you have plenty of luxury hotels to choose from.
Conchal/Flamingo/Tamarindo: Stay at the Westin Playa Conchal on Conchal beach or rent a luxury condo on Flamingo beach. For couples who want more nightlife and the opportunity to meet other travelers, head to and stay at Jardin del Eden, Esplendor or the Diria.
Las Catalinas: Casa Chameleon Las Catalinas is one of our favorite hotels in Costa Rica for couples and romantic getaways. There's not much around but it's perfect for spending a few days relaxing, enjoying your private plunge pool and snuggling up to your loved one.
Day 2 and 3: Guanacaste
For your 2 days in Guanacaste, soak in all as much beach time or go on a day excursion if you're up for it. You can read about our favorite day trips in Guanacaste here.
Day 4: Travel to La Fortuna
Today is a travel day to La Fortuna, the adventure capital of Costa Rica. There you will discover the amazing Arenal Volcano and surrounding rainforest.
Days 5 and 6: La Fortuna
You have two full days to go on adventures and enjoy La Fortuna. Go hiking, ziplining, canyoning and so much more. Our most recommended thing to do for couples is the hot springs though!
You can read about our favorite things to do in La Fortuna (and get 7% off excursions) here.
Day 7: Fly out Liberia
The drive from La Fortuna to Liberia is around 3 hours so plan your trip accordingly. Depending on your flight time, you may need to take a private shuttle to get there 2 hours early.
10 day Costa Rica Honeymoon Itinerary
If you have 10 days, I recommend adding more days to Guanacaste for the beach or you can squeeze a couple days in Monteverde. You can go from Guanacaste – La Fortuna – Monteverde – Liberia. In Monteverde, you can do more hiking, hanging bridges, birdwatching and ziplining.
You can read another great 1 week Costa Rica itinerary flying into San Jose and visiting Jaco, Manuel Antonio and Uvita.
Costa Rica Adventure Honeymoon Itinerary (2 weeks)
This itinerary is ideal for the adventure couple who want to do, see and explore as much as possible. Since this itinerary is best with renting a car (get up to 20% off your car rental), you will be able to visit a few less touristic places.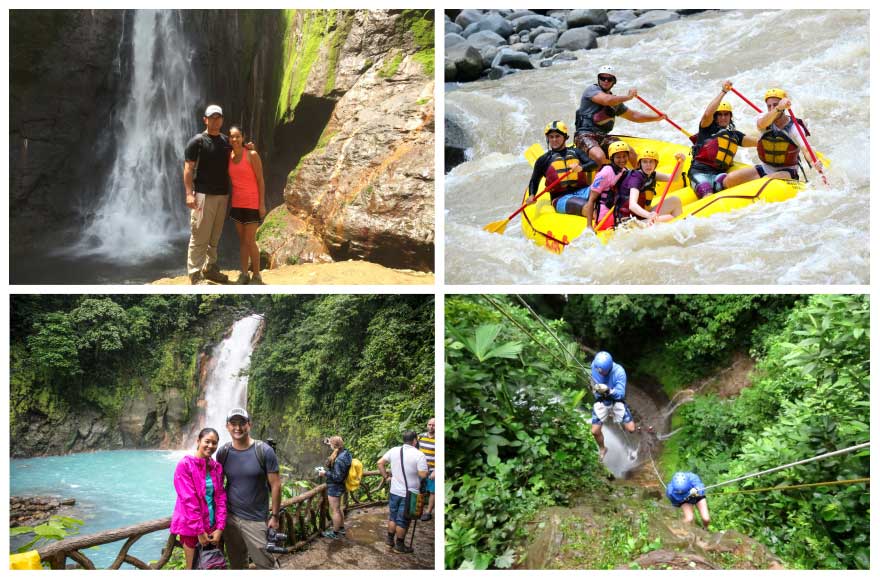 You'll get to see waterfalls, rivers, volcano, rainforest and the beach and you'll get to raft, hike, zipline, snorkel and much more!
Day 1: Fly into Liberia, Travel to Guanacaste
Same as the one week itinerary, you have several different places to choose from for your time in Guanacaste. If you don't mind the driving a bit longer, you can also head to Samara or Nosara for less touristic beaches.
Day 2 and 3: Guanacaste
Beach, beach and more beach! Savor your beach time because it's all you'll get for this itinerary. Go beach hopping, snorkeling, scuba diving, stand up paddle boarding, surfing and much more.
Day 4: Travel to Bijagua
On this day, you'll drive to Bijagua, a small rural town up in Alajuela. It's the launching point to Rio Celeste, the magical sky blue river in Costa Rica. For hotels, we like Casitas Tenorio (get 10% off) and Rio Celeste Hideaway Hotel.
Day 5: Rio Celeste
Today you'll hike Tenorio Volcano National Park and see Rio Celeste. Spend the day hiking the national park and you can even visit the public area outside the park to swim in the blue river!
Day 6: Travel to La Fortuna
Today you'll travel to La Fortuna, about a 2 hour drive. You can spend the evening enjoying the hot springs or exploring town.
Day 7 & 8: La Fortuna
Adventure on in La Fortuna! Go ziplining, hiking, wildlife watching, hanging bridges, canyoning and much more.
Day 9: Travel to Catarata del Toro
Day 9 will go to Catarata del Toro, supposedly the tallest waterfall in Costa Rica. It drops an impressive 270 feet down an extinct volcano crater in the rainforest. It's about a 1.5 hour drive from La Fortuna to Bajos del Toro, the small town by the waterfall. They also have blue rivers in the area you can explore!
For places to stay, El Silencio Lodge & Spa is the best. They have their own waterfalls on the property and it's completely tucked away in the rainforest with nothing around.
Day 10: Travel to San Jose
Today you'll drive to San Jose and return your car rental. (Mytanfeet readers get complimentary pick ups at nearby hotels with Adobe Rent a Car). You'll want to relax that day because the next couple days will be another big adventure!
Some nice hotel recommendations are Gran Hotel, Hotel Presidente, Barcelo San Jose,
Day 11 and 12: Pacuare River overnight tour
Get picked up bright and early for your white water rafting adventure. You'll spend day 1 rafting down the first easy portion of the Pacuare River, which is known for being one of the best rivers in the world for rafting. Then you'll spend 2 day, your full day at the lodge where you can horseback ride, zipline, canyon or just relax riverside in a hammock.
Day 13: Pacuare River and San Jose
On day 3, you'll raft the second half of the Pacuare river which has the Class 3, 4 and 4+ rapids. After you're done twisting and turning through the beautiful river, get dropped off in San Jose where you can relax and finish packing to go home.
Day 14: Fly Out of SJO Airport
Say goodbye to your epic Costa Rica adventure honeymoon trip! If you have a couple of extra nights in San Jose, we recommend Finca Rosa Blanca.
Costa Rica Honeymoon Things to Do
Here are some of our favorite romantic things to do in Costa Rica.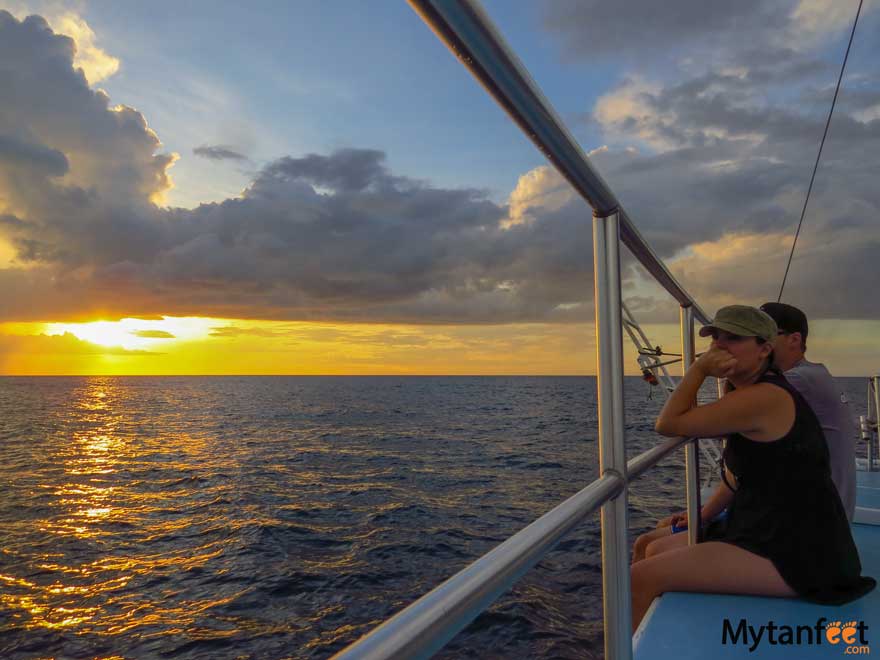 Sunset sailing
Watch the sky turn brilliant colors of purple, pink, orange and red as you go on a sunset sailing tour. These are very popular up in Guanacaste and is one of the best things to do in Costa Rica for couples.
Hot springs
No Costa Rica honeymoon is complete without a trip to the hot springs! La Fortuna has the most hot springs. Relax in the hot water under a sky full of stars with your loved one.
Waterfall hike
Hike through the rainforest to a stunning waterfall with your significant other. Then cool off, swim and enjoy the beautiful scenery together. Some great waterfall hikes are Nauyaca Waterfalls and Catarata La Cangreja in Rincon de la Vieja National Park.
Costa Rica Honeymoon Budget
How much you'll spend on your Costa Rica honeymoon will depend on two main things: hotels and tours. These two things take up the most of the travel finances so depending on your budget, you'll need to choose wisely.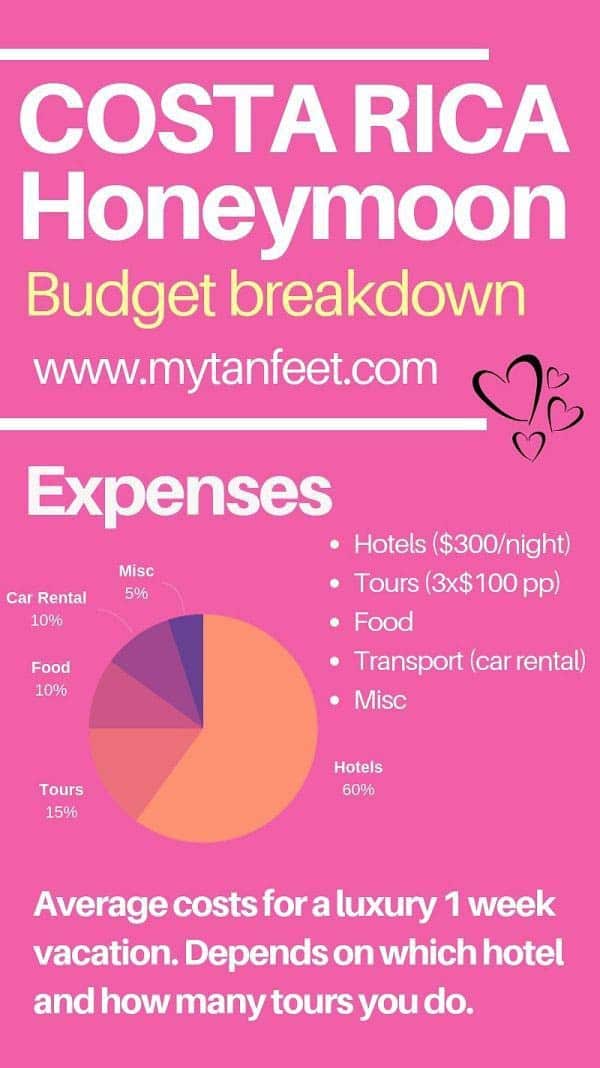 If you have the money to spare and splurge, then you're in luck because you can stay at some of the most luxurious hotels in all of Costa Rica and do some of the best activities.
But if not, don't worry! There are plenty of beautiful 2-3 star hotels that will still offer you a romantic escape. Or even boutique hotels, inns, lodges and B&B's.
You can even get a private room in a hostel! (Check our list for best hostels in Costa Rica).
If you're a bit more on a budget, my recommendation is to spend less on lodging to have more for activities.
Another tip for saving money is to visit in low season. If you visit during the very low season (Sept-Nov), you can save up to 50% on hotels rooms, even the luxury hotels! And tour companies always have promos going on.
Hotels
High end 5 star hotels like Nayara Springs, Casa Chameleon, Andaz Papagayo, Westin Playa Conchal, JW Marriott Guanacaste, The Springs Resort & Spa and Peace Lodge can run anywhere from $400-800 a night in high season.
Most of these are not all inclusive either so you will still need to pay for food and drinks, which you most likely will have at the hotel. If you plan to eat and drink a lot, consider an all-inclusive like Westin, Occidental, Secrets or Planet Hollywood.
Tours
All day tours can go around $70-500 per person. A sunset sailing tour is around $85 per person, the Tabacon hot springs + dinner is around $100 per person, ziplining can be around $75 per person, ATV tours are around $70 per person for a single and the white water rafting one day is $105 per person.
Some tours can cost a lot more such as Cano Island snorkeling which is $145 per adult and Tortuga Island 1 day which is around $155 per adult.
Car Rentals and Shuttles
Private shuttles are around $200 for 2 people from San Jose to La Fortuna and $50 from Liberia to Playas del Coco. Shared shuttles are around $55 per person.
In high season, a mid size SUV costs around $600 a week with mandatory insurance. A sedan is around $350 per week.
If you're not planning on visiting many places or exploring, you can just take a private or shared shuttle to your hotel and do day trips. However, renting a car gives you more freedom to explore and can make your trip even more special though it requires more work so it will depend on what kind of honeymoon you want. You can read more about how to get around Costa Rica in this post.
We hope this post helps you plan your Costa Rica honeymoon itinerary and trip! Feel free to leave a comment below if you have any questions!
This post has affiliate links