Daniel Oduber Quirós International Airport or more commonly known as Liberia International Airport is the second main international airport in Costa Rica. It is in the Guanacaste province near Liberia city and this is the airport you should fly into if you plan to visit the Guanacaste province.
In this guide, you'll learn about the Liberia International Airport. Please check our Costa Rica COVID travel guide as well to get more details about entry requirements and things like that.
Location
Since it is less than an hour away from popular beaches and tourist attractions in Guanacaste, Liberia International Airport is the ideal airport for those wanting to visit the Pacific coast, the Guanacaste mountain corridor and the Nicoya Peninsula.
Libera International Airport map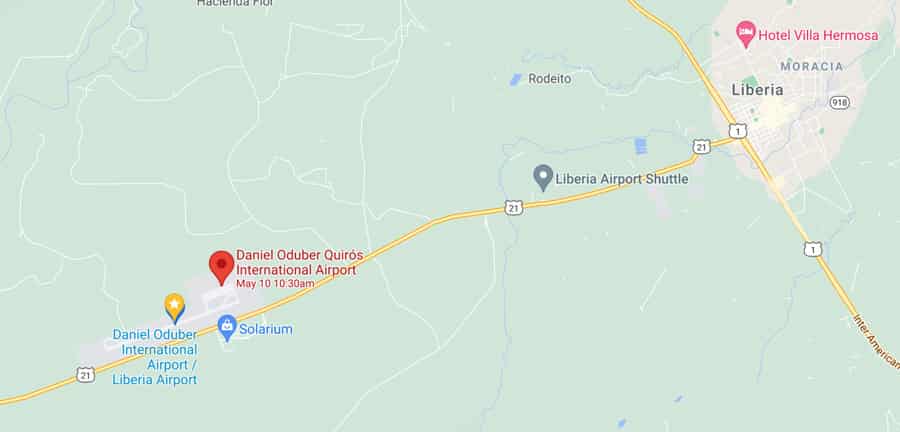 Liberia International Airport is 11.5 kilometers (7 miles) from Liberia, the capital city of the Guanacaste province. It's 25 minutes from the Gulf of Papagayo beaches of Coco, Hermosa and Panama and 1 hour from Tamarindo, Flamingo and Conchal.
The Liberia International Airport code is LIR.
Should I Fly Into San Jose or Liberia Airport?
If you're going to Guanacaste (destinations like Conchal, Flamingo, Tamarindo, Avellanas, Grande, Brasilito, Potrero, La Cruz, Dreams Mareas, Samara, Nosara, Ostional, Playas del Coco, Gulf of Papagayo, Hermosa, Ocotal, Riu, Four Seasons, Westin) then LIR Airport is the one you want to fly into as it is the closest.
You can also fly into Liberia Airport for Montezuma, Paquera and Santa Teresa.
For those going to Rincon de la Vieja, Bijagua, Nuevo Arenal or Nicoya, Liberia International Airport is best.
Going to Manuel Antonio, Jaco, Puerto Viejo, San Jose, Tortuguero, Dominical, Uvita, Ojochal, Puerto Jimenez, Sarapiqui, Bajos del Toro, San Isidro de Perez Zeledon or Drake Bay? Fly into San Jose International Airport as that is closest.
If you're going to La Fortuna or Monteverde, then you can fly to either airport because the driving time is the same for both airports, around 3 hours.
There are some pros and cons to flying to SJO and LIR Airport however
San Jose International Airport is right by San Jose, the capital city of Costa Rica. This is where most of the country's population lives and works so the traffic is terrible. It is a lot more hectic and stressful to drive in San Jose than Liberia.
Liberia is in Guanacaste and it is super easy to drive there as there aren't nearly as many people and the roads are well paved.
SJO Airport may be cheaper than LIR since Liberia is a much smaller airport so I would check for both airports first.
As for hotels, there aren't many hotel options by Liberia Airport but a ton by San Jose International Airport. For Liberia, there is only one, the Hilton, that has a free shuttle and is only a two minute drive away. The rest of the hotels are smaller and further away so you will have to pay for a shuttle or taxi.
Read more about which international airport in Costa Rica you should fly into.
About Liberia International Airport
This airport is not as busy as the Juan Santamaría International Airport (SJO) in San Jose but it is a full airport with a duty free store, car rentals, souvenir shops and some food. It's a small airport and waiting times are not super long because of this.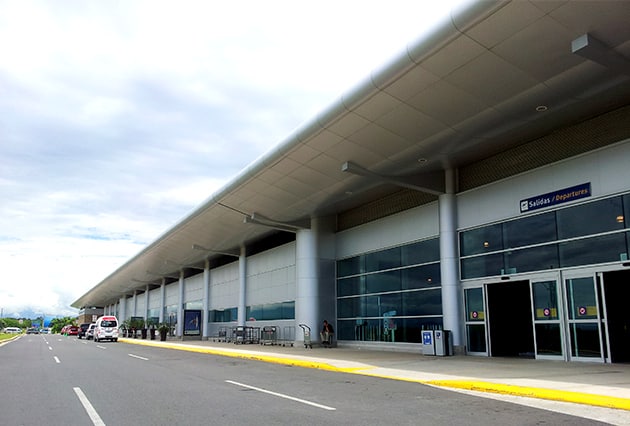 Liberia Airport Arrivals
Right now there are only 8 gates.
Local airlines such as Sansa fly into Liberia Airport and their check in is inside the same terminal as the international terminals. You can read more about taking local flights in Costa Rica here.
Liberia Airport Food, Shopping, Duty Free, Currency, Services
There are a couple of food places inside Liberia Airport and souvenir stores. Once you past security, you will see a large Britt Cafe souvenir shops, a jewelry store and an art gallery. There is also the duty free store inside Liberia International Airport that sells alcohol and normal duty free items.
For food, there isn't a whole lot. There is a cafe/bakery, a bar and a restaurant.
There is a duty free and currency exchange right after you finish immigration. You will see both places when you are at immigration. At the duty free, they told me foreigners can buy 8 bottles of alcohol and they have all sorts.
We made a short video tour of Liberia International Airport which you can watch below.
Transportation from Liberia Airport
Public bus: The Liberia public city bus between the airport and Liberia runs every hour on the hour from 5 AM to 9 PM. From the bus station in Liberia, you can take a bus to the border, San Jose, Playas del Coco and other destinations. Read more about taking the bus in Costa Rica here.
Airport shuttle: You can book a private shuttle to meet you at LIR Airport. Private shuttles will meet you outside the airport when you land and take you directly to your destination. This is a good option if you're not renting a car and coming in a large group.
Shared shuttles: You can also take shared shuttles but they can't meet you directly at the airport. They will request you to go to the Hilton Garden Inn Hotel down the street for pick up. You can read more about taking shuttles in Costa Rica here.
Taxis: There will always be airport taxis waiting outside the arrival gate. Remember that taxis are going to be more expensive than shuttles and they can charge even higher rates for holidays. There is an official taxi stand outside the airport. Read about taking taxis in Costa Rica here.
Ride share: Unfortunately Didi and Uber are not common at Liberia International Airport. In May 2021, I saw one near Liberia city.
From Liberia Airport
Here are our articles on how to get to destinations from Liberia Airport.
How to get to Playas del Coco/Gulf of Papagayo from Liberia Airport
How to get to Tamarindo from Liberia Airport
Liberia Airport Car Rentals
If you are renting a car in Costa Rica, you will find all the car rental companies inside Liberia Airport. They will be in the baggage claim area and you can find companies like Alamo, Hertz, Budget, Enterprise, Thrifty and more.
However, since Liberia Airport is too small for the car rental offices, most companies will shuttle you to their airport office close by. Some companies will bring the car to the airport parking lot but there may be an extra fee for it.
We have a partnership with Adobe Rent a Car who has an office two minutes away from Liberia Airport to give discounts and lots of extra benefits (free cooler, free SIM card, free surf racks, etc.). You can check out our Costa Rica car rental discount here.
You can also watch in the video below the process of picking up the car from Liberia Airport. See what the airport looks like and if you're renting a car with Adobe, what the process is to meet the team. (We highly recommend reserving a car in advance instead of booking at the airport since you will be able to research about the insurances, fees and taxes).
Please note this video was taken pre-COVID so nobody is allowed inside the airport terminal for arrivals except a few shuttles. The Adobe agent will be waiting for you outside the exit.
Liberia Airport Hotels
If you need a place to stay close to the airport, there is one hotel that is just across the road from the airport, the Hilton Garden Inn.
Although more expensive, it is the closest and really the only true "airport hotel" offering free airport transportation and being just right down the street. For a cheaper option, check out Hotel Santa Ana further away but more budget friendly.
Want to read about other options? Click here to read our article for best hotels near Liberia Airport.
Other Important Information
You no longer need to pay the $29 exit tax, it is included in many airline tickets. There is a board and payment office for you to check since some airlines (Canadian) have not included it yet.
Find out what it's like to go through customs and immigration in Costa Rica.
We recommend arriving at least 2 hours early for an international flight.
Make sure to follow social distance markers, wash hands and sanitize frequently.
They will take your temperature when entering the airport.
Read more Costa Rica travel tips below!