One of the greatest things about visiting Playas del Coco is that you're close to many attractions. Not only are there a several beautiful beaches nearby but you can plan out your whole trip doing something different every day, you can go from island to forest or beach to volcano in a matter of hours! It's an excellent home base to explore Guanacaste.
If you're looking for some things to do from Coco, here are our favorite day trips from Playas del Coco. Additionally, if you don't have a car and would like to do some excursions from Playas del Coco, feel free to contact us about the tours below!
**This post was updated October 2019**
Catarata Llanos de Cortes
This is one of our favorite waterfalls in the country and we always bring our friends and family here. It's a big waterfall with multiple cascades and a large pool to swim in. It's a bit hidden in the forest, in fact you can drive right by it on the InterAmerica highway and never know it's there which is why we like to call it our little oasis. It makes for a wonderful day trip especially in the heat!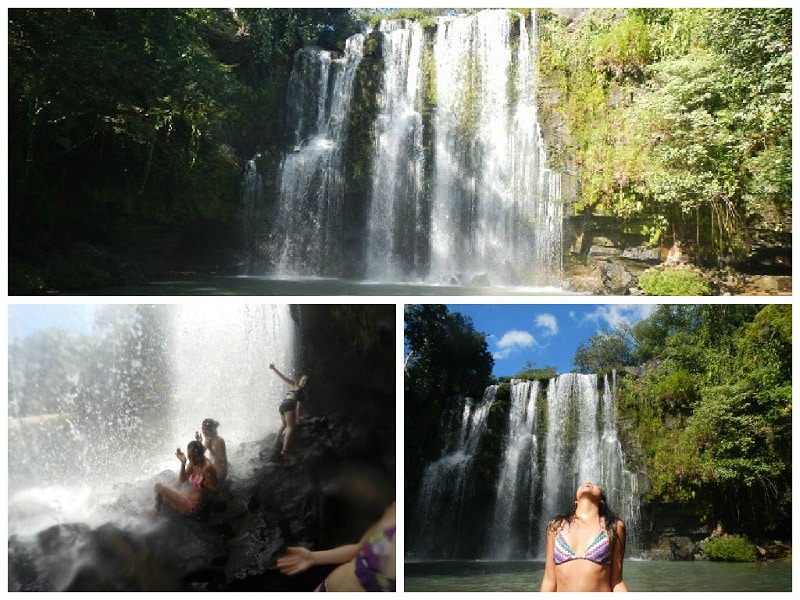 It's about a hour drive from Coco and you can read our Catarata Llanos de Cortes guide.
We recommend going early in the morning so you can have the waterfall to yourself and in the afternoon, you can explore Liberia, head back to Coco or zipline at the nearby Ponderosa Adventure Park.
Guachipelin Adventure Combo Tour

If you're looking for adventure and excitement, you have to do a combo adventure tour, it's one of the best day trips from Playas del Coco. There are several parks about an hour and drive from Playas del Coco Coco that you can choose from. Each one has slightly different activities and they are all incredibly fun!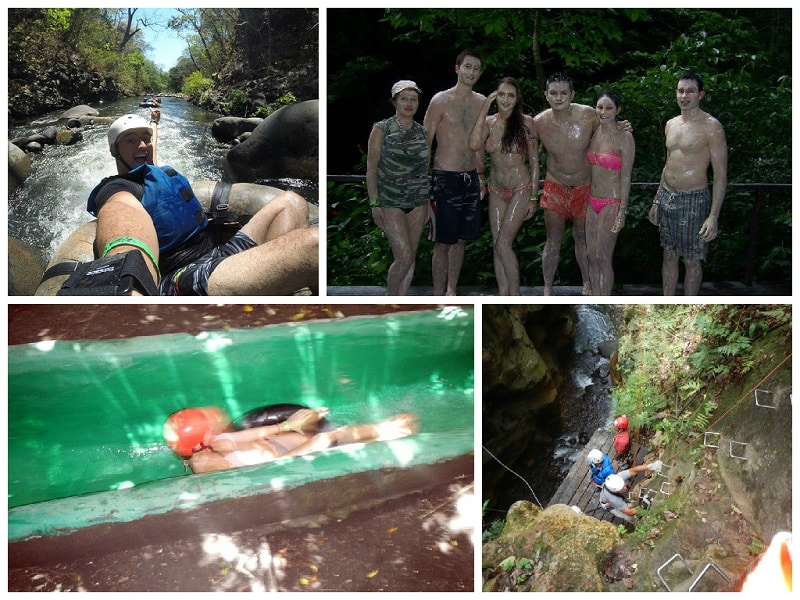 Guachipelin combo tour consists of a canopy tour, white water tubing, horseback riding, waterfalls, and a separate hot spring and mud baths. Read more about it here. This one is our favorite!
Buena Vista combo tour has a canopy tour, waterslide, horseback riding, waterfall, hanging bridges and their own hot spring and mud baths. You can read more about it in this post.
Borinquen is located on a hotel and they have their own canopy, hiking trails, spa, mud baths, hot springs, and waterfall. Find out more about Borinquen on Day 2 in this article.
There is also Rio Perdido that offer similar activities. We did the river tubing and hot springs at Rio Perdido and it was really fun!
Rincon de la Vieja National Park
If you like to hike, Rincon de la Vieja National Park is an excellent place for hiking. The Las Pailas sector (1 hour and 20 minute drive) has several trails of various levels, perfect for a nice day of hiking to see beautiful scenery.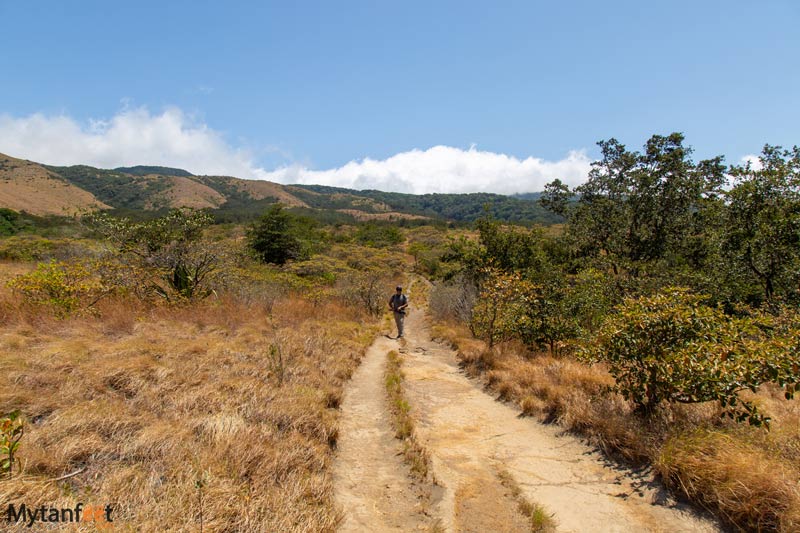 For an easy hike, you can do the boiling mud pots hike (less than 1 mile) which is all flat and goes around the mud pots. You can see the steaming mud pots bubbling and boiling and smell the sulfur from the active volcano.
For a longer hike, we highly recommend the Catarata La Cangreja trail. It is about 4 kilometers (2.5 miles) each way, going through the tropical dry forest and ending at a gorgeous waterfall!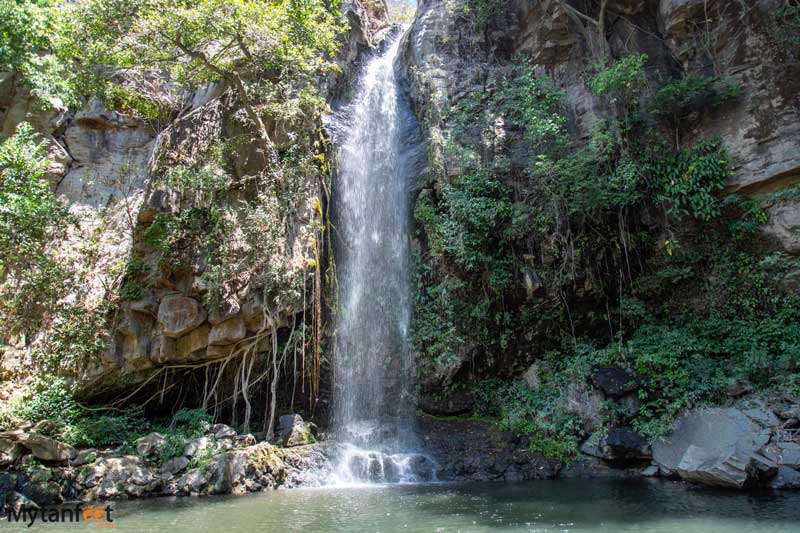 That waterfall hike is one of our favorites in Costa Rica and is not very crowded which is awesome!
Explore Beaches

There are a few different places you can beach hop from Coco. This is why we recommend to rent a car in Guanacaste (Playas del Coco) because public transportation is not good if you want to explore. There are SO many gorgeous, non touristy, under the radar hidden beaches that you can find only by car. Remember, it is also best to rent a 4×4 in rainy season if you plan to explore!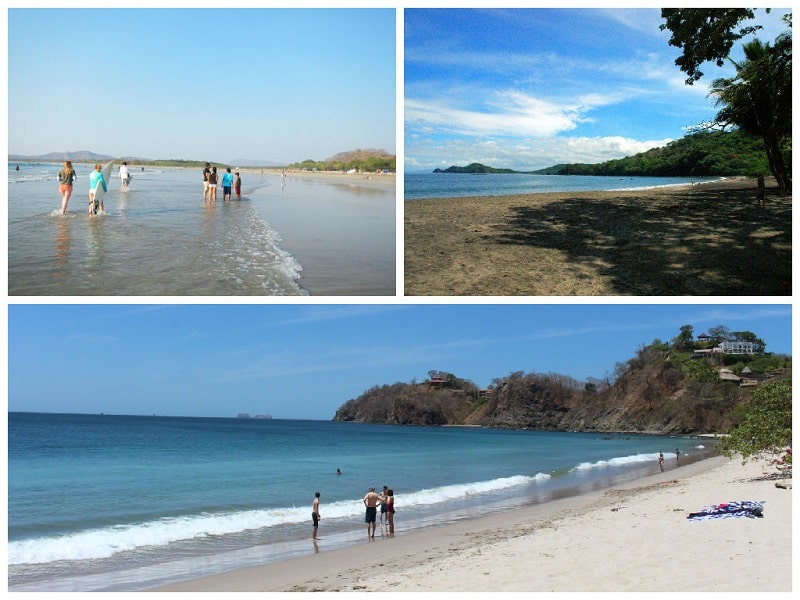 Closest to Coco: Playa Ocotal, Playa Hermosa, Playa Panama, Playa Bonita. These beaches are just a 5-15 minute drive away.
~45 minutes: The Catalinas area, such as Playa Danta, Playa Dantita, Playa Penca, Playa Prieta, and Sugar beach. Beautiful beaches, great views on the main road and hiking.
1 hour drive away: Playa Conchal, Playa Brasilito, Playa Grande, Playa Flamingo, Playa Avellanas.
Read about the best beaches in Guanacaste here.
Tamarindo Surfing
If you're interested in taking a surf class, head to Tamarindo, the best beach for beginners and first timers. It's a 1 hour drive south and you will also get to experience another popular beach town in Costa Rica.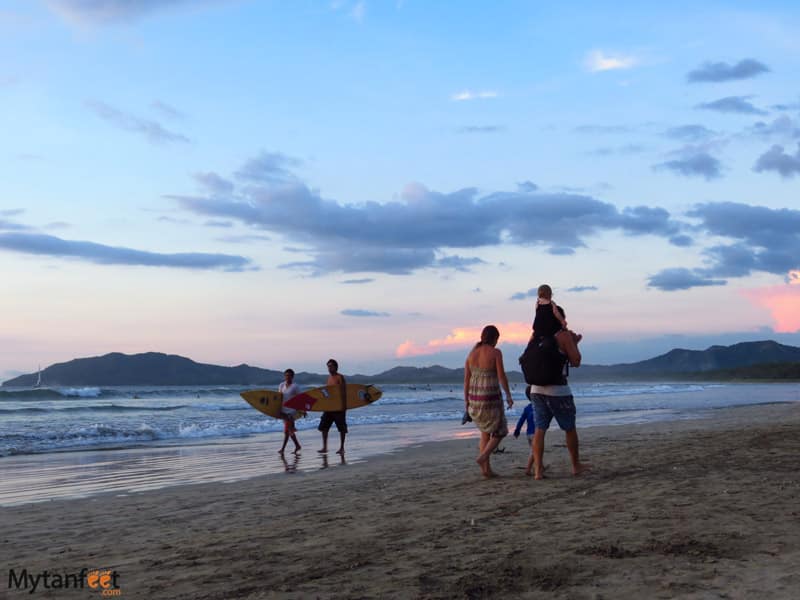 There are lots of surf shops in Tamarindo for surf classes like Iguana Surf, Witch's Rock, Neptuno and Mateo's. If you have more than 3 people, I'd get a private class so you can have more personal attention. Super fun for the whole family!
For beginners or advanced beginners, you can also go to Playa Grande or Avellanas. Those beaches tend to have bigger waves but way less people than Tamarindo so it's great for beginner to intermediate surfers.
Witch's Rock
Now if you're an intermediate to advanced surfer, you will definitely want to take a trip to Witch's Rock. This iconic surf spot in Costa Rica is an absolute MUST for any surf fanatic!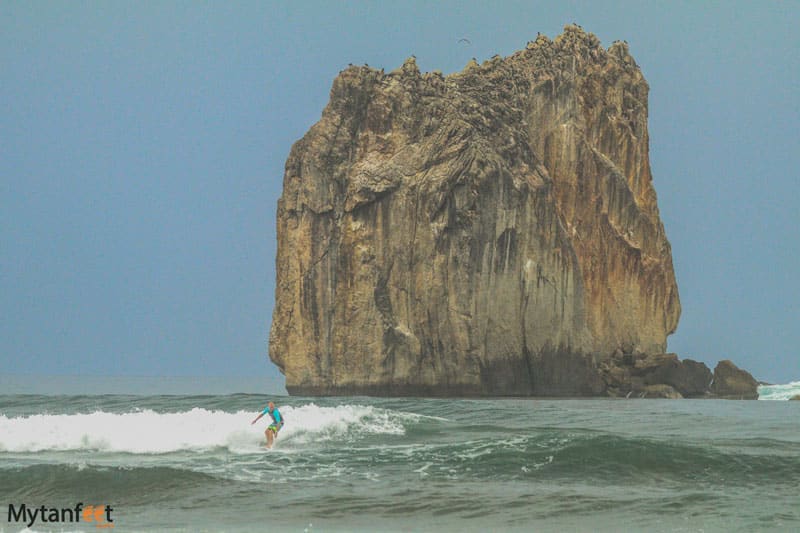 This spot is inside Santa Rosa National Park and is about a 45 minute boat ride one way from Playas del Coco. There are several companies who run surf trips to Witch's Rock (please contact us if you'd like a quote).
Rio Celeste (Tenorio Volcano National Park
One of the most magical places in Costa Rica is right at the Guanacaste/Alajuela border up in the rain forest in the Guanacaste volcano range, Rio Celeste. It is a sky blue river inside the Tenorio Volcano National Park and visitors can hike through the park to see the waterfall and blue river.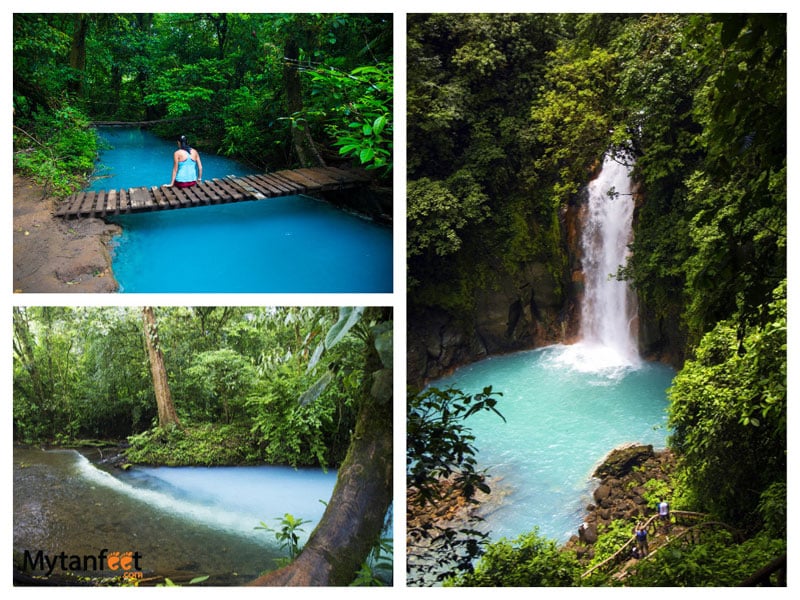 It's only about a 1.5 hour drive from Playas del Coco and it's one of the must visit places in Costa Rica. You can hike the park on your own if you have a car or you need to book a tour if you don't have transportation. Tours are around $140-150 per person, minimum 2-3 people. You can read our guide to Rio Celeste here.
Ostional Wildlife Refuge
If you want to see turtles in Costa Rica, head to Ostional Wildlife Refuge about a two hour drive from Playas del Coco. This is one of the most important locations in the world for Olive Ridley sea turtles since hundreds of thousands of mothers come to this area to lay their eggs.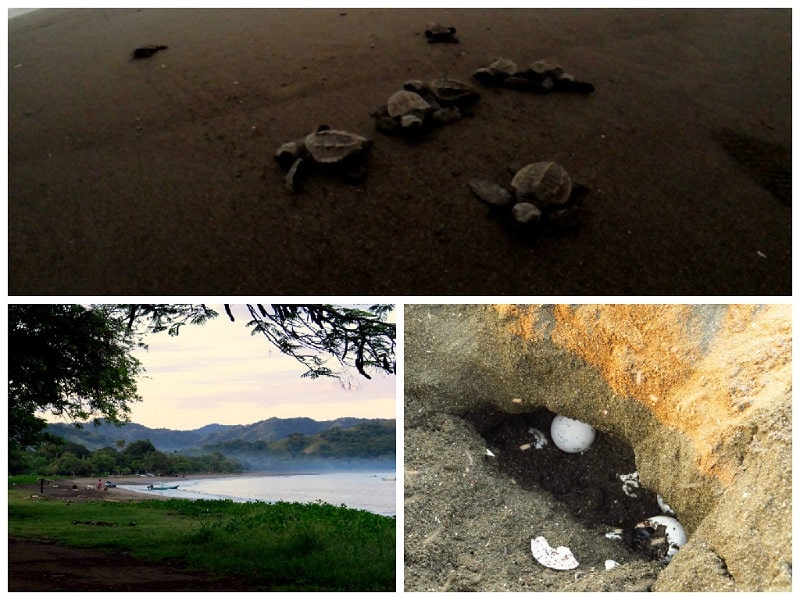 The best time to see turtles is during green season on an arribada, the period of time where majority of mothers come to shore. If you go during an arribada, you can see thousands of turtles crawling onto shore, digging holes and laying eggs. You can also see baby turtles hatching and crawling out to sea. The big arribadas are generally from July – December in Ostional.
You can go on your own or go with a tour company but make sure you check when is the best time to go and when an arribada is so you don't miss them. Once you reach the refuge, it is also mandatory to enter with a guide so go to the guide association in Ostional (by the soccer field) to hire one. If you stay outside the refuge, you don't need one but most of the turtles go in the refuge.
Read more about Ostional Wildlife Refuge here.
Palo Verde National Park or Hacienda El Viejo

Palo Verde National Park is one of the most important parks in the country since it contains an endangered ecosystem in Central America, the tropical dry forest which is home to thousands of birds and various wildlife. Take a boat ride down the Rio Tempisque to see crocodiles, birds, iguanas, frogs and monkeys and the 15 different kinds of habitats.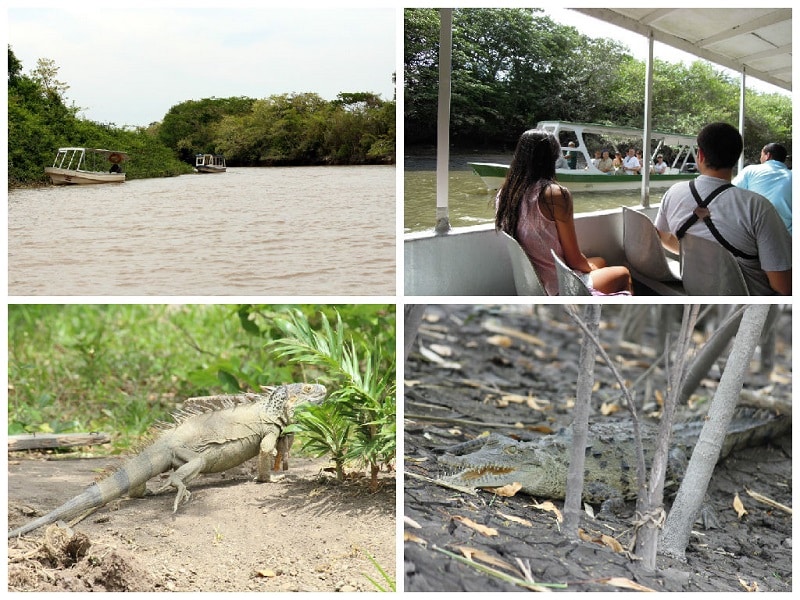 It's about an hour and a half drive from Playas del Coco. You can ead more about Palo Verde National Park.
If you want to add more activities or want a more intimate/exclusive experience, head to Hacienda El Viejo Wetlands. They offer boat rides down the Tempisque River in their own private wildlife refuge that borders the Palo Verde National Park, a cultural tour and a rum tour so you can have a full day of nature, culture and wildlife. Highly recommended if you have a rental car and want to experience more of Guanacaste. Get 7% off in our link above!
Diamante Adventure Park
Want some adventure for your trip? Go ziplining! Diamante Eco Adventure Park (get 10% off in the link) is only a 25 minute drive from Playas del Coco and it has one of the best canopy tours in Costa Rica, including a 1+ kilometer superman zipline with an ocean view!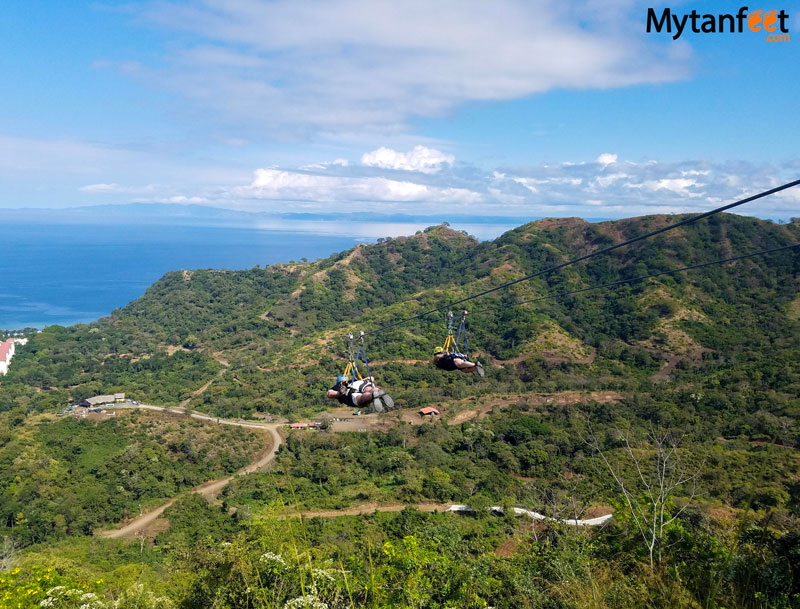 When you finish the zipline, you end up in the animal sanctuary where you can see jaguars, sloths, toucans and many more animals. Walk through the botanical garden back up to the main station for beautiful views of the Guanacaste coast. This is definitely one of the best day trips from Playas del Coco and you don't have to drive far to have a ton of fun!
This is also one of the best things to do at the Riu Guanacaste Hotel since it is literally right next to it.
Snorkeling/Scuba Diving/Boating
One of our favorite activities is going boating in the Gulf of Papagayo. We've taken our friends and family and every time we go we see something exciting like dolphins and whales. It's a fun way to explore the Gulf, see marine life, visit hidden beaches and the snorkeling is way better. You can swim with big fish, turtles and manta rays and see sea stars, sea urchins, pufferfish, tropical fish and eels.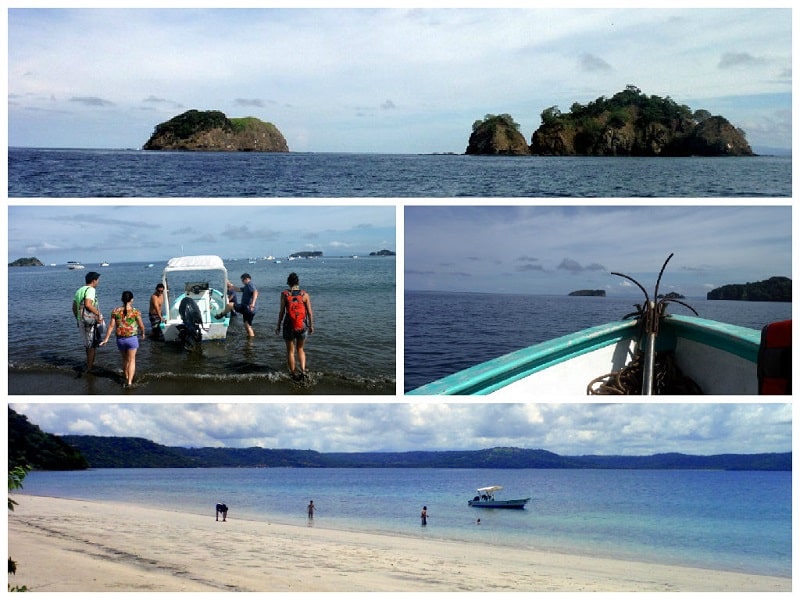 If you're interested in going boating, we recommend going with our friend Marcy who owns his own boating company and can take you on boating, surfing, fishing, snorkeling and beach hopping tours to the best spots that other sailing companies don't go. Click here to read more about boating in Playas del Coco and request a quote!
If you are a scuba diver, the diving in this part of the country is excellent. You can go out on a boat to Monkey Head, Tortuga Islands, the Catalinas and the Bat Islands to dive with hammerhead sharks and huge manta rays. There are several dive shops in Coco such as Rich Coast Diving, Summer Salt, Rocket Frog and Deep Blue Dive.
Arenal/Monteverde
Arenal and Monteverde are two very popular and beautiful destinations in Costa Rica. Although they are both about a 3.5 hour drive away from Coco, it makes for a really fun day trip. Enjoy the hot springs, La Fortuna waterfall, Arenal Volcano National Park, go ziplining, walk the hanging bridges in Monteverde or take a coffee tour.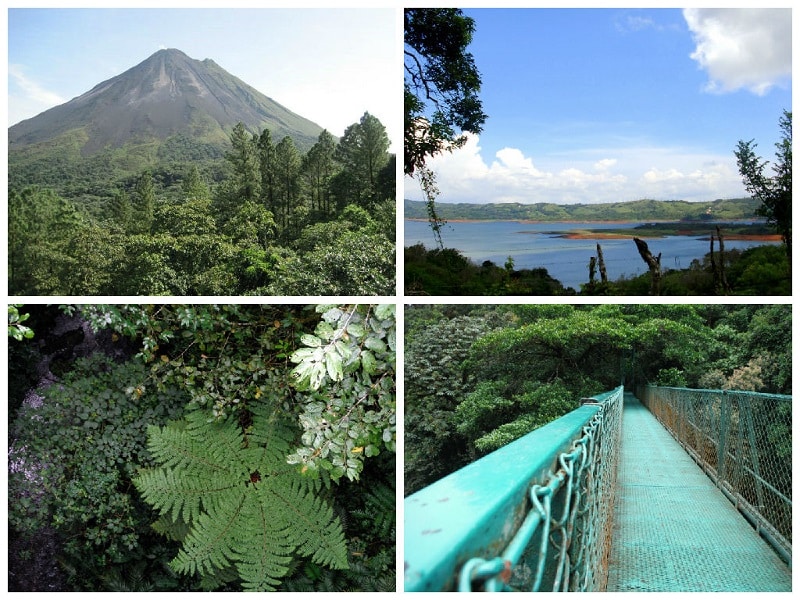 You can go on your own or go with a tour company who will handle transportation for you if you don't want to drive. They'll arrange all the activities with you before hand so you'll make the most of your day there. A day trip from Coco costs around $170 for both depending on the activities.
I actually recommend spending more time in both areas if possible but if not, a day trip gives you a wonderful taste of the many different natural landmarks, ecosystems and micro-climates that exist in Costa Rica.
Nicaragua
Playas del Coco is actually just a 2.5 hour drive away from the border of Costa Rica and Nicaragua, Penas Blancas. If you got the time, you should take advantage of Nicaragua. Not only is it that close to Coco but it's cheaper, very beautiful and really different from Costa Rica.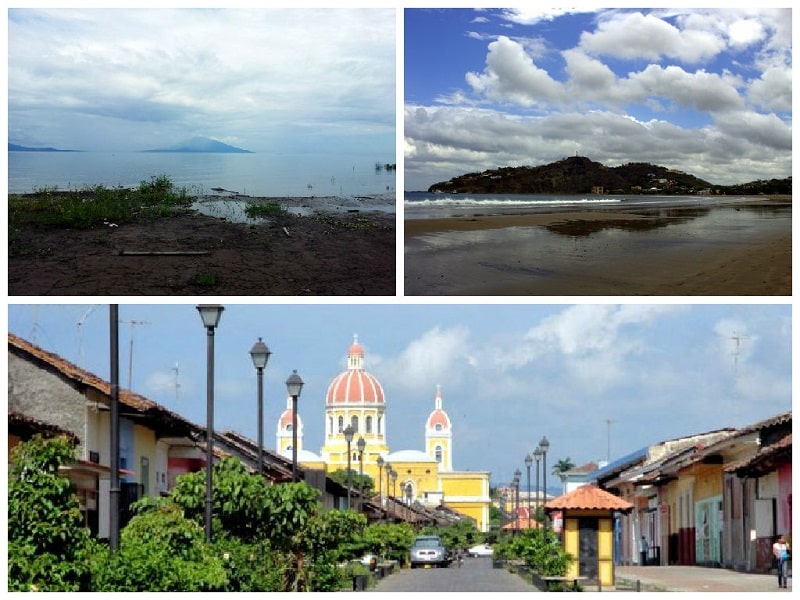 You can go on your own but it is a bit of journey if you take the public transportation. You can drive your rental car to the border but it can't cross. The best way to experience Nicaragua as much as possible in one day is to go on a Nicaragua one day tour. They'll take you to Managua, Masaya, Granada, Lake Apoyo, Lake Nicaragua and hit all the major spots.
We offer a $10 discount on the Nicaragua one day tour discount which you can get here.
White Water Rafting
About a 1.5 hour drive from Playas del Coco is the Tenorio River where you can go white water rafting through Class 2, 3 and 4 rapids. It's an exhilarating day out in the rainforest and you'll get to experience one of the best outdoor adventures in Costa Rica!
Scenic Helicopter Tour
This one is a bit of a splurge but if you're looking for a unique, once in a lifetime experience, this is it. Adventure Air offers scenic helicopter tours so you can see rivers, beaches, the coast, islands and volcanoes from the air. You'll get a view of Costa Rica most people don't get to!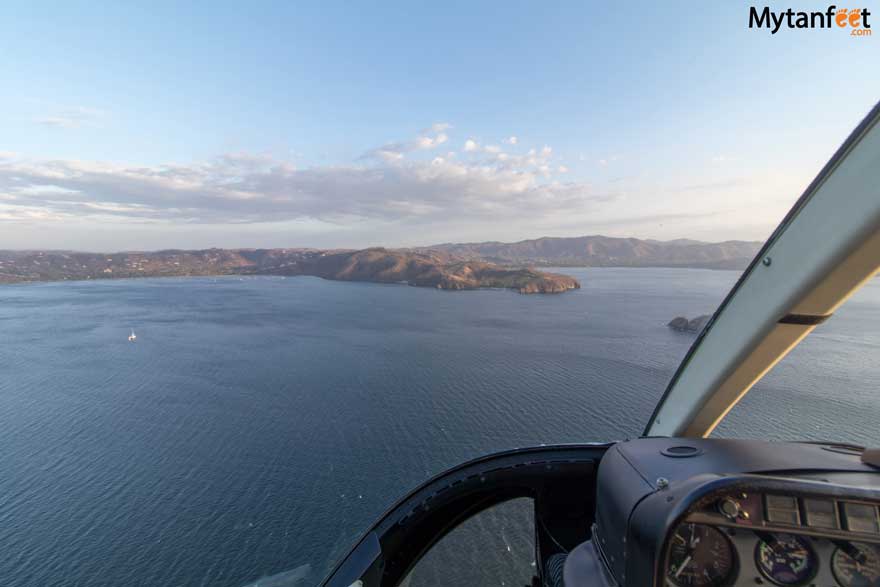 You can read more about Costa Rica helicopter tours in this post and get 10% off!
Where to stay in Playas del Coco
Budget: Hotel M&M. They're on the beach with a hostel-like atmosphere. They don't have AC but it's a good place for a short stay. If you want AC and nicer rooms, stay at Toro Blanco which is right behind and only a little bit more expensive. Also an excellent option for families as their rooms have a sitting area, pool and a kitchen.
Luxury: Villa Buena Onda. It's up in the hills so you get an amazing view of all of Coco. It's adult only so perfect for honeymooners and couple getaways.
Mid range: Hotel Puerto del Sol. This hotel is very close to the beach and town. It is recently renovated and has a pool, restaurant and fairly spacious rooms.
Hopefully this list gave you some ideas of the amazing day trips from Playas del Coco. These are also great day trips from the Hotel Riu Guanacaste which is about 30 minutes from Coco. If you need recommendations for tour companies, please contact us.
Read about more things to do in Costa Rica!
Romantic activities for couples
This post has affiliate links.