Tamarindo is a top destination in Costa Rica with excellent beginner surfing waves, a handful of fine dining restaurants and variety of hotels. Additionally, it is only a 1 hour drive from Liberia Airport, making it a great destination to base yourself in Guanacaste.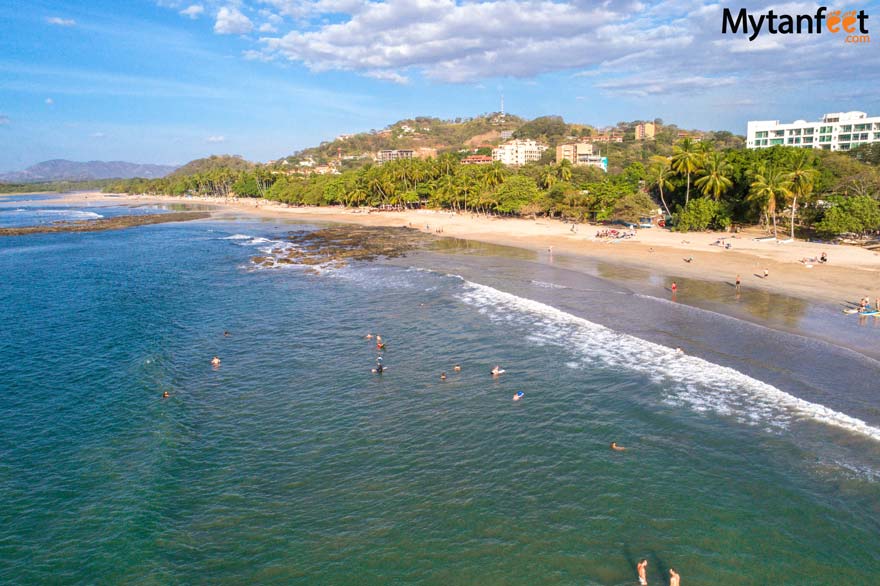 If you are planning on visiting Tamarindo, Conchal or Flamingo, it won't be too difficult to plan an amazing vacation. In this post, you'll find out how to get to Tamarindo from Liberia Airport.
Driving
The drive from Liberia Airport to Tamarindo is not a difficult one. It is all on well paved roads and there are only five turns so you can perfectly drive there in a sedan. If you plan to rent a car, there are many car rental companies in Liberia Airport. All the car rental agencies are a 5-10 minute drive from the airport so they will pick up clients at the airport and bring them to their office to get the car.
We have a partnership with Adobe Rent a Car, a 100% Costa Rican company to give discounts and extra benefits to our readers. Click here to get our Costa Rica car rental discount!
Map of Driving Route
Here are the driving routes from Liberia Airport to Tamarindo, Conchal and Flamingo.
To get to Tamarindo, you will need to turn right onto the main road from the airport. Continue on this road for 30 minutes until you reach a major intersection in Belen with a gas station on your right. Turn right here and continue for another 10 minutes or so until you hit a sharp left past a school. Continue on this road and you will see lots of signs for Tamarindo/Conchal.
Keep going on this road until you reach Huacas and instead of going straight to Conchal, turn left. Continue on this road for about 10-15 minutes and turn right into Tamarindo.
To get to Conchal, you will go the exact same route and keep going straight at Huacas instead of turning left to Tamarindo. Very shortly after, you will see signs for Conchal on your right and turn right at the next intersection. Continue on this road and you will see the entrance into the Westin Conchal on your left. When you have passed a bridge, you will arrive at Brasilito.
To get to Flamingo, the route is the same as Conchal except instead of turning into the Westin, continue to Brasilito town and stay on the road all the way until Flamingo. Lots of signs on this route!
Shuttle
There are shuttles to Tamarindo from Liberia Airport. Tamarindo Tours and Transfers offers shared shuttles for $20 per person, minimum 2 people. They also offer shared shuttles from Liberia Airport to Conchal, Pinilla, Nosara, Samara, Mal Pais, Grande, Avellanas, and Flamingo. This company will wait for you directly at Liberia Airport which is super nice. They also offer airport transfers out.
Private shuttles are also available. A private shuttle is around $80-110 one way for 1-6 people. Private shuttles can stop along the way or take you to the supermarket or bank before dropping you off at your place.
Taxi/Uber
Taxis are readily available at Liberia Airport. Most importantly, look for the official red taxis in Costa Rica. We don't recommend using pirate taxis. A taxi could cost around $70-100 depending on the number of people.
If you're arriving late at night or are visiting on Christmas, New Years or Easter, we recommend to pre-book a private shuttle. That way you don't have to worry about getting ripped off or checking multiple taxis to find a reasonable rate.
Officially in April 2019, Uber has expanded to Liberia/Guanacaste and you may find some Ubers in Tamarindo. We haven't really seen many so far but you can also check.
Flying
Tamarindo has its own local airport in Costa Rica. Since Liberia Airport to Tamarindo is only a 1 hour drive and 10 minute flight, this route isn't readily available.
From Tamarindo airport, you pick up your car rental or take a taxi to your final destination. The airport to Tamarindo is a 5 minute drive and about a 20 minute drive to Conchal.
Public Bus
Liberia Municipal has a direct bus to Tamarindo that leaves at 3:50 am, 4:30 am, 5:15 am , 6:10 am*, 7:10 am, 8:10 am, 10:10 am*(only Sat and Sun), 11:10 am*, 1:10 pm, 2:10 pm, 4:10 pm, 5:10 pm, 6:10 pm* (This route goes through Flamingo, Brasilito, Matapalo. Takes around 3 hours. Normally is 2ish). The cost is around 1400 Costa Rican colones ($2.30)
This bus is supposed to stop at Liberia Airport but there have been reports of this bus not turning into the airport. To be absolutely safe, it is best to go out to the main road of the airport (about 20 minute walk). You can also ask the airport staff if they have seen the bus turn into the airport that day and if you should wait there or go out to the highway.
If you are lucky and happen to arrive when the bus turns into the airport, the bus stop is towards the departures end of the airport. The bus should turn into Liberia Airport about 20-25 minutes after the times above.
How to Get to Tamarindo from San Jose Airport
If you are landing in San Jose Airport, you can still easily get to Tamarindo although it is a longer journey.
Driving
The drive from San Jose to Tamarindo is around 4.5 hours. It is on a well paved route the entire way and the quickest way is to go via Route 18 crossing the Friendship bridge. You can read our guide about the drive from San Jose to Tamarindo here for recommended stops.
Flying
You can fly from San Jose to Tamarindo which costs around $100 one way and is a 30 minute flight.
Bus
There is a public bus from San Jose to Tamarindo at 7:15 AM and 4 PM with Empresa Tralapa. There is another one at 11:30 AM with Empresa Alfaro that goes through Liberia and one at 3:30 PM via Tempisque. It is around 5 and a half hours.
Shuttle
You can take shared or private shuttles to Tamarindo from San Jose. Interbus has a morning and afternoon shuttle (8 AM and 3 PM) that costs $55 per adult. A private shuttle costs around $250 one way for 1- 6 people.
Other posts
Find out how to get to Manuel Antonio from San Jose, Guanacaste and other destinations.
Read about getting to Playas del Coco and Gulf of Papagayo from Liberia and San Jose.