If you plan to visit Costa Rica with kids, here are our Costa Rica itinerary for families. This 7 day Costa Rica itinerary for families has maps and photos to help you plan and is perfect to fit into a 1 week spring break.
We have written two Costa Rica family itineraries in this post. One is a very easy and popular one, going to main tourist destinations and flying in and out of San Jose International Airport (airport code SJO). Another is an itinerary going to slightly less touristic destinations flying in and out of Guanacaste Airport (Airport code LIR). Both include beach and rainforest.
How to Get Around Costa Rica With Kids
First, let's talk about how to get around Costa Rica with kids. Our personal recommendation is to rent a car or book private shuttles in Costa Rica.
Driving
Driving is the most flexible way to get around Costa Rica. You can throw all the kids stuff in the car, stop anytime and anywhere and it's much more comfortable. Go where you want, when you want. Additionally, you have more lodging options.
The downsides are that you have to drive and figure out routes, car rentals, etc. Also, for some families, it's just 1 adult who drives the whole time. Keep in mind some routes are very long (3+ hours).
Type of Car
For a family of 4, 2 adults and 2 young kids, a sedan can work if you are going to destinations that don't require a 4wd. These are places like San Jose, La Fortuna, Manuel Antonio, Tamarindo, Flamingo, Samara, Playas del Coco, Gulf of Papagayo, Jaco and Puerto Viejo.
If you need a 4wd or a bigger car, then a car like the Hyundai Tucson, Suzuki Vitara or Toyota Rav4 is a good option.
If you have a bigger family like 6-9 people, then a H1 Hyundai minivan is a good option. This minivan seats up to 9 with luggage, 12 without.
Other things to know: Nearly all car rental companies in Costa Rica offer baby and booster seats for an extra cost. I recommend to ask for a photo of the seats they have so you can check it. However, most Costa Rica car rental agencies do not provide infant seats (less than 1 year) so you will need to bring your own.
Read more about renting a car in Costa Rica and get our car rental discount and extra benefits like free baby and booster seats here!
Shuttles
We recommend booking private shuttles instead of shared. Private is more comfortable and more flexible.
If you book shuttles, then you will need to book tours that include round trip transportation or taxi around. For that reason, we recommend to choose hotels that are not far from the main town.
Private shuttles pros: They pick you up directly at the airport anytime you want, allow you stop for food, bathroom breaks, can pick up and drop off at vacation rentals and the driver's usually speak basic to intermediate English. You will have the entire vehicle to yourself so you can spread out in the car. Additionally, private shuttles will bring baby and booster seats.
Tip: Ask them for a photo of the child seats they have because some companies have the seats without locking seat belts or clips.
Price for private shuttles: Usually around $180-220 USD for common routes like San Jose to La Fortuna, San Jose to Manuel Antonio for 1-8 people.
Read more about shuttles in Costa Rica here and if you'd like a quote for a private shuttle, pleas contact us!
Most Popular 1 Week Costa Rica Itinerary for Families (Rainforest, Volcano and Beach)
This 1 week Costa Rica itinerary for families goes to San Jose (Landing at San Jose International Airport) – La Fortuna – Manuel Antonio – SJO Airport. This is an extremely popular itinerary because it's perfect for families of all ages, especially first time visitors.
Map of this Costa Rica itinerary for families
Click here to see the interactive map with the driving route, hotel recommendations, destinations and things to do.
Day 1 San Jose: Land in SJO, Travel to La Fortuna
As soon as you land in San Jose Airport, pick up your rental car or get picked up by your private driver to go to La Fortuna. This drive takes around 3 hours without traffic.
If you are landing late at night, I recommend to stay a night by the airport and then leave early the next morning. It gets dark in Costa Rica at 6 PM everyday and most businesses close around 8/9 PM so if you're arriving after 6 PM, we don't recommend to drive this route in the dark (especially in rainy season). You don't want to be arriving in La Fortuna at like 1 AM with tired and cranky kids! Even if you book a private shuttle, we recommend to stay in San Jose for the night if you are landing in the evening.
You can read this post about driving from San Jose to La Fortuna for tips on this drive.
Recommended hotels in San Jose for families with free airport shuttle and free hot breakfast: Hotel Aeropuerto, Adventure Inn (get 10% off), Hampton Inn & Suites, Doubletree by Hilton Hotel Cariari and Holiday Inn Express San Jose Airport Costa Rica. All nice and clean hotels close to the airport.
Why La Fortuna?
La Fortuna is one of the best destinations in Costa Rica for families. This area has very good tourist infrastructure, a ton of hotels at various price points, many restaurants and a plethora of activities for all ages. It's one of the best destinations to see the rainforest and volcano.
Recommended hotels for families in La Fortuna: Los Lagos, The Springs Resort & Spa, Arenal Observatory Lodge, Villas Vilma, El Silencio del Campo, Baldi Hot Springs Resort. All these hotels offer family rooms and free hot breakfast.
You can also check out Airbnb. We have stayed in a couple very nice Airbnbs in La Fortuna that were comfortable for big families.
Day 2 La Fortuna: Safari float, guided walk, hot springs
Now begins your family adventure in La Fortuna! Also remember if you want to book any of these tours, get our 7% discount on La Fortuna tours here!
For your first day, our recommendations for family friendly activities in La Fortuna are a river safari float, guided walk and hot springs.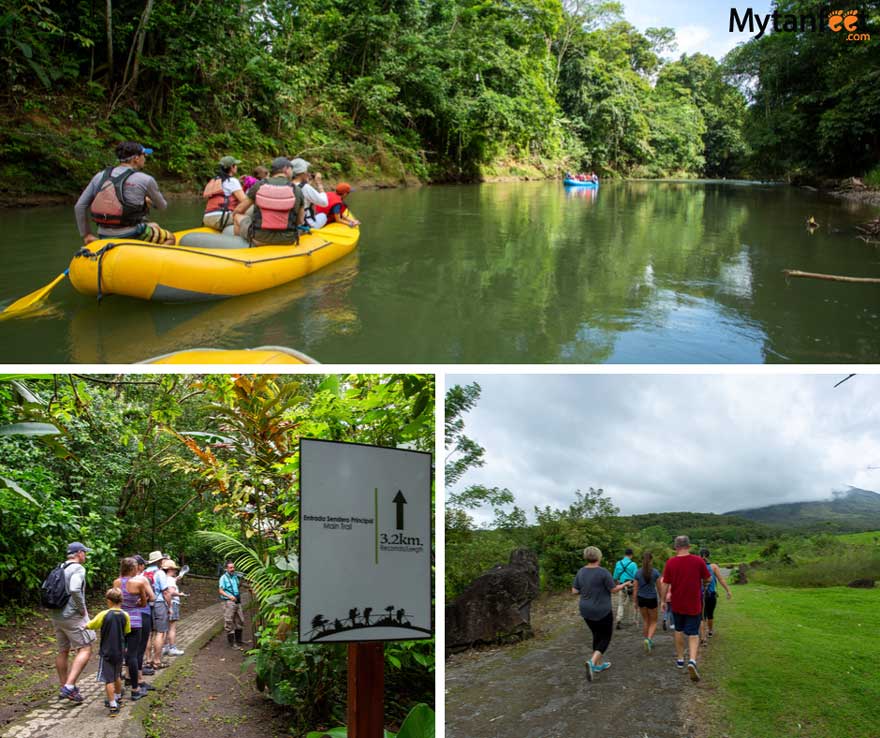 Morning Safari float: This is the perfect wildlife watching tour for families. You float down a calm river for 2 hours while your guide paddles and points out animals. The Peñas Blancas safari float is only a 25 minute drive from La Fortuna so it's great for a half day morning activity. No walking or strenuous activity.
After Lunch Guided Walk: We highly recommend Rainforest Cafe for lunch. Then for the guided walk, we highly recommend Bogarin Trail (1.6 kms or 1 mile easy and flat trail), Mistico Hanging Bridges (3.2 kms or 2 miles, kids have to be at least 6), the Arenal Volcano National Park or Arenal 1968 private reserve. I recommend the latter three for older kids and the Bogarin Trail for young ones.
Then, you'll go on a guided walk in La Fortuna.
Evening/Night Hot Springs: No trip to La Fortuna is complete without a visit to the hot springs! If you are staying at a hotel that doesn't have its own hot springs, there are many resorts you can visit. Baldi, Los Lagos, the Springs and Kalambu are excellent for families. All of them have waterslides and Baldi has a dedicated kid section and you can have dinner at the hot spring resort. Read more about the Arenal hot springs here.
Our Personal Recommendations
I highly recommend a guided walk for families because it can be fascinating for the kids to learn about the tropical rainforest and animals. Many Costa Rican naturalist guides are good at engaging and interacting with kids to keep them interested.
Day 3 La Fortuna: Zipline, chocolate tour, hot springs/night walk
Now it's time for a little bit of excitement! Today you'll go ziplining for your first activity.
Morning Ziplining: Ziplining is a must do in Costa Rica and La Fortuna has many zipline tours for all ages. Arenal Ecoglide is best for young ones and the little ones will go with a guide. For the older kids, Arenal Mundo Aventura, Arenal Canopy and SkyTrek are great options. We recommend to zipline in the morning.
For lunch, we recommend Pollos Fortueños Restaurant. They have a small playground outside for kids.
After Lunch Chocolate tour: Rainforest Chocolate Tours runs a very interactive and fun 2 hour tour. Guests learn all about chocolate, starting from the cacao trees and to how they process it. Best part of this tour is you will get to sample lots of chocolate! They run tours in the afternoon which we recommend to do after lunch.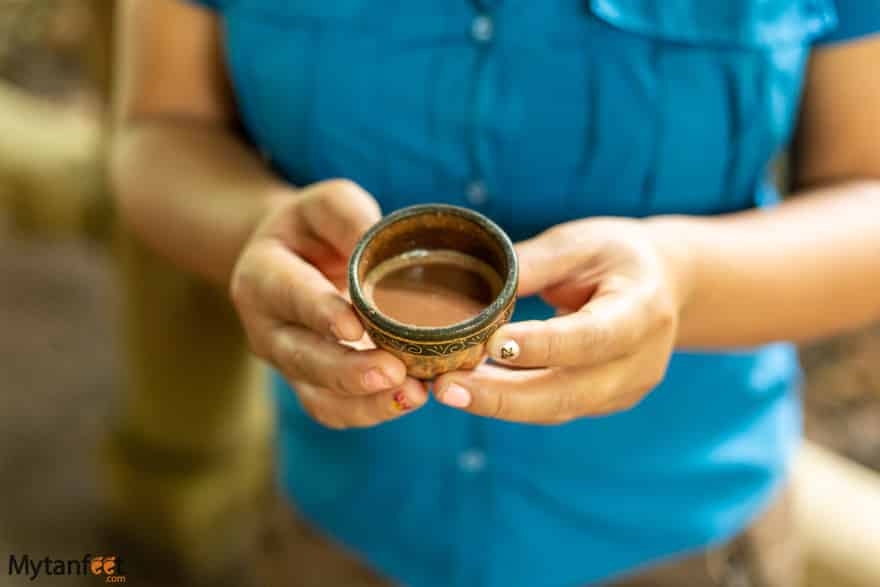 Then for the night, you can head back to the hot springs or take a night walk. La Fortuna is an excellent place for night walks and kids absolutely love it! They'll get to search for creatures like insects, spiders, snakes and frogs.
Another Option
We also recommend to check out La Fortuna downtown if you have time. You can hangout at the local park which has a beautiful view of the church and volcano and lots of souvenir stores. Many locals go to this park in the evening so it's a nice way to immerse your family in a little bit of the La Fortuna life.
If you want to spend some time at the park, first go to the Chocolateria (right by the park) to get a coffee, chocolate, ice cream or pastries and sit in the park to enjoy tour treat. Lots of fun to people watch and the kids can enjoy the local life.
Alternative Options for Day 2 or Day 3
For another fun day in La Fortuna, you can also check out Club Rio Multi Adventure Club. It's on the Springs Resort & Spa's property which a very big property with their own river, hot spring resort and activities. Their Club Rio multi adventure package includes a 2 day hot spring pass, lunch and two activities of your choosing from white water tubing, inflatable kayaking, horseback riding, guided animal sanctuary tour, rock wall and climb and guided nature walk.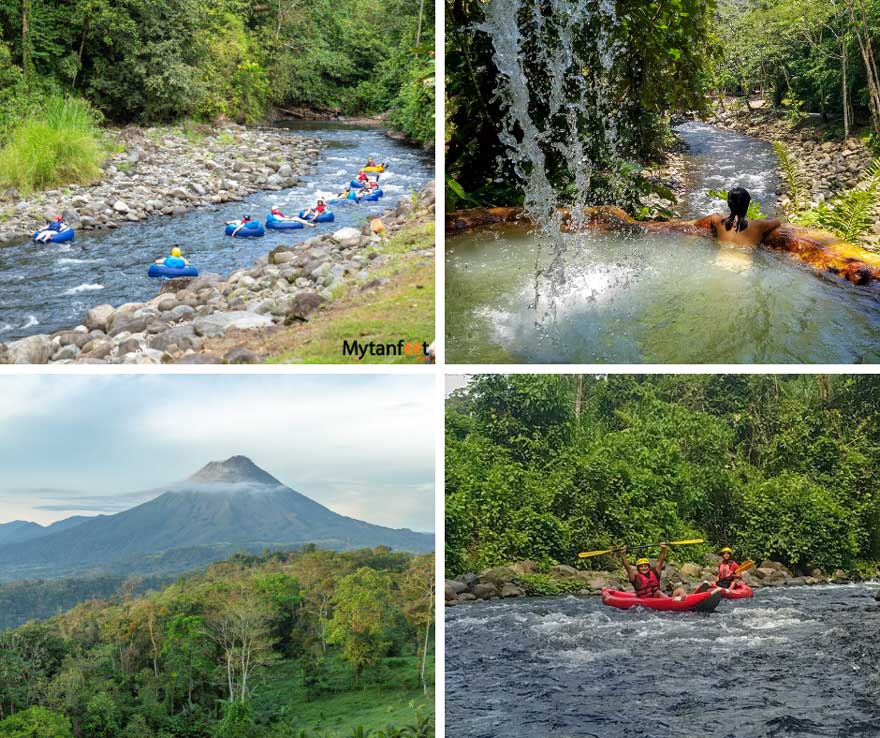 This property is absolutely gorgeous and is an awesome place for families. Their 2 day hot spring pass is also super nice because they have a waterslide, two huge hot spring section with natural and built pools, a hot spring section along the natural river and a yummy restaurant for lunch. They also have a stunning view of Arenal Volcano. If you're staying at a hotel without its own hot springs, this is an excellent option for amazing hot springs and activities. Get $10 off Club Rio here!
Day 4 Travel to Manuel Antonio
Today you will travel to Manuel Antonio. La Fortuna to Manuel Antonio is a 5 hour drive so this will be a long driving day. Along the way, you can stop at Jaco (big surfing beach town) or the Crocodile Bridge. You can read this post on how to get to Manuel Antonio for tips. We recommend to leave before noon so you can arrive in Manuel Antonio during daylight.
Once you arrive and check in to your place in Manuel Antonio, relax and get ready for tomorrow!
Why Manuel Antonio: It is another top destination in Costa Rica with lots of hotels and restaurants and good tourist infrastructure. It is home to a gorgeous national park and beautiful beaches. Lots of beach fun for the kids!
Recommended hotels in Manuel Antonio for families: Tulemar, Si Como No, Parador, Plaza Yara, Hotel La Mariposa, Tabulia Tree Hotel, La Posada Jungle Hotel. All these hotels offer family rooms and breakfast included. All except La Posada have a pool. Manuel Antonio tends to have more high end, expensive hotels. There are also many vacation rentals in Manuel Antonio.
Day 5 Manuel Antonio Antonio National Park
Morning Manuel Antonio National Park: Today you will visit one of the most beautiful national parks in the world, Manuel Antonio National Park. You can visit this park on a self guided walk or with a guide. Since you already did a guided walk in La Fortuna, it's not absolutely necessary to do a guided walk in this park too but you can if you want. This park is home to hundreds of birds, mammals, reptiles and plants!
If you need transportation, we recommend to book a tour as they'll provide round trip transportation and the national park ticket (which have to be pre-purchased online now). Click here to get our Manuel Antonio National Park guided tour discount!
The kids will love walking through the rainforest and playing in the sand at the beautiful white sand beaches. There is a ton of wildlife in this park with lots of monkeys!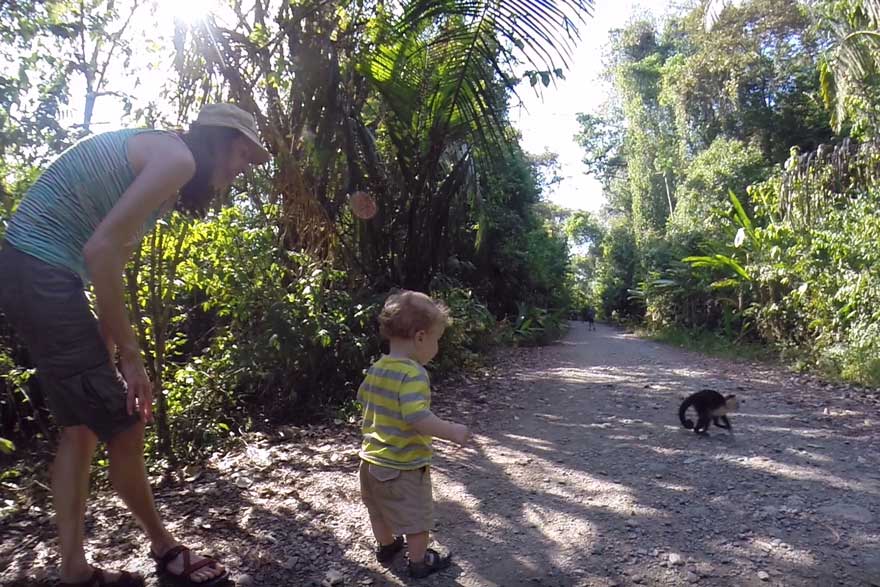 Remember the park is closed on Tuesdays so make sure to plan your days in Manuel Antonio accordingly.
After you're done, head back to the hotel to relax, shower and nap. In the evening, watch the sunset and have dinner at one of the ocean view restaurants like Cafe Agua Azul, Emilio's Cafe or Raphael's Terrazas.
Day 6 Manuel Antonio: Relax, sunset catamaran
Today is a relaxing day. You can enjoy the pool, go to the Espadilla beach or go shopping. In the evening, you can finish off your Manuel Antonio trip with a sunset cruise that departs around 1 PM. They have water slides and a nice lunch spread, lots of fun for the family.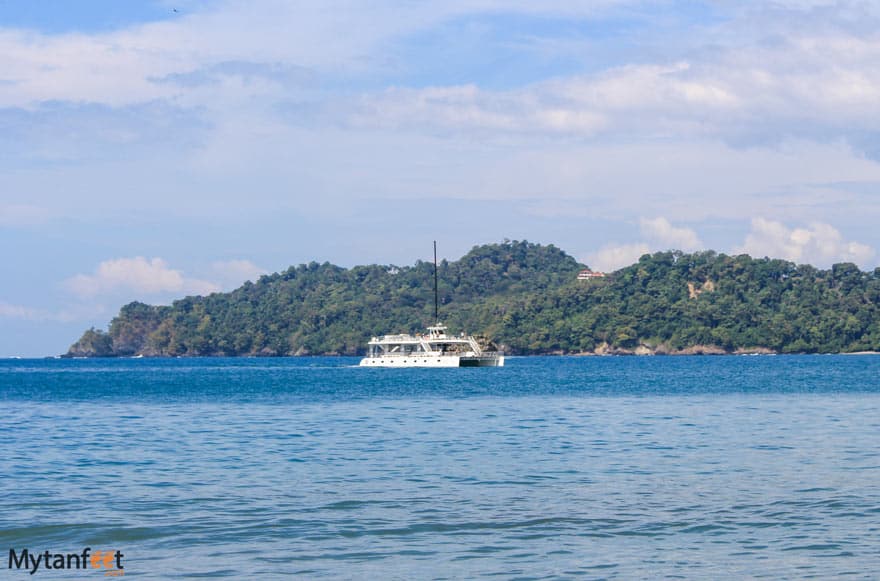 If your family still has the energy, you can go white water rafting (kids must be older than 8 for rafting), take a surf lesson or horseback riding (must be at least 6 years old) for the day. That'll end your trip off with a bang!
Don't forget to get our Manuel Antonio/Quepos tours discount here!
Day 7 Travel to San Jose
Today you'll travel back to San Jose. You don't need to leave very early so sleep in and enjoy the last few hours in Manuel Antonio before checking out. You can book a hotel by San Jose International Airport and spend your last night getting ready to go home.
If your flight on Day 8 is not early, you can stay day 7 in Manuel Antonio and leave for San Jose on Day 8. Just remember it's about a 3 hour drive from Manuel Antonio to San Jose and you need to be at the airport at least 2 hours before your flight so give yourself plenty of time!
Day 8 Fly out of SJO Airport
Time to go back home!
If You Have More than 1 Week
For those who have a bit more time, you can add on another destination to this itinerary. Here are some ideas.
After landing in San Jose, stay a night or two at the Peace Lodge in Vara Blanca before heading to La Fortuna. The family can see the waterfalls and animal sanctuary at La Paz Waterfall Gardens (about 1 hour from San Jose, 2 to La Fortuna).
After La Fortuna, you can stay a couple nights in Monteverde before heading to Manuel Antonio. (3 hours driving from La Fortuna, then 3.5 hours to Manuel Antonio). You can do more ziplining, visit a bat jungle or butterfly garden or do some more hiking.
Check our Costa Rica 13 days itinerary!
Another Costa Rica Itinerary for Families
Here is an itinerary if you are flying into Liberia International Airport in Guanacaste and want to visit slightly less touristic destinations. You will get beach, nature, wildlife and rainforest in this itinerary. For this itinerary, it is recommended to rent a car because of the destinations as Guanacaste is more rural with less transportation options.
This itinerary goes to Liberia (LIR Airport) – Samara – Bijagua – LIR Airport.
Map
Click here to go to the interactive map with driving routes, hotel recommendations, destinations and activities.
Day 1 Liberia
Fly into Liberia International Airport and pick up your car rental. Drive 2 hours to Samara, a mellow beach town in South Guanacaste. A high clearance car will be highly recommended for this itinerary, particularly in rainy season.
Why Samara? Samara is a small beach town that has decent tourist infrastructure, beautiful beaches and good restaurants. It's kind of like Tamarindo (another surfing beach town that's popular with families in Guanacaste) but less touristy and has less of a party vibe. Great beach town for families and the beach is really fun for kids.
Hotels in Samara for families: Hideaway Hotel, Sol Samara, Samara Pacific Lodge, Villas Playa Samara (all-inclusive). All these hotels have family rooms.
Planning tip: If you don't want to drive that long, Tamarindo is a good option for a fun and lively beach town as it's 1 hour from Liberia Airport. Another option is Playas del Coco, a 25 minute drive from the airport which is a more laid back, fishing village.
Day 2, 3 and 4 Samara: Beach, Surf, Ziplining, Kayaking
On day 2, you can hit the beach and join the kids with a surf lesson! Samara is a good beginner surfing beach and you can take a class right on the beach. Usually classes are 4-8 people but you can request a private class for just your family.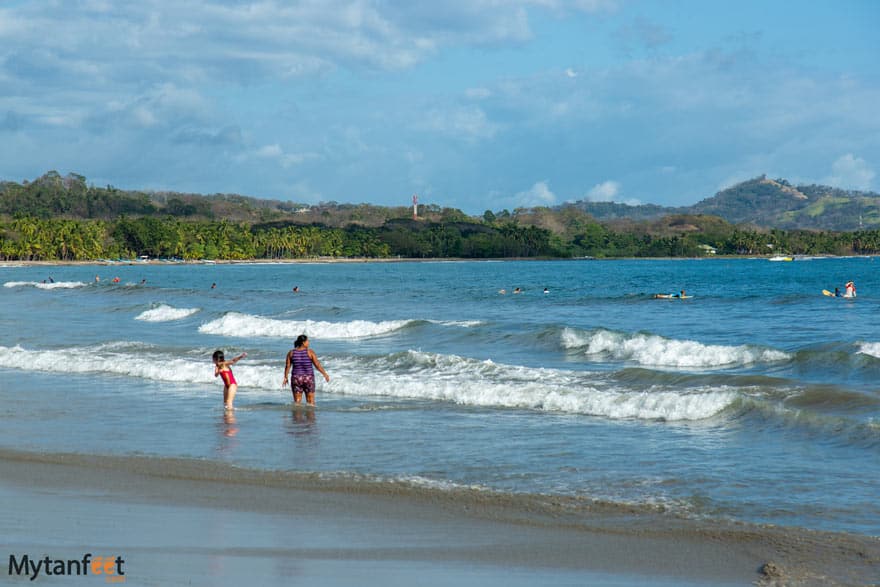 On day 3, hop in your car and take the family to explore! There are several nice beaches around like Carrillo. You can also check out the small waterfall, La Roca, just outside of Samara.
On day 4, kayak to Isla Chora (30 minutes one way) and snorkel at the island. This can be done in the morning or afternoon. You can zipline at Wingnuts after or before your kayak. Great fun for the whole family! There are also sunset cruises in Samara the family can enjoy.
Day 5 Travel to Bijagua
Today you will drive to Bijagua. It is about a 3 hour drive. Take advantage of the travel day to stop at a couple of places.
You can stop at the Llanos de Cortes waterfall in Bagaces along the way. Great waterfall for kids as they can swim and play in the pool. Also, it's only a 5 minute walk from the parking lot to the waterfall.
Another option is Vandara for volcano hot springs, ziplining, cultural experience, waterslide and more. (2.5 hours from Samara, then 1 hour to Bijagua).
Why Bijagua? Bijagua is the tiny rural town near Tenorio Volcano National Park. Although it's small, it is a beautiful rainforest area and good place for one or two nights with kids so they can experience a rural Costa Rican town and lifestyle.
Recommended hotels in BIjagua for families: Casitas Tenorio B&B (Get 10% off), Rio Celeste Hideaway Hotel and Celeste Mountain Lodge.
If you arrive early enough in time, some of the lodges in the area have a working farm and families can take a quick farm tour. Kids can see cows, goats, horses and chickens up close and learn how to milk cows! It's a fantastic way for kids to experience rural Costa Rican farming life.
Day 6 Bijagua: Rio Celeste Hike
Today you'll visit the stunning Rio Celeste in Tenorio Volcano National Park. This 6.5 kilometer hike (4 miles roundtrip) is one of the most beautiful hikes in Costa Rica! You'll see the Rio Celeste waterfall and the sky blue river.
The trail to the waterfall is very well maintained and is a paved trail. If you have toddlers or babies, you can bring them in a child carrier backpack. Just make sure you are able to carry them going up and down the steps to the waterfall. Strollers are not allowed in the park.
The entire hike can take around 3, 4 hours.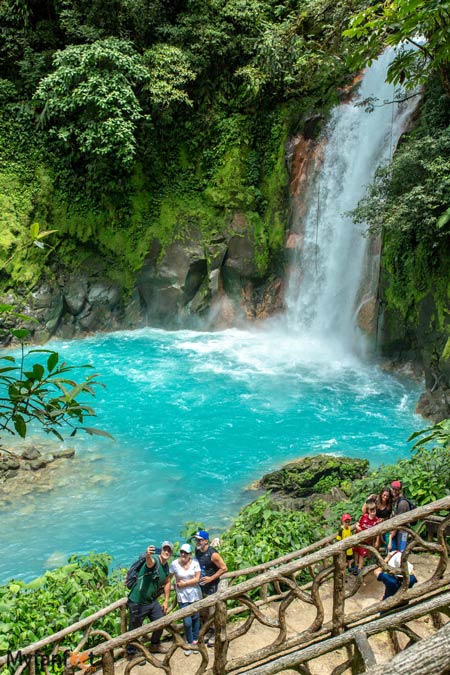 After the hike, you can have lunch at one of the local restaurants right outside the park. Also don't forget to visit the Rio Celeste Free Pool so the kids can play and swim in the sky blue river.
Day 7 Fly Out of Liberia International Airport
Bijagua to Liberia International Airport is about a 1 hour and 30 minute drive so enjoy your last few hours in Bijagua and Costa Rica. Make sure to get to the airport 2 hours before your flight.
Important Things to Know About Traveling with Kids in Costa Rica
If your kids have allergies to food or medicines, make sure to write them down. It will also be helpful to write down the translation in Spanish of the name and active ingredients. Bring all necessary medications.
If you rent a car, we recommend to get a prepaid SIM card so you can have a Costa Rican phone number in case of emergencies.
If you are traveling with multiple families for just a few days, consider staying at an all-inclusive resort instead. It is a lot less stressful!
If you are spending Christmas in Costa Rica or New Years, make sure to book your accommodation and transportation well in advance as those dates book up very fast. (Book at least 4-6 months out).
For more tips, read our post for things to do in Costa Rica with kids.
I hope this Costa Rica itinerary for families post helps you with your trip planning!
There are affiliate links in this post.