Montezuma, Costa Rica is a small picturesque beach town in the Nicoya Peninsula famous for its artsy hippie flair surrounded by mountains, rivers and waterfalls, perfect for any beach bum or nature lover looking for a coastal escape.
The town is largely made up of a diverse and eclectic group of free spirited foreigners and locals and visitors fall in love with the town's mellow vibe, wild beaches and fascinating seascapes.
If you're planning on visiting Montezuma, here is our guide to find information about the town, beaches and more.
Montezuma, Costa Rica Town
Montezuma is a tiny beach town, you can easily walk the town end to end in about 15 minutes. There is one main road that passes through the outside of town and along the coast. From that road, there is one street that goes into town and ends at the northern end of Playa Montezuma.
All these roads are paved until you reach Cabuya. Roads are quite narrow and parking is very tight so if you don't need to drive into town, I don't recommend it. Also, the road going into Montezuma is very hilly, curvy and narrow so be extra careful driving at night. Don't speed since many accidents happen on the curves.
You can see what the town of Montezuma, Costa Rica looks like in this driving video below.
Montezuma has a couple of small convenience stores/supermarkets,and tour desks but if you need any other major services, you will have to go to Cobano, the local town about a 15 minute drive away. Cobano has a gas station, medical clinics, banks, pharmacies, ATMs, etc.
Montezuma, Costa Rica Beaches
Even though the town itself is small, you can walk for miles on the rocky coastlines of Montezuma, the bay and nearby beaches. Playa Montezuma is the main beach next to Montezuma Bay. If you continue walking south, you will go to Las Manchas, Las Rocas and Los Cedros.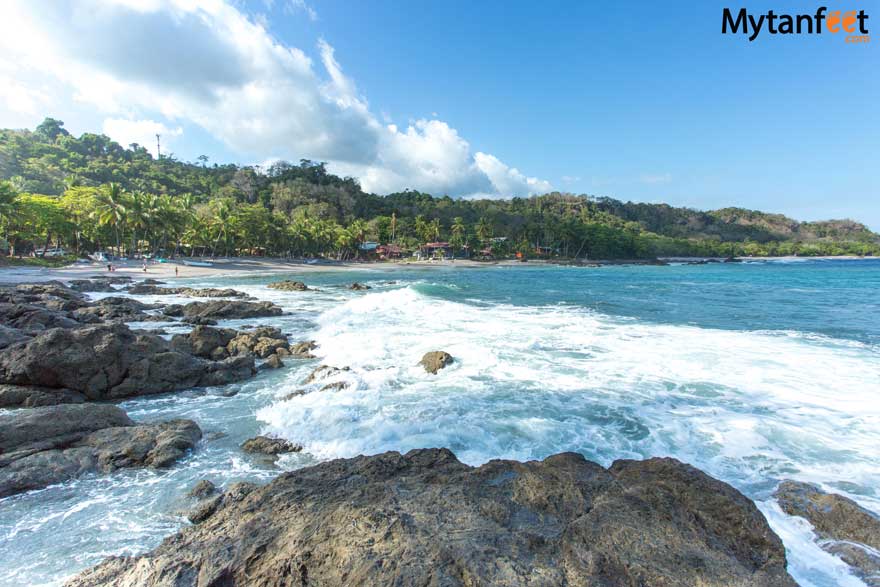 All these beautiful beaches have similar characteristics: white-ish sand, a rocky coastline and strong waves. There's a good chance you may be the only ones on those beaches since most people don't walk all the way south.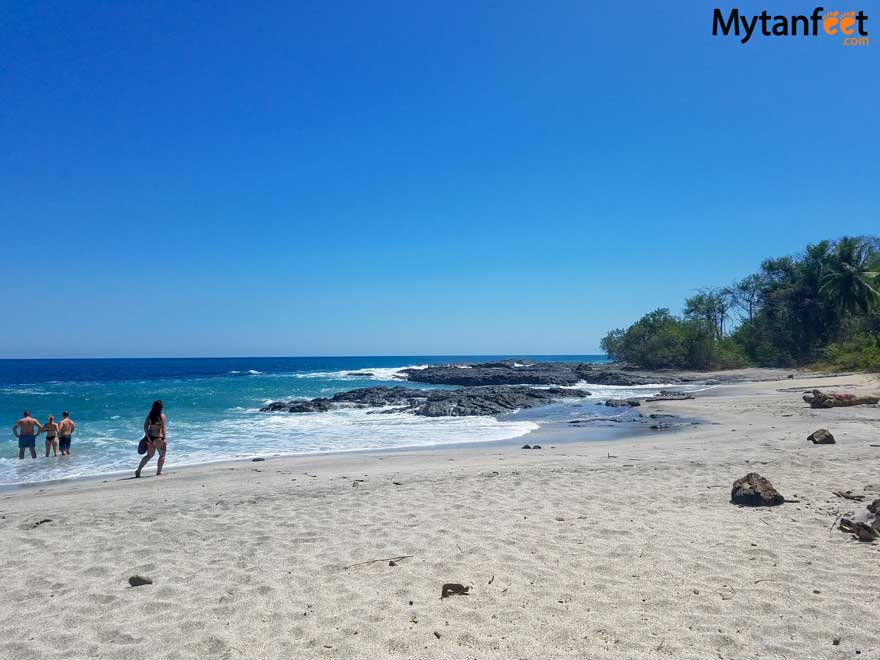 One of the most charming things about the beaches around Montezuma are the tide pools. Since the coastline is so rocky, during low tide you can sit in the tide pools or see the many critters inside. You can swim at the beaches but be extremely careful because waves can get very strong and it's very rocky.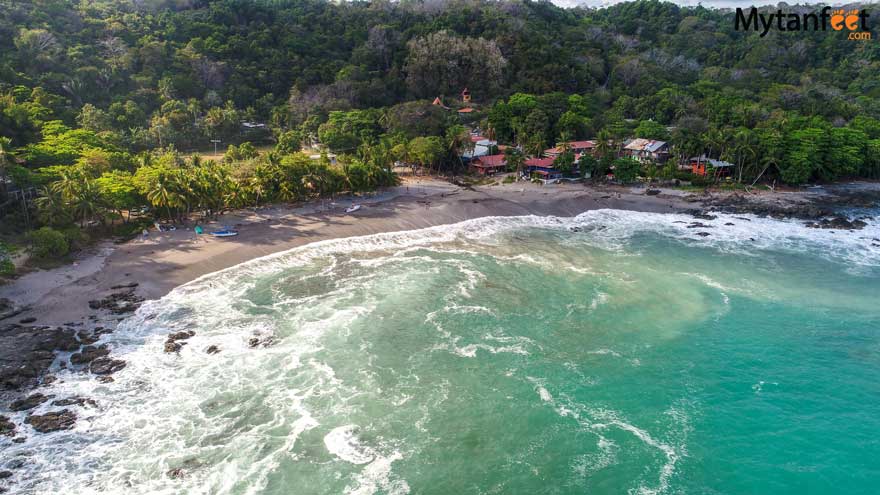 Cabuya
If you keep going further south, you will end up in Cabuya. Cabuya is the tiny local town right before the Cabo Blanco Reserve and there are some interesting beaches there. There is even an island called "Isla Cementerio Cabuya" where you can probably guess, the locals from centuries ago buried the deceased.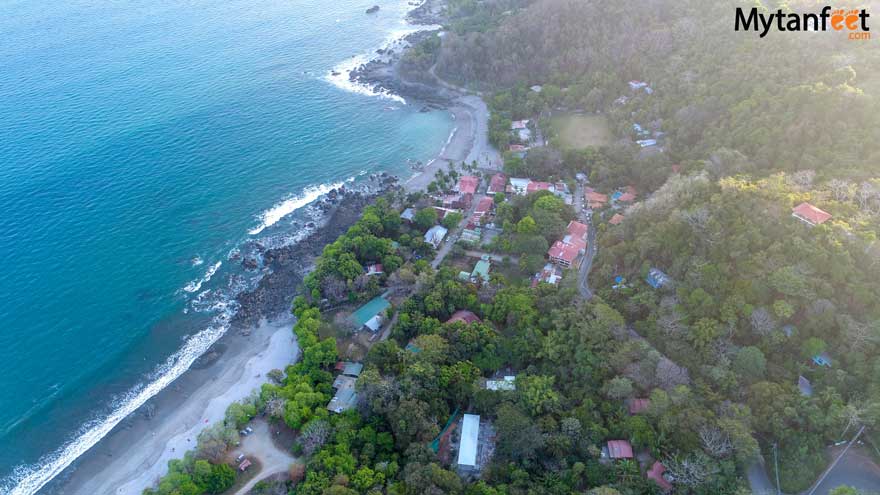 If you go north 3-5 kilometers (1.8 to 3.1 miles), you will reach Playa Grande of Montezuma and Piedra Colorado.
Things to Do in Montezuma Costa Rica
For a small town nestled in a remote corner of the country, there is a plethora of fun outdoor activities to do.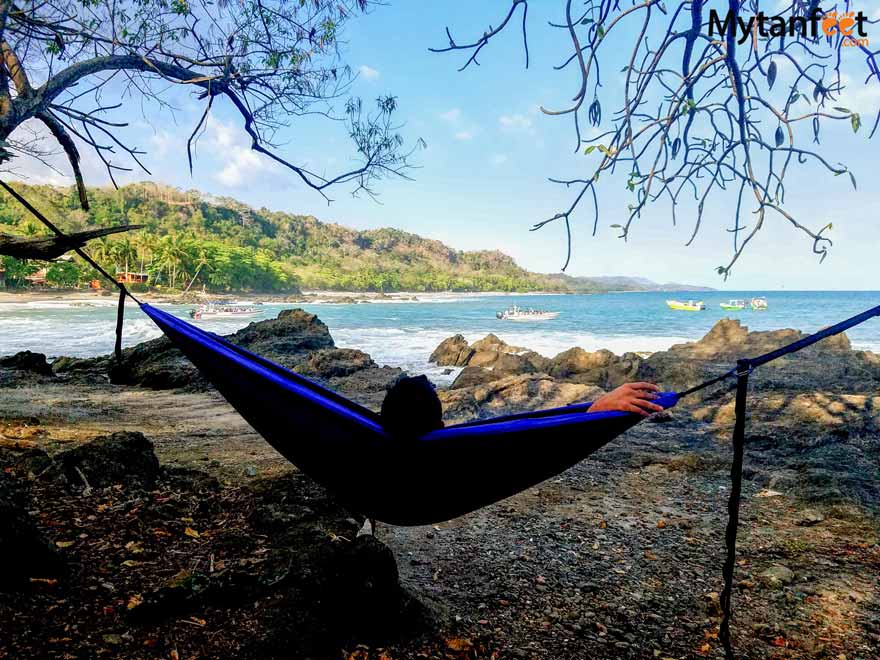 Montezuma Waterfalls: The Montezuma Waterfalls are the most popular attraction in Montezuma. The entrance to the Montezuma waterfalls is by Hotel Cascada by the bridge.
We recommend wearing hiking sandals or water shoes, no flip flops. The hike is about 20 minutes to reach the first waterfall. There are 3 total.
Visit the Piedra Colorada River: This lovely river is located within the Nicolas Wessberg Nature Reserve and has a swimming hole!
Walk the coastline: You can spend one whole day walking on the beach along the coastline. Walk up to Manchas beach, swim in the tide pools, hang out with monkeys and walk back during sunset.
Ziplining: Sun Trails has a zipline canopy tour that goes over a waterfall. So much fun for the family!
Surf lessons: There are a couple of surfing beaches close to Montezuma for lessons. When there's a swell, Playa Grande, Playa Los Cedros and Rio Lajas are good for surfing.
Sea Turtles: Ridley sea turtles lay eggs on Playa Montezuma and the conservation group ASVO releases baby sea turtles every day during the season. We visited in February and they were releasing them every afternoon.
Cabo Blanco Nature Reserve: The largest reserve in the Nicoya Peninsula is not too far from Montezuma and you can take a guided hike to see the nature and wildlife.
Tortuga Island: Spend a day at the beautiful Isla Tortuga to swim, snorkel and relax.
Playa Cocolito and El Chorro waterfall: If you have a car, visit the breathtaking Cocolito waterfall and beach. You can also hike a couple hours or take a horseback riding tour from Montezuma.
For tours, Zuma Tours is the main tour operator in the area. They provide tours and transportation in the Nicoya Peninsula.
Location Montezuma, Costa Rica
Montezuma is located on the east coast of the Nicoya Peninsula in the Puntarenas province. Montezuma is 158 kilometers (92 miles) from San Jose International Airport.
How to get to Montezuma from San Jose
Driving
Although the Puntarenas ferry is the most fun way to get to Montezuma, you can also drive the entire way. The drive from San Jose to Montezuma will take about 5-6 hours and the best route is through Route 1, Route 18 and Route 21 around the Nicoya Peninsula.
If you use a GPS device, Google Maps or Waze, make sure the route goes through Nicoya, Paquera and Tambor to Montezuma as that road is paved. Sometimes Waze will take you on a "shortcut" which is actually a horrible cow road through the forest so do not take any shortcuts!
Additionally, do note that traffic from the airport can be very bad so if you're landing during rush hour (5 to 8 AM or 5 to 8 PM), it can take a very long time to get out of San Jose.
4×4 Required?
It depends. You don't necessarily need a 4×4 to get to Montezuma from San Jose since the roads are paved all the way from San Jose International Airport to Montezuma downtown.
However, if you plan to explore the area or continue along the Nicoya Peninsula to Santa Teresa, Samara, Nosara, a 4×4 or at least a high clearance car is highly recommended as those roads are not paved and they're more rural areas. But if you stick to the main route around the Nicoya Peninsula like Route 21 to go up north, that is paved and a 4×4 is not absolutely necessary.
Just make sure when you use GPS that it takes you to the main roads. Do not take any detours or any of the smaller roads that is off the main road as majority of those are rural roads. Which is why if you want to explore, a 4×4 is necessary for Montezuma.
Driving and ferry
The best way to get to Montezuma from San Jose is by way of ferry. From San Jose, drive to Puntarenas, take the Puntarenas Paquera ferry and then drive about 36 kilometers (22 miles) to Montezuma. If you aren't able to make it in time for the ferry, you can also get to Montezuma from San Jose by land.
Make sure to read our post to find out how to take the Puntarenas ferry.
Bus
There is a bus from San Jose to Montezuma every day at 6 AM. This is around 6 hours and goes by way of the ferry (the 9 AM ferry). It costs around 7000 colones and includes the ferry ticket.
For Montezuma to San Jose, there is a bus at 1230 PM everyday taking the 3 PM ferry.
These bus routes are with the company Transportes Cobano.
Flying
Fly into Tambor and drive 30 minutes to Montezuma (get your car delivered there or book a private shuttle). There is a new airport in Cobano but as of now, it's only for private flights.
How to Get To Montezuma From Liberia
From Liberia, it is a bit trickier. The smoothest way is to take the bus from Liberia to Puntarenas, take the ferry and then grab the bus to Montezuma. It's a bit roundabout but there is no direct bus that connects Northern Guanacaste to the Nicoya Peninsula unfortunately.
Driving: You can perfectly drive to Montezuma from Liberia. If you drive, you will need to go via Nicoya around the peninsula for all paved roads. Driving will take around 4-5 hours.
How to Get to Montezuma from Jaco
There is a speedboat from Jaco to Montezuma with Zuma Tours for those who aren't renting a car. They have boats everyday from Jaco to Montezuma at 10 AM and Montezuma to Jaco at 830 AM.
Is Montezuma, Costa Rica safe?
Costa Rica is a safe country for tourists and Montezuma is no exception. We visited for 3 nights and felt fine walking around town at night. However, we do not recommend to walk late at night, especially alone or go to the beach in the dark.
Always make sure to have your belongings with you and if you rented a car, roll up windows and lock your doors.
We also saw a ton of tourists free camping at the beach so Montezuma is one of the safer beach towns in Costa Rica for this. Likewise, Montezuma is ideal for all tourists: solo travelers, backpackers, couples, families, luxury travelers and budget travelers.
Montezuma, Costa Rica Weather
Montezuma experiences typical tropical weather with a dry and rainy season. The sunniest and driest months are January – April and temperatures are around 90s F (32 C). Rainy season is May – November and the rainiest months are October and November. Temperatures don't change too much but it does cool down to low 70s F at night (21 C).
In January and February, there are strong winds. and currents. When we visited in February, it was super windy and unfortunately not good for swimming as the currents were strong.
Montezuma Hotels
There are a handful of hotels and vacation rentals in Montezuma.
Ylang Ylang Resort: Secluded upscale resort on the north end of Playa Montezuma, the only beachfront resort. They have jungle or ocean view rooms, luxury tents and a tree top canopy house. Rooms start at $170.
Hotel El Sano Banano: This budget hotel is right in town and also has a restaurant. They have 12 modest rooms and guests have access to the Ylang Ylang Resort property and pool. Rooms start at $60.
Kalapiti Luxury Jungle Suites: This luxury house up in the mountains outside Montezuma has 3 suites, a pool and restaurant. It's more like a luxury vacation rental, perfect for families, big groups or couples. Suites start at $300 a night, minimum 3-5 nights.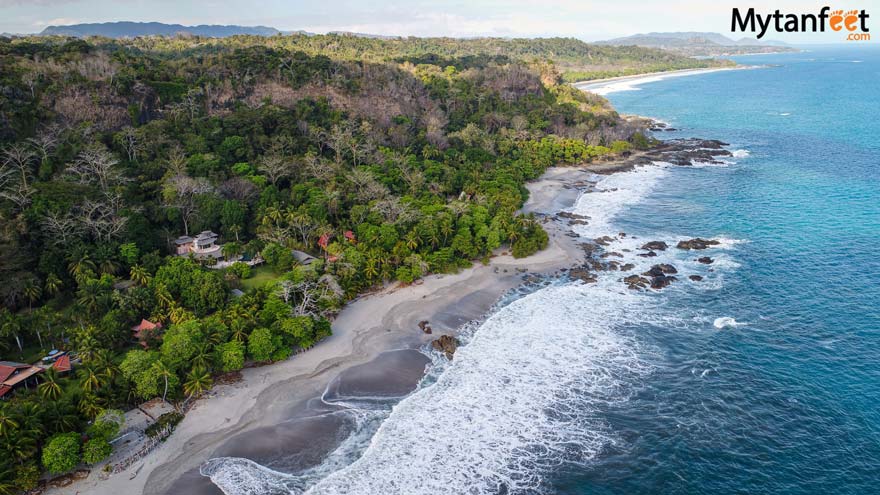 We stayed in a cute Airbnb, a 3 minute drive outside Montezuma. It was a spacious one bedroom apartment in a property with a swimming pool and other small apartments. The owner was super sweet and baked us a cake as a welcome gift! The listing was called Casa Los Mangos – Blanconejo de Montezuma and pool.
And something very interesting we noticed about Montezuma is the number of backpackers camping on the beach. We've seen more foreigners camping in Montezuma than any other beach town so if you're interested in pitching a tent on the beach, this is the best place for it!
Montezuma Restaurants
There are plenty of excellent restaurants in Montezuma due to the diverse group of immigrants and locals. Here are our favorite places.
Soda Tipica Las Palmares: Best place for traditional Costa Rican food. This soda is a little outside of town and it has a nice view of Las Manchas beach.
Cafe Organico: Great place for vegetarian/vegan food. Right in town.
Ubin: A new restaurant focusing on French cuisine and fine dining in the Nya Hotel.
Cocolores: Great mix of food from curry, Mediterranean, seafood and more.
Chelo Pizza: One of the best pizzas we've had in Costa Rica. Also has delicious pasta.
Tierra y Fuego: One of the best Italian restaurants in Costa Rica. Excellent pizza, pasta and drinks.
Montezuma Itineraries
We highly recommend to stay a few nights in Montezuma since it's such a lovely coastal town to relax and be in your own world. Here are some ideas of how to spend your days in Montezuma.
Day 1: Arrive in Montezuma and eat at Soda Las Palmares Tipica for a late lunch. After settling in, go for a walk along the beach. If it's turtle season, watch the baby turtle release at 4 PM. Then have dinner at the Ylang Ylang Resort's restaurant. If there's something going on that night, head to Cafe Organico for live music or nightlife.
Day 2: Visit Montezuma Waterfalls and spend a good part of your day there. Eat lunch or dinner at Chelo Pizza.
Day 3: Sleep in and spend the day walking all the way to Playa Los Cedros. Bathe in the tidepools, hang out with the monkeys. Or if you're up for some adventure, visit Tortuga Island on a 1 day trip or go on a horseback riding tour to Playa Cocoalito.
Day 4: Go for a morning ATV tour to explore some other beaches and mountain viewpoints around Montezuma. Or zipline over the waterfall! Then go for happy hour at Butterfly Brewing Company for Costa Rican craft beer. If you happen to be in Montezuma on a Saturday, check out the morning farmer's market in the park in the center of town.
Nightlife
Montezuma can get noisy in high season with many tourists looking for a good time. Popular places for nightlife is Cafe Organico and Chico's Bar. Ask around to see what's going on that night because it always changes.
Hotel Sano Banano also has events going on for Superbowl, Valentine's Day, etc.
Read other city guides below
Santa Teresa: Popular surfing and yoga town in the Nicoya Peninsula
Mal Pais: Small fishing village by Santa Teresa
Tamarindo: Popular surfing and backpacker party town in Guanacaste
Jaco: Closest beach town to San Jose, known for parties and surfing
Puerto Viejo: Biggest town in South Caribbean, party town known for beautiful beaches and wildlife.