Dominical may be a tiny surfing village, but it's in a wonderful location to experience rainforest, beach and mountains in Costa Rica whether you're a surfer or not. If you're planning to visit, here is our list of best day trips from Dominical as well as best things to do in Dominical.
These ideas also work if you're staying in Uvita and Ojochal, the two other towns of the Costa Ballena coast as they are all within a 35 kilometer (21.7 mile) radius.
Surfing
For experienced surfers, Dominical offers awesome waves, especially for shortboarders. Waves are biggest during rainy season from June to September but there are consistent waves and swells year round. If you're looking for fun powerful waves, Dominical is a great surfing beach for you.
However, if you're not that experienced or are a first timer, there are many beaches around for lessons and gentler waves. Some are Playa Linda and Playa Dominicalito. There are many surf schools in Dominical such as Costa Rica Surf Camp, Dominical Surf School and Sunset Surf Dominical.
Nauyaca Waterfalls
Just a 15 minute drive away is the Nauyaca Waterfalls Park, home to two incredibly beautiful waterfalls! The park offers self guided hiking trails, a horseback riding tour or 4×4 truck to get to the waterfalls.
If you like to hike, it's about 7 kilometers total roundtrip. If not, the horseback riding tour includes a light breakfast and lunch and is a fun way to get to the waterfalls. For a fast adventure, the 4×4 truck takes just 10-15 minutes. Whichever way you take, you'll be blown away by these impressive waterfalls.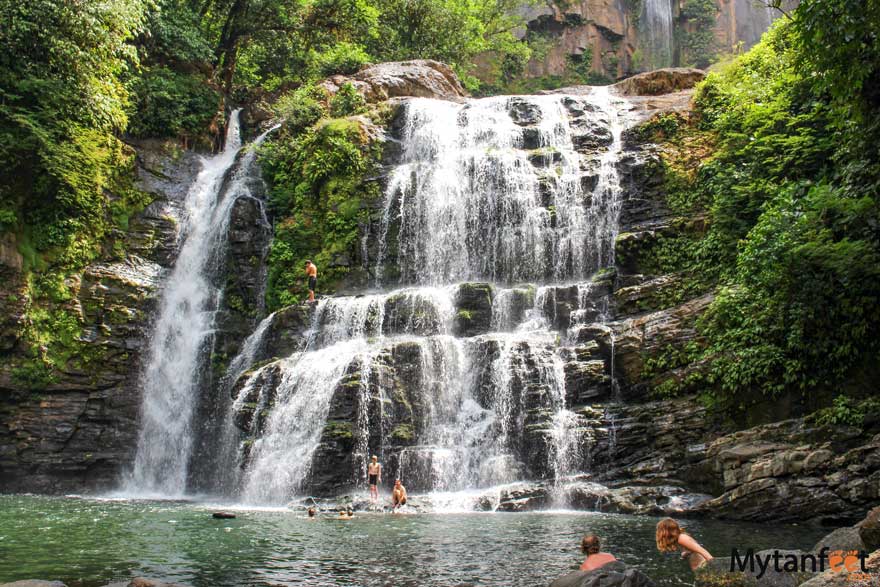 There are two waterfall parks and either one offer a great experience to Nauyaca. Plan your trip to Nauyaca Waterfalls, one of the best day trips from Dominical.
Ziplin, Birdwatching or Hike at Hacienda Baru
Hacienda Baru is a private reserve right outside Dominical which is open for day visitors or overnight visitors as they have small basic cabins. If you visit for the day, you can hike their trails to the ocean lookout point or zipline through the forest. This private reserve has a ton of wildlife so it's ideal for families and nature/wildlife lovers. We saw so many sloths here!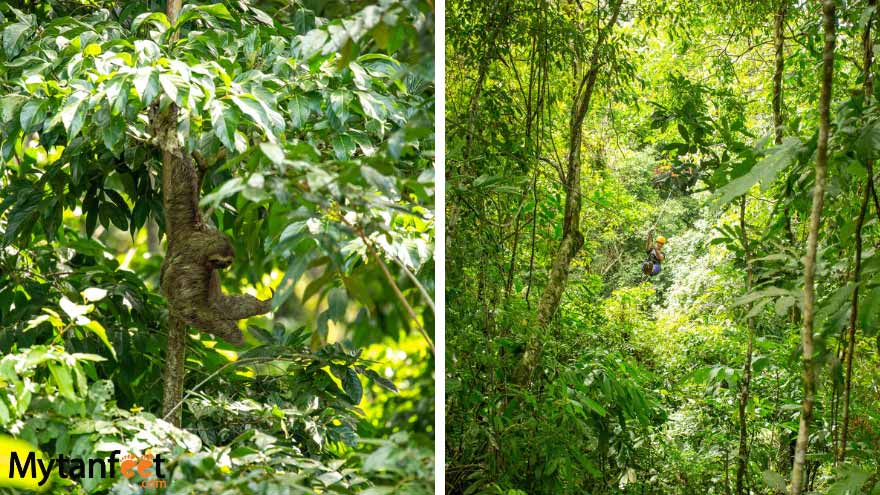 Hacienda Baru is right outside Dominical so it's a great option for a day trip close by. Their zipline is really fun and ideal for beginners/first timers. The self guided walk is $15 per person, they also offer birdwatching tours and night walks.
Kayak/SUP Through Mangroves Or Baru River
For a fun and relaxing day out in the water, take a kayak or stand up paddle boarding tour through the nearby mangroves or down Baru River. Dominical is close to some very important mangroves and is bordered by the Baru River, offering visitors a chance to paddle quietly through these intense ecosystems to get close to nature and see wildlife.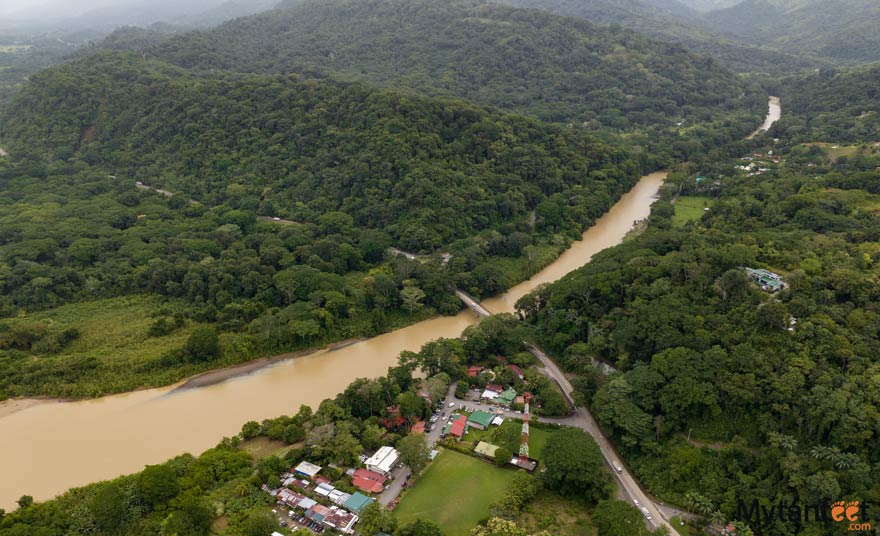 Both the mangroves and Baru River are home to wildlife like birds, lizards, monkeys, raccoons, otters, caimans, crocodiles and much more. It's a great half day tour for all ages.
Whale Watching in Uvita
If you're visiting Dominical during the months of December to mid March or July to October, then you must go whale watching in Uvita! Uvita is a small coastal town, home to the Marino Ballena National Park. This town is the best place to see humpback whales in Costa Rica. In fact, this national park was created specifically to protect the whales that pass through these waters.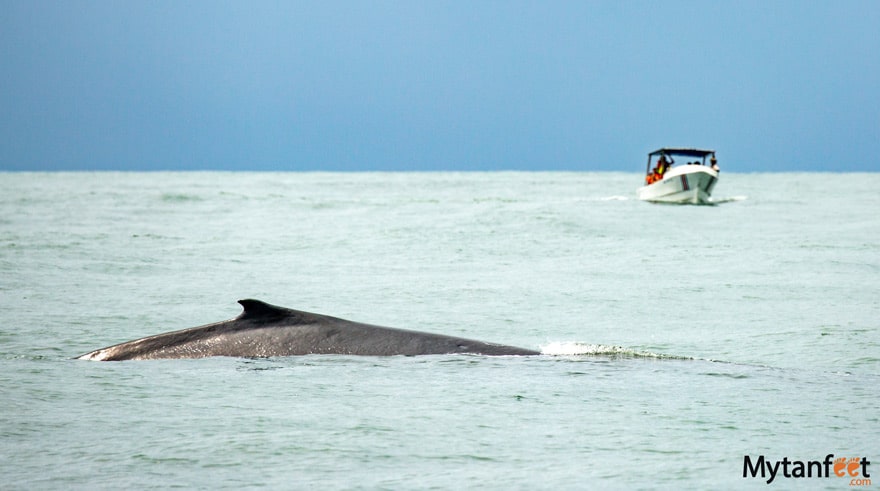 Uvita is only a 25 minute drive from Dominical. Whale watching tours are half day tours, so you can spend the rest of the day exploring Uvita, making it one of the best day trips from Dominical. If you'd like to book a whale watching tour, please contact us!
Caño Island Snorkeling
Dominical beach is not good for snorkeling but there is one amazing biological island reserve called Caño Island off the shores of Uvita that is! This reserve is about a 2 hour boat ride away from Marino Ballena National Park and is considered the second best place to snorkel and scuba dive in Costa Rica.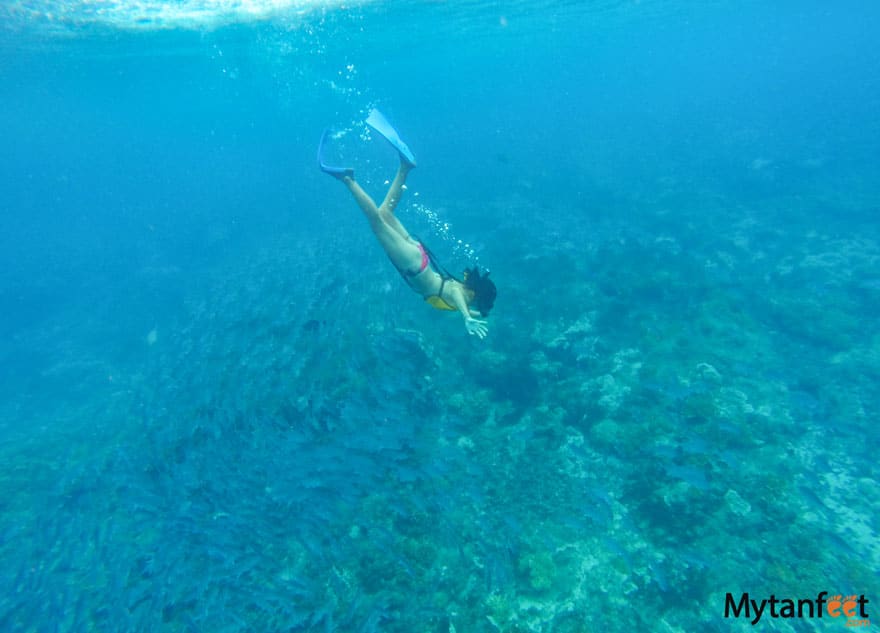 You can take a full day snorkeling trip to the island to do two snorkel sessions, have lunch on a beach and then boat back. Along the way you may see dolphins, turtles or whales and you may even swim with some turtles, manta rays and fish during your snorkel sessions.
Contact us to book your Caño Island snorkeling tour!
Playa Dominicalito
Playa Dominicalito is one of our favorite beaches in the Costa Ballena area. It has fun surfing waves, gorgeous sunsets and retains a very wild, jungle feeling as there aren't any buildings on the beach.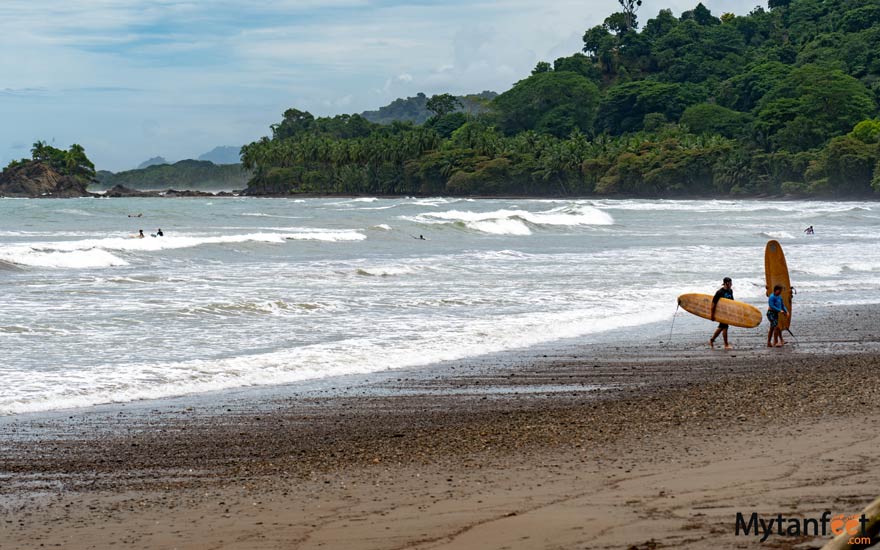 You can visit for the day, surf, relax and enjoy this beautiful little beach right next to Dominical.
White Water Rafting
To add some excitement to your visit, go on a white water rafting trip from Dominical! There are several rivers for rafting. The Savegre River is very famous for its solid Class 2 and Class 3 year round rapids. The Naranjo River delivers Class 3 and sometimes class 4 rapids (May to December only).
Raft down pristine rivers through the jungle for an adrenaline filled, outdoor adventure! For adventure junkies, this is one of the best day trips from Dominical.
Interested in going white water rafting from Dominical? Get a discount off this tour when you contact us and mention this tour! Make sure to let us know which river you're interested in.
Yoga
Yoga is extremely popular in Costa Rica, especially due to the boom of wellness and healing workshops/retreats after the pandemic. There are some studios in the Costa Ballena, so you can surround yourself in the rainfores while getting your namaste on in the jungle.
You can find yin yoga and vinyasa yoga studios such as Rockstar, Bienestar, Akka and Danyasa.
Paragliding
See Dominical and the Costa Ballena from a birds eye view on a tandem paragliding tour for the ultimate heart pumping adventure! Zion Paragliding offers tours, clinics and schools for those interested in flying over the lush rainforest and coastlines.
Eco Feria Dominical
If you're in the area on a Friday, head to the Eco Feria, open from 8 AM to 1 PM! You can browse the local vendor stalls selling produce, jewelry, clothing, food and other trinkets.
ATV Tour
Venture through the jungle on a fun and possibly challenging ATV or side by side tour! Most ATV outfitters are located in Uvita and they offer tours to see waterfalls and viewpoints while riding through the jungle and passing farms while crossing streams and rivers. Super fun! Check out Jungle ATV Tours or Morete ATV tours, both in Uvita.
Dominical Travel Tips
Make sure to check our Dominical travel guide to help plan your visit. We HIGHLY recommend having a rental car for this area as attractions are spread out without direct public buses or shuttles. There are taxis but not really any Ubers.
Driving
Some places up in the mountains require a 4×4. Sometimes a high clearance car can work but many luxury vacation rentals do require a proper 4wd traction car so make sure you ask your host, especially if you are visiting in rainy season.
Dominical is approximately a 3.5 hour drive from SJO Airport on paved highways. If you are staying right in town and do not plan to explore too much, then you can get by without a 4×4. Get our Costa Rica car rental discount here!
What to Pack and Weather
Dominical is in proper tropical rainforest so it can rain anytime of the year, even during dry season (December through April). Pack a light rain jacket whatever time of year you are visiting! Get our Costa Rica packing list here and read more about Costa Rica weather.
This area is extremely humid with lots of mosquitoes all year long. Bring plenty of sunscreen, sun protection gear, mosquito repellent, an insulated water bottle and after sun gel. Your clothes should be dry fast, sweat wicking clothes.
Best Time to Visit Dominical
Any time! But if you want to avoid as much rain as possible, visit during January through April. It is possible you may get a random rain or shower here and there in those months but it will be nothing like the tropical rainstorms during the months of May through November. Read more about the best time to visit Costa Rica here.