As Monteverde is one of the most popular destinations in the country, we get these questions all the time. Is the road to Monteverde paved, how far is San Jose Airport to Monteverde and do I really need a 4×4 for Monteverde?
For those who are renting a car in Costa Rica and plan on visiting Monteverde, this post will be extremely helpful. I'll go over the Monteverde road conditions and how to get to Monteverde. You can also read our Monteverde, Costa Rica travel guide to learn more about this region.
This post has been updated January 2021 with the current road conditions for Route 606 and updated information about Route 145*.
The best route to take to get to Monteverde is Route 606 thanks to the newly paved road.
Below, I will talk more in depth about the Monteverde roads and routes to take. You can click the section to skip to it.
Using GPS
Always check to see which route your GPS device will take you to Monteverde.
If you use a GPS device (rented through your car rental or if you bring your own), enter the name of your hotel as your final destination. Check the GPS to see which route they are taking you because as you'll read more below in this post, we recommend to take Route 606 to Monteverde.
If you use Google Maps or Waze, they will take you to the "fastest" or closest route which may be Route 145 (I'll talk about this one in a bit) or Route 605. Of all the routes to Monteverde, we do not recommend to take Route 605 (it's not a nice road).
As Route 605 eventually connects to Route 606, it is better to stay on the Interamericana highway 1, go straight to Route 606 and then turn to go up the mountain to Monteverde. On our last trip, Waze was trying to make us go through Route 605. Yeison has had experience on this route which is an old road not used as much due to its poorer conditions. Road 606 is much better.
Driving from San Jose to Monteverde (Route 606)

If you are driving from San Jose Airport to Monteverde, the best route to take is Route 27, 23, Interamericana highway 1 and then Route 606. This route takes around 3.5 hours depending on traffic and the distance from San Jose Airport to Monteverde is 133 kilometers, or 83 miles via Route 606. This entire route from San Jose Airport to Monteverde is now paved.
Here is the route on Google Maps. Remember that Santa Elena is the name of the main town and tourism hub of Monteverde. You will see lots of signs for Santa Elena.
Route 606 Road Conditions (Sardinal)

*January 2021 update. The Route 606 is still asphalted over but due to the heavy 2020 rainy season, there is a section where the road suffered a landslide and has not been fixed. There are also now some fairly big potholes going up the mountain so we still do recommend a 4wd/4×4 for Route 606 to Monteverde.
Route 606 from San Jose is a fairly straightforward route. Head onto Route 27 Highway and continue for about 107 kilometers (66 miles). You'll merge onto InterAmericana highway 1 a little past Puntarenas. This is a paved road and takes around 1.5 hours (depending on traffic).
Then you will turn right onto Route 606 Costa Rica, the route to Monteverde via Sardinal. You will see a gas station on your right and a huge billboard for Sky Trek/Adventures.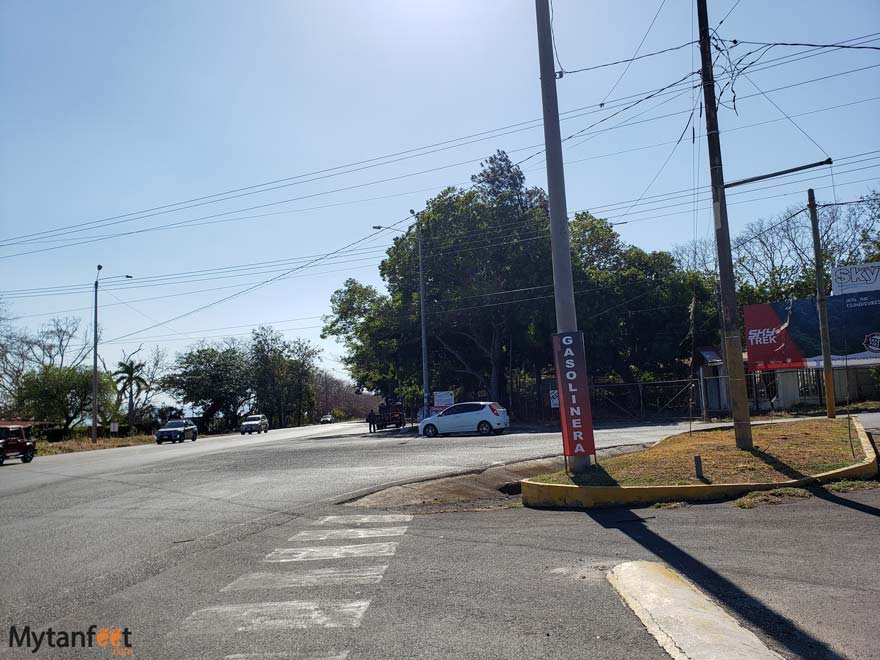 Drive onto this road for about 3 kilometers (1.8 miles) and turn left. There are plenty of signs for Sardinal and Monteverde so you know you're going the right way.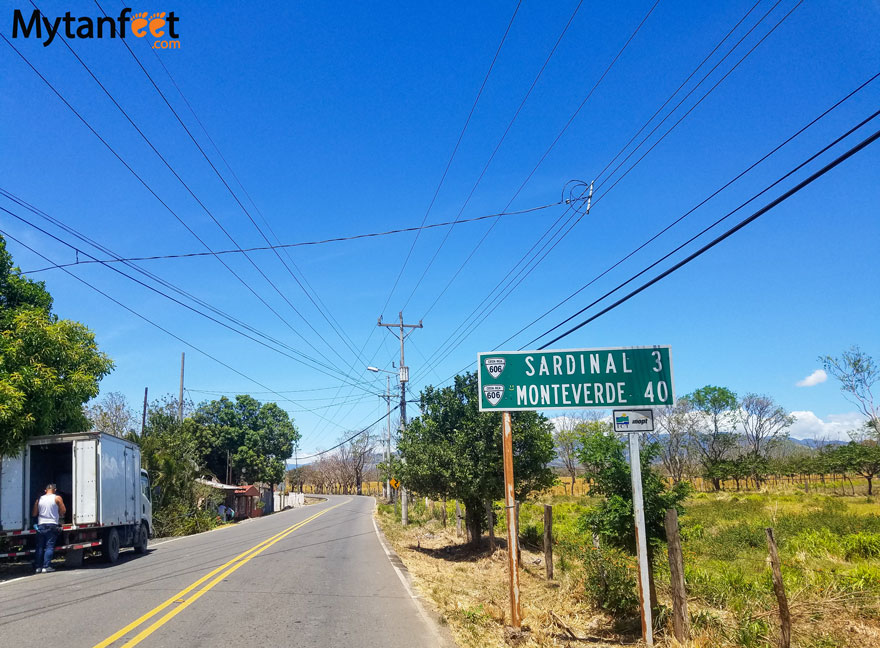 After about 17 kilometers (10.5miles), turn right at this sign to continue onto Route 606 to Santa Elena.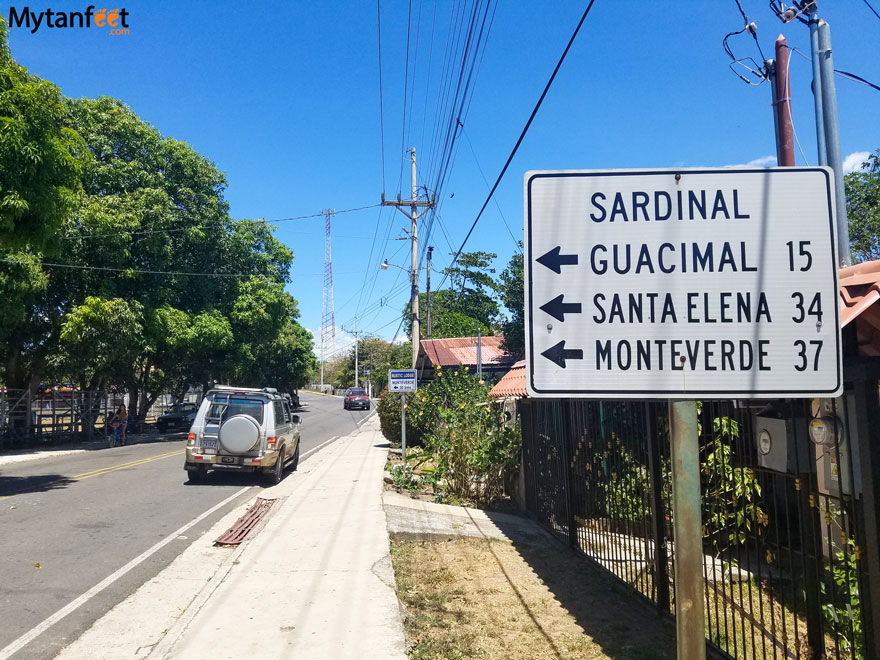 Turn left when you see this sign and continue up the mountain to Monteverde!
The gravel road is now asphalt but has lots of potholes and some damage
At this part, it used to be a gravel road but they asphalted it over late 2019. Here are some photos.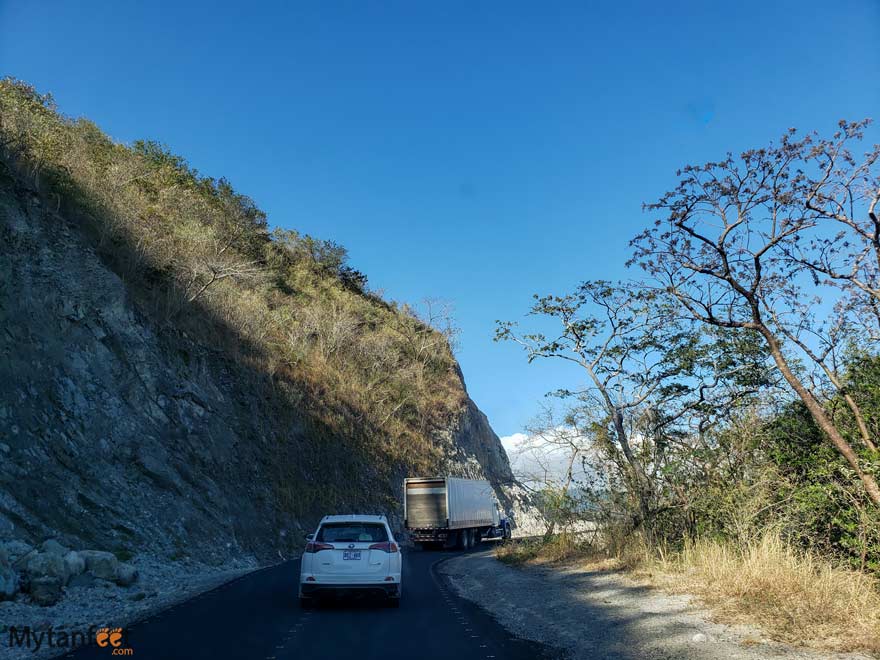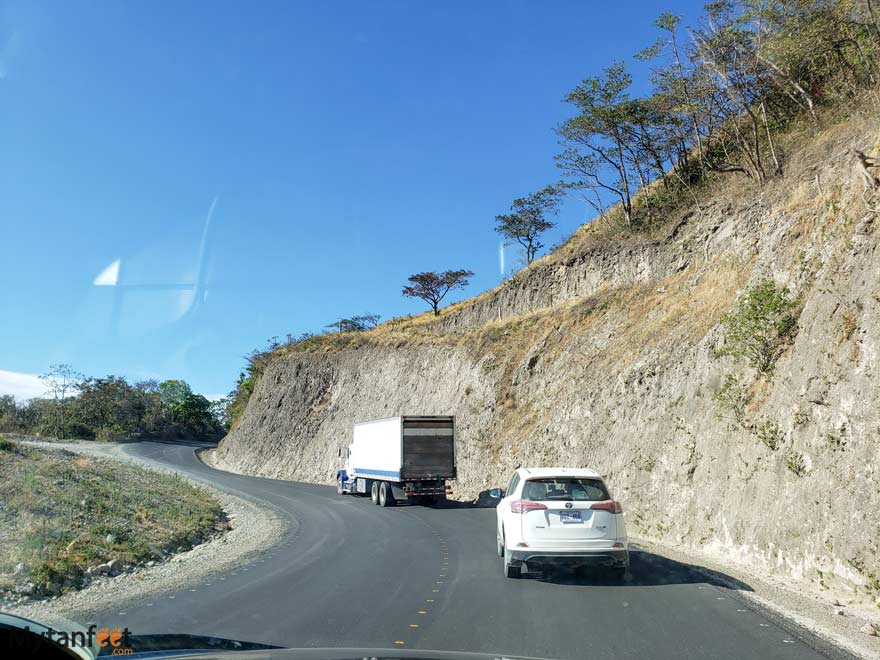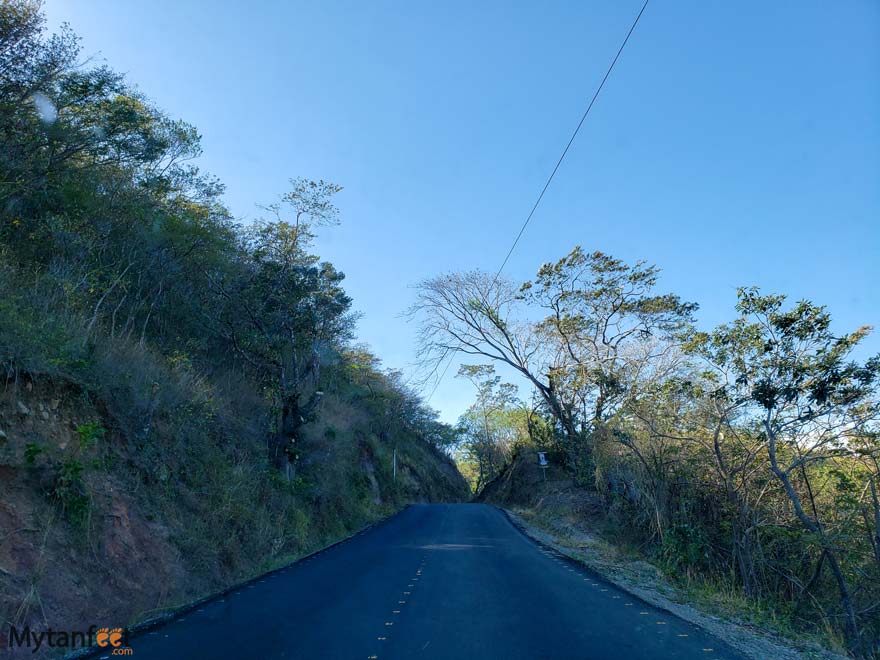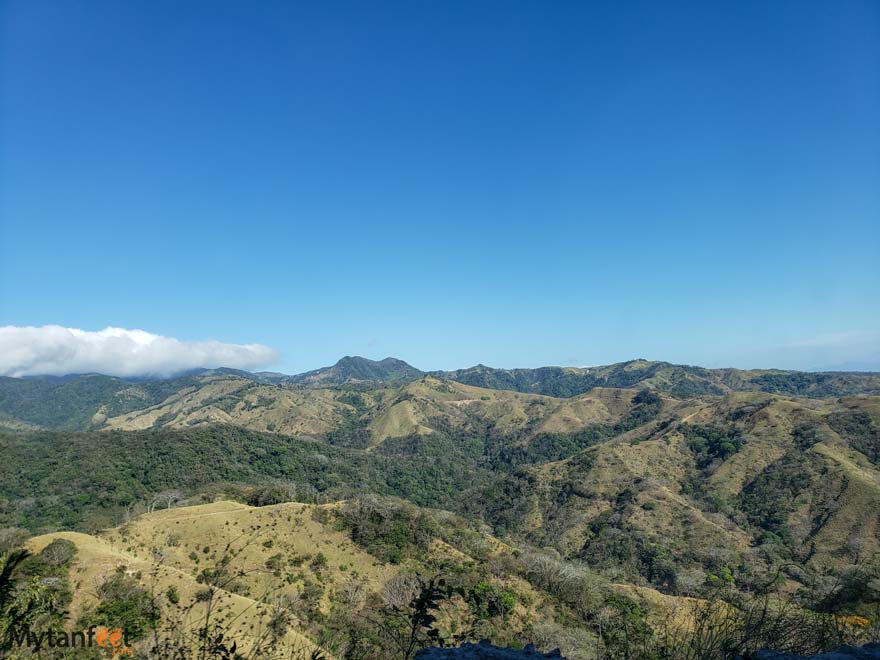 Unfortunately this very nice road didn't stay in this condition for too long. Due to the heavy rains in the 2020 winter season, there are now some big potholes and a section that was destroyed by a landslide which hasn't been fixed yet (Last drove this route January 2021).
Majority of the road is still asphalted over but with large pot holes. I'll talk a little bit more about if a 4×4 is really required for Monteverde later in the post (click here to skip to it). Now I'll talk about Route 145!

Driving from Guanacaste to Monteverde Route 145 Las Juntas
If you are driving from Guanacaste (Liberia, Tamarindo, Playas del Coco, Samara, Gulf of Papagayo, Conchal) to Monteverde, then the closest route is Route 145, Las Juntas. It takes around 3.5 hours with a mix of gravel and concrete roads. Route 145 is very narrow and windy. Below are the current road conditions for Route 145, Las Juntas (as of February 24, 2020).
Las Juntas Road Conditions Route 145
This route is very narrow, curvy and windy with concrete and gravel roads. It goes from gravel to concrete many times throughout the entire route. Trailer trucks, public buses and shuttles use this route. Be careful when driving because the road is very narrow and curvy so you may need to suddenly brake and make space for oncoming cars. Drive slow on this route!
Coming from Guanacaste, Las Juntas is the turn off a couple kilometers (~1 mile) after the Restaurant Tres Hermanas (where the big bull is) at the Limonal Plaza. Turn left.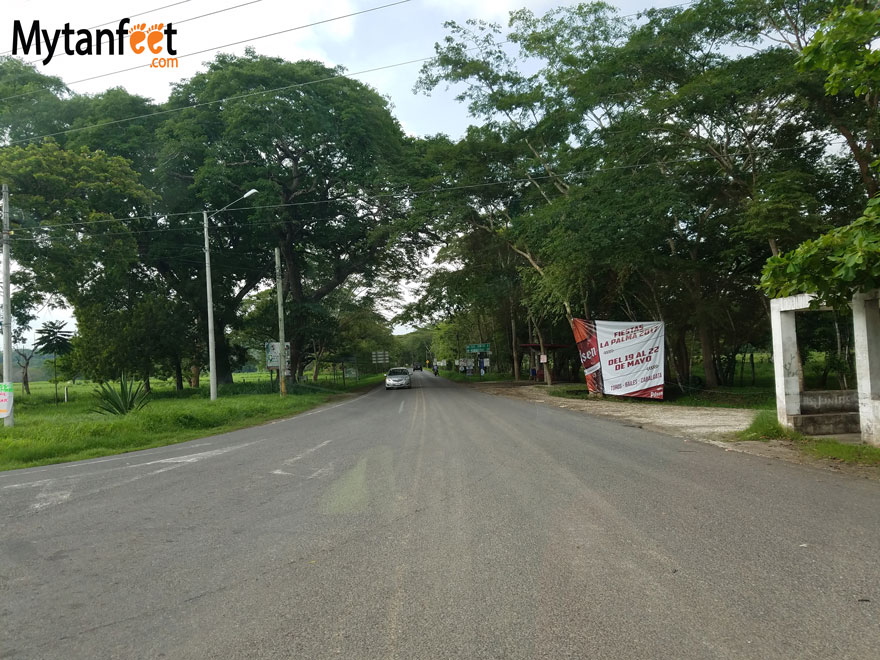 You will continue on this road for 6 kilometers (3.7 miles) and drive through the town of Las Juntas and continue up towards Monteverde, passing small towns like Eco Museo, Canderlaria and Campos de Oro.
As it's a rural area, you may run into some unusual traffic.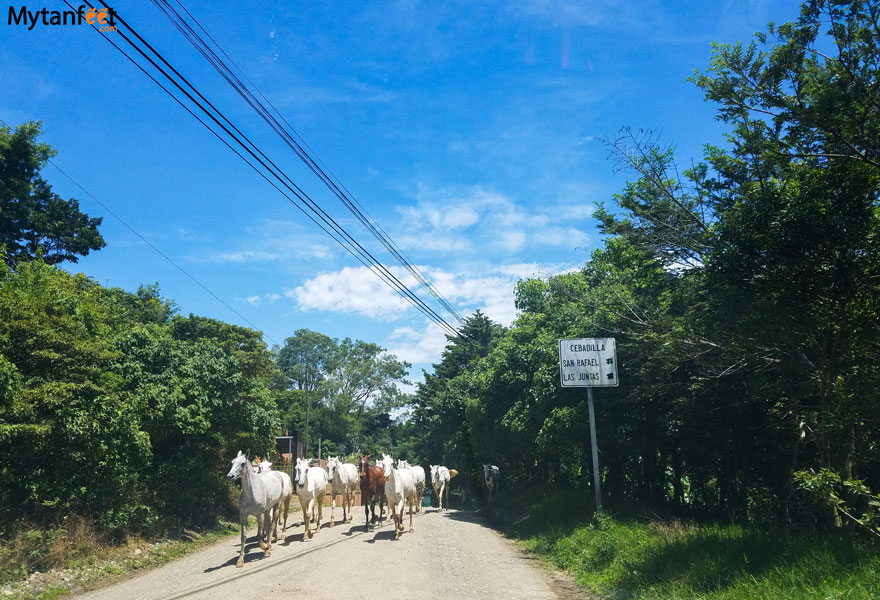 Our Experience with Route 145
Route 145 has beautiful scenery. However, the drive is harrowing due to narrow gravel roads and big trailer trucks. During our drive, one of the huge trailer trucks got stuck going up a hill, blocking the road. We managed to drive down on the side of the road on the grass in our 4×4 but it was super steep. We almost got stuck in the side ditch!
Another time we turned a corner and there were 3 huge oncoming trailer trucks but there was no space. We had to inch over to the side (very carefully because there was a grass ditch) and the trucks all had to back down around the curve to give us space.
This route also has a ton of big potholes and there are no guard rails either. Be extremely carefully on this route during rainy season. Below are some photos.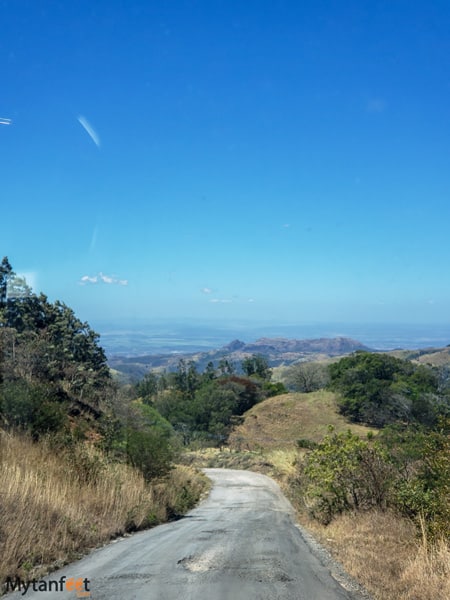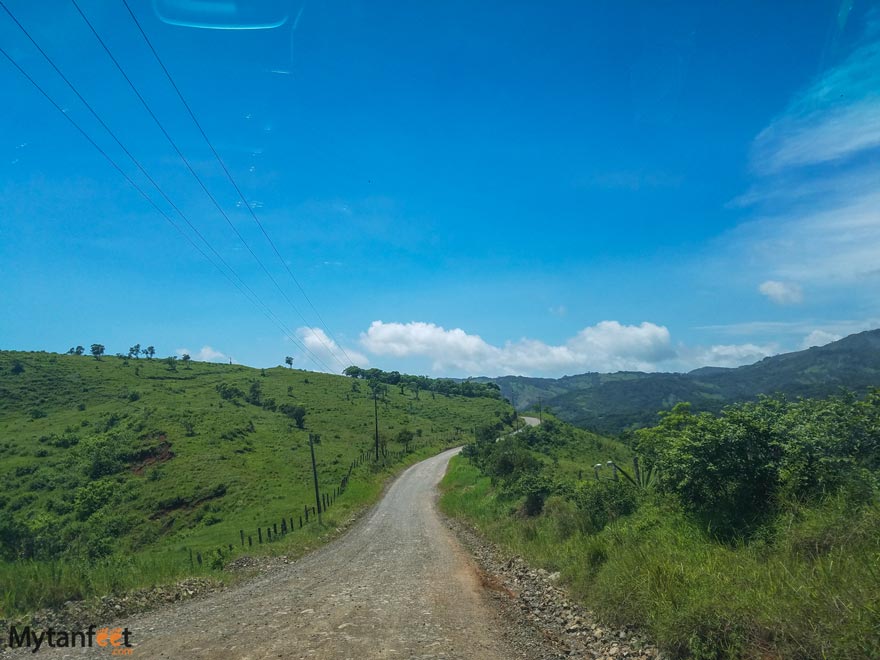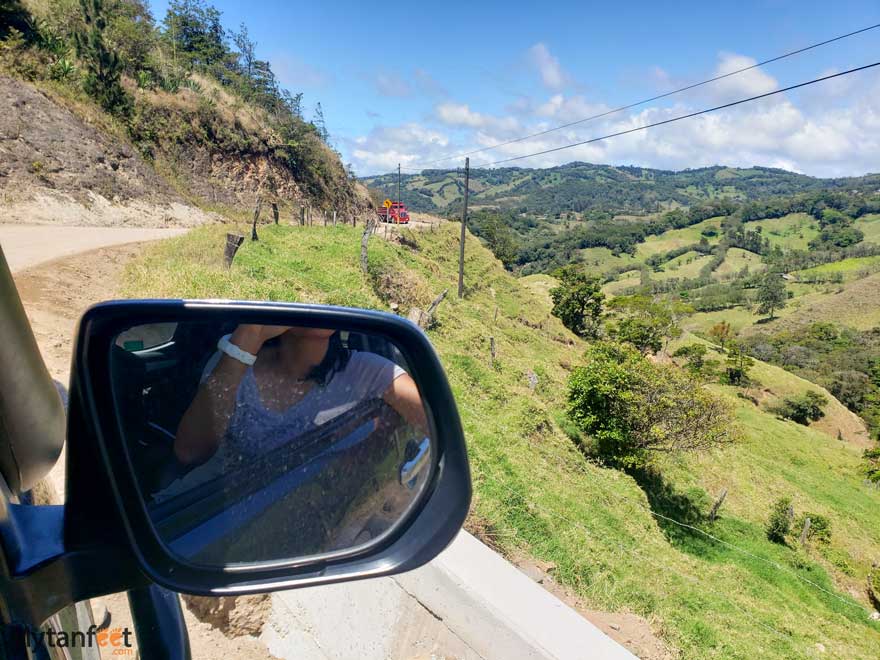 You can see the route in our video below.
From Santa Elena, go to soccer field/school and continue on the bumpy road towards Xtremo and Don Juan Tours. You will then continue until a slight left to Route 145 (signs for Las Juntas) and continue on that road.
Driving from La Fortuna to Monteverde
If you are driving from La Fortuna to Monteverde, the best route to take is Route 142 around Lake Arenal towards Tilaran, Route 145 Las Juntas and then Route 606 Sardinal. This route has a mix of concrete and gravel roads and has lots of potholes, taking around 3 to 3.5 hours. Here is the map below.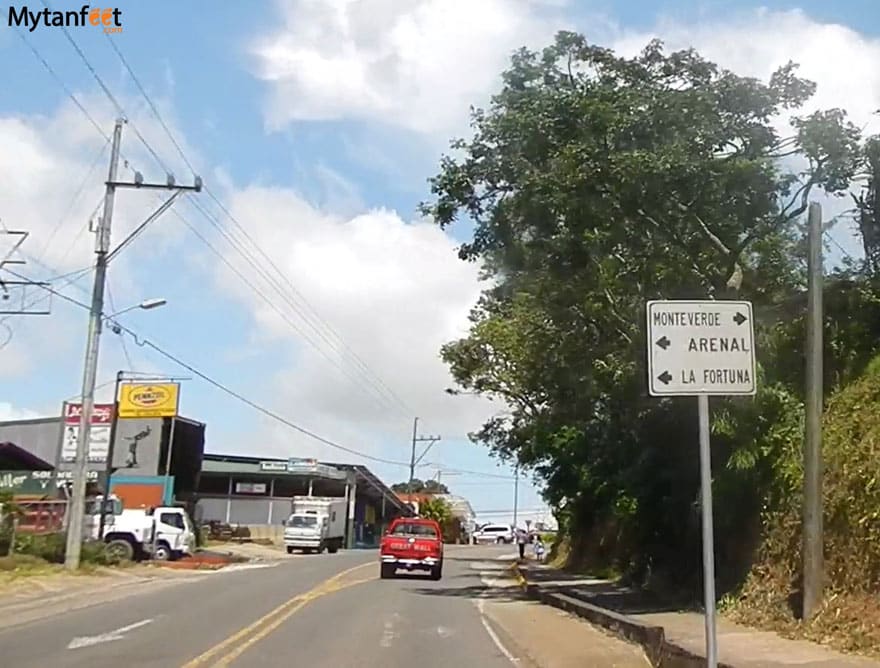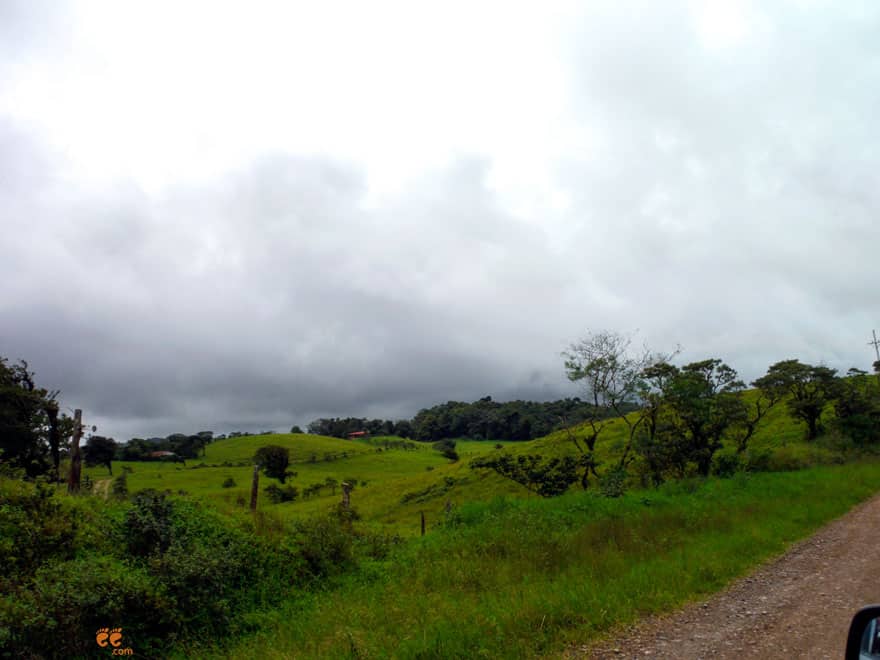 Santa Elena and Monteverde Road Conditions
Santa Elena town itself has paved roads. Cerro Plano, the smaller town also has paved roads but it ends where the El Establo Hotel is. That road continues on to the Monteverde cloud forest reserves, San Luis town and Curi Cancha Reserve and is unpaved after the CPI Spanish School.
The road to Sky Adventures, Selvatura Park, Bosque Nuboso Santa Elena and Vista Verde Lodge is also unpaved with potholes and is steep at some parts.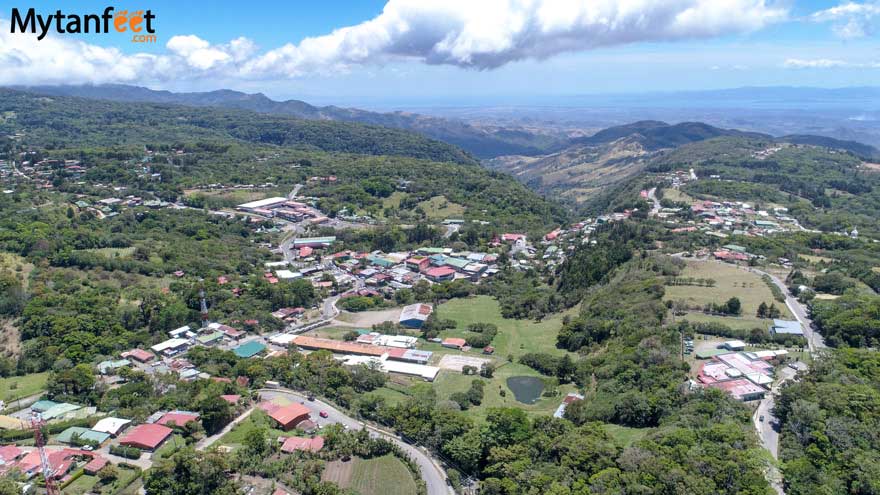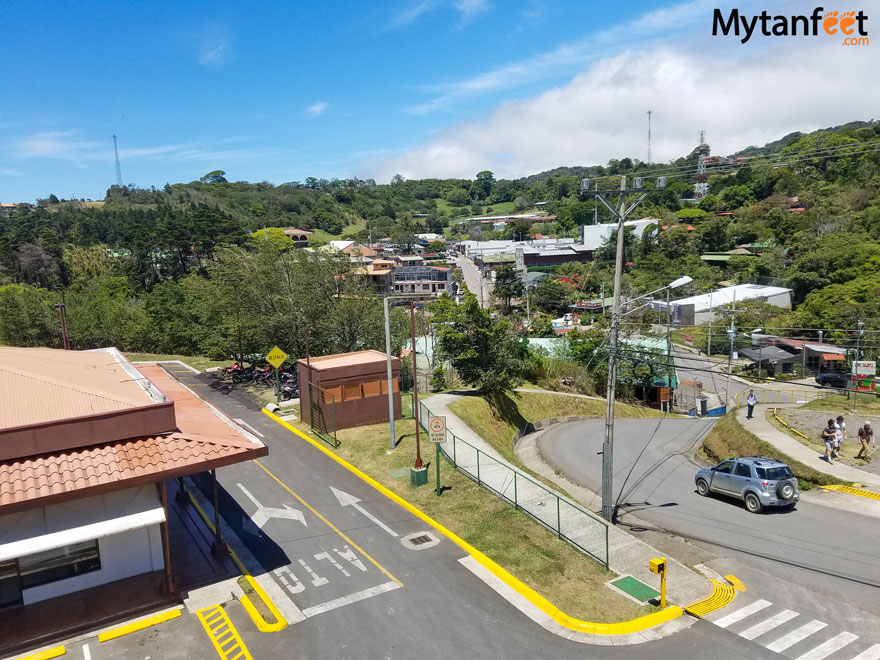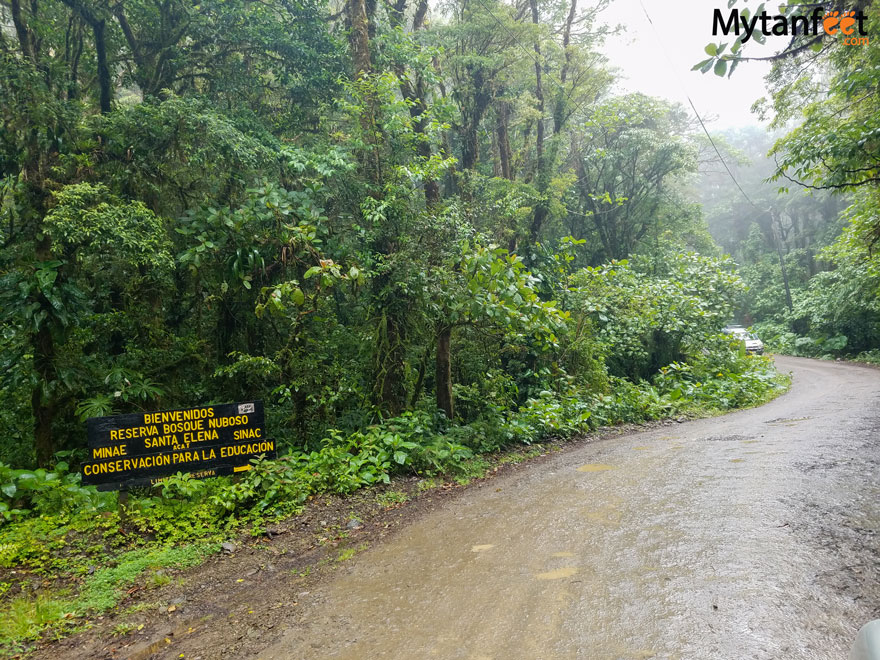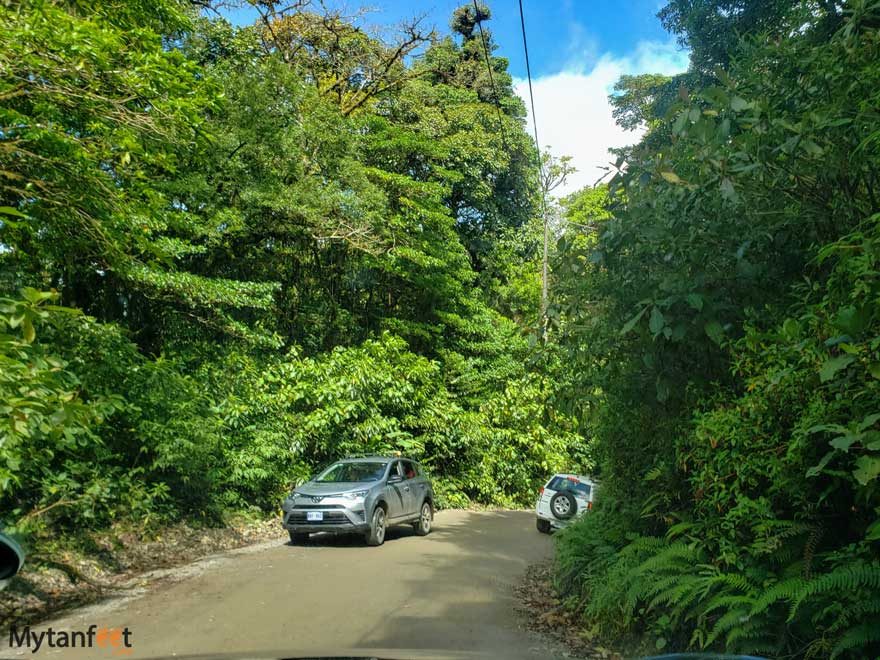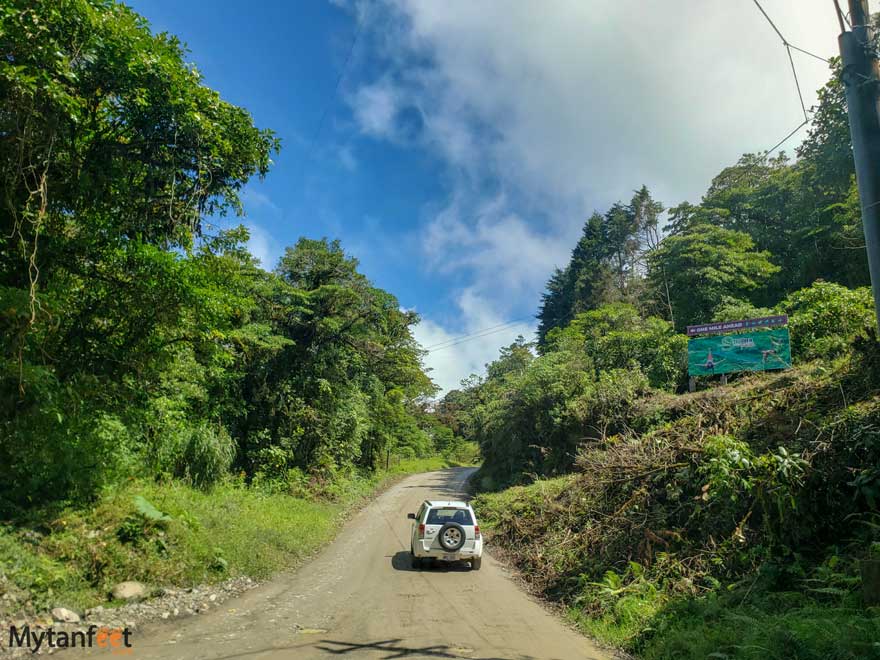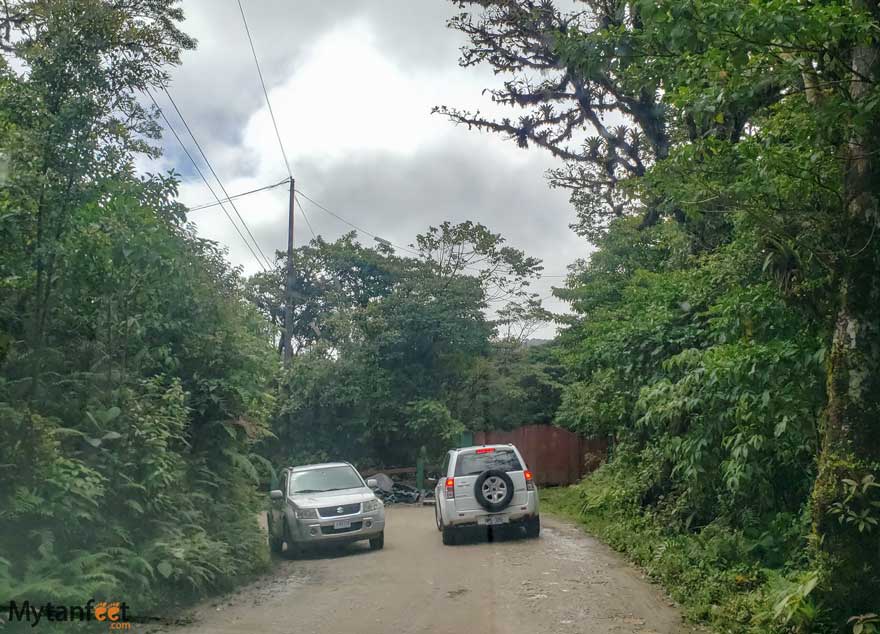 We stayed at 2 Airbnbs in Monteverde that had awful roads. Awful. Like hitting your head on top of the car awful. These roads are the way to Finca Modelo and past the Santa Elena cemetary (Valle Bonito).
Do You Need a 4×4 for Monteverde?
This is what you are probably dying to know. Do I really need a 4×4 to get to Monteverde? Here are our thoughts about the kind of car you should rent for Monteverde. This is coming from a Costa Rican man who is very used to driving rural roads and a woman from the US who is not. And as always, safety is our number one priority for our readers.
Before the 2020 rainy season, for us, we personally saw it fine to drive a sedan if you go by ONLY Route 606 to and from Monteverde. This is because it was freshly asphalted over in December 2019 and it was in good condition.
However, like we mentioned earlier, the 2020 rainy season was very strong and part of Route 606 was hit by a landslide and the road suffered greatly. They still haven't fixed the landslide section so that part is now all gravel with holes and there are now some big pot holes throughout this route.
For this reason, we recommend to rent a 4×4 or 4wd for Monteverde. Not all the roads in Santa Elena are paved so it is much safer to have a high car, especially as this area tends to rain often and is windy, even in the dry season.
The public bus and shuttles in Monteverde
To take the bus and shuttles, you can book them at the Monteverde Info Center in downtown Santa Elena.
There is a bus from Santa Elena town to Monteverde Cloud Forest Biological Reserve at 6:15 AM, 7:30 AM, 9:30 AM (in high season), 1:20 PM and 3 PM everyday for 700 colones one way. There is a shuttle bus from Santa Elena to Monteverde Cloud Forest Biological Reserve at 7 AM, 8 AM, 1030 AM and 130 PM for $3 USD one way or $5 roundtrip.
Additionally, there is a shuttle from Santa Elena to Reserva Santa Elena at 630 AM, 830 AM, 1030 AM and 1230 PM for $2 USD.
You can also book tours with transportation as most of the adventure parks and tour companies offer transportation.
If you do not want to rely on these shuttles and buses or if you want to explore and check out places like Finca Modelo, San Luis, then rent a 4×4/4wd.
Please also ask your host as there are a lot of hotels like Vista Verde Lodge and Airbnbs that require a 4wd/4×4.
We did see a couple of sedans on our way to Selvatura Park but boy they were having a rough time and we saw two rental sedans stopped on the side. I think they hit a rock and were trying to assess the damage. You may also see some locals with sedans but like Yeison says, give a rural Tico (Costa Rican) a sedan and they'll make it anywhere.
Bottom Line
If you are wondering which route is best to take to Monteverde, Route 145 and Route 606 are both drivable, particularly with a 4wd/4×4. Both are very curvy and narrow, so either way you'll have to drive slow and carefully.
Route 145 is closer to those coming from or going to Guanacaste, Route 606 is closer to those coming from or going to San Jose. So you will see that for these reasons, 99% of the rental cars are SUV's.
When it comes down to it, it is most comfortable and secure with a SUV in Monteverde. One quick additional note, in dry season, a car like a Hyundai Creta SUV 4×2 can work (but make sure to ask your host if they really require a 4wd/4×4 or not). In rainy season, it is better to get a 4wd/4×4.
Additional Tips for Driving to Monteverde
We do not recommend driving to Monteverde at night. All routes are very curvy with no guard rails or street lights. Remember it gets dark by 6 PM everyday in Costa Rica! If your flight arrives in the afternoon and the timing does not work out that you can get to Monteverde before 6 PM, it is better to stay a night in San Jose/Liberia. Rest and then leave early the next morning. This is highly recommend in rainy season as it tends to start raining hard in the afternoon.
Drive slow, take your time. Don't pass if you're not comfortable. You will run into some buses or trucks that are super slow. Just take your time and drive safely.
If you get car sick, take anti-nausea medicine! I get car sick easily and got fairly dizzy on Route 145.
For more driving tips, you can read our in-depth Costa Rica driving guide.