For surfers dreaming of world class waves in a secluded spot in Costa Rica, Witch's Rock is the place to go. With an impressive ancient rock formation and rolling mountains as the backdrop to nearly year round perfect tubes and barrels, a trip to Witch's Rock will be one surfers will never forget.
If you want to plan your trip to the Roca Bruja, here is all you need to know.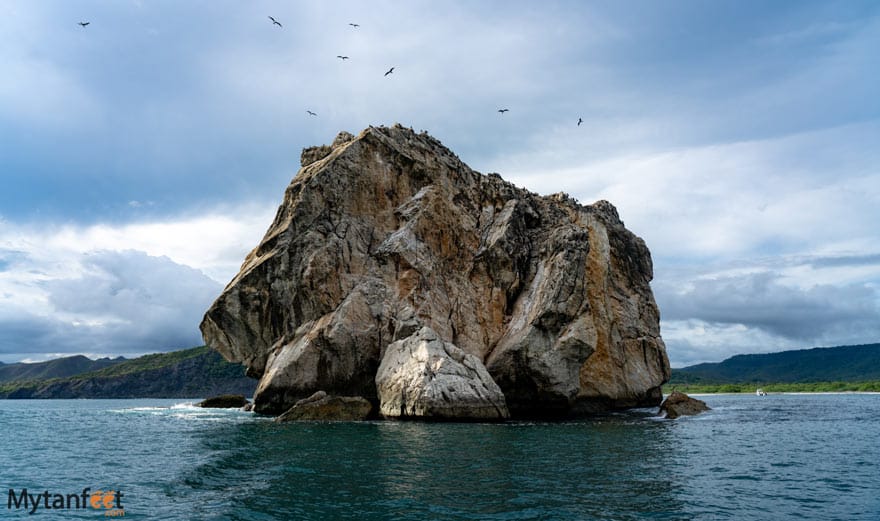 Witch's Rock, Costa Rica Map
Witch's Rock is inside the Santa Rosa National Park on the North Pacific coast in the Guanacaste province.
Can You Drive to Witch's Rock, Costa Rica?
In the past, yes. You were able to drive to Playa Naranjo, the beach Witch's Rock is located at inside the national park and reach the campground. This route absolutely requires a 4×4 and a competent 4×4 driver. From the park entrance to the campground parking lot, it is about 2 hours on a very bad road.
However, currently in 2021, it is not possible to drive to Witch's Rock due to the COVID pandemic and condition of the road.
They have closed the land sector of Santa Rosa National Park to Playa Naranjo (partly due to a collapsed bridge) and the campground is still closed.
Hopefully the national park will clean up the campground and fix the bridge to open the land sector to Playa Naranjo again. But as of right now, the only way to get to Witch's Rock is by boat.
Also keep in mind that if and when the Playa Naranjo sector is open again, if you drive, you will need to walk from one end of the beach to the surf break, at least 30 minutes on very hot sand. The parking lot is near the south end of the beach and the break is on the north end of the beach.
Additionally, in rainy season, the road is usually in very bad shape (the rainy season in 2020 was so intense it destroyed the bridge) that it is not recommended at all to drive, even with a 4×4. Sometimes the park rangers will completely prohibit it if it's very bad weather. So boat is the best way to get to Witch's Rock.
Witch's Rock Boat Trips
The boat trip to Witch's Rock is half the fun as you cruise through the Gulf of Papagayo, past hidden coves and white sand beaches. We always make a full day out of our surf trips, stopping at some beaches to snorkel and have lunch. We have also seen dolphins, turtles, manta rays and humpback whales on the way!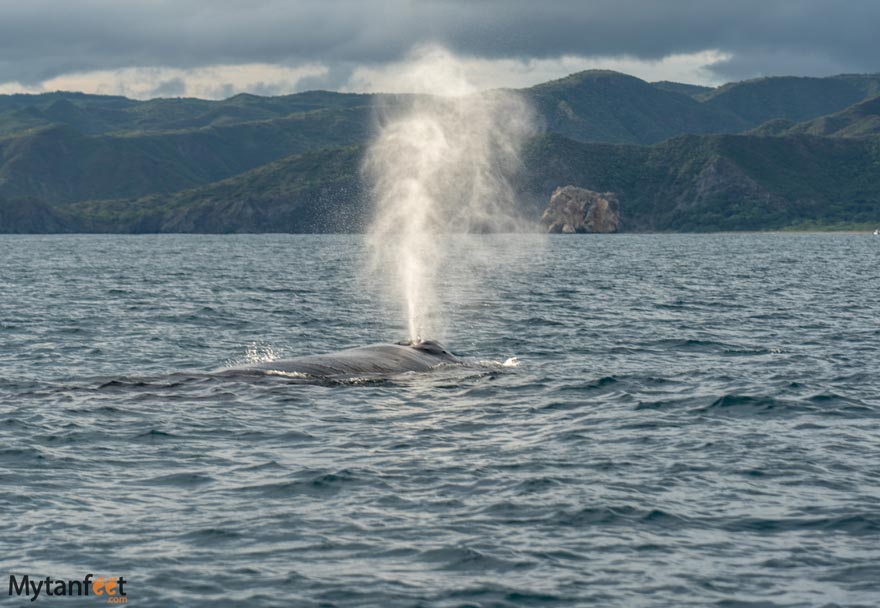 Park Tickets, Reservations
The Santa Rosa National Park fee is $15 USD per adult (tourist) and $5 per child ages 2 – 12 years old (tourist).
You must make reservations and purchase park tickets to go to Santa Rosa National Park. Right now due to the COVID pandemic, they sell a maximum of 50-ish park tickets a day for surfing, The park is open every day from 6 AM to 2 PM for surfing.
Your boat captain should purchase tickets for you.
How Far is Witch's Rock from Playas del Coco?
From Playas del Coco, Witch's Rock is about a 45 minute boat ride. Playas del Coco is the best launch point for the boat trip to Witch's Rock due to its proximity. Coco also has very calm waves so it's the best beach for getting on the boat.
Witch's Rock surfing is one of the best day trips from Playas del Coco, definitely a must for surfers!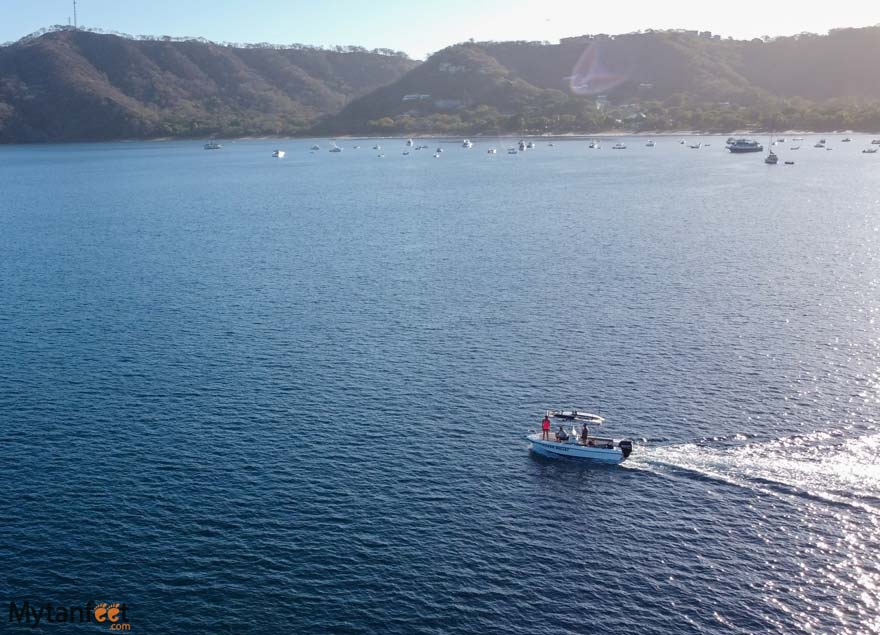 We always leave from Playas del Coco with our friend who has a boat and runs boating, beach hopping, snorkeling, fishing and Witch's Rock surf trips. If you're interested, click on the link to request a quote!
How Far is Witch's Rock from Tamarindo?
From Tamarindo, Witch's Rock is about a 1.5 hour boat ride one way. There are surf camps in Tamarindo that run surf trips.
Best Times to Go for Biggest Swells and Smaller Waves
We have surfed at the Roca Bruja twice and hopefully we will go many more times! The first time we went was end of November 2020 and second trip was mid January 2021. Both times were small (no swell) and waves were about 1-3 feet, great for longboarding.
I should mention that we're not hardcore surfers by any means. We longboard so the small waves were perfect for us.
Witch's Rock has both right and left hand waves and this A frame wave provides opportunities for everyone to catch sweet waves.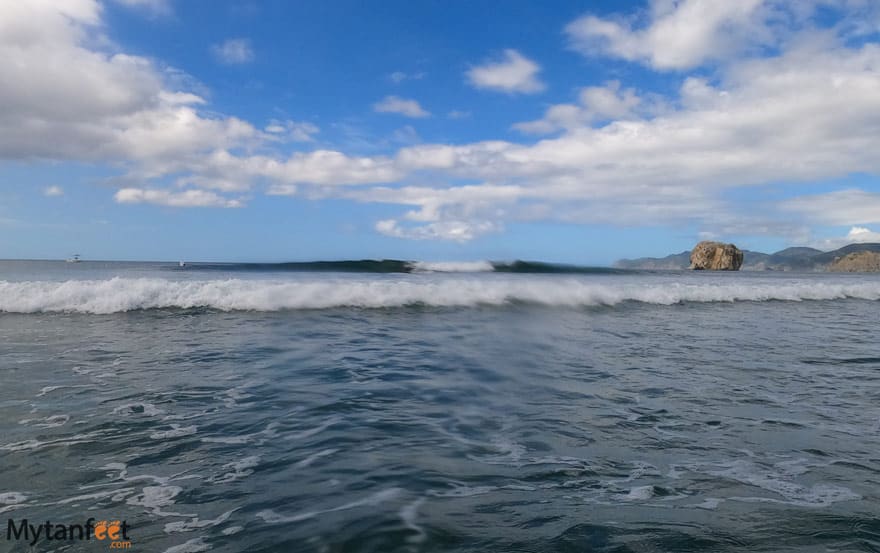 Witch's Rock has 3 main surf spots. A couple by the river mouth which gets bigger waves when there is a swell and another one called "El Burro." With a good south/southwest swell, there are fast, hollow rights at El Burro. With a more south wind and swell, there are good lefts too.
If you go by the rivermouth, make sure to keep an eye on not just the waves but the estuary as sometimes the reptilian locals (crocodiles) will gander out to take a peek at the visitors!
Small Waves (1-3 feet)
Yeison and I longboard so 1-3 feet is perfect for us. Especially as the waves were open, so it was lots of fun.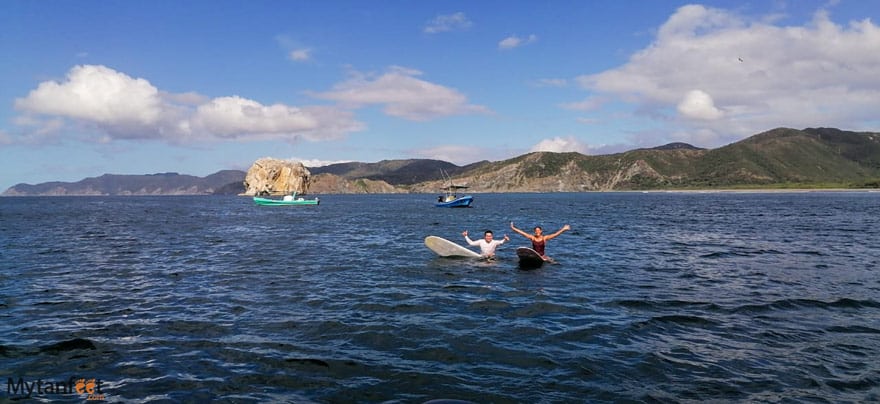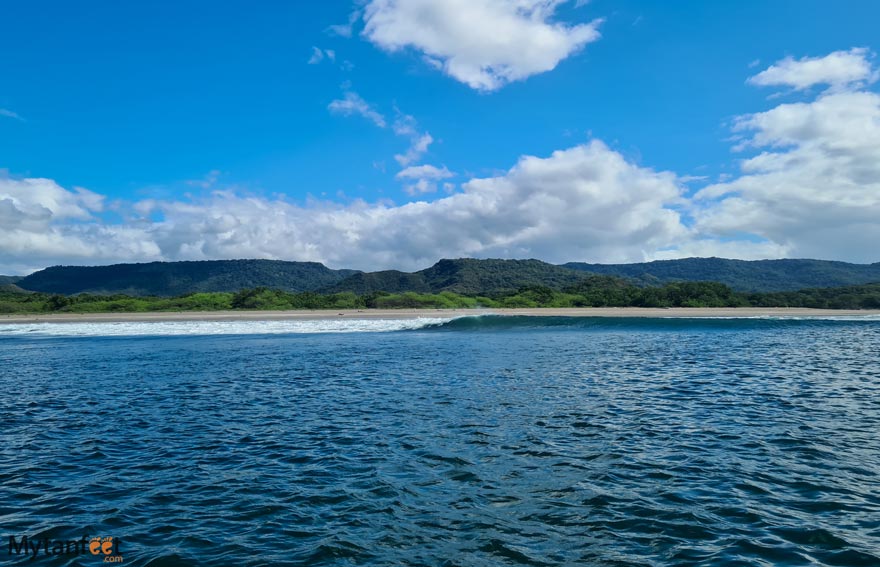 Both times were perfect for longboarding with 1-3 foot open A frame waves at El Burro. However, January was considerably windier and choppier and had a few more big sets.
We made a video of our trip to Witch's Rock in January 2021 which you can watch below!
Bigger Swells
When there's a swell, it is perfect for long tubes and barrels. Yeison has been once in June when there was a swell and there were tubes going left and right at El Burro.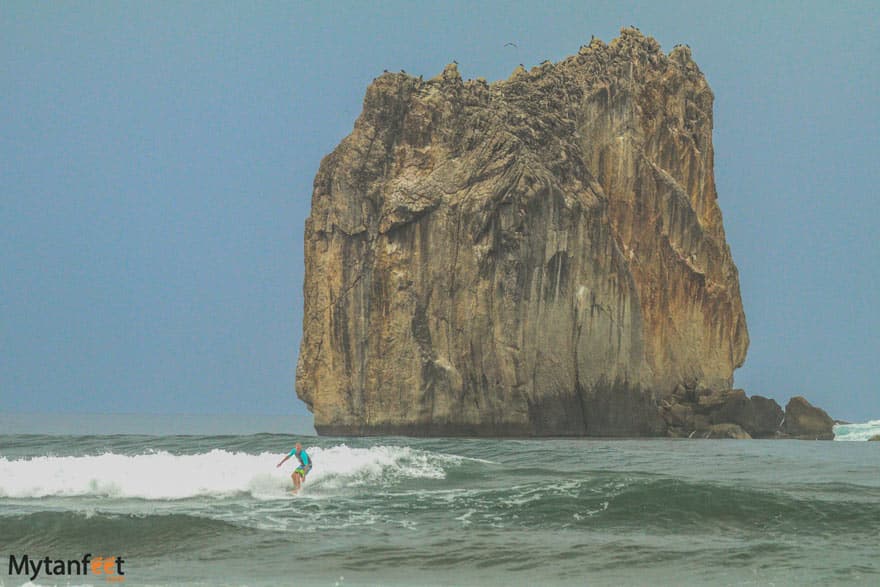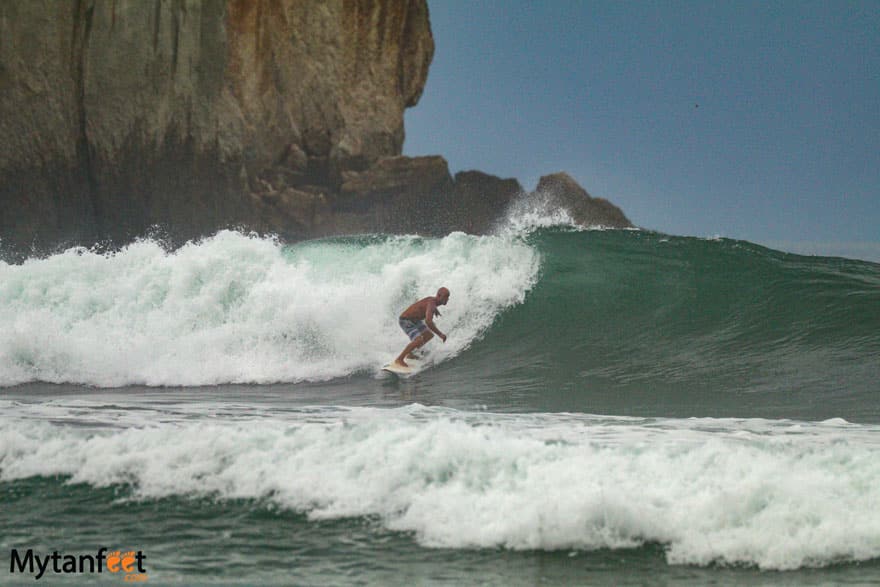 The Roca Bruja gets swells from West, Northwest and Southwest directions and brings waves up to 6 feet. This is the perfect time for expert surfers to show off their turns and cutbacks and get barrelled!
There are swells all year long in both dry and rainy seasons but rainy season brings the biggest swells (May – November). December – April sees plenty of offshore winds.
The best time to surf at Witch's Rock is mid to high tide. Low tide just has mostly close outs. And as you can see, Witch's Rock has waves for surfers from advanced beginners to experts.
There was a swell a week after our trip in February and waves were big and barrelling. Perfect for shortboarders, barrels and hardcore surfers.
Book Your Witch's Rock Surf Trip!
If you're interested in a Witch's Rock surf trip, please contact us and we'll be happy to help you organize a memorable surf trip for you and your group.
To check the waves, we use Magic Seaweed for surf reports.