Playa Conchal, Costa Rica has one unique characteristic which makes it an incredibly special beach that visitors can't miss: it has white shells instead of sand. For this reason, it is always on the list of the best beaches in Costa Rica and is constantly voted as a favorite beach by world travelers.
However, getting there is a tiny bit tricky since there is no direct public access. If you're planning on visiting Conchal, save our guide to find out how to get there and more tips.
*If you're staying at the Westin, Reserva Conchal or W Costa Rica, you have an exclusive direct access to Conchal beach. If you not a hotel guest, then you must go through the public access via Brasilito beach. Details below!*
Conchal Location
Conchal Beach is in Guanacaste, the northwest province of Costa Rica. It is a 1 hour drive from LIR Airport (Guanacaste Airport). Conchal beach is 62 kilometers (38.5 miles) from Liberia Airport and 273 kilometers (169 miles) from San Jose.
Important Things to Know About Playa Conchal Before You Visit
This is for those who are not staying at the resorts.
When coming from Brasilito, you need to walk on the neighboring beach around 20 minutes to get to Playa Conchal. More details on this below.
There are NO facilities. No bathrooms, no showers, no changing rooms, no picnic tables, no restaurants, nothing. Bring food, water, drinks, hat, sunglasses, towels and wear your swimsuit if you want to swim. There are locals who set up canopies for rent and offer drinks and food. They'll be wearing a long sleeve blue shirt and will come up to you asking if you're interested. They have alcoholic drinks and a breakfast/lunch menu with traditional food.
Waves at Conchal beach can get strong for swimming so be extremely careful when swimming.
This beach gets incredibly packed on weekends and during December – April, Christmas and Easter. Want to see it with less people? Go early in the morning. 630 AM in May/November is my favorite time to visit Conchal with nearly zero people!
During dry season on some nights, there is bioluminesence at Conchal beach! This is random though and it doesn't happen every night, so you will need to have luck on your side to see it.
How to Get to Conchal Beach
As there is no direct car access to Conchal beach, the closest public access is via Playa Brasilito. Visitors have to park their car in Brasilito, the neighboring town and walk across the beach to get to Conchal Beach. This is about a 20 minute walk one way.
For GPS purposes, you can set Brasilito Park as your final destination, that is the Brasilito Parking lot and closest place to park to the pedestrian entrance. Do not drive towards Hotel Brasilito, that is a dead end. 4×4 not required.
**April 2023: they are currently re-doing the Brasilito Bridge so if you are coming from Route 180 (Huacas direction), you must take the detour to go all the way around which takes around 20 minutes. However, we saw some people park right outside the construction site and walk over to avoid driving the extra detour.**
Where to Park to Get to Conchal Beach: Brasilito Parking Lot
The "Brasilito Parking" is right in the center of town and close to the pedestrian entrance. There will be parking "guards" (a woman or man in an orange vest) who will charge you approximately 3000 CRC to park. We still recommend to not leave any valuables in your car, roll up all your windows and lock your doors.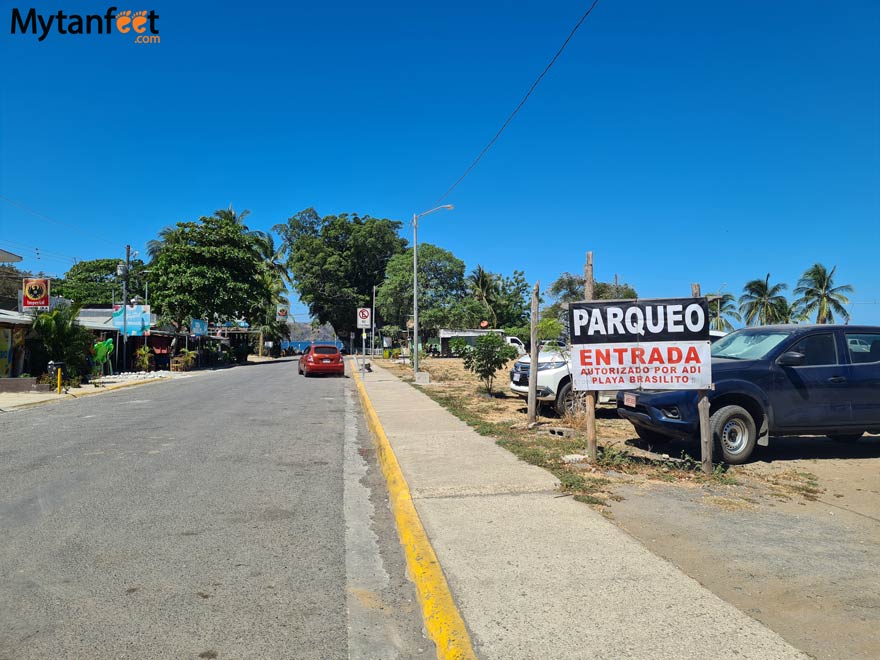 We also saw a lot of cars street parking which is an option if the lot is full or if you don't want to pay the fee.
The Walk Across Brasilito Beach
From this parking lot, facing the ocean, walk to your left down a little road and you'll come onto "Brasilito Beach Front" road (walk towards where the red car is in the picture above).
Once you get to Brasilito beach, just walk to your left all the way down. The road comes to a dead end for cars, just keep walking left.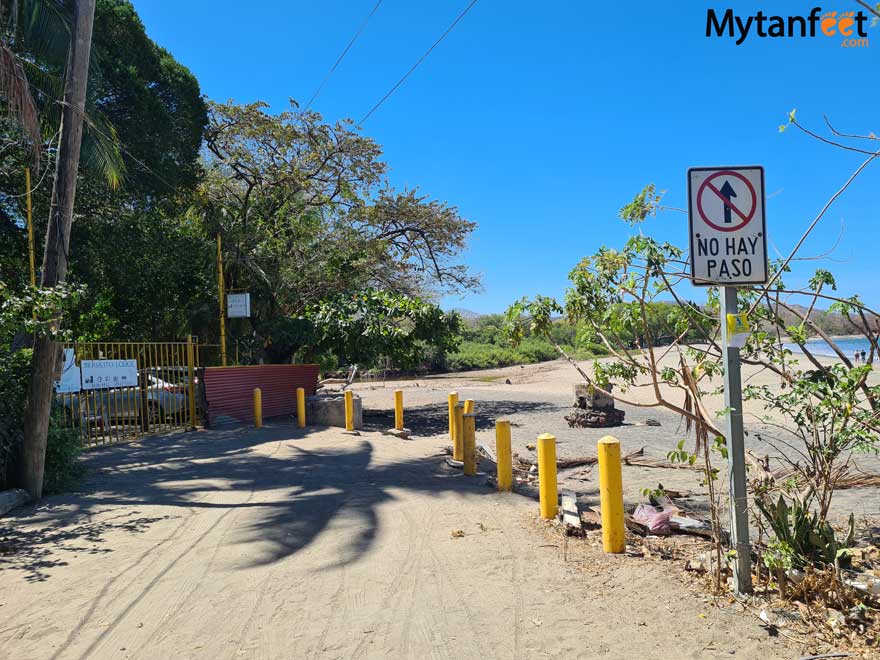 You'll see a bunch of people walking since Conchal is a popular beach. This walk takes approximately 15 minutes and is on dark compact sand.
*Make sure you keep your shoes on for this walk. During the day, the sand gets VERY hot, like holy crap, my feet are burning hot. *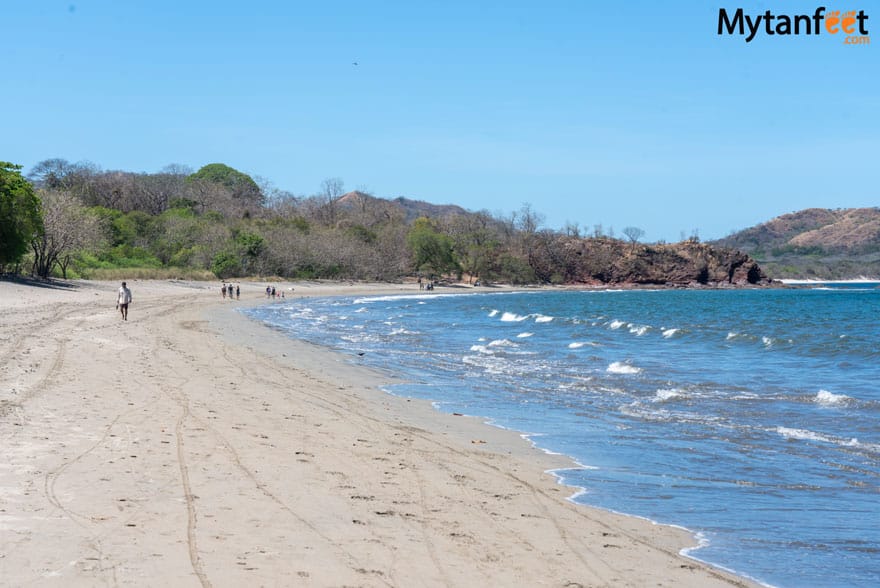 Once you get to the other end, you'll come upon a small hill which on the other side, is Conchal beach. You made it!
An Alternative Option
There is one alternative way to get to Playa Conchal by car. You can drive to Puerto Viejo on Conchal (you can find it on Google Maps) and park directly on the beach. This is the very west side of Conchal beach.
However, if you want to see the white shells, you will need to walk to the other end of Conchal beach (around 25 minutes). The side of Puerto Viejo doesn't really have the white shells or as clear of water since it's closer to the mangrove/estuary. This is why Puerto Viejo is more popular among locals as most tourists go to the side with the shells and clear water since it is much prettier.
A car with high clearance is recommended for Puerto Viejo, especially in rainy season. Please be careful with your valuables if you drive and don't leave anything visible in your car. It is not a secure parking lot. Find out more about Puerto Viejo Guanacaste here.
Conchal Beach
Conchal has constantly been voted as one of the most beautiful beaches in Costa Rica, and even the world. The water is crystal clear and the shore is actually composed of tiny pieces of soft sparkling white shells!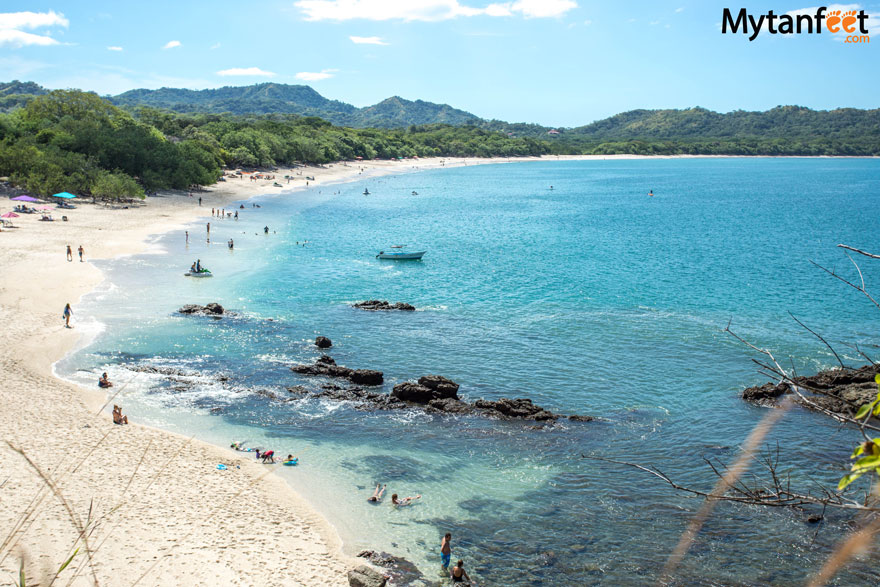 The glimmering colorful shells are a perfect accompaniment to the warm turquoise waters and this is why Conchal is one of the most beloved beaches in Costa Rica. You can't find other beaches like this one and both locals and tourists absolutely love this beach.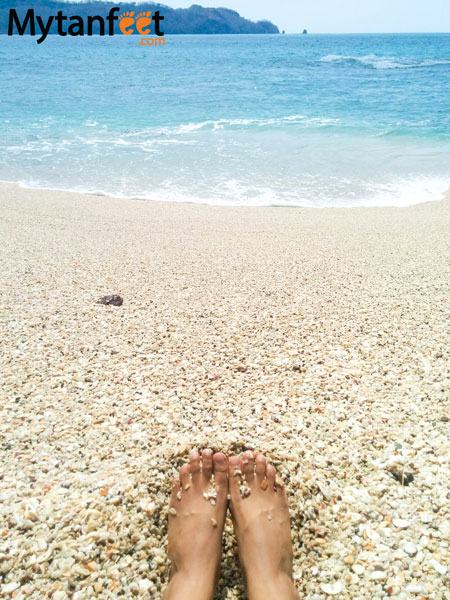 Conchal's waves are not that calm though so be careful if you have little ones. The waves do get pretty strong! We have also even seen a manta ray jump on a girl who was swimming in the water so keep an eye out if swimming.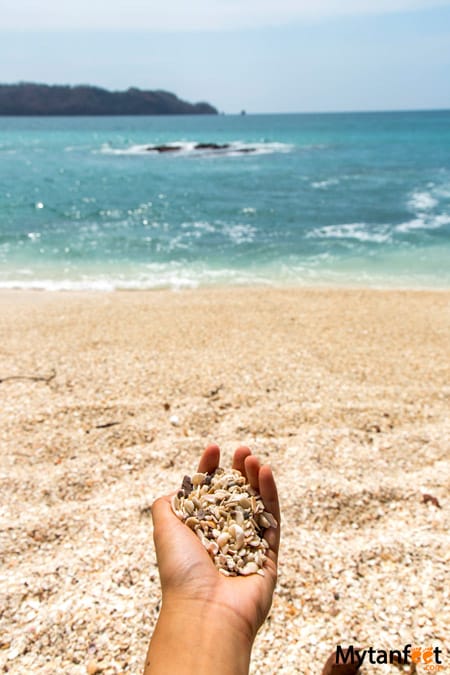 The east end of the beach has a ton of shells as you can see in the photo. The further west (or to the left) you go, the less shells you see. Conchal used to have a lot more shells many years ago but people kept taking them. So please, leave only footprints and take only memories when you visit Conchal!
If you walk towards the west side of the beach, you'll see a small estuary. Reserva Conchal protects the mangroves, estuaries and dry tropical forest.
Best time to visit
You can visit Conchal beach any time of the year. We personally love the shoulder months of May, June and November as it's very green with less people. When we visited in November, we practically had the whole beach to ourselves. It was gorgeous!
Conchal, Costa Rica Weather
Since Conchal is in Guanacaste, one of the hottest and driest provinces in Costa Rica, it is sunny and hot there all year long. It follows the typical tropical dry and rainy season patterns with December – April as the dry season and May – November as the rainy season.
The temperature can get up to the mid 90s F (35 C) in March and April which are the hottest months. The rainiest months are October and November and gets quite humid during those months but with similar temperatures to dry season.
During dry season, the surrounding mountains turn yellow and very dry. In rainy season, it turns a very deep green and it is so beautiful to see the bright turquoise water and glittering white shore surrounded by a lush forest.
Playa Conchal, Costa Rica Hotels
The only hotels actually on Conchal are the W Costa Rica, Reserva Conchal and The Westin Conchal Resort & Spa. The Westin in an all-inclusive resort, the W is not. The Reserva Conchal has houses and apartment rentals.
Here are a couple of other options:
Hotel Brasilito: Boutique hotel right on Playa Brasilito, only a short walk away. Offers oceanfront rooms starting at $79 USD.
Hotel Conchal: 12 room boutique hotel with garden and pool views, also just a short walk away from the beach. Rooms start at $60 USD.
Most people visit Playa Conchal for a day if they are not staying at the resorts.
Things to do at Playa Conchal, Costa Rica
If you want to do any of the activities below by renting equipment from the locals, they said they took credit cards but cash preferred. They charge in USD but you can perfectly pay in CRC. You'll see lots of locals walking around, offering activities.
Renting Chairs and Canopy at Conchal Beach
There are a lot of locals at the beach renting out chairs, snorkel equipment and canopies on Conchal beach. When we visited in March, it cost 10,000 Costa Rican colones (~$18 USD) for canopy, beach chairs, drink service and snorkel equipment for 2 people. This was the price a local guy gave me, calling it the afternoon special since we arrived at 3 PM. All the canopies are right by the rocky part of the beach where you can snorkel and that end of the beach has the most white shells.
It would probably be a little bit more expensive earlier in the day but I thought it wasn't too bad considering snorkel equipment is usually expensive to rent. And the canopy was very big and had 4-5 chairs.
They offered beach service with alcoholic drinks starting at $10.
Snorkeling
The best place to snorkel on Playa Conchal is on the east end right when you get to the beach from Brasilito. This is also where there are the most shells. During low tide, there are tide pools and you can see lots of fish swimming around the rocks.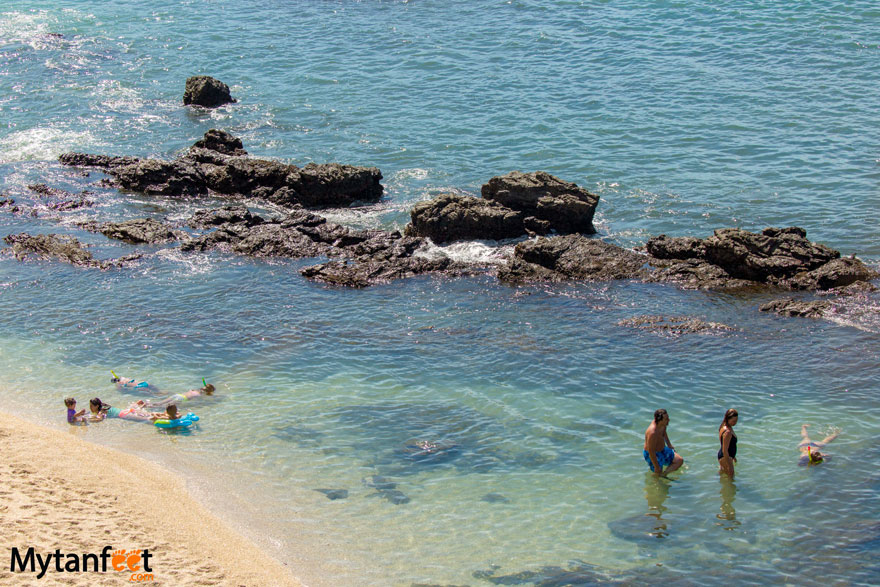 You can rent snorkel gear on the beach for $20 USD (last time I checked) or see how much it would be if you get the chair/canopy combo like I mentioned earlier. You can see some small colorful fish and if you're lucky, you might see a manta ray!
Jet Skiing
You will find a lot of locals on the beach offering jet ski rentals. You can negotiate a price and go on a tour or jet ski on your own.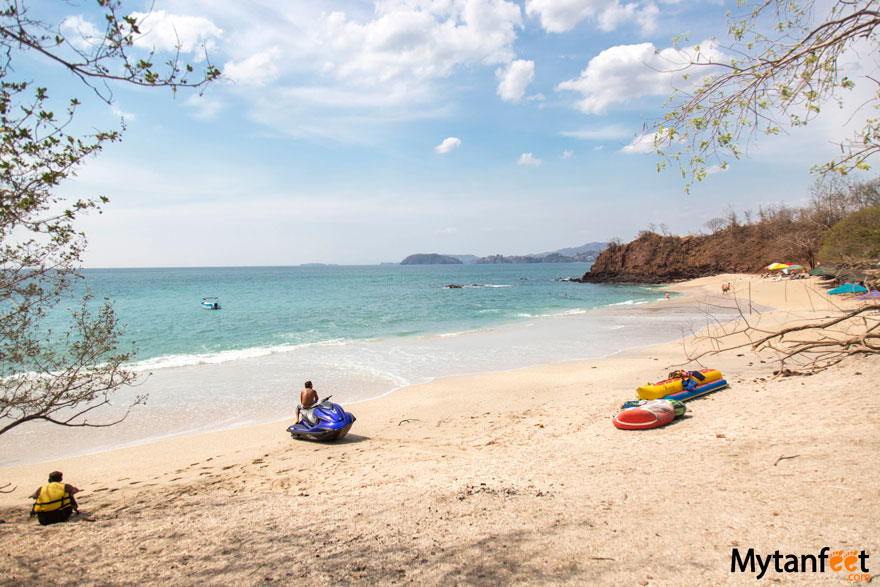 Jet ski rentals are usually expensive but it's really fun.
Massages
We've also gotten massages on the beach before. You'll see quite a few massage stands set up and it's pretty cheap! Last time we went, it was around $35 USD for an hour.
Kayak and SUP
You can also rent kayaks and stand up paddle boards at Conchal beach.
Swimming
You can swim at Conchal beach but waves can get a bit rough. Swimming at Conchal beach is not the best for young children, babies or toddlers. Additionally, Conchal does experience rip tides so always be aware if you go out in the water.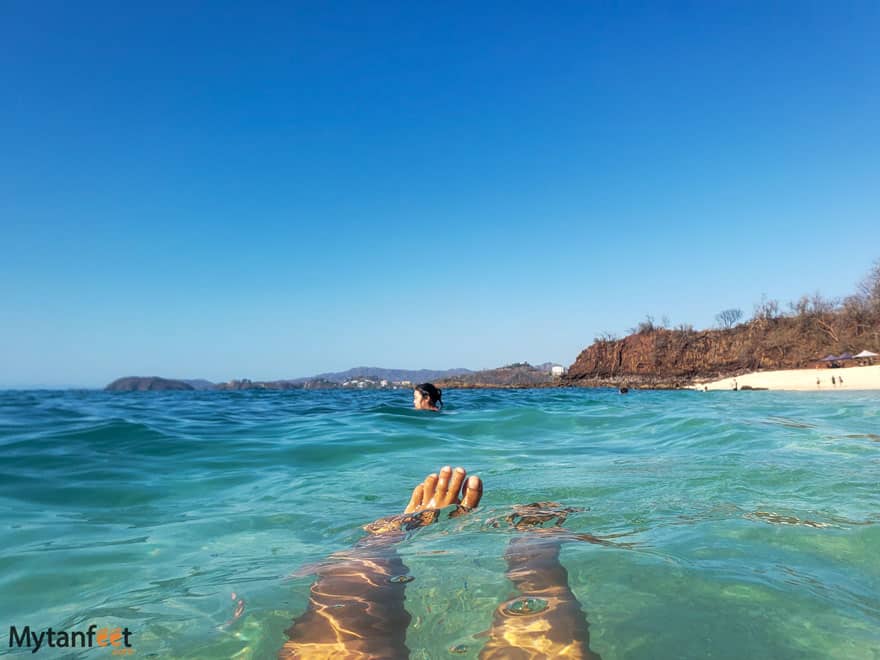 The water is so refreshing and comfortable, especially after the walk on the beach. We couldn't wait to jump in!
Viewpoint
When you arrive at Conchal beach, there is a small hill separating Brasilito and Conchal called Punta Conchal. The entrance is a bit non-discreet so a lot of people just walk right past it. What many people don't know is that if you follow the trail up the small hill, you get stunning views of both Brasilito and Conchal.
It's a narrow trail going through the bushes so be very careful since there are some loose rocks. In dry season, the trail is much easier to see and walk through. You may not be able to walk up there during rainy season as the bush gets very overgrown and the trails may be a bit muddy.
I love this viewpoint as it allows you to soak in all the beauty of Conchal beach.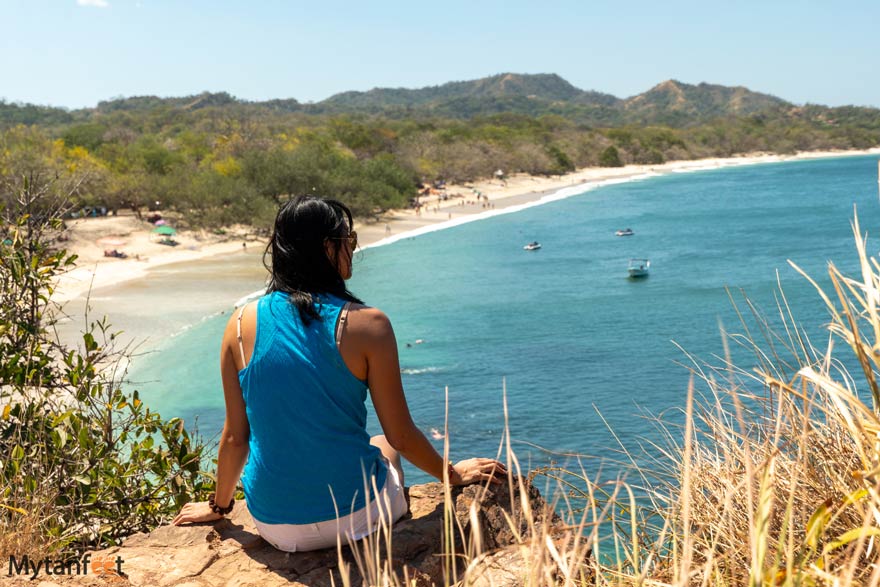 From this viewpoint, you can also see Brasilito beach on the other side.
Best Conchal Day Trips
If you're staying in Brasilito or at the Westin Conchal/W Costa Rica, you are in an excellent location in Guanacaste. There are fun things to do in the area and many day tours available.
Some of our favorite day tours from Conchal are Catalinas Islands scuba diving, Flamingo snorkeling and fishing tours, Diamante Eco Adventure Park, Guachipelin adventure tour, Ostional Wildlife Refuge, boating in Playas del Coco, Rincon de la Vieja National Park, Arenal Volcano and Monteverde day tours, Rio Celeste, Catarata Llanos de Cortes and visiting nearby beaches like Tamarindo, Langosta, Avellenas, Mina, Brasilito, Potrero, Flamingo, Danta and Las Catalinas.
You can read more about things to do in Conchal here.
Want to read about other beaches in Costa Rica? Here you go!
Flamingo: An upscale beach community very close to Conchal, has a large marina, great scuba diving and fishing
Jaco: A booming surfing beach town only 1.5 hours from San Jose. The most developed beach town in Costa Rica
Mal Pais: Small fishing village in Nicoya Peninsula near Santa Teresa
Santa Teresa: The booming surfing town in the Nicoya Peninsula
Playa Cabuyal: A local favorite white sand beach in the Gulf of Papagayo
Playa Prieta: Small local beach near Las Catalinas near Flamingo
This post has affiliate links.