If you're lucky enough to have a full month in Costa Rica, here is an epic one month Costa Rica road trip itinerary. It literally takes you all around the country! You get to experience the best of the Caribbean and Pacific coasts as well as volcanoes, rainforests, beaches and wildlife.
We can help you get the best rate and deal for your car rental too. Click here to get our Costa Rica car rental discount and extra benefits. We also offer monthly rates! Additionally, for any tours, please contact us as we have discounts and partnerships with tour companies in various parts of the country.
Costa Rica Road Trip Route
This route starts and ends from San Jose so you will fly into and out of San Jose International Airport. The destinations in this Costa Rica road trip itinerary are San Jose, Puerto Viejo de Talamanca, Tortuguero, La Fortuna, Monteverde, Playa Hermosa Guanacaste, Samara, Manuel Antonio, Uvita and Drake Bay.
What Type of Car to Rent
As for what type of car to rent, it is best to rent a 4wd or a high clearance car because of Monteverde and Uvita. For 2 people, cars that work are Toyota Rav4, Suzuki Vitara, Mistubishi ASX, Hyundai Venue, Hyundai Tucson or Suzuki Jimny.
If you have a bigger group, the Chevy Trailblazer, and Mitsubishi Montero Sport are 7 passenger 4×4 SUVs that work (best for 4-5 people with minimal luggage).
If you are just 1-3 people, or 4, you can rent a high clearance car that is not necessarily a 4wd or 4×4. An example is the Hyundai venue or Geely Gx3. However, if you are visiting in the rainy season, we do recommend a 4wd with high clearance due to the locations. Many hotels and vacation rentals are up in the mountains so if you want to explore a bit more, a 4wd is highly recommended.
Costa Rica Road Trip Map
The map below has all the destinations, the driving route, hotel and activities recommendations for this one month Costa Rica itinerary. Click the sidebar for more information.
Day 1: Fly into SJO, Travel to Puerto Viejo
Land in San Jose Airport, pick up your car rental and drive to Puerto Viejo, the Caribbean beach town. It's about a 5 hour drive depending on traffic.
Puerto Viejo Hotel Recommendations
Hotel Banana Azul: Adult only beach front resort on Playa Negra
Le Chameleon: Beautiful luxury resort
Cariblue: Very nice, relaxing resort
Day 2 and 3: Puerto Viejo
Puerto Viejo is famous for gorgeous beaches, lush jungles, a chill atmosphere, parties and abundant wildlife. You can visit Cahuita National Park for hiking and snorkeling, see cute animals at Jaguar Rescue Center, take a chocolate tour or simply relax.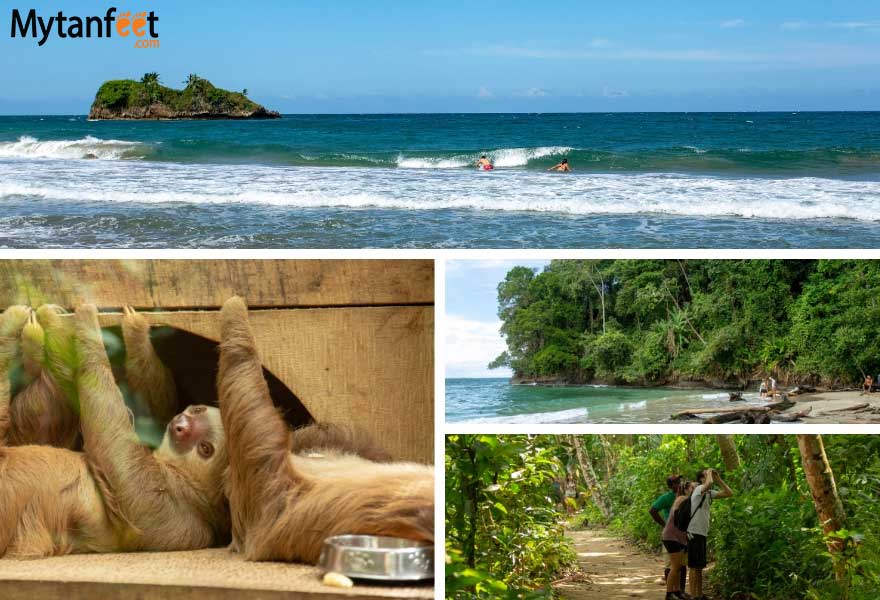 You can read about other things to do in Puerto Viejo here.
Day 4: Tortuguero Overnight from Puerto Viejo
You'll take a one night, two day trip to Tortuguero, the little Amazon of Costa Rica to see the unique rainforest canals and nesting sea turtles.
Day 5: Return to Puerto Viejo
Return to Puerto Viejo and relax the rest of your day. Enjoy your last night before heading off into the rainforest!
Day 6: Travel to La Fortuna
Today is a travel day and the second destination on this one month Costa Rica road trip is La Fortuna. The drive from Puerto Viejo to La Fortuna takes around 5 hours depending on traffic.
We recommend to leave before noon so you can get to La Fortuna before dark. Early is best however, since there is a lot of traffic out of Puerto Viejo during the day.
La Fortuna Hotel Recommendations
Hotel El Secreto: Cute little hotel in La Fortuna town.
Arenal Observatory Lodge – Best lodge for nature lovers. Has the closest view of the volcano and has their own hiking trails, waterfall and hanging bridge.
Nayara Springs: Romantic luxury adult only hotel with bungalows that each have their own private plunge pool.
Los Lagos Hotel: Beautiful hot springs, rooms and property with their own frog sanctuary.
Arenal History Inn: This hotel has 10 bungalows and a great budget – mid range option.
The Springs Resort & Spa: Luxury hotel with their own outdoor center, two separate hot springs sections and beautiful rooms with a stunning volcano view.
Arenal Oasis Ecolodge: Homey lodge with spacious bungalows. They have their own small wildlife refuge where they offer nightwalks and birdwatching tours.
If you're on your honeymoon or want to splurge on a nice hotel, La Fortuna is one of the best places to do so! You can find a handful of luxury, five star hotels.
Day 7, 8 & 9: La Fortuna
La Fortuna is the adventure capital of Costa Rica and the amount of amazing things to do is endless. You can go canyoning, hiking, rafting, ziplining, horseback riding, tubing, ATV'ing, mountain biking and so much more! It also has great hiking and birdwatching.
For day excursions, you can take a day trip to hike Rio Celeste, Children's Eternal Rainforest or around the volcanoes.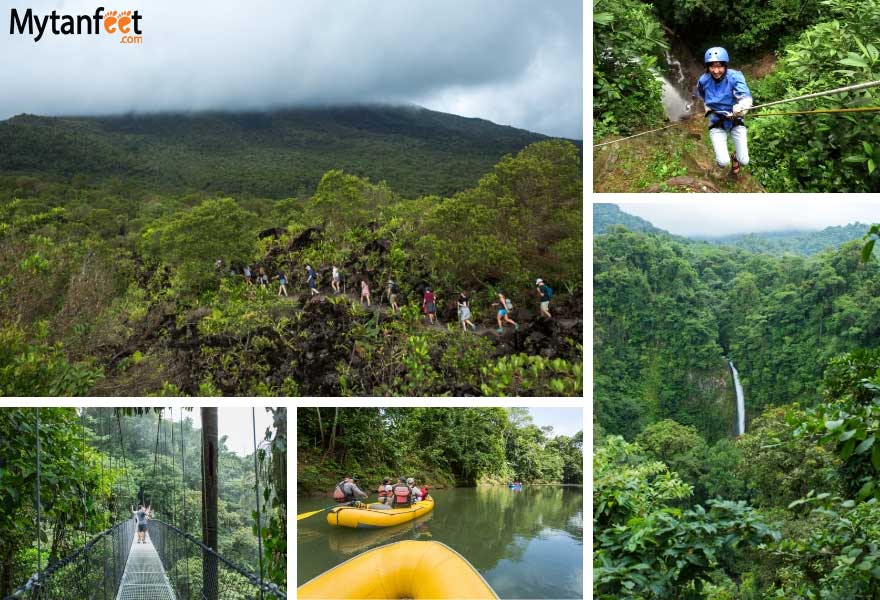 Here are some of our favorite activities:
You can read in this post for more ideas of things to do in La Fortuna and we have a discount for La Fortuna tours.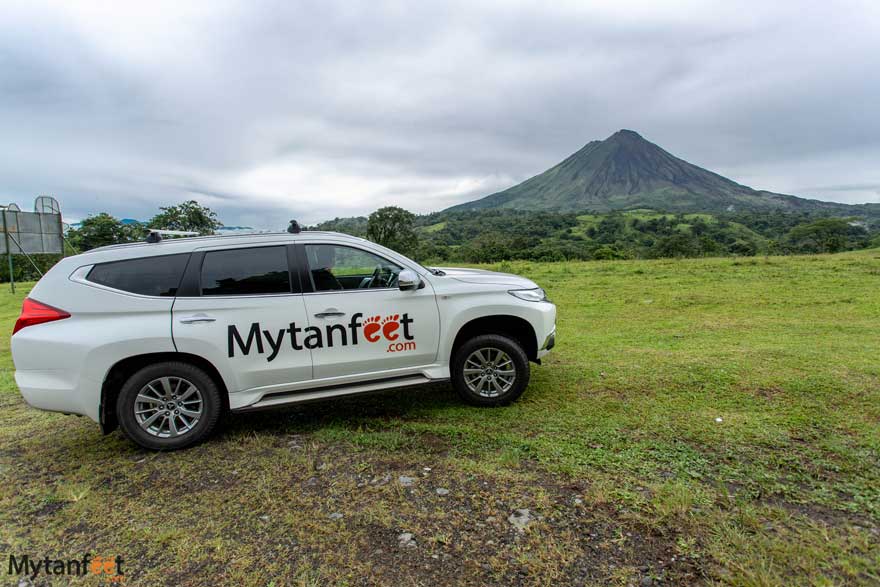 Keep your eyes out because if you're lucky, you may be able to see Arenal Volcano in all its glory!
Day 10: Travel to Monteverde
Today is a travel day to Monteverde. You'll drive around Lake Arenal and go around to the other end to Monteverde. This route has some gorgeous views so leave early, go slow and enjoy the bumpy drive! If you leave early in the morning, you can make a quick stop at Los Vientos waterfalls.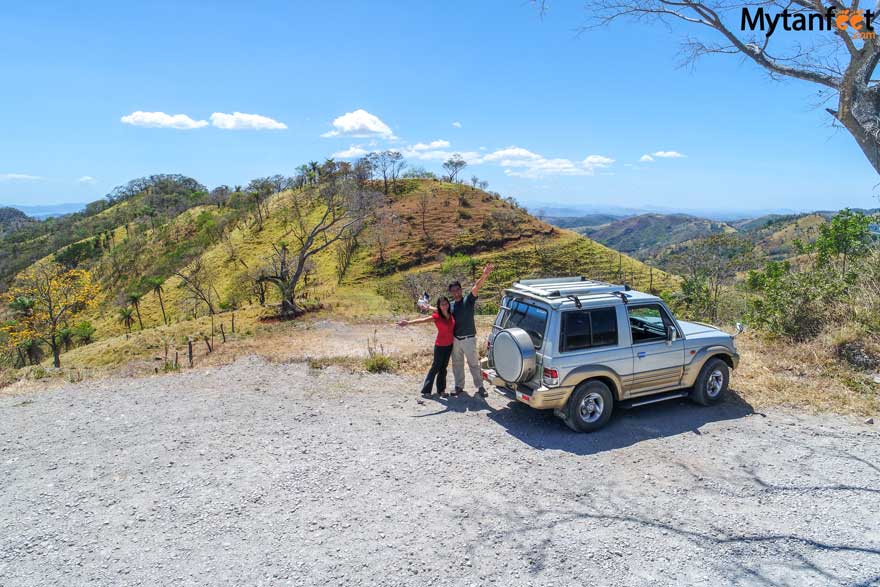 Monteverde Hotel Recommendations
El Establo Hotel: Very big property with pools, restaurants and their own trails. Rooms are separated out by sections, get a room at the very top for the best views.
Hotel Poco a Poco: City style hotel for those who want high speed Internet, a pool and air conditioning.
Hotel Belmar: luxury hotel with gorgeous views of the mountains. Beautiful wood rooms, very quiet.
Monteverde Country Lodge. We stayed at the Country Lodge and really enjoyed it. The restaurant is excellent.
Day 11: Monteverde
Monteverde is famous for the cloud forests, birdwatching and ziplining. Since you only have one day in Monteverde, head to the adventure parks for a full day of ziplining and hanging bridges. Selvatura Park, Sky Adventures Monteverde, 100% Aventura are some of the best.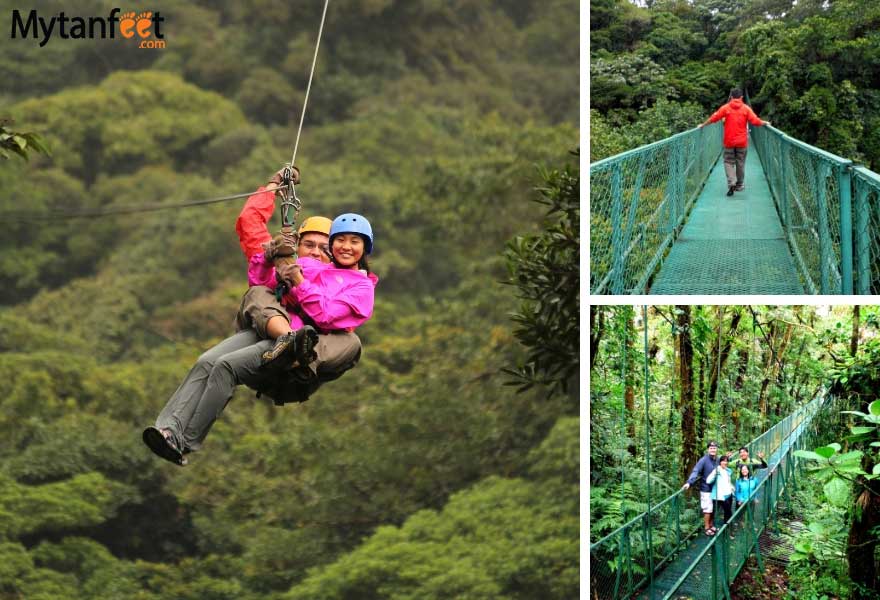 If you're more into hiking and nature, you can take a guided tour of Santa Elena Cloud Forest, Monteverde Cloud Forest or Curi-Cancha Reserve. For birders, Curi-Cancha is a must as it's an excellent place to spot Resplendant Quetzals!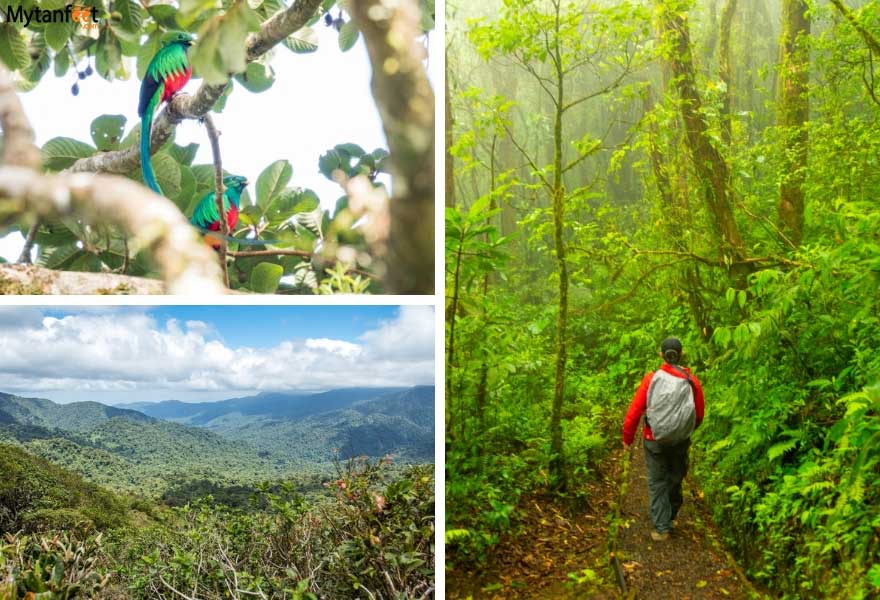 We recommend to do a guided tour of Curi Cancha in the morning and go ziplining and walk the hanging bridges in the afternoon. Perfect way to experience the absolute best of Monteverde!
Day 12: Travel to Playa Hermosa
The fourth stop on this Costa Rica road trip is Playa Hermosa, Guanacaste and the next week is all about relaxing at the beach. This drive is around 3.5 hours via Route 145 (Las Juntas) from Monteverde.
Playa Hermosa hotels
Day 13 and 14: Playa Hermosa
Playa Hermosa is a very beautiful, quiet beach in the Gulf of Papagayo. There's not much going on which makes it perfect for relaxing.
A must do thing in Hermosa is to take a boating tour in Gulf of Papagayo as Hermosa is a dark sand beach and doesn't have good snorkeling. If you take a boating tour, you'll find gorgeous boat access only white sand beaches and crystal clear turquoise waters in the Gulf!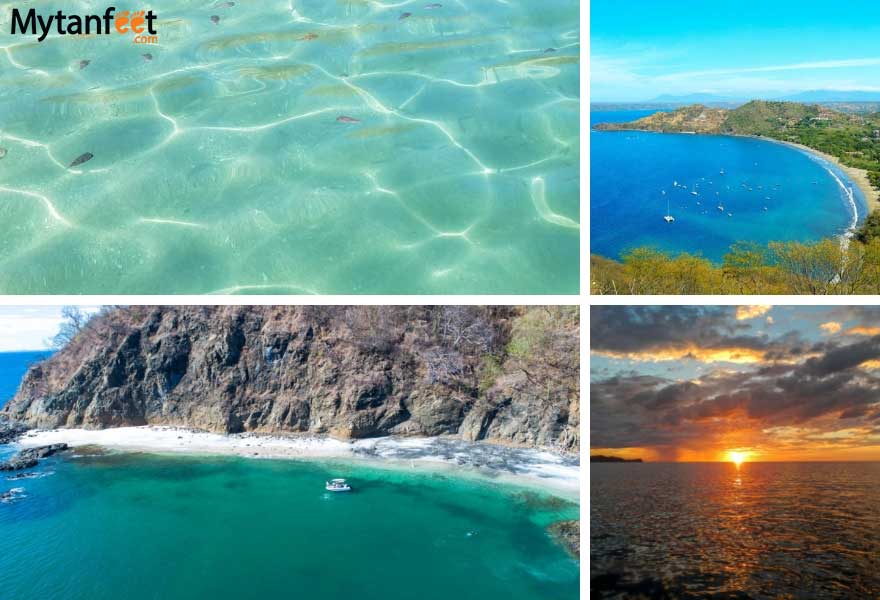 You can also go into Playas del Coco one night for souvenir shopping, nightlife and to check out the town because Hermosa is pretty low key.
Day 15: Travel to Samara
Now it's onto a beach town further south in Guanacaste, Samara. This is a small but lively and family friendly coastal village with beautiful beaches.
Samara Hotels:
Day 16, 17 & 18: Samara
Samara is an excellent beach town for all tourists, especially families. There are lots of restaurants, hotels and activities and it has a very family friendly atmosphere.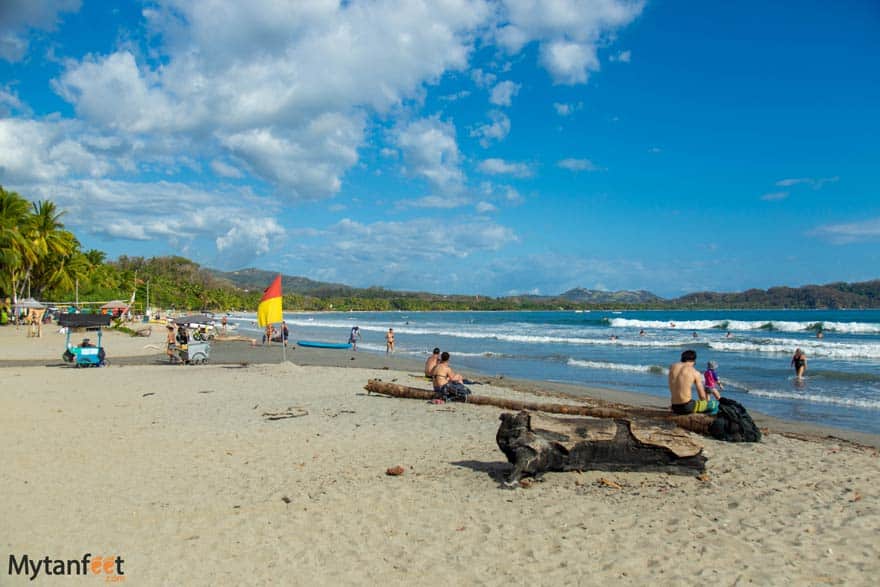 You can take a surf lesson, visit Puerto Carrillo beach, go for a guided walk at Camaronal Wildlife Refuge, go horseback riding, kayak to Isla Chorro and go snorkeling or hop in your 4×4 and visit Barrigona beach.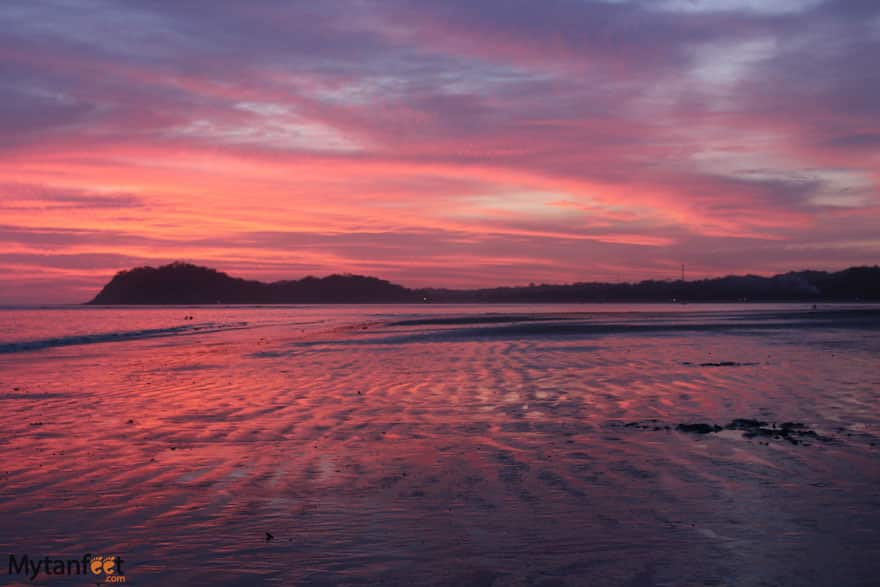 If anything, you have to watch the sunset on the beach. Samara has some of the most beautiful sunsets in Costa Rica!
Day 19: Ferry and Travel to Manuel Antonio
After the past week in Guanacaste, it's time to head down the Central and South Pacific coast in the Puntarenas province. Today is a long travel day so bring lots of water and snacks.
You'll drive around the Nicoya Peninsula to take the Naranjo ferry to Puntarenas and then drive to Manuel Antonio. The ferry is about 1 hour and the drive from Puntarenas to Manuel Antonio is about 2.5. I recommend to take the morning ferry so you can drive to Manuel Antonio in daylight.
The ferry has beautiful views of the Nicoya Peninsula and if you're lucky, you may see some whales or dolphins!
Manuel Antonio Hotels
Manuel Antonio is another great destination to splurge on a nice hotel. You can find a handful of luxury resorts, all with ocean views!
Day 20 & 21: Manuel Antonio
Manuel Antonio has gorgeous beaches, lush jungles and a national park that was named as one of the most beautiful parks in the world. Take one full day to hike Manuel Antonio national park to see monkeys and sloths. For your second day, you can relax at your hotel, go parasailing, go souvenir shopping or hang out at the beach.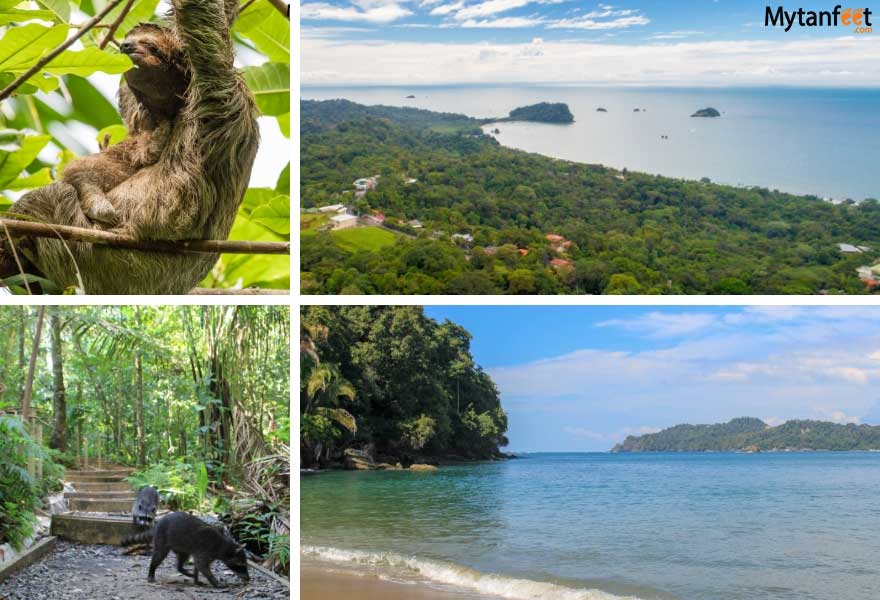 You can read about other things to do in Manuel Antonio here.
Day 22: Travel to Uvita
For the next stop on your Costa Rica road trip, you'll head down to Uvita, the small beach town in the Costa Ballena. It's a short trip thankfully, only about a 1 hour drive.
Uvita Hotels
Manoas (get 10% off!): Has 4 fully furnished glamping tents, two villas, a pool and their own access to rivers that you can swim in.
Hotel Cuna del Angel: Hotel off the highway with beautiful gardens, pool and spacious rooms.
Flutteryby House: Excellent option right in town.
Hotel Los Laureles: Nice family owned property. They have cabins and their own rainforest trails.
Day 23, 24 & 25: Uvita
Uvita has the perfect mix of pristine jungle and beach. You can spend one day at Marino Ballena National Park, another day on a waterfall tour and another day snorkeling at Caño Island.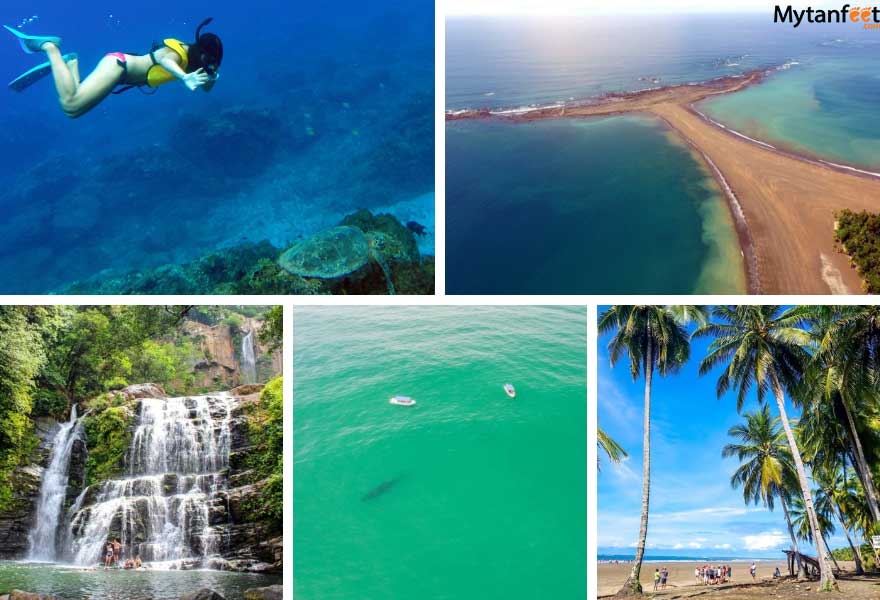 If you visit during January – April or July – November, you have a good chance of seeing humpback whales so you should definitely take a humpback whale watching tour. Best times are August and September.
You can read about more things to do in Uvita here.
Day 26: Take Boat from Sierpe to Drake Bay
On your last stop for your Costa Rica road trip, you're actually going to return your rental car! Since you'll be going to Drake Bay via boat and then flying back to San Jose, you'll return your car rental at the Sierpe dock.
The drive from Uvita to Sierpe is around 1 hour and the boat ride is around 45 minutes to 1 hour. The boat ride is fantastic with wonderful views. It will drop you off at your hotel in Drake Bay. You can read our guide on taking the boat from Sierpe to Drake Bay here.
Drake Bay Hotels
Tranquilo Lodge: Beautiful small hotel up in the hills with ocean view. Modern and luxury cabins.
Copa del Arbol: Amazing exo-luxury hotel with a very big property and steps from the beach.
Drake Bay Backpackers: Nice hostel in town with nature trails and lounge room.
Day 27, 28 & 29: Drake Bay
Drake Bay is in the Osa Peninsula, one of the most biologically diverse places in the world. It's known as the "last frontier" of Costa Rica for its remoteness and wildness. Spend your last few days in Costa Rica getting your fill of nature and wildlife in Drake Bay.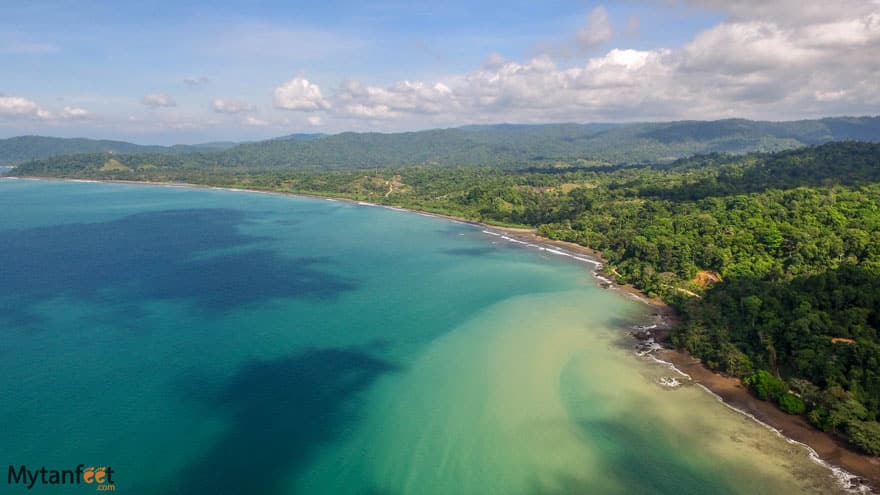 You can go fishing, hike Corcovado National Park, go scuba diving or just relax and soak up all the jungles and sunsets before you go home.
Day 30: Fly to SJO Airport, Fly Home
Today you'll take a local flight from Drake Bay to San Jose and then fly out of San Jose Airport to go back home. Make sure to keep your camera out because the views on the local flight are spectacular!
Adapting the Itinerary to a Two Week Costa Rica Road Trip
You can perfectly adapt this itinerary to a two week Costa Rica road trip.
A sample Costa Rica two week road trip itinerary is San Jose – Puerto Viejo – La Fortuna – Monteverde – San Jose. Another one is San Jose – La Fortuna – Jaco/Manuel Antonio/Uvita, San Jose. If you want to keep Drake Bay, you can do San Jose – La Fortuna – Monteverde – Manuel Antonio – Drake Bay.
We have written a two week Costa Rica road trip itinerary you can read here.
Ten Day Costa Rica Road Trip
We have also written a ten day Costa Rica road trip itinerary and one week Costa Rica itinerary for those who are shorter on time. For more ideas, check out our Costa Rica itinerary page. We hope this Costa Rica road trip planner helps you create the perfect vacation!
This post has affiliate links.