Costa Rica is commonly stated as one of the safest countries to travel to. However, there are some things to keep in mind so in this post, we will answer your question Is Costa Rica safe?
Costa Rica and COVID-19
First, you may be wondering if Costa Rica is open for travel. The answer is yes. Costa Rica opened their borders to all countries in the world in November 2020. They closed their borders due to the COVID-19 pandemic for several months but now in 2021, Costa Rica is completely open to all countries.
Please read our Costa Rica COVID-19 post for entry requirements and restrictions. You can also read our Costa Rica coronavirus post for the latest statistics.
Is Costa Rica Safe for Tourists?
Yes, Costa Rica is a safe country to visit. Costa Rica is safe for families, solo travelers, couples and all types of tourists. Since the country greatly depends on tourism for its economy, Costa Rica has taken many steps to ensure the safety of their tourists.
The most common crime in Costa Rica against tourists is petty theft. Despite low crime rates against tourists, you cannot let your guard down when traveling in Costa Rica, you must use your common sense at all times.
Interesting fact: Costa Rica does not have an army. They abolished their army back in 1948 after a civil war and since then, it has relied on local police and their judicial investigation police force to keep the country safe.
Costa Rican Police
Costa Rica has a standard police force, a special task force called OIJ and another one called GAO. The OIJ, or Judicial Investigation Police is the main police force tasked with crimes in public action. If you have to report a crime, you will file it with them.
Pro tip: 911 works in Costa Rica and they have an English speaking line.
How are the Police in Costa Rica With Tourists?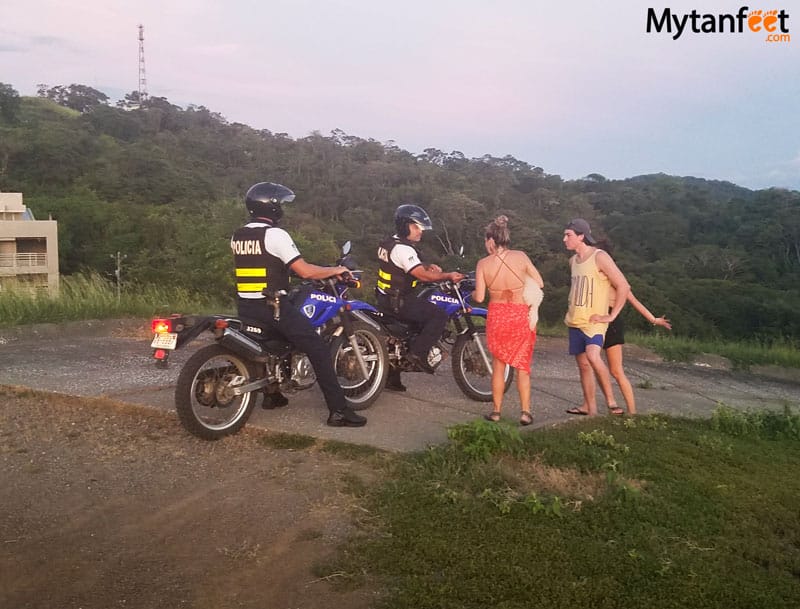 The Costa Rican police force is generally very nice to foreigners.
You don't have to be worried about them shooting you for no reason or immediately suspecting you for doing something illegal if they come up to you.
The Costa Rican police force do a great job upholding the positive reputation of Costa Ricans being friendly people. Most of the time they will come up to you to see if everything is OK or if you have any questions unless they are specifically looking for something.
In the picture above, the Costa Rican police was checking in with the tourists. They handed them safety pamphlets and left.
Here Are Our Costa Rica Safety Tips
Never Leave Your Belongings Unattended
If you are at a restaurant, never leave your purse or backpack hanging on the back of your chair, under your chair or anywhere where you can't see it. Always put it on your lap or somewhere you can see it at all times.
Don't leave your valuables unattended on the beach, at the river or anywhere. Anyone can easily steal it in two seconds even if you're looking at it just 20 feet away.
Always Roll Up Windows and Lock Your Doors Of Your Rental Car
This seems like common sense but we have seen many tourists leave windows open and their backpack in the backseat. NEVER do this, it is so easy for thieves to reach in through the open window and grab whatever they can.
Additionally, never leave anything visible in your car and don't leave valuables in your car. If you have to leave something, never leave it visible in the car. Thieves see a purse or backpack in the backseat or passenger seat and that's all it takes for them to decide to break into your car and not the one next to you.
For more Costa Rica car rental tips, check out the link and also get our car rental discount with no hidden taxes, charges or last minute fees!
Never Leave Your Passport or Any Valuables Hanging Outside Your Backpack
We have seen tourists put their passport on the outside pocket of their backpack, just hanging out there. Do not ever leave valuable items like this hanging outside your backpack!
This also goes for your expensive DSLR camera. When you're not using it, put it away. Don't leave it hanging out. This is especially important in San Jose, the capital city and the touristic beach towns.
Make ATM Withdrawals During the Day
If you have to take out cash, use the ATM during the day and always put the cash away in a safe place before you go outside.
Additionally, never pull out all your cash when paying for things. Take out only the cash you need. Never bring all the cash you have with around either, just bring a bit.
Read more about handling money in Costa Rica here.
Never Walk or Park in Isolated Dark Streets
If you're trying to find parking, never park in dark empty streets. Don't walk down those either, find a well lit street with other people.
If you get lost, go to a safe place like a business, gas station or restaurant and ask for help there. If you can find the police station, that will be the best option.
Don't Walk on the Beach in the Dark
The sun rises around 6 AM and sets around 6 PM every day in Costa Rica. Don't walk on the beach before sunrise and after sunset when it is dark, especially alone.
Get a Costa Rican prepaid SIM Card
Having a prepaid SIM card gives you a Costa Rican phone number so you can make phone calls in case of emergency. The SIM card is cheap and super useful in case you get lost and need to call your hotel or whoever.
If You're in the City, Wear Proper City Attire
Don't wear your beach clothes in the city. Wear good shoes (sidewalks and roads have lots of holes), don't wear just your bikini and booty shorts or just board shorts around in the city.
Stay Alert on Public Transportation
When you are getting off the bus, be alert. There have been some thieves who take advantage of sleepy passengers and snatch their items when they're getting off the bus.
Additionally, if you are waiting at the bus stop and someone offers to watch your stuff, say no. Never give your belongings to someone else, never take your eyes off your things and never ask anyone to watch your stuff. If you have to use the bathroom or get food, take all your belongings with you.
Read more tips on taking the bus in Costa Rica here.
Take a Taxi When Going Out After Dark and Make Them Turn on the Meter
Especially in San Jose, Puerto Viejo, Quepos, Tamarindo, Jaco and Manuel Antonio. Where available, take Uber as it exists in some of those places.
And take only official taxis. These are red vehicles with their province code and number on the door. Pay in colones and tell the driver to use the meter.
If the driver tries to tell you that the bus station is gone, your hotel has burned down, your bus no longer exists or restaurant you want to go to isn't there anymore, ignore him. Most likely, they are trying to convince you to take their taxi to your next destination and they will charge you a stupid amount of money for it.
This is one of the tourist scams to watch out for.
Be Very Alert in San Jose
Especially in downtown San Jose. The capital city tends to experience the most crime and that does include crimes against tourists. Watch out for pickpockets in crowded areas.
Leave Expensive Jewelry and Unnecessary Credit Cards at Home
You won't really want to be wearing it anyways as you're hiking through the rainforest or swimming at the beach. Leave all pieces of expensive jewelry at home to prevent any chances of theft and also any chances of losing it.
As for credit cards, only bring the ones you plan to use. And make sure you call your credit card company to let them know you will be out of the country.
When Paying with Credit Card, Don't Leave it Out Of Your Sight
If you're paying with credit card at a restaurant, gas station, supermarket or wherever, don't let it leave your sight. Watch the cashier charge it and check your receipt before leaving to make sure they charged you correctly.
Avoiding Scams in Costa Rica
Unfortunately there are also scams in Costa Rica. You can read about the common tourist scams in Costa Rica and how you can avoid them with our tips from a local.
What to Do in Case of Emergency
Lost/stolen passport
You must immediately report your lost/stolen passport to your country's embassy or consulate. Then you have to report it to the OIJ and file a report. Your embassy will give you a temporary replacement passport. You do need to travel to your embassy or consulate which are all located in San Jose.
Car accident/break down
If you get into a car accident, the law has changed if you can move your car. You can move your vehicle if there is an agreement between both parties (or vehicle and object) and if no person was injured, one of the drivers accept responsibility or it is necessary to move for traffic.
You must also immediately report the incident or accident to your car rental agency as soon as it happens. If you don't, you can be subject to additional fines or not be covered by insurance. In case of injuries or death, call 911 immediately.
Theft
Report it to the OIJ/Costa Rican police. Unfortunately and very unfortunately, you can report the theft but belongings are seldom returned. If you plan to bring expensive camera equipment, we highly recommend to get travel insurance to cover it in case of theft.
Health Emergency
Call 911 and wait for the ambulance if needed.
If you are taking any medications, bring a list of the active ingredients. Also bring a copy of your prescription if you are taking opioids. Write down if you have any medicine allergies.
If you have a condition where you may need urgent care, take note of the closest hospitals and clinics to your locations. Always have a a paper with the conditions you have listed on there as well as medications and allergies.
Costa Rica has universal healthcare so public hospitals have to by law treat anyone. Additionally, the services and medications are not terribly expensive. If you go to a private clinic, keep the paperwork so you know how much everything cost for your insurance.
Other Questions
Is Tap Water Safe to Drink in Costa Rica?
Yes, in most places in Costa Rica the tap water is safe to drink, such as Monteverde, San Jose, Heredia, Alajuela and Cartago. However, we do not recommend to drink the tap water in rural areas such as Osa Peninsula, Sarapiqui, Tortuguero and some coastal destinations.
You don't necessarily need to buy bottled water all the time. You can bring a water sterilizer and your own insulated water bottle to help cut down on plastic use. Some hotels offer bottled water which you can use to refill your reusable water bottle.
Read more about drinking tap water in Costa Rica in this post.
Is Costa Rica Safe for Solo Travelers (Female)?
Yes. Costa Rica is safe for solo female travelers! I and several of my friends have traveled to Costa Rica on our own. However, you do need to plan your trip out so don't visit blindly with no research or preparation.
Book hotels/hostels in popular places, get a SIM card, leave your travel plans with a friend or family member back home and join the Facebook travel groups to meet up with other travelers. Plan your transportation beforehand.
Is Costa Rica Safe for Families?
Yes! Costa Rica is one of the best countries for families to visit. Costa Rica has a very family oriented culture so you will find plenty of family hotels and kid friendly activities. This is for families of all ages from babies to seniors.
Check out our Costa Rica family itineraries and best things to do with kids in Costa Rica post for more information.
Is it Safe to Eat Street Food in Costa Rica?
Costa Rica doesn't have too much street food but you may see some locals selling meat kebobs on the street. We don't highly recommend eating those because you have no idea how long that meat has been sitting out there under the sun and taking it all the gas, dirt, sand and car fumes.
We don't have a problem with cold coconuts or shaved ice (copos or churchhills) but if it looks dirty or see the vendor without good hygiene or clean equipment, don't get it.
You may also see some locals selling food out of the trunk of their car or carrying around a cooler selling ceviche or snacks. They are very common for locals and you can try it if you wish. But again, if you see the vendor without good hygiene practices or using dirty equipment, don't get it.
Basically, if it looks dirty or unclean, don't get it.
If you visit a local farmer's market (or feria in Spanish), we definitely recommend trying the produce and snacks. Wash your produce well before eating or cooking it.
We also highly recommend to visit a local Costa Rican restaurant, called soda. It's a fun local experience and you can try traditional Costa Rican food. If you have severe food allergies, please click the link so you know what to expect when eating at a soda with allergies or diet restrictions.
Is it Safe to Drive in Costa Rica?
Yes! Thousands and thousands of tourists rent a car in Costa Rica and drive for their entire vacation. You do need to do your research about Costa Rica car rentals (click our link above for our tips to have the best car rental experience in Costa Rica) and comparison shop so you know what to expect.
As for driving, Costa Rica does have paved roads and highways but the driving culture is very different. You do also need to find out if you require a 4wd/4×4. Learn more about driving in Costa Rica in our guide.
Save $$ and get our extra freebies with our Costa Rica car rental discount here!
More Costa Rica travel tips here!
Guide to finding accommodation in Costa Rica