If you are traveling to Costa Rica, you might hear people telling you things like:
Are you sure you want to go? Is Costa Rica safe? I heard Costa Rica is a dangerous country!

Well, the truth is that Costa Rica is just like any other country in the world but when it comes down it, Costa Rica is actually quite safe. Since tourism is very important, the country works hard to keep a safe and comfortable environment for their visitors. Costa Rica doesn't even have an army and it is a favorite destination for solo travelers and families.
However, there are some things we can do as a traveler to stay safe and prevent anything bad from happening. Common sense is the most important thing but use our safety tips for traveling in Costa Rica to have a fun and stress free trip!
Pro tip: 911 works in Costa Rica and they have an English speaking line.
Safety tips for Traveling in Costa Rica
Costa Rican Police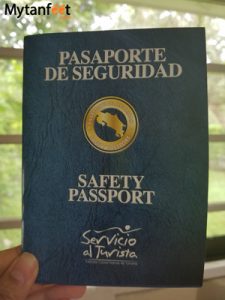 Costa Rica has a standard police force and a sector of the police specifically for tourists, called the tourist police. They speak English and are there to help you. You will see them handing out these safety tip pamphlets during the high season in the tourist destinations.
OIJ
The OIJ, or Judicial Investigation Police is the main police force tasked with crimes in public action. If you have to report a crime, you will file it with them.
Police Interaction with Foreigners
The Costa Rican police force is generally very nice to foreigners. You don't have to be worried about them shooting you for no reason or immediately suspecting you for doing something illegal.
Don't be nervous to talk to them since it is their job to help. They do a great job upholding the positive reputation of Costa Ricans being friendly people.
Additionally, don't get scared if you see police officers coming up to you. If they are the tourist police, they are most likely coming to hand out safety pamphlets and check if everything is OK. This is particularly common during busy times such as Christmas, New Years and Easter.
When we were watching the sunset up in the hill of Tamarindo, the police came to give us the pamphlets.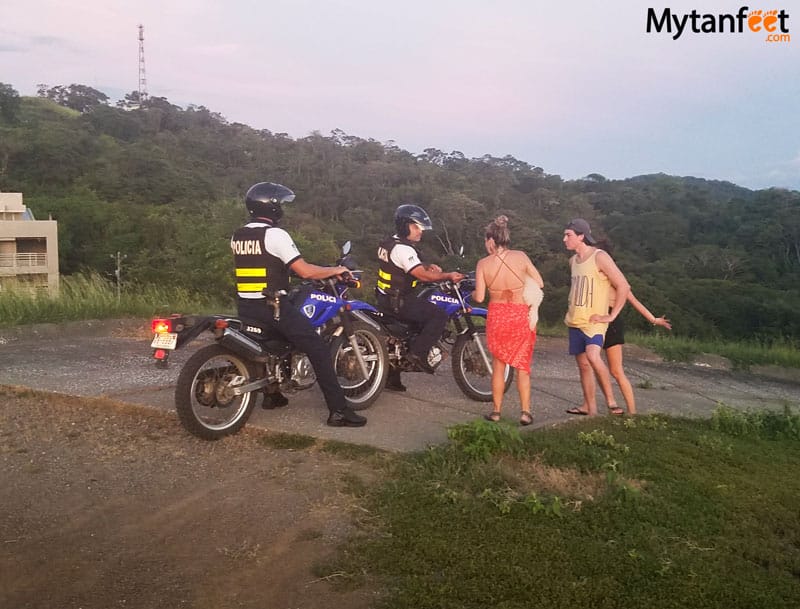 They also took a picture of the sunset, asked us how we were doing and then left.
Here are our safety tips for traveling in Costa Rica.
Before Leaving Home
Leave contact information and travel plans to a family member or close friends.
Bring color copies of your passport.
Leave expensive jewelry at home.
Leave unnecessary credit cards at home.
Research and take note of your embassy information.
Inform your credit card company you will be traveling abroad so they don't block your card.
Download some useful Costa Rica apps.
Get travel insurance. You can read more about getting Costa Rica travel insurance in this post.
In the City
Keep your camera in your backpack when sightseeing, only take it out when using it.
Don't wear flashy jewelry or clothes that can draw attention.
If using a backpack, it is better to wear it in front of you than behind you.
Check yourself if someone pushes you or bumps into you on accident to make sure all your belongings are there.
If you feel like you're being followed, go to a public establishment immediately or find the nearest police officer.
Don't wander around San Jose after dark. Always take a taxi or Uber to get around if you will be going out.
Ask your hotel what the safest route is and which areas to avoid.
If You're Renting a Car and Driving
Make sure the person picking you up at the airport is the representative of the car rental agency you booked with. If you can't find them, find an airport officer. Read more Costa Rica car rental tips here.
When doing the check of the car at the car rental office, make sure to note every scratch or mark.
Check your car rental has the safety equipment.
You must have your original passport with you when you're driving.
Never leave valuables visible in the car and never leave your car full of belongings unattended.
Always roll up windows and lock the doors.
Use public parking areas. Never park your car in an obscure or dark street.
The "parking guards" are not responsible for car thefts or break ins, even if they say they will watch your car for you. Don't trust them to prevent any break ins.
Always wear your seat belt.
Don't pick up hitchhikers.
If someone motions you to pull over, don't. Drive to the nearest gas station or commercial center first, then check. If something is wrong, call your car rental agency.
If you are stopped by a police officer who is trying to bribe you, you can report them to the car rental company or 911. This is illegal.
If you get a flat tire, pull over to a safe place, change the tire and then drive to the nearest office of your rental agency to get a replacement. You can also go to a gas station or mechanic to ask someone to help you change it. Flat tires are not covered by insurance.
If You're Taking the Bus
When waiting for the bus, never ask someone to watch your belongings and leave. Always have your belongings with you at all times.
When getting off the bus, make sure all your belongings are with you and hold onto them tight. Bags have been snatched from tired passengers.
Keep the luggage ticket the bus driver gives you. Don't lose it.
If your luggage does get stolen, write down the license plate of the bus and name of the company (and driver if you can get it). Call 911.
Be wary if someone is too nice or chatty. It may be a way to distract you to steal your stuff.
If you put your backpack in the overhead bin, check on it every so often and don't leave valuable items in there. Keep the valuables with you.
Booking Tours

Book with certified tour operators
Ask for the cancellation policy and written confirmation when booking tours.
Be wary of people selling tours on the street or beach, even if it's cheaper. They may not be certified, therefore they won't have insurance. You won't be covered in case of an accident.
If you feel the tour company you booked with were irresponsible or unsafe, you can report them to 50622995811.
When Staying at a Hotel
If you are a victim of a crime at your hotel, report it to 911 and file a report to the OIJ.
Use the safety box.
Ask for a confirmation and receipt from your hotel.
Always lock your hotel doors and windows.
Don't give hotel information to strangers.
If you see other guests bringing outsiders in, consult the front desk as many hotels do not permit non hotel guests.
When Staying at a Vacation Rental
If using a service like VRBO or Airbnb, make sure you note the cancellation policies.
Communicate with your host to set up the check in and check out times and procedure.
Get a local phone so you can call and contact your host without worrying about getting Wi-Fi.
When At a Restaurant
Note if the prices on the menu include tax and service fee (they are supposed to but sometimes they add it later).
Check your receipt and make sure the charges were correct.
Never sling or hang your bag on the back of your chair or put it underneath. Always have it somewhere where you can see it.
When Getting Gas
All gas stations in Costa Rica are auto service. If paying by credit of debit card, get out to keep an eye on your credit card.
Verify the amount they charged is the amount on the meter.
If using USD, make sure they give you the correct exchange rate as they will give you your change back in Costa Rican colones. They should have a sign posted as to what rate they are using so calculate how much the correct amount is. If they use 500 to 1, you will lose out! It should be around 570 to 1.
Activities
Surfing
Check with locals what the conditions are like before going out to keep updated with current conditions.
Never surf by yourself or surf places that are beyond your skill level.
Always use a leash.
If you are a beginner or first timer, take a lesson. Accidents easily happen when people rent a board and go surfing themselves, thinking it will be easy.
At some beaches, there may be crocodiles. Ask the locals and stay close to where other people are surfing.
Horseback riding
Wear long pants.
Book with certified companies. Although there are a lot of locals who rent out their horses on the beach but most of them do not have insurance, safety measures or the right certification and you don't know how they take care of the horse.
Always wear a helmet.
The operator must supply an experienced guide.
If it's your first time riding a horse, go with a certified company who gives helmets and guides. They will make sure everything is correct in a safe environment.
Don't freak out – this will only freak out the horse too!
Swimming
Before you go in the ocean, ask about the current wave condition and see if there is a warning for rip tide. Tourists have drowned from rip tides in the Central and South Pacific.
Don't bring any valuables to the beach or leave them unattended. It is common for thieves to steal items that are left unattended and will watch tourists to see who does.
If you can't swim, don't.
Never swim alone.
Look out for flags warning for rip tides or crocodiles.
In case of riptides, follow these instructions: Stay calm, swim perpendicular to the current or parallel to the beach, float and wait for the current to subside if you cannot. If you can't get to the beach, wave your arms and shout to get attention.
Ziplining
Never loosen, play with or touch your gear. If you loosen any belts or harness, that could be very very bad!
Make sure your helmet is on tight.
Check the ziplining requirements for children. They all have height and weight requirements, do not try to argue against it as it is there for safety reasons.
Make sure you understand all the instructions and safety procedures the guides give you. Ask questions if you're not sure.
Diving
Go with a recognized diving center organization like PADI.
Check to make sure the air in the compressor is clean.
Boats should have the following equipment: oxygen equipment with sufficient oxygen in good condition, first aid kit, employee trained in first aid, potable water, tools, communication equipment, diving flags, life vests and sufficient staff.
Check the date of the latest hydrostatic test.
Do not dive if you don't have experience.
ATV
Always wear a helmet, eye protections and appropriate clothing.
Book ATV tours with reputable companies and make sure they have insurance.
ATVs cannot be ridden by minors under 16 year old. If a provider allows them to ride, then they are not a reputable certified company.
Hiking
Bring a day backpack with water, snacks, mosquito repellent and sunscreen.
If hiking alone, leave your plans with someone.
Never walk off the path or take shortcuts. This is damaging to the environment and you can easily get lost.
Avoid touching trees, plants, leaves or grass. There could be snakes, spiders or other critters hiding under there.
Do not eat any plants or fruit that you're unfamiliar with. There are poisonous ones.
Never remove plants, touch animals or feed animals.
Don't leave your garbage.
General Tips
Make ATM withdrawals during the day.
Take a photo of your immigration stamp in your passport on your cell phone.
Use only banks or authorized exchange windows to exchange money.
Don't carry a lot of cash with you and don't take it all out when paying for things.
Never wander alone at night to unfamiliar places or streets. If you feel uncomfortable, find a public place.
We recommend getting a pre-paid Costa Rica sim card or renting a local cell phone. You can get Internet and international plans from your provider, but the advantage of having a local phone number is that you can call businesses or in case of emergency.
Always have a little bit of cash with you, preferably Costa Rican colones.
What to Do in Case of Emergency
Lost/stolen passport
You must immediately report your lost/stolen passport to your country's embassy or consulate. Then you have to report it to the OIJ and file a report. Your embassy will give you a temporary replacement passport. You do need to travel to your embassy which are all located in San Jose.
Car accident/break down
If you get into a car accident, the law has changed according to if you can move your car. You can move your vehicle if there is an agreement between both parties (or vehicle and object) and if no person was injured, one of the drivers accept responsibility or it is necessary to move for traffic.
You must also immediately report the incident or accident to your car rental agency. If you don't, you can be subject to additional fines or not be covered by insurance. In case of injuries, call 911.
Theft
Report it to the OIJ/Costa Rican police. Keep track of all your paperwork so you can get reimbursed from your travel insurance (a great reason to purchase travel insurance!).
Health Emergency
Call 911 and wait for the ambulance if needed.
If you are taking any medications, bring a list of the active ingredients. Also bring a copy of your prescription if you are taking opioids. Write down if you have any medicine allergies.
If you have a condition where you may need urgent care, take note of the closest hospitals and clinics to your locations. Always have a a paper with the conditions you have listed on there.
Costa Rica has universal healthcare so public hospitals have to by law treat anyone and everyone who needs help and most procedures and medications are free. If you go to a private clinic, keep the paperwork so you know how much everything cost for your insurance.
Avoiding Scams
Unfortunately there are also scams in Costa Rica. You can read about the common tourist scams in Costa Rica and how you can avoid them with our tips from a local.
Safety Tips for Traveling in Costa Rica Video
Here is a video made by the government about safety tips in Costa Rica.
Costa Rica is a peaceful country but we recommend you to follow all safety tips in order to have a great time here!
More Costa Rica travel tips here!
Guide to finding accommodation in Costa Rica