Undoubtedly, Playa Chiquita is one of our favorite beaches in Costa Rica with its sparkling clear waters, multiple natural bays and quiet atmosphere. It's a wonderful beach to visit if you're looking for to escape the crowds of Puerto Viejo as it is very low key and not as crowded.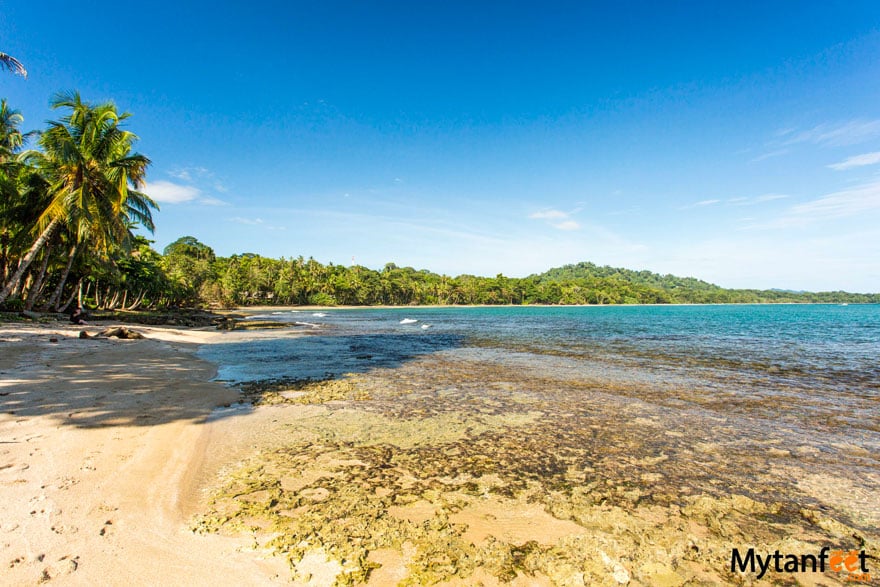 There isn't a dedicated town center in Chiquita but there are a few hotels and businesses scattered around, making it one of the best places in the Caribbean South for those looking for a peaceful beach getaway surrounded by nature.
Playa Chiquita Beach
Playa Chiquita has been awarded the Bandera Azul, meaning that it is one of the cleanest and healthiest beaches in Costa Rica. You will notice it right away just how pristine and beautiful this beach is.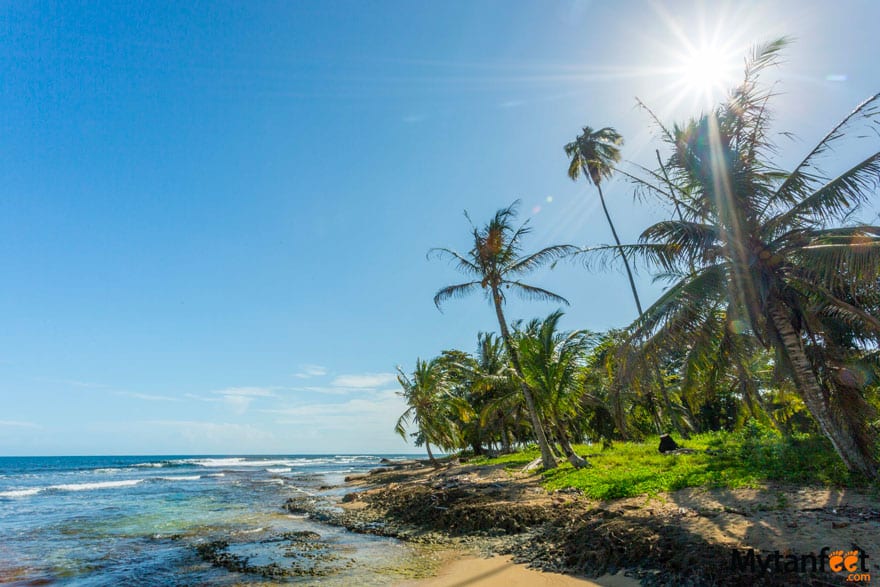 Since the beach is made up of a few small bays, you can feel like you have it all to yourself. Palm trees envelop the entire shore and sometimes you will see horses roaming around!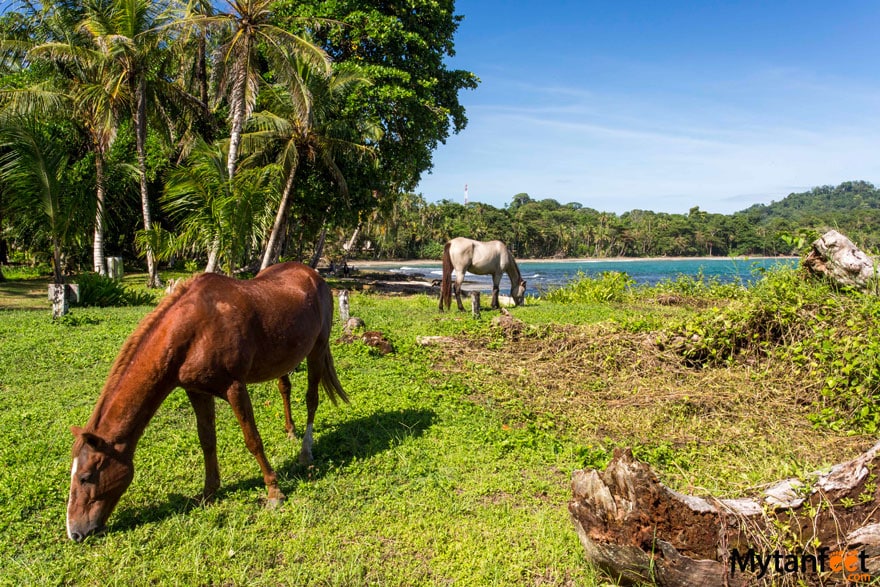 There is a short trail that runs parallel to the shore, perfect for strolling under the palms in the shade.
When we visited in September, there was only one other person there – it was all ours in the morning. Other beaches around Puerto Viejo like Playa Cocles and Punta Uva can get crowded during high season or weekends but at Chiquita, I felt like I was in my own little beach paradise!
Can you swim?
Waves are quite calm since it is like a bay but there are rocks/reef so be careful if going swimming. You can find a spot between the rocks to sit in which is really nice!
Playa Chiquita Map
Here is the map of Playa Chiquita Costa Rica. It sits right in between Punta Uva and Playa Cocles and is about 6 kilometers (~3.7 miles) from Puerto Viejo.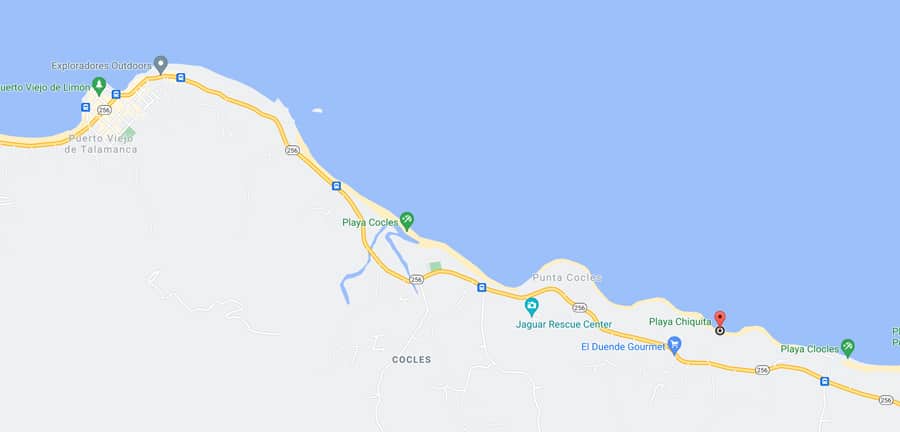 You can easily drive, bike or take the bus to Playa Chiquita from Puerto Viejo.
Bus: There is a bus that runs from Puerto Viejo to Manzanillo every day at 6:45, 7:45, 9:45, 11:45, 13:45, 16:45, 18:45 and 19:45 every day. On Sundays, they have extra service at 12:45. 15:45 and 17:45. You can get off at Chiquita (there is a big road sign).
There isn't direct road access to the beach so if you drive, you will need to park on the road and walk down the trails to the beach.
Parking
There isn't really a parking lot for Chiquita beach. We parked alongside the road and walked to the beach near Villas del Caribe.
4×4 required?
Nope!
Weather
Since Playa Chiquita is in the Caribbean side of Costa Rica, it doesn't experience the typical dry and rainy tropical patterns. The Caribbean is humid all year long and doesn't have strict dry – rainy seasons. It can even rain all year long. The sunniest months are September and October and rainiest are June and November.
Playa Chiquita Hotels
There are several hotels that are close to Chiquita beach and a couple right on the beach. There are also a good number of vacation rentals and Airbnbs.
This hotel is right on the beach with its own beach access trail. They have spacious rooms, each with a balcony and ocean view. Has an on-site restaurant, pool and recently finished new villas.
This hotel has 13 bungalows designed Balinese style, pool and on-site restaurant. Right across the street from Chiquita beach. A nice upscale hotel for someone looking for something rustic but modern and comfortable.
This lodge has 9 rooms and suites that are perfect for couples or families with a very nature feel as they're all wooden buildings. It's a short walk to Chiquita beach and they also have a pool.
This basic but comfortable hotel is 250 meters from Chiquita beach. Has an on-site restaurant and 6 rooms with a patio.
Tierra de Suenos Eco Lodge & Wellness Center
This lodge has 7 wooden bungalows and is a full service wellness center, offering wellness programs and yoga classes.
Things to do at Playa Chiquita
Playa Chiquita is a great home base for your trip in Puerto Viejo for someone looking for a quiet and tranquil area. You're also close to several attractions like Jaguar Rescue Center and Prancing Pony horseback riding center. Walking distance to the beach.
We stayed at Playa Chiquita for 2 nights and absolutely loved it. Since there is no road access, this beach is way quieter and less crowded. This was nice on the weekends when Puerto Viejo can get extremely loud.
The beach itself is absolutely gorgeous, with the postcard perfect palm trees and dazzling blue water. We got to see the beautiful colors of the sunrise through our hotel window and had the whole beach to ourselves every morning.
We've stayed at Chiquita, Playa Negra, Cocles and in Puerto Viejo town and out of all those places, we loved Chiquita the most for how calm, beautiful and serene it is.
This post has affiliate links.